Buying a small and capable desktop PC doesn't have to lead you to a DIY mini PC, because the pint-sized Mac is back.
Sometimes we have to wonder why Apple keeps old devices around. The iPad Mini is a great example of this, and up until this week, so too was the Mac Mini.
Up until this week's announcements, the Mac Mini was one of Apple's oldest computers to sit on its shelves and not have a product cycle refresh. It was quite alarming just how old that thing was getting, and had Apple waited another year, it would have been selling a five year old computer.
But this week, the change has been announced, and alongside another computer that so desperately needed a refresh — the MacBook Air — Apple is here with a change to its Mac Mini.
And it's a needed change, upgrading the internals and ports, and bringing the micro-desktop in line with what someone might want if they still needed a desktop they could control.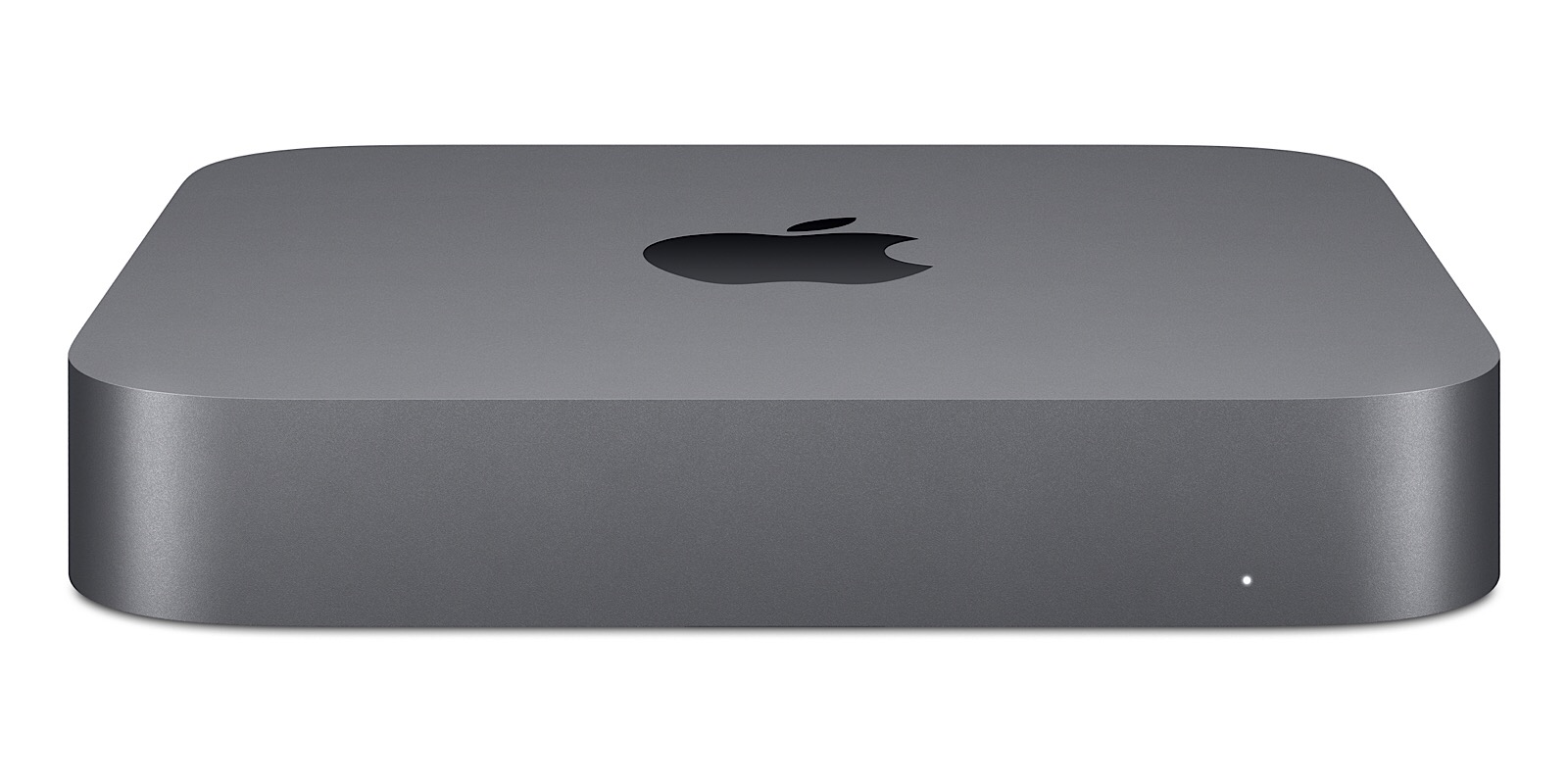 Apple makes a fair amount of desktops, and the iMac is obviously the biggest one, but the Mac Mini is for a different type of user. It's for someone who wants enough of a computer without the monitor, and wants to bring the tech themselves.
Aren't a fan of Apple's screens, or don't want to pay the premium for one when you have a perfectly great Dell or LG screen lying around? Plug it in.
Prefer a smaller computer because you don't have the space for a big new one? Yep, it'll do that, too. It's basically a desktop for people who still want a desktop, and for Apple, it's one that borrows from the rest of the range, especially that new MacBook Air which like the Mac Mini uses the Apple-designed alloy made from 100 percent recycled aluminium.
Inside, the specs are finally on par with a PC made for today, offering four and six core Intel eighth-generation processors, up to 64GB RAM, and up to a staggering 2TB of solid-state storage.
We're not sure if that means the internals will be upgradeable — a quick glance at the images we have suggest that either the storage or the memory will be, with what looks like to be a slot built into the bottom, and we hope it's NVM M.2 storage chips — but we'll check with Apple on the "what is, what isn't upgradeable" section as soon as as we can.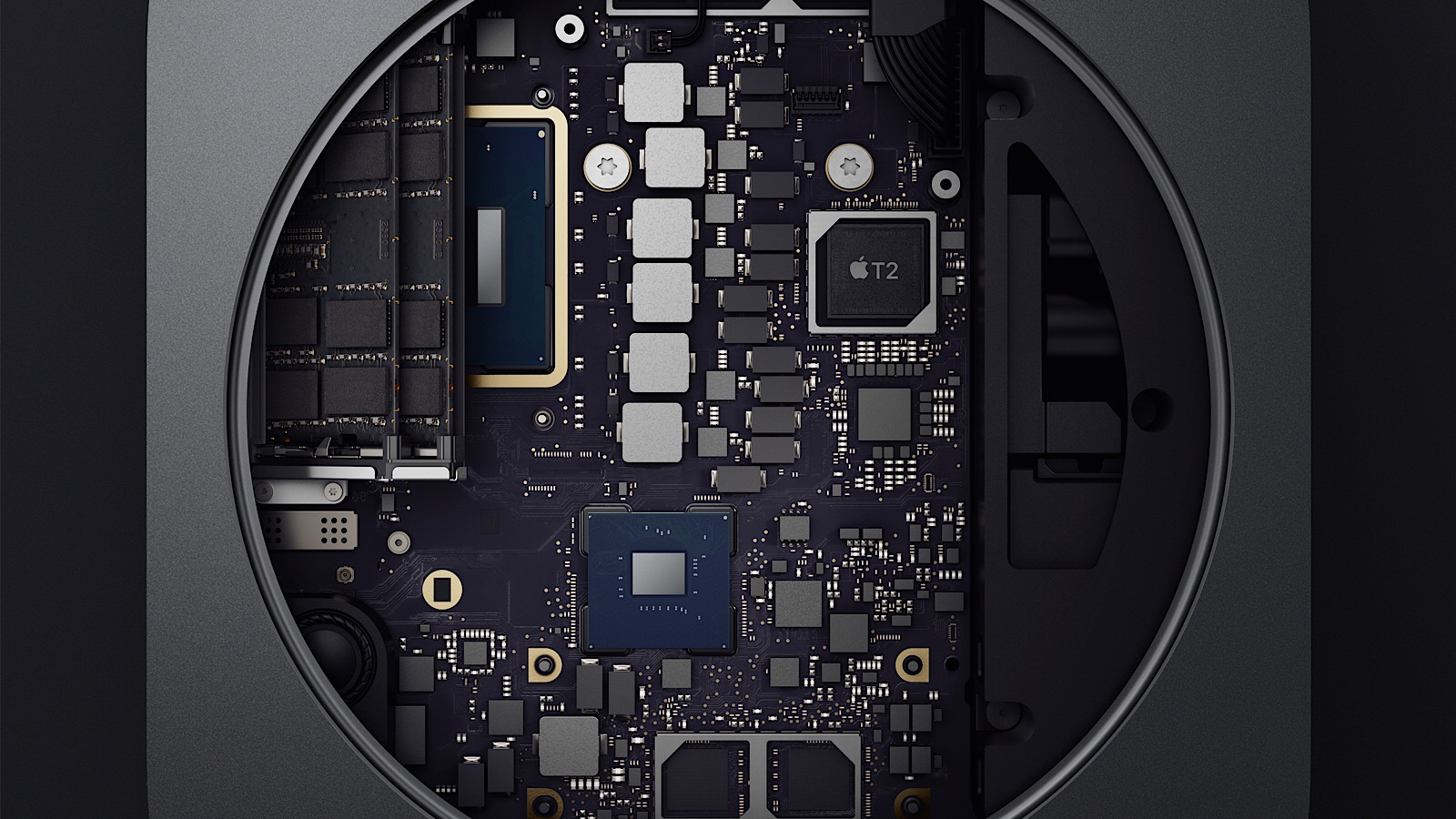 For the most part, the 2018 Mac Mini is a smaller Mac made for today, and for folks who want just that: a smaller Mac to be their new desktop. It's smaller, faster, and just that little bit extra secure, even adopting Apple's T2 security chip.
It even uses the new Type C Thunderbolt 3 ports, offering four of them, supporting 4K and 5K displays, as well as an HDMI 2.0 port to support 4K TVs. And just in case you thought Apple had gone past older plug ports, there are two standard USB ports, Gigabit Ethernet, and a 3.5mm headset jack.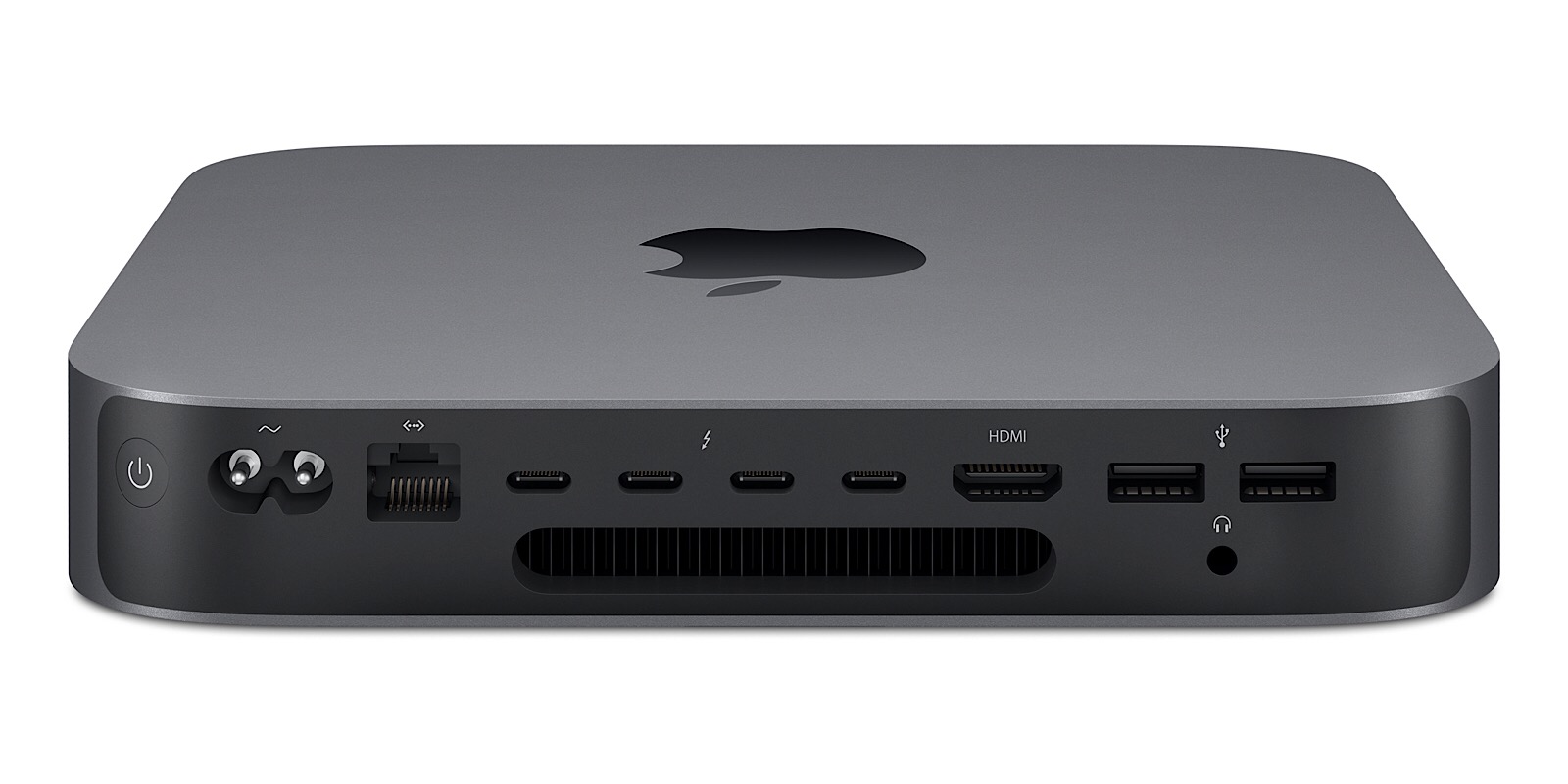 "Mac Mini customers are going to flip over the new Mac mini. It has more than five times the performance, up to 6-core desktop-class processors, the Apple T2 Security Chip, faster memory up to 64GB, high‑performance all-flash storage, and is packed with advanced ports including four Thunderbolt 3, two USB-A, HDMI video, audio and Ethernet up to 10 Gbps," said Philip Sciller, Senior Vice President of Worldwide Marketing at Apple.
"All of this power is packed into the same-sized enclosure as before, perfect for customers updating or creating all‑new installations where Mac mini is the ideal solution," he said.
About the only thing missing is a proper discrete video chipset, with Intel's on-board video the only thing offered.
While the refresh is definitely welcome, we'd like to have seen support for what the MacBook Pro 15 gets, with one of those internal graphics chips to let you get a little more grunt out of your machine. We guess Apple has to leave something for the Mac Pro, which is also due for an upgrade.
You'll find the new Mac Mini in stores from November 7 alongside the other recently announced Apple products, where it will start at a recommended retail price of $1249.