There are some pretty clear ways to make digital imagery take on the look and feel of film, but what if you want to make an old film camera shoot digital? That solution has landed right on Kickstarter.
Cameras have been around for a very, very long time, and while the technology is obviously much newer than painting, there are still quite a few old cameras that don't rely on digital.
It's the sort of thing we'd probably expect the younger generation to gawk at: a camera that you can't see the result immediately, and that does run out of capacity to take photos. The technology requirements of old cameras are very different from new ones, and while we may be used to the convenience that digital provides, some people love the look and feel of something old.
Some camera companies have tried to recreate that feeling too, looking to their past and solidified heritage to create new versions of old cameras. Manufacturers including Fujifilm, Nikon, and Olympus have all dabbled with the idea of a retro camera based on their old cameras, but it's not always what the fans of the old gear want.
In fact, sometimes it's just the fact that they're using the old camera that makes the difference, because try as camera companies will, they can't necessarily digitise the joy of using something like a Canon A1, a Nikon FE, or an Olympus OM10. Even though you can make any digital image look and feel like film, sometimes that's not enough.
And so one person has decided to do what has been suggested as an April Fools prank for long enough: launch a product that adds a digital back to an old school camera.
The concept isn't as crazy as you might think. This writer has even dabbled with the idea in his own projects, grabbing old cameras and attaching half-baked mounts to digital camera bodies to see how the technology worked.
It doesn't work remarkably well normally, because film cameras and digital backs can't be directly connected. You can run the digitals in a manual-only mode, but it's not quite the same.
With the creatively named "I'm Back", that's the concept its creator is trying to make into a proper product, allowing an old camera to talk with a digital back with the help of a tiny computer and a cable release.
It's actually a second-generation product being shown, because while the first completed a Kickstarter campaign in 2016, the new model aimed at 2018 looks to be better, complete with a fair amount of stills and video capability.
Inside the digital back, there's a camera module with a Panasonic 16 megapixel sensor, and this talks to a small computer not unlike a Raspberry Pi. All of this is mounted to a special body that replaces the regular camera back, and there's a sync cable connected to help keep the timing kosher and inform the camera when to stop recording digitally.
And while it's not the most pretty concept, it is a very cool use of the technology, and essentially returns an old camera to new life, affording folks with great old gear the chance to go play with it again, without needing to spend money on film, and allowing them to see the output immediately after, the way we've all grown accustomed to on our camera.
It also supports video, making it possible to capture retrolicious video through an old camera, and WiFi is supported too, though we're not sure if the camera will talk to phones or tablets through an app.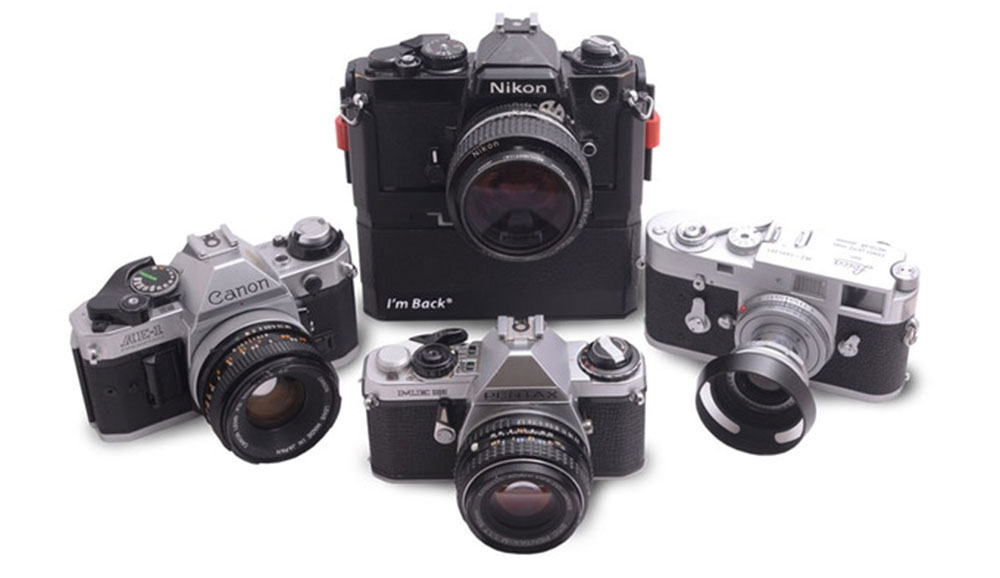 Right now, everything about I'm Back is in the Kickstarter phase, where 225 Euros will get you a finished product when it launches in September, while 45 Euros will get you a 3D printing kit so you can build your own I'm Back with the help of a 3D printer, pictures of the other parts you'll need so you can find them, and just bring your own Raspberry Pi to complete the build.
The list of cameras I'm Back will work with is fairly friendly, and if you have an old camera in your home or on your mantle to show to the world, suspect it will be there, with the list including Nikon's F, FE, FM, the Nikkormat EL, Canon's A1, F1, and AE1, the Olympus OM1, OM2, OM4, and OM10, as well as the Leica M, Leica R, Pentax K1000, and even the Diana F cameras. A universal back has also been made, so you can attach it to nearly any camera anyway, potentially turning anything else a little different into something a little digital.
As for when this Kickstarter expects to be done, that's around September, though folks doing the DIY 3D printing option will get delivery of their package a little sooner, helping them to get to work ASAP.
It's worth noting that this isn't the sort of digital camera for everyone, either. But if you have an old camera you love, and you're just not feeling the old camera love in new bodies, this is a cool concept that could provide a good bridge from one medium to another.