There are people who have no problems spending lots of money on phones, and then there's everyone else. Folks in that last category should be able to still get solid value for money, and that's what Samsung hopes it has with the A range, models that aren't quite the Galaxy S phones, but also aren't far off. How close are they?
From mid-February, you'll get to find out, as Samsung returns its mid-range A series to Australia, missing out on our shores last year for whatever reason, but on their way back since the mid-range is proving to be one exciting area.
With the likes of Oppo, Huawei, and Motorola all vying for a piece of that $300 to $700 action, devices in the mid-range appear to be the new hot ticket, because why should you have to fork out an arm and a leg to get a phone that'll last you for the next year or two?
That logic is what has led Samsung to build the 2017-series A5 and A7, two of the three A-series models that were launched at CES a few weeks ago.
"The latest Galaxy A Series has been developed to deliver the key features that Australians expect from a premium smartphone, but packaged in a device that is accessible to almost everyone," said Richard Fink, Vice President for IT and Mobile at Samsung Electronics in Australia.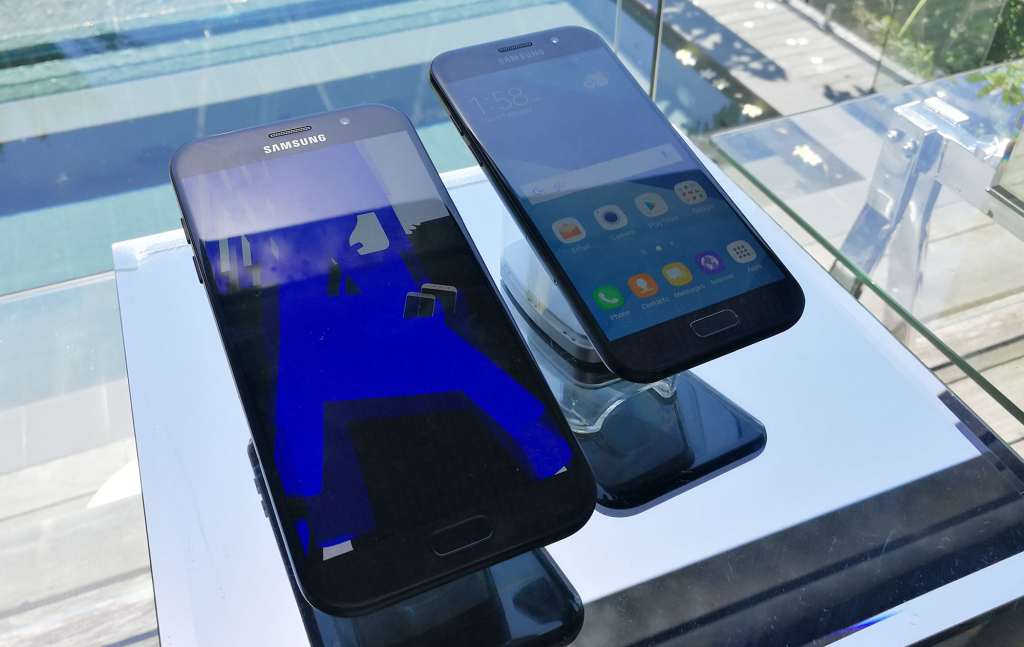 The two phones being launched by Samsung are largely the same, especially once you discount the difference in screen- and battery-size between the A5 and A7.
Inside, there's a 1.9GHz eight-core Samsung Exynos processor similar to what Samsung uses in its Galaxy S flagship phones, working alongside 3GB RAM and 32GB storage, the latter of which is upgradeable with the included microSD slot.
Google's Android 6.0 "Marshmallow" arrives on both the A5 and A7 out of the box, with Android 7.0 "Nougat" coming later on, Samsung suggested, and it will even come with a fingerprint sensor, Bluetooth, Near-Field Communication (NFC), 802.11a/b/g/n/ac WiFi, Category 6 4G LTE offering speeds as high as 300Mbps down and 50Mbps up, and support for Samsung's magnetic stripe technology known as "Samsung Pay" which in tandem with NFC means both major Android-based payment technologies are included.
Cameras are also here, and you'll get two mostly identical cameras, with a 16 megapixel F1.9 camera on either side — front and back — with a new feature allowing you to move the camera button on the selfie mode so you don't have to reach to the bottom of the phone with that thumb to fire the camera.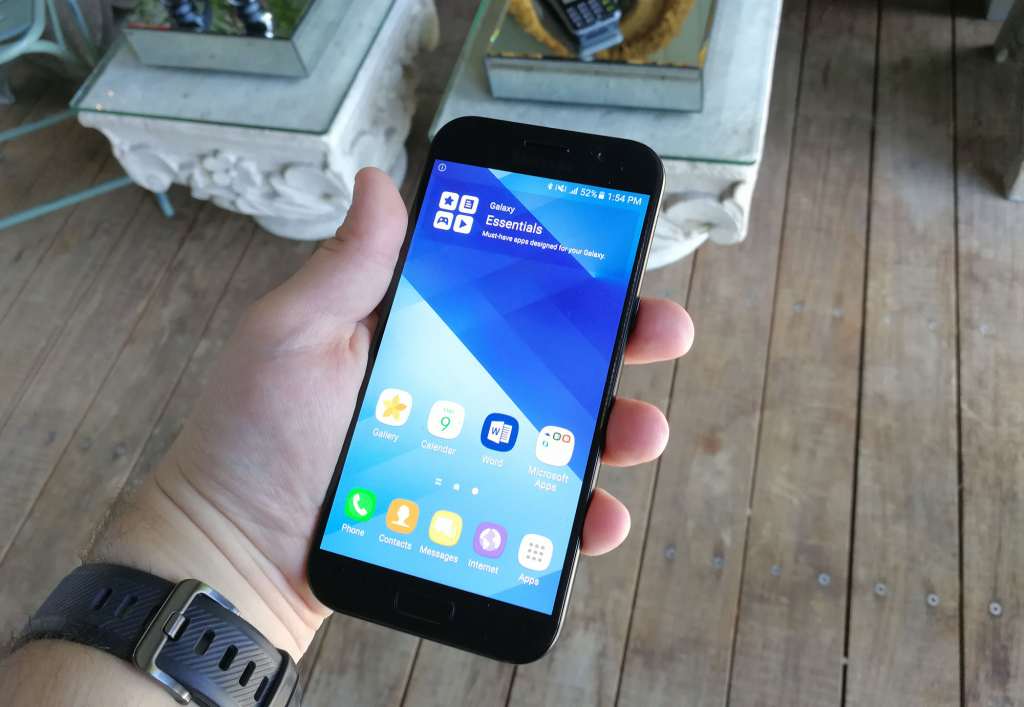 And then there's the body of the phones, with a design that feels a little like the Galaxy S3 and the recent models decided on a compromise, offering a glass back with a metal frame, while making sure to bring in that IP68 water-resistance the Galaxy S7 and S7 Edge offered.
These are the features that are the same, but with two models, the differences arise in physical size, screen size, and battery size, with the Galaxy A5 offering a 5.2 inch Full HD display and a 3000mAh battery, while the Galaxy A7 makes things a little bigger with a 5.7 inch Full HD screen and a 3600mAh battery.
"The Galaxy A Series range is perfect for Australians who are looking for a stylish smartphone to keep them connected, while still featuring Samsung's outstanding camera and screen technology, giving Australians the things they love and need in a smartphone," said Fink.
Playing with the phones at the launch this week, they're reminiscent of Samsung's Note 7 before all the dramas, with a solid but slick design, nice and big screen, and more of that resistance to the elements we like.
One thing grabs us about this design, and that's a side speaker which appears to be there for entertainment purposes, providing an edge speaker for when you lay the phone flat and watching something with the sound turned up.
With so much that's reminiscent about Samsung's more expensive models, you might be wondering what's missing. The answer there appears to be the latest in camera technology and support for Samsung's Gear VR platform, likely not a part thanks to the screen only supporting Full HD.
That's no big issue, by the way, just something to keep in mind.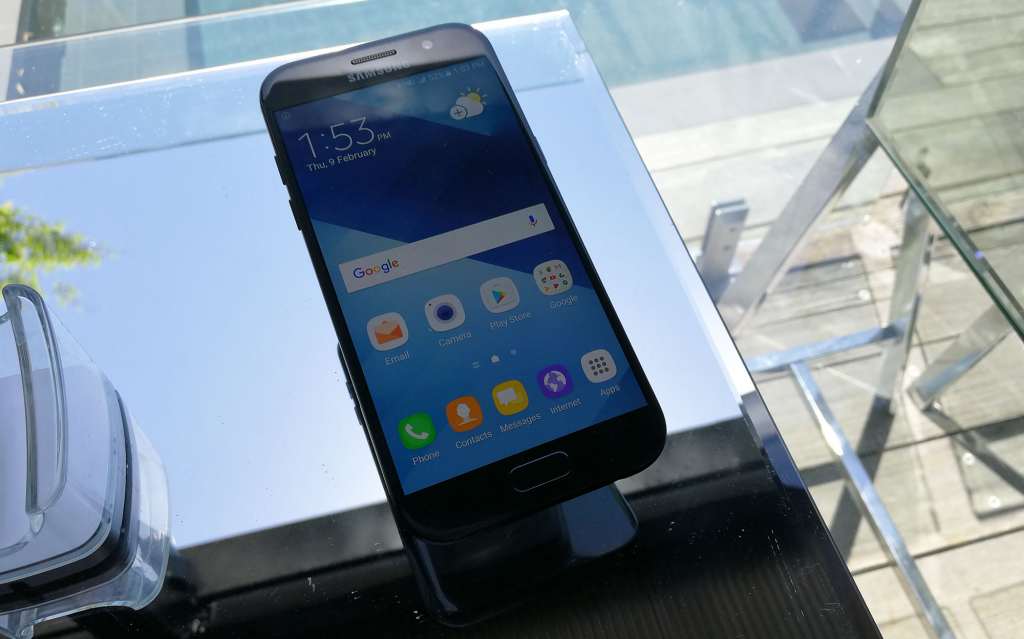 Pricing on the Galaxy A5 and A7 is a little out from where we'd consider the mid-range to be, offering the phones at the Samsung online store first for $649 and $799 respectively, with telcos and retailers getting them later on.
We'll let you know what we think later on in a review, which hopefully shouldn't be all that long.