The very thing that put Kogan on the map is back, as Kogan takes on TV manufacturers with lower Smart TV pricing.
If you're struggling to make the jump to a 4K Ultra HD TV because of the price barrier, you're not alone.
We're beginning to check out some of the TVs this year, and while we'll have reviews along shortly, the feeling from the 2017 TVs is that not only is there content that you can finally play on the 4K Ultra HD resolution, but the technology is finally delivering the burst of pow, pizzazz, and colourific excellence consumers are demanding.
Pricing, on the other hand, isn't always the most comfortable of questions, and while Ultra HD TVs are no longer super expensive, they can still cost a pretty penny.
That used to be the case with Full HD TVs, and that's what kind of kicked Australian eTailer Ruslan Kogan into gear, sourcing panels from major manufacturers and building cut-cost televisions for less.
This year, Ruslan and co appear to be getting back in the swing of things with new TVs aimed at keeping the costs down, this week announcing a trio of Smart TVs for under a grand each.
The range is roughly the same, with all three offering a 3840×2160 resolution, three HDMI 2.0 ports, and support for the older Android 5.1 "Lollipop" operating system providing some access to the web and apps. There's also a remote with a keyboard on the other side, and support for gesture controlling, allowing you to wave about your limbs and control the TV using movement.
What makes the TVs different, however, are the sizes and screens, with the choice of either 49, 55, or 65 inch models, and panels made from either LG or Samsung depending on the version chosen.
For instance, while the 55 inch Kogan Agora Series 8 KU8000 TV relies on an LG panel, the 49 and 55 inch variants both feature Samsung panels, with all three running prices ranging from $429 to $899.
"For over a decade we've been committed to making the latest technology more affordable," said Ruslan Kogan, Founder and CEO of Kogan.
"In 2007, this meant a 46 inch dumb thick LCD TV for $2999 which was the first time the $3000 barrier was broken for such a TV. Today, we're launching a bigger, better, thinner Smart LED TV for $429," he said.
"It's a true sign of how far we've come and we're honoured to be able to delight our customer base of over a million Aussies in this way."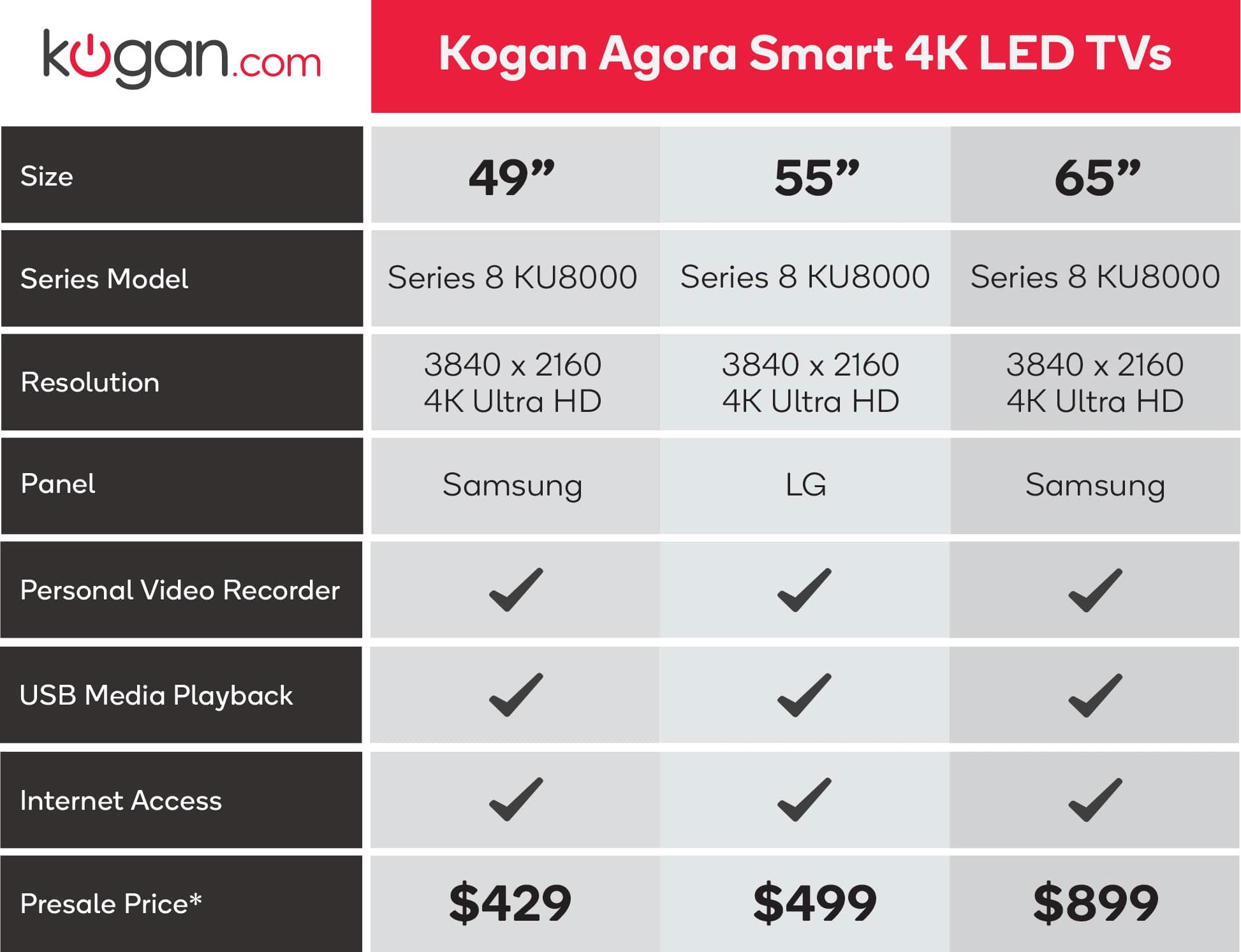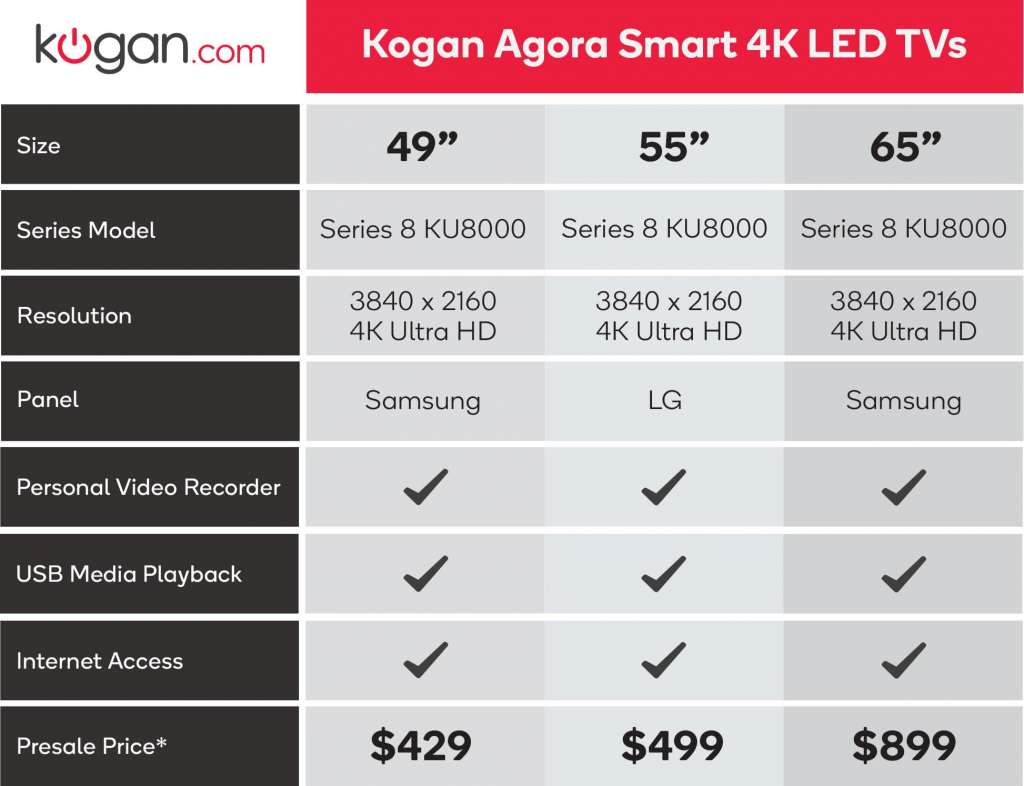 While the prices appear competitive, it's worth noting that Kogan's reference to the panel manufacturer almost seems a nod to the idea that the panel brand is the biggest part of what makes a quality TV, one of the things that helped launched Kogan's TV all those years ago when the company started.
As nice as the idea is, while Samsung and LG panels are certainly high quality, they are only one part of the TV formula, with backlight control, motion processing, colour handling, and upscaling algorithms all aspects of what makes a 4K Ultra HD great for watching content on, and content of any kind.
However, TVs can be tweaked and customised, so if the picture quality doesn't quite appeal to you with one of these, you may find some ability to change what's rendered and presented in the settings menu, even if it might not pop off the screen like some other TVs out there.
It's also worth noting that while Kogan's prices do come under the Samsung's, the LG's, and the Sony's of the world, there are plenty of other manufacturers competing for the budget space, including that of Hisense, TCL, and Soniq. That part of the market appears to be where Kogan is targeting with the Agora Smart 4K LED TVs, offering a bargain for budget buyers with sub-$1000 presale pricing, and releases in late August.