It's February 14, and if you're in a relationship or trying to be in one, and you haven't bought the roses, the chocolates, the gifts and such ahead of time, you're probably thinking of a few expletives right now. Fortunately, the internet is here to help.
And help it will with a few things you can do to make Valentine's a little more digital friendly, because while we all know you can order presents on the web, unless you live in America, they're probably not going to arrive in the next few hours.
But there are things you can do using the web that will make it seem like you didn't forget.
Post a custom Valentine's on Instagram
The greeting card may feel a little played out these days, but we think there's still merit to giving that loved one a few words to say what you mean.
And sure, you can buy a card, but why do that when you can quickly assemble something on your phone or tablet, sharing it to a social network where you prove your baring your heart for all the world but mostly your friends to see!
One of the fastest ways to do this is to obviously grab a photo from your phone of tablet of the both of you spending time together, or even a picture of something of theirs and accompany either with a small sappy message as the description.
But you can do a little better, and apps can help.
Take a look on your device's app store for an app that lets you insert text and shapes framing the image a little better, making it appear as if you went to that extra bit more trouble to make the image stand out.
There are quite a few of these online, including Font Studio, Over, Phonto, and Snapseed, though depending on the app, you may have to put up with a rather frustrating amount of advertisements because, well, that's how a lot of app developers make their money.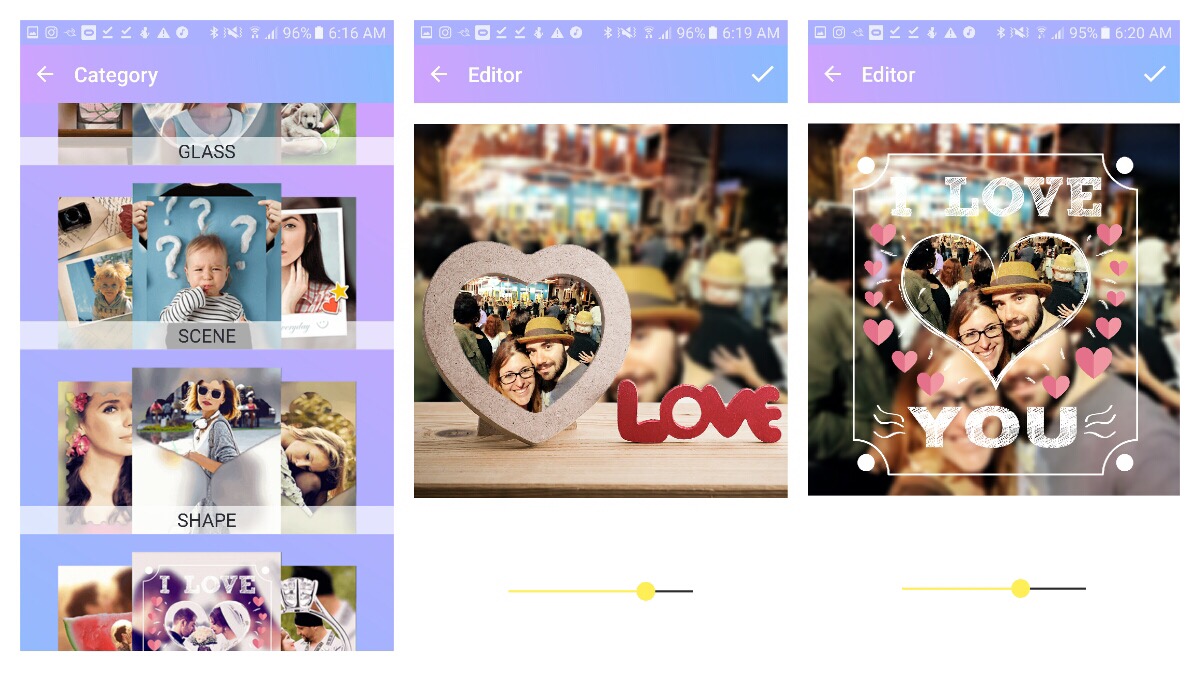 If you end up getting a free app and a nice custom photo that makes your partner go "how did you do that", the result is totally worth it, even if you had to click the "x" button to close a few ads in the process.
With that new image in hand, be sure to accompany it with a nice message to show your partner and friends how happy you are, while also tagging or tweeting at them.
It's no good messaging terms of endearment without telling the person whom you want to receive those terms in the first place.
Short messages of love throughout the day
A very simple one to do, but also a very simple one to get completely wrong, sending your partner short messages about how much you love them (or something a little lustful) is a really simple thing to do that you can accomplish on the cheap.
Here's the easiest way: send them a message in the morning about how much you love them, and that you just wanted to tell them that, and that you can't wait to see them.
It can be on SMS or iMessage, or even Google Hangouts or Facebook Messenger, and you can even do it a couple of more times throughout the day.
But don't do it all the time unless you're so eccentric already that they know it's the sort of thing you mean in jest. Seriously, if you keep messaging them, over and over again, you're not only going to come across as more than a little desperate, you may come across as a bit of a stalker type.
Know the limit, and hold yourself to it: one message is lovely, and maybe one or two more later in the day as it gets closer to a time you'll see them is a little acceptable, but we'd probably leave it to that first one in the morning.
It's cute, playful, and reminds them of how much you adore them.
Make a mixtape playlist
This one is a bit of a sappy throwback to the 80s, from a time when making a mixtape was considered a cute romantic gesture.
We don't have tapes anymore, and we barely have CDs as it is, not to the point where you're likely to share them, anyway. Buy them, yes; make mix CDs, probably not.
The world has moved past this and everything is digital, but there's a good chance that you and your partner have a music service you subscribe to.
It could be Apple Music or Spotify or Google Play Music or Tidal, and whatever it is, making a playlist of songs you know they will love or that mean something to the both of you is a cute gesture that should warm the heart.
Think of it as the modern equivalent to a mixtape, only with a link that can be transmitted over the aforementioned messaging services.
One handy tip with this idea, though, and that's to choose a music service they actually subscribe to or have access to. It's no good making a playlist on Google or Apple if they don't have the rights to play it, though at least if they don't have Spotify, they can login through Facebook and shuffle through the list if need be.
Alternatively, make a music video playlist through YouTube, and then share that. YouTube is free, and while it has ads, it is still technically free. If they use Google Play Music, they won't even have the ads, as YouTube Red — a feature of Google's music service — cuts out the advertisements on its video network.
Cook a great Valentine's Day meal
One of the best ways to get you into the heart of someone you're into is with great food, and because it will be next to impossible to book a great night out tonight unless you're a movie star, you may want to consider rolling up those sleeves and cooking a great meal instead.
That means taking a gander through some excellent recipes that you know he or she will love, and leaving work a little early so you can start cooking by the time they get home, possibly dropping by the bottle-o to pick up a nice red or white that will pair well with the food you intend to cook up.
While the recipe is key, the intention is the important part here, and the fct that you're making that someone something impromptu and special.
Be sure not to overreach, however, because as great as cooking is, you need to be able to finish what you start, not just make a mess in the kitchen, so to find something you can do, have a browse with a search on Google for "romantic recipes", which should reveal some from the likes of the BBC, Jamie Oliver, or even something suggested by a local chef at the time.
Pick something you know you can pull off, grab the ingredients, and go to it, because a homemade meal should always be appreciated by someone who loves you, too.