Quick review
The good
Feels quite durable
Supports M.2 NVMe
Tool-less design is handy
Easy to install
Lets you carry sizeable SSD around
The not-so-good
Won't work with sticks featuring a large heat sink
Locking switch doesn't always lock
If you have a spare SSD, the Satechi USB-C M.2 NVMe SSD enclosure is a handy way to keep that drive doing something useful.
Backing up is one of those things we all need to be doing more of, but when drives are slow, it can make the whole thing rather laborious. The more data and files you have, the longer the whole thing takes, which means typically grabbing a solid-state drive to expedite the whole process.
But what if you happen to have an SSD laying around, or even if you've considered doing it yourself, buying a stick of solid-state drive because that may be the more economical approach? You can't just plug it into your laptop without something, so what's the solution?
Turns out Satechi has one, allowing you to make use of an internal SSD by turning it into something external.
What is it?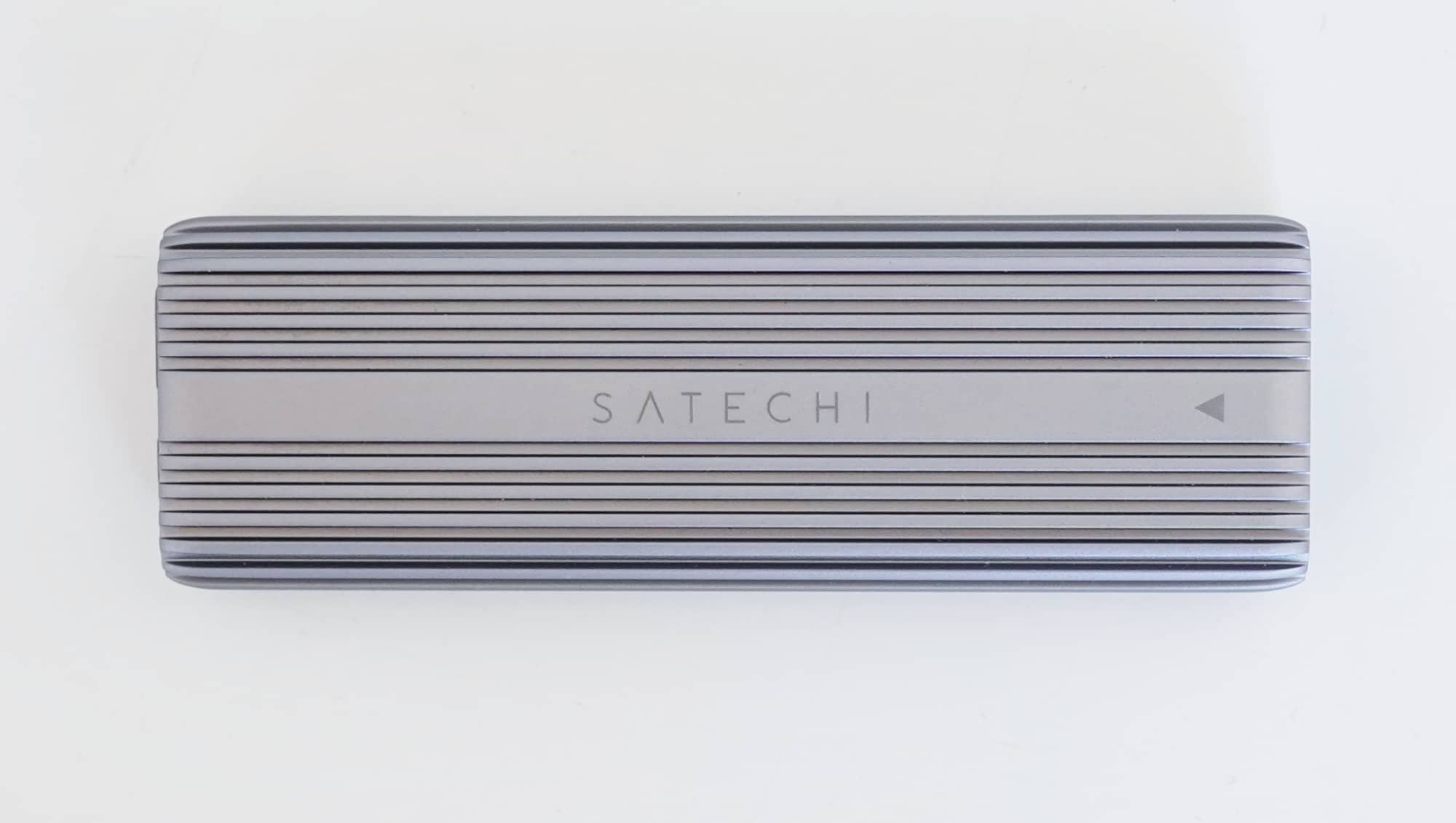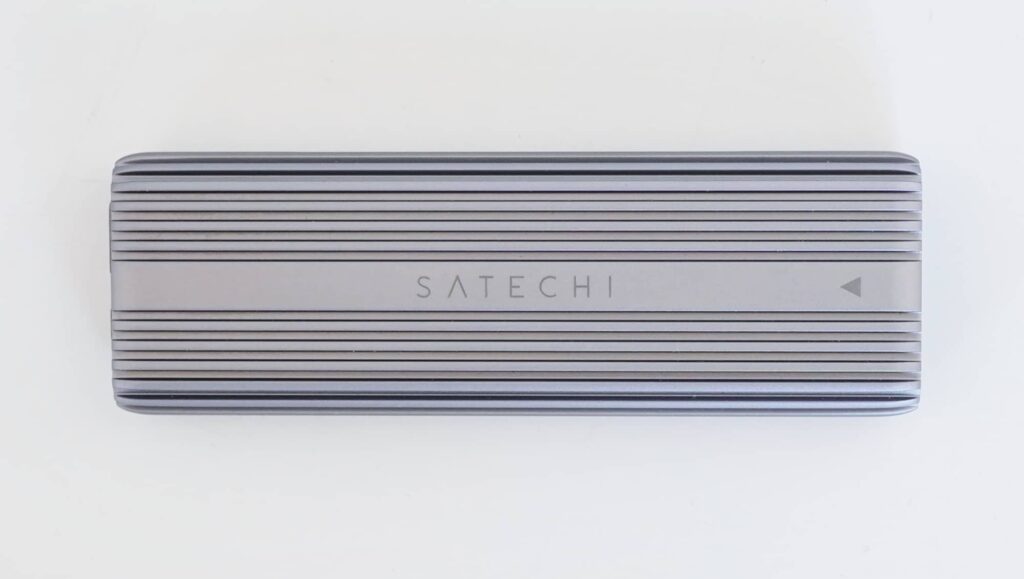 A slim chunk of metal housing a small storage tray inside, the Satechi USB-C M.2 NVMe SSD Enclosure may not have an attractive name, but it does say exactly what it is with ease.
This is exactly what it says: a small and slender USB Type C enclosure for solid-state drives made to support M.2 NVMe.
There's but one port on this metal stick, which itself is a Type C port at the very bottom (or top, depending on how you look at it).
On the other side is a switch, which you can easily push to one side and open the drive up.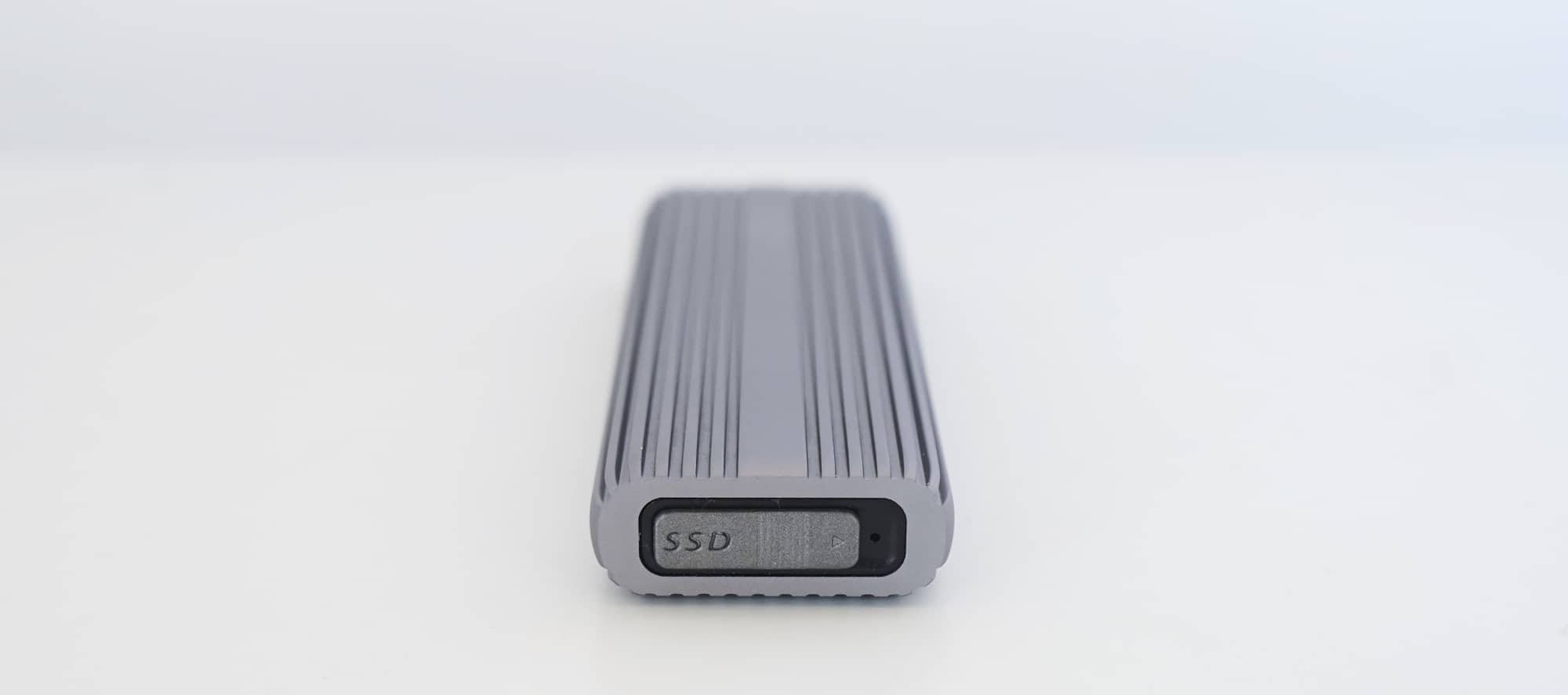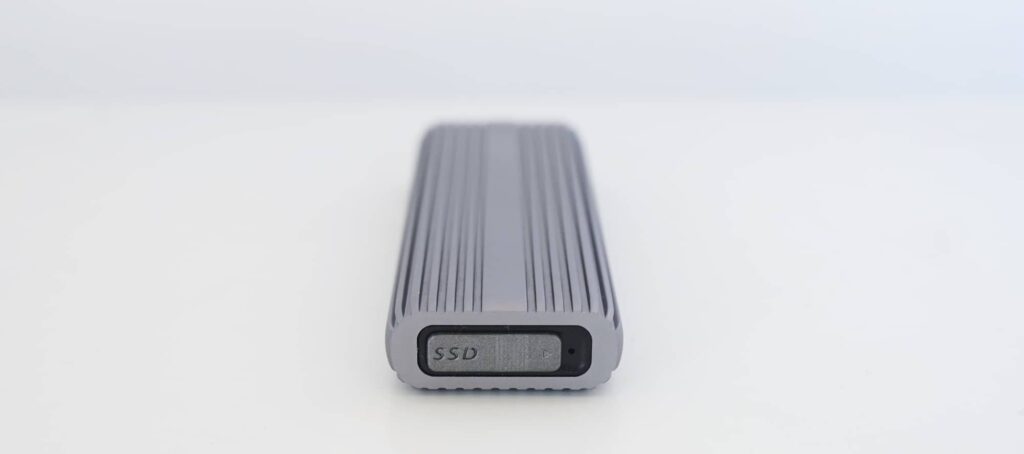 What does it do?
Open the Satechi enclosure up and a tray will slide out, showing all the parts inside, or even the lack of parts inside.
There is but one major section here: a simple tray with a slot for a stick of storage, which you'll need to bring yourself.
Quite a few companies make these, including Samsung and Seagate, to name a few, though you won't be able to use thicker SSDs with large heat-sinks attached. If you do have an SSD with a meaty cooling solution on the side, you'll need to remove that cooler before throwing it into the Satechi case.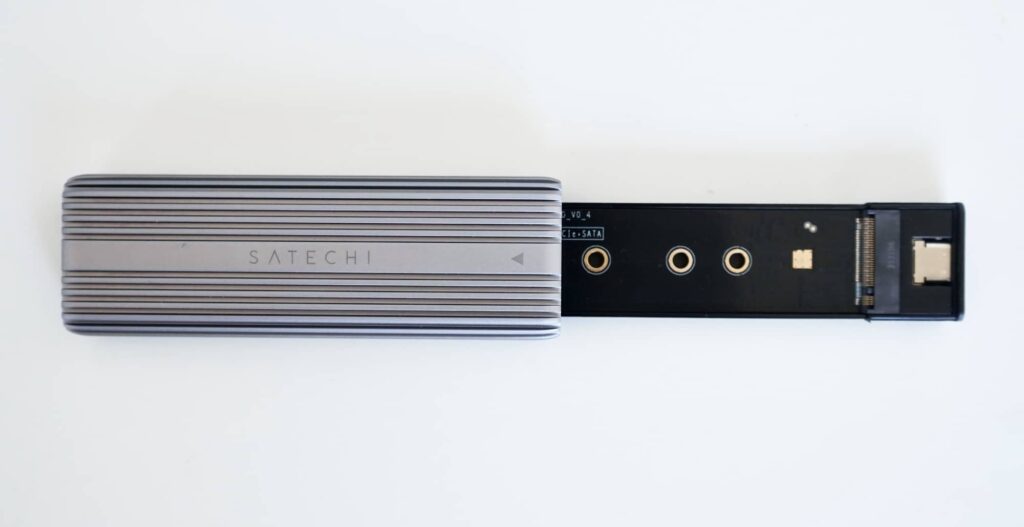 For the purposes of this review, however, we tested with Samsung 950 Pro M.2 storage, which lacked its own cooler. Interestingly, Satechi includes a thermal pad for you to use in case it does get hot. Stick that on your memory and it's ready to be installed.
Take out the rubber screw meant to hold the memory in, slide the memory into place, and then put the rubber screw back in, and you're basically done.
This is a tool-less solid state kit and is about as painless as it gets.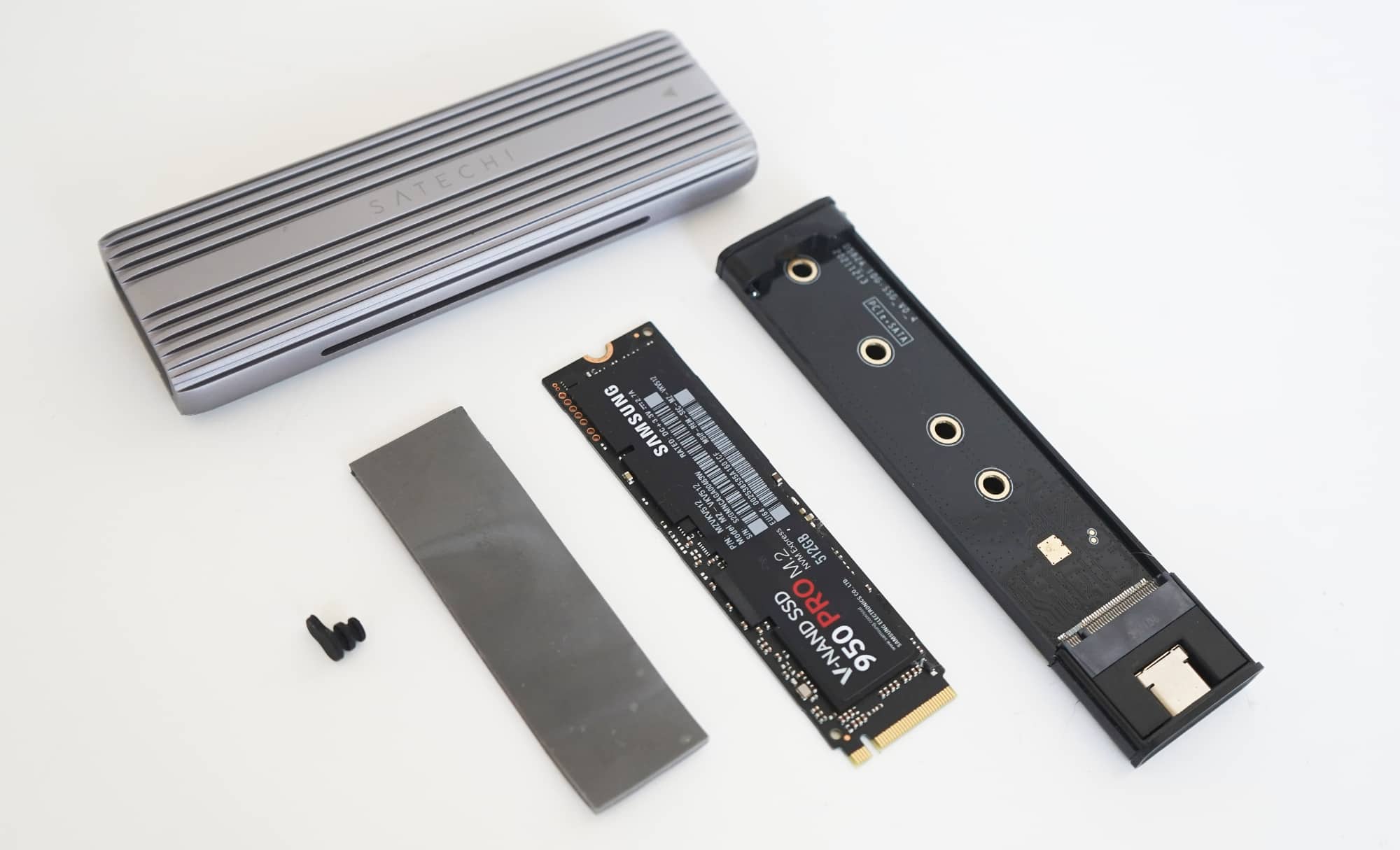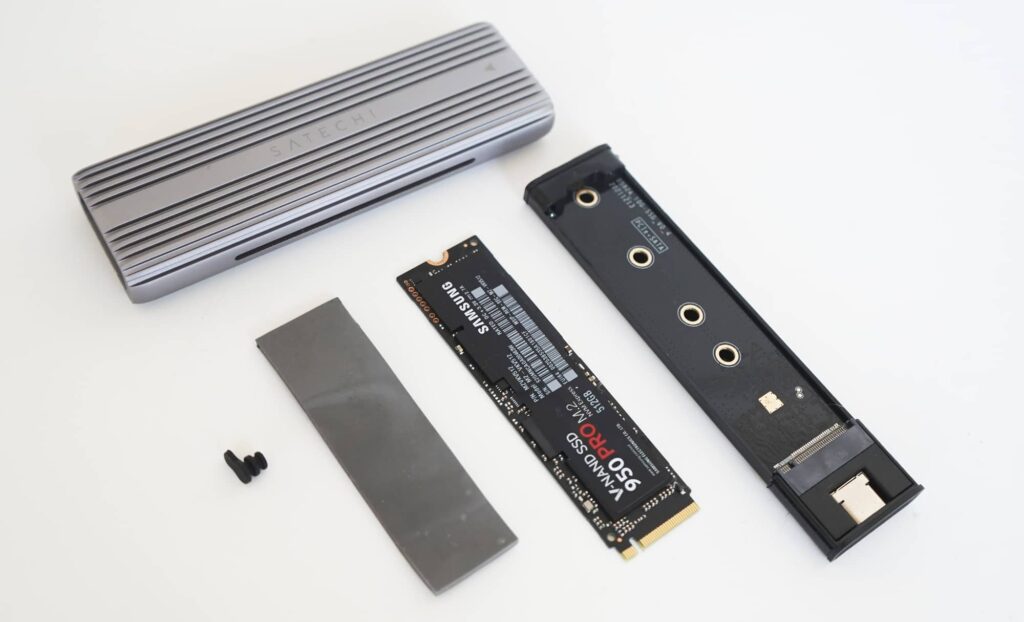 Does it do the job?
The painless install means you don't need a screwdriver at all with this enclosure, and can just reply on a rubber stopper to hold it in.
Once your storage stick is firmly in place, you simply need to slide the tray back in and you're done. Plug your drive in using a Type C cable, and the solid state will start working, giving you speedy storage outside your computer.
How fast your storage works will largely depend on the SSD you've selected, and that's an optional cost, too.
Yes, you'll need an SSD if you want this enclosure to be anything more than just an enclosure. However, once you add the SSD, it becomes a slightly ruggedised external and fast solid state drive entirely accessible by USB Type C. Handy.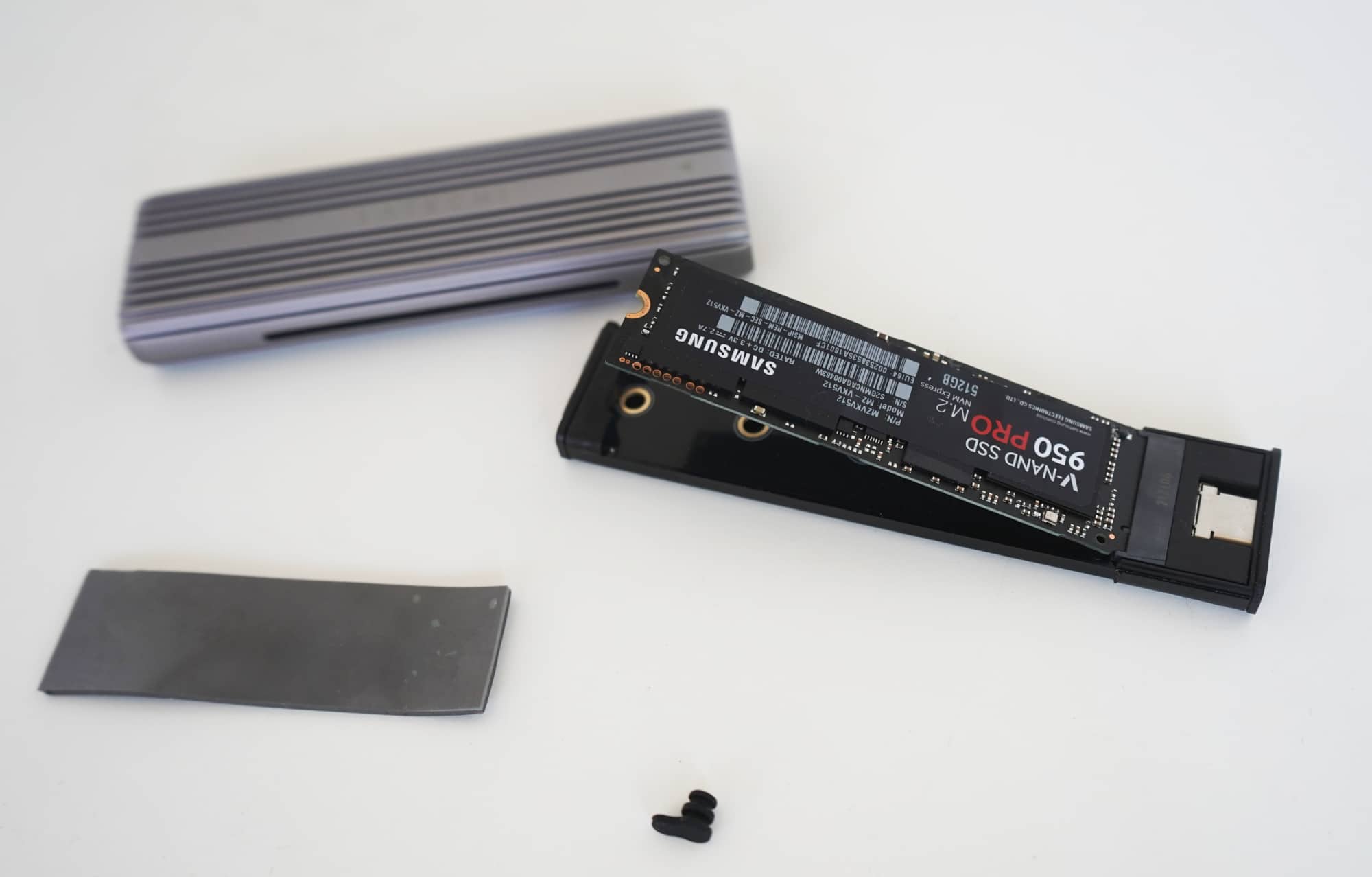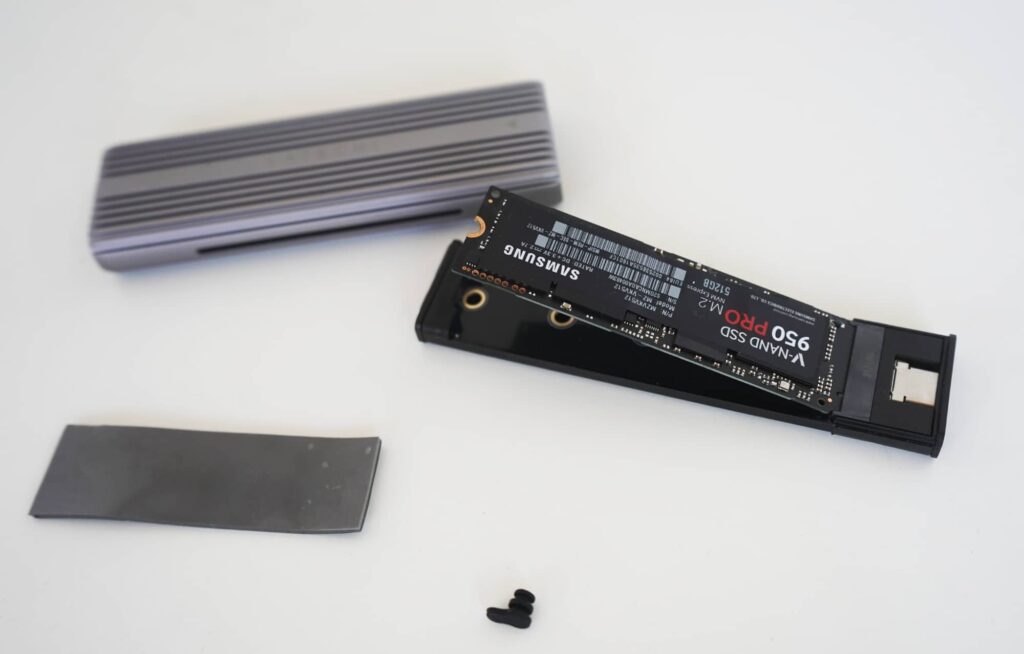 What does it need?
About the only thing Satechi's USB enclosure needs is maybe a little more refinement on the switch holding the drive bay in.
It's small, but we found once the tray is back in Satechi's casing, it doesn't always hold it firm. You may have to play with the switch to force it to stay, otherwise it'll push out the moment you accidentally nudge the thing.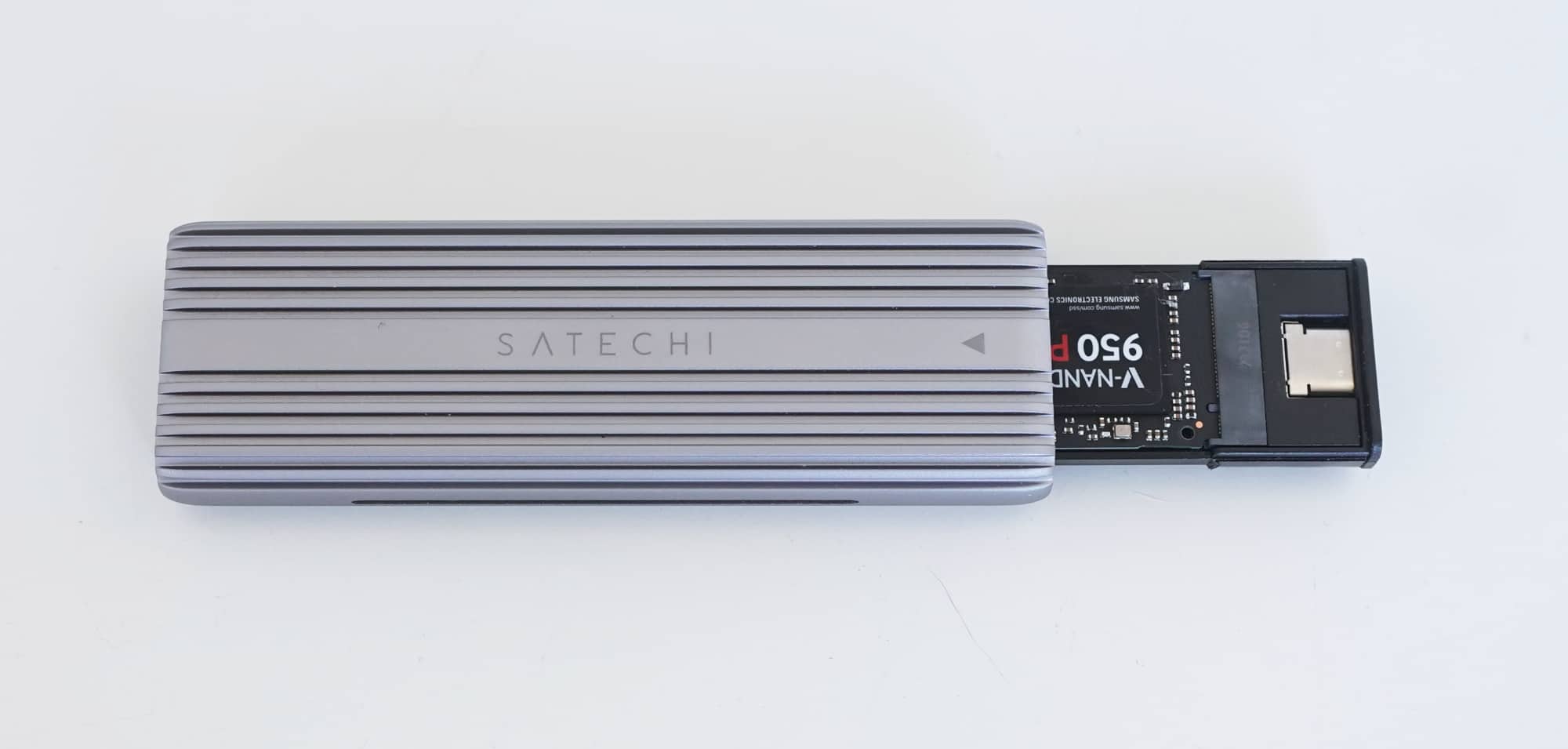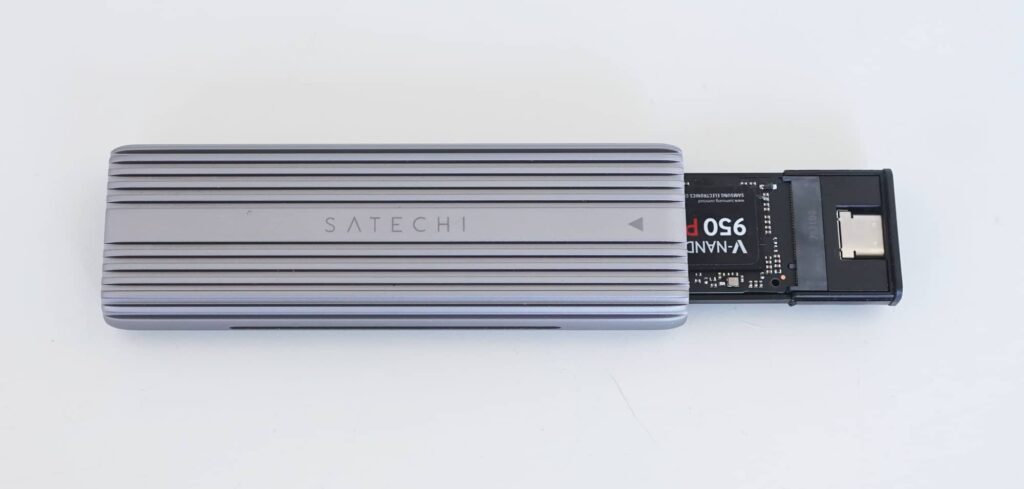 Is it worth your money?
At $90, though, the Satechi M.2 Type C case is more than worth the cost, delivering an easy way to make an internal SSD into an external one.
It also fixes something of a problem for Satechi in recent years, which has offered NVMe slots on numerous products, including stands and port expansions, but which have lacked support for the more commonly found M.2 memory.
Solid state storage in M.2 is now the norm, and finding sticks without M.2 is actually a lot more difficult than you would expect.
The fact that the tech isn't supported on Satechi's Mac Mini stand is frustrating, as it would make it a suitable upgrade. But at least it's now a thing on this Type C drive, which just helps you to take high-speed storage to go.


And it is just that: high-speed.
While the speed does depend on the drive you use, the speeds are noticeable. We found an obvious difference in transfers between the 256GB and 512GB Samsung solid-state sticks during this review, but the disk speed test was fairly solid in both.
Support extends to the 10Gbps mark, which should cover some high-end SSDs, as well. Sufficed to say, speed shouldn't be your problem with this peripheral.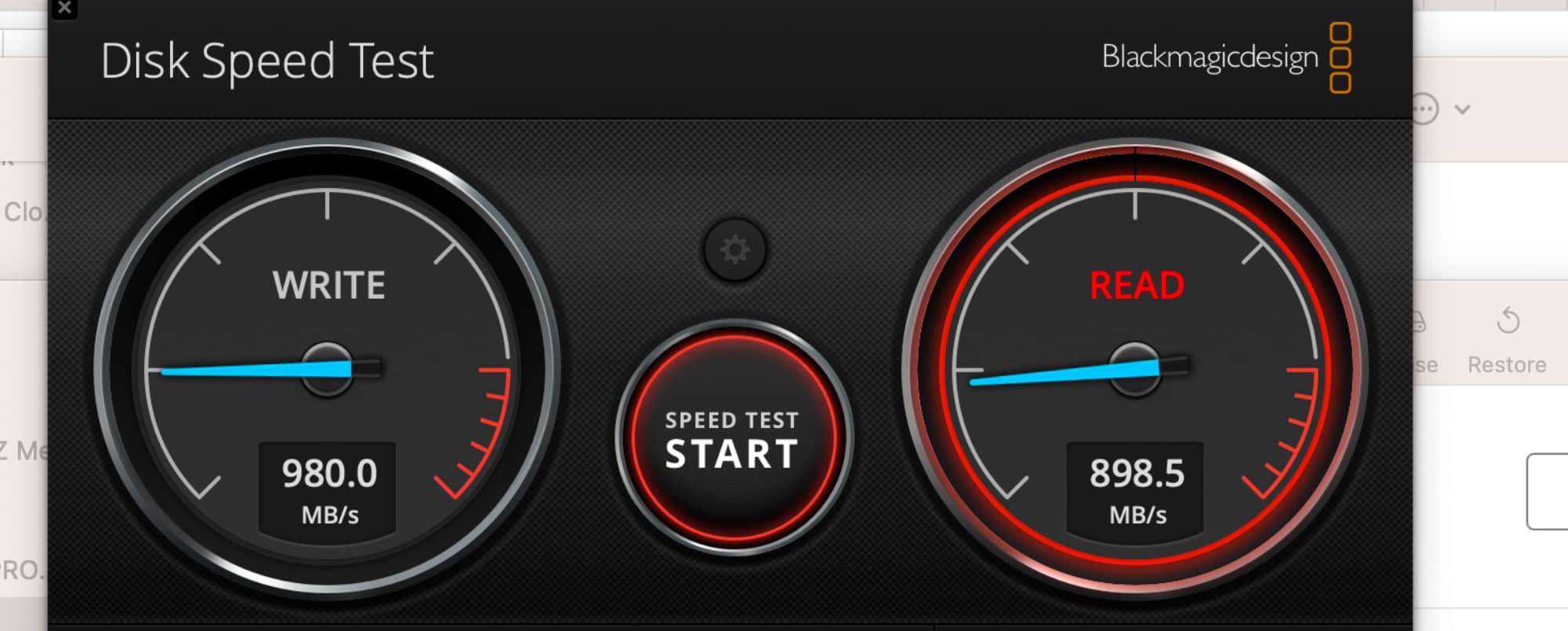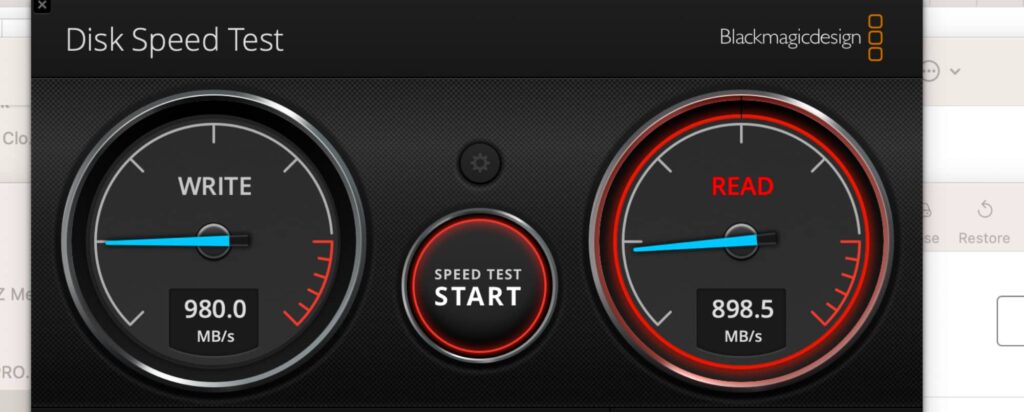 Yay or nay?
Overall, we love the simplicity Satechi's USB-C M.2 SSD Enclosure offers, making it a cinch to carry internal memory as an external drive.
We've largely given up on the thumb drive, thanks in no small part to speeds, or lack thereof. In the past decade, thumb drives have felt lacking in speed, with external SSDs often the way to go to get files backed up quickly.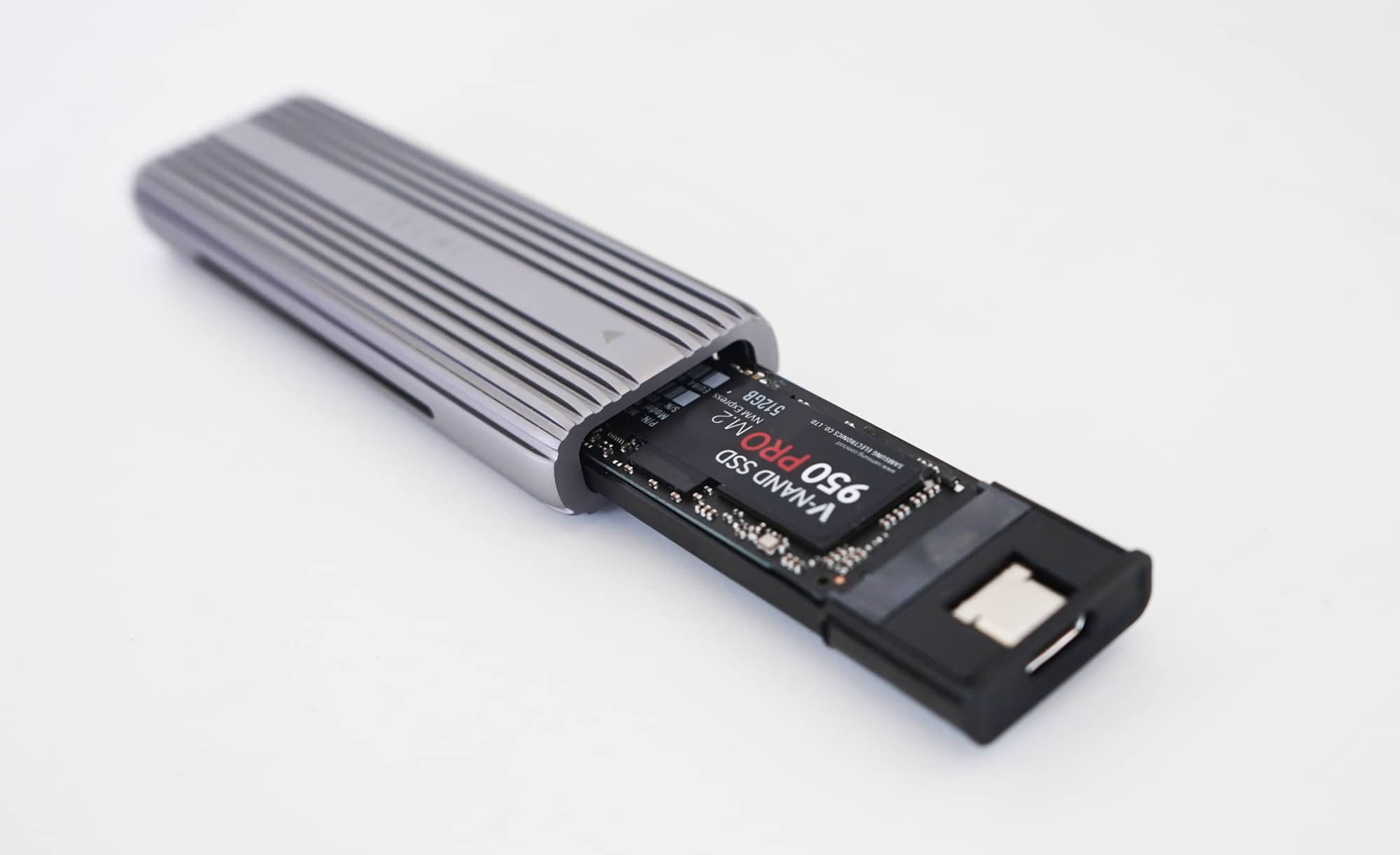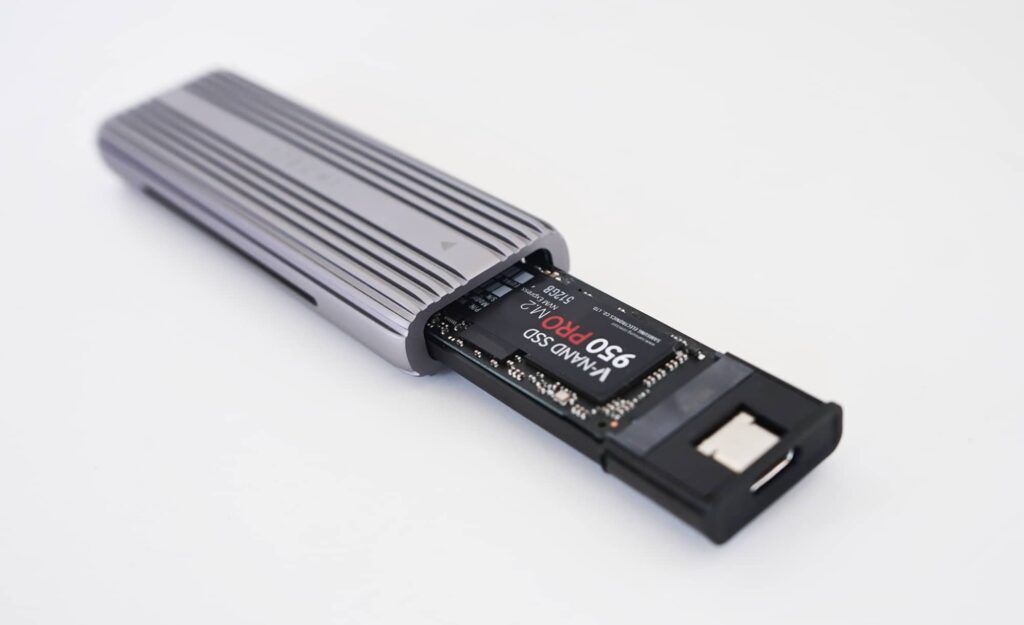 Worth noting is there isn't always a heap of difference between the price of an external and an internal SSD, though sometimes the internal works out a better price. Grab an enclosure and it could be about even, though we think Satechi's SSD enclosure serves another great reason for existing: upgrades.
Simply put, if you decide to upgrade your computer with a new internal SSD, Satechi's USB-C NVMe SSD enclosure lets you repurpose the old SSD for a new one: backing up your computer.
That alone makes it a handy addition, and recommended if you happen to have an SSD or two laying around that you'd like to use.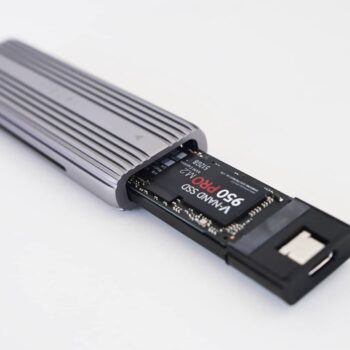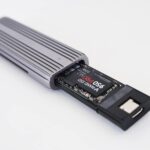 The good
Feels quite durable
Supports M.2 NVMe
Tool-less design is handy
Easy to install
Lets you carry sizeable SSD around
The not-so-good
Won't work with sticks featuring a large heat sink
Locking switch doesn't always lock