Quick review
Nespresso Vertuo Lattissima
The good
Easy to use
Makes both long and short coffees
Handles milk like a pro
Detachable milk carafe
Comes with a water spout to use if you only need hot water
The not-so-good
Coffee may not be to your liking
Only accepts Nespresso Vertuo pods
Should ideally come with a rinse container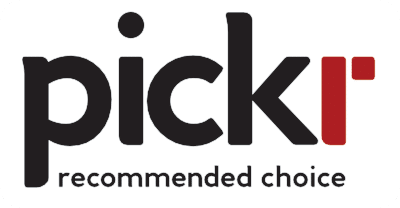 A quick and easy cappuccino made with frothed milk of any type? The Nespresso Vertuo Lattissima makes it possible, provided you don't mind buying Nespresso's Vertuo pods.
Coffee is an art form, and chances are your regular barista is someone who makes it quite an experience for you. At home, however, it might be something different.
We all treat coffee differently, and while everyone might yearn to have an in-house barista, chances are you'll just settle for what you have, whatever that is. A great coffee machine can make your morning that much better, but great coffee machines require some time, which you may not have.
It's no wonder so many turn to pod machines, which can deliver a good cup without effort. Load the pod in, leave your cup under the spout, press a button, and you're done.
That approach has worked for espresso style machines for ages, but what if you fancy a bigger cup? What if you want a mug with milk, frothed or otherwise?
What is the Nespresso Vertuo Lattissima?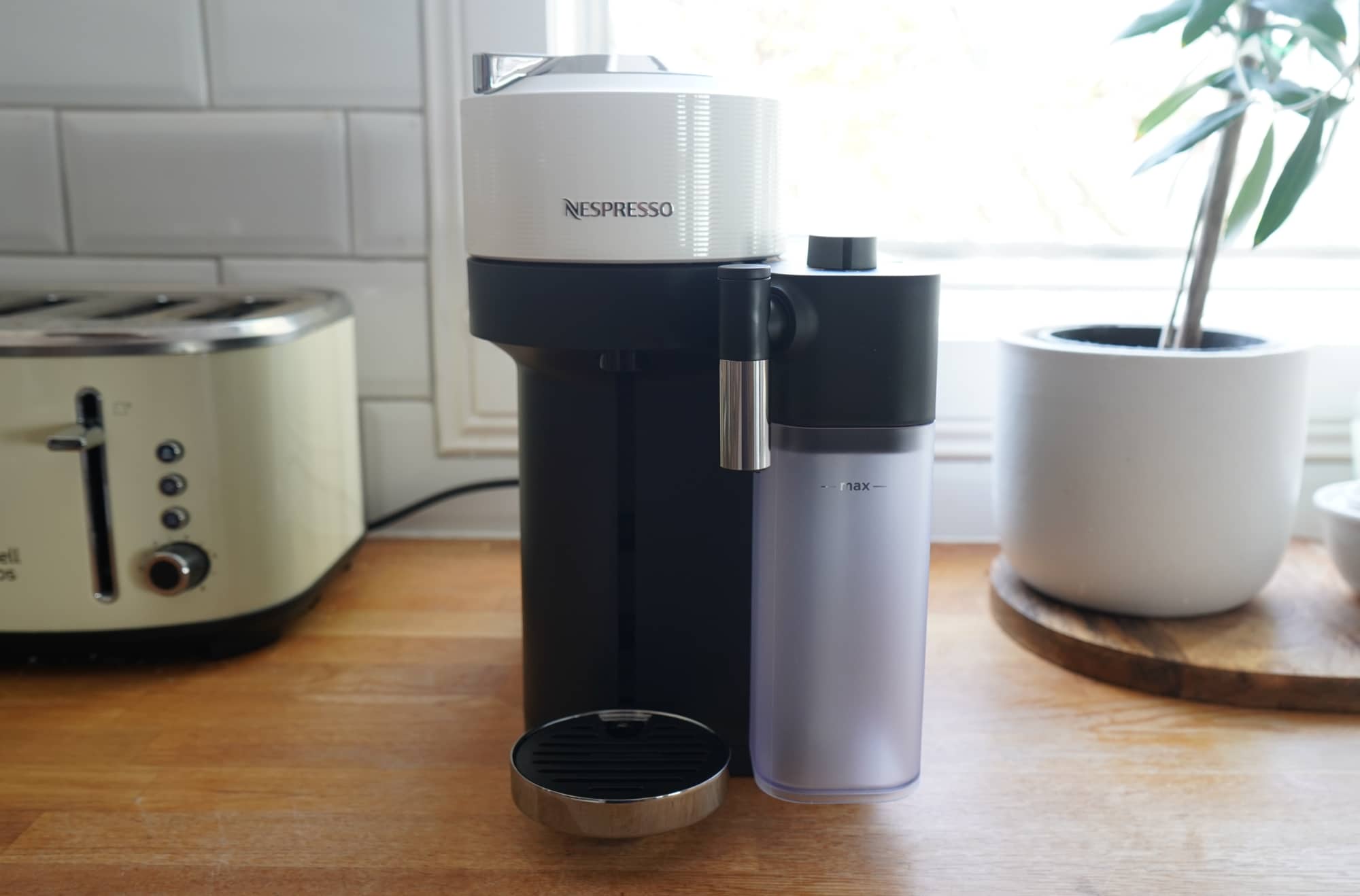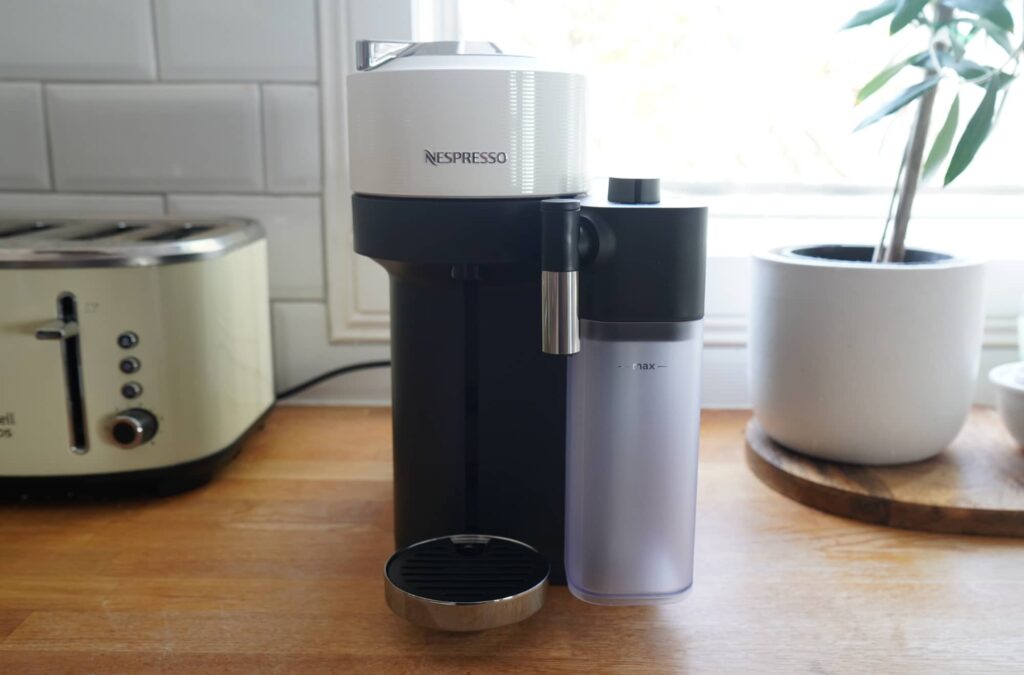 Nespresso's latest automatic coffee machine, the Vertuo Lattissima takes what Nespresso learned about automatic coffee machines in the original Lattissima and applies it to the Vertuo formula.
That is to say it's all about convenience, marrying a milk texturing tank and hot water spout to the Vertuo machine so you can quickly and easily make cappuccino, tall lattes, and typically any other coffee with or without milk.
You'll still need Nespresso's Vertuo pods to make it do its thing, but now the special barcode-based pods feel like they do something else other than simply run hot water through each pod.
Rather, they'll also take from the milk compartment if you tell it to, with the Vertuo Lattissima able to make milk-based coffee in seconds.
What does it do?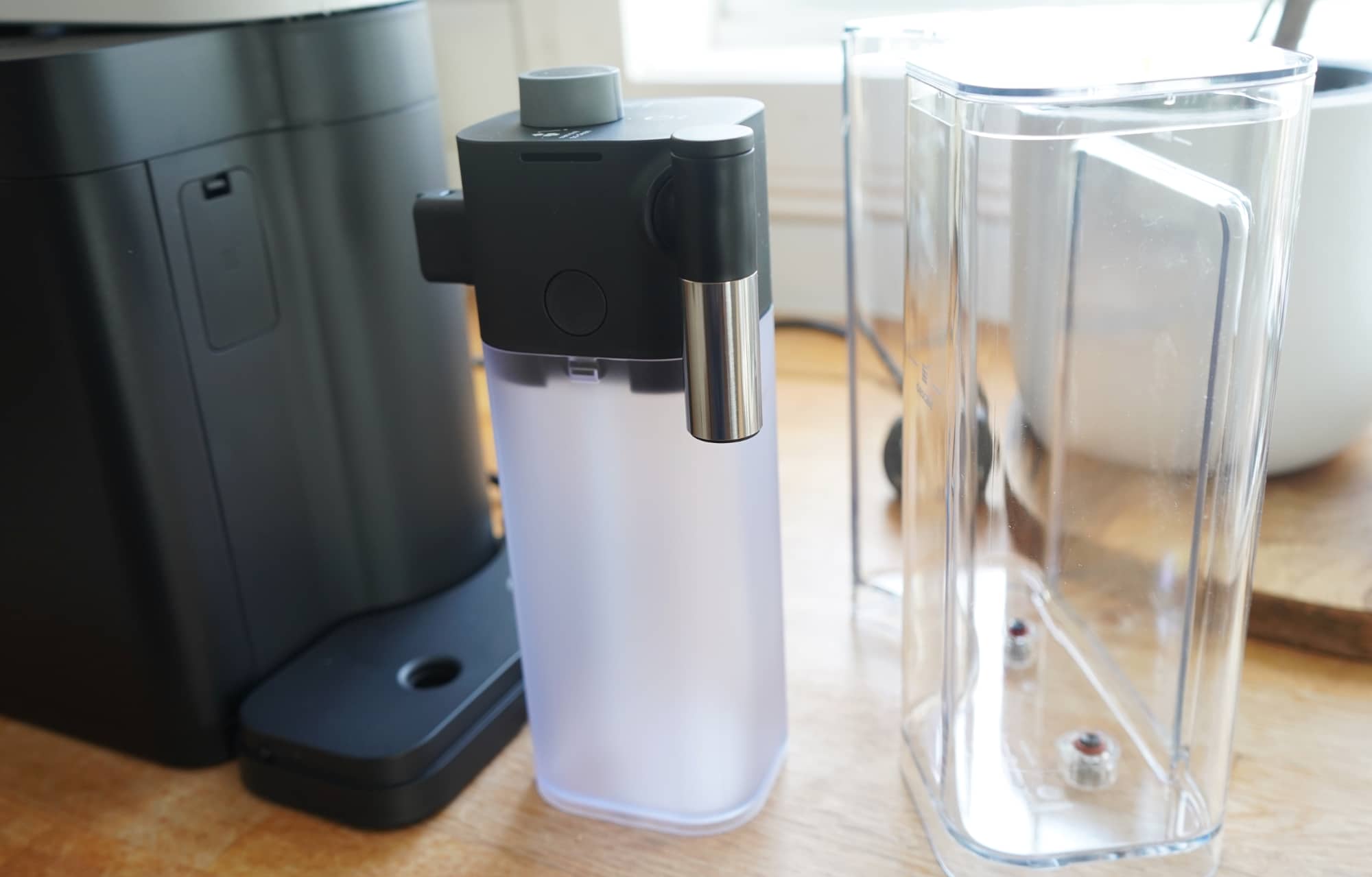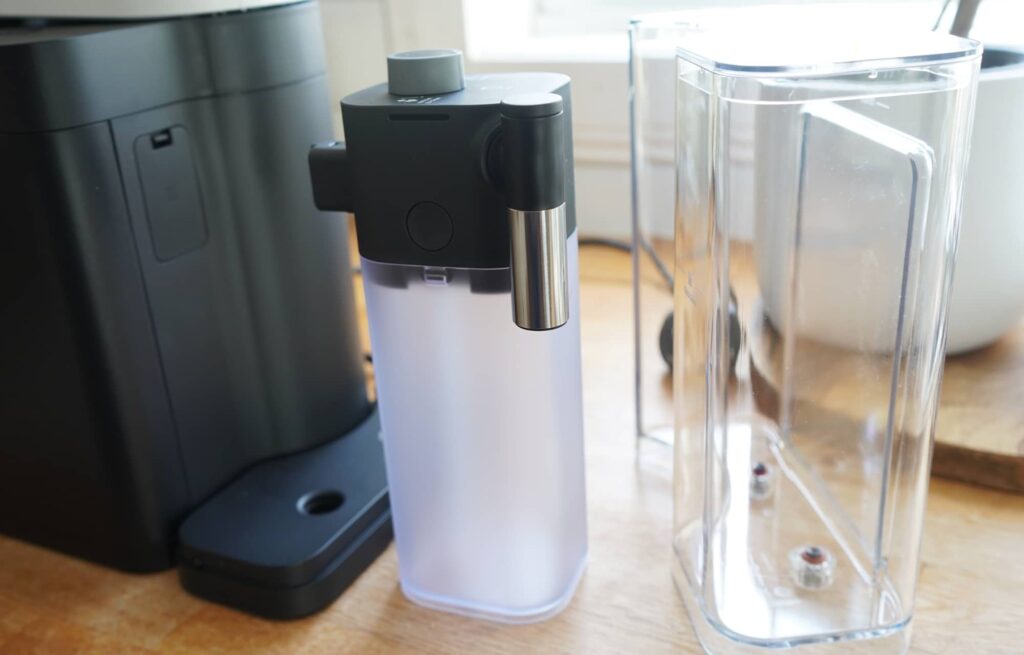 To do this, you'll pour your milk variety of choice into the detachable milk carafe, and then load a pod into the machine.
Just like the compact Vertuo Pop we checked out earlier in the year, the system requires you to open the machine almost like it was an alligator, and then close it down locking the mechanism in place to the sound of a pop as the pod is broken open by the machine.
From there, you can choose to make your coffee the way you want, either as a cappuccino by pressing the small milk coffee button, a taller latte macchiato with the bigger button, or a standard cup of coffee sans-milk using the main coffee button on the unit.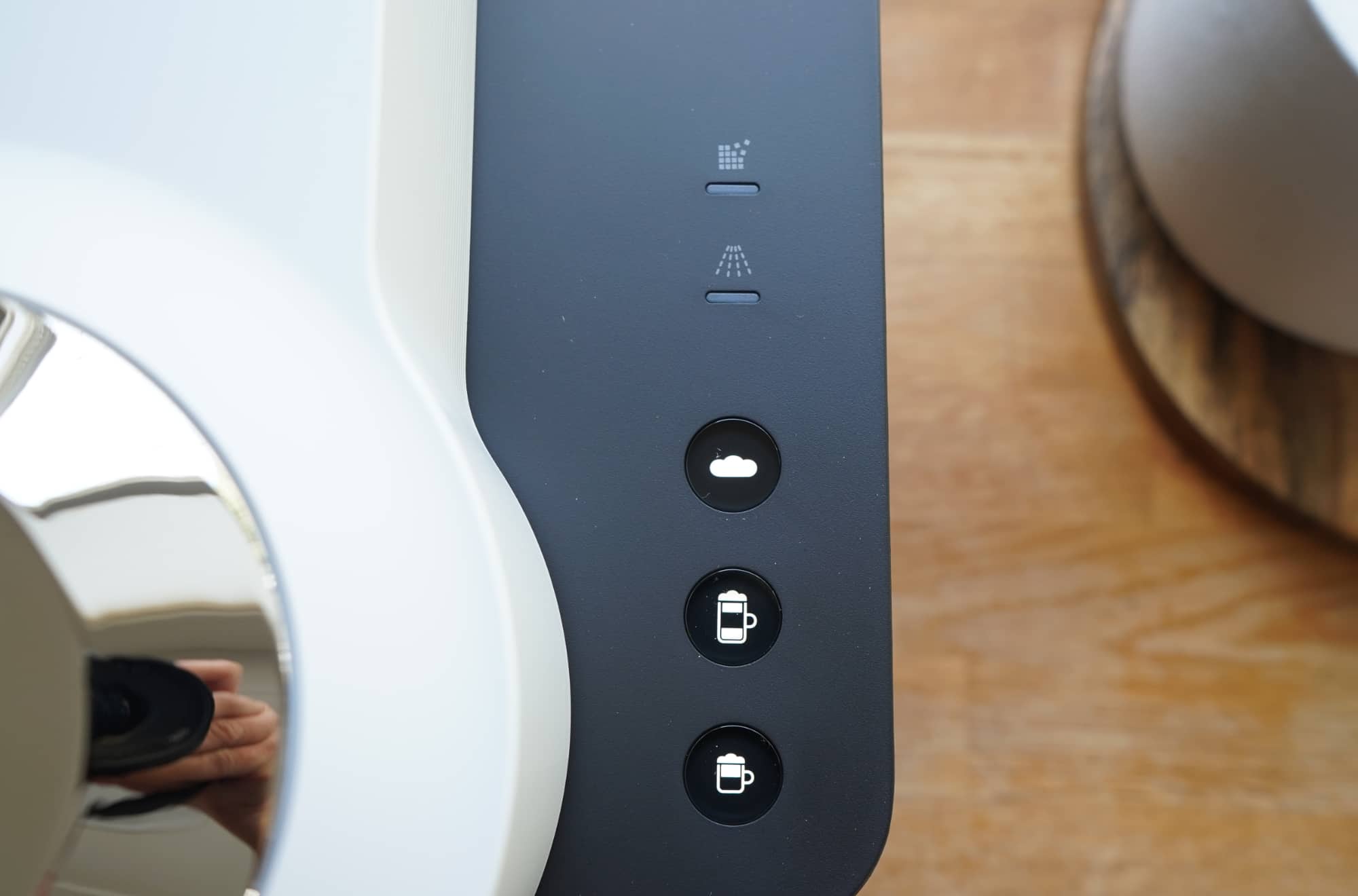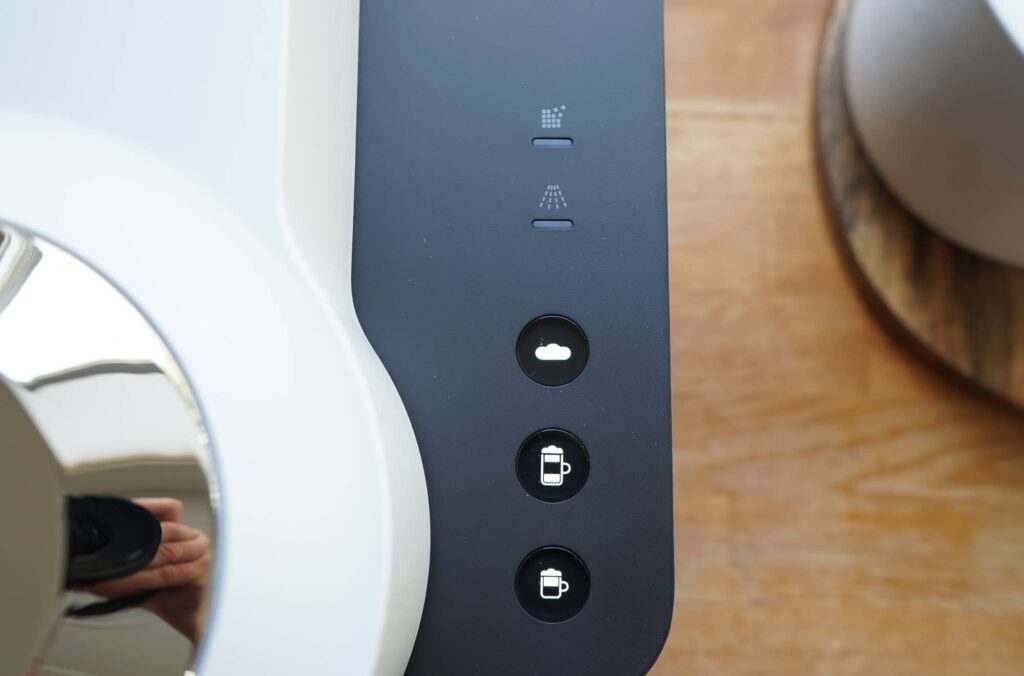 There's also a third milk button on the right for simply frothing what milk you have, which you can control by turning it off when you're finished, or just letting it provide as much as it's programmed to deliver, which seems to be maybe 100ml. Ish.
Unlike Nespresso's original system which uses a 19 bar extraction system, the Vertuo uses a combination of water and centrifugal action to create the term "centrifusion", which spins the pod in the machine with water, sending the blended coffee out through the machine and to your cup.
It's a different approach from the standard Nespresso models you might have seen, and one which lets the Vertuo not only make an espresso, but also larger cups of coffee in cinch.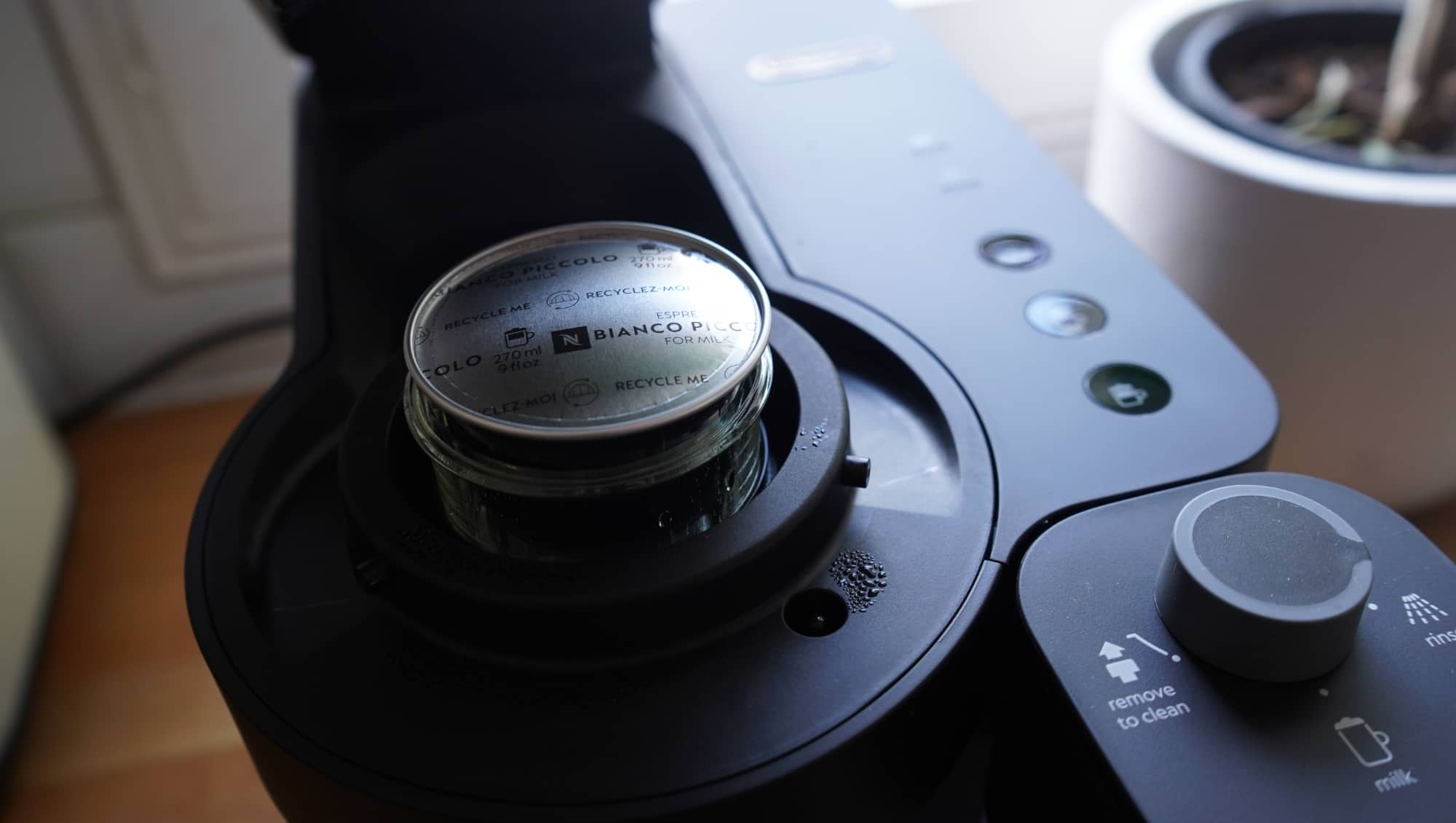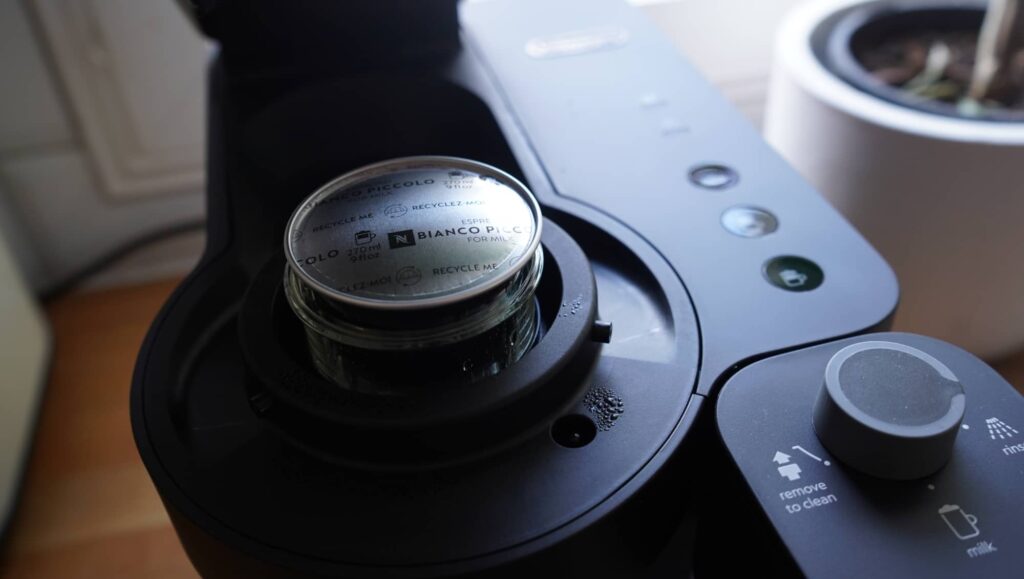 Does it do the job?
One of the positives of the Nespresso system is how easy and reliable it all is, with engineered coffee pods designed to give you regular coffee that taste the same.
That's the way it was with the original smaller Nespresso pod, which now everyone recreates at your local supermarket with ease. Even Starbucks has an officially licensed variety made with Nespresso you can find in store.
The Vertuo line of pods keeps this going with and maintains that simplicity with the premise staying the same. You simply need to choose the coffee you want to make, load the pod in, and then pick the size.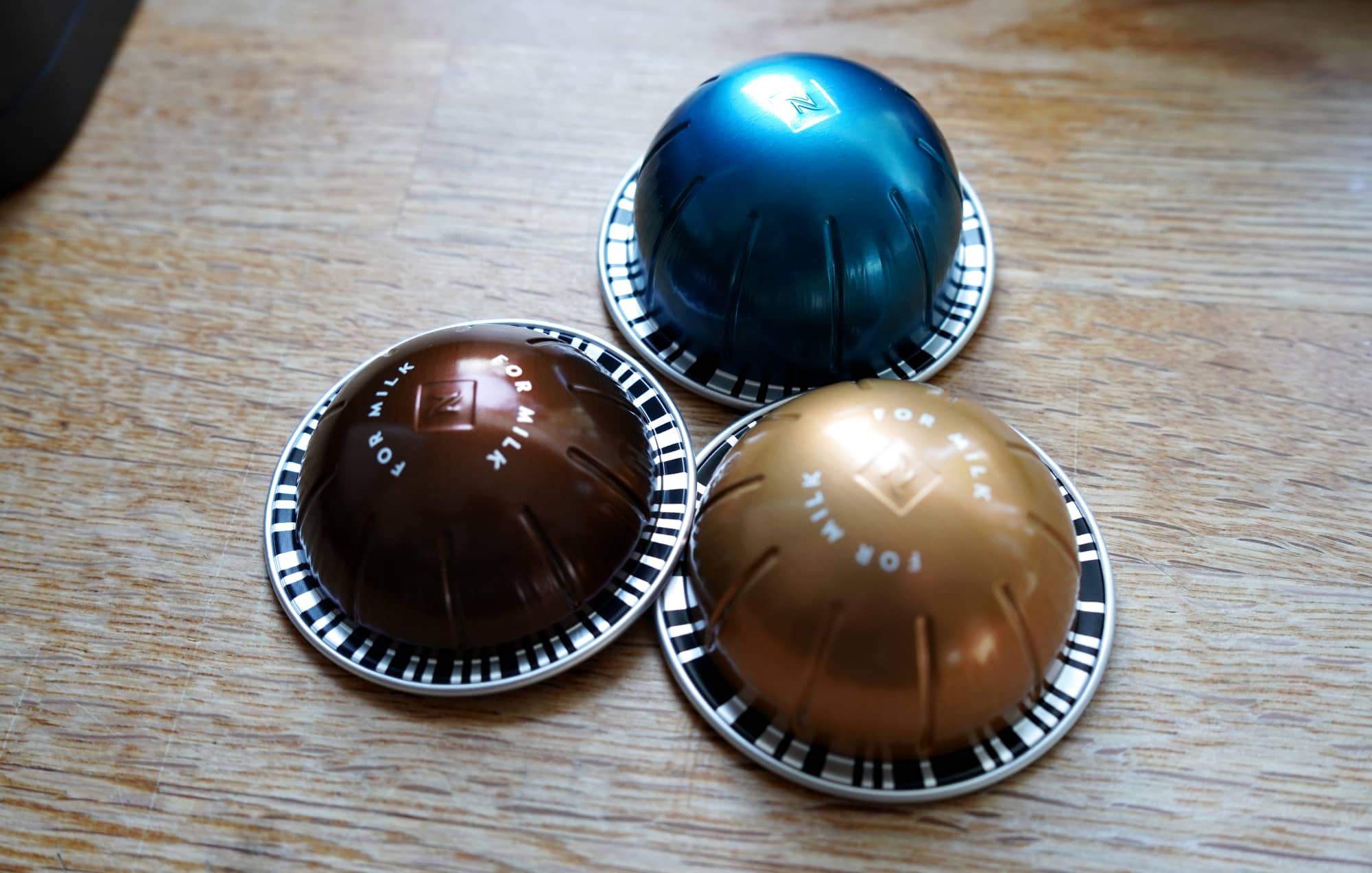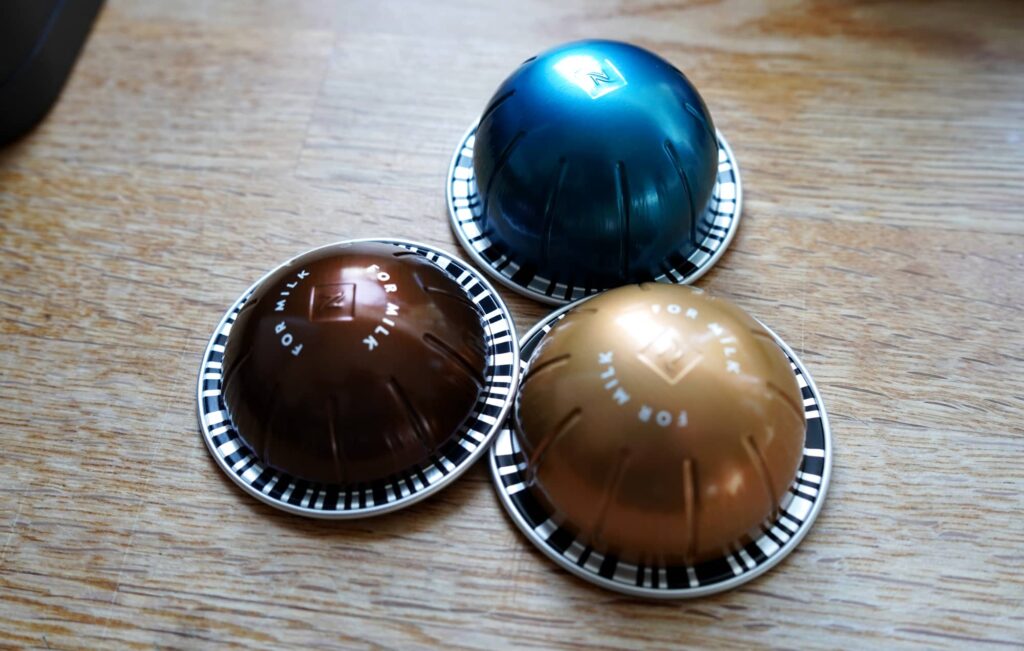 Like with the original Nespresso pods, some of the Vertuo line is specifically made with milk-based coffee in mind, but due to the bigger size, you can pick just how big your cup is. And it can now reach a proper mug.
For fans of cappuccinos and lattes, that's a win, because you can fill up a coffee cup without needing to add excess water. Rather than rely on a properly short cup, sizeable coffees with milk are very possible from the Vertuo Lattissima.
What does it need?
Coffee without milk is where things can feel a little less impressive, netting you the same problem all other Vertuo models struggle with: fake crema.
When coffee beans are ground fine and applied with the appropriate pressure, the water and grind comes together to form an almost milky liquid coffee aficionados call "crema". It's what you're basically paying a good barista to give you, beyond decently textured and frothed milk.
In the Nespresso Vertuo system, you don't quite get that, instead getting this overly bubbly foam which tries to reproduce crema, but also doesn't quite nail it.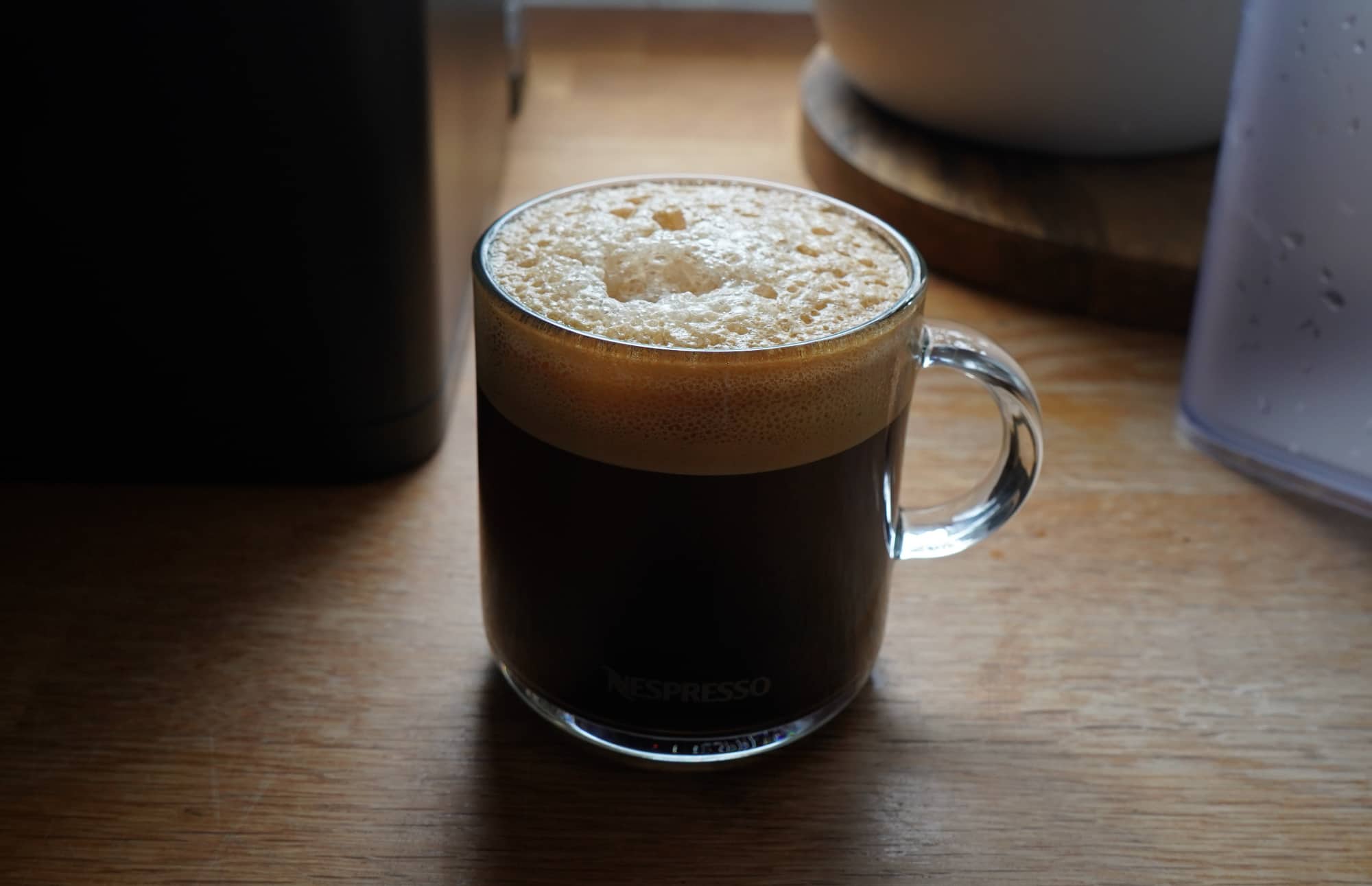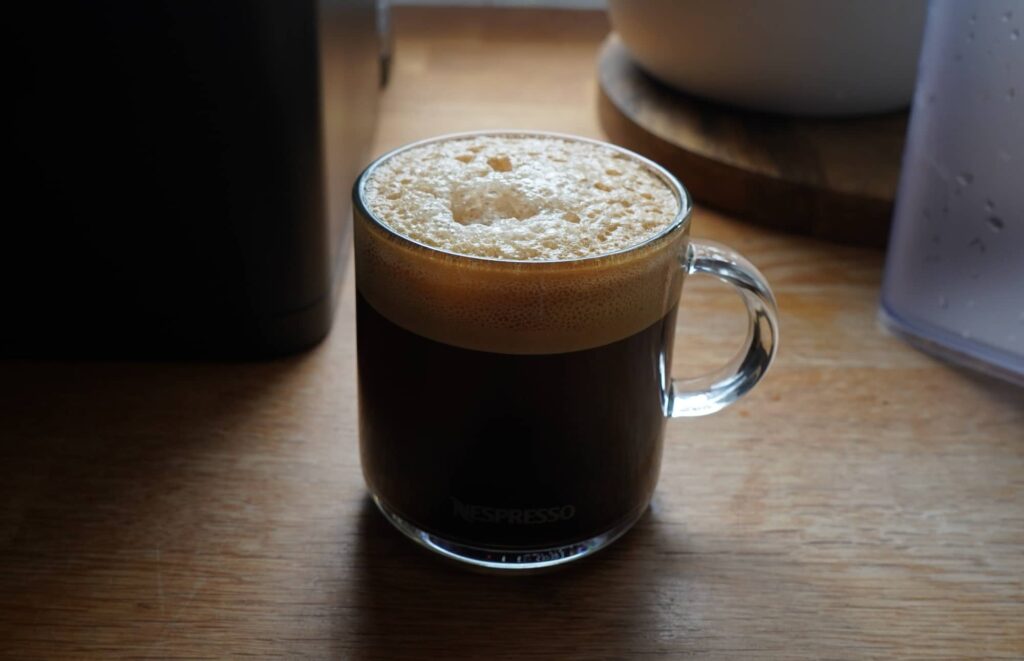 With milk-based pods, you can't see that or even taste it due to its blending with milks. But make a Vertuo cup without milk, and the coffee has that weird foamy texture on top. It's not quite crema, but for some it will do the job.
There's also the matter of the coffee itself, because you mightn't like what Nespresso produces. That's a problem in general with any pod machine, though we found Nespresso's milk-based pods tasted better than most of the sans-milk Vertuo pods we tried.
Nespresso coffee tends to lack personality, at least compared to the beans your local barista offers. If you already subscribe to a coffee house and order beans from a roaster you like, Nespresso's Vertuo probably won't beat that.
What it will deliver is speed and convenience. While it takes several minutes to grind, tamp, froth, and prepare a coffee with a proper machine, Nespresso's Vertuo Lattissima has this down to speed, delivering coffee with milk all in under a minute.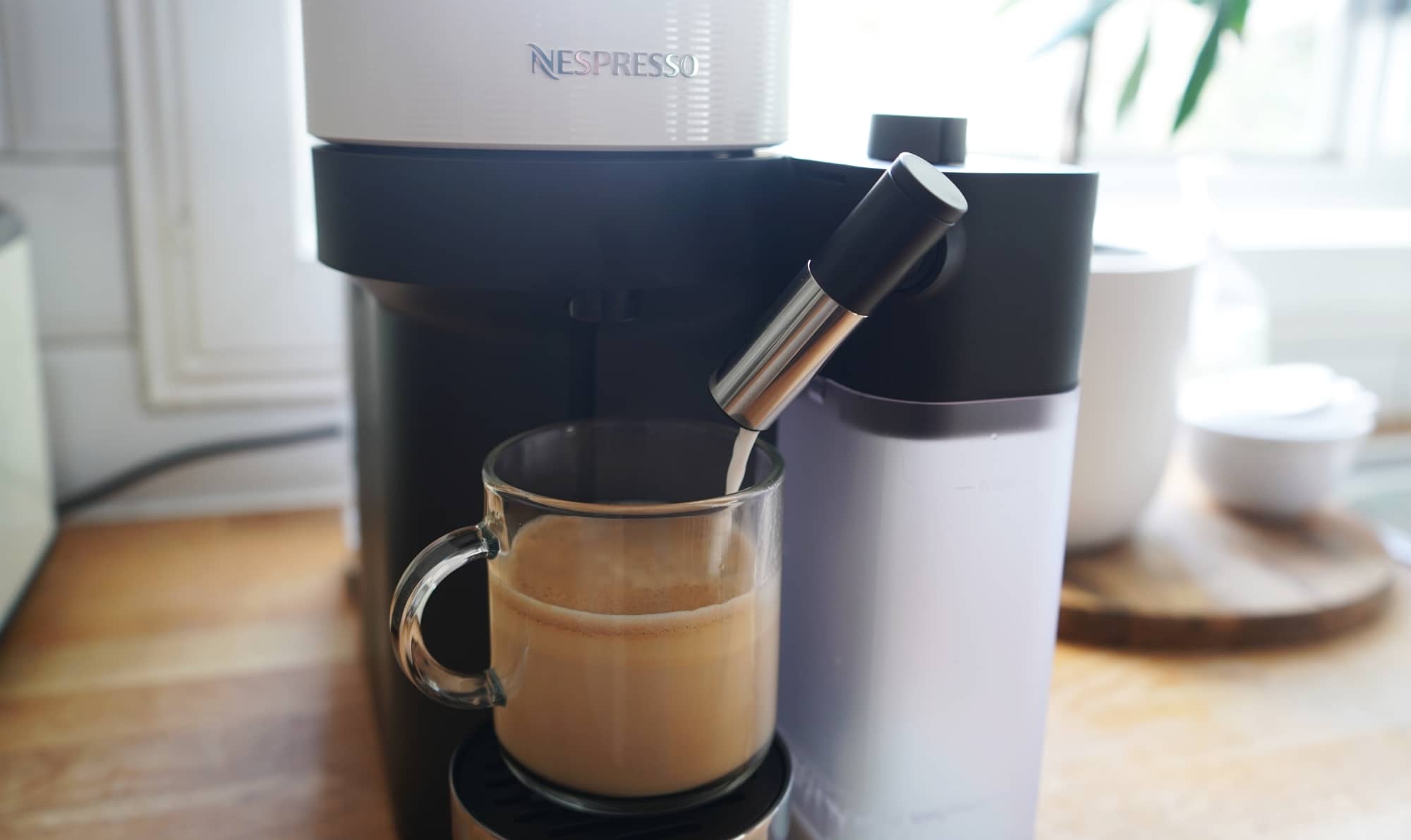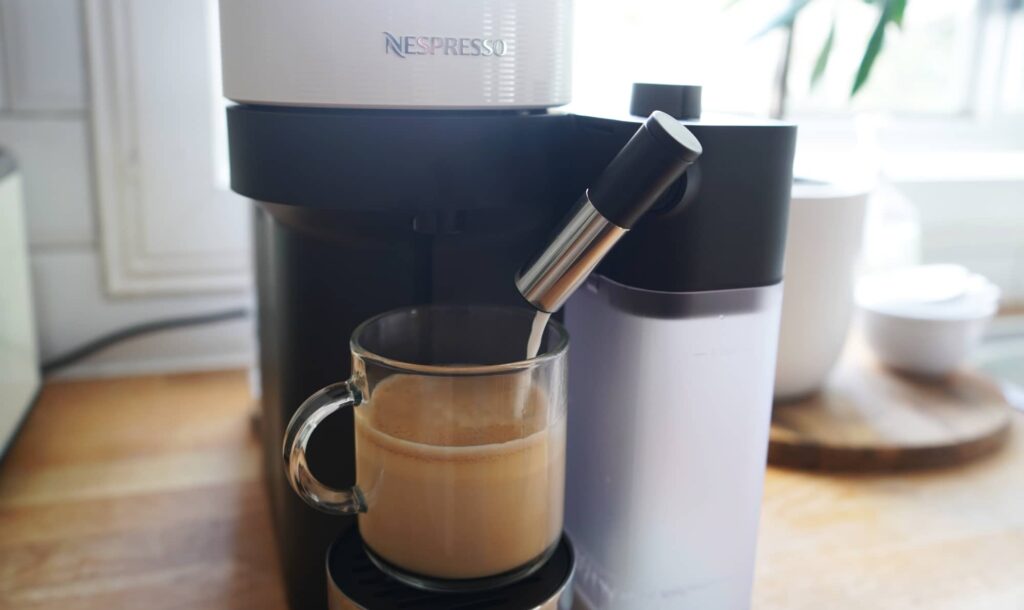 Pop the pod, make sure the milk is in the carafe, hit a button and you're done. Oh, and make sure a glass is underneath the spout, because otherwise there's going to be a big mess.
It also needs something else in the box, with no rinse container included. Simply put, you'll need to bring a spare cup to clean out the milk carafe every time you use it.
That could be anything, and most will rely on a pretty standard glass or coffee cup to clean out the milk system before detaching it and storing it in the fridge. But we think for the price, Nespresso should have definitely included a small jug for just that. It would have totally completed the package well and truly.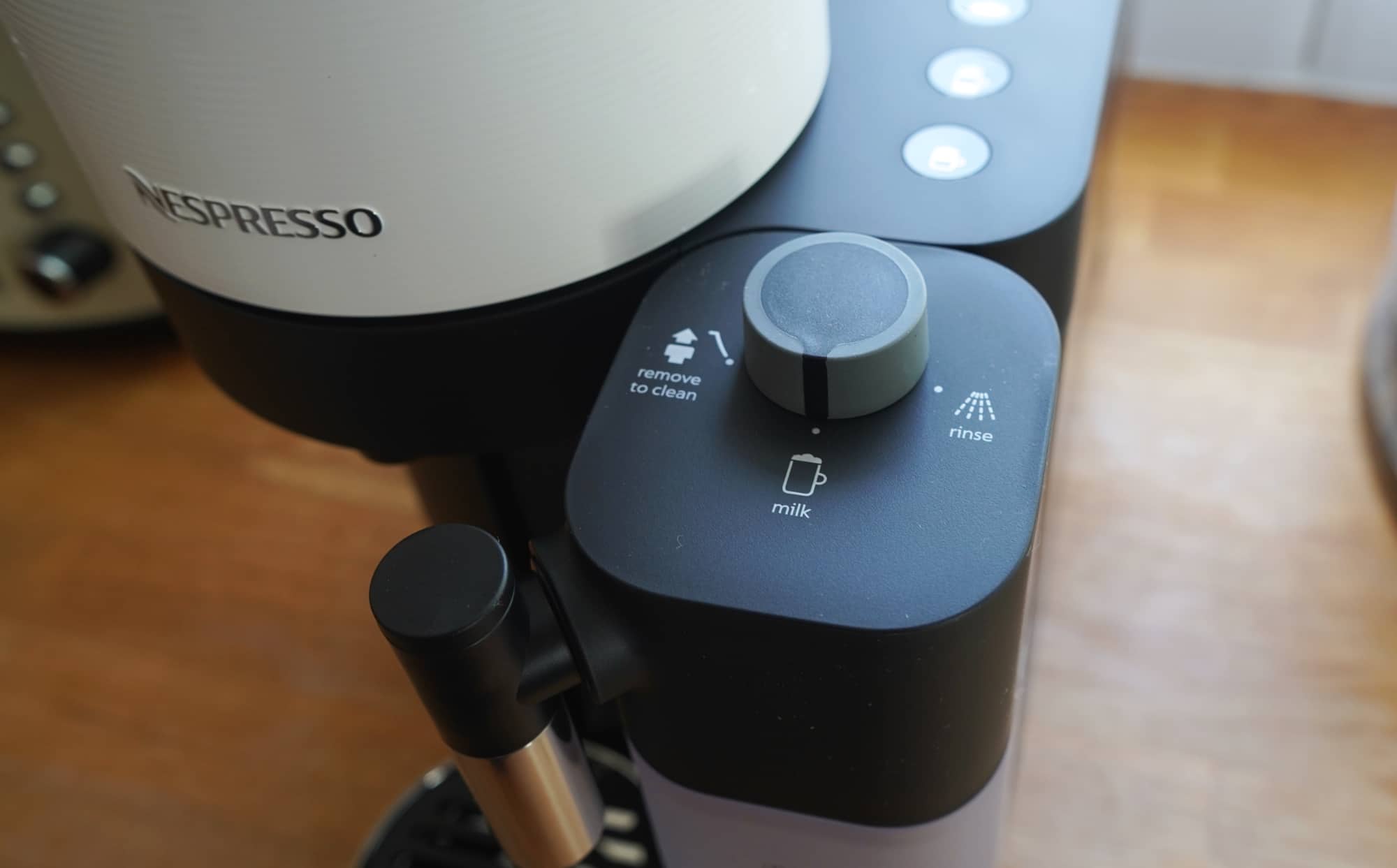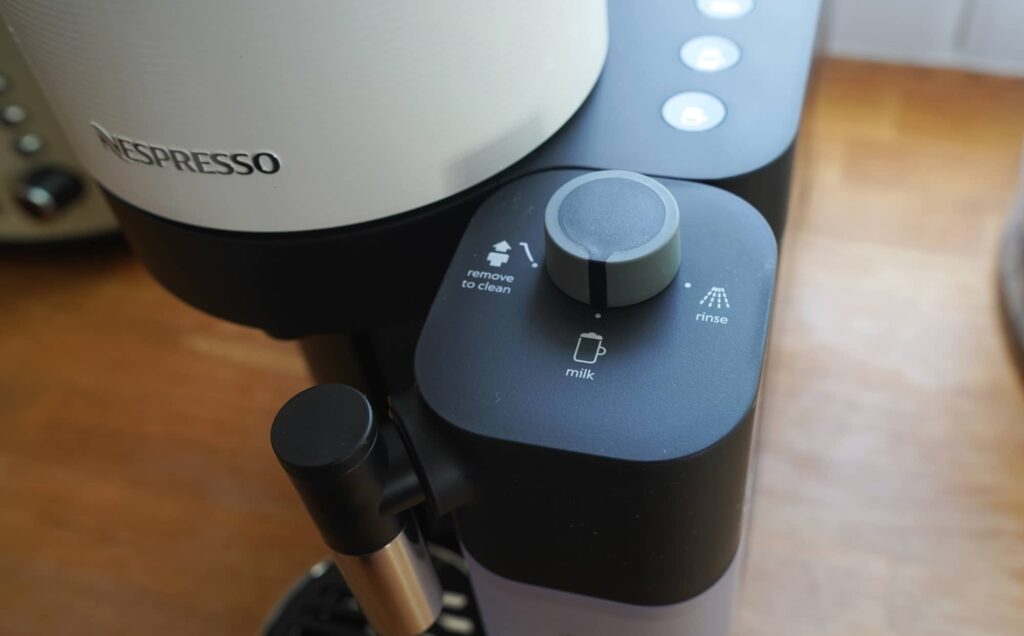 Is it worth your money?
Outside of that omission, at $749, the Nespresso Vertuo Lattissima is a relatively solid proposition if you:
Want a super easy coffee machine, and
Like Nespresso's Vertuo coffee.
Both are important with this machine, because unlike the standard Nespresso original pod machines, you can only get Vertuo pods from Nespresso. No one else makes them, and we doubt that'll change given the barcode system on the inner lip of each pod. That will likely keep Nespresso the sole provider of Vertuo pods until someone works out how to break that, and Nespresso doesn't patch the machines using the WiFi connection.
Worth noting is that your WiFi and Bluetooth connectivity doesn't do much else other than check whether your firmware is up to date.
There's an app, but it doesn't do much more than let you order more pods and maybe do a quick device clean. If anything, the app is more useful than pressing all the buttons for maintenance, though it's clearly there for Nespresso marketing more than anything else.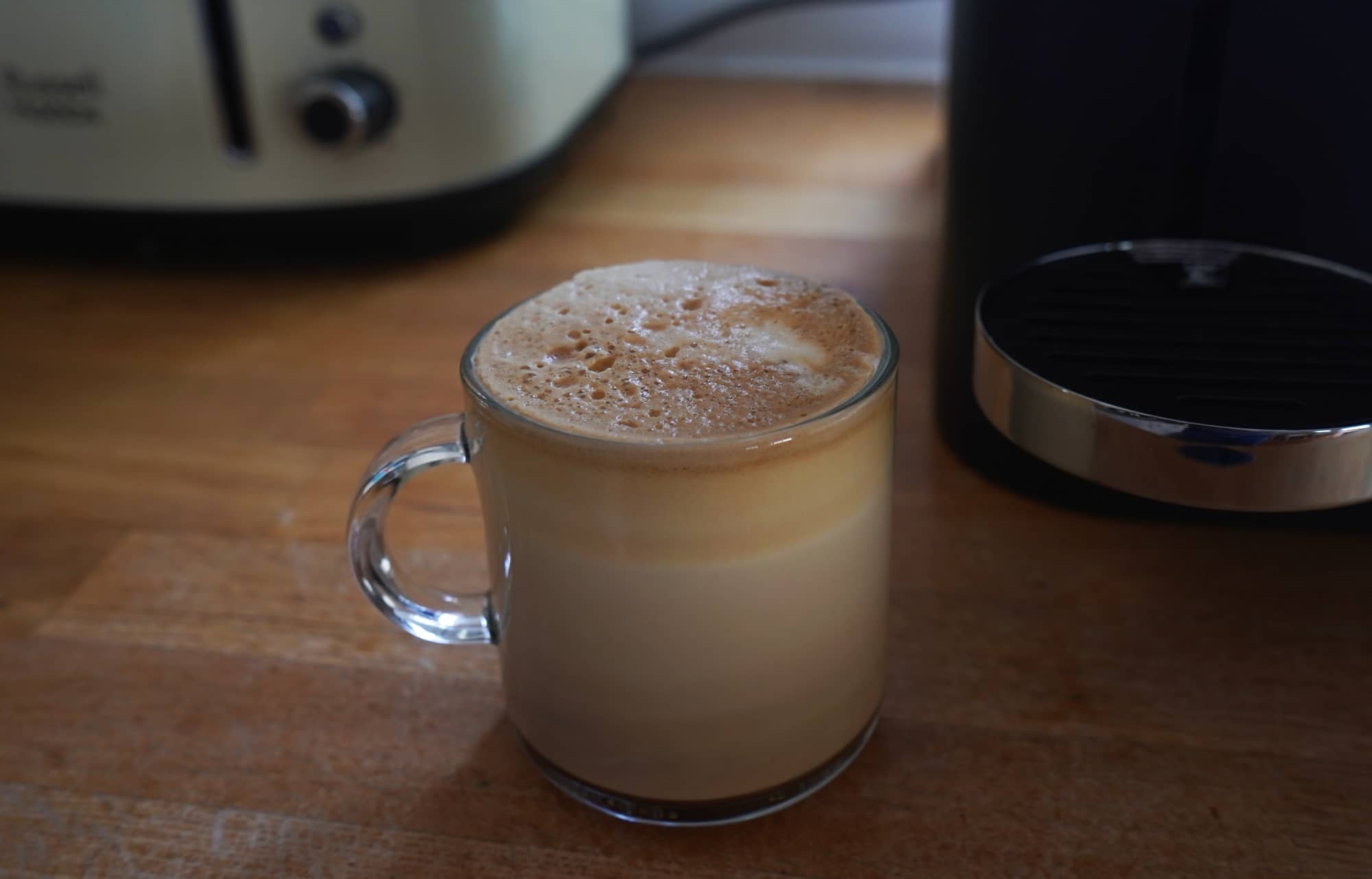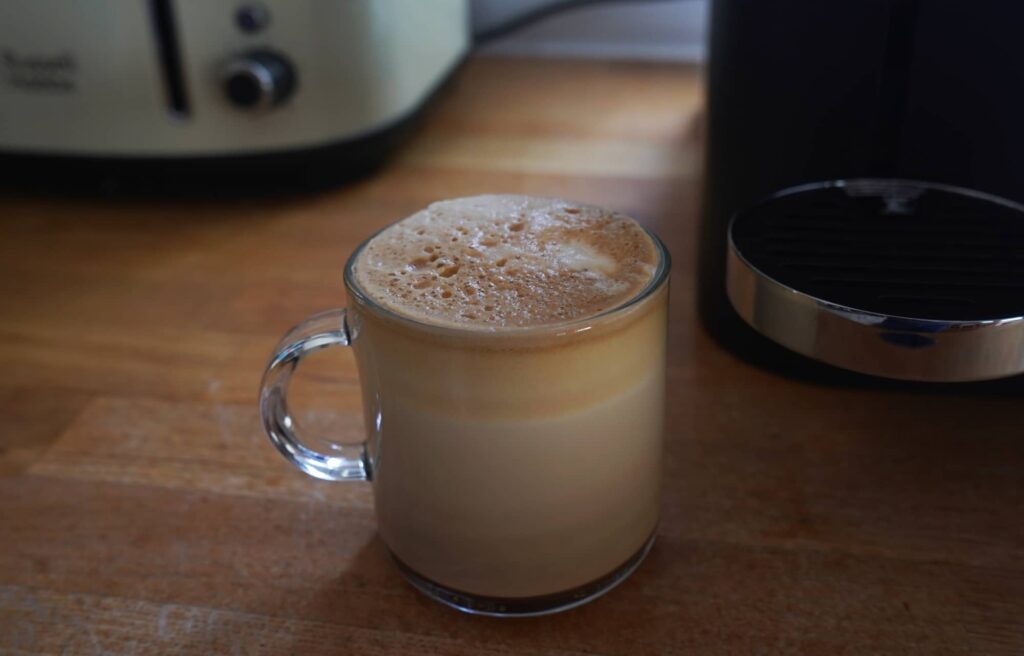 Yay or nay?
App mediocrity aside, the machine is actually quite solid and reliable, delivering coffee without the fuss with Nespresso's Vertuo pods and your milk of choice. Or even without.
The machine has a semi-premium finish with an emphasis on plastic offset by a surprisingly solid metal cupholder, and it looks pretty good on the counter top, too. Like all coffee machines, expect it to take a sizeable dent on your available counter space.
But sometimes that's totally worth it, particularly when the need for coffee comes a-calling. If what you want is effortless lattes, this is it. Worth checking out.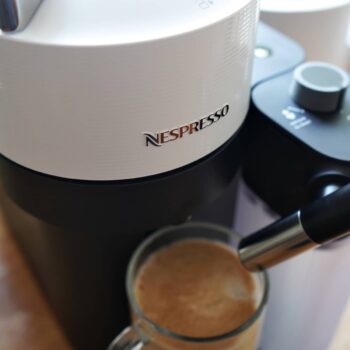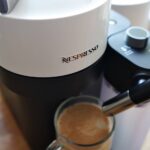 Nespresso Vertuo Lattissima
The good
Easy to use
Makes both long and short coffees
Handles milk like a pro
Detachable milk carafe
Comes with a water spout to use if you only need hot water
The not-so-good
Coffee may not be to your liking
Only accepts Nespresso Vertuo pods
Should ideally come with a rinse container