Quick review
Nespresso Lattissima One
The good
Compact
Easy to use
Optical milk sensor is a cute addition
The not-so-good
Milk compartment doesn't self clean
Emptying the spent capsule container is a two part job (minor, but still worth noting)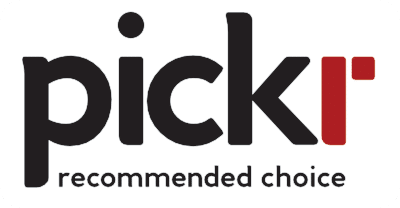 Coffee machines are known to not only take space, but require a manual to use, but Nespresso's Lattissima One changes that game for both of those. Is this Nespresso's most kitchen-friendly machine, and can it make excellent coffee simple for you?
Design and features
Before we start, there's one thing you probably need to know about every Nespresso machine out there: they're all practically the same. At least on the inside.
Whether you buy one made by Delonghi or Breville or Kitchenaid or anyone else that joins the Nespresso crowd, they all come with a 19 bar pump, they all take the same pod system, and they're all engineered to make the same cup of coffee every time provided you use the same settings every time. Switch the style from a super short ristretto to a standard short espresso all the way to the longer lungo, and the coffee flavour and length will understandably change, but given the same settings and the same pod, each machine should perform identically.
That's part of what makes the Nespresso system so damn compelling: the same coffee, day in and day out. And it works a treat.
The external features might change — you might get an LCD screen, more buttons, a milk frother, or some funky designs — but the machine is pretty much the same whether you spend $250 or $750.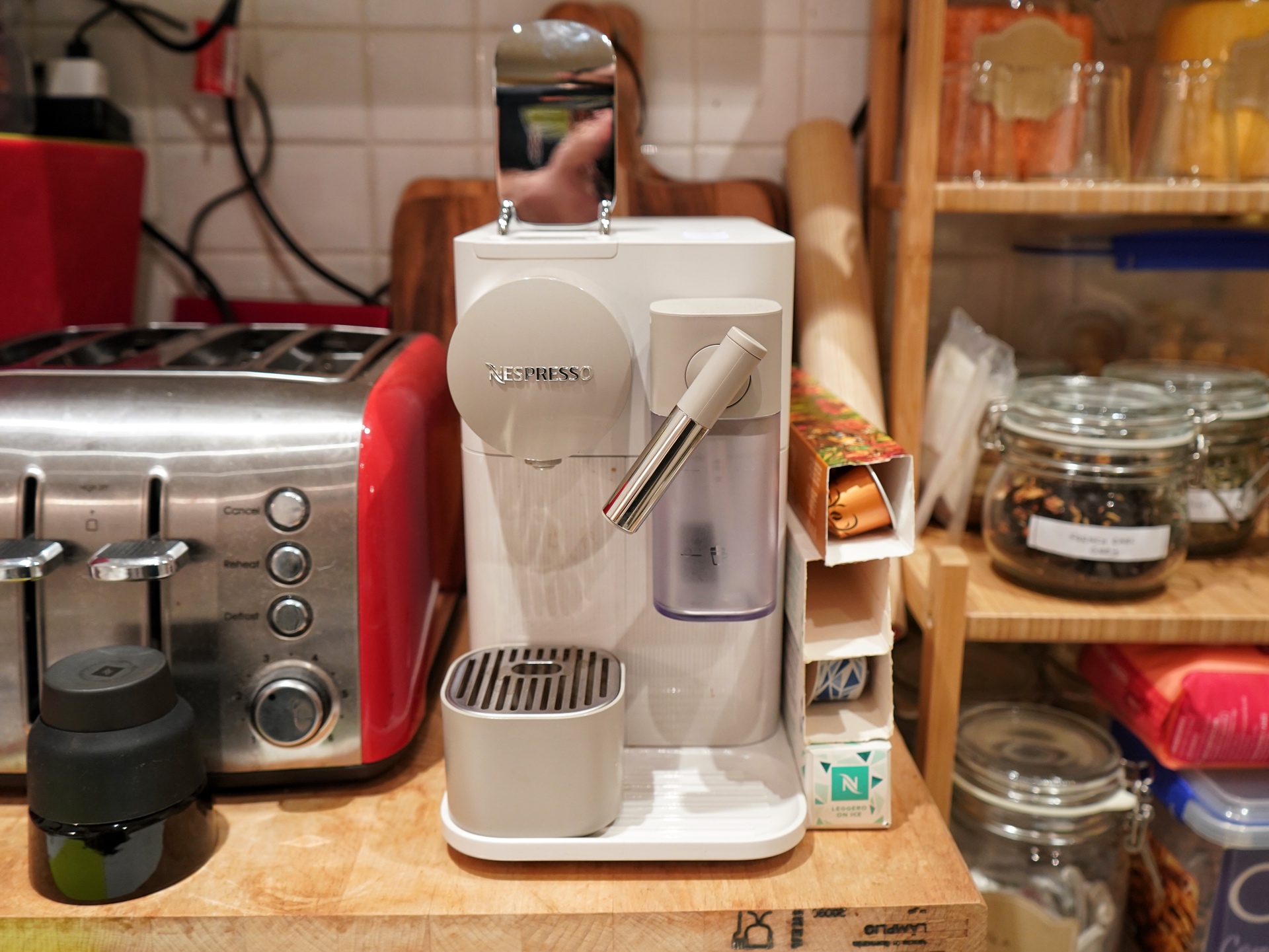 On the Nespresso Lattissima One, the coffee machine takes the automatic milk frother variation of its coffee machines and applies it to a smaller design. Indeed, the Lattissima One feels smaller because it is: it has a thinner base than other Lattissima models and overall seems like the sort of coffee machine made for small kitchens.
The milk frother is still there, but its tank is smaller, made for one cup of milk-layered coffee at a time.
The machine is pretty much completely plastic, but as is the tradition of Nespresso's machine, the Lattissima One's parts are easily removable for ease of cleaning, and there are only a handful of buttons up top for using the machine, with two getting you either long or short, and one more a coffee with milk.
In-use
The sheer lack of buttons means there's pretty much no skill needed in order to use the Nespresso Lattissima One, excerpt maybe, of course, pressing a button.
You merely need to keep the machine's water tank filled with the obvious choice of water, open the capsule compartment by the door, insert your capsule, and away you go.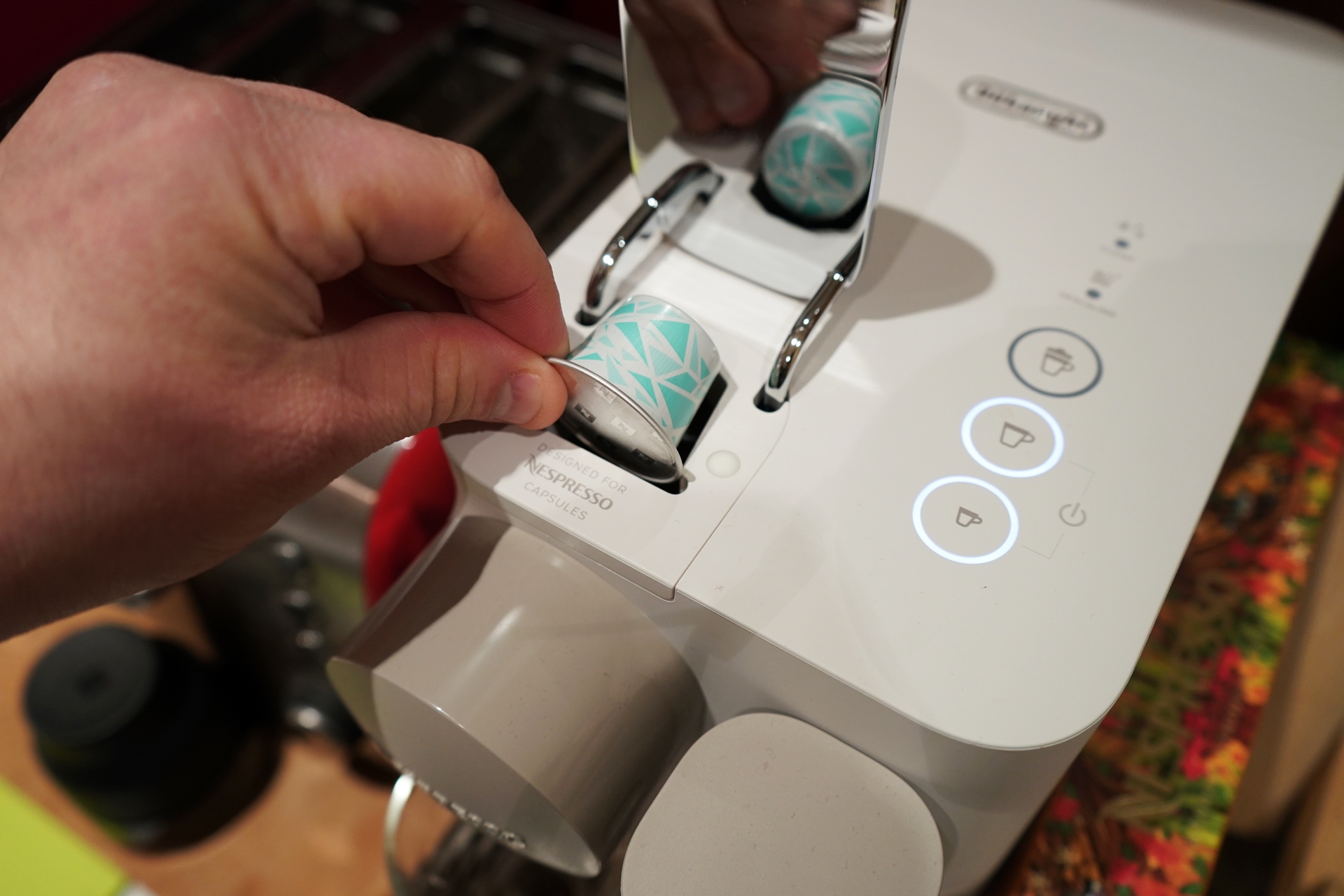 That's how it goes for a standard espresso drink — a short espresso or a long lungo — but what if you want a bit of milk frothing up top?
If you want to add some milk, simply pour some into the milk tank and plug it in. The amount you pour will indicate the amount of froth you get, and the marks for the drink are even on the side of the tank.
Performance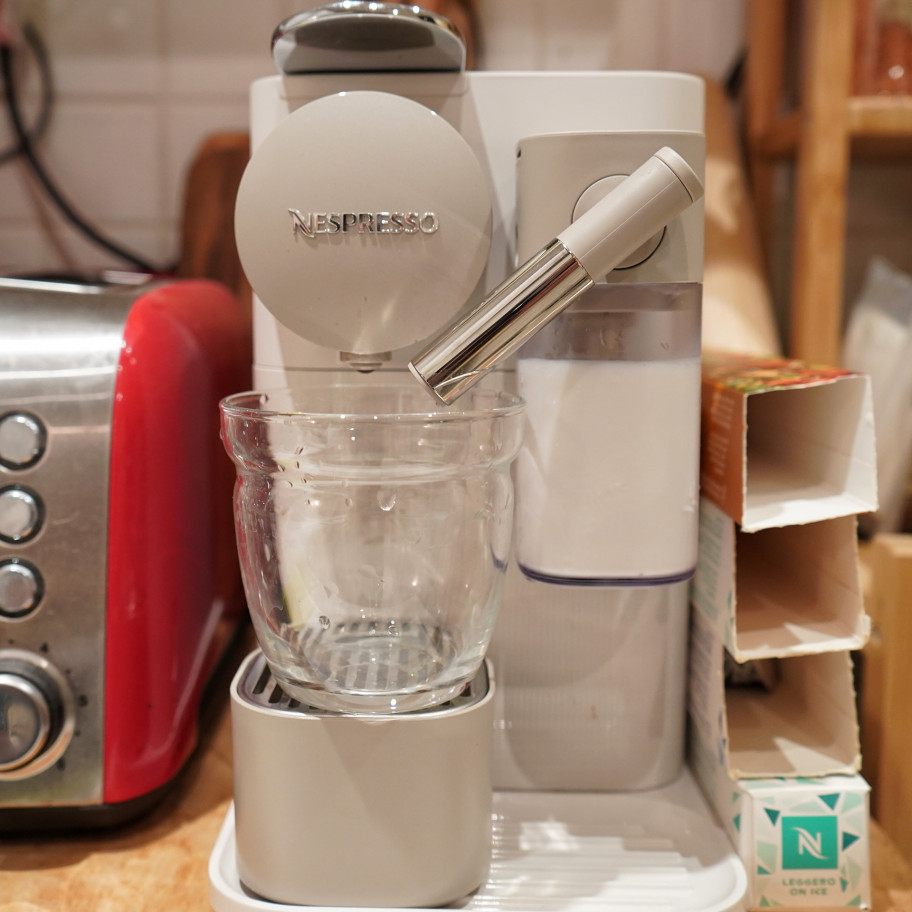 Like all Nespresso machines, performance here is fairly strong, recreating the same Nespresso cup of coffee you'd get on the expensive models in the espresso mode, simply because the internal hardware is largely the same, and the capsules are designed to offer the same cup regardless of the machine used.
Where things take a change for the technically cool is in the milk area.
Previous Lattissima machines have required you to press the button for the milk amount you wanted, with that being the sole designator for whether you had a lot of foam or not much at all.
Fortunately, the Lattissima One takes care of that, too, and it has a neat trick for working out how much milk to froth up top: it uses light.
Behind the milk compartment is a window of black, and that's an optical sensor, not unlike an infrared port. This determines how much milk to use and texture based on how much you've poured in, so your froth amount is actually based on how much you've poured.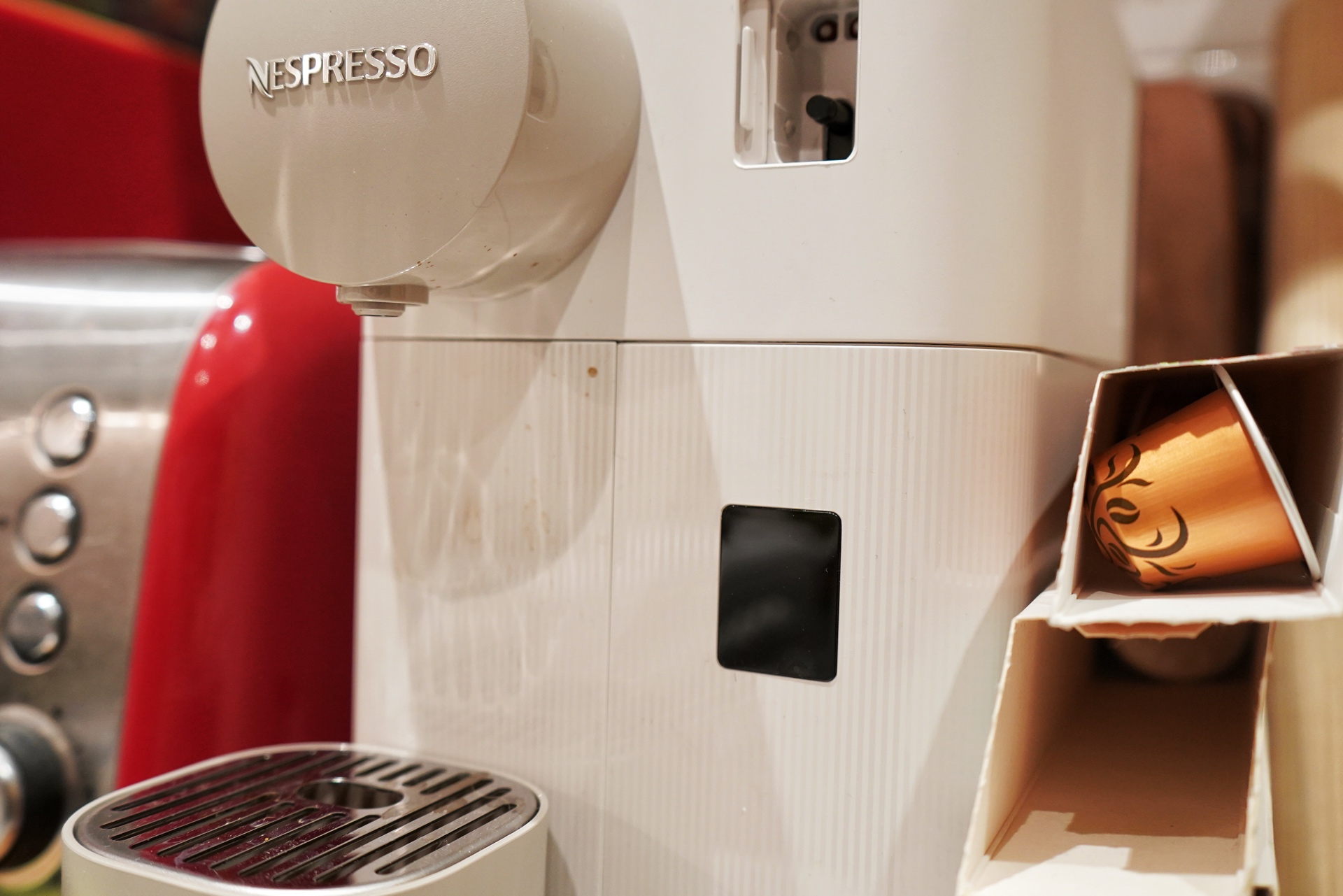 It's a simple process, and one that requires you to either memorise or just follow the directions: the first third of the front milk removable tank is for a cappuccino, while the two-thirds mark (a little more, actually) is the latte macchiato setting, and the markings give that away.
As a point, the optical sensor isn't what we'd call super smart, because if you fill it halfway, it picks up on that you wanted a cappuccino and leaves a bit of milk in the container.
But the Nespresso Lattissima One does do a great job of texturing and pouring so you don't have to, it's the cleaning that requires user intervention.
While previous Lattissima models have offered automatic cleaning, the Lattissima One goes to manual mode, lighting up the clean light after every use of the milk tank to request that you give it a clean. And by you, we mean "you", because no auto-cleaning system on the Lattissima One means you need to unplug the coffee tank, take out the parts, and give them a rinse.
If you're making several coffees, you don't need to go through cleaning one after another. Rather, you can take it out for the clean when the entire coffee order is complete, but it's not a process you can force the Lattissima One to do automatically, so just take that into account every time you make a cappuccino on this Nespresso machine.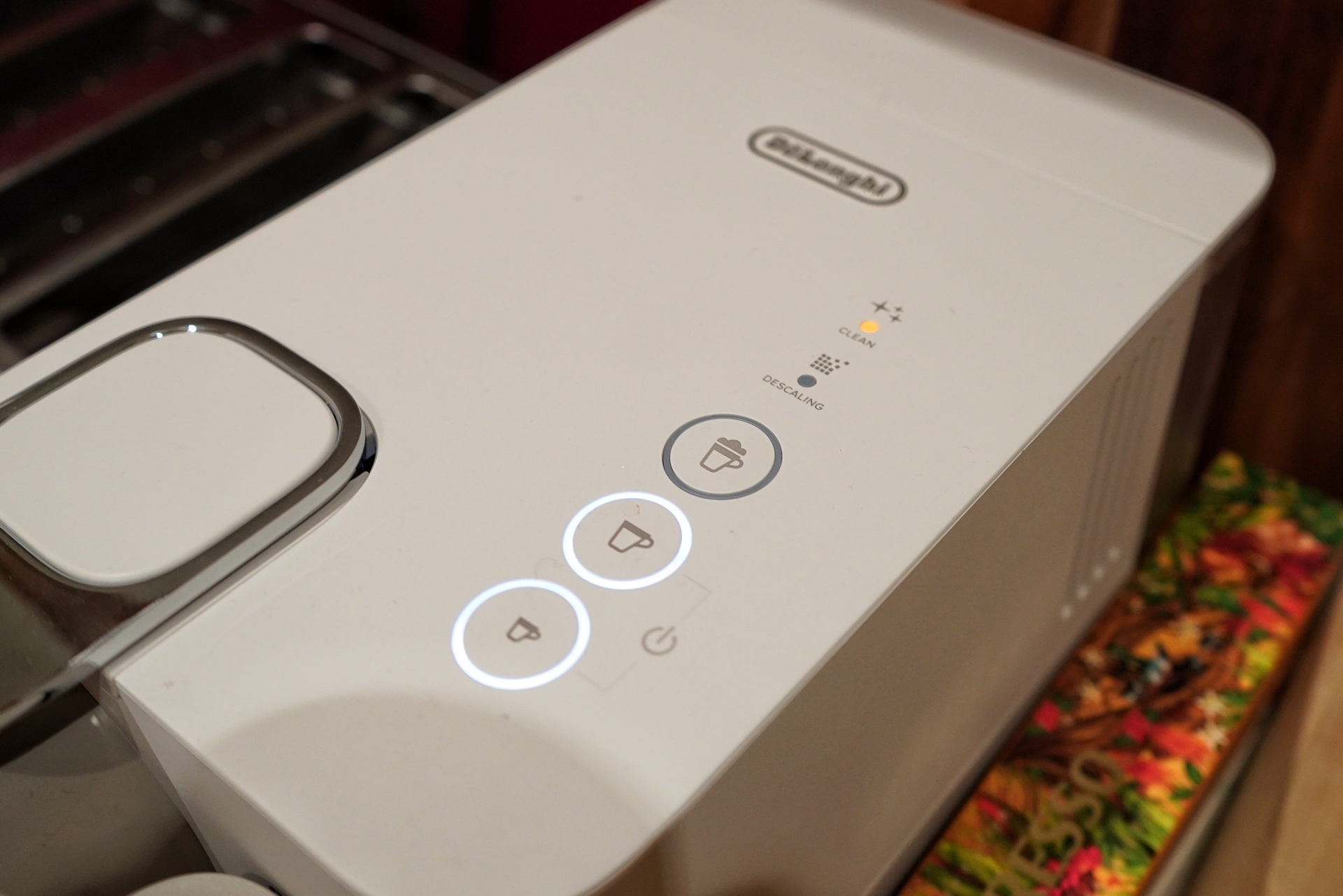 Value
Even with this minor gripe, the $399 price of the Nespresso Lattissima One is fairly accommodating, ditching the formerly separate milk frother and making the unit connected to the body.
You don't have to use it, mind you, and can happily make short and long coffees without ever having to touch the milk texturising bottle, but connecting the two pieces means the Nespresso coffee system can feel smaller in size.
It is a good $150 more than the models where the Aeroccino milk frother sits external and next to the coffee machine, but if space is at an absolute minimum and you'd prefer an all-in-one design because you might have espresso and also might have a cappuccino, the Lattissima One isn't a bad value proposition.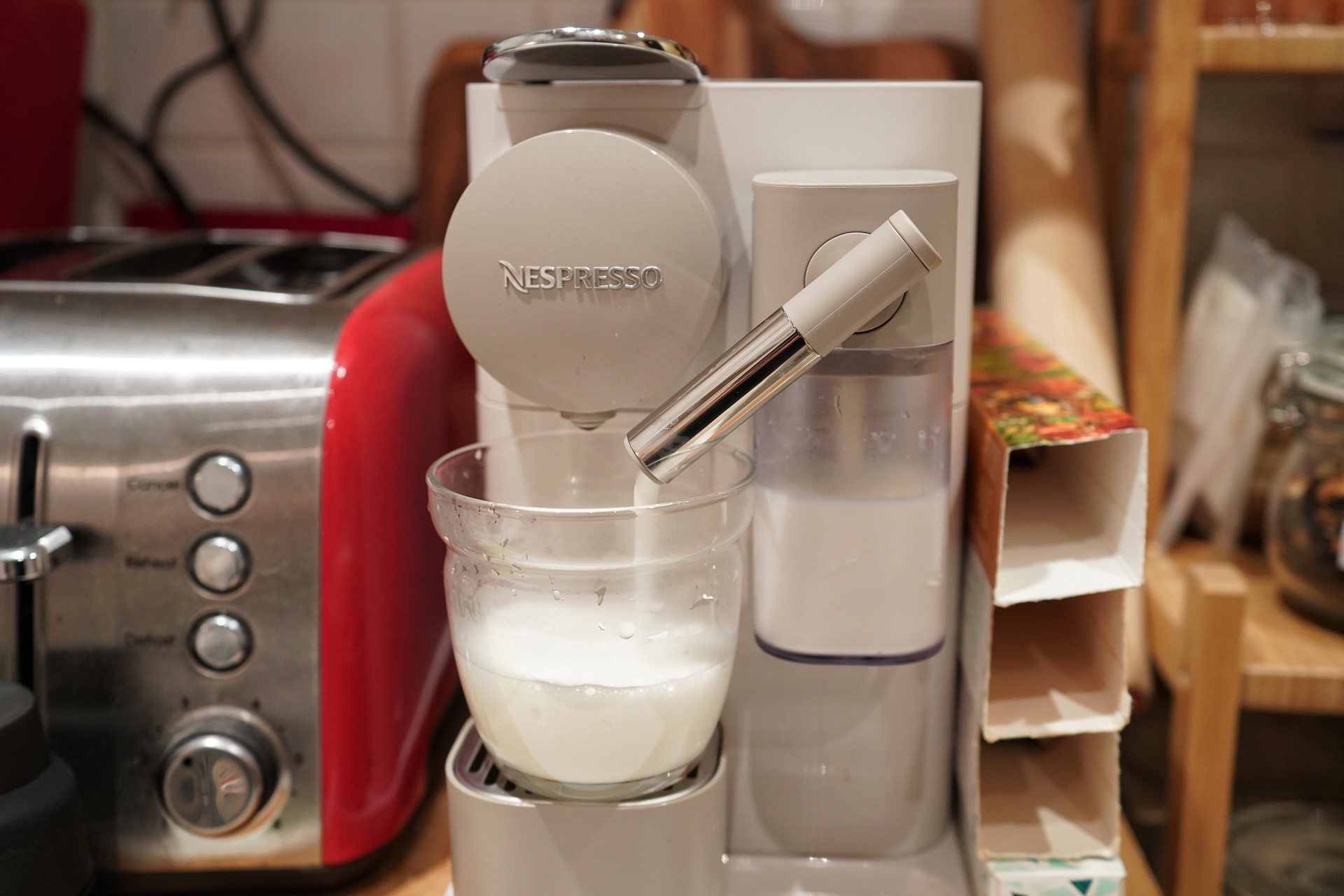 What needs work?
Overall, it's a fairly strong machine with little to complain about, outside of the lack of self-cleaning, which isn't that much of an issue, either. Frankly, even when the standard Lattissima models did self-clean, we'd always want to clean it by hand, anyway.
But cleaning is a slight burden another way, with the spent capsule container taking a touch more effort. It's not just a matter of pulling the right drawer and emptying it, but rather pulling out a small section and then taking the spent capsule compartment out, emptying it for recycling (or throwing away, your choice).
A minor issue, this is one of those things worth noting, simply because it's not as simple as pulling out one compartment, but rather fiddling with two. Easy, but still a slight hindrance.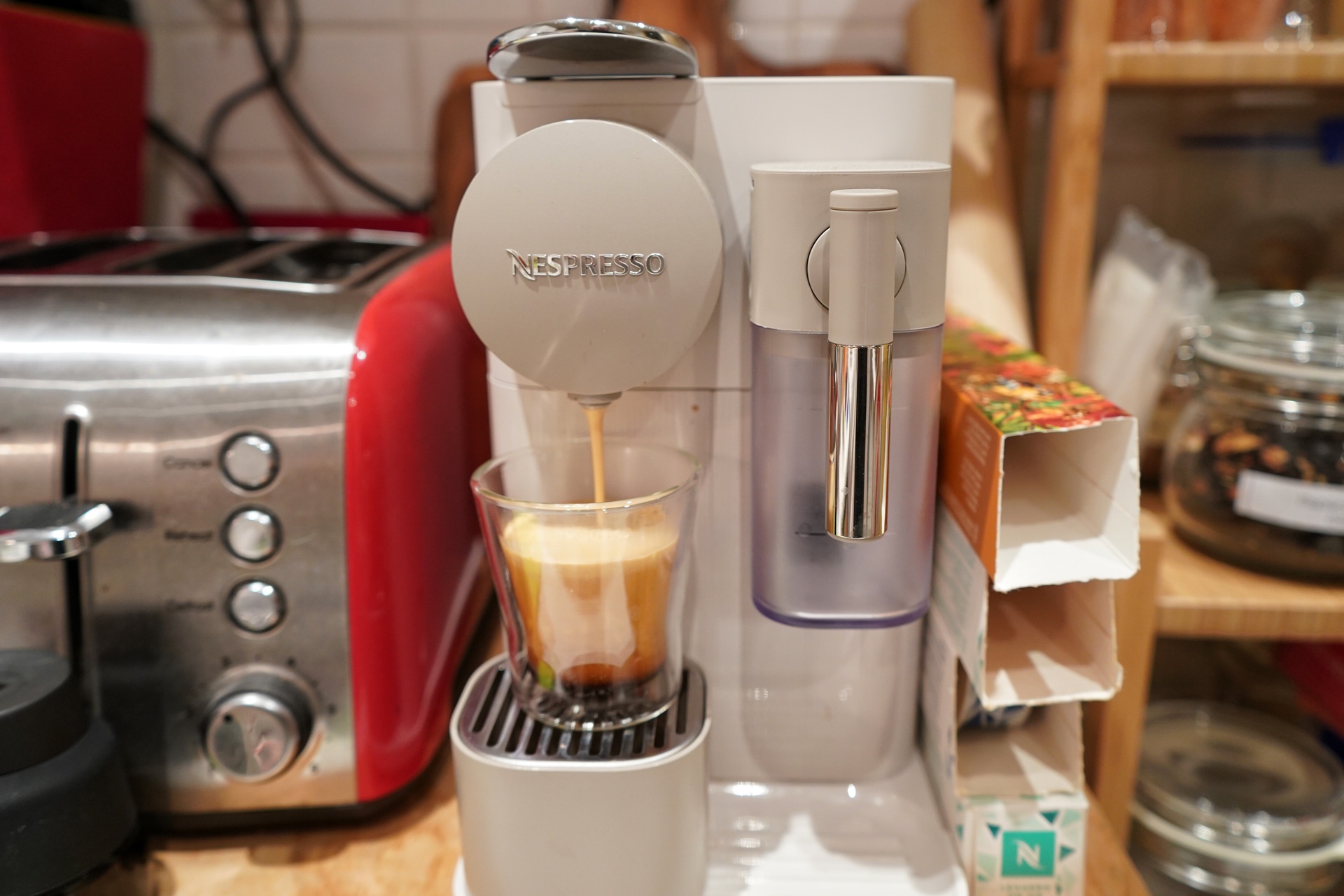 Final thoughts (TLDR)
The gripes are minor, however, and overall, Nespresso's Lattissima One is a joy to use, with a cappuccino-capable capsule coffee contraption that creates caffeinated cups quickly and easily.
Nespresso's (and DeLonghi's) inclusion of an optical area is a great use of technology, and the simplicity with which anyone can make a coffee makes this thing a joy to use, and even to clean.
Recommended for kitchens that love coffee but lack space, and are more than content with Nespresso's encapsulated coffee varieties.
The good
Compact
Easy to use
Optical milk sensor is a cute addition
The not-so-good
Milk compartment doesn't self clean
Emptying the spent capsule container is a two part job (minor, but still worth noting)