Quick review
Nespresso Vertuo Pop
The good
Easy to use
Great size
Fairly convenient
Very inexpensive
The not-so-good
Coffee only comes from Nespresso (and you mightn't like it)
Crema from Vertuo coffee isn't real crema
Doesn't support Nespresso's big pour-over Vertuo pods
Can be loud
Small water reservoir
WiFi connectivity is hit and miss... mostly miss
Coffee machines almost always come with a skill level, and it was possible to break even the standard Nespresso pod. Not so of the Vertuo Pop, which pops through the new pod style and spits out coffee without effort.
After reviewing coffee machines for over a decade, one of the learnings we keep seeing is that an easy-to-use machine often comes at the expense of something, and that's typically cost. A simple coffee machine is typically one that forgoes on something, whether it's a complexity or taste, or more commonly on price.
Take the most automatic of espresso and cappuccino makers: these things are built to do everything for you, but also cost an arm and a leg. Asking for as little as around the two grand mark, properly automated machines that deliver great coffee with no skill set are not cheap, while the models on the other end of the spectrum that are actually cheap tend to offer basic coffee in the filtered way.
There's nothing wrong with that, mind you — each to their own — but designing a machine that handles coffee to deliver espresso and long coffees in an easy and inexpensive way is clearly not easy.
It's an area Nespresso has been working in for some time, producing a variety of machines to suit. You may know the standard Nespresso pod, but it has also dabbled in drink pods that do more than just coffee, something previously found in the Nestle Dolce Gusto line, which was more of a drink-maker than a proper coffee maker.
A few years ago, Nespresso experimented with another style of coffee pod maker, and one that looked into coffee beyond the espresso variety. Made for folks who like both long and short styles of coffee, the Vertuo pod was larger and different, using a laser barcode to know what to do with water, and deliver that longer style.
In its most recent revision of the Vertuo line, Nespresso is finding a way to get the Vertuo pod to an even more economical price point, with the $229 Vertuo Pop looking to hit that balance of value and simplicity you might be looking for.
What is the Nespresso Vertuo Pop?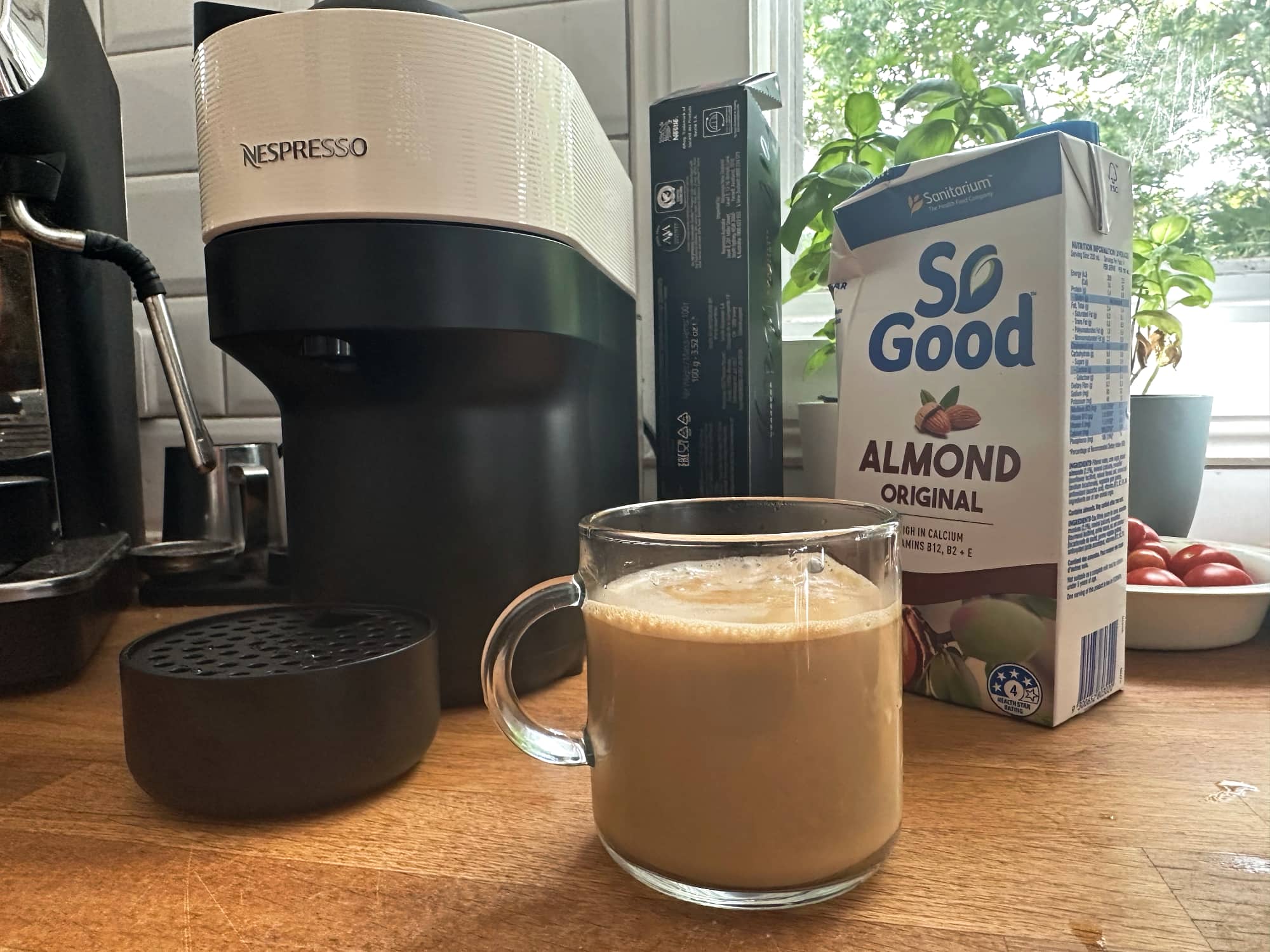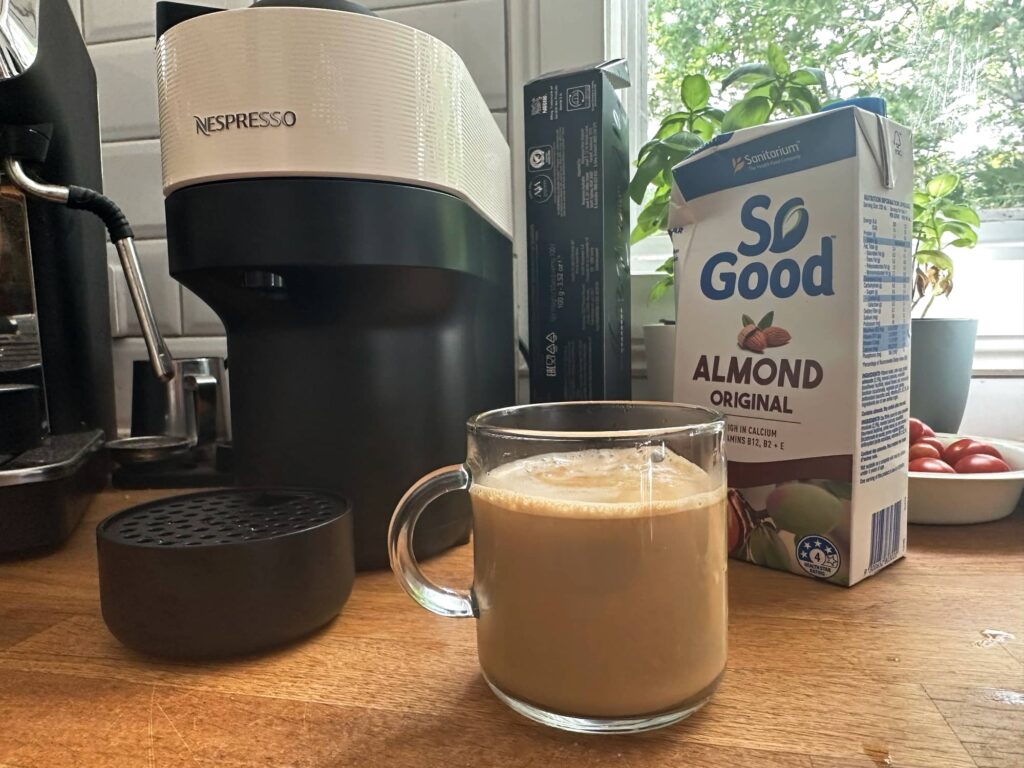 Perhaps unsurprisingly, Nespresso's Vertuo Pop is a coffee machine, because that's what Nespresso primarily makes. It also has a milk frother in the Aeroccino 3, which this doesn't come with in the base model, but is an optional extra and can be found with the Pop for an extra $90 or so. Unlike models in the Lattissima series, the Vertuo Pop doesn't come with milk texturing built directly inside.
But what it does do may account for making the milk frothing gadget in an option, as it uses the dome-shaped Vertuo pods to create both longer and shorter styles of coffee, beyond the very short ristretto, short espresso, and slightly longer lungo of the regular coffee pod varieties Nespresso is known for.
What does it do?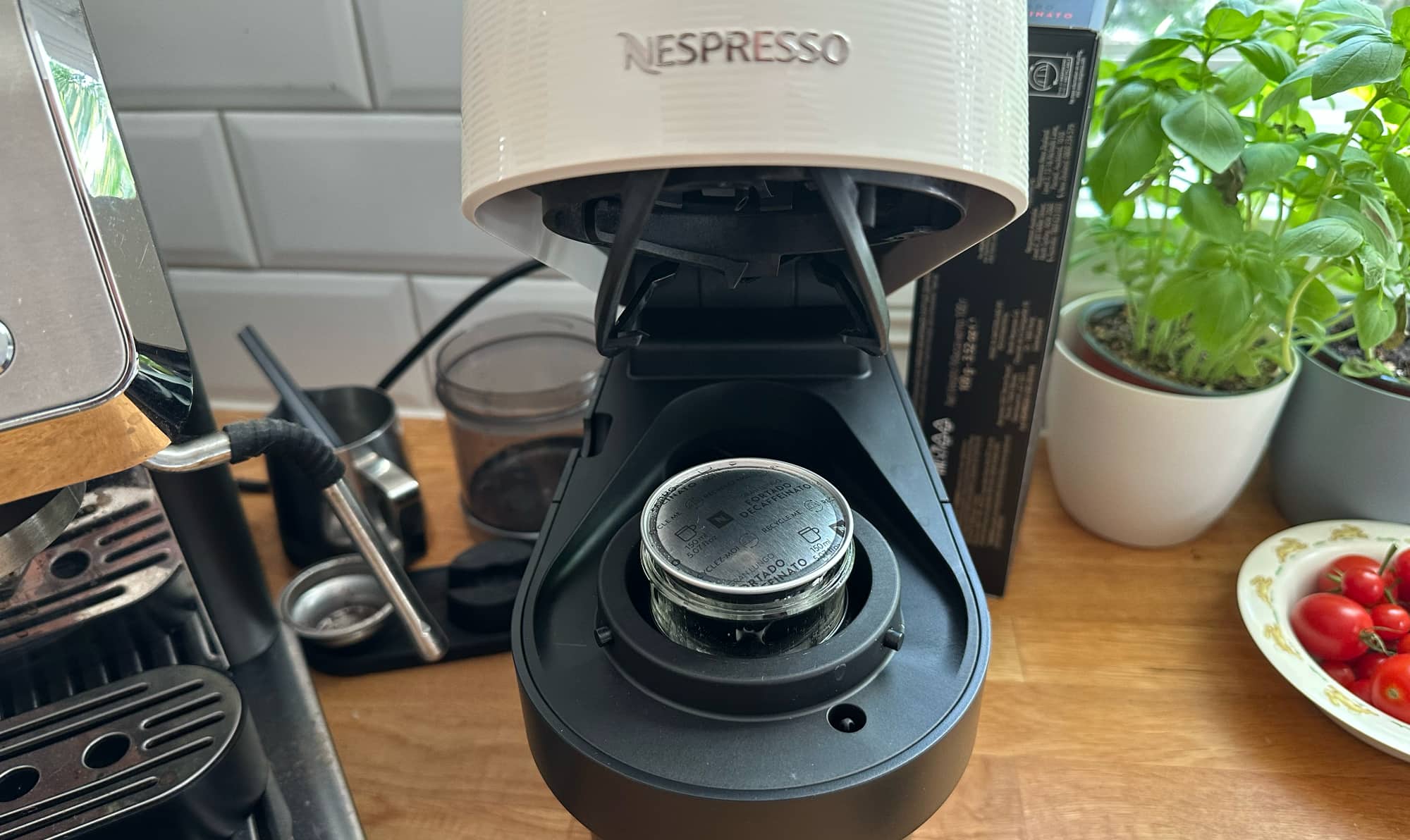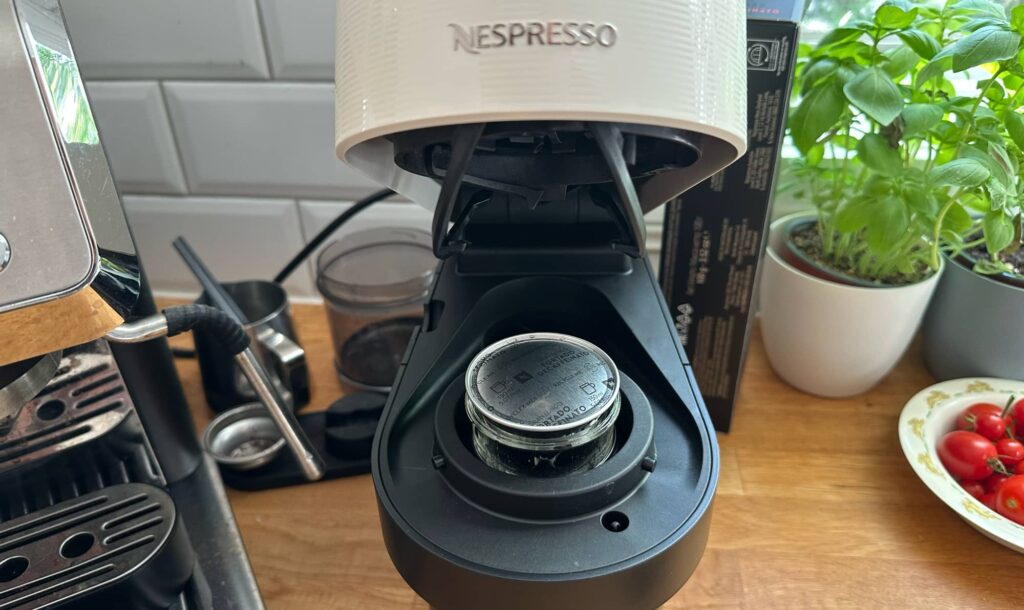 Grab one of the many pod varieties Nespresso makes, and this machine will make coffee, though the Pop does it with a big of a bang, a loud whir, and then a release.
Each pod is shaped like a dome of varying sizes, with each size relative to how much coffee it's going to make.
On the inside lip is a barcode that the machine can read for instructions, which spins around, and after injecting with water, makes a coffee which can be poured out of the spout.
Loading a coffee pod into the Vertuo Pop will greet you with a bit of a "bang", and that is entirely normal.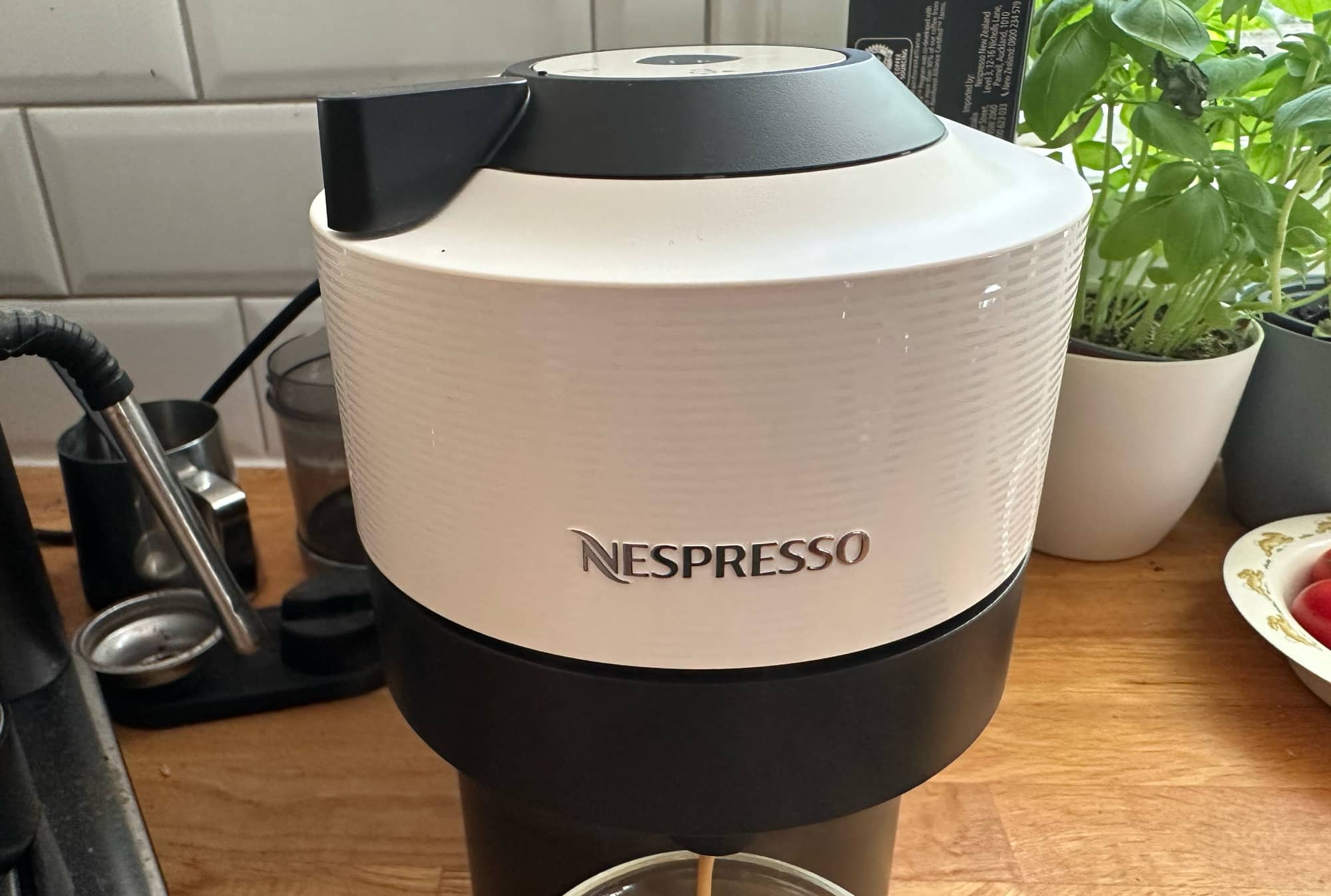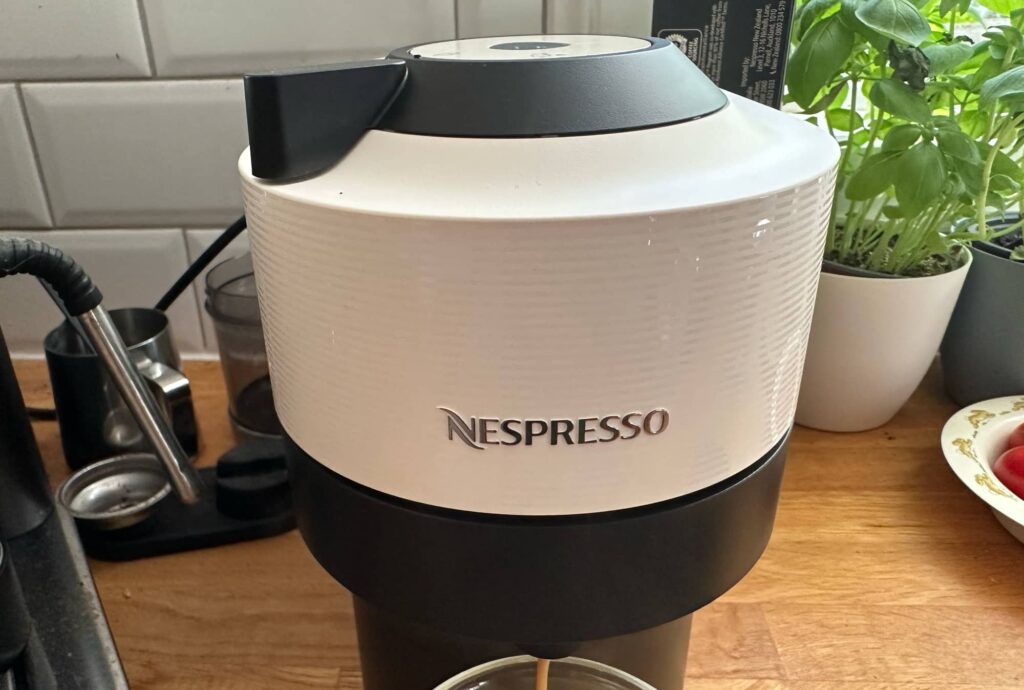 You'll open the machine using the unlock lever at the top, load a pod inside — there's only one way, with the foil pointing up — and then closing the top down, which will make the "bang" noise. Don't worry, that's just the Vertuo Pop penetrating the coffee pod with a loud "pop", which could be where its name comes from.
While the launch of the machine suggests the colour pop of the Vertuo Pop are where it gets its namesake from, our guess is that it actually comes from the loud pop noise of the machine breaking through the foil to get to the coffee inside.
Once the foil has been popped, you simply lock the top in place by closing the lever, and then wait for the Vertuo Pop to warm up, the one white light blinking up top. Make sure the small water reservoir has water inside, and once it's ready, you simply need to press the button and it will do the rest.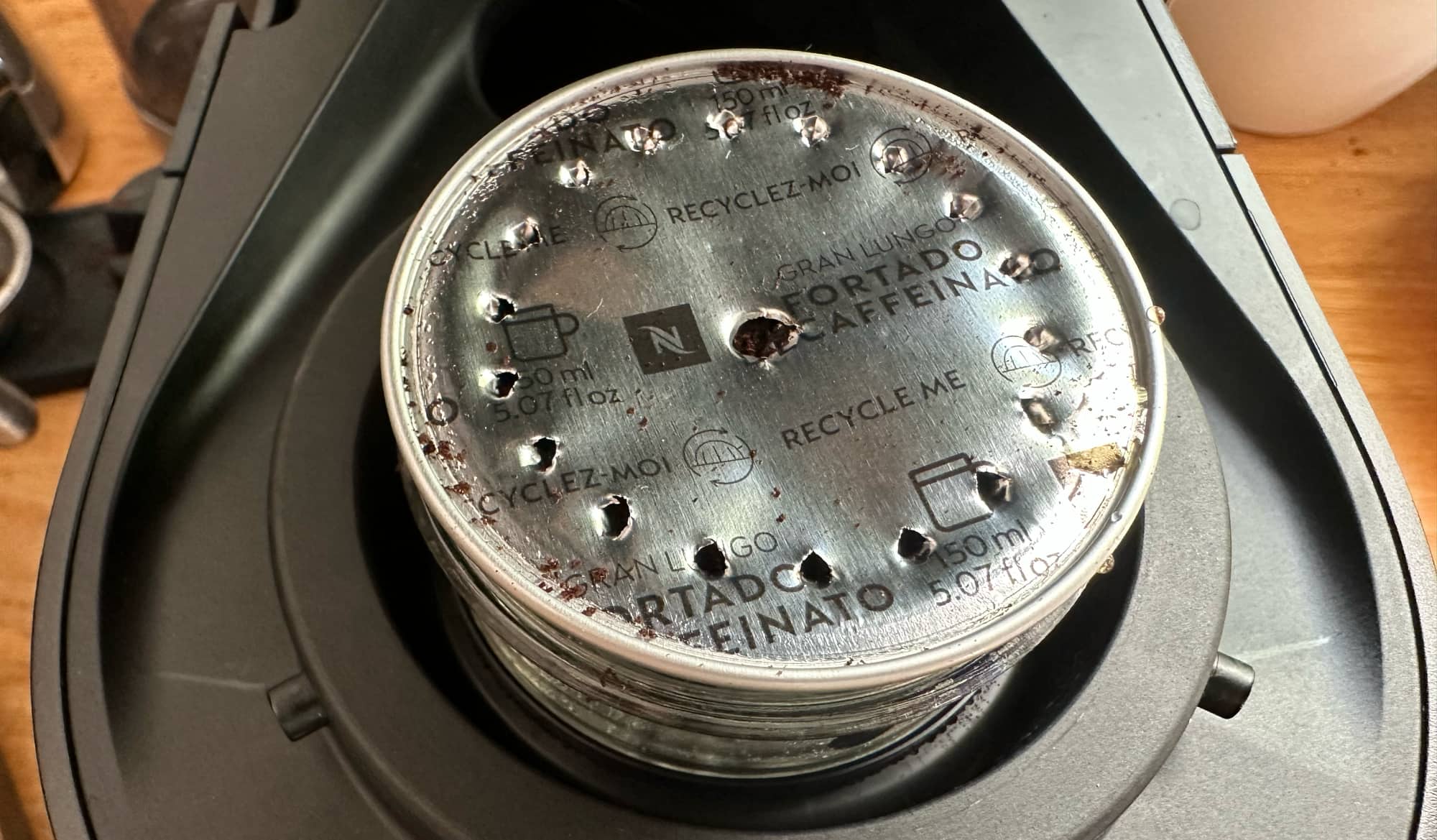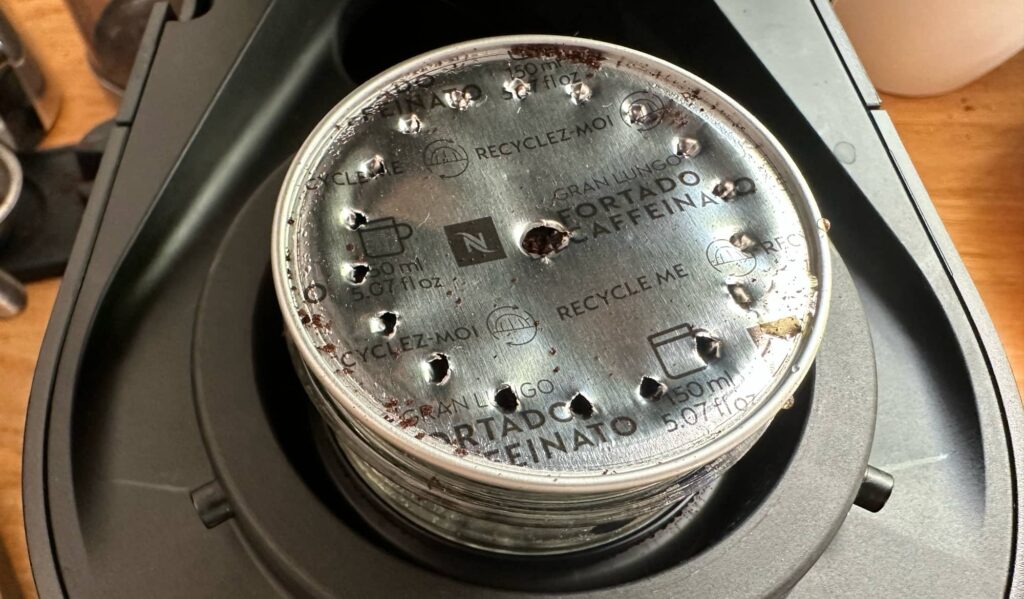 Does it do the job?
With a coffee cup underneath the spout at the front, or a short espresso glass, you'll get coffee out of the Vertuo Pop, or at least something resembling it.
Coffee varieties in the Vertuo system are primarily made to be longer than what the regular Nespresso pods are known for, with drinks as long as a proper coffee cup's 230ml are also possible from the machine.
Interestingly, the Vertuo Pop lacks the ability to handle the largest volume of coffee available in a Nespresso pod, the pour-over style that can work in the Vertuo Next. Nespresso makes one pod variety for this, but it only works in that one style of machine, and the Pop ain't it.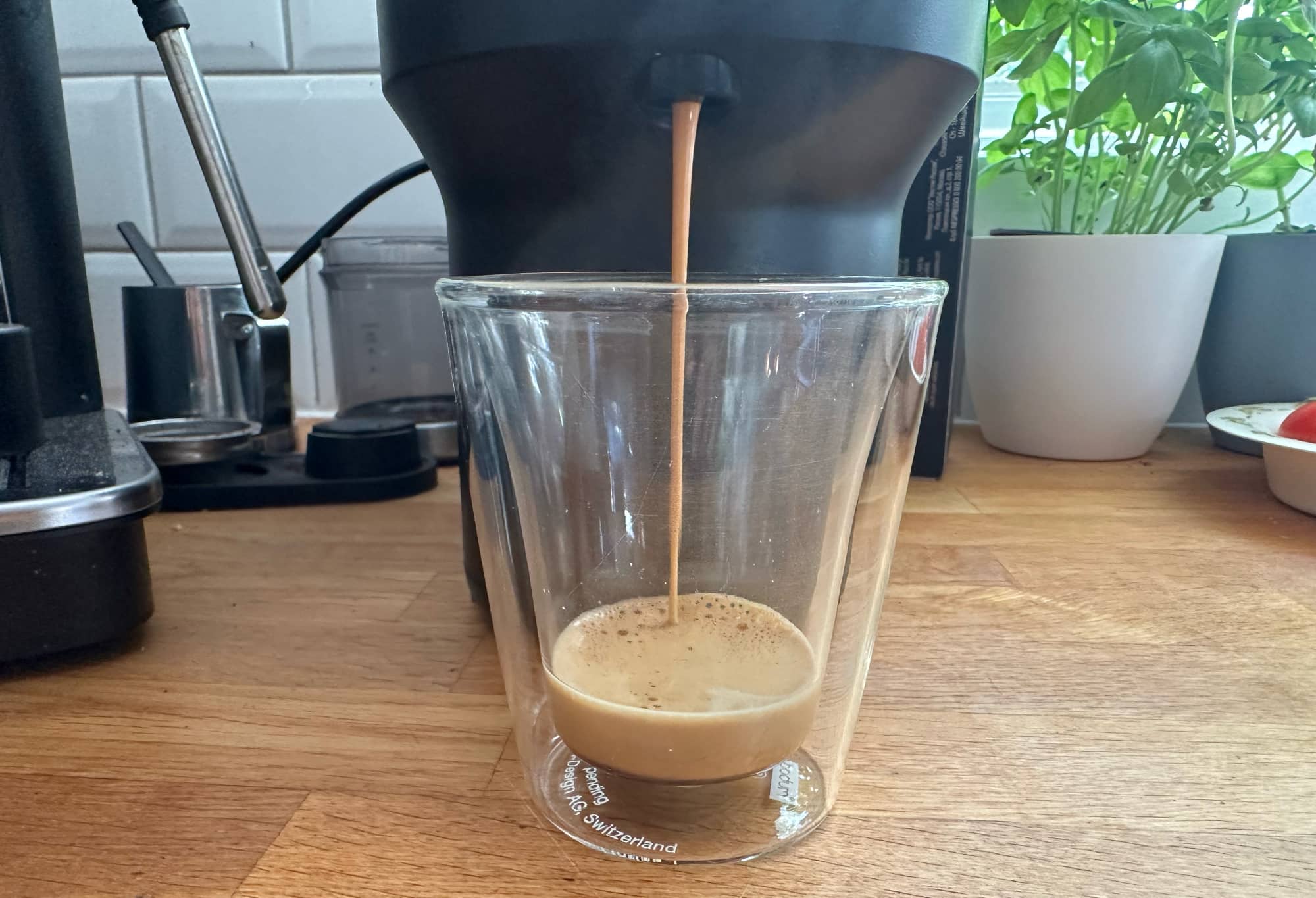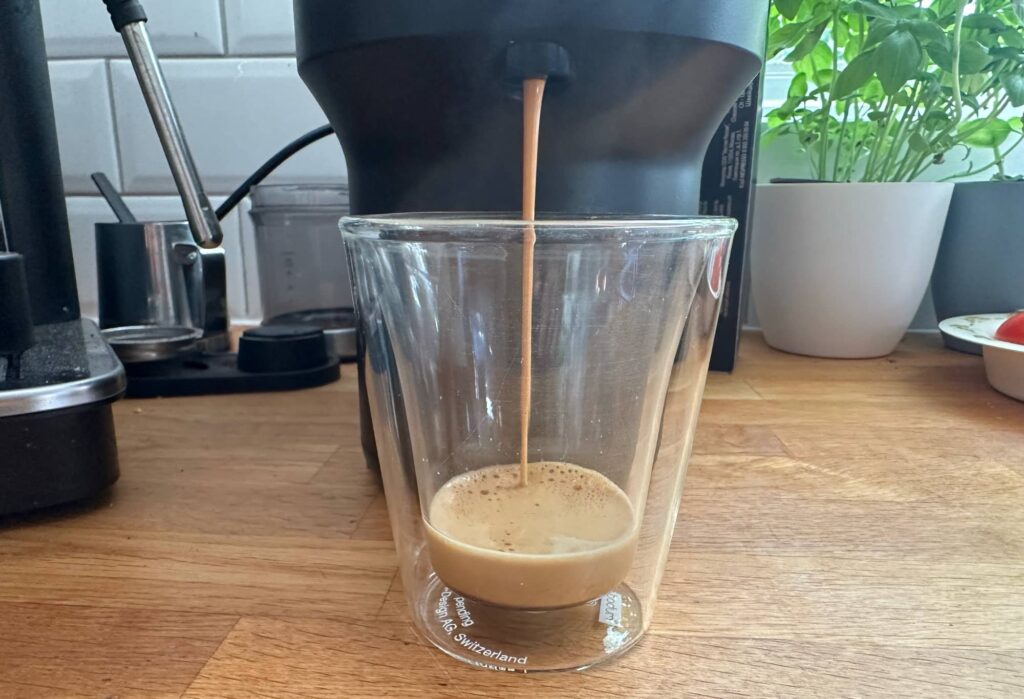 For everything else in the Vertuo line-up of pods, the Nespresso Vertuo Pop does a decent job of making a cup of coffee. It's simple to use with one button, and offers a little bit of extra control if you disagree with the length of a coffee and want to make it longer or shorter, pressing the button up top twice to control things if need be.
You can call it "expert mode", as Nespresso does, but that will really just change the volume of water to coffee, so however "expert" you believe it is, it's really just about making a pod taste stronger or weaker, really, and you can always add milk to get to that last one, if need be.
What does it need?
While you will get coffee out of the Vertuo Pop, the crema is confusing because it's just not real. It's trying to offer a similar texture, for sure, but it's definitely not crema.
Even the standard Nespresso espresso pod produces better crema than this generation, with Vertuo more akin to whipping the coffee up rather than actually producing crema from pressure on the ground bean.
This isn't crema; this is whipped coffee foam, and you only need to look at what a real espresso looks like a few minutes after making one to see the difference.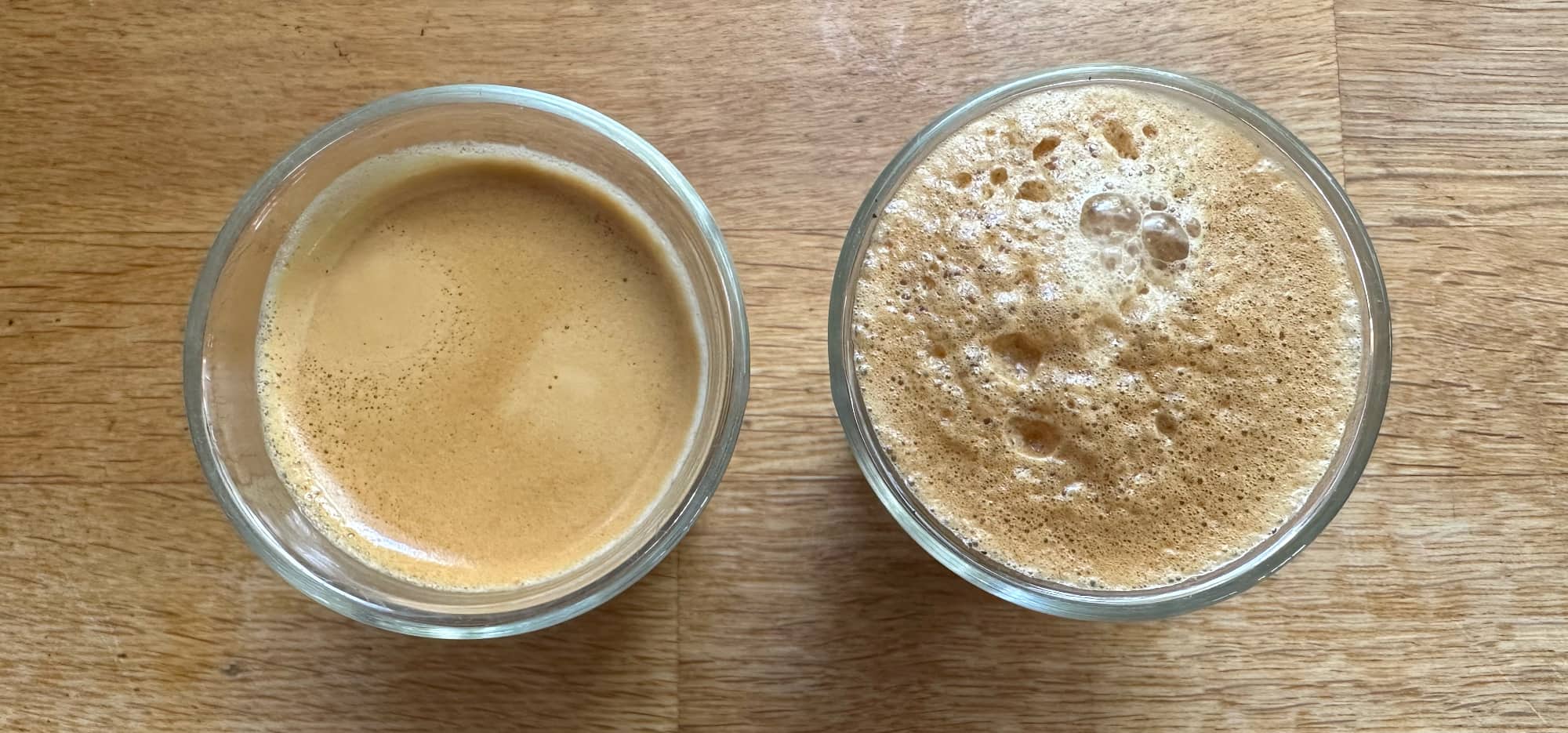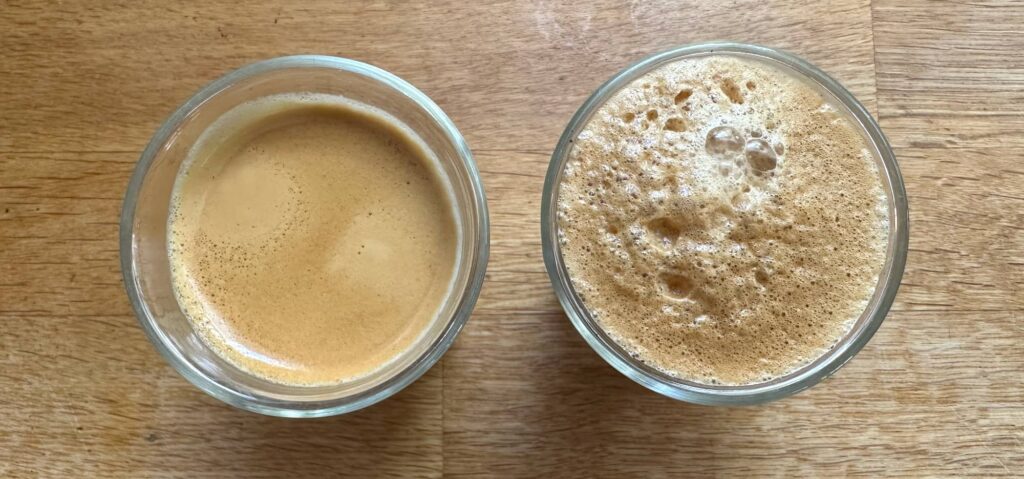 One of these is clearly not the other. While the crema in a proper espresso is still there minutes after making (left), the foam on the Vertuo is breaking down (right).
It's just not the same.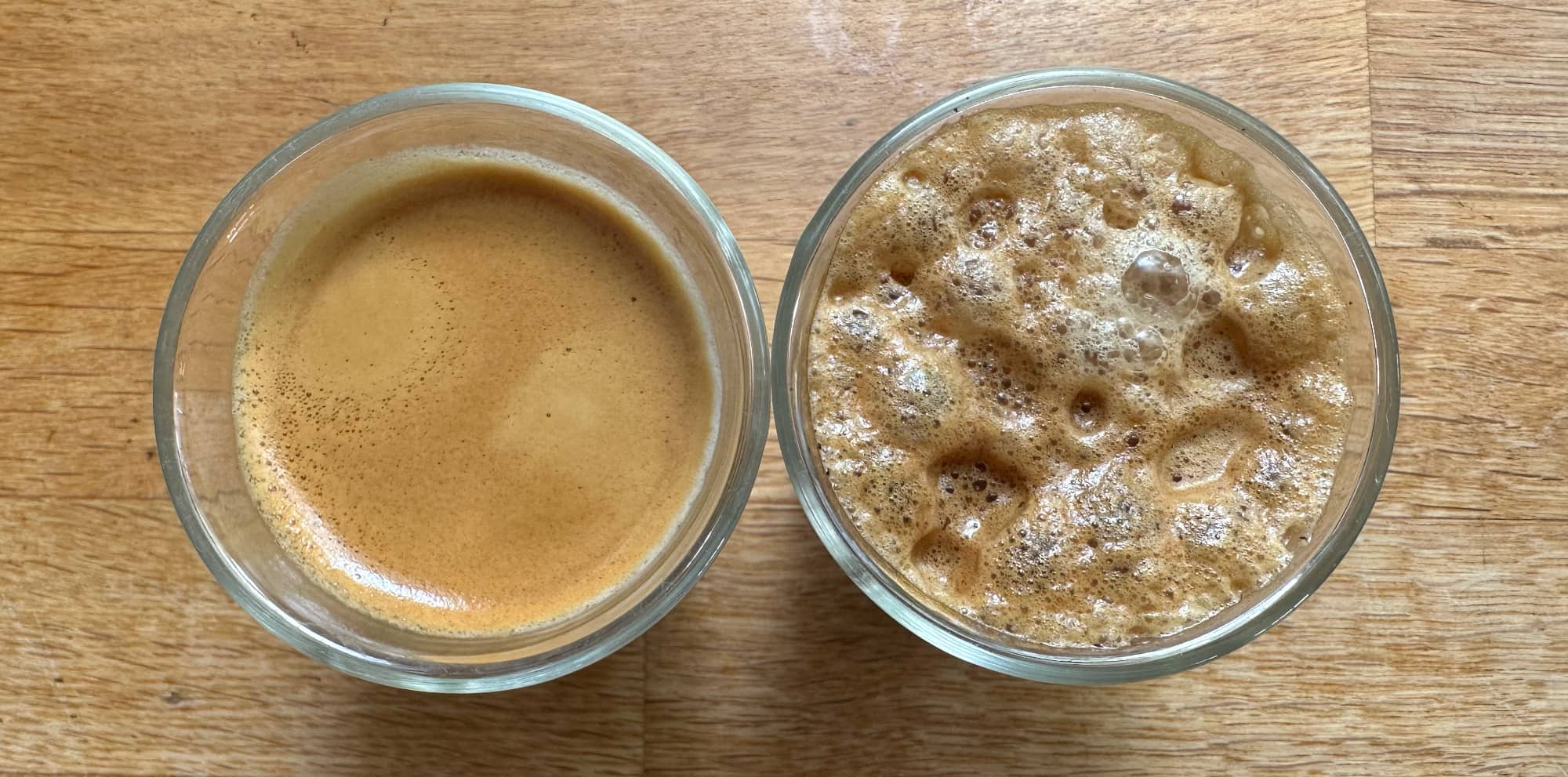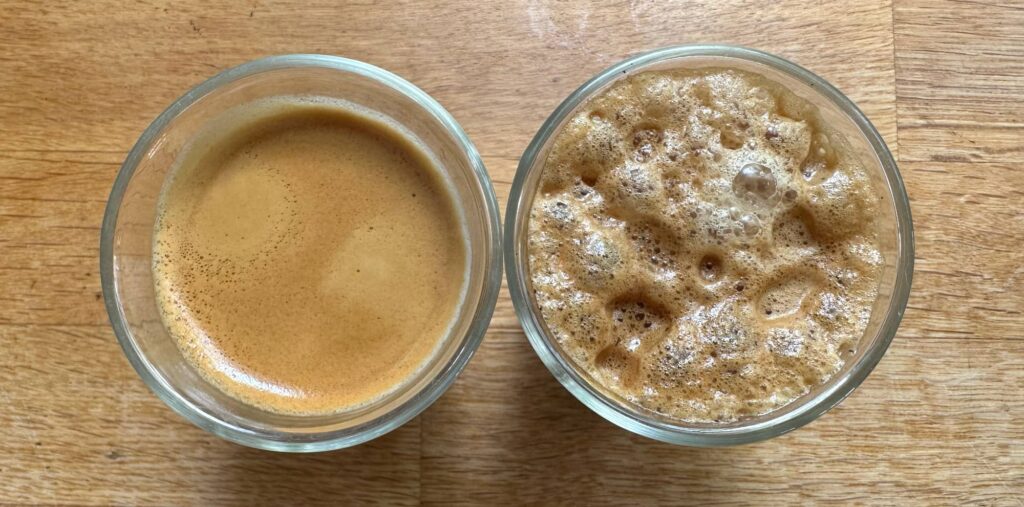 Hopefully you've gone and drunk the Vertuo by then, but that leads us to another issue: the Vertuo coffee isn't terribly amazing and you can only buy it from Nespresso.
Granted, Nespresso coffee has always been a little lacking in personality, but you've also had such a variety of coffee to try.
Ever since the patent for Nespresso's encapsulated coffee pod became available for everyone to use, lots of coffee producers have created a Nespresso pod, and that can only have been a good thing.
You have choices, and those choices are typically found everywhere. Nespresso makes a variety, but so do a lot of other companies, with Nespresso even selling a Starbucks variety at supermarkets.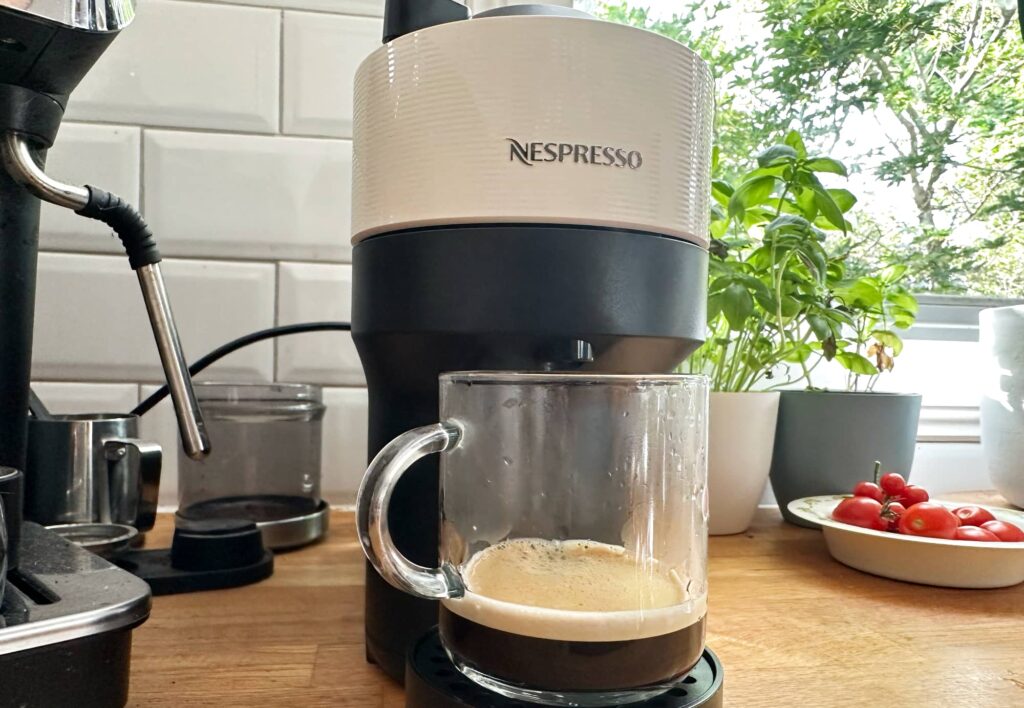 The Vertuo line is very different. In at least one way, it can feel like a response to the loss of a patent, with its special barcode-lipped pod only found at Nespresso, possibly also because Nespresso is the only company that can write the barcodes to the pod in the first place.
It means you're stuck buying coffee for your Vertuo from Nespresso, and if you don't like the coffee, well too bad.
We weren't super enamoured by any of the pods we tried — from the Double Espresso Chiaro to the Fortado, Altisso, or even the milk-focused Bianco Piccolo — none of the pods seemed to deliver a flavour we enjoyed by the ground beans alone, and found ourselves looking for ways to change the taste, either with milk or something else.
Frankly, we found mixing the Vertuo with an ice cream and making a Vertuo iced coffee was one of the ways to impart good flavour for this coffee machine review. We normally drink espressos from the Delonghi La Specialista Arte with Killerbee beans from Single O, and no matter the variety of Vertuo we tried, none held a candle to the beans we normally order in. Each to their own, it seems.
Outside of coffee variety, the machine can be a touch loud and the water reservoir a touch small. Meanwhile, the smart connectivity of the Vertuo Pop is super fiddly and you may struggle to get it working.
We tried for ten minutes, and while the app seemed to find a way to connect, every time it ended in failure, and we're not entirely sure why. It's not as if there's a heap of advanced functionality on offer, either, and you're often waiting for the Nespresso app to clear an error message.
Rather, than feeling like a dedicated purposeful coffee machine app, this is more like a bolt-on addition, endowing the coffee machine with the idea of smarts simply because everything has an app these days, so why not this machine, too. If anything, the app is just a shortcut to sell you more pods, which given the price of the Pop isn't really a surprise.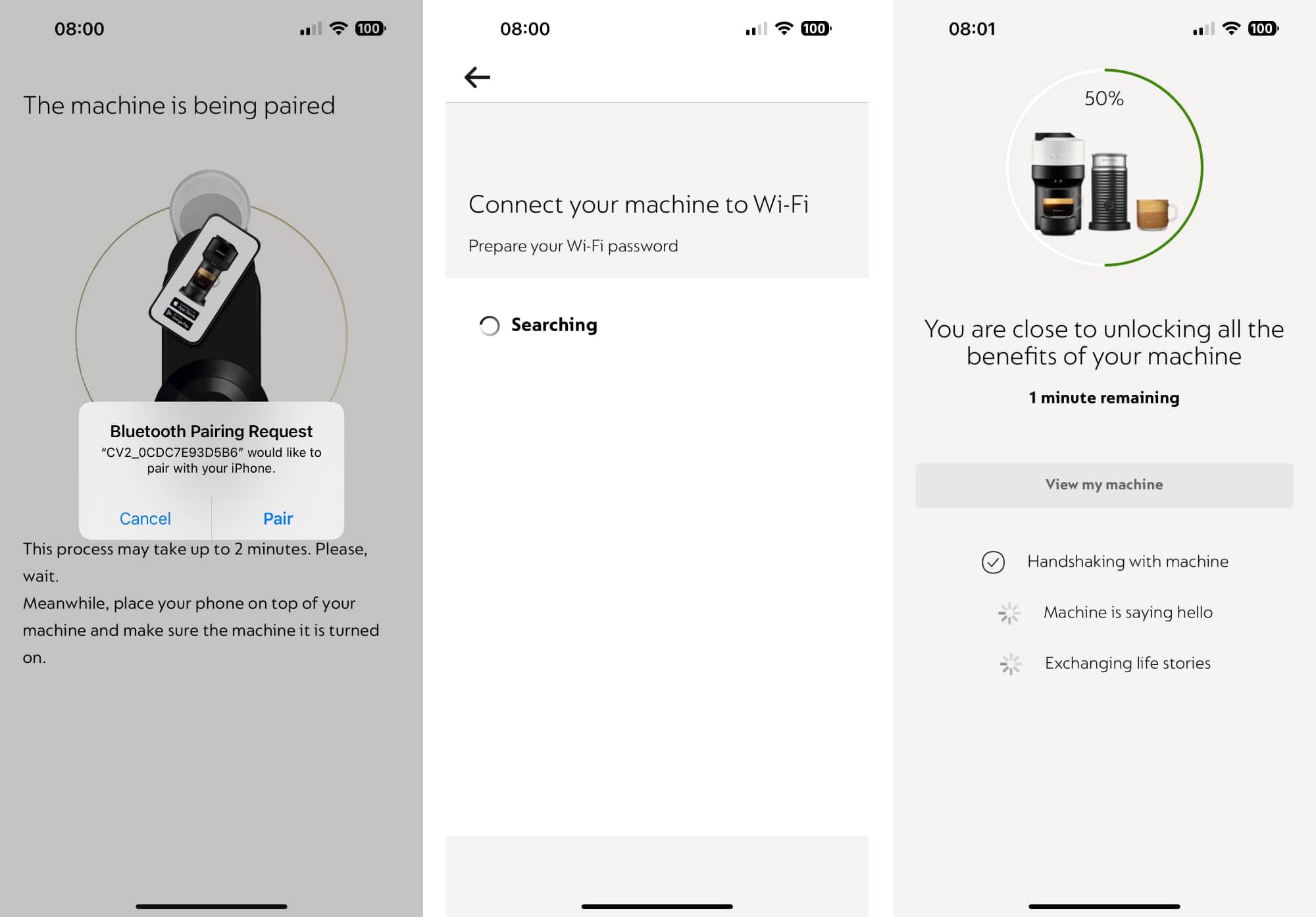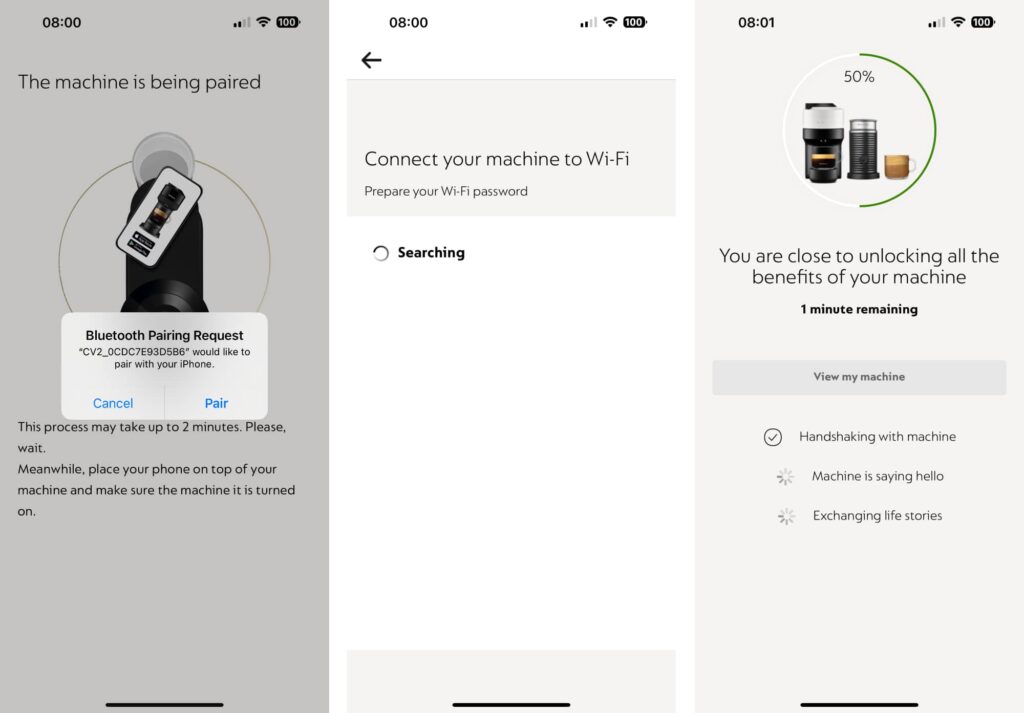 Is it worth your money?
The thing that makes the Vertuo Pop work, though, is that price. At $229 it is deliberately inexpensive, while delivering coffees that require no skill whatsoever.
That is more or less the Nespresso formula detailed: decent coffee with no skill at an acceptable price, and it's something the Nespresso Vertuo continues. In fact, the price is so damned attractive, you can almost forgive the fact that you need to buy the pods from Nespresso, rather than anywhere else.
We wish that weren't the case, mind you, because it means you're likely going to need to buy pods in bulk directly from Nespresso, rather than risk running out, because your local supermarket just won't have them.
The Vertuo Pop (and the other other Vertuo machines) will not work with regular Nespresso pods, so don't even try: the shape isn't the same, there's no instructional barcode on the inside, and you'll be left struggling to work out why one pod labelled "Nespresso-compatible" doesn't work in your Nespresso machine. Just don't bother.
Instead, just make sure you've bought enough of the pods to account for any future cups. They typically retail for between $8 and $10 for a sleeve of ten, making it roughly 80 cents to a dollar per cup of coffee.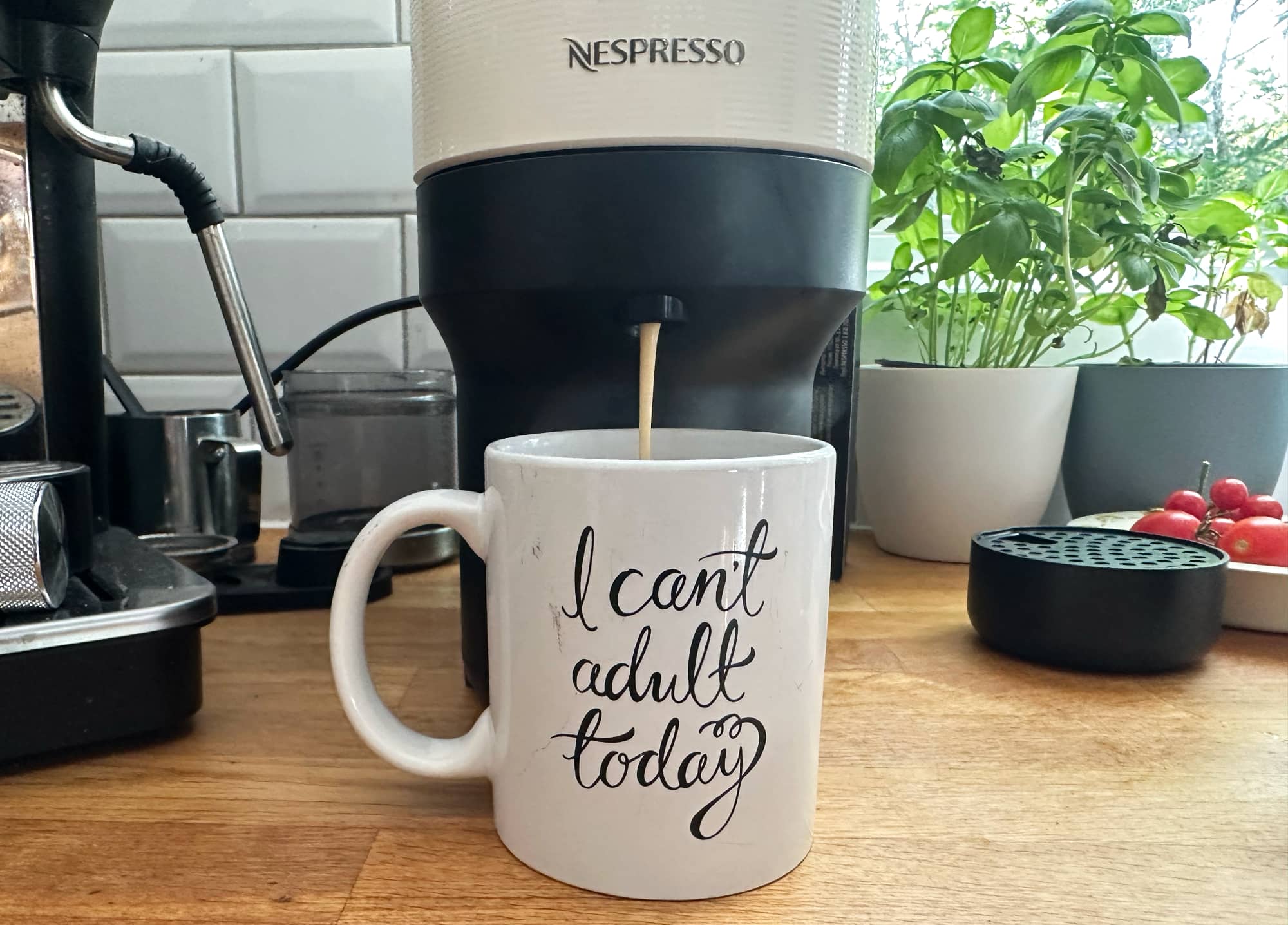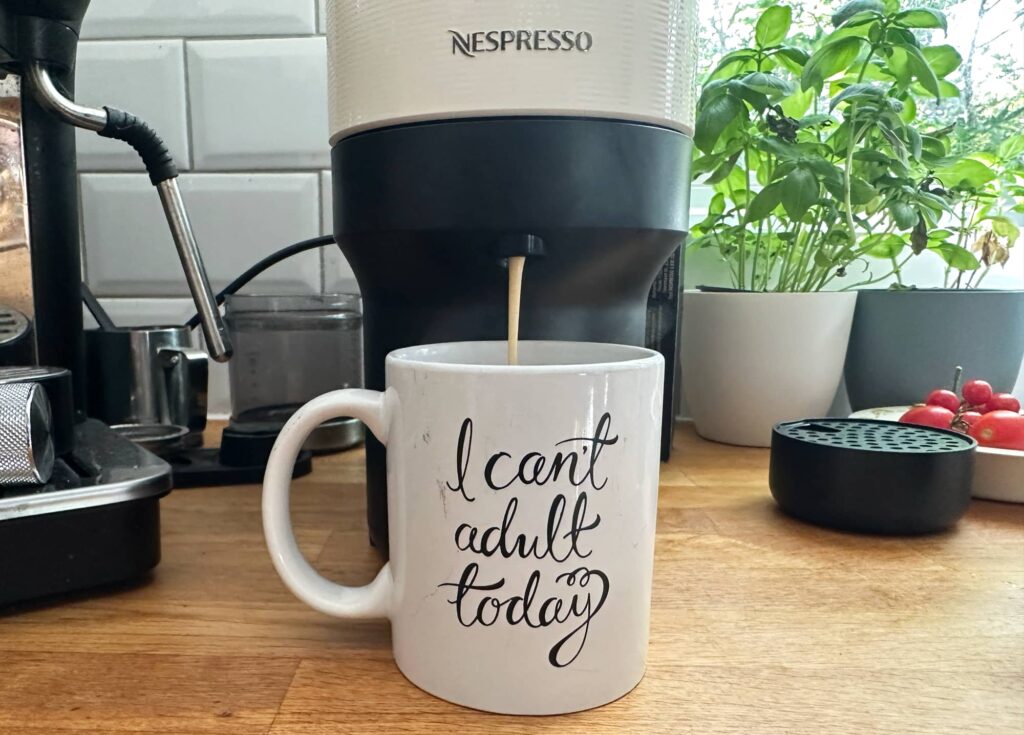 Yay or nay?
For a lot of coffee drinkers, the combination of the price and ease of use will be what makes this a winner. In terms of value, the Vertuo Pop is an instant winner.
While the coffee is very firmly in a "you'll either love it or hate it" category, the simplicity makes the machine easy to connect with, even if the app does not.
The Vertuo Pop is about as easy as it gets to use: throw a pod in, close the door, press the button, and voila, you have coffee. Or at least something as close to resembling coffee as you might need each morning.
Early workers, parents, or just generally the caffeine dependent and deprived know all too well what we're writing about, because sometimes you just can't get enough and need a fix to get you started.
While we won't say the Nespresso Vertuo line delivers the nicest coffee we've ever tasted, the results are fast, easy, and take zero effort and skill. You just need to want coffee and have pods. It's so fast.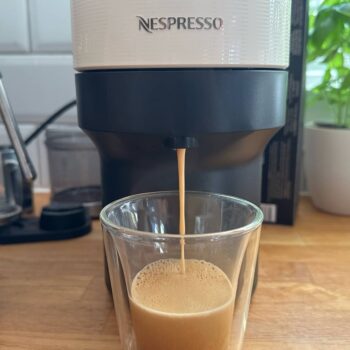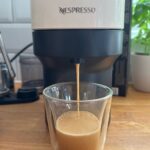 Nespresso Vertuo Pop
The good
Easy to use
Great size
Fairly convenient
Very inexpensive
The not-so-good
Coffee only comes from Nespresso (and you mightn't like it)
Crema from Vertuo coffee isn't real crema
Doesn't support Nespresso's big pour-over Vertuo pods
Can be loud
Small water reservoir
WiFi connectivity is hit and miss... mostly miss