Quick review
Apple Watch Series 9
The good
Excellent screen
Display now supports lower light output, handy for dark rooms and not waking people up
No lag in really anything
Looks great on the wrist
Solid health sensors
Improvements to watchOS 10 make the wearable that much easier to use
Gesture addition with the new chip is intriguing
The not-so-good
Sapphire crystal isn't standard
Battery life could be better
New UWB only works with iPhone 15 and higher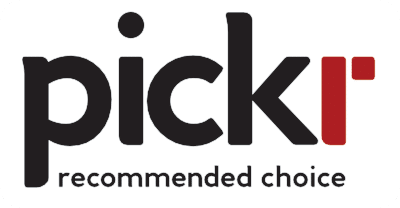 The latest generation of Apple wearable, the Apple Watch Series 9, doesn't boast changes you can see, but they could make a difference to your sight at times all the same.
Our phones are important and it's little wonder why we rely on them so much these days: everything is on them. They may as well be representative of our life.
In one gadget, you'll find your way to keep in touch with the world, a camera to document what's happening, a music and movie player to keep you entertained, games if you want, a GPS navigator to find your way, plus a handy feat of convergence as they also replace your wallet.
In short, your life is often reliant on a phone. But you probably wouldn't want to hold it at all times. It would just be cumbersome and a pain in the proverbial to do something of the sort.
Fortunately, there's where wearables come in, as they shrink the technology down, giving you aspects of what you need at all times, while allowing the phone to take hold of everything else.
You don't need a camera on your wrist, but you'd love the notifications and wallet if you could, and you might want a little bit more. Health tracking and fun, fancy timepieces, for instance, with a watch not just connecting, but extending the life contained inside your phone.
That's largely been the idea Apple has been working on through several generations of the "Apple Watch", a phone-connected wearable that requires an iPhone and extends what owners of those mobiles can do. It comes with a similar aesthetic to Apple's mobile, and over the past eight years — because that's how long it's been — Apple has been refining it bit by little bit.
In the Apple Watch Series 9, the changes fit very well into being a "bit", just another little bit that you probably won't notice. But owners of previous Apple Watch models might just appreciate them, especially if they're rocking something older than last year's model, like a Series 7, Series 6, Series 5 Apple Watch, or something even older again.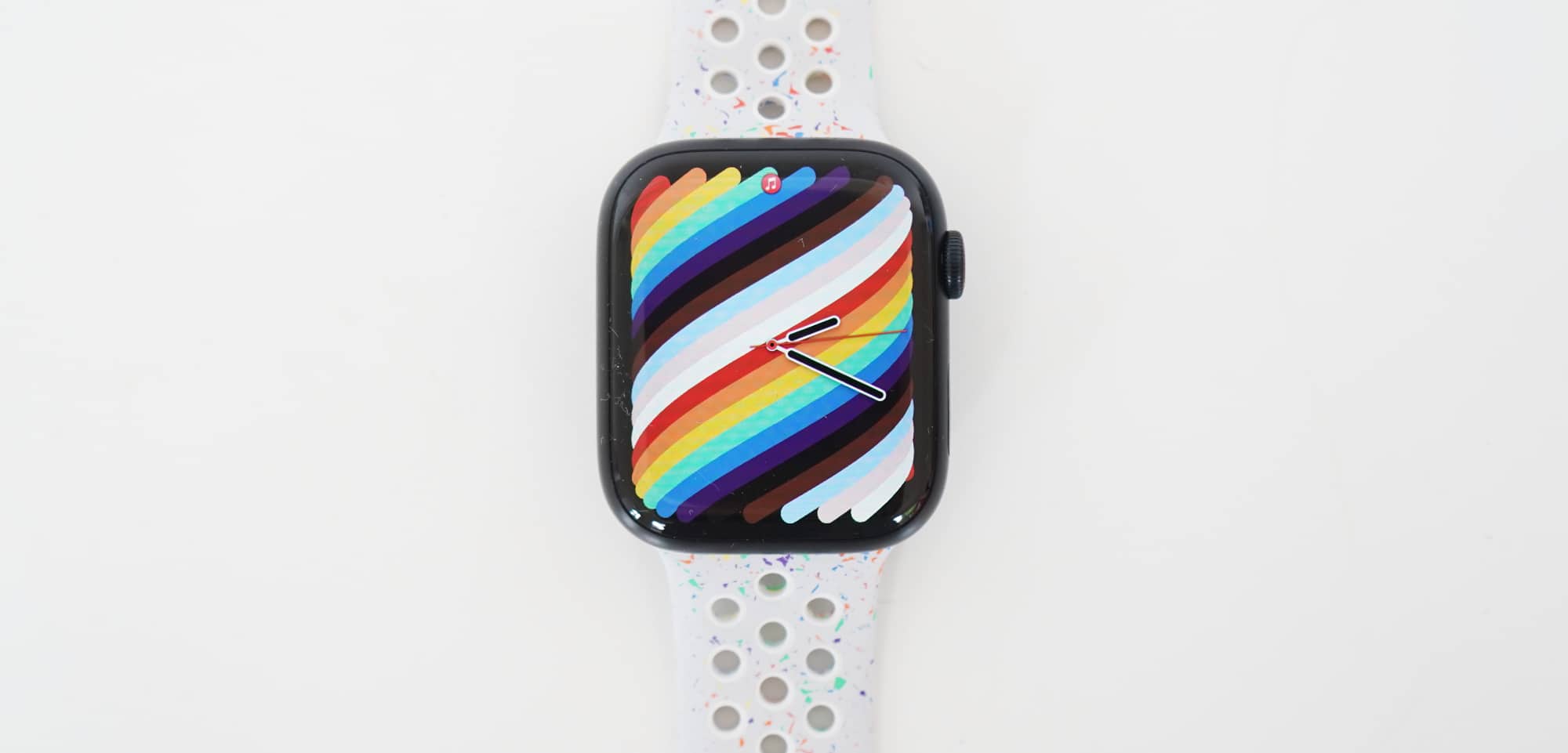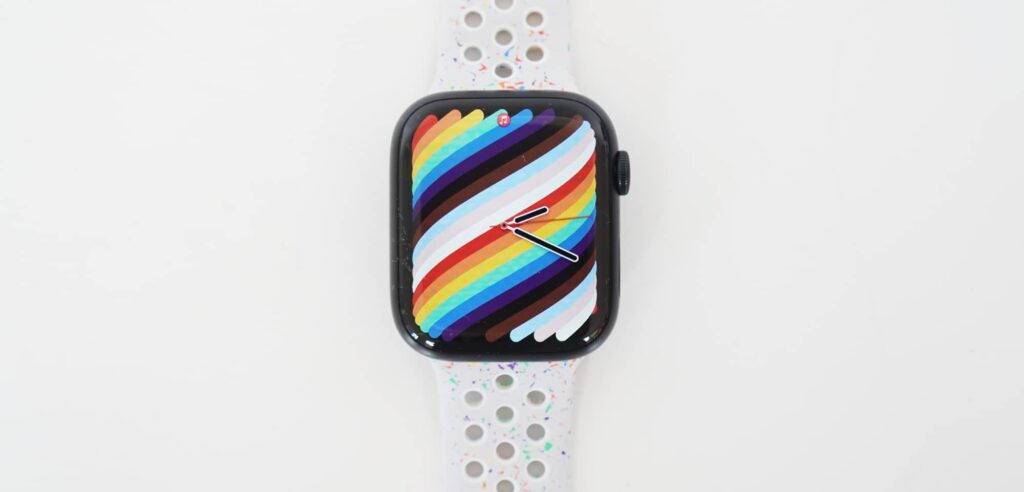 Design and features
Available in both a 41mm and 45mm design, the Series 9 Apple Watch doesn't look dramatically different from its predecessors, and is virtually impossible to tell the difference between models. Certainly comparing it to last year's Series 8 Apple Watch, they look identical.
Inside, there's a new chip, as Apple updates the chip inside to the S9 to the aptly named S9 SiP, which translates to "System in Package", a term to describe everything all in the one chip.
This update essentially boosts the Watch's power, improving the CPU while also delivering a four-core neural engine that can handle machine learning tasks, while Apple has also improved the ultra-wideband tech it used for AirTags and the whole FindMy concept.
You'll need both a new iPhone 15 and an Apple Watch if you want to try this more precise method of tracking, but it will also allow an S9 Apple Watch to connect to the recent HonePod and basically control the thing using your watch. Handy.
Outside of this, much of what you'll find in the S9 Apple Watch is very familiar from last year's improvements.
It's the same slick design that comes in aluminium at the entry-level and stainless steel if you pay more, and features the same health tracking sensors, as well, covering heart rate, electrocardiogram (ECG), blood oxygen (SpO2), temperature for menstrual tracking, while the software deals with sleep tracking and mindfulness to round out the rest of the health tech.
Apple Watch models can also take an eSIM, though it's an optional choice and typically only there when you need to extend your connected coverage while out and about, allowing you to talk on the phone or stream music. GPS connections are also provided as is crash detection, fall detection, and an emergency SOS tech that was switched on in Australia earlier this year.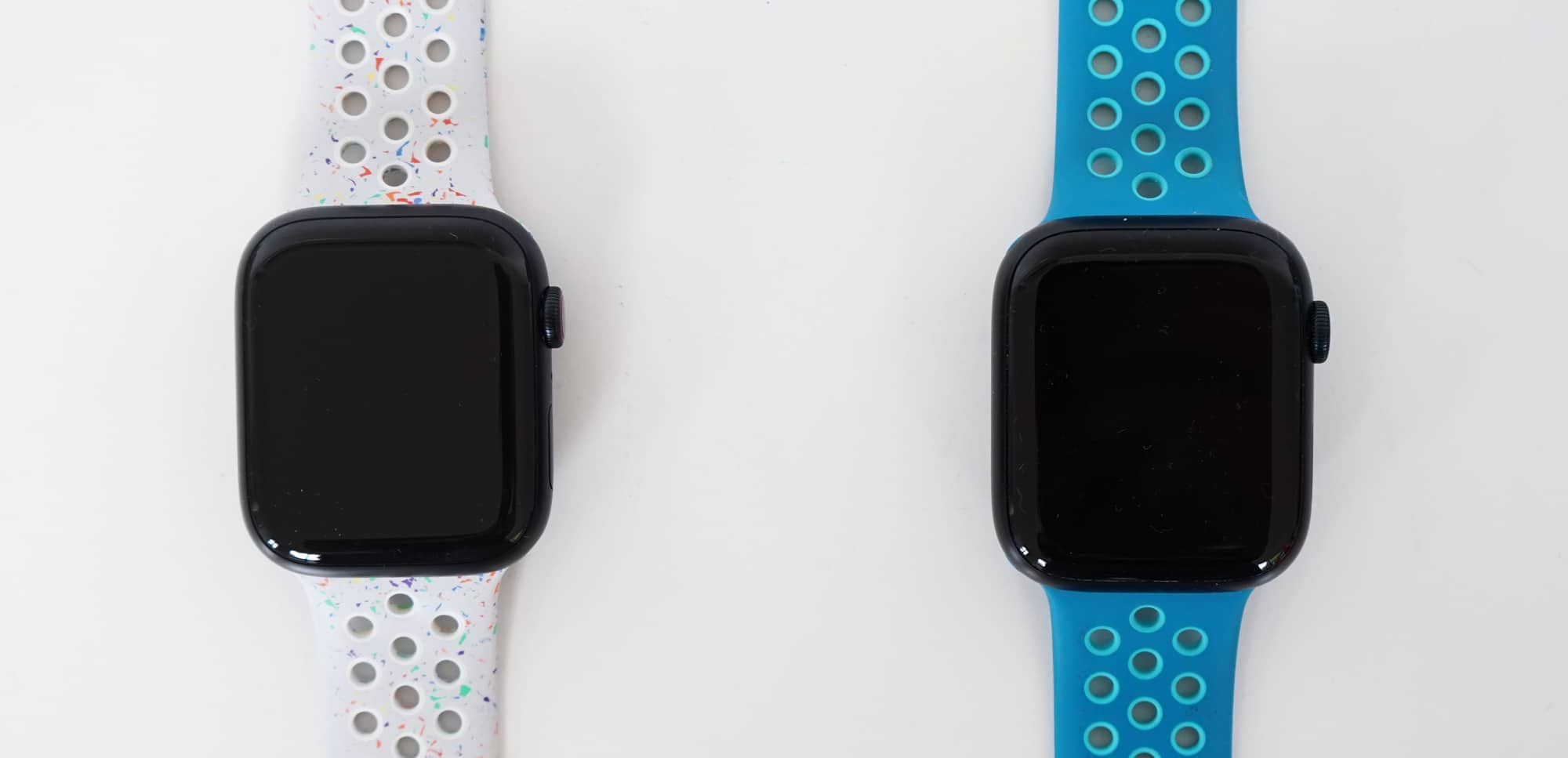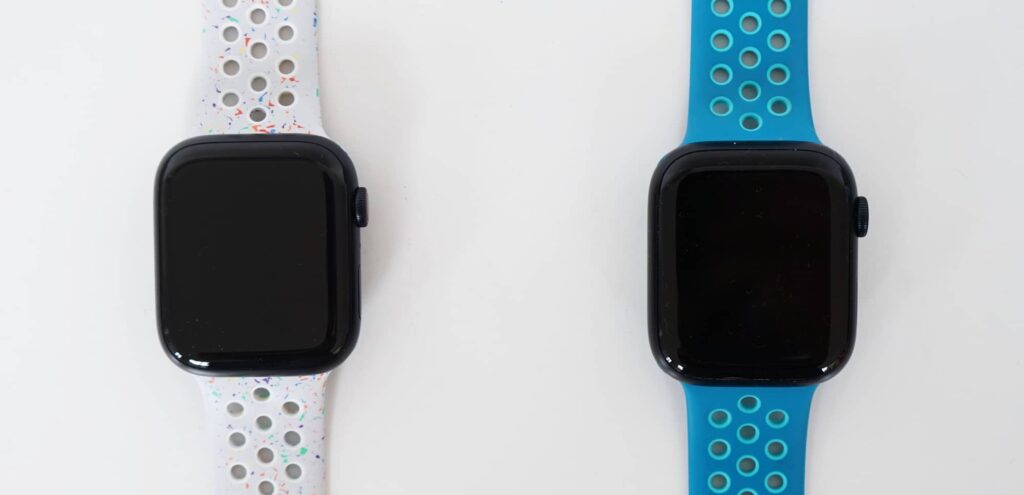 In-use
With watchOS 10 onboard, the Series 9 Apple Watch (and any supported Apple Watch, for that matter) gets a litttle easier to control. Rather than needing to swipe up for the power control menu, you'll just press the flat button on your Apple Watch, which means less errant times you or your kids will accidentally trigger theatre mode.
Apple also has a new feature called "double tap" which picks up on a gesture of you pinching your fingers together physically without touching the Watch, but at the time we reviewed the S9, it hadn't yet rolled out. The idea for this addition, however, is a touch-free style of button, using the minor movements your arm and fingers make and tracking skin and blood to determine that yes, you've made a gesture, and it will do something.
That's definitely thinking out of the box, and while we've not been able to test it for this review, a step in the right direction for wearables to go beyond simply time and health. The S9 Apple Watch will still do both of those things, but come October, you'll also get a shortcut that doesn't require you to touch the screen at all, instead gesturing physically.
What the shortcut does is your choice, triggering a timer controller, message replying, heart rate check, and so on. Think of it like an action button on the Apple Watch Ultra, except physical.
You only have to wonder at what gesture controls come next in future versions of the Apple Watch. Beyond double tap, will we see waving? Will there be a finger snap? What will Apple enable as a shortcut controller from your watch-wearing wrist? Only time will tell, but you'll definitely need a Series 9 Apple Watch and higher, it seems.


Display
Another key feature that separates the S9 Apple Watch from all other previous models is the screen.
Apple is technically using the same technology as previous models — LTPO OLED — but it has managed to improve the brightness drastically, so you can get up to 2000 nits where you need it, and down to one nit in certain places, too.
By comparison, last year's Series 8 Apple Watch only went up to 1000 nits and Apple didn't really provide a minimum low brightness measurement in nits.
For folks not sure what this means, "nits" in screen technology is a measure of brightness and luminance, and is the more commonly used term compared to candela per square metre. While you typically need to look for one type of nits in the hair of your children, the nits you look for on a screen are different, and basically mean "how bright something is".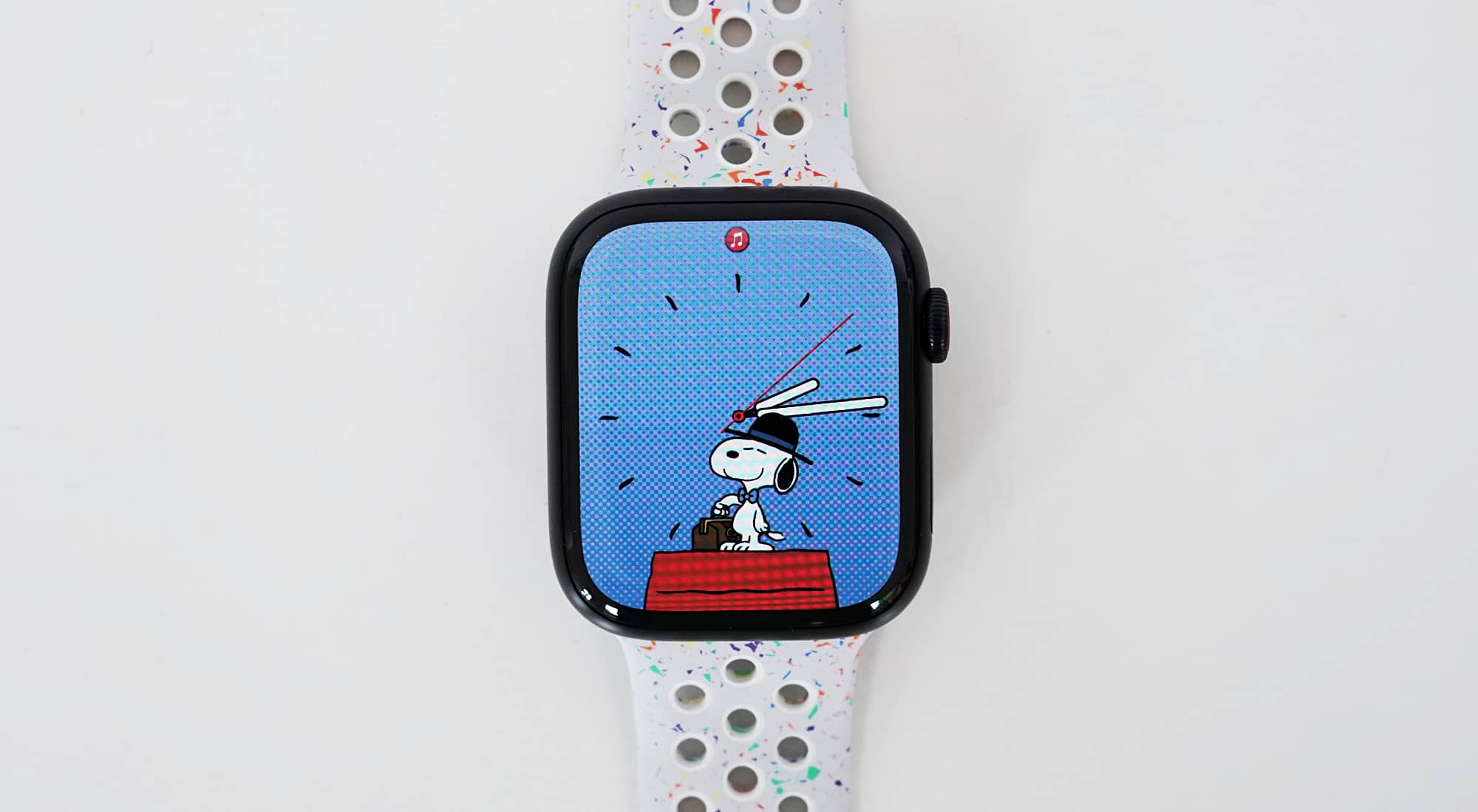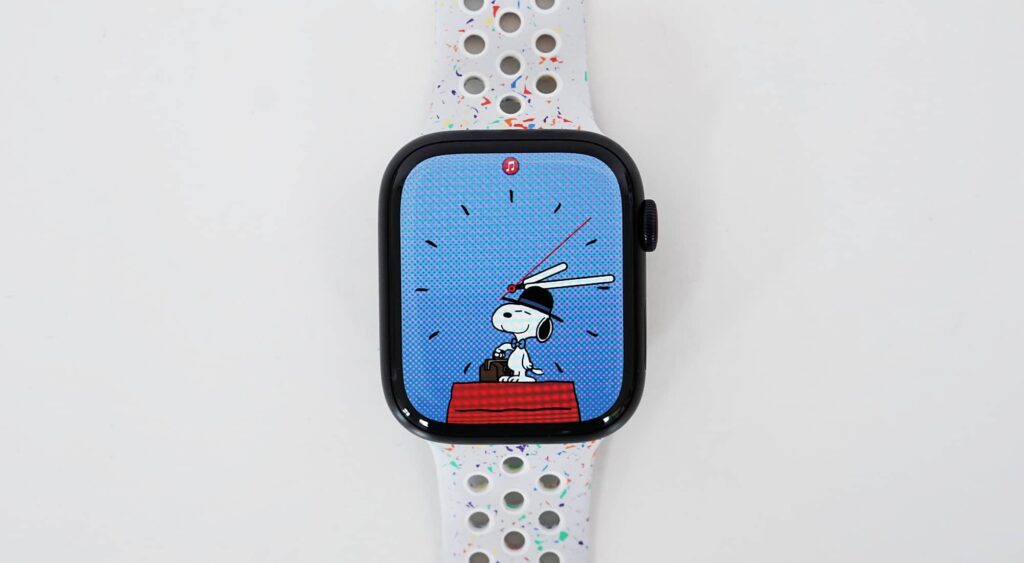 In the case of the Series 9 Apple Watch, the brightness is such that the 2000 nits means the screen is easier to read in direct sunlight, lighting up when it needs to so that you can see the display clearly.
Meanwhile, its support of a single nit of brightness also means that when it's dark in your room at night, the Apple Watch Series 9 can also lower its brightness so much, you won't annoy the person next to you with your screen while they're trying to sleep. You should probably be asleep, sure, but checking your watch won't be so bright that it shakes them from their slumber.
It's the sort of helpful development you're more likely to notice in the low-end of the scale, and which kicks in when you need it, like when you're trying to sleep or watching something in a darkened room. Because really, no one likes to be jerked back into the real world with a bright screen when they don't need it.


Performance
Armed with Apple's S9 SiP, you probably won't be shocked to learn that the Series 9 Apple Watch is plenty fast, at least as far as wearables go.
WatchOS does feel more complete in version 10, so it definitely has that going for it, what with small app widgets available on the main screen with a quick swipe, your plus your big app menu and other controls through the two physical buttons on the Watch itself.
Throughout our time with the Watch S9, we didn't find the performance lagged or slowed down, and the hardware kept up with everything. Mind you, it's a watch, so slow performance isn't always going to be noticeable.
That being said, regardless of what we used the wearable for, we certainly found performance to be snappy and reliable. Which is largely what you wholly expect from a watch.
Battery
But while the system is fast and capable, the battery life of this Apple Watch is just as hit and miss as the previous generation. Sure, the chip is technically more capable and should get you more battery life, but should really is the operative word. It might get you a little more juice, but it won't be a whole heap more.
In our time reviewing the Apple Watch Series 9, we found a charge every 18 to 24 hours was preferred, though when you decide to do it will differ based on your needs.
We found wearing the Watch in a full day through to the next morning was ideal, charging the wearable when we woke up, showered, and ate. This invariably gave the Watch enough time on a fast charger, topping up the battery and giving it plenty to work with for the next day.
Throughout our time with the Series 9, we found a little bit more life could be squeezed out compared with the Series 8, but it's not a heap more. Rather, expect you'll need a charge every day on this wearable unless you opt not to use it much at all.
If you're only checking the time and very occasionally using an app, you'll see a good two days, but most people can expect a daily charge. That may as well be par for the course as far as Apple Watch models are concerned. We wish it was better.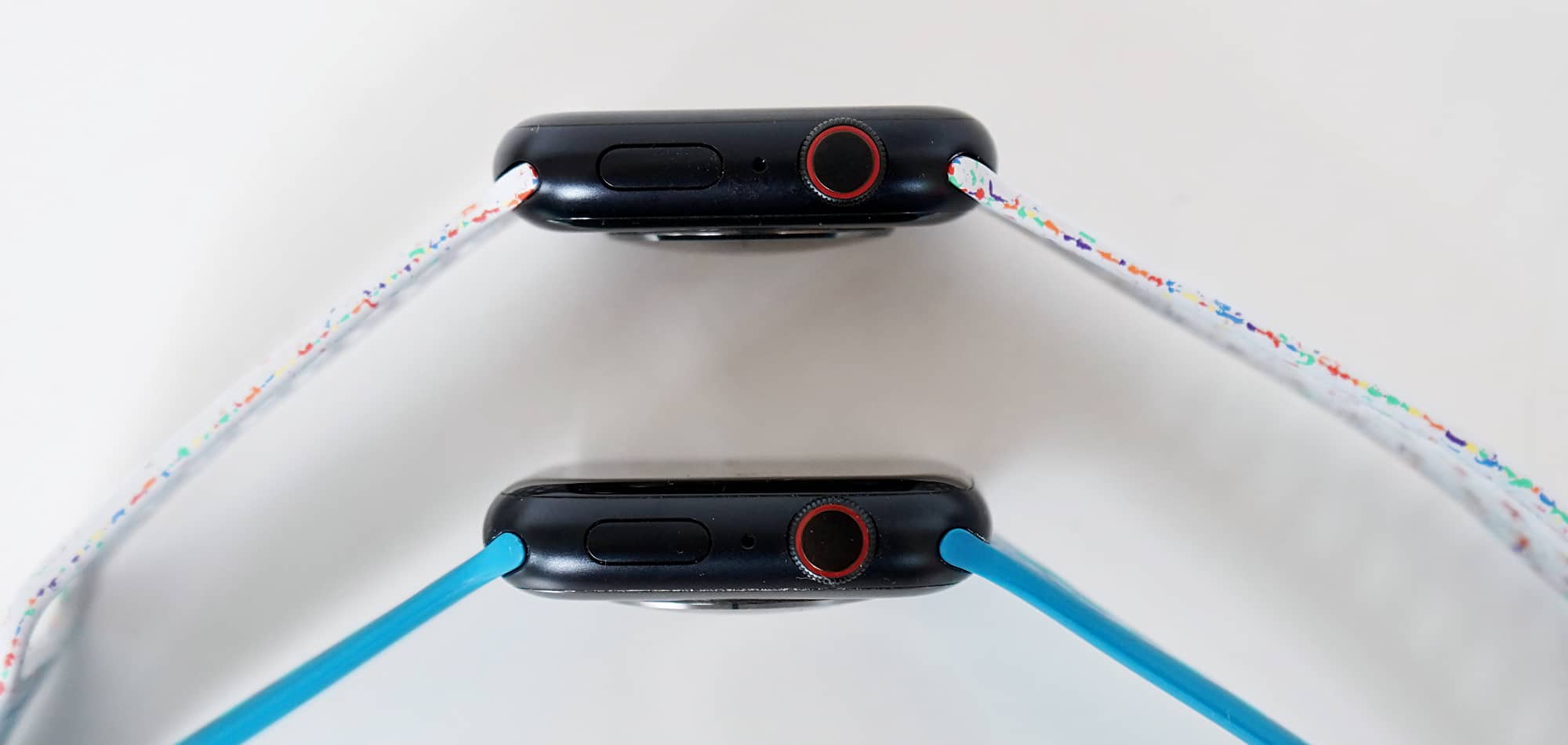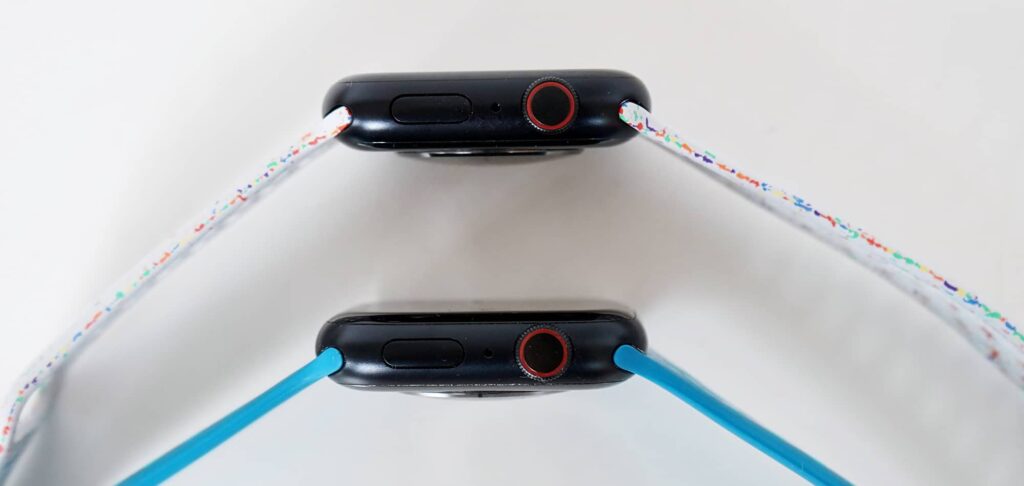 Value
It's a similar vibe with value, which starts at a recommended retail price of $649 and doesn't feel remarkably compelling at that price. Though at least it kind of feels better than last year.
In practicality, the Apple Watch S9 starts from $649 for the 41mm, while the 45mm model we reviewed was $699.
This year, the Apple Watch SE stays the same as last year, so there is no upgrade whatsoever beyond the packaging and its Carbon Neutral label. Available from $399 for a smaller 40mm and $449 for the bigger 44mm, it's the least expensive of the Apple Watch range.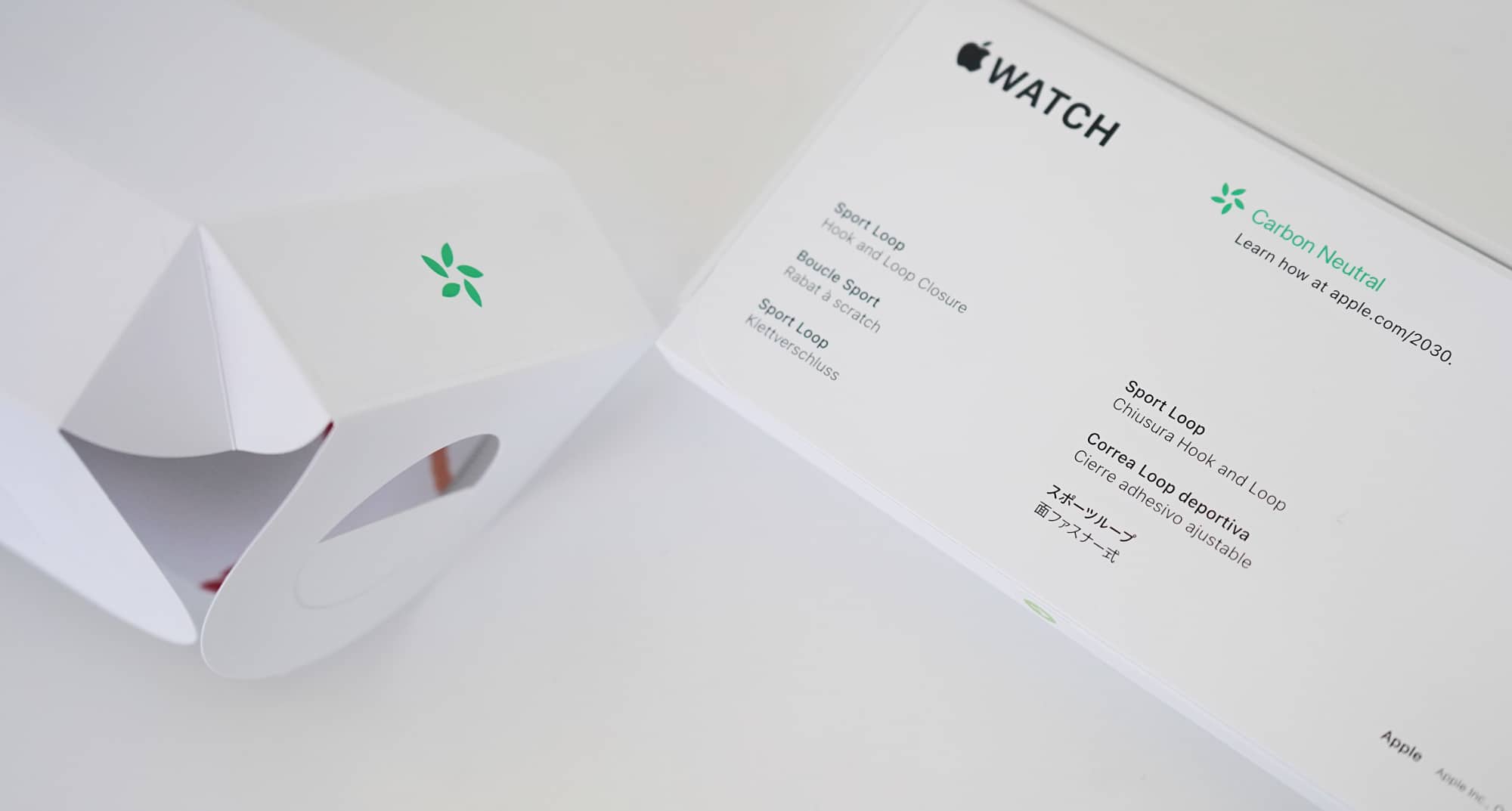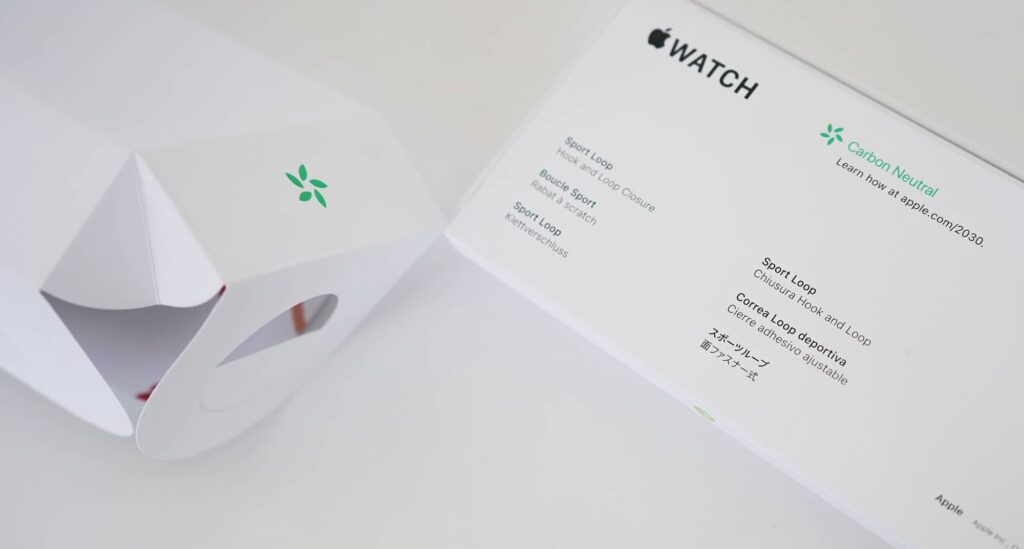 By comparison, the Series 9 is almost twice the cost for an updated chip, improvements to the brightness, but much the same build quality. That last one gives us pause.
For other wearable makers, sapphire crystal is becoming the norm for screen protection, but with the Apple Watch, that's not quite the case, starting only with "Ion-X strengthened glass".
You can spend roughly double the price for the stainless steel Series 9 Apple Watch, which gets you a better quality frame and that sapphire crystal display, starting from $1279 for the 41mm and $1359 for the 45mm models, which are ostensibly double the standard Series 9. At those prices, however, you're really venturing into territory where the $1399 titanium-cased and sapphire protected Apple Watch Ultra 2 will make more sense.
This rather hefty starting price without the benefit of better durability leaves us in a bit of a predicament, questioning whether the Series 9 Apple Watch really offers value.We're not sure it quite hits this one on the head, even if Apple offers one of the best wearable experiences around today.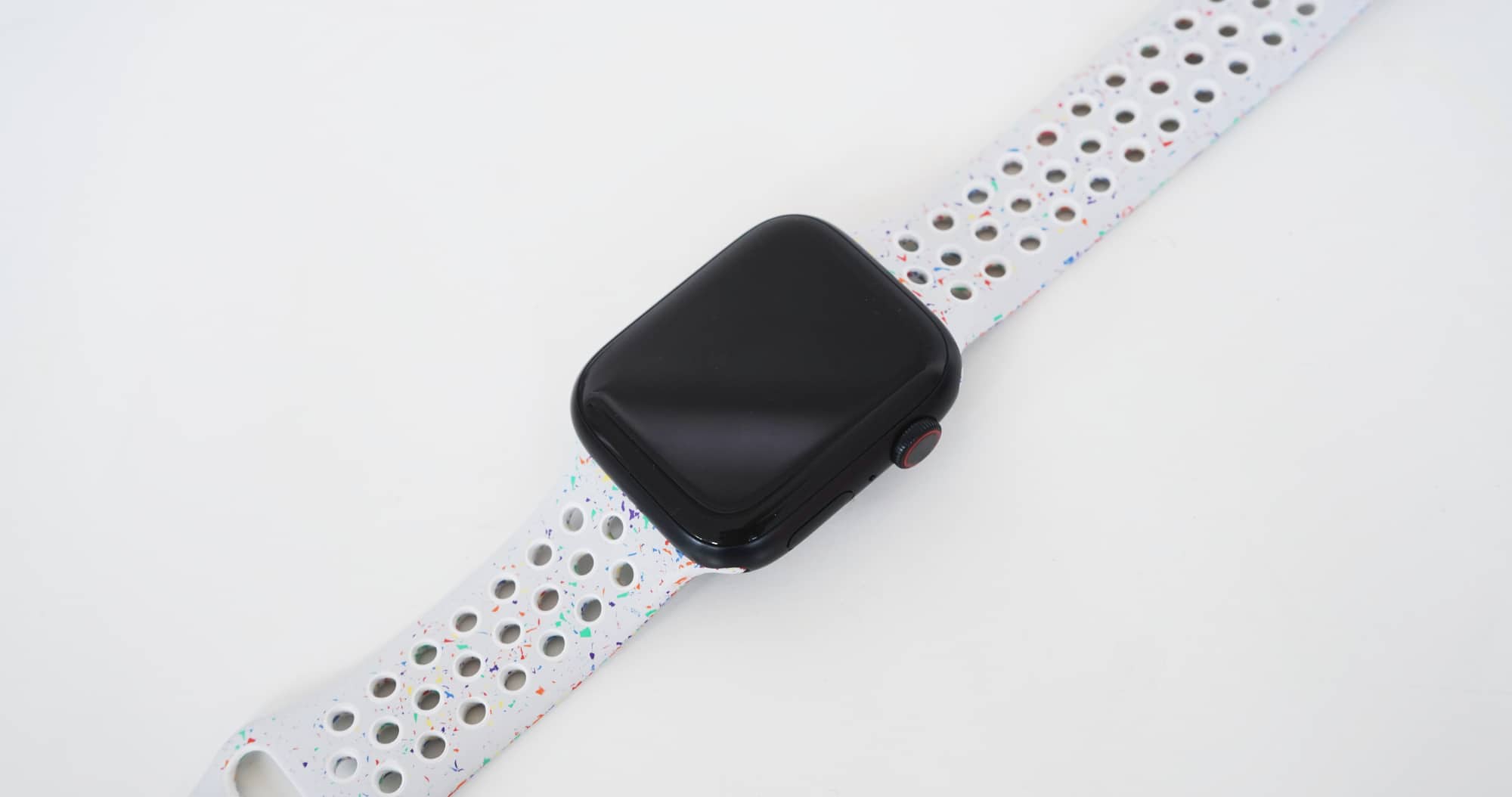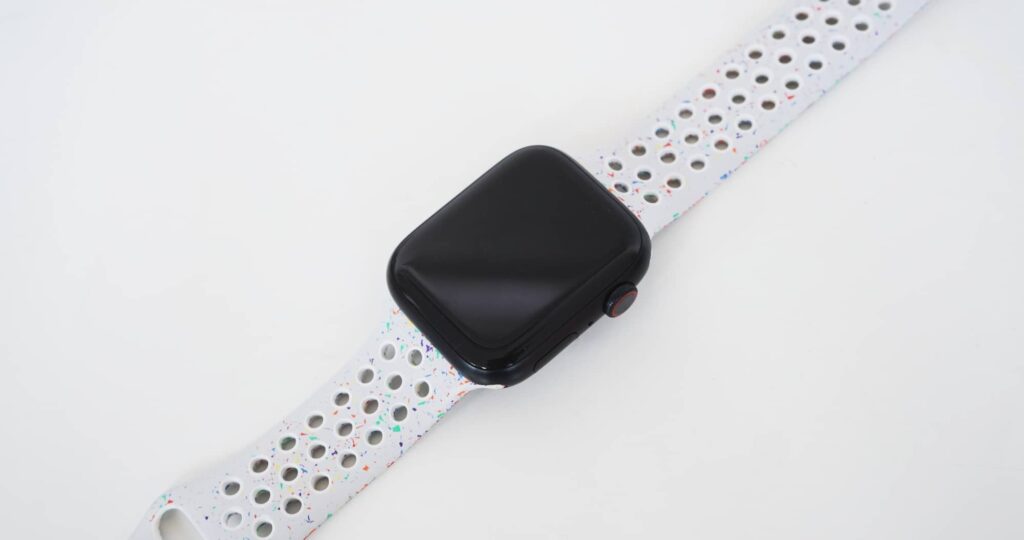 What needs work?
So that price definitely needs some work, as does the battery life, which feels like it could be better.
Granted, few full-screen wearables like the Apple Watch are really achieving a victory lap in this area at the moment, so it's not as though Apple is alone in this way.
But paying extra for the quality screen protection that is sapphire feels like a pain point, especially when the Ultra 2 doesn't cost a whole heap more than the sapphire crystal edition of the S9. In this argument, the Ultra model wins out on value, a comment we also made last year. It's pricey, sure, but at least the price makes sense comparatively.
Outside of this, there isn't much Apple really needs to fix up about the Watch Series 9, though. Several generations in, price and battery life are the only dilemmas we're stuck on. Given this is a premium wearable in general, battery life is only the really serious one.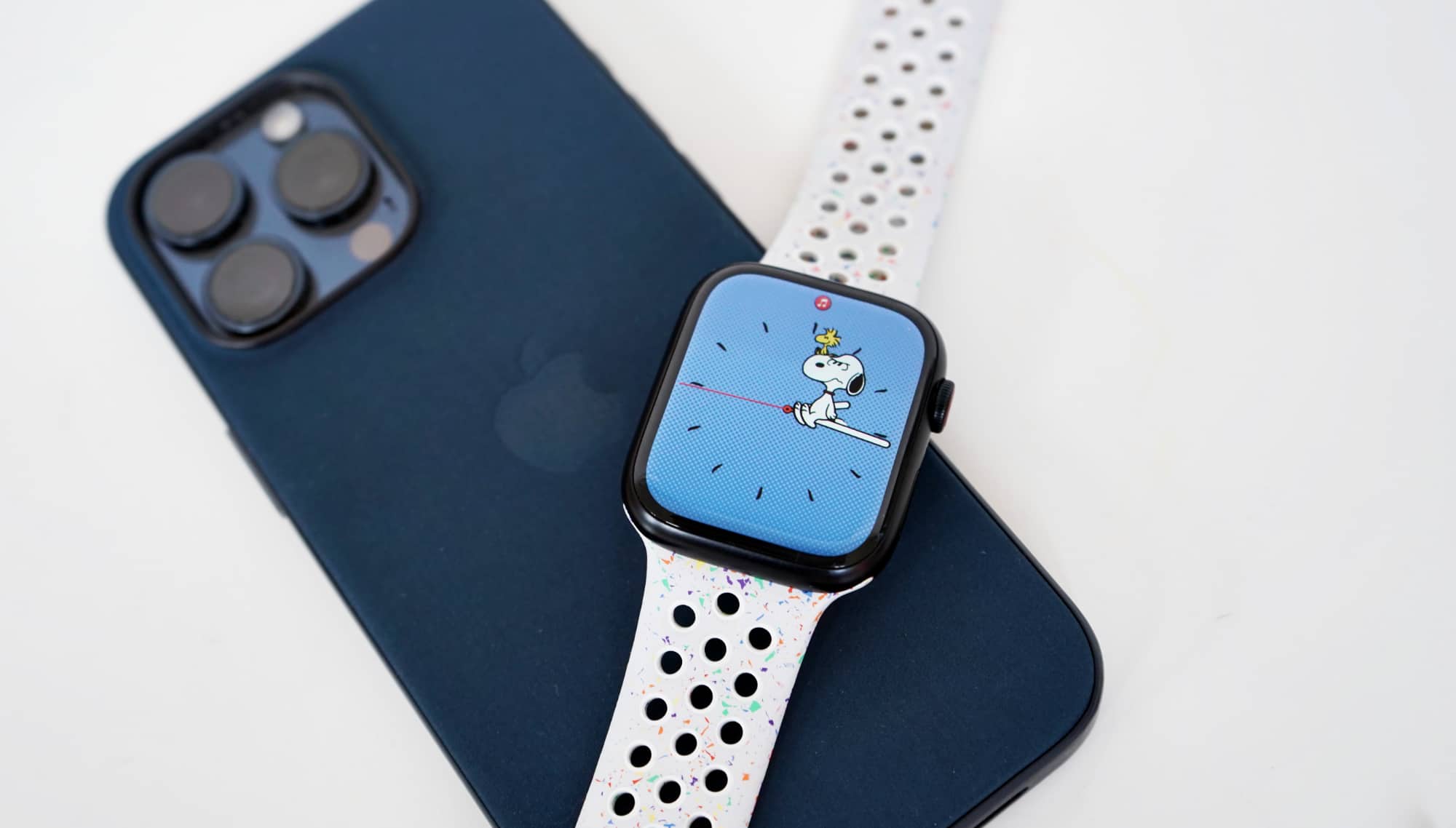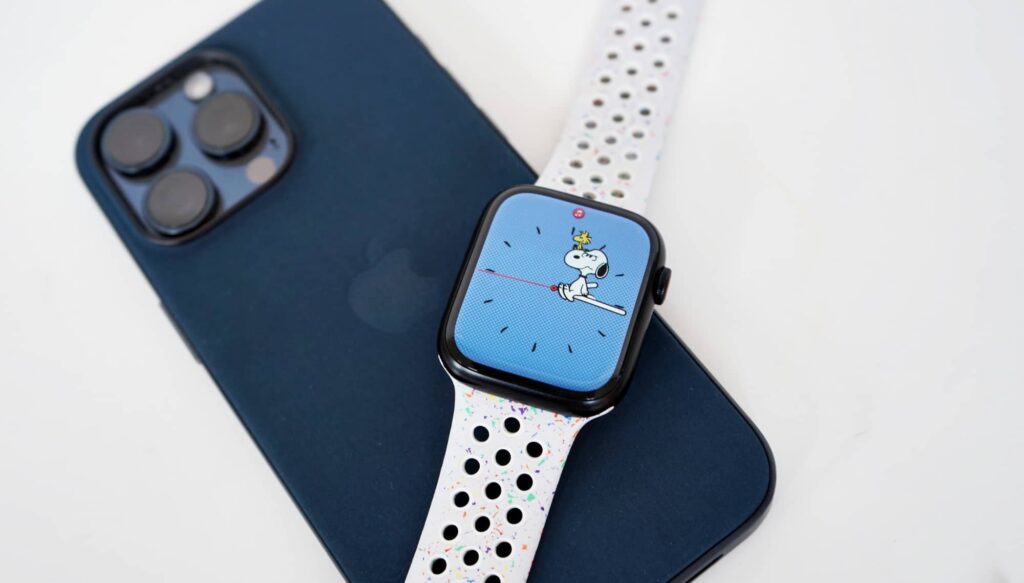 Final thoughts (TLDR)
Battery and budget issues aside, there really isn't much to complain about in this wearable. It's about as solid as any wearable should be, as Apple hones and perfects its formula bit by little bit.
Minor improvements FTW, it seems, and that is paying off just fine.
The Apple Watch Series 9 might not be as flashy or well-made as its Apple Watch Ultra big brother, but it delivers better brightness control, a solid performance, great health sensors, and a gesture system we can't wait to use.
The price is a bit of a pain point, we won't lie, but Apple gear tends to command a premium, and the Apple Watch Series 9 is no different. This is intentionally premium, and it doesn't try to make up for that.
If you're someone who fancies the Apple Watch and wants it to be the snappy, always-readable wearable watch your life deserves, the Apple Watch Series 9 makes a lot of sense. Recommended.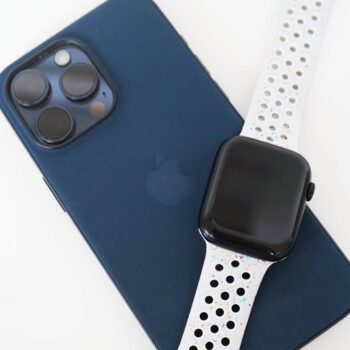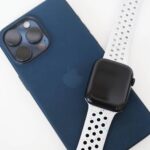 Apple Watch Series 9
The good
Excellent screen
Display now supports lower light output, handy for dark rooms and not waking people up
No lag in really anything
Looks great on the wrist
Solid health sensors
Improvements to watchOS 10 make the wearable that much easier to use
Gesture addition with the new chip is intriguing
The not-so-good
Sapphire crystal isn't standard
Battery life could be better
New UWB only works with iPhone 15 and higher