Ever had the desire to watch something on the big screen from your phone? The cinema experience is typically for movies, but the Epson EF-100 makes it for mobile and streaming, too.
These days, it's beginning to become common not to have a TV in the centre of the home. While the TV used to be centre of the living room — and the centre of the home — that now might be the kitchen, as some homes move away from a TV.
What's more, you might have a TV, but it might be small, with below 42 inches being just enough, even when "big" is measured as pretty much everything over.
Bigger experiences are usually for movies and the excitement of viewing, but with TVs over the 75 inch mark often carrying a hefty price, that larger cinematic experience is something that will typically cost you big time.
So what if you want a bigger experience for your media without necessarily the large cost? There's always a projector, though many of these require the lights off, a screen, and some setup.
A new projector from Epson goes a different way, however, with a device that needs no fuss and projects in a big way for folks who might not need a big screen all the time.
It's called the Epson EF-100, and while it arrives in white (EF-100W) and black (EF-100B), it's not your conventional home theatre projector.
What is the Epson EF-100W?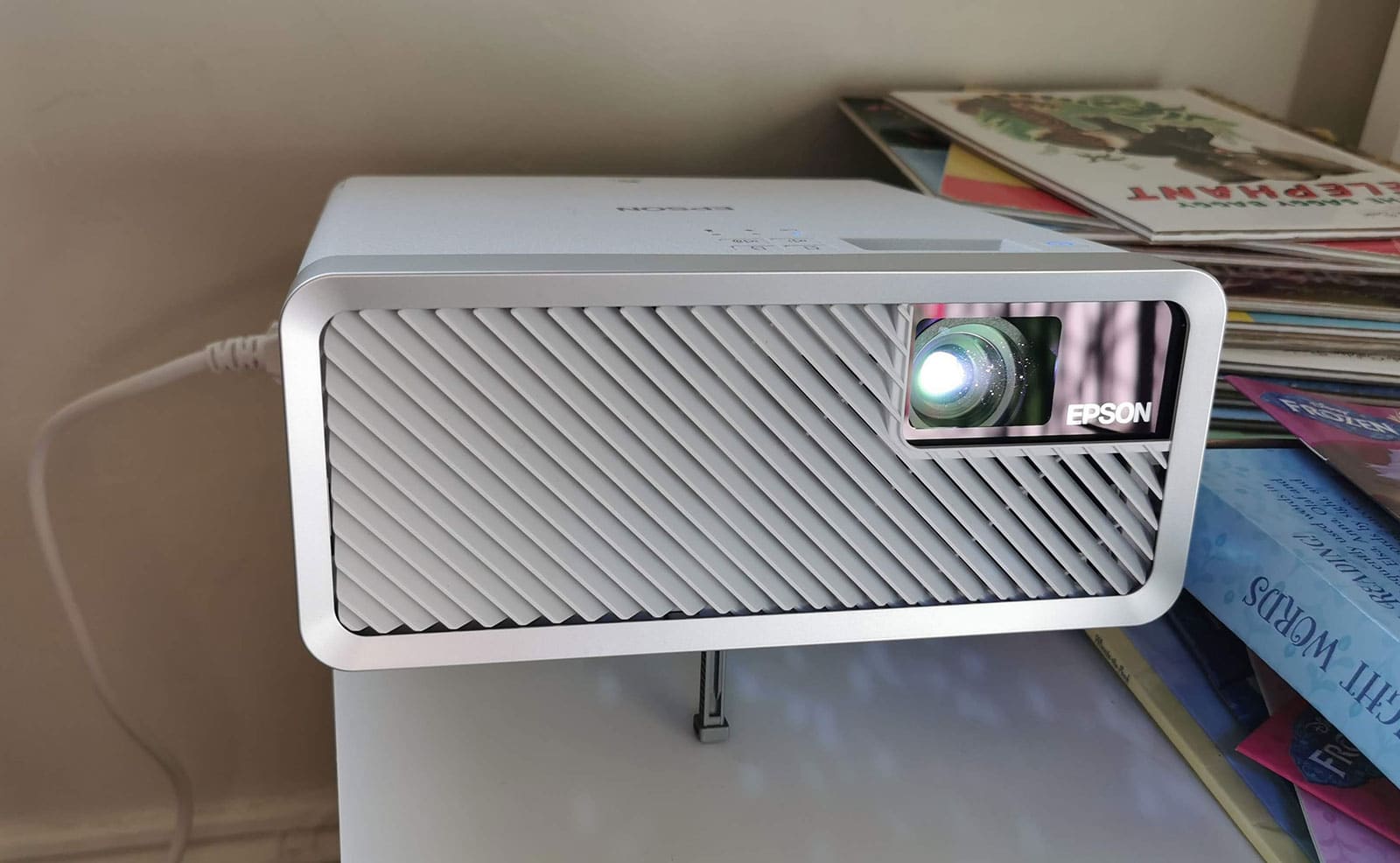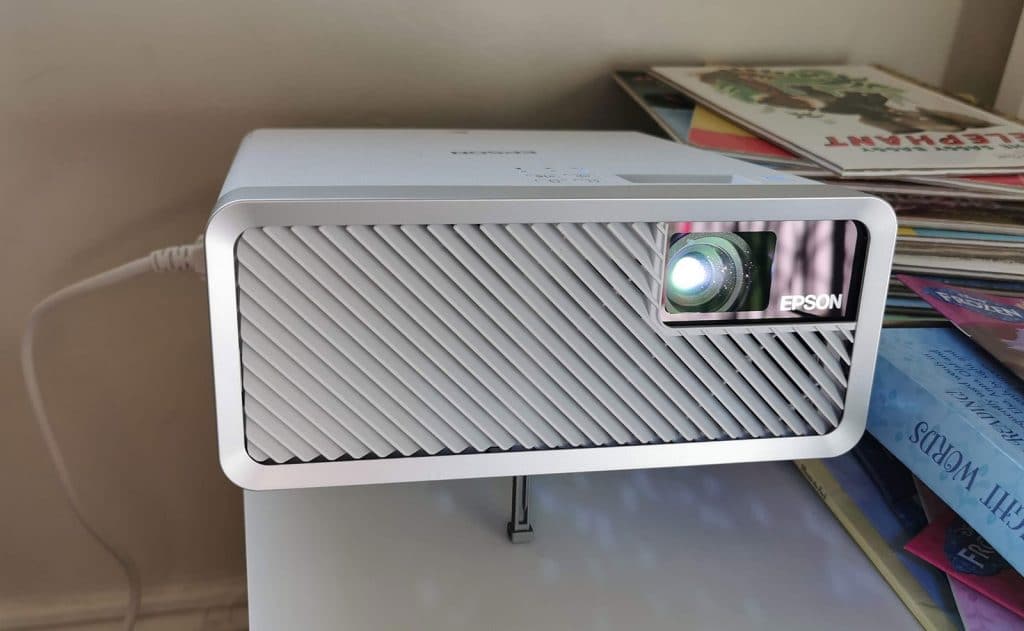 Epson's EF-100W is a little different from your conventional home theatre projector.
On the one hand, it's not different at all: the Epson EF-100W is a flat box with a lens at the front, focus adjustment, HDMI port, and a 3LCD system with a laser light source. There's a small push button underneath it all to release a small leg for the projector to stand on, plug a port on the side for a jug plug cable.
But that's it, as the Epson EF-100W is a fairly simple projector.
Designed for media playback from devices you might relay on, it is, as we've said, just that little bit different. You could plug in a video game console or a Blu-ray player, but we suspect your phone or tablet are the sources Epson is thinking of with this one.
There's a good 2000 lumens for both white and colour light output, and a contrast ratio of 2,500,000:1, which is very high, but is enough to say you should see your picture clearly.
The resolution on the Epson EF-100W is a WXGA resolution, which isn't high, edging closer to 1280×800. While that's lower than the Full HD you might want on a projector at a minimum, that's a better resolution than the 720×576 DVD projector your parents might have had growing up, even if it's not quite as amazing as what you can expect to find these days.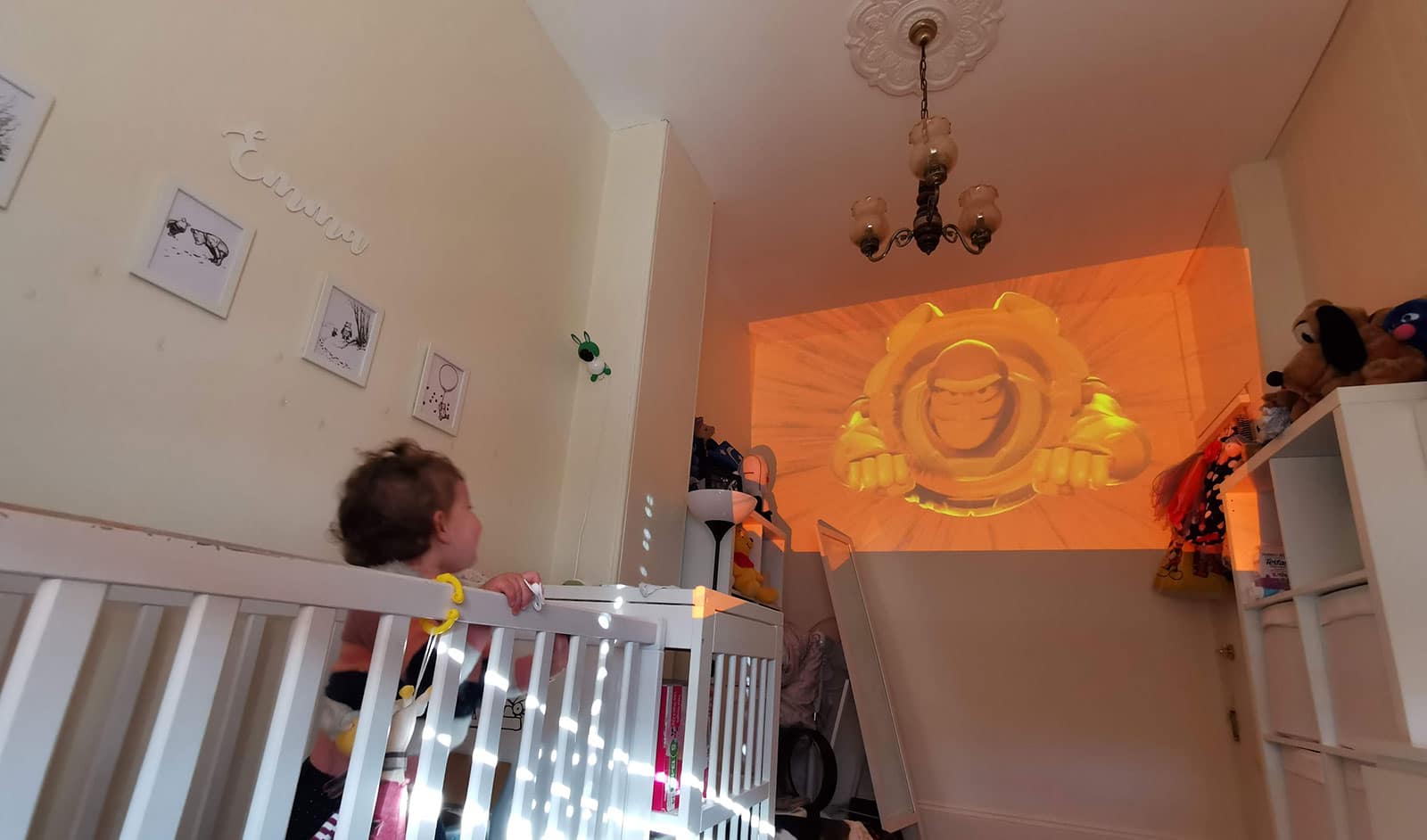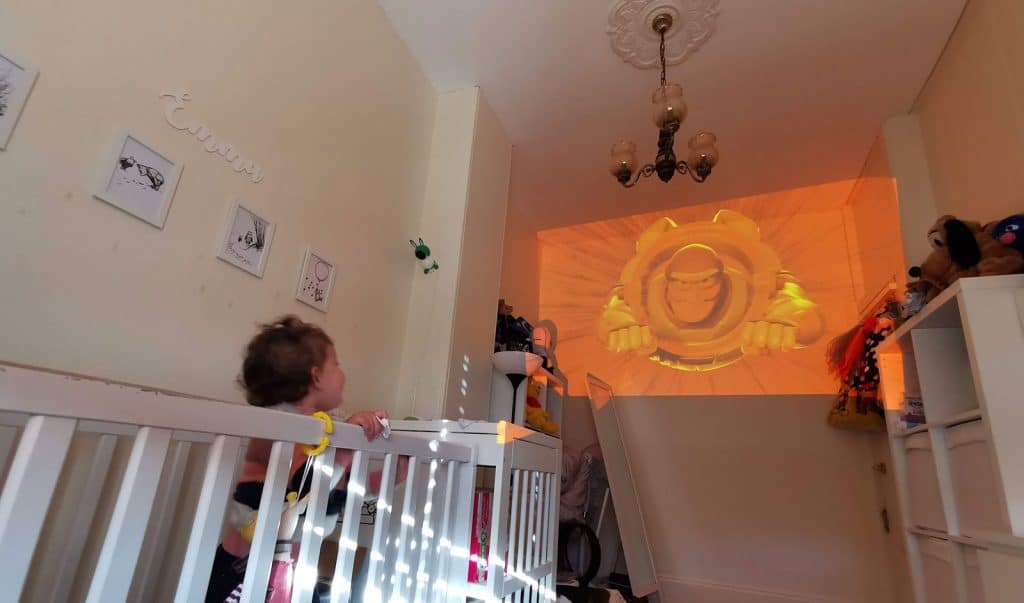 You might consider that a little old by today's standards, but it's still plenty good for watching movies on, as well as sending photos and videos from your phone to. It's a perfectly acceptable resolution for most people, and while it might not be the best there is in a projector today, there are still plenty of people that would be happy with HD projection on a wall or screen.
While home theatre projectors these days are typically large and support features such as 4K Ultra HD and 3D playback, the Epson EF-100W harks back to a time when home theatre viewing focused on high definition. Put simply, that's a little better than DVD quality, but not quite Blu-ray quality, which means it's still plenty good for today, especially if you're coming from your phone.
Does it do the job?
Take the Epson EF-100W out of its box, plug it in, and you're pretty much good to go. That's literally it, with the projector needing minimal setup, and really only something to plug into it.
The back panel of the Epson EF-100W includes one port for you to plug in on, with a lone HDMI port and a small extender coming out from it, though there's a microUSB port with a small microUSB plug from it as well.
Having both alongside each other means a Chromecast or other wireless media stick can be used, or maybe even an Intel Compute stick. You could also probably plug your phone directly through here if you wanted to, though one HDMI port means you don't have a lot of options. Basically, you'll be plugging in a phone, a tablet, a media player, a game console, or a wireless dongle.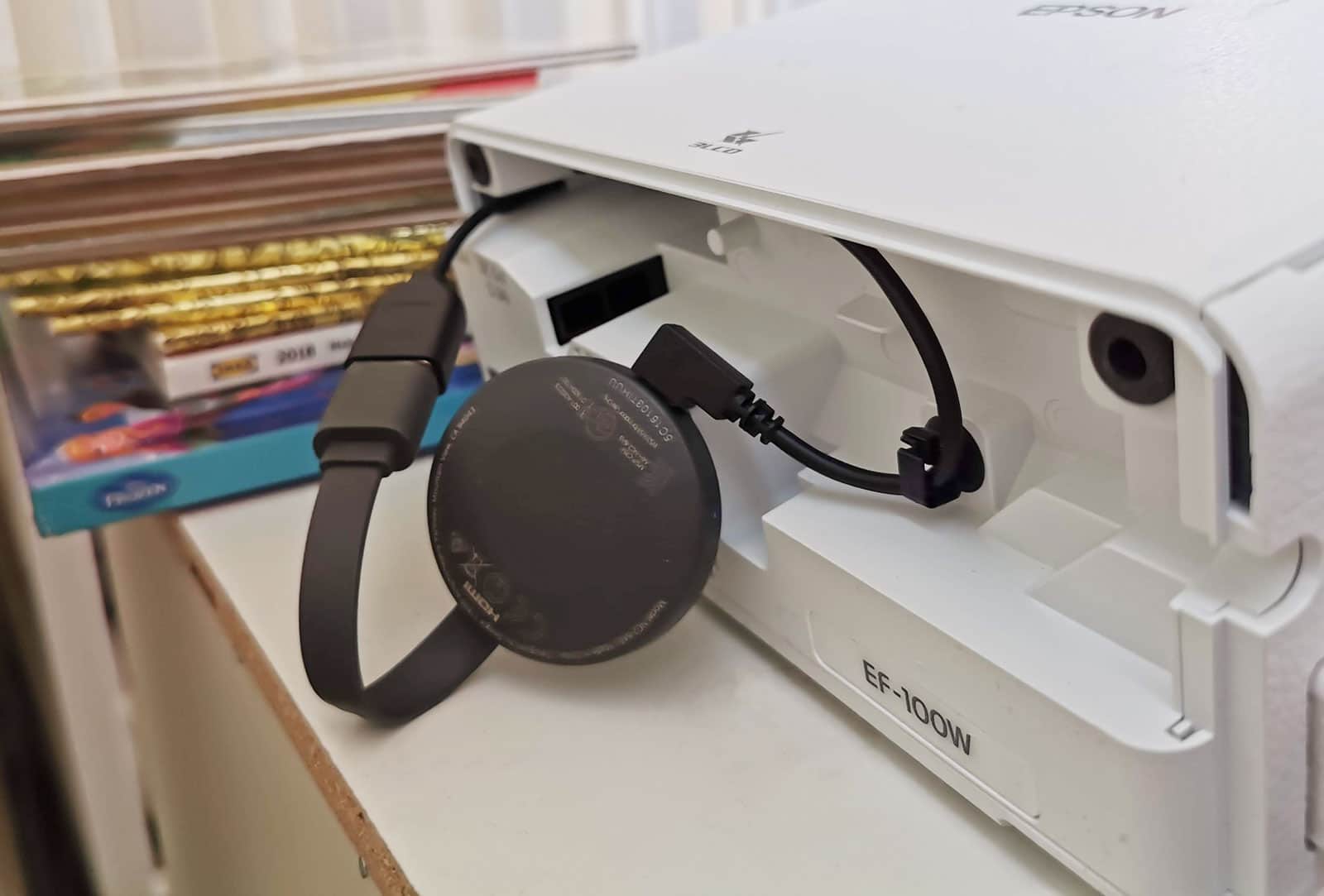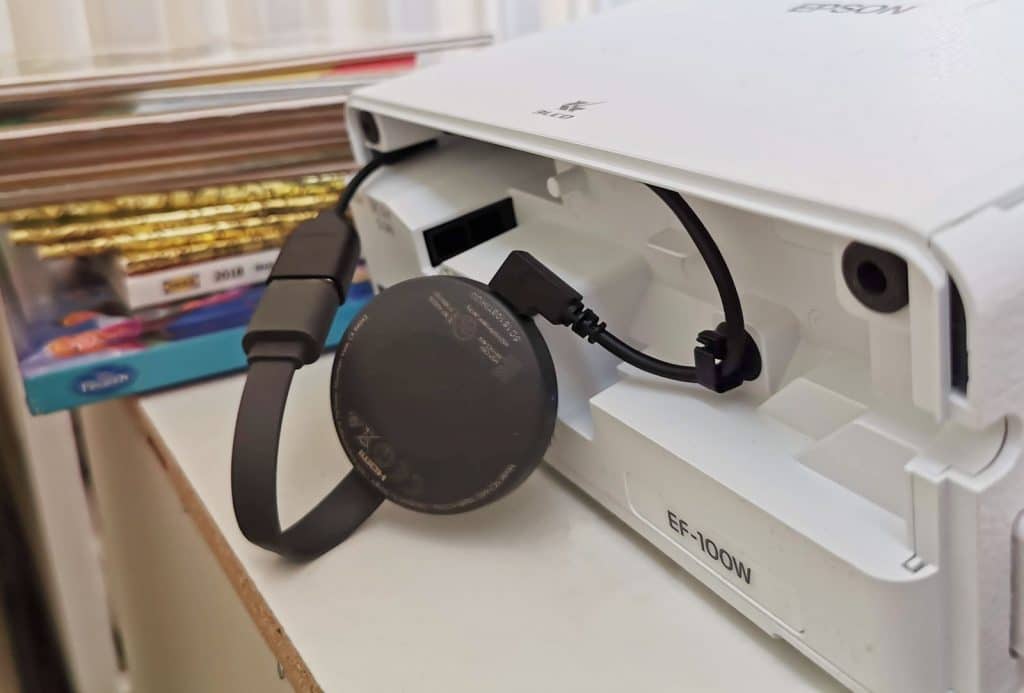 Regardless of what becomes your input source, there's a small remote to control the brightness, if the picture needs to be skewed, and volume.
You'll find a bright 5W speaker built into the Epson EF-100W, and it can be quite loud, even though it lacks a lot of depth or bass. For the most part, it'll definitely do the job, providing a loud burst of sound, though there's Bluetooth built into the EF-100W as well as a 3.5mm headset jack, so you can always bring a bigger speaker if need be.
Powering the projector is a laser light source through a 3LCD system to make the picture vivid, both of which come together to shine a light for your media in both daylight and when the shades are drawn.
Aside for the simplicity of the projector, possibly one of the biggest points of the Epson EF-100W is how it performs not so much when it's dark, but rather when it's bright.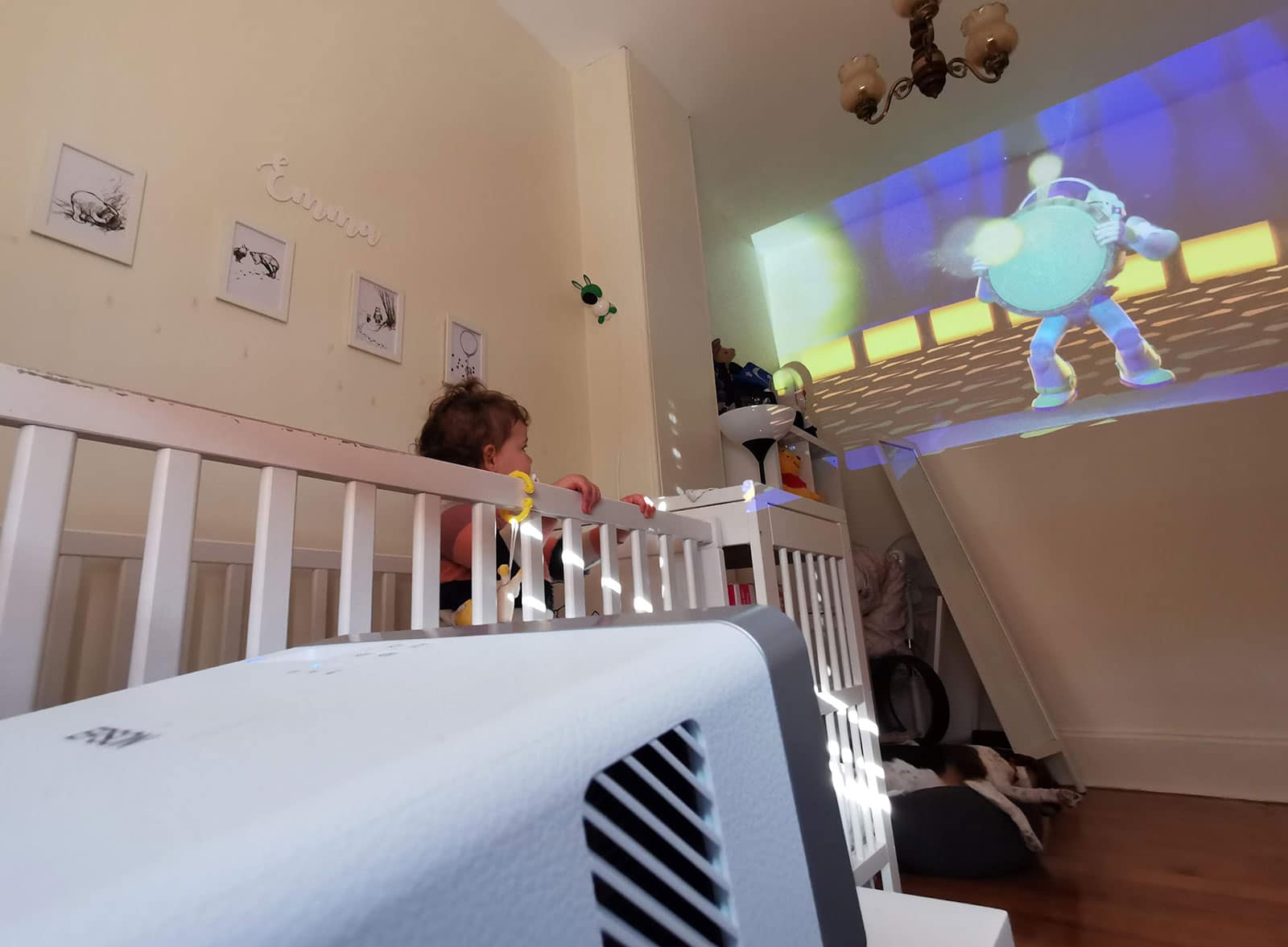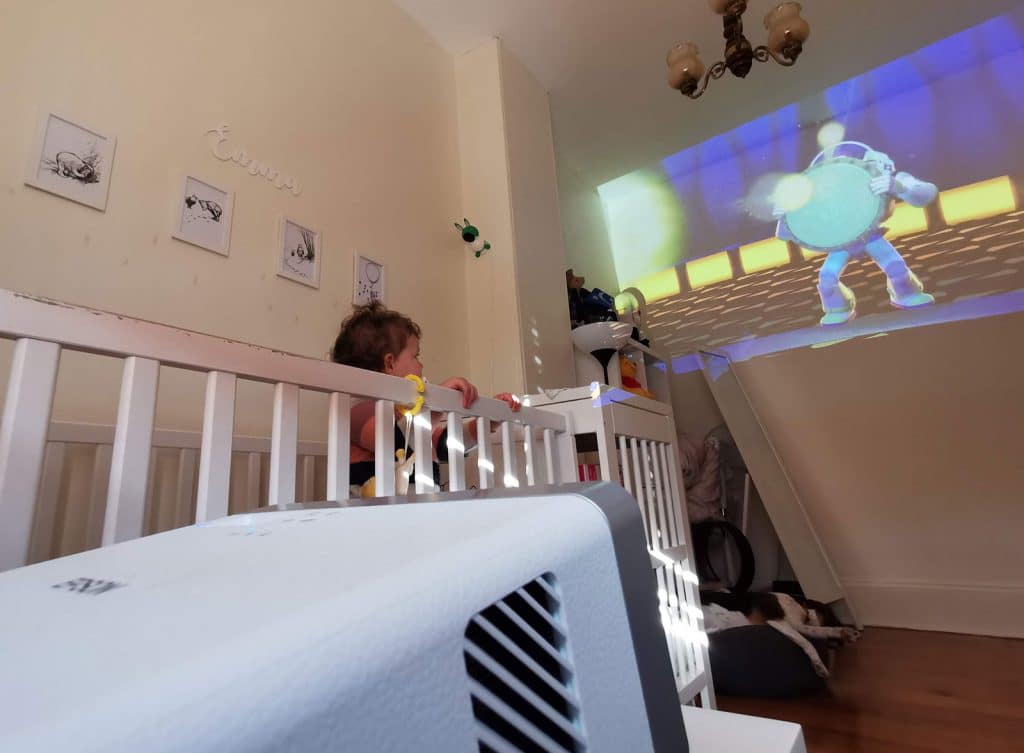 Thanks to that laser light source, the Epson EF-100W works when there's light in the room. As in plenty of light. We had the lights switched on, and you could still see the picture with the light set to 80%.
At 80 percent and below, the EF-100W runs at an "eco" mode with a low volume from the unit. The moment you push it more, the projector gets a little louder to account for the extra power it's driving.
The thing is you may not need the extra 20 percent to push that projector. Depending on how bright your room is, it is definitely an option.
Switch the lights off, however, and the Epson EF-100W truly shines. It's good with the lights on, but it's better with the shades drawn, and the picture quality is admirable on a projector this small and easy to use.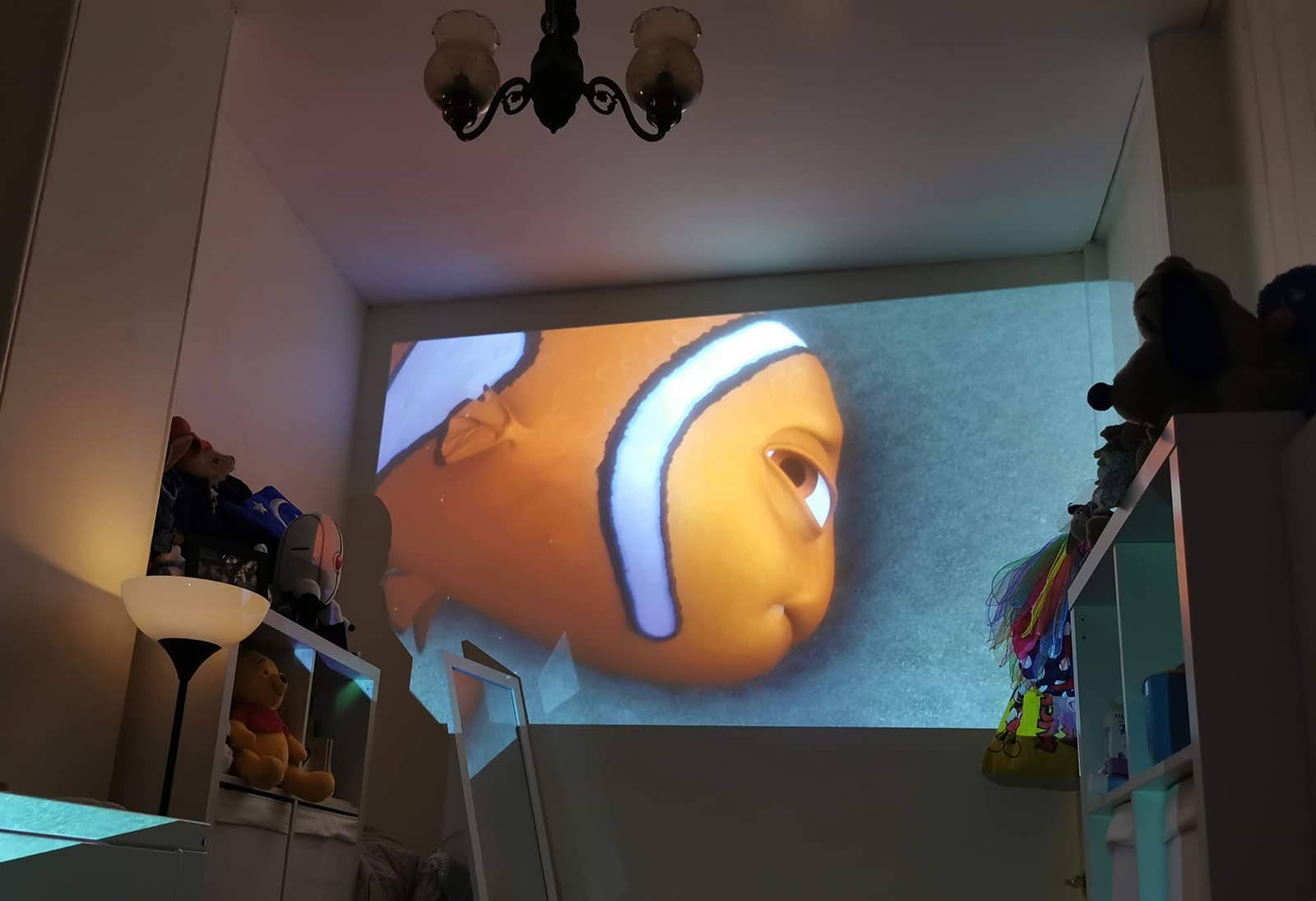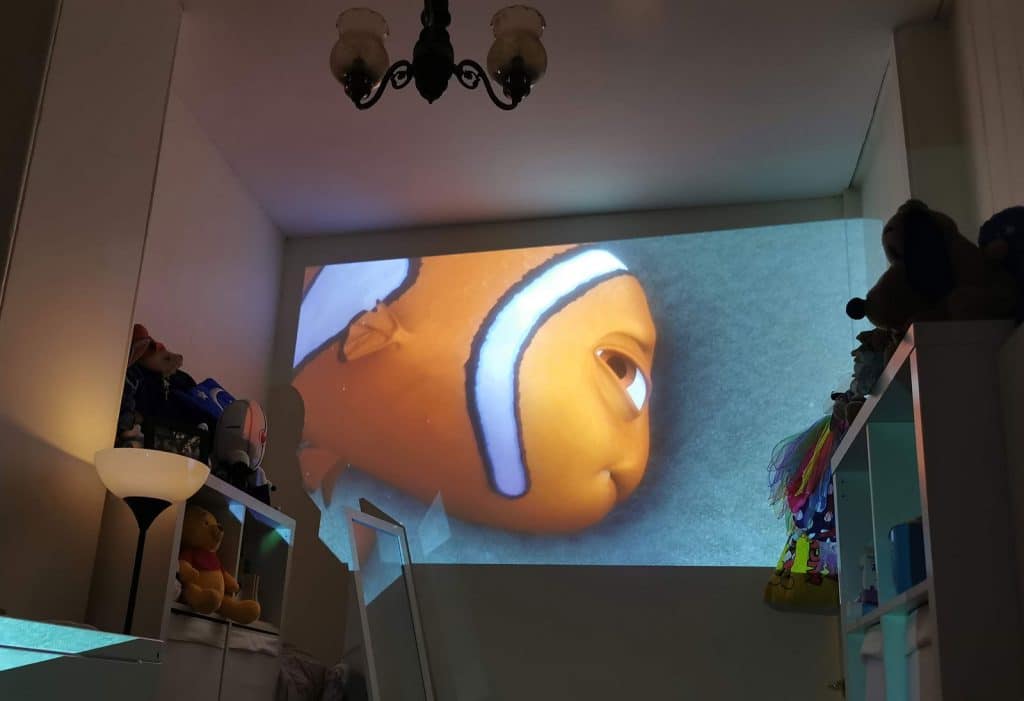 You don't even need a screen, though it would likely improve the picture quality. We projected on a white wall and it looked fantastic, delighting not just our child, but this reviewer with her, delivering well over a metre in size.
The range of the projector sits at between over 20 inches to around 150 depending on how far back you want to position it. A metre to two seems to be the right sweet spot, especially when you consider the HD the resolution.
Given how the EF-100W feels built for folks looking for impromptu projection compared to a dedicated space for it, well, we can see how this works so well.
What does it need?
While the port design on the back is actually quite cute, we'd love a Type C or Thunderbolt port to directly plug in modern devices.
Granted, the Epson EF-100W isn't a super expensive projector, and so the lone offering of one HDMI port isn't a total shock. Using it with the microUSB port, you can see it's basically made for a Chromecast or Amazon Fire TV stick, though again, Epson could have included that technology built in to save you the trouble. It has wireless connectivity in other projectors, so that wouldn't be without precedent.
If we had to make any complaints, these would be it: one more port for modern devices, and wireless streaming or throwing built in.
If you do plug the Chromecast in, the design of the Epson EF-100W is such that you can't actually throw the backing plate back onto the projector with the Chromecast in place. Either the space is too small or the new Chromecast is too big, and we know the latter is most certainly not true. In either case, you'll need to leave the backing plate off, as it can't hold a Chromecast in place.
It might hold other devices, though. Something like a Fire TV Stick will work work, apparently, but not the current incarnations of a Google Chromecast.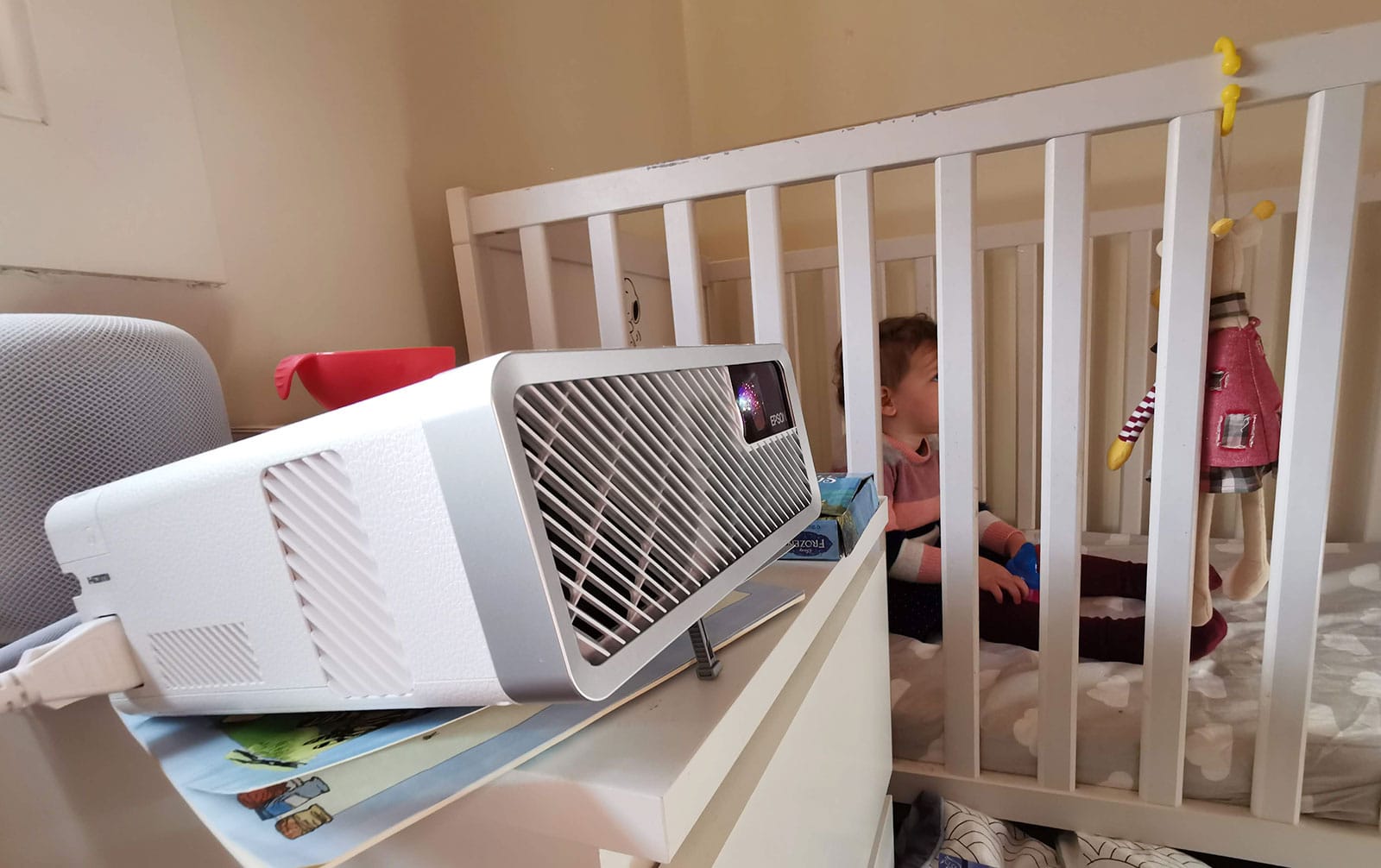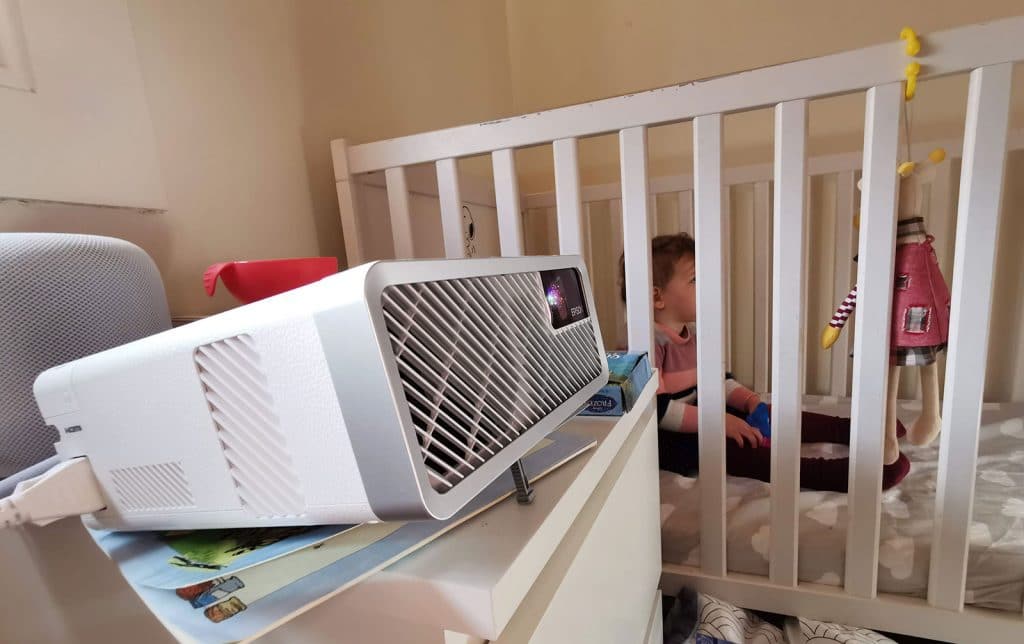 Is it worth your money?
At a retail price of $1699, it's hard to find much to fault with the Epson EF-100W, what is basically a large book of a projector that can be pulled out to project quickly and easily.
It's not going to be a TV replacement, not quite, but in a world where not everyone still cares about having a TV, there's validity in a projector made for mobile media, even one that isn't a Full HD projector.
There are some interesting points worth noting, too. Wireless tech built into a projector instead of plugging in a phone or Chromecast? That'll generally cost a little more in an Epson projector, while 4K Ultra HD veers closer to the $4K mark.
And while you can find some projectors at a lower street price — Epson even has a couple of models closer to the $1000 mark with wireless built in — they're also larger as a whole.
Epson's EF-100W isn't really the same type of projector as these. It's a media projector, but not so much a home theatre projector, even if it can fill both of those needs.
If you were buying for a home theatre, the $1699 might not be the best value ever. However if you're buying because sometimes you want to watch a bigger picture and get a projector out easily — if you want a big screen without a big effort — the EF-100W is definitely an intriguing proposition.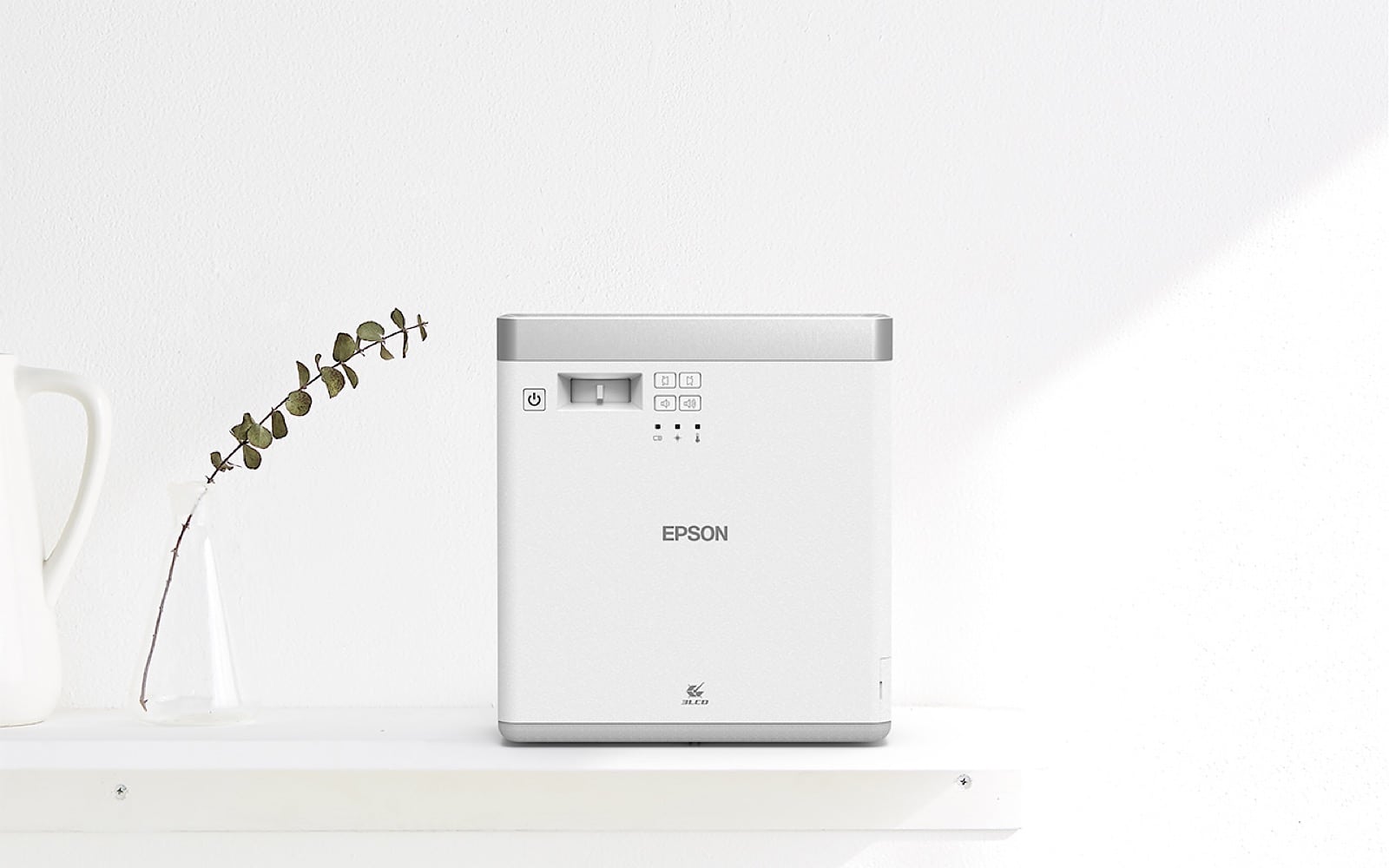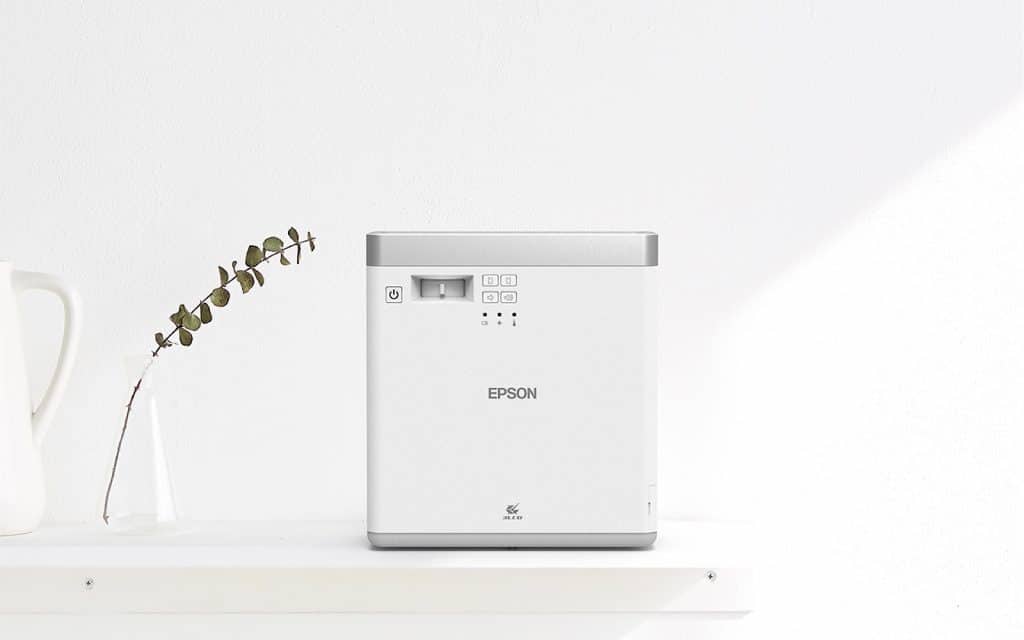 A personal story
Our daughter is two, and has never been to the cinema. She hasn't sat through a big screen presentation because she's only just beginning to sit through things all the way.
That means her exposure to a big screen experience is limited to what constitutes "big" in the TV world. For us, that's a 55 inch TV, which is still quite big, even by today's standards.
But the experience offered by a projector was something a little bit different for her.
Sitting on her bedside table, next to her books toys, the Epson EF-100W lit up her wall one afternoon and evening, sending Buzz Lightyear, Nemo, Anna and Elsa, and The Wiggles. It was something very different indeed.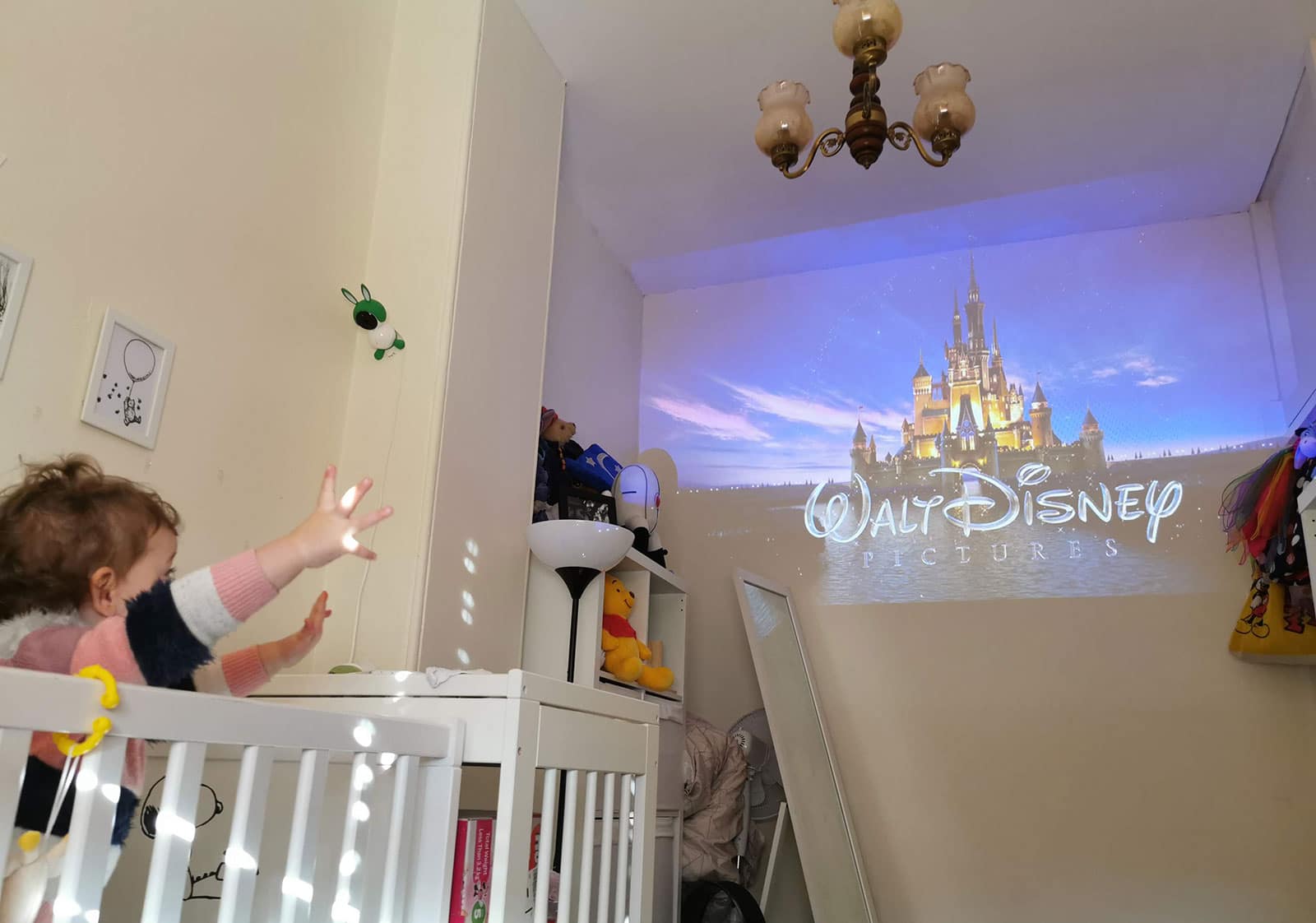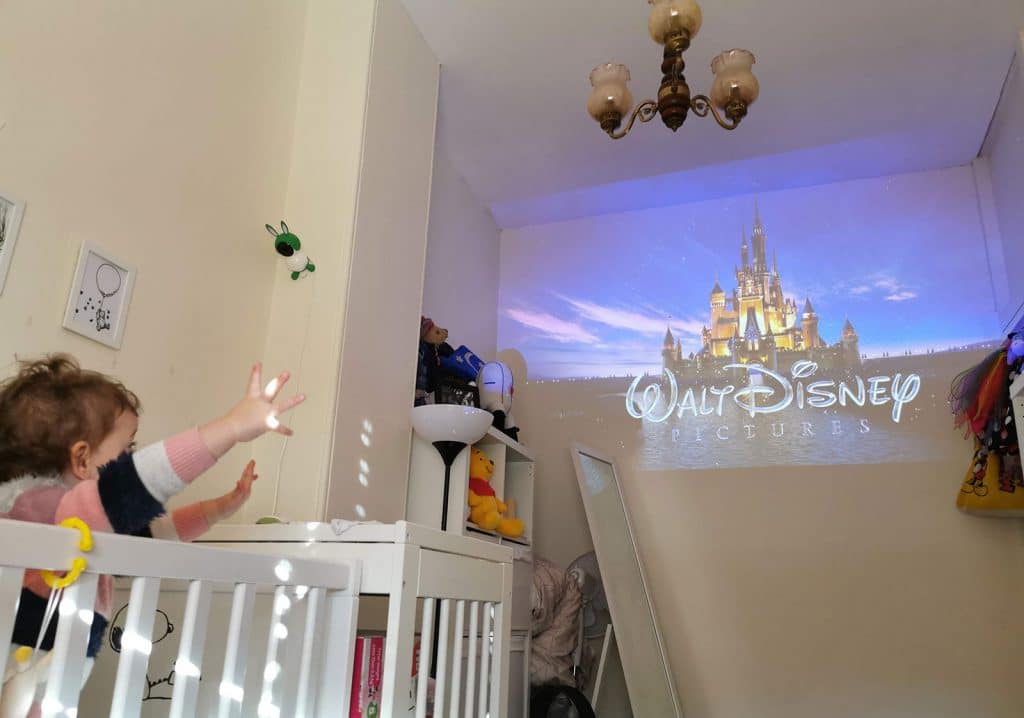 Projecting a good metre-wide image onto her bedroom wall was a new type of awe, a new level of astonishment for her. "Wow" was kicked up another notch, and she just gazed at the projected image from her bed.
Our daughter's enjoyment of an impromptu cinema experience is something not every projector could cater for. Many projectors are larger than a big book, while this one occupies the spot of a hardcover thesaurus or a large manual. The Epson EF-100 is not big enough to be the collected works of Shakespeare, nor is it the entirety of the dictionary, but it's more sizeable than a trade paper, which still makes it smaller than many of the projectors we've seen.
It's the sort of device we don't need to mount or find installation for, and means we can put it away in a bookshelf without thinking, pulling the EF-100W out on a rainy day if we need it, or even just a delightful summer afternoon.
That's a nice feeling to say that there's a big screen experience just waiting to be used that turns a bare wall of any home into a big screen at a moment's notice. In a time when our media isn't always going to be from a Blu-ray player, and will more likely be from a phone, this is actually kind of cool, because any wall — even that of your toddler — becomes the theatre experience.
After a Sunday of watching everything in a spectacularly grandiose way, you can already tell the little one is excited to experience it again, and we'll be excited to hear her constant claims of "wow!"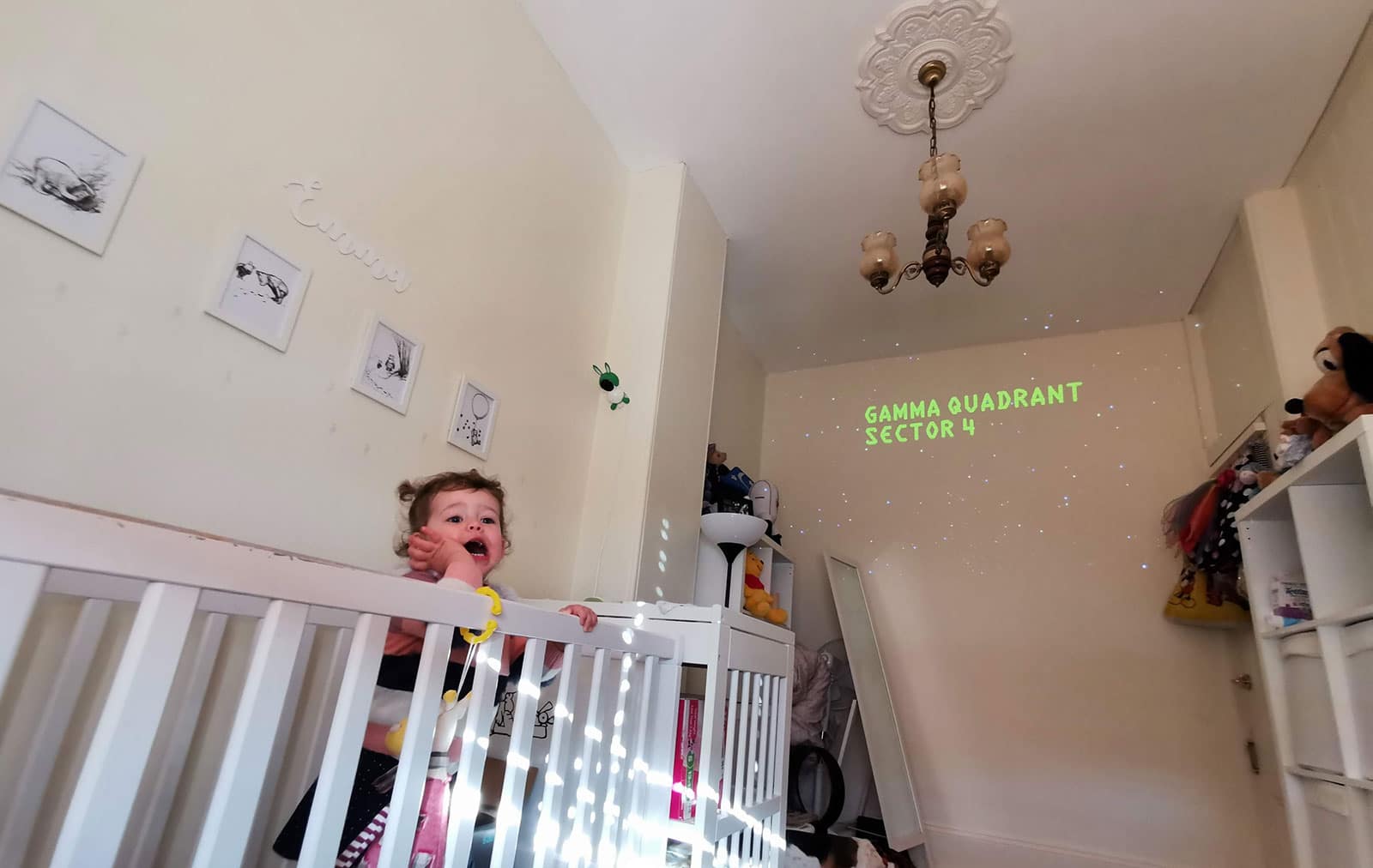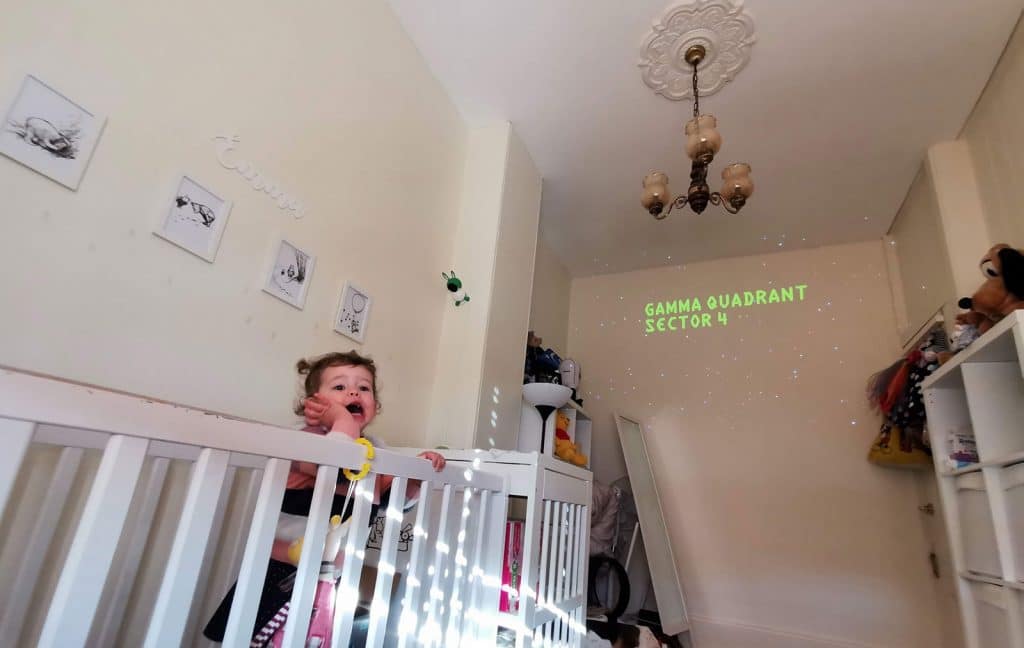 Epson EF-100 (EF-100W/EF-100B)
The good
Very small
Brightness is exceptional for either lights on or lights off
Made to support phones or wireless media sticks
Supports Bluetooth audio
Low noise volume
The not-so-good
Only one HDMI
No wireless streaming built in
Not Full HD