With flashing lights, water resistance, and bass to spare, Sony's XB31 is a party in your pocket, provided you have really big pockets.
Everyone has a speaker or two, but some companies have more. Some have lines they refresh regularly, with new speakers all the time.
Sony is one such company, and it has built a variety of speakers over the years, ranging from big to small to those you can take to a party. In fact, its party range is known for having big lights and big bass, but are also known for being quite big.
And yet the XB31 isn't that: it is not a big speaker. It's small enough to fit into a big pocket, water resistant, and comes with lights. This is not your ordinary portable speaker, so is it a good choice?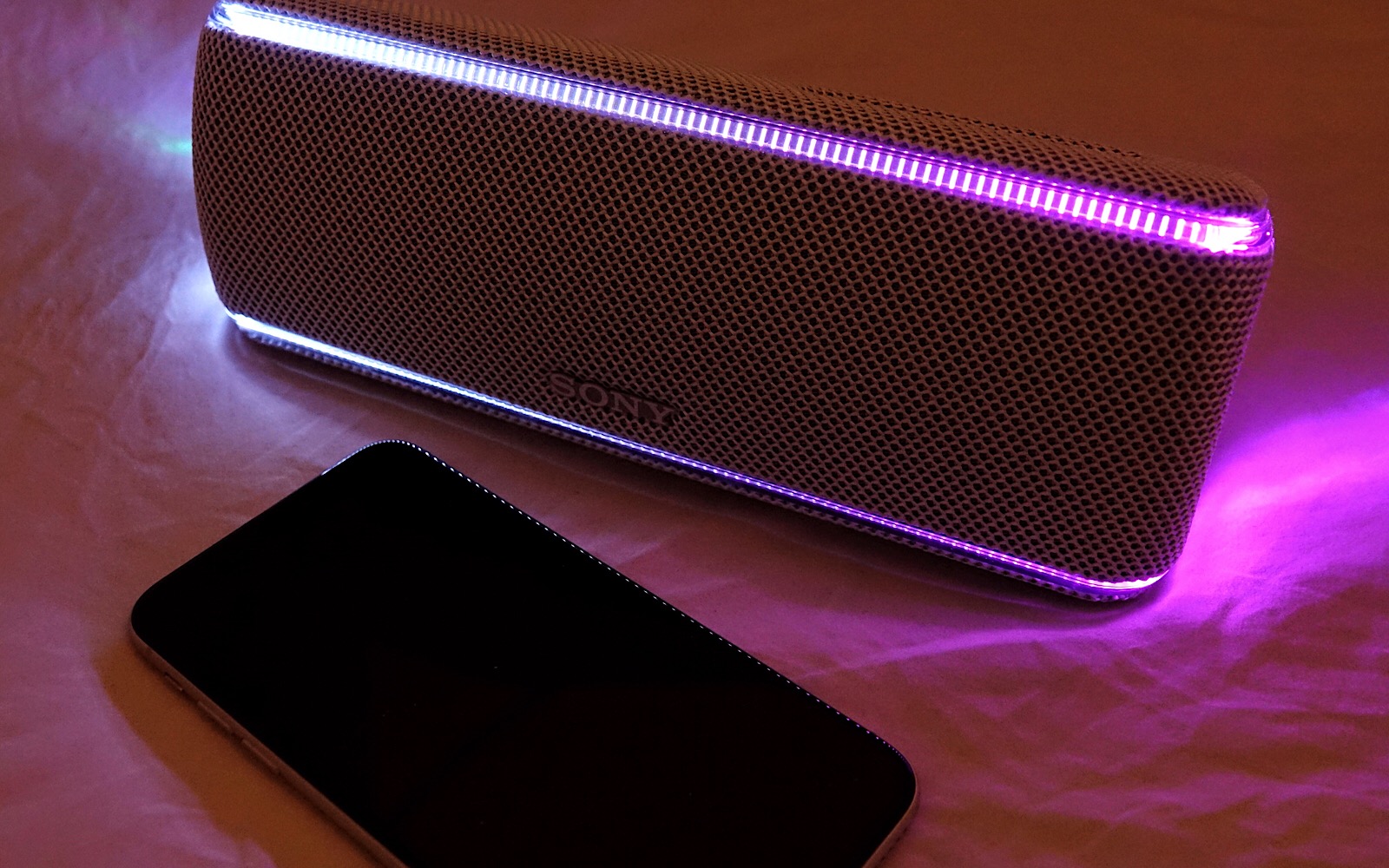 Design and features
Sony's latest take on the speaker still looks like one, but the emphasis on coloured plastic speaker grills is mostly gone, replaced with fabric.
That fabric stretches across most of the speaker, with long lines of LEDs that run across the edges of the speaker.
It's different from the plastic blocks of the past, though it leaves the LED lines in, because what better way to show off a party than to let some colour and light off?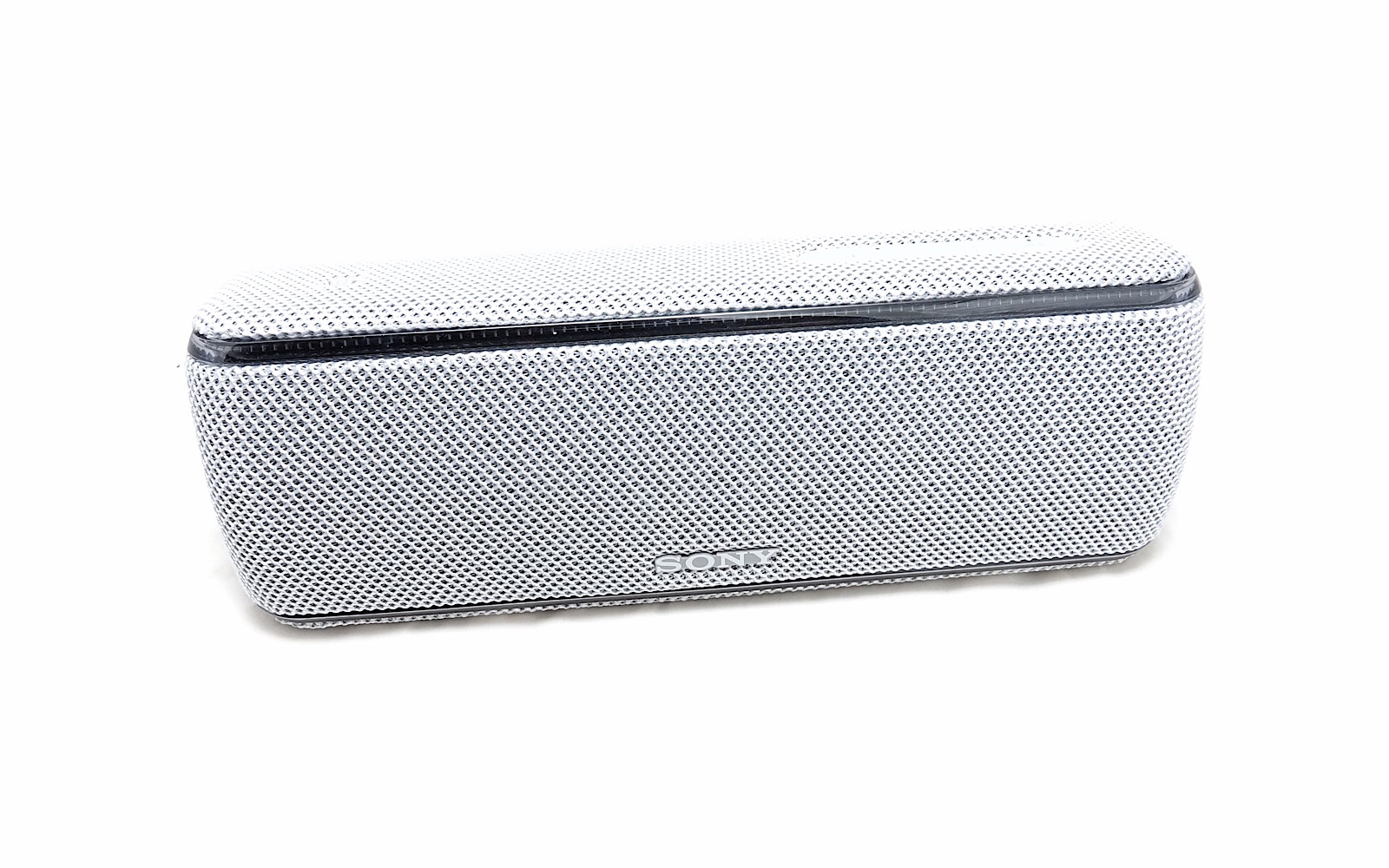 Sony's SRS-XB31 isn't just colour and fabric, because there's also sound. Making that happen is two 48mm speaker units encased in a portable speaker weighing just under a kilogram, or 890 grams to be exact.
Water resistance is there for the ride, set to IP67, meaning it's ideal for the pool and the beach, though be sure to run it under the tap once you've taken it under chlorinated or salt-water.
You can connect to the SRS-XB31 by wireless on Bluetooth or by a 3.5mm cable, but the speaker is also water resistant in wireless mode, less so in 3.5mm.
In-use
Connection for the Sony SRS-XB31 is pretty consistent with every Bluetooth speaker we've ever seen, and you simply need to go to your phone's settings menu, look for Bluetooth devices, and hold down the power button up top to start the Bluetooth connection.
With the connection made, you can use your phone normally, sending audio to the speaker and using your device as the sound source.
Sony does have an app available, and that will give you a little more control, such as the ability to fiddle with the EQ and control the lighting so that it matches colours, or even turn it off.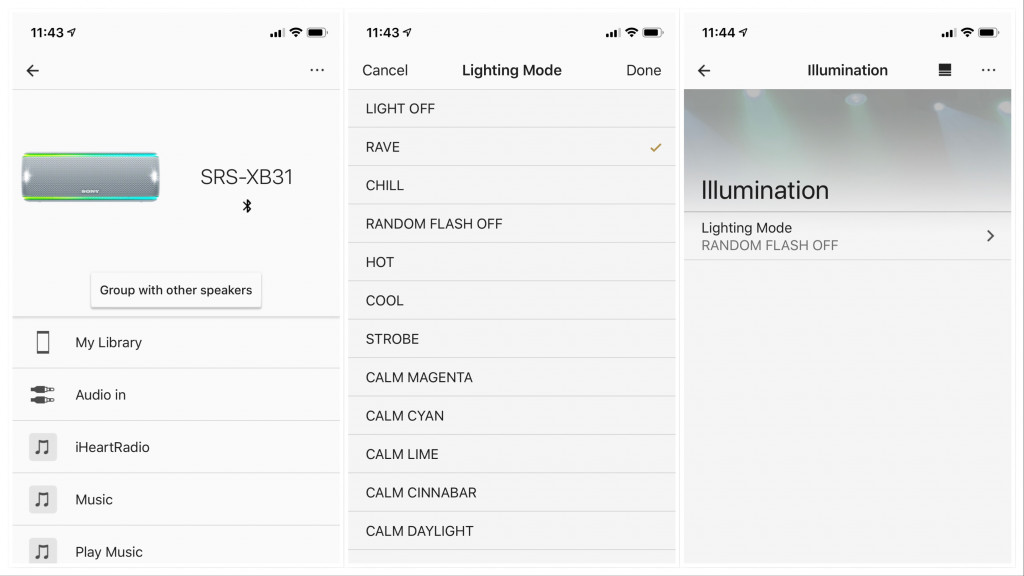 Performance
Armed with an LED strip around the side and the occasional flashing strobe light, we're going into this review expecting a speaker made for getting volume out and enhancing bass. That might be a big ol' assumption, but speakers made for parties tend to offer that sort of profile, and so that's where we are.
And testing with the Pickr Sound Test (which you can listen to yourself), that's very much we were treated to, with a pronounced bass taking the lead, while mids and highs took a backseat to the experience.
That's not to say the other spectrums were missing, but rather that the bass leads the way in the Sony XB31, while highs come next, followed by mids, and a little muddled at that.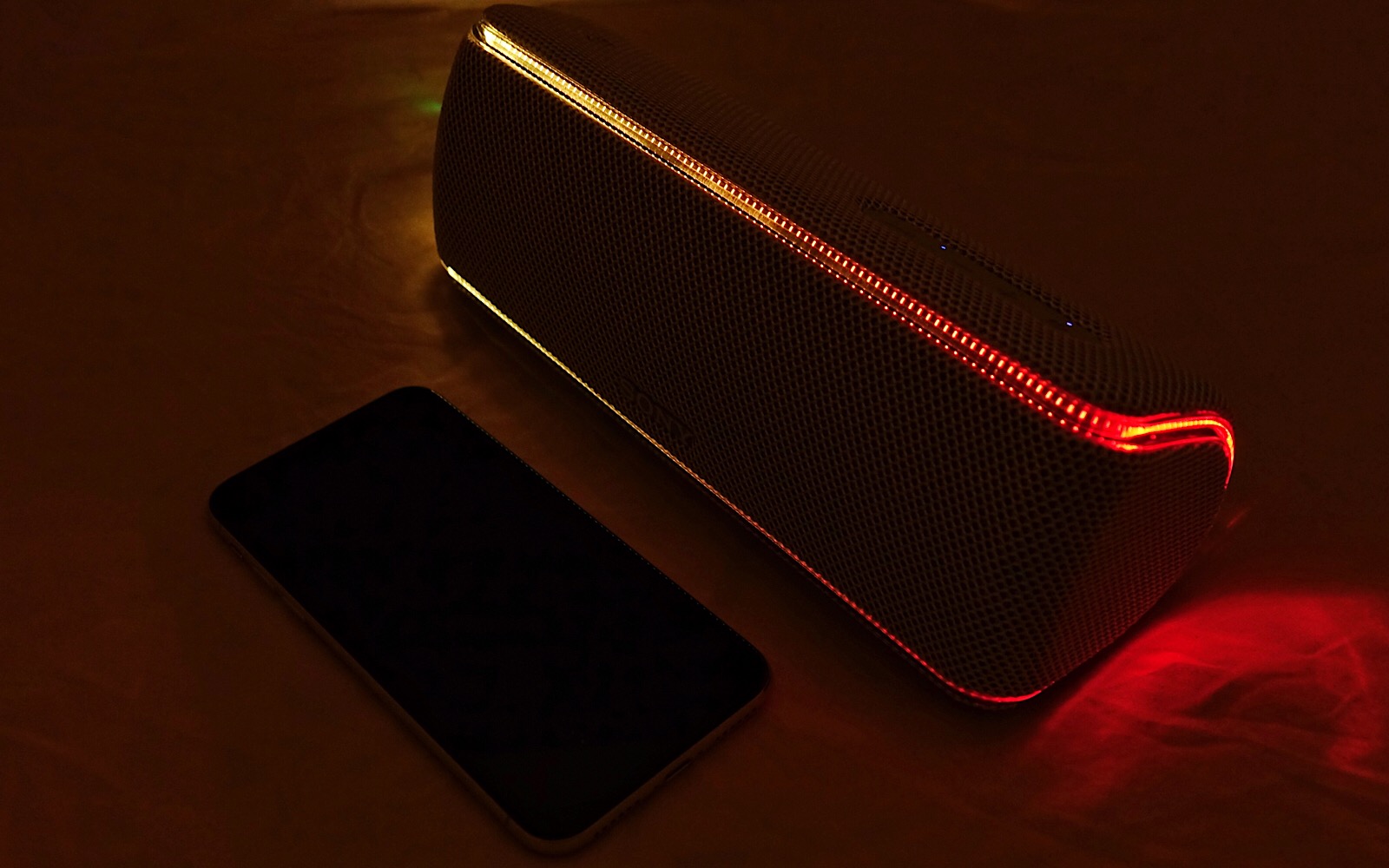 We heard that in the Propellerheads' "History Repeating", where the bass takes the lead, though there's a decent sound altogether. Pop and electronic doesn't always drive the bass hard, something we found in Ellie Goulding's "Army", but where there's impact, you can definitely see the speaker drive it. The punch on Mark Ronson's "Uptown Funk" and Michael Jackson's "Billie Jean" rings true on the XB31, and while its small size suggests the sound should be equal, the volume and bass outshine its stature.
In rock, we found the bottom end strong but the mids a little muddled, though that led us to try and find out why.
The overemphasised bass is partly the fault of ClearAudio+, Sony's music scaling system built into its speaker, which for some reason only runs when "Extra Bass" is applied to the XB31 speaker.
We've only had good experiences with ClearAudio up until now, but it is a little surprising to find that this audio technology only activates when the bass is pumped up on the speaker.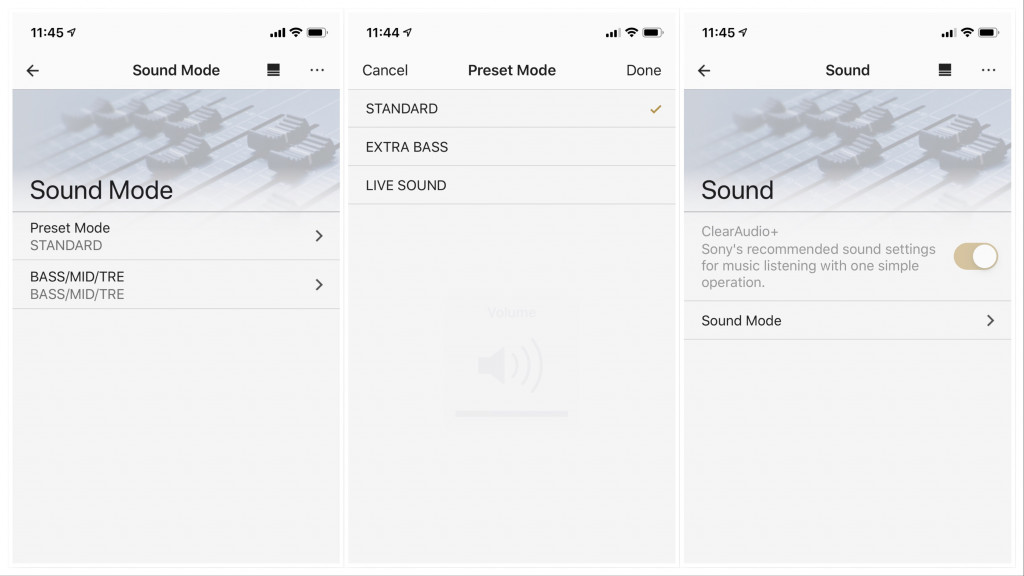 However, if you switch it off, you can find the difference between "Extra Bass" and "Standard" is either a little too much impact or virtually none at all, the latter of which delivers a slightly shallow sound that will have you wishing you'd left the bass on.
There's another catch here: the more music you play that doesn't drive the bass excessively, the better the Sony SRS-XB31 sounds.
Take classical and jazz, both of which tend to lack the artificial extra bass modern music sometimes arrives with. In pretty much every track from these genres we threw at the XB31, the sound was actually comfortable to listen to, with less dramatics and a feeling of warmth overall.
Christian McBride, Etta James, Dave Brubeck, Miles Davis, and Nigel Kennedy all sounded normal and warm on this speaker, and you didn't feel like you were under the thumb of overly punchy sound here. Bizarrely, the Sony XB31 party speaker does a better job with songs you'd be hard pressed to have a party with.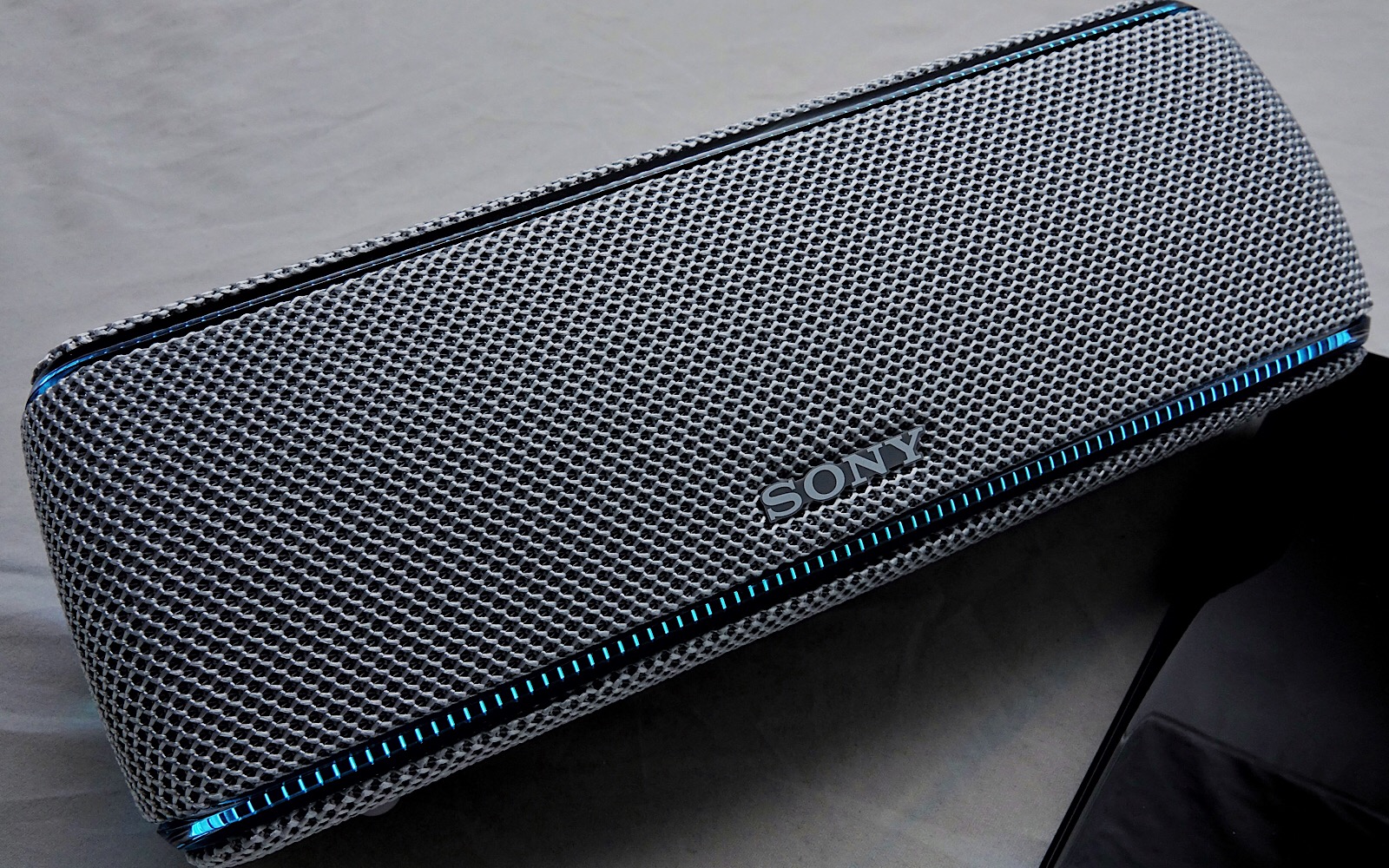 Battery
Fortunately, you can have a few parties with the Sony XB31, and in a nice change, you can also charge the speaker using a standard port, not something very, very specific.
We might be mostly moving to USB Type C, but in the SRS-XB31, Sony has equipped the still common microUSB port as the way to charge this speaker, giving you pretty much the easiest way to keep the battery topped up.
You probably won't need to do that very often, though. With a battery life of a maximum of 24 hours, we gave up needing to dramatically test this thing once it had given us a good 10 or 12 hours, which was plenty.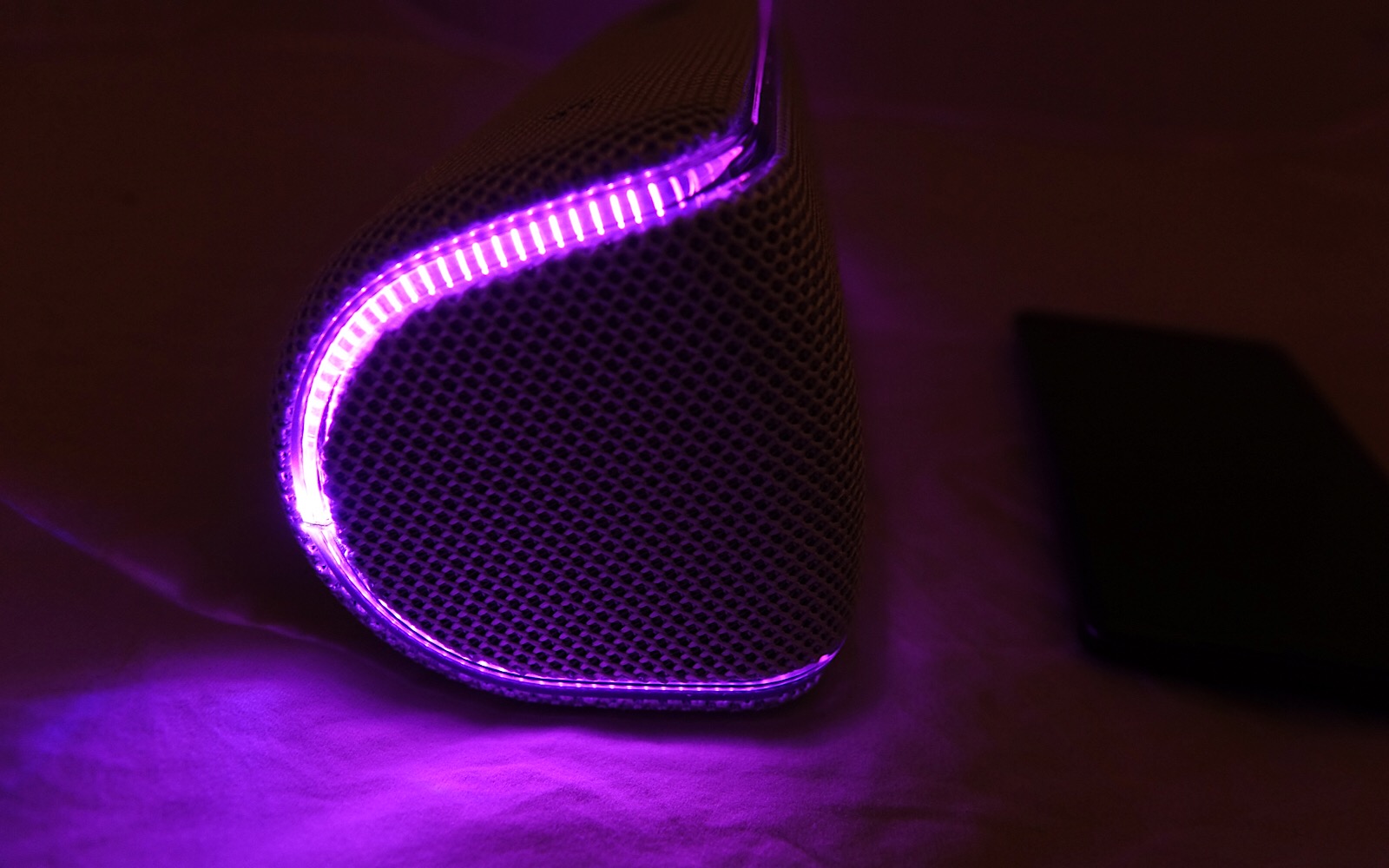 Value
At $229, the price of Sony's XB-31 was perfectly sound, too, with plenty of volume and audio chops for the price on offer.
Hey, if you add a second to it, you can even have them talking to each other.
The extra bits
Bizarrely it's not just a decent speaker with support for more than one in pairing.
Rather than just do the job of a portable speaker, Sony's SRS-XB31 is also an instrument, though in the strangest way.
Along each of the major surfaces is a touch controller, and when mapped in the app's "Party Booster" mode, you can turn each surface into an instrument of sorts, tapping the front, back, top, bottom, and sides for drums or sound effects. We used it once and scared the dog, and while we doubt we'd ever actually use the concept, it's a cute idea all the same, even if means someone is going to be grabbing your speaker and beating it around a bit.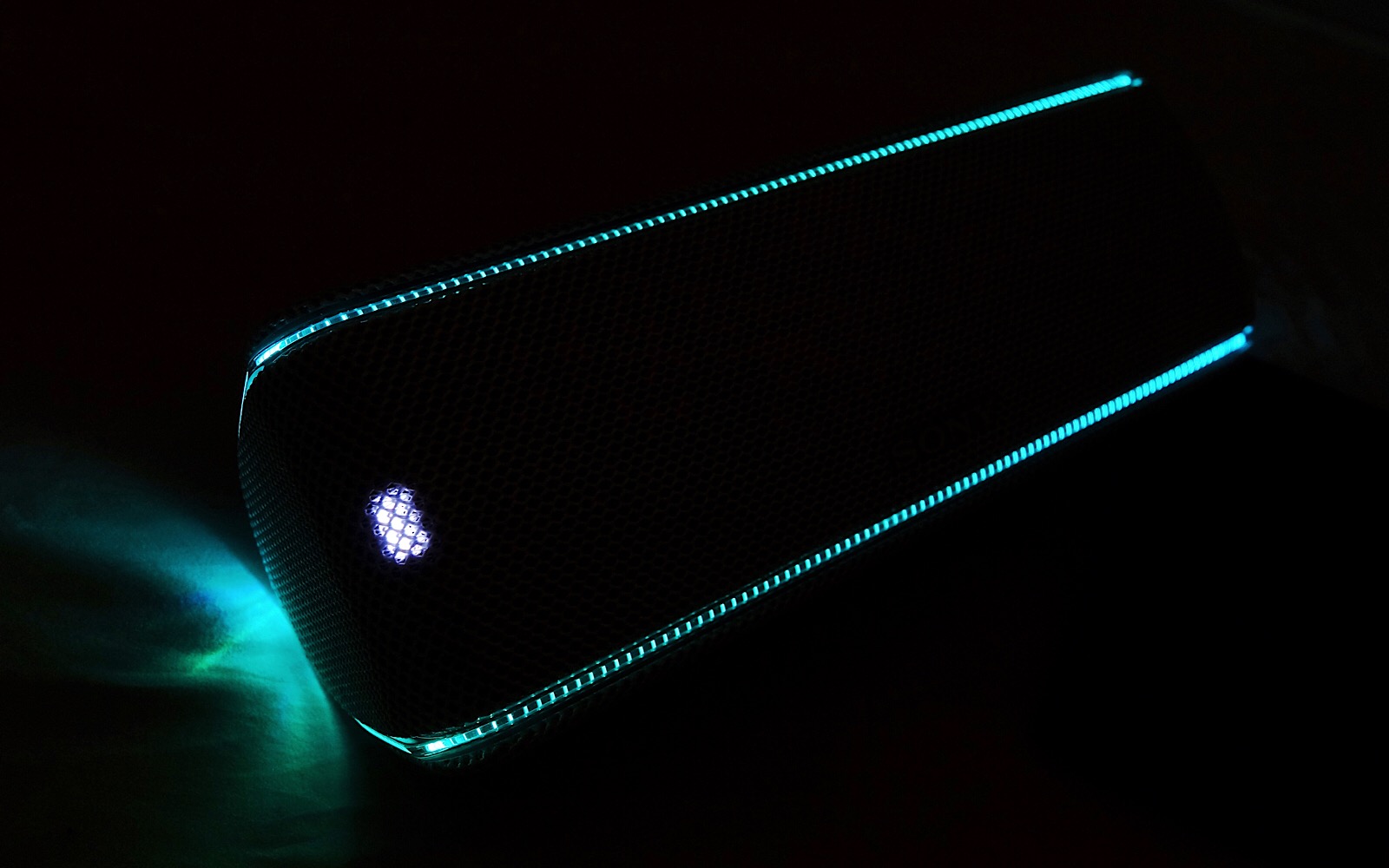 You also have all those lights to work with, which you can turn off either using a button on the back under the cover flap, or with an app.
Sony's app comes with a more flexibility, though, allowing you to change the colours so that they (kind of) match your intended colour scheme, while also being able to switch off the irritating strobes.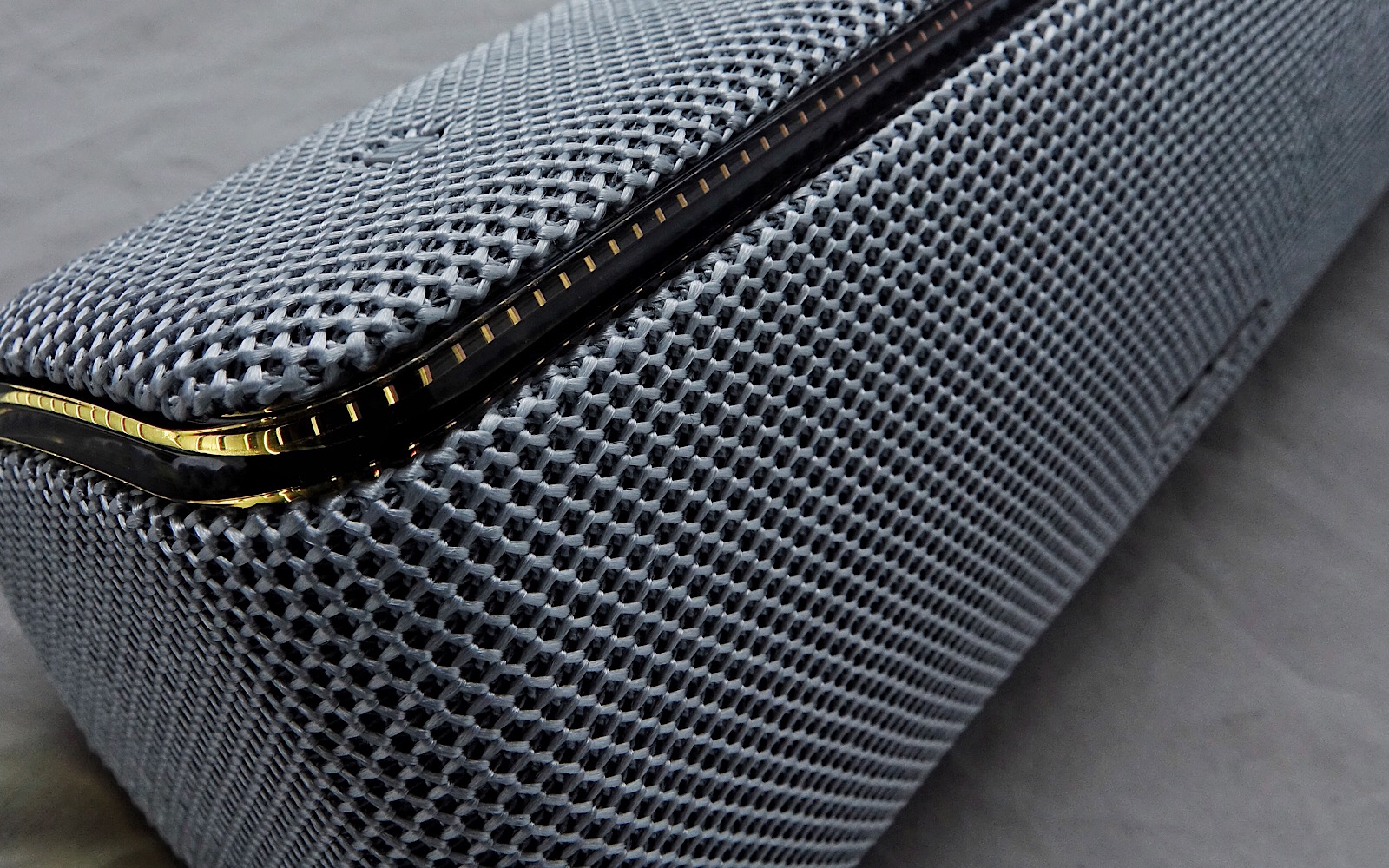 What needs work?
As a point, the strobes are cute, but while we feel like they should be in time with the punch of the bottom end, they don't always achieve that. We can see Sony's speaker trying to land the speaker at the snap of the bass for the strobe effects, but it doesn't always work, and sometimes it just seems like a mess of white flashes.
At least the colourful LEDs on the edge feel closer to the beat, though as we've already said, you can turn them all off if you so choose.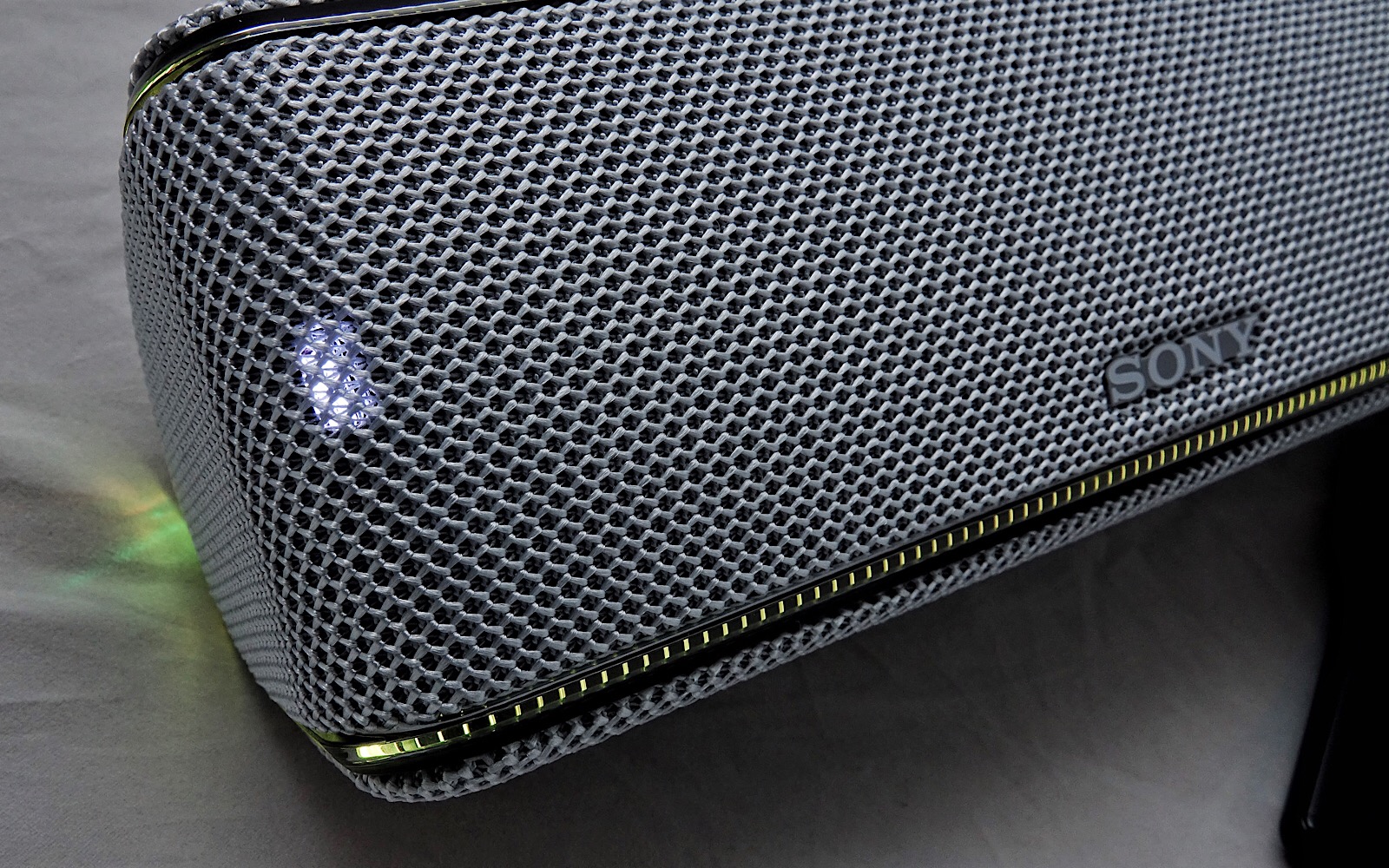 Final thoughts (TLDR)
You'd need pretty big pockets if you wanted to carry Sony's SRS-XB31 around, but fortunately if you did, you could really claim it was a party in your pocket, because that's what's on offer here.
With big bass, bright lights, and even the ability to turn the speaker into an impromptu instrument, Sony has built a portable party animal made for folks who like to come prepared. Everyone has a phone and every phone has wireless, and that makes the XB31 ideal for anyone to control, with lights, sound, and action on offer.
The audio could be a little better and the flashy lights won't always do it for you, but if you fancy a speaker that can survive the party both in- and outdoors, and lights up almost like it was a micro Muteki, Sony has it in the XB31.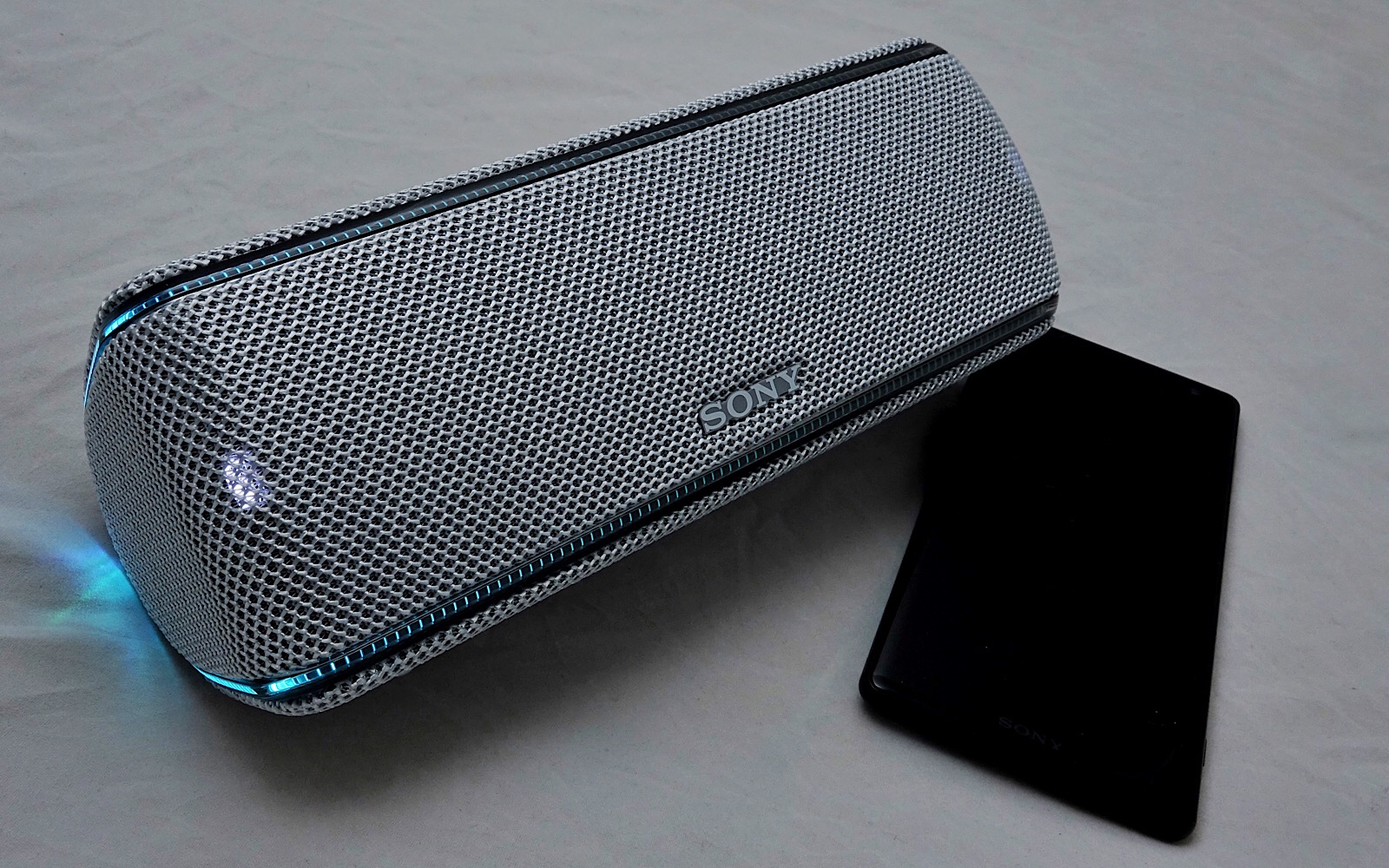 Sony SRS-XB31 wireless speaker
The good
Loud
Water resistant
Lots of battery life
Charges over microUSB
Includes flashy lights made for parties
Virtual instruments are a neat, weird feature
Good value
The not-so-good
Flashy lights aren't always (or remotely) in sync
Virtual instruments will never be used
Bass can be a bit heavy