Quick review
The good
The best version of Android on any phone, ever
Feels great in the hands
Water-resistant
One of the best cameras on any phone out there
The not-so-good
Much, much buggier than it should be
Bezels feel bigger than necessary (certainly against the competition)
Camera interface is too easy to use (and that isn't going to be good for everyone)
Screen gives blue cast viewed on the side
No wireless charging
The 2017 Google Pixel 2 XL is meant to deliver the best and brightest Android experience of them all. In a year when the smartphone has felt evolved, does it deliver?
It's been a long year, but one filled with smartphones. Quite literally, in fact, with new models nearly every week, and an abundance of choice available all throughout the year. Whether you bought early or saved your best pick until now, the smartphone selection is dotted with choice, especially if you like Android in its several variations.
But Android is a Google product, and there's one type of phone that tends to do the best Android experience every year: the Google flagship.
For 2017, regular-sized phone owners will find the Google Pixel 2 while people who like a bigger screen that stretches from top to bottom can sight the Google Pixel 2 XL, and outside of those size, both offer much the same package.
The real question, however, is in a year filled with smartphone excellence, does the 2017 Pixel truly deliver the best Android experience overall?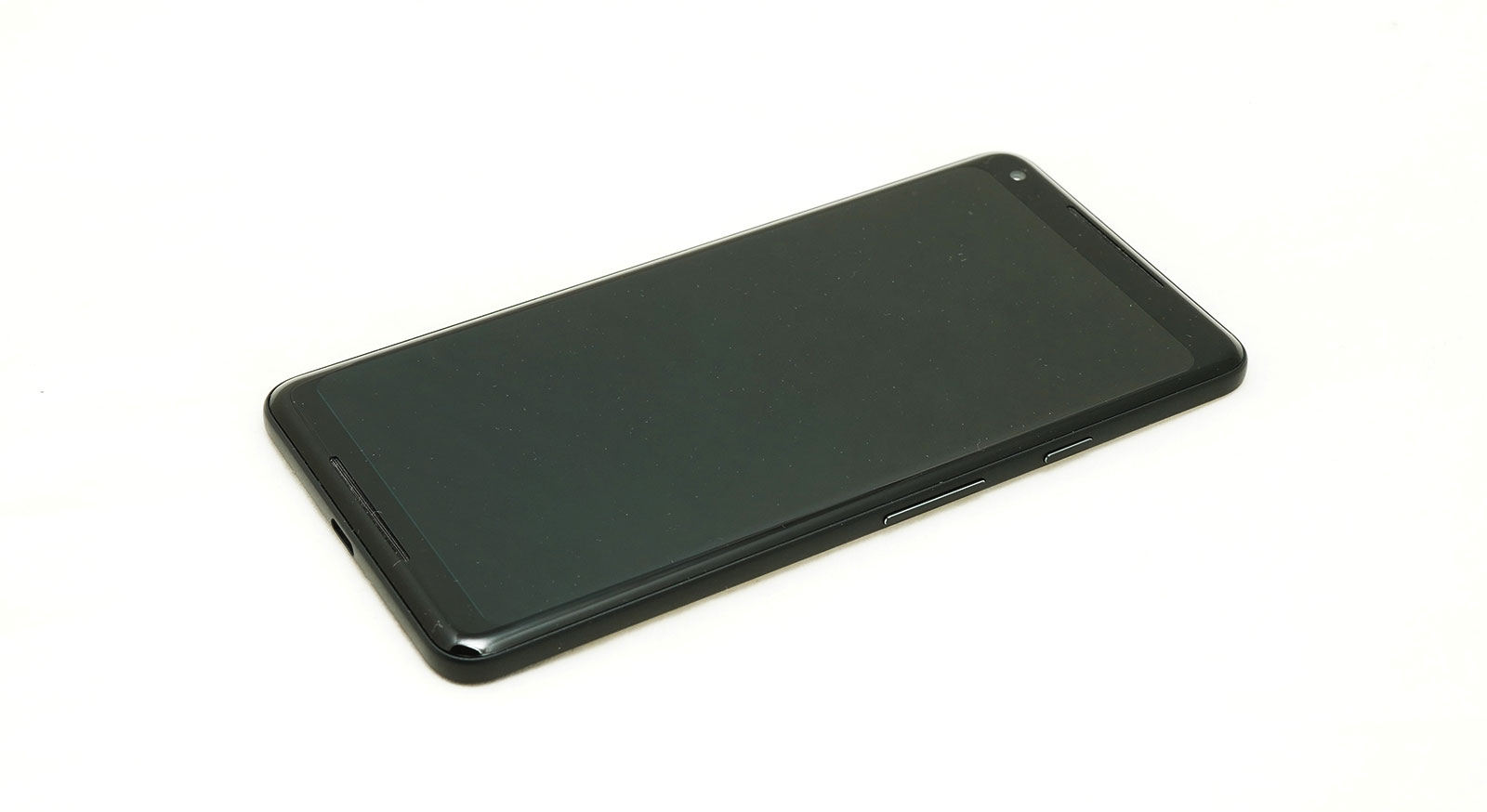 Design
A new Pixel phone means a shift to a new design, and while last year's Pixel XL to us felt in many ways how Google would make the iPhone, this year means Google can now cement that iPhone-like strength and make it more Android-y.
And that starts with a slight twist on the design, keeping its metal body but throwing out the 3.5mm headset jack to make everything a little slimmer, because why not? Apple has done it, Lenovo's Motorola brand has done it, and HTC has too, so it's time for Google do so, as well.
Unsurprisingly, the front is just one piece of glass with sensors, speakers, and a camera, while the back is where Google keeps its metal and glass combo design, giving you something to grip, and showing a slight refinement to the design that manages to feel comfortable and solid in the hands, while fitting very nicely in the pocket.

Features
While the design is only slightly refined, the hardware has changed, delivering a little bit more performance, a little bit more screen, a little bit less thickness, and a little more of everything else.
It's a new year, people, and one of the most competitive yet for smartphones; you didn't think Google would leave its flagship phone out of pole position, did you?
To start, the new phone isn't that much bigger, adopting a slightly longer screen with less bezels, providing a 6.0 inch 18:9 display, one of those longer full-view or "FullVision" displays, but inside a Pixel design, sporting the Quad HD resolution of 2880×1440 and running 538 pixels per inch.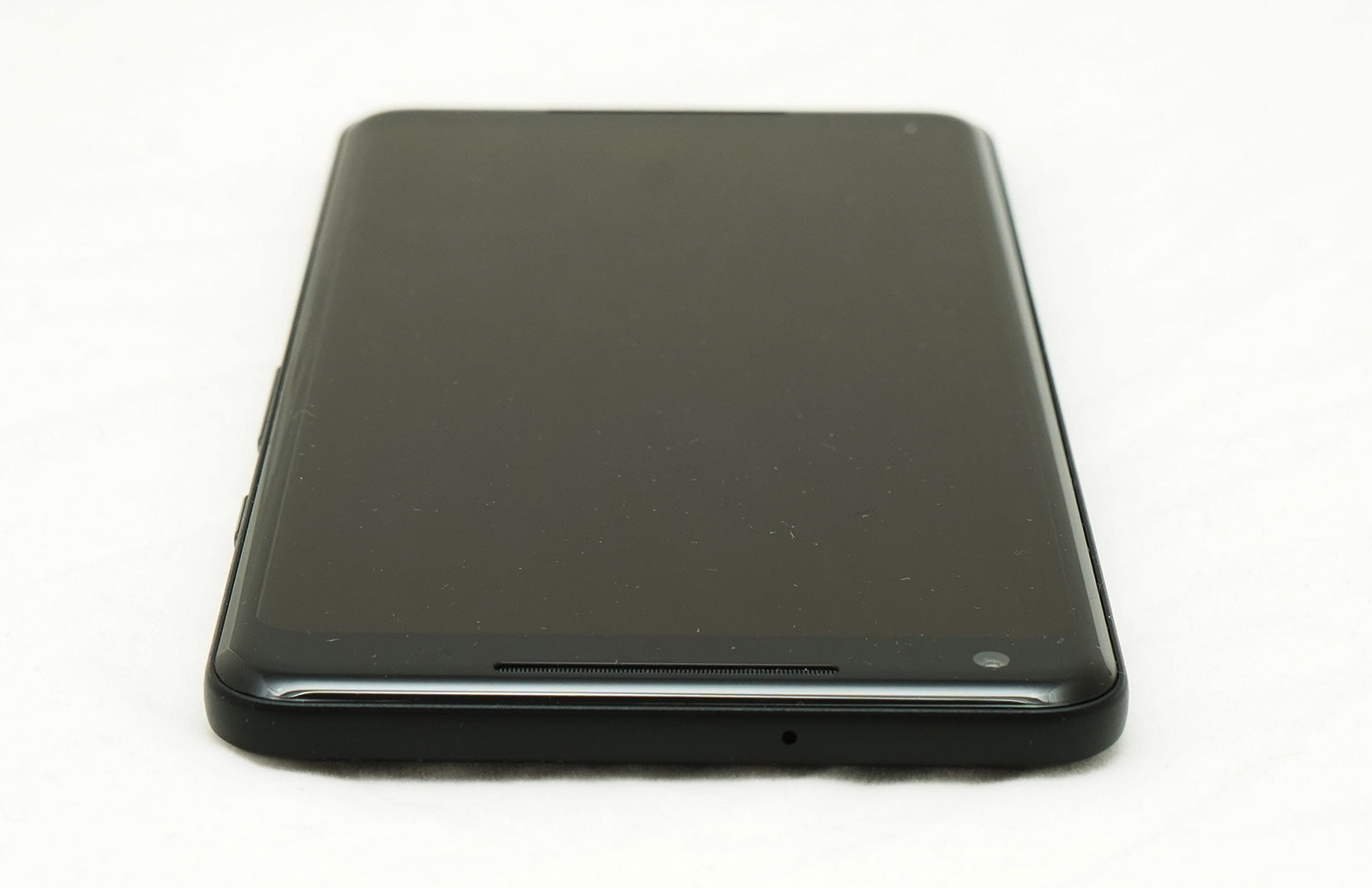 Underneath, the hardware is all new and all flagship as last year's Qualcomm four-core Snapdragon 821 jumps to this year's more impressive eight-core Snapdragon 835, just like the chip found in both the HTC U11 and the Sony Xperia XZ Premium. RAM stays the same at 4GB, but the storage options are now a little different, stuck at either 64GB or 128GB dependent on what you choose when you buy, and no way to upgrade thanks to that continued omission of all Google Pixel (and Nexus) devices that is the lack of an expandable memory card slot.

You'll also see an improved operating system here, with Android 8.0 "Oreo" installed out of the box, something that can be found on last year's Google Pixel, but will not have this year's inclusion of the squeezable sides to pull up the Google Assistant.
This year's model also ups the mobile connectivity options, even if it's only slight, providing an improvement to Category 15 LTE at a maximum of 800Mbps down, while Bluetooth 5 is included in this phone, too, sitting alongside GPS, Near-Field Communication, and 802.11a/b/g/n/ac WiFi. A bit of a change can be found in the wired ports, however, with a Type C USB port for charging, data transfer, and music, with no 3.5mm headset jack included, outside of an included converter in the box.
Other Pixel mainstays are here, too, such as the rear fingerprint scanner, a sizeable battery of 3520mAh, and a new 12.2 megapixel camera on the back while a new 8 megapixel camera sits up front, the former of which has some neat high-performance computing technology to let you get soft-background portrait images out of the single lens camera Google has provided.
And all of this sits in another metal and glass body, with the weight increasing seven grams (7g) to 175 grams, a difference you'll never notice, while the thickness shaves a little off, down from 8.5mm to 7.9mm, a size shift you just might.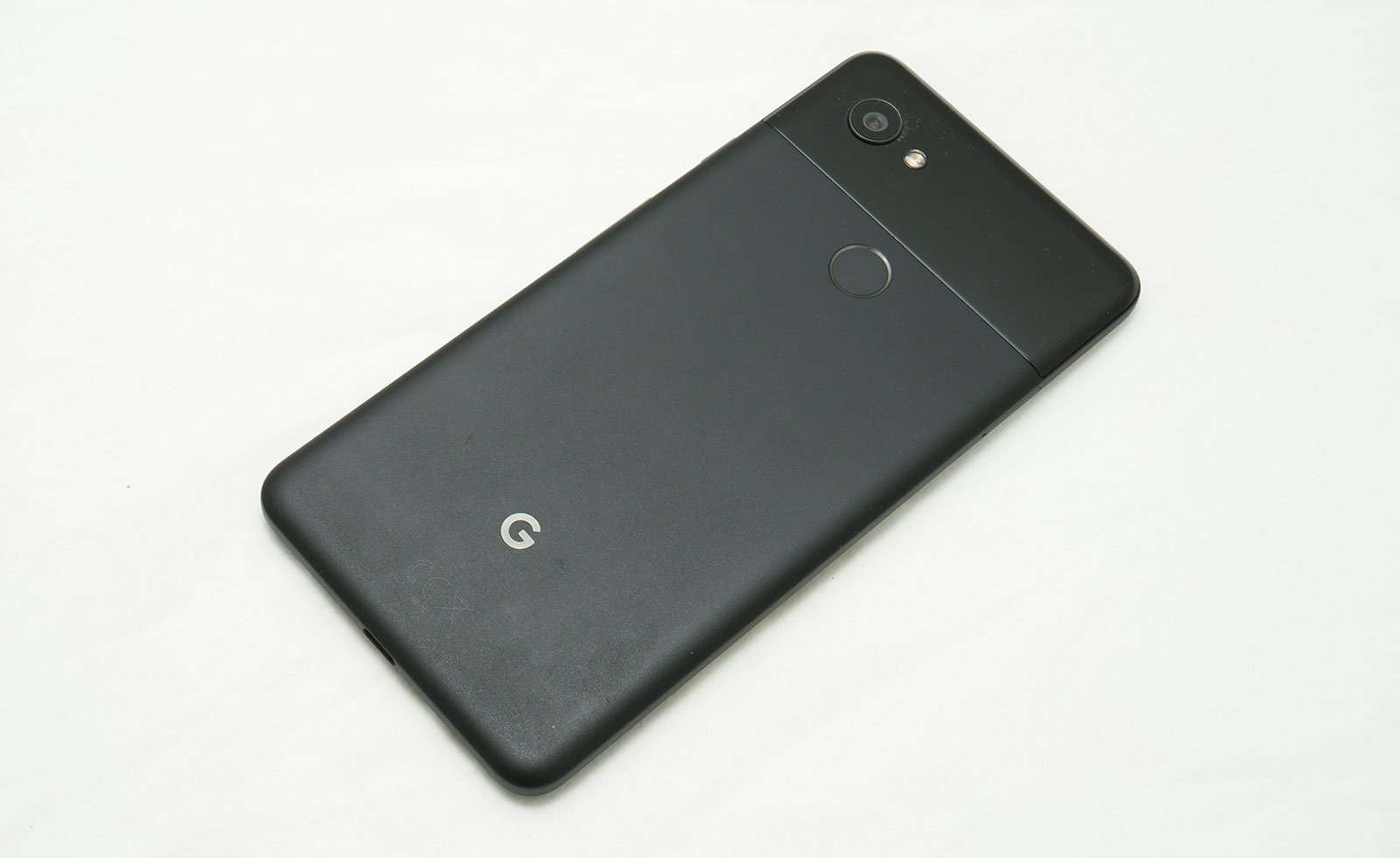 In-use
With a new version of Android being one of the main reasons you buy a Pixel 2 or Pixel 2 XL, the ease of use changes just a little.
What needs to be known about the Google Pixel models for 2017 is that regardless of who makes them — LG or HTC — they run on Android 8.0, also known as "Oreo", and it brings a few changes to the fore.
First, it's an evolution of everything we've seen for the past few years, as the widgetised-homescreen design that is a staple of Google returns, still with the Google Now homescreen of user-relevant and contextual information available, while the apps you've installed are simply there from a swipe away, dragging your finger up from the bottom of the screen and seeing it all.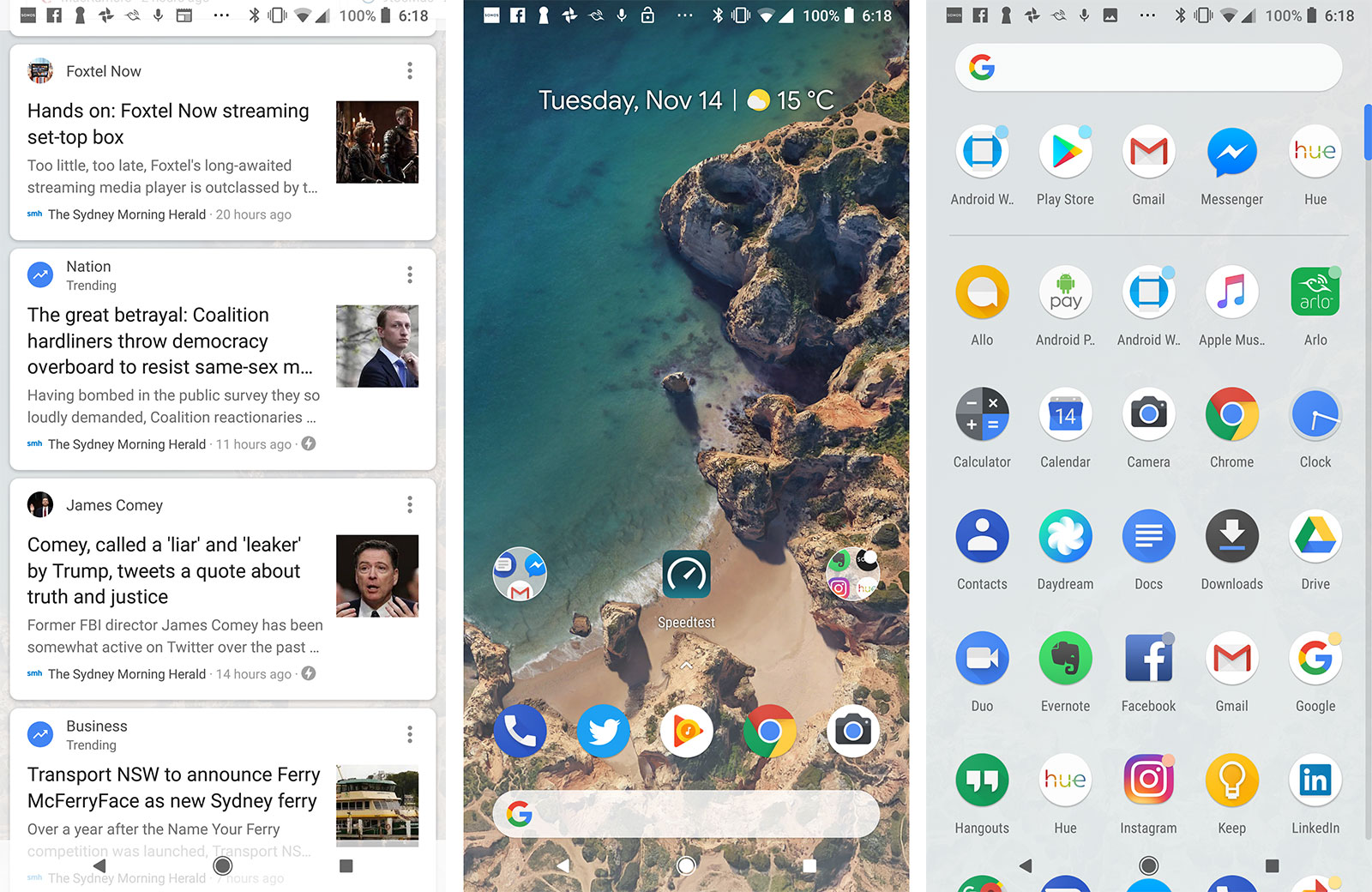 It may seem minor, but the shift of the Google search bar widget to the very bottom allows you to pull yourself away from the idea that "searching" is at the very heart of a Google phone, even if it's a major part still. Really, this is about how you search, because on the Google Pixel 2 and Pixel 2 XL, you'll squeeze to talk and search, though you can always type in your search in that search bar if you need to.
Pulling one of HTC's features over from the U11, the Google Pixel 2 XL supports the "Edge Sense" technology, and on the Pixel 2 phones, this is mapped to calling up the Google Assistant, allowing you to talk to her and make your searches known. While the U11 allowed you some control for remapping this, here it's kind of the Assistant or nothing, a feature that works for the Pixel, since this is the "Google phone", even if it feels a little less feature-packed than say other Android handsets.
However, it is easy to use, and that's the point: this is probably Google's easiest phone to use that we've ever seen, allowing you to load apps, swipe screens, and squeeze to get the phone to do a little more.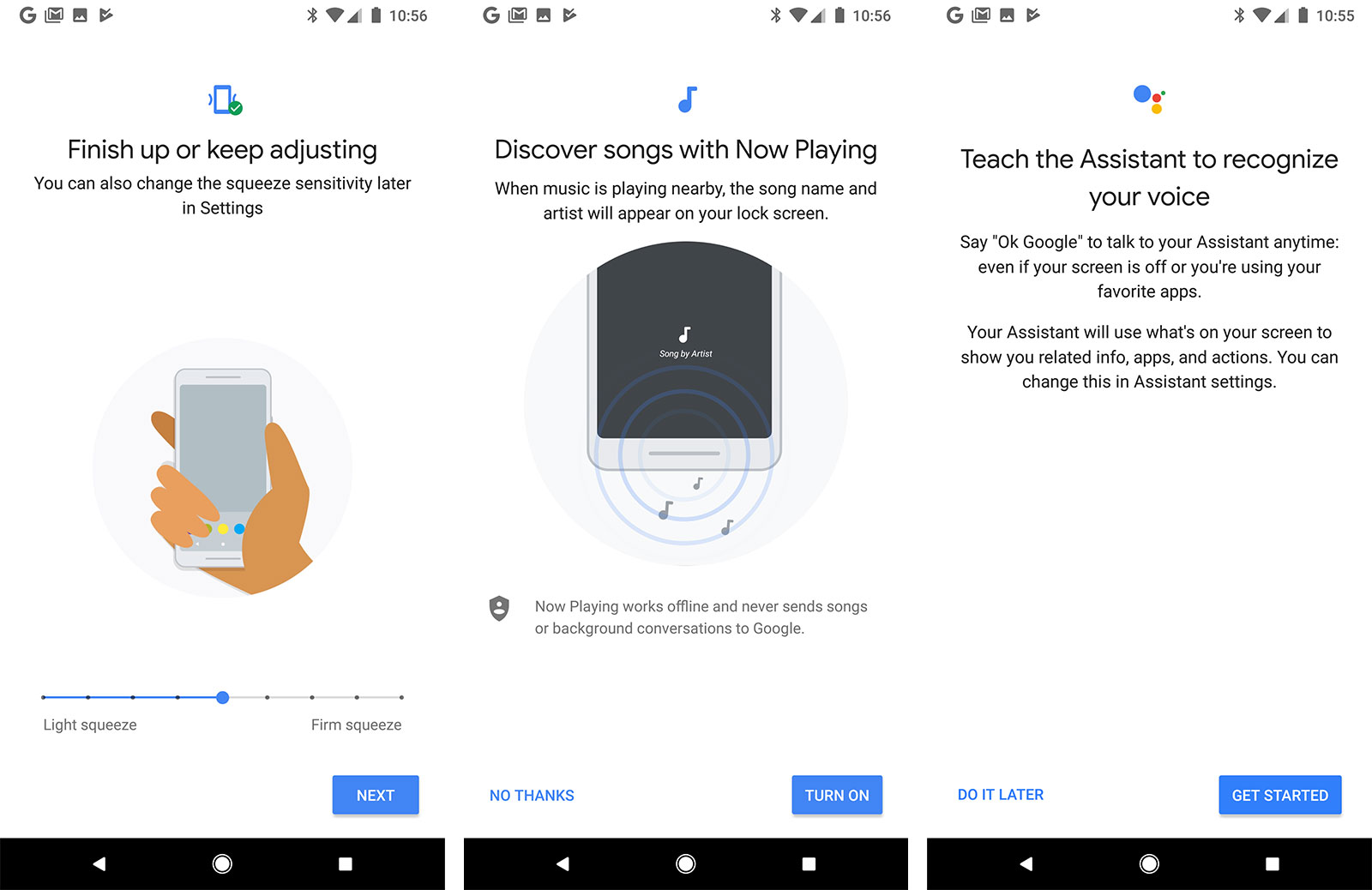 Performance
Regardless of what you get the phone to do, you should find that it performs admirably, even if it arrives with its fair share of bugs, some larger than others.
First, let's check out that performance, and that shows the system as truly capable, the eight-core Snapdragon processor humming sway producing admirable synthetic benchmarks that near what other Snapdragon 835 phones like the HTC U11 and Sony Xperia XZ Premium can achieve, even if they're not exactly spot on.
Full credit to Google, because outside of the purely synthetic, the Google Pixel 2 XL just flies, and outside of the stray bug (which we'll get to shortly), the phone handles practically anything you send its way, as Android 8.0 works with anything and everything, and the multitasking is just spot on.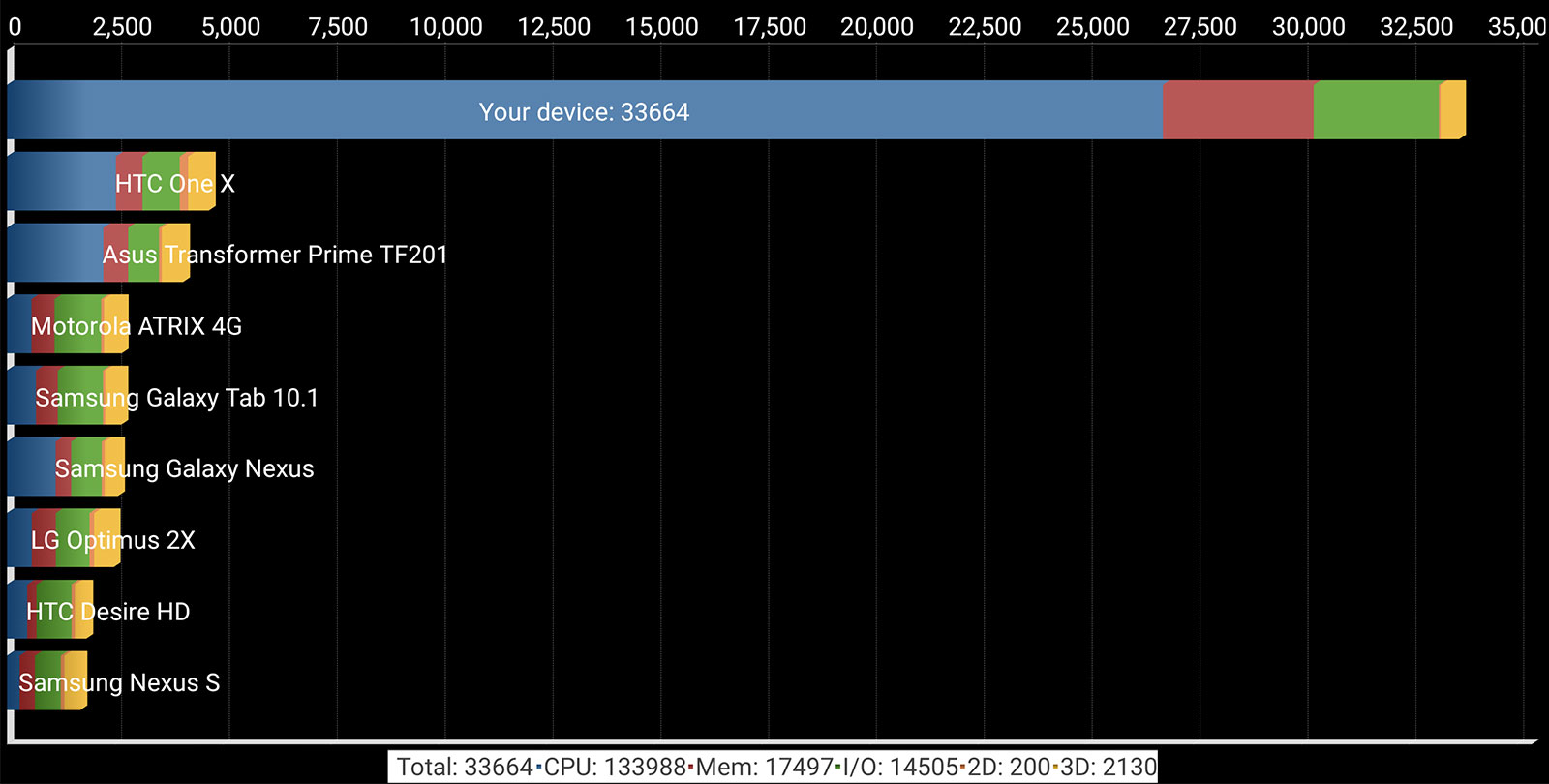 Mobile performance is equally solid, though we found we couldn't achieve close to 800Mbps mark in Sydney's CBD on Telstra, pulling in speeds that maxed out closer to the 200Mbps mark instead.
While we couldn't hit the maximum mark, that is by no means a negative thing, and the speeds on offer here are definitely solid for pretty much anything you plan to do, be it emails, music, watching Netflix or YouTube, or using the Pixel 2 XL as a hotspot for downloading anything else (be aware of your downloads, folks).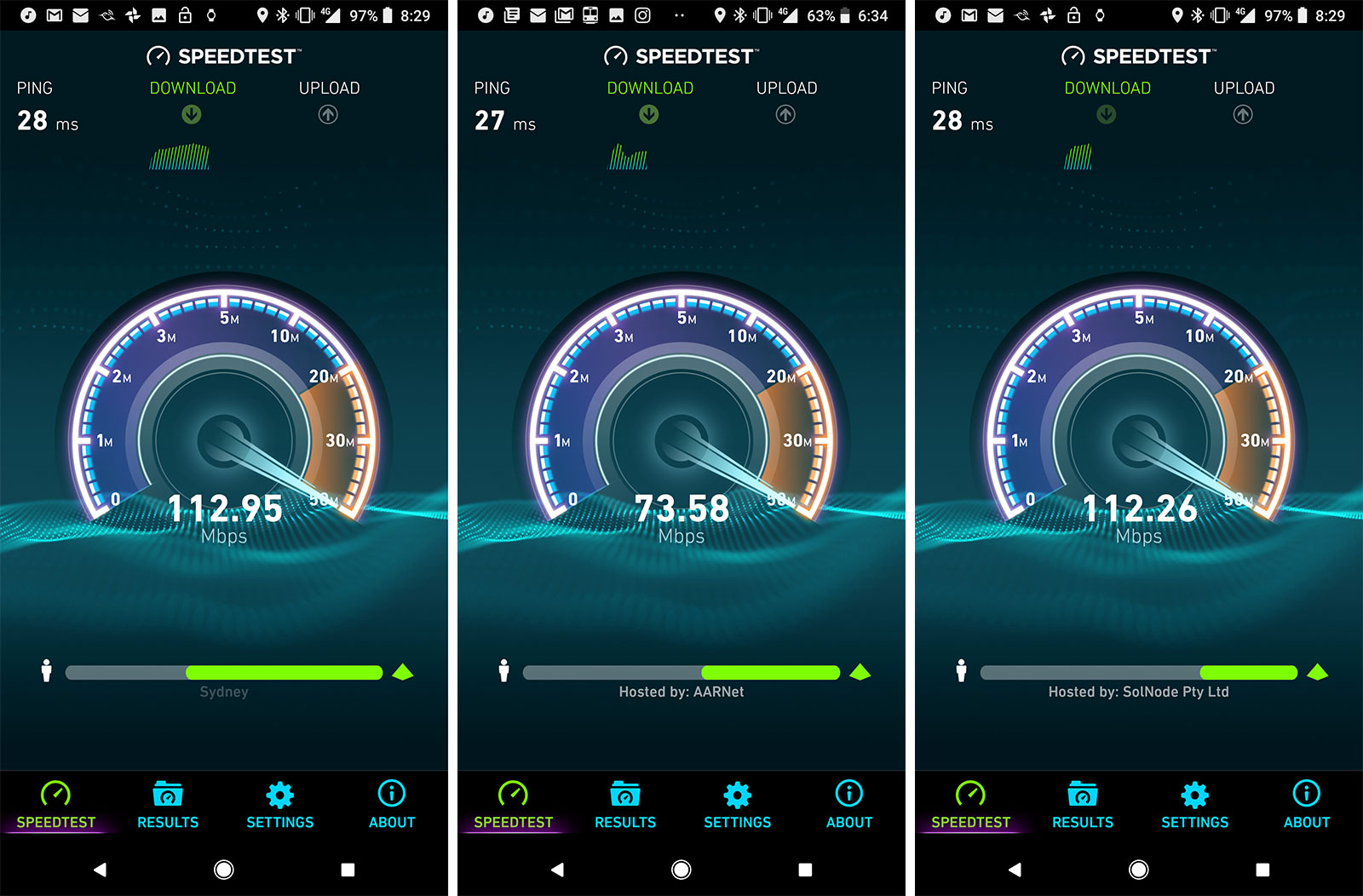 Camera
One area that aims to impress is that of the camera, which boasts one of the best sensors not just of the year, but also "ever", at least according to imaging sensor analysis experts at DxO Mark.
A high-ranking sensor is a big deal, especially as the smartphone begins to take over from the compact camera, and this is one of the main sticking points Google has gone in with on the advertising this year, partially because the camera is one of the main reasons we pick a smartphone.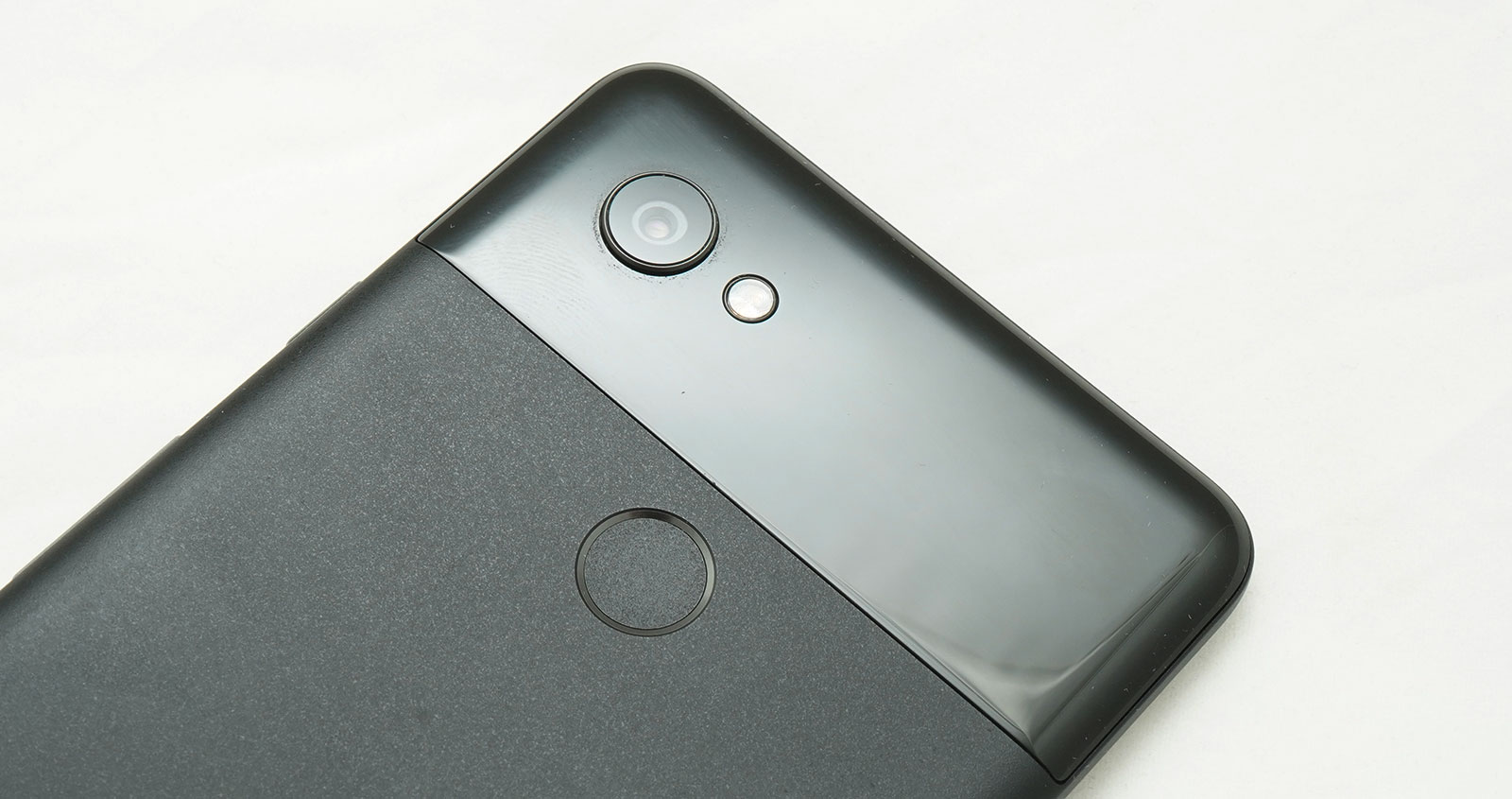 For the Google Pixel 2 XL, the choice of camera is also important not just because the sensor has been improved, but also because its flagship phone is a single-lens camera only, ignoring the dual lenses that let you get closer to the action brought out by its serious competition, the Apple iPhone 8 Plus and the Samsung Galaxy Note 8.
That means Google gives you a single lens improved 12 megapixel camera on the Pixel 2 XL that can't really get you closer using a telephoto lens, but still has some very cool tricks up its sleeve, most notably including that of impressive camera quality.
Yes, last year's first Pixel phone made some solid achievements in the camera category, boasting excellent colour and image quality, and this year's is no different, delivering solid performance, sharpness, and excellent balance of light and white regardless of the time of day.
The camera quality provided here is very, very good, and while the camera shines in daylight, night time also handles itself quite well, providing some flexibility from the single lens camera.
Google's other big deal is its portrait mode, which uses the single camera to do what dual cameras can do, taking a close up portrait that blurs the background.
Impressively, Google has managed to shine here, using an element of high-performance computing to process the image after it has been captured, looking for the edges and blurring the back, and not just letting it be blurred, but also allowing you to switch the portrait mode on and off.
And it works well. Really, really well. We'd be willing to say Google's soft-background portrait mode is one of the best simply because of the results you see are not only top notch, but come from a single lens camera, something that the single-lens iPhone 8 lacks and pulls back its score.
Outside of the portrait mode, the sensor is also top notch, with the 12 megapixel images shining altogether, but as good as the sensor is, the one problem with the camera is the user interface, which keeps the same "easy" user experience as the rest of the operating system, but really, really, really cuts back on flexibility in the Google camera app.
Simply put, this will let you focus on a point and change the brightness, but really that's the extent of major flexibility and camera options, and we'd argue that those options aren't all that major, either.
Essentially, Google's camera lacks any real sense of professional or enthusiast-level control, leaving things so much on the KISS principle of "keep is simple, stupid" that you might feel a little taken aback. Not everyone needs a high-end super complicated camera, that much is definitely true, but even the basic smartphone cameras offer more flexibility than what Google's Pixel 2 XL provides.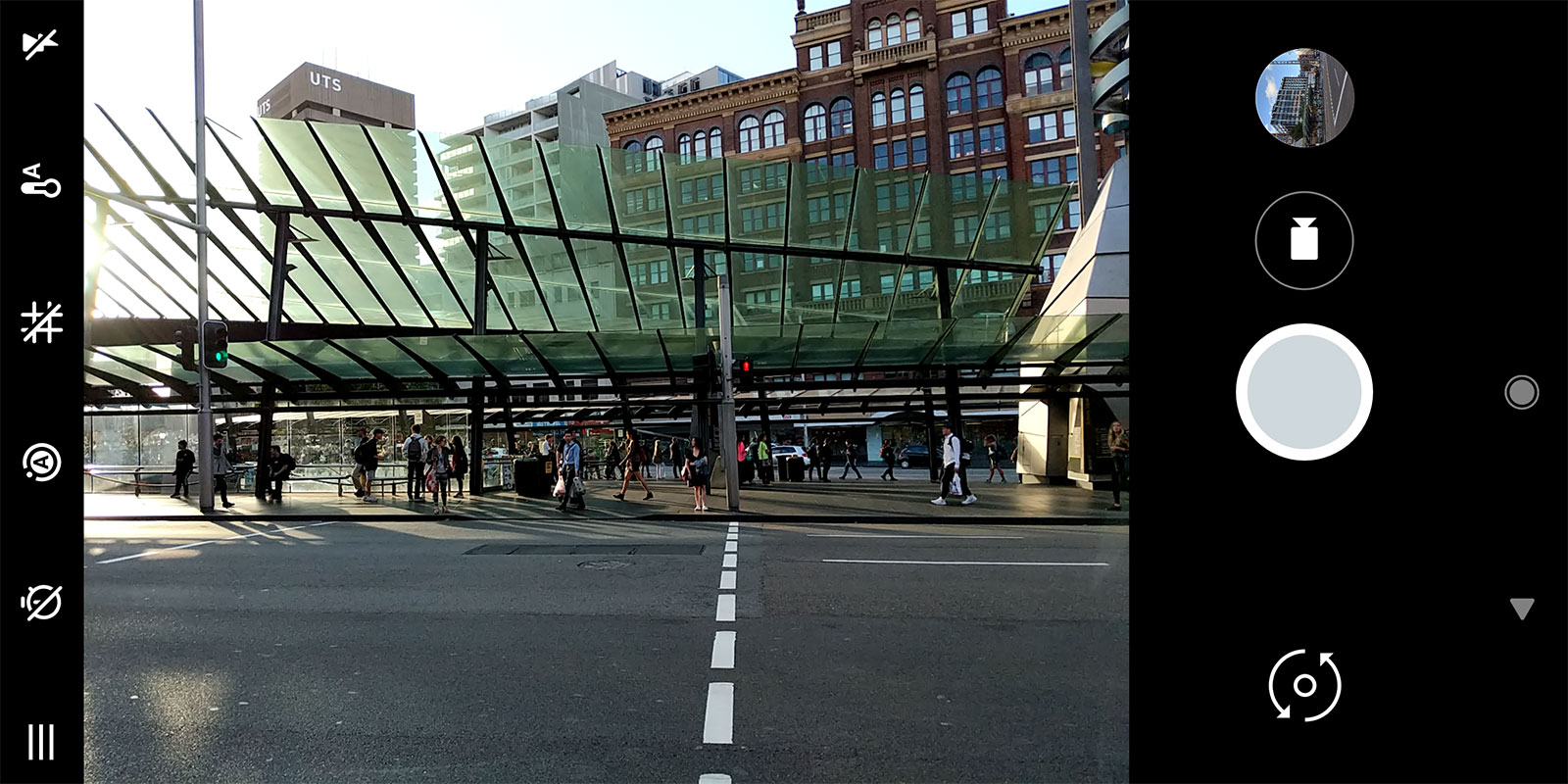 The bonus features: wallpapers and song ID
There are other things the Google Pixel 2 XL can do, and while that includes making calls, it also features some nifty add-ins, such as the new live wallpapers.
A feature that doesn't get much use these days, live wallpapers — that is backgrounds with a bit of animation — started out on Android first before eventually making their way to iOS.
However, we don't often see these animated backdrops get much use, partially because not everyone replaces their wallpaper, but also because they can consume battery life.
Here on the Pixel 2 XL, however, and Google has been working on things, producing some of the loveliest and most relaxing live wallpapers based on its Google Earth imagery, looking down at picturesque vistas with a little bit of animation thrown in. That might be birds flying by or the serene water of a tide coming in and out.
Essentially, the wallpapers provided by Google on the Pixel 2 XL (and Pixel 2) are one of the nicest sets of included wallpapers we've ever seen on a phone, and we've been reviewing phones for quite some time.
There's also another feature we didn't use all that often, though it was nice to see: automatic song identification.
As part of the always-on screen — the monochromatic display that shows you the time, date, and a small icon-based list of your notifications — the phone can also list what you happen to be listening to, acting like an always-on Shazam to give you a clue as to what's playing.
And for the most part it works, though it also doesn't, with songs being listed some of the time and nailing it when it works, but then flat out ignoring the songs at other times.
At least the wallpapers work all the time, so that's nice.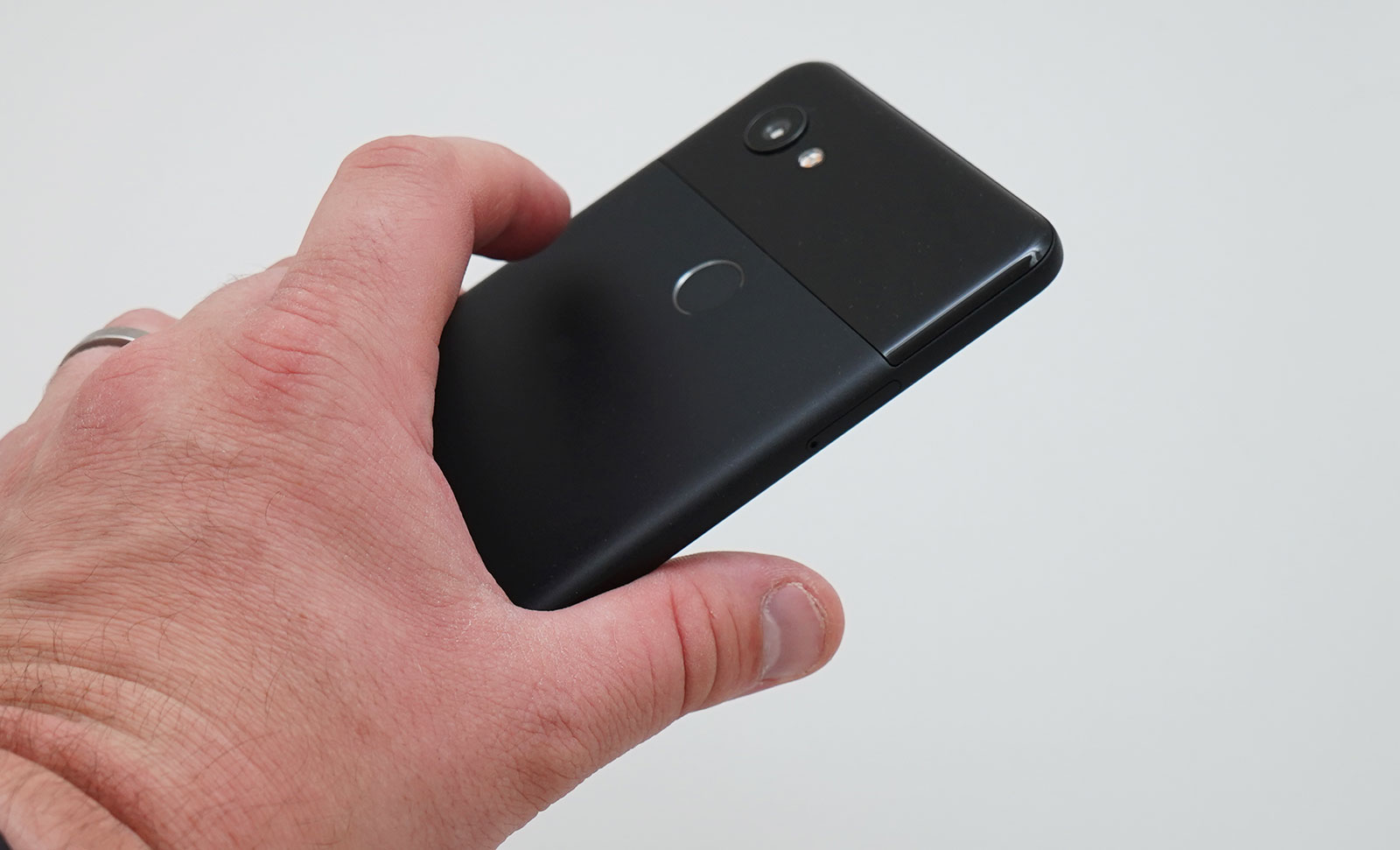 Battery
The battery is also nice, too, with a good 24 hours of battery life on offer from the Google Pixel 2 XL, lasting us a little further into the second day than expected, though not a whole lot more.
The Pixel 2 XL isn't going to be your two day phone, that's for sure, and we'd make sure to charge its 3520mAh battery nightly, but at least it can survive the night if you forget to plug it in.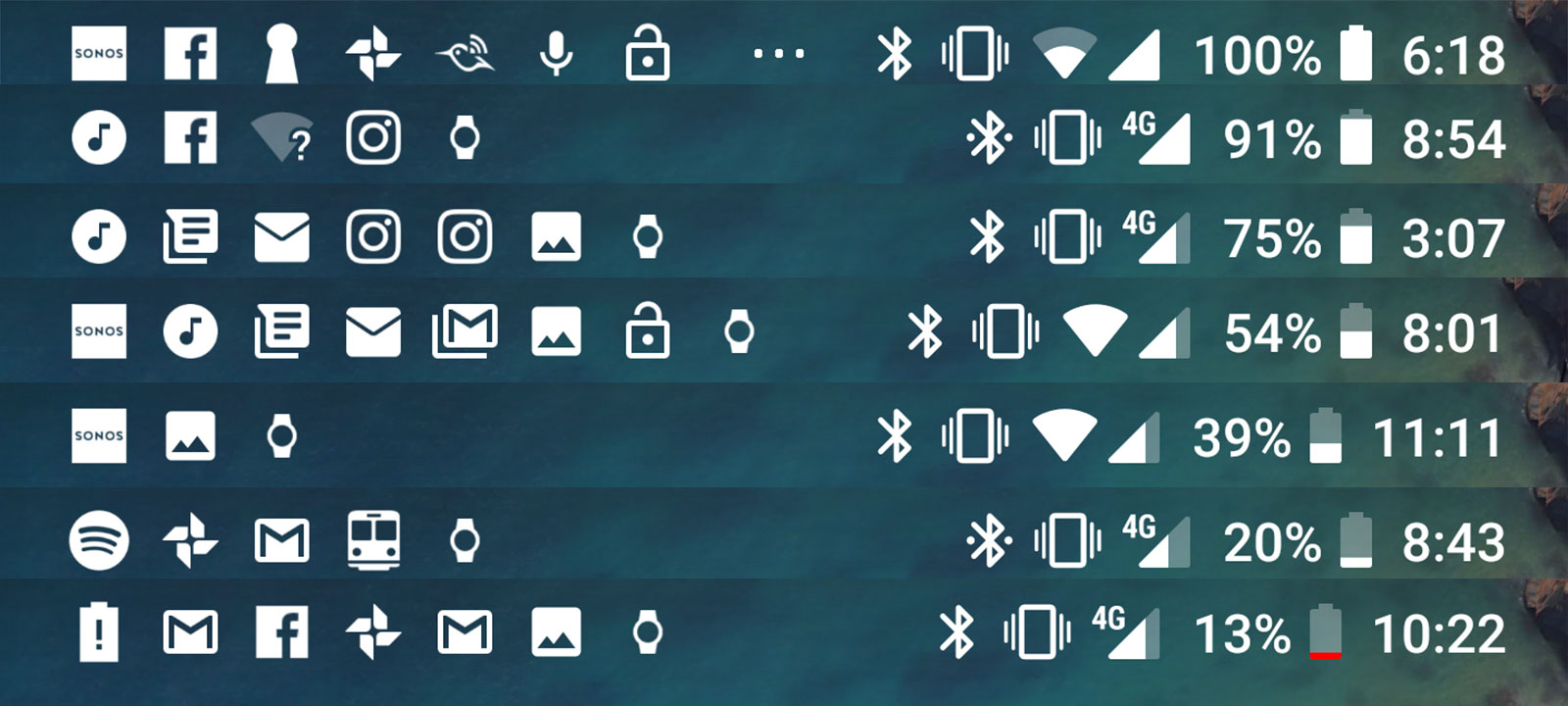 Value
One thing that Google doesn't necessarily achieve is the value, and with a starting price of $1399 hitting closer to where the properly expensive phones are this year at $1599, the Google Pixel 2 XL is not a cheap phone, not by a long shot, and that's a little troubling.
Yes, 2018 is the year that phones became stupidly expensive. I think we can all agree that edging close to the $2000 mark has made this year the most high-priced ever, outside of the pointless luxury phones with random elements of bling, which these don't have.
There's also the other issue: the Pixel 2 XL comes from a heritage where Google's phones were never super expensive, and yet this thing is, and locks down your storage and lacks some of the other features its competitors offer, like that of wireless charging.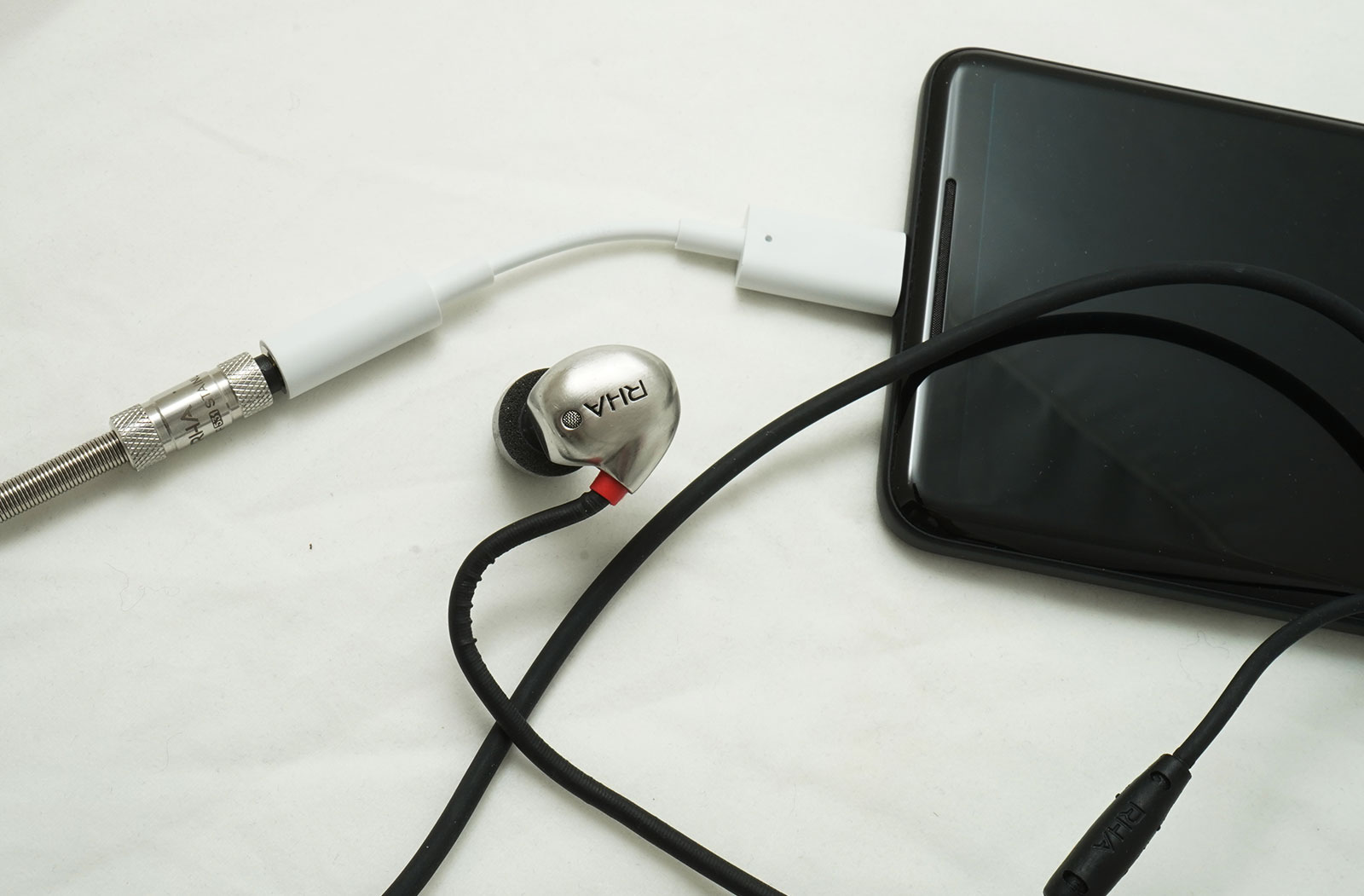 The problem with evaluating value on the Pixel 2 XL is that every other major phone is approaching these sort of prices, so whether or not the Pixel 2 XL is worth it, we can't really agree with, but it doesn't matter: Google (and to a lesser extent Telstra) set the prices, and so they are what they are.
But if you want to make the proper comparison on hardware, we'd say the value is a little off, especially since most of the underlying hardware can be found in other phones this year, and other phones which don't hit Google's high sticker price.
If pure comparison can be made, you are essentially paying an extra $300 to $500 for software and a slightly different camera, and that is a relatively price for some of this, especially when these other phones will eventually get that software, too.
What needs work?
There's also the other problem that affects the price, because as good as the Pixel 2 XL is, it is marred by bugs that threaten to ruin the experience. They run the gamut of performance issues, ranging from Bluetooth issues that require a restart to the phone just randomly shutting down without warning.
The most irritating by far, however, is the screen refusing to work and then suddenly working again as if it had a life and personality of its own, and just decided, no, you've been a bad mobile user, so no phone access for you. Like Seinfeld's "Soup Nazi", but for phones.
No touchscreen for you!
Seriously, out of the many, many, many phones we've reviewed, the bugs popping up on this phone have seriously been irritating.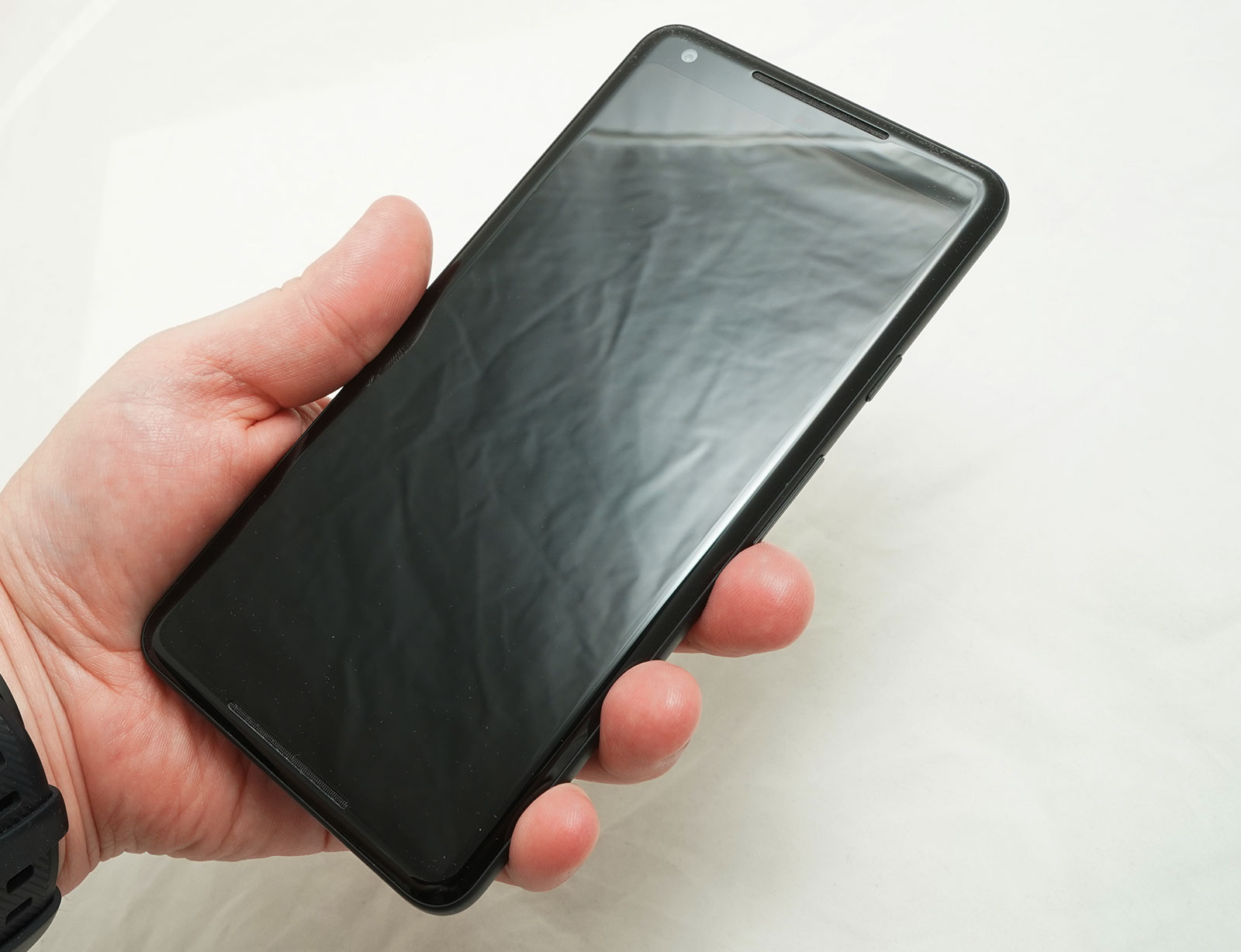 Some of these are bugs with the software and seem to be dependent on devices — we had the touchscreen inexplicably stop working and then randomly start on several apps, while other reviewers we spoke to did not — while the hardware flaw everyone seems to be experiencing is a blue cast on the Pixel 2 XL, noticeable when you shift the screen into a different light, but thankfully not all of the time. We even had the phone randomly power down in two instances as we were walking through town, listening to music wirelessly.
It seems bizarre that a flagship smartphone as highly anticipated as this one would have this many bugs, hardware and software, and yet that's exactly where we are, with one of the buggiest premium releases of the year.
And yet, it also seems to be a set of bugs that not everyone will get. Not every owner has found these random shutdowns or touchscreen failures, and so you might end up getting a Pixel 2 XL that is completely okay, or you might get one like ours.
If you end up lucking out with a Google Pixel 2 XL that is actually what it should be — a positive and well-engineered example of a flagship phone — then the only issues you'll really have are the omissions from other major releases this year, such as the omission of wireless charging, the omission of a second camera to let you get closer, and the continued omission of every Google Pixel and Nexus device that is expandable storage.
Final thoughts (TLDR)
While there's little doubt that the Google Pixel 2 XL provides the goods for Android enthusiasts, it also balances it with a dose of the bads, with hardware issues that will bewilder and confuse, and not necessarily with obvious answers.
Let's just get this out of the way, as we can look past the random hardware issues because they're just that: random.
But in a year where it feels the smartphone game has been stellar, it is hard to look past larger bezels, no wireless charging, a high price tag, and a lack of expandable memory, not to mention a blue screen cast you can't unsee.
If you can forgive these, Google's Pixel 2 XL is a great phone offering the best Android experience to date with one of the best cameras hands down, but we'd probably look around, because unless those are the main reasons you buy a phone, there's a lot more to be seen.
The good
The best version of Android on any phone, ever
Feels great in the hands
Water-resistant
One of the best cameras on any phone out there
The not-so-good
Much, much buggier than it should be
Bezels feel bigger than necessary (certainly against the competition)
Camera interface is too easy to use (and that isn't going to be good for everyone)
Screen gives blue cast viewed on the side
No wireless charging