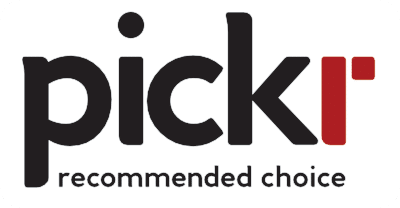 Amazon's 2017 Kindle is here, just in time for the holiday season, and in a country surrounded by water, the new Kindle Oasis makes even more sense, resistant to all things wet.
As good as technology is, nothing quite beats a good book. The paper is durable and resistant to any lit reading environment, pages can handle water, and the battery life is tremendous simply because it lasts forever. But carried in bulk, books are certainly not light, likely forcing you to leave one or two on your travels just to carry a selection.
Amazon's latest Kindle attempts to solve most of these dilemmas, and boy, does it get close.
Design
A new Kindle for a new year, Amazon's 2017 Kindle may not look that different from the old one, but it's not entirely the same beast, taking on the look and adding a bit of size.
That means the slimline design from last year's Oasis is back, but in a slightly larger style thanks to a new screen, which we'll get to in a moment.
Outside of this, the design is largely the same, slim and sexy, with a one-handed grip meant for the thick spine of the 2017 Kindle, designed to feel like a spine of a book, and coming in an eReader weighing only 194 grams, as much as a big smartphone.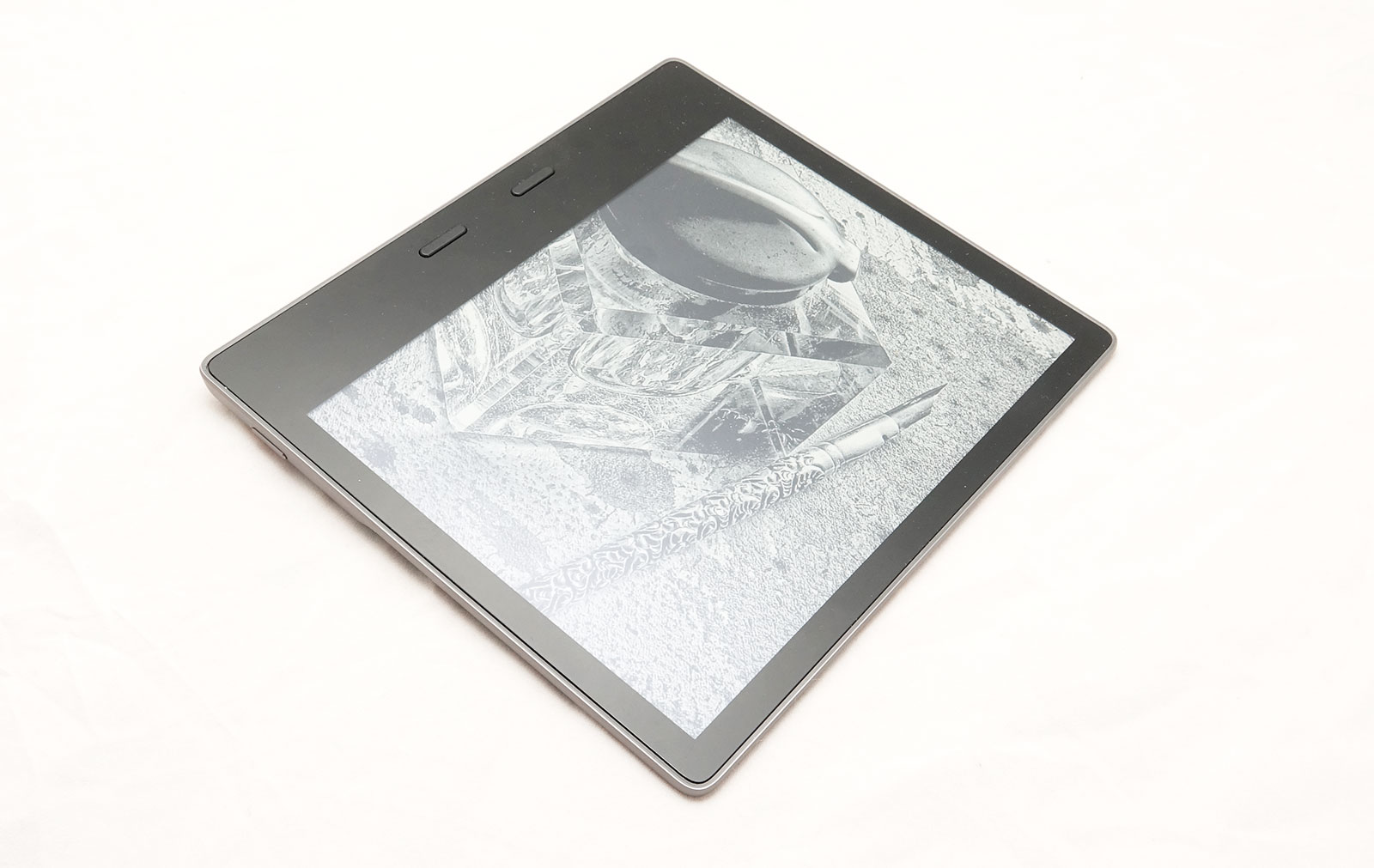 Features
That screen size, however, is one of the main things that sets it apart from the older model, because while it's similar to last year's model, it's not exactly the same.
Rather, the 2017 Kindle Oasis jumps an inch in screen size from 6 inches to 7, while keeping the thickness of the unit down, staying at the super-thin 3.4mm size with its thicker spine, which is where the battery for the unit and most of the extra hardware is.
With a slightly bigger screen comes a slightly different display, sporting 300 pixels per inch just like a high-resolution paper print, albeit in an electronic ink screen and protected by a layer of glass.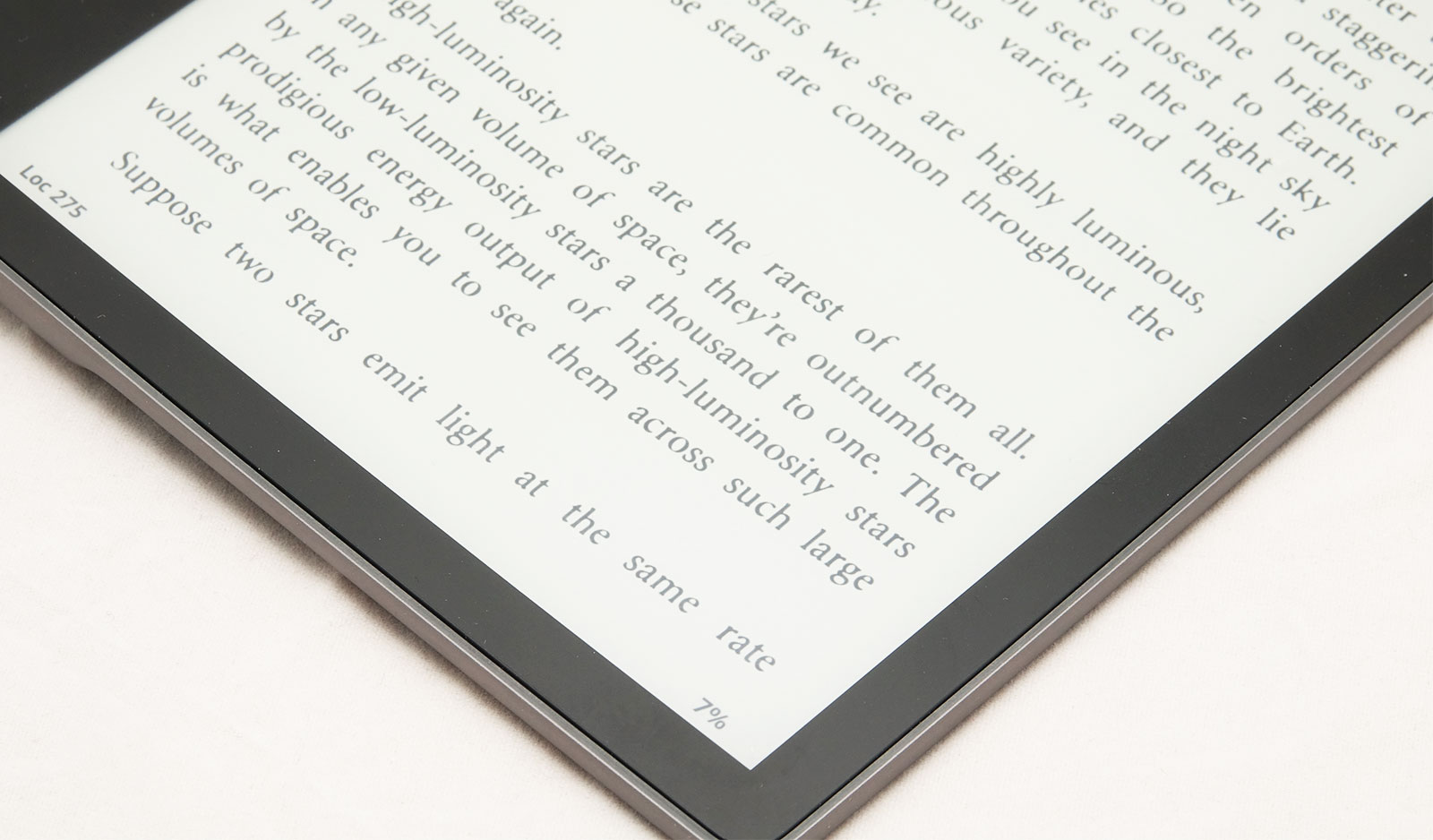 Behind this layer of glass, you'll find a front-lighting system which plays nicely with a light sensor to make it all adaptive, while the back of the eReader is encased in aluminium to hold it all together.
Water resistance is also there, bringing IPX8 protection making it protected from water for as much as two metres and 60 mins of water, more than ideal for the beach or pool (even though water ratings tend to be rated for freshwater, not pool- or salt-water).
Amazon's 2017 Kindle Oasis arrives in two variations, with either 8GB of storage in the WiFi only model, or 32GB of storage in a WiFi and 3G connected variant.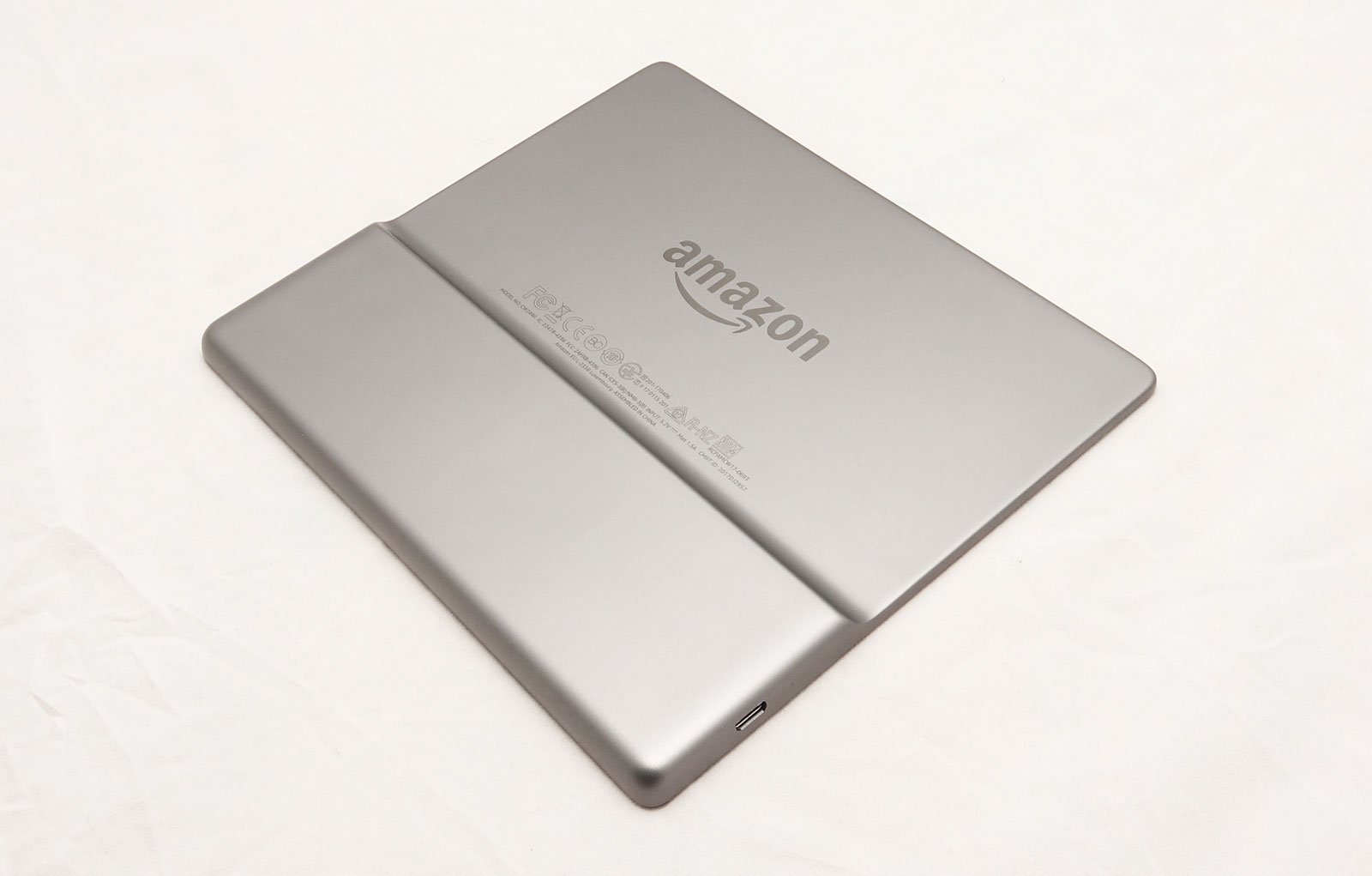 In-use
Switching on the 2017 Kindle with its top button — one of only three physical buttons on the otherwise touchscreen device — you'll find controlling the Oasis is fairly easy, simply by touching the icons, downloading books, and using that noggin of your to read.
Thanks to the inclusion of both a touchscreen and page turning buttons on the spine, you have two ways to control your book, and that's handy dependent on the generation you come from, with two distinct ways to control that eReader.
Performance
Performance for the 2017 Kindle is largely the same as the 2016 Kindle, and pretty much any other Kindle from previous years, relying on a fairly quick 802.11b/g/n WiFi connection to get those eBooks, downloading them, and letting you read them at your own pace.
Books tend to look great on this 300 pixel per inch screen, and while the screen technically offers the same amount of pixels per inch as its Voyage and Paperwhite siblings, the extra inch means you get a little more room on the page, emulating a paperback just that little bit more.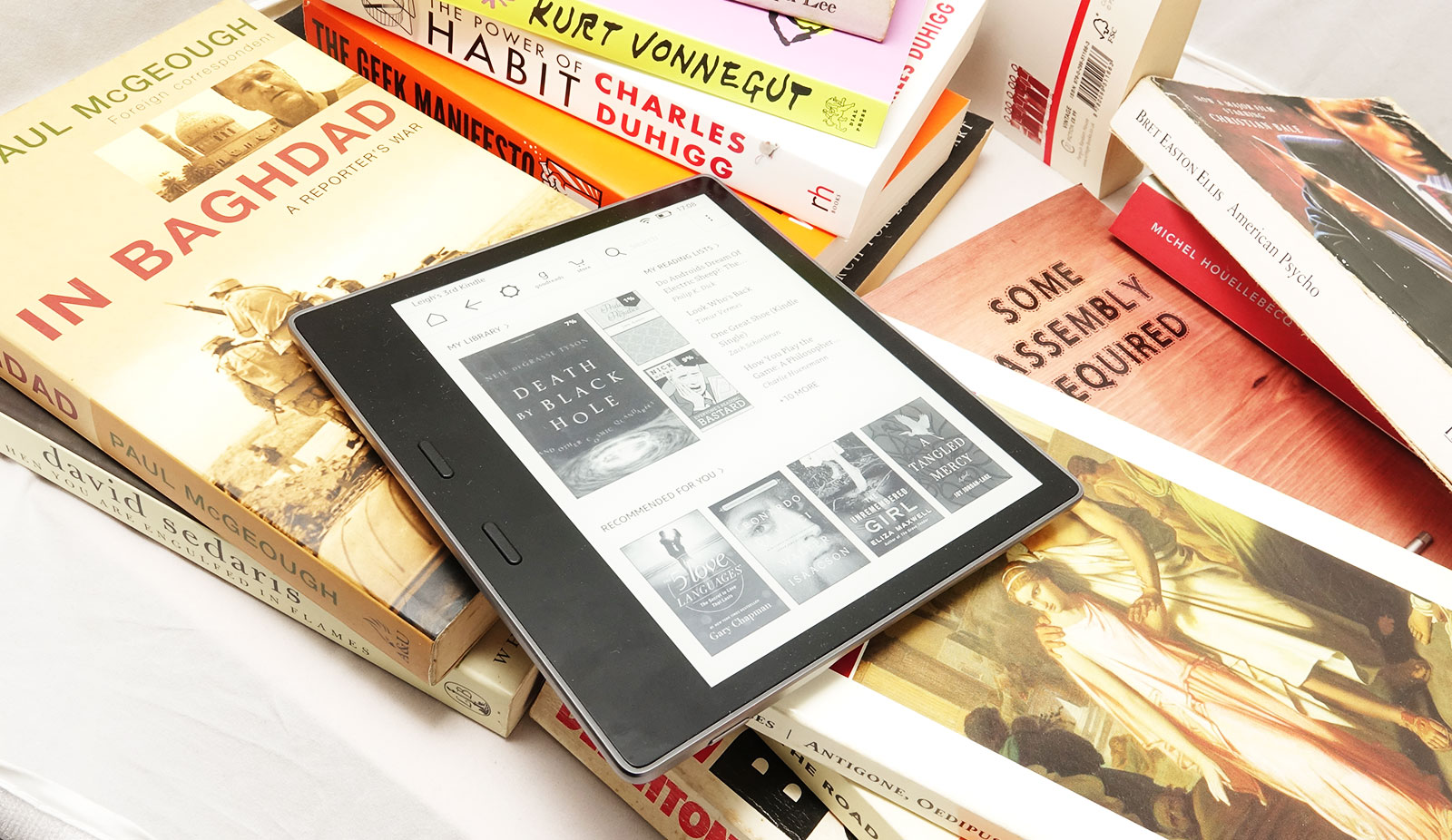 The 2017 Kindle does have one very cool thing going for it you might not see coming, and that is support for both hands.
Specifically, you can hold the spine either with your left hand or your right, and a compass inside the new Kindle will tell the screen to right itself based on your hand-holding position.
As a lefty-reviewer, it's something we totally appreciate, since this design is totally different from the flat ambidextrous designs of the past.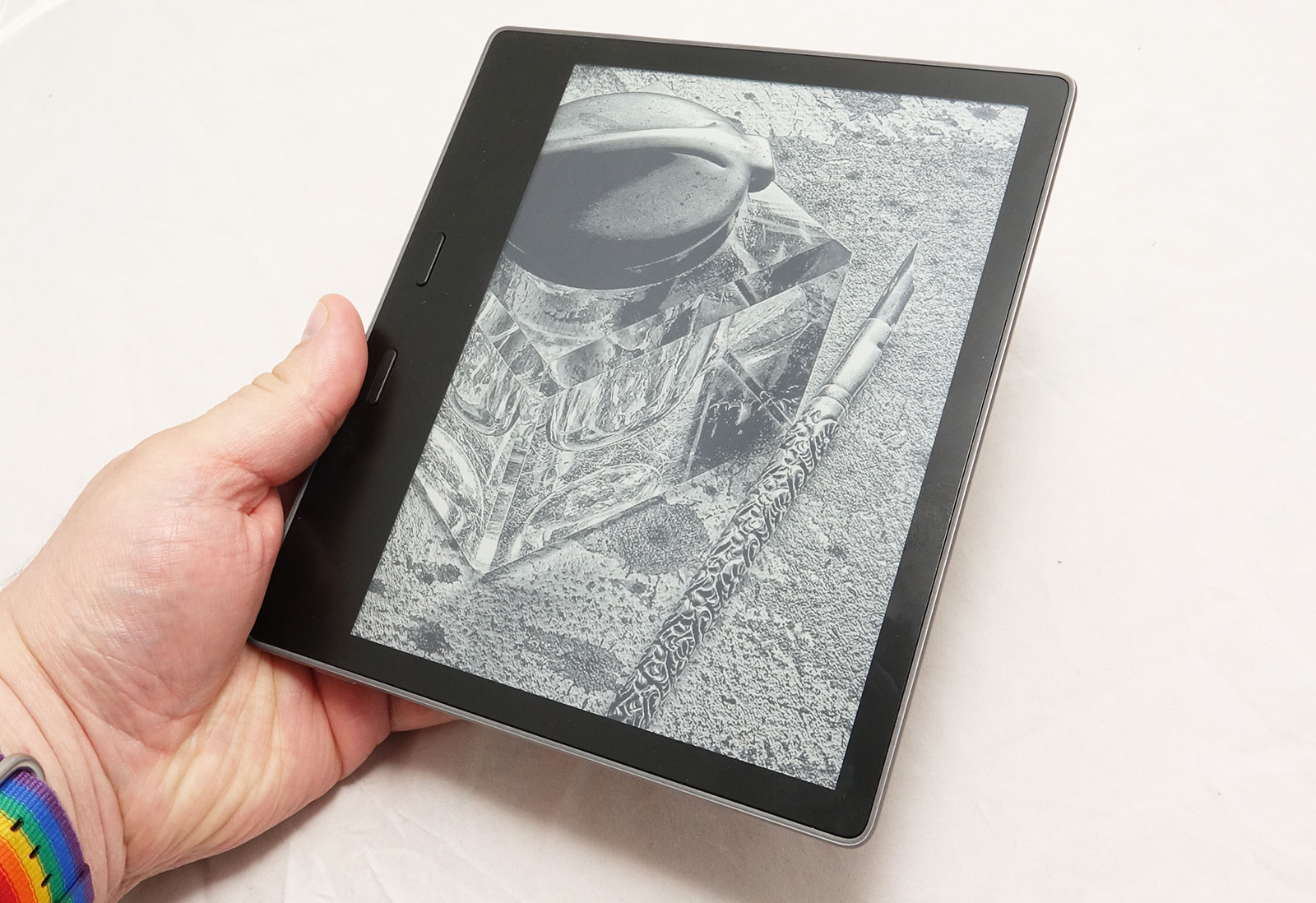 Battery
One thing we probably don't have to go on about is the battery life, because being a Kindle, Amazon has always put this thing through the ringer to properly test it.
Like previous Kindles, this is a gadget that runs for weeks, not days, and that's thanks to that lovely electronic ink screen, a low-refresh rate display that only runs in black and white, which seems perfectly suited to the task due to it being used mostly for books.
When a picture does need to be loaded, it's kind of like a newspaper joke, being black and white and read all over, which is exactly like the text, and perfectly suited to the electronic ink screen built in the 2017 Kindle.
Unlike last year's model, however, there is no set of connections on the back of the 2017 Kindle to plug it into a battery-loaded case, something that was an option to extend the battery life last year, doubling things.
Instead, when the Amazon's 2017 Kindle Oasis runs out of charge, you'll be running to a microUSB plug, though given how ubiquitous that is, we doubt you'll run into any problems unless you happen to be stuck in the middle of nowhere without power.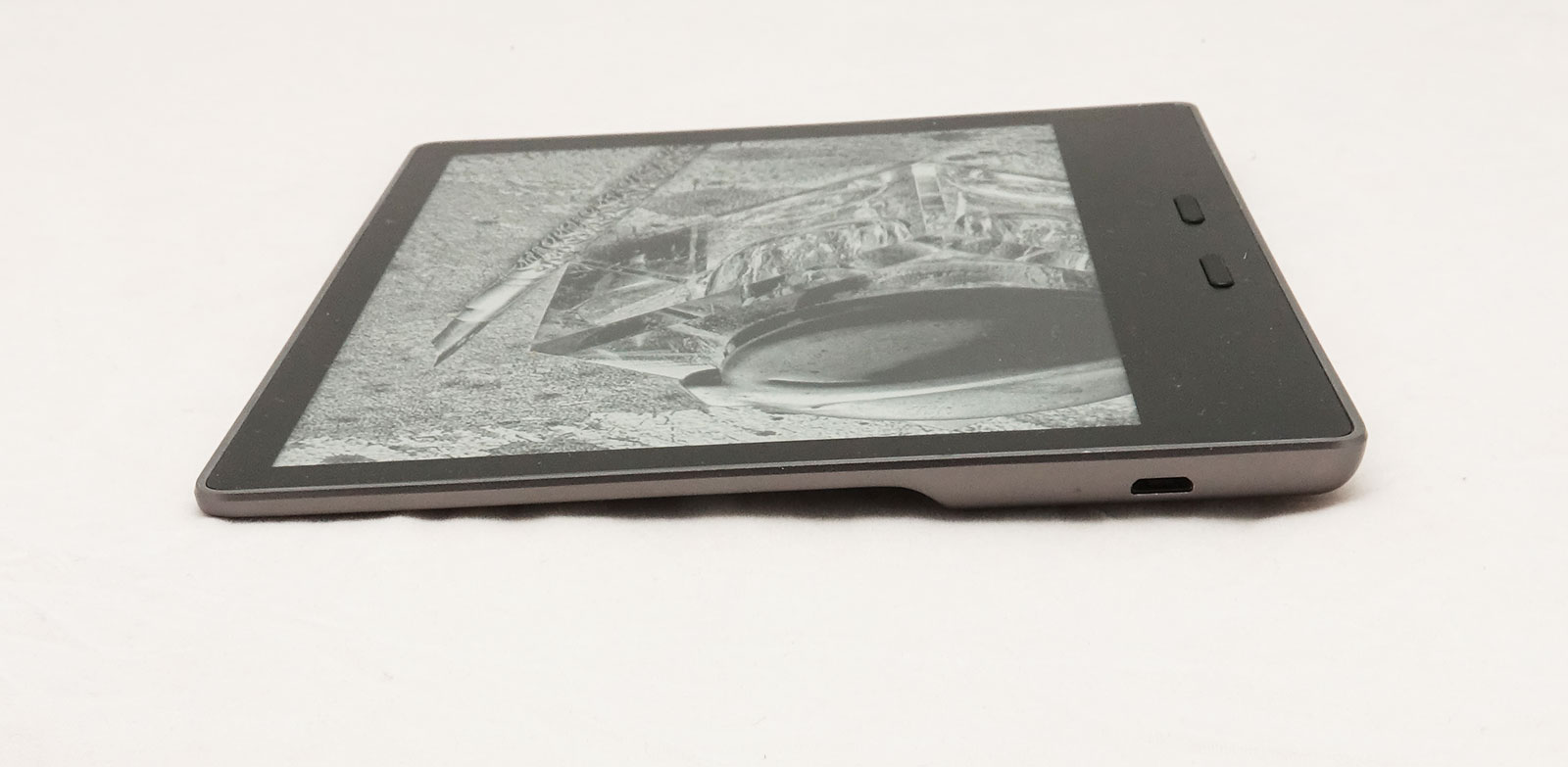 Water-resistance
New to the Kindle is a hint of ruggedisation, and that comes in the form of water resistance, meaning you can take the newer Kindle Oasis to the pool, the beach, the lake, or just read it in the shower.
Essentially, where ever there's water, the 2017 Kindle Oasis can be taken, with the whole body ruggedised to liquid in the form of IPX8 certification, which is another way of saying you can bathe with it, shower with it, cook near it, and swim with it, and provided you run it under a clean water tap to rinse off any residue, all should be well.
We won't tell you how we tried reading Neil deGrasse Tyson in the shower nor bore you with stories of a water drenched Hornby or Austen, but sufficed to say we experienced the water friendly nature of the 2017 Kindle comfortably, and if we did ever go to the beach, this would be a great little library to take with you.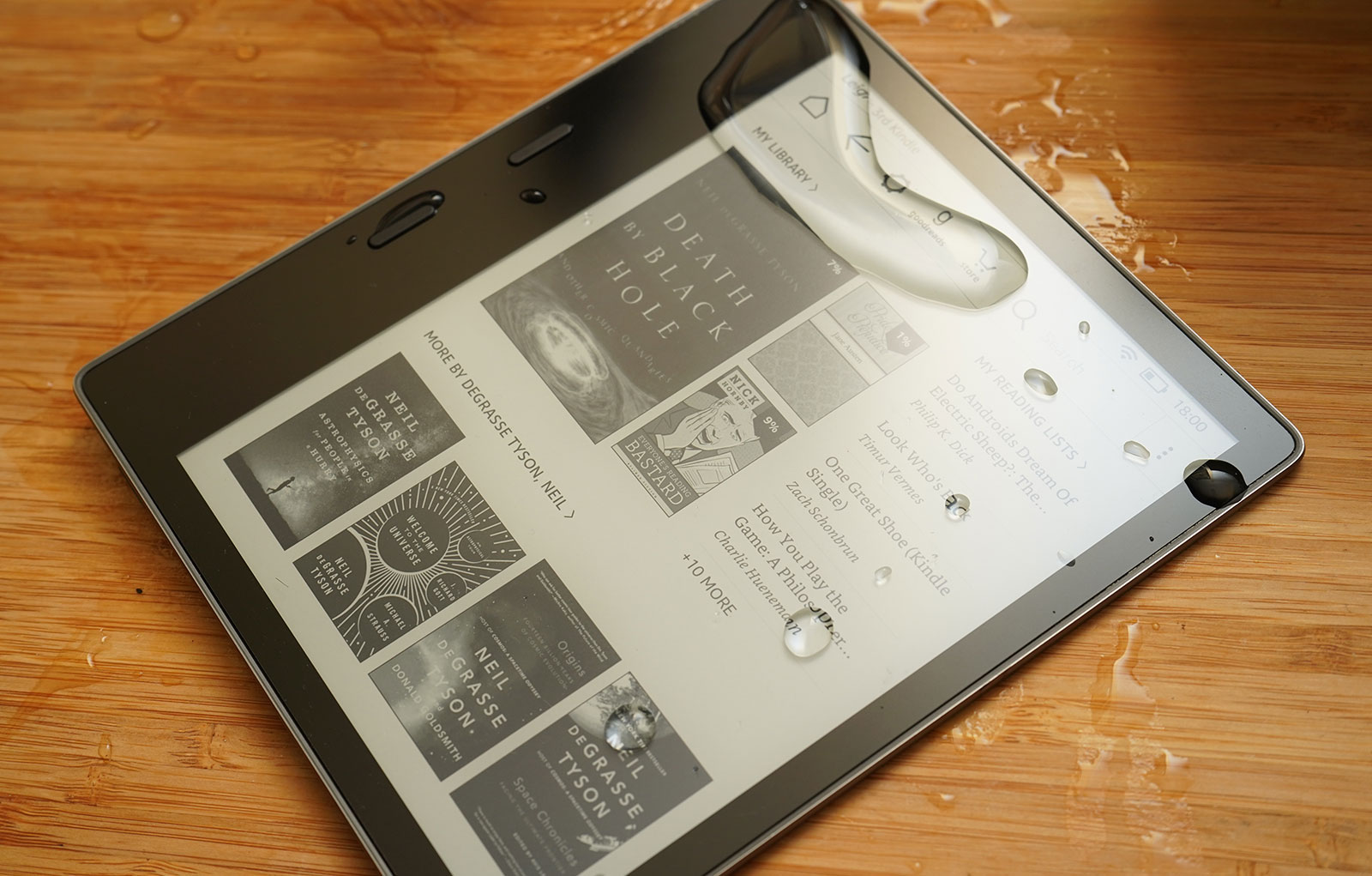 Value
Value is the one place you might struggle a little, because locally, the 2017 Kindle Oasis is definitely not what we'd call cheap, garnering a minimum cost of $389 for the WiFi only 8GB variant, while the 32GB and more global friendly WiFi with 3G (and free international access) pushes past what most would pay for an eReader with a tag of $529.
Without doubt, that's an expensive electronic book reader, and while it still doesn't hold a candle to the "reMarkable" tablet with its special pen interface, there's little doubt that Amazon's 2017 Kindle is hardly cheap.
As to whether it's worth the asking price, we'd say the $389 is probably worth it if you value your Kindle so much that you have to have water resistance and a slim design, though the $500 model is a bit of a cautionary one, simply because we'd be surprised to find anyone filling the 32GB storage with books when Amazon's cloud storage is provided for your purchases, while the 3G will likely be wasted, too.
After all, when's the last time you desperately needed to buy a book when you were away from WiFi?
What needs work?
Aside for a price which is possibly a little too much, the only major qualm you're likely to have with the 2017 Kindle is what happens when water touches it.
And like all touchscreens that happen to be water resistant, the 2017 Kindle Oasis can go a little crazy when water touches it. Specifically, water acts like a giant finger, telling the touchscreen to do all sorts of things at once, which of course it cannot, throwing off your reading because the water may have touched an icon or shortcut that you have not.
Sadly, there's no way to disable the touchscreen altogether, meaning if you're reading near the water or even under the water, you may not necessarily be reading the page you want.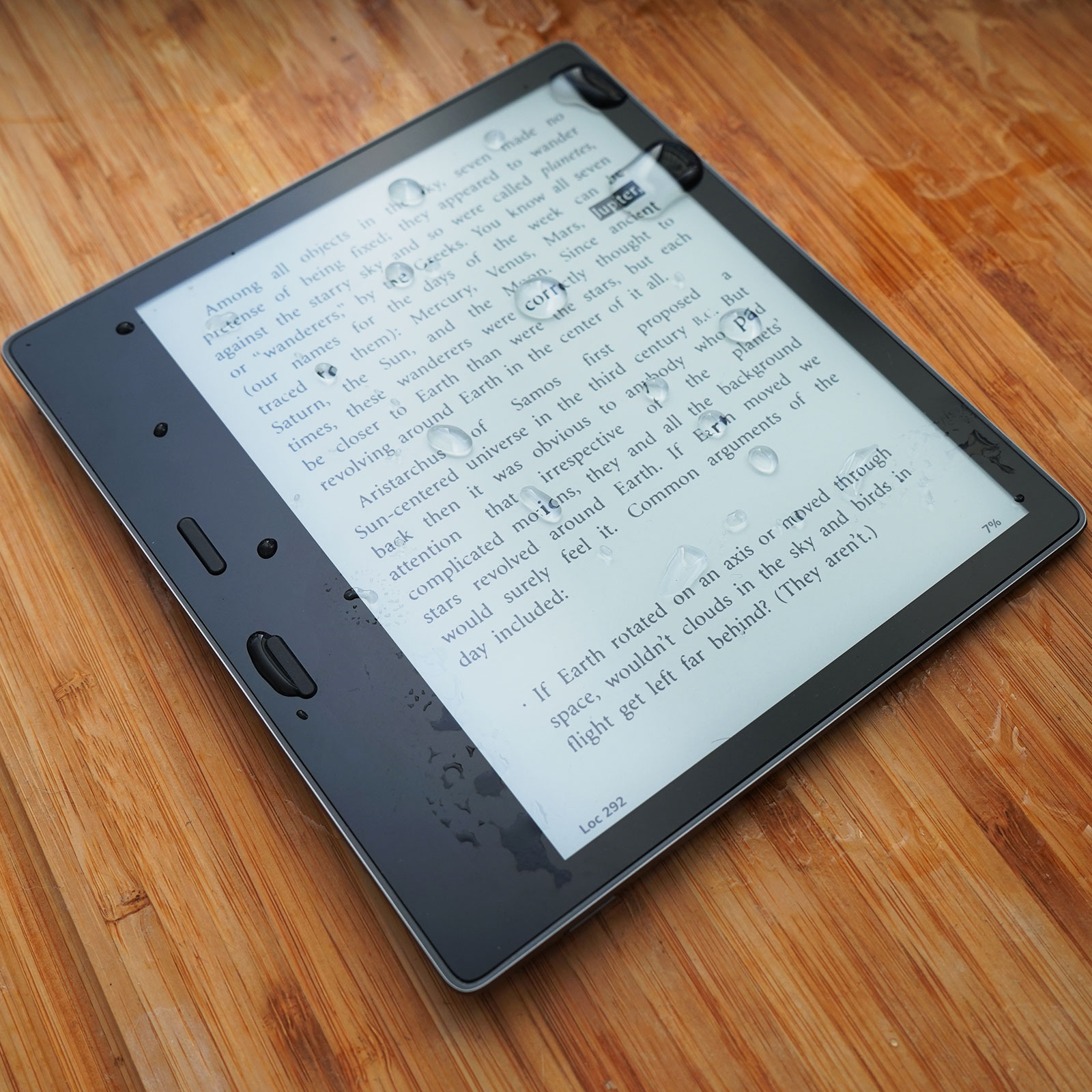 Final thoughts (TLDR)
Occasional touch issue and price aside, Amazon's 7 inch 2017 Kindle Oasis is a great little eReader, and one that is definitely worth checking out, even if that dollar figure can stretch a little high above all.
Built for people who love to read, Amazon's 2017 Kindle is made to be read anytime, anywhere, and if you never quite know where you'll be but have a strong suspicion you'll be pool-side, beach-side, lake-side, or any-other-body-of-water-side, you'll be tempted by Amazon's 2017 Kindle.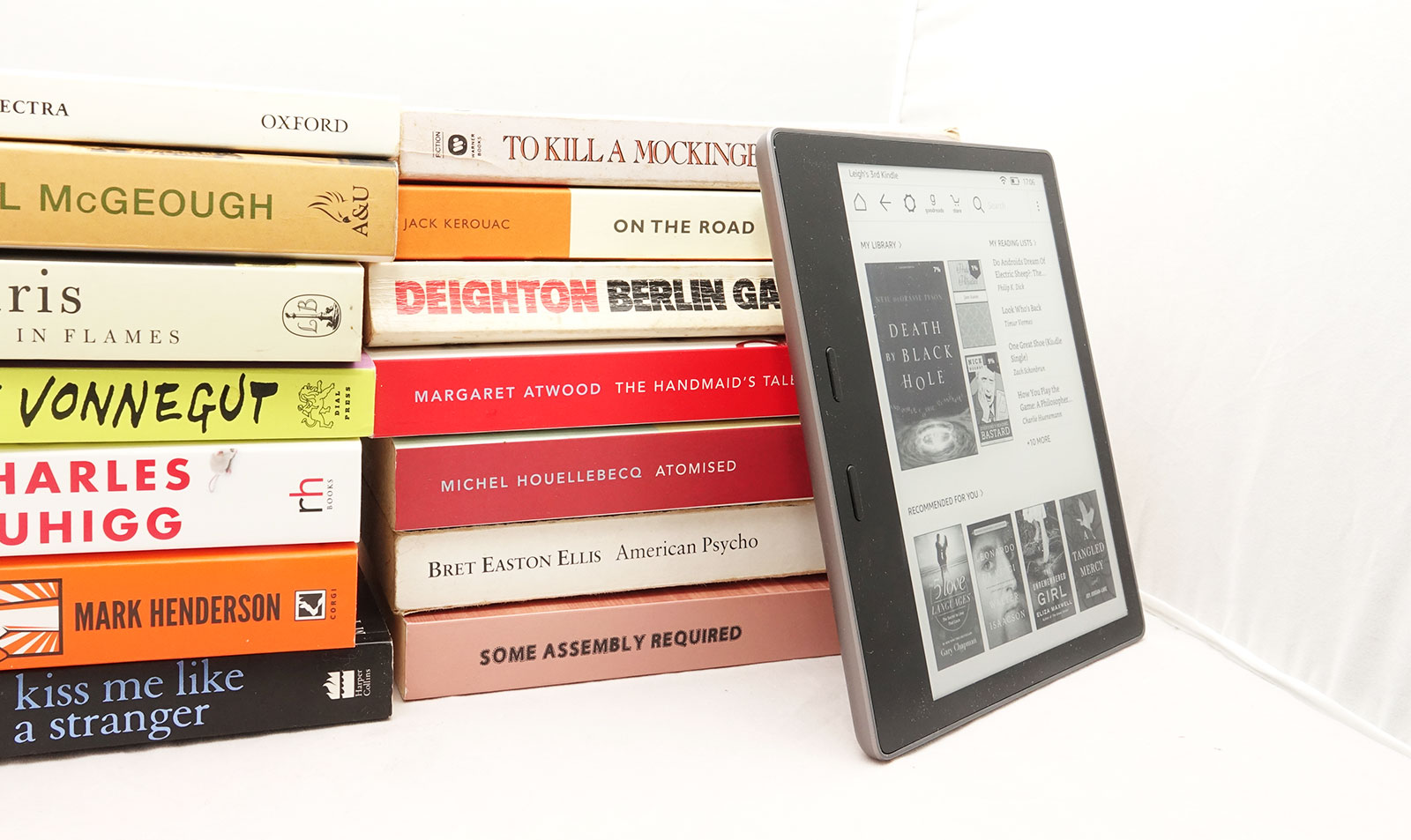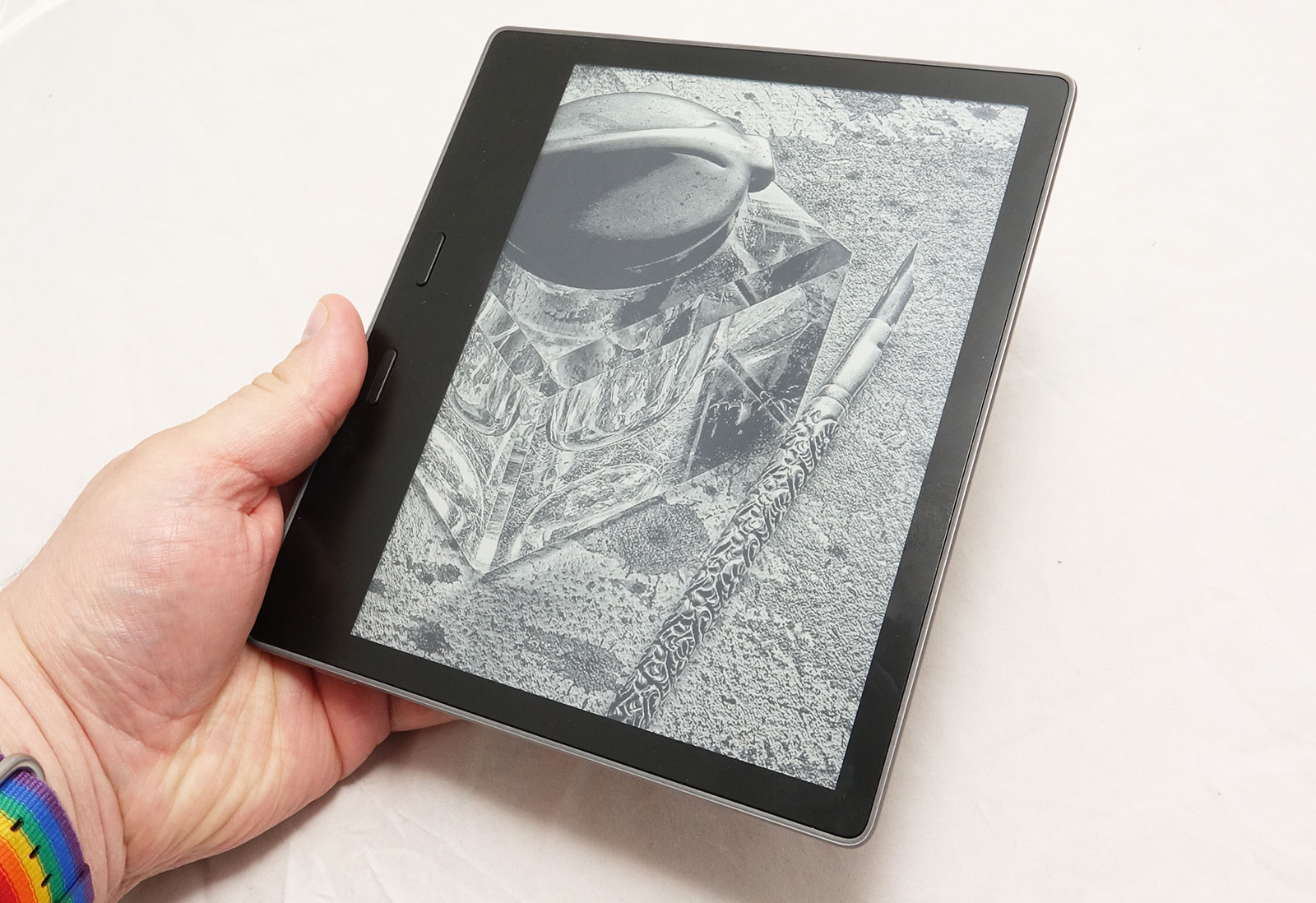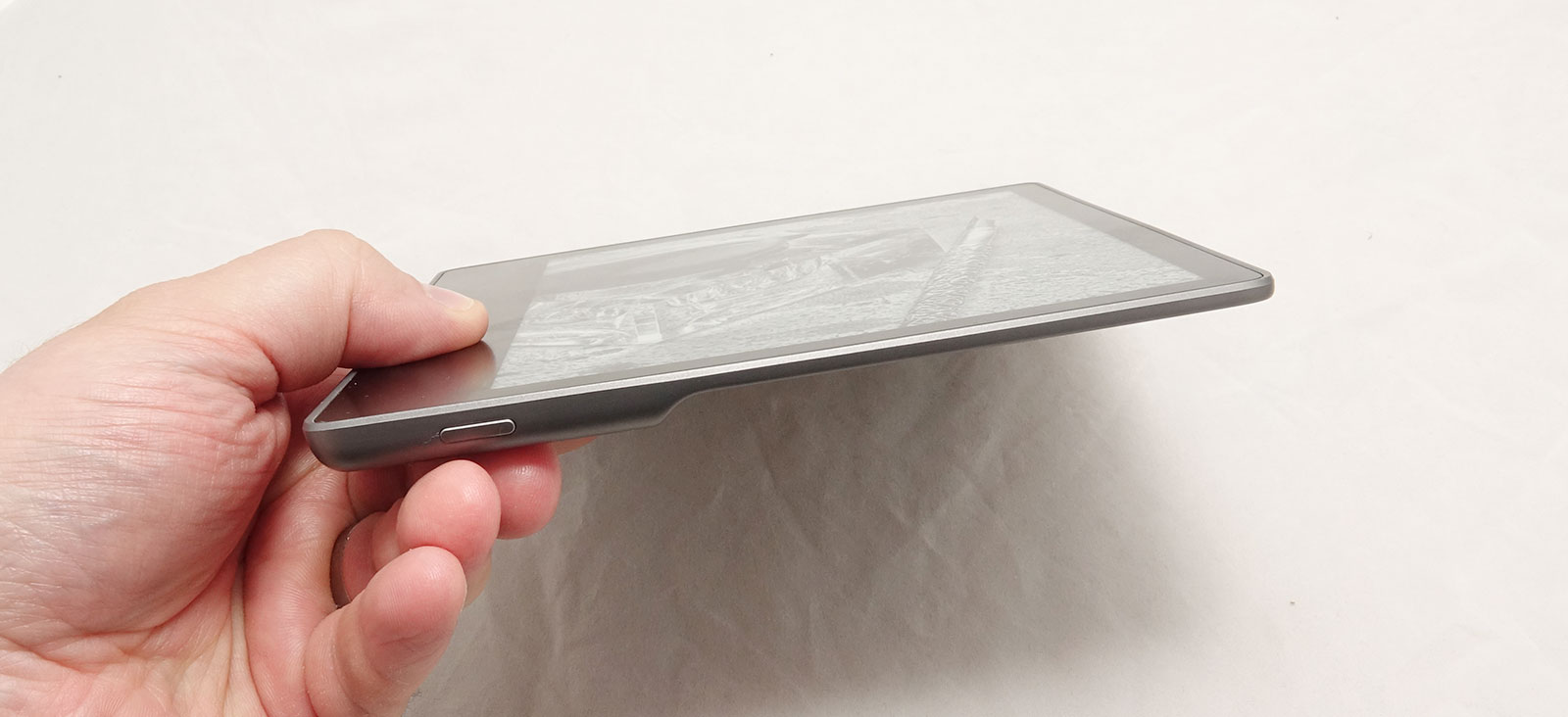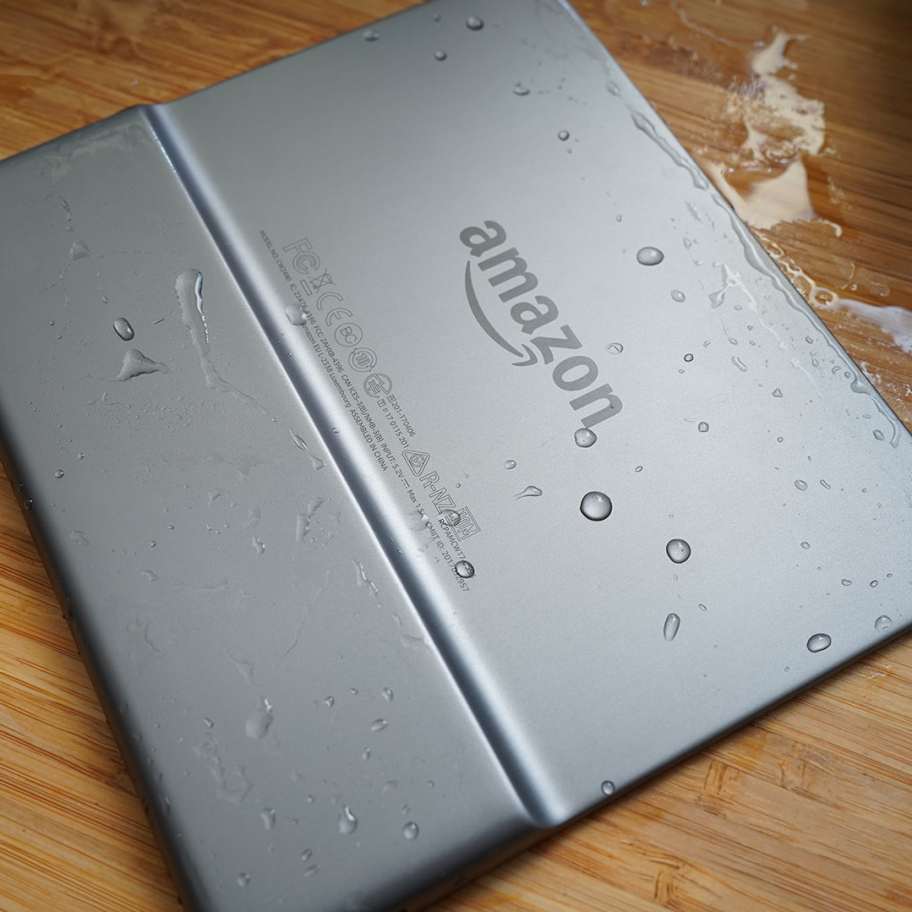 Amazon Kindle Oasis (2017)
The good
Beautifully sharp
Solid front-lighting
Excellent design
Long battery life
Water resistant
Option for 3G with worldwide free data
The not-so-good
Expensive
Because it's a touchscreen, water makes it go a little crazy