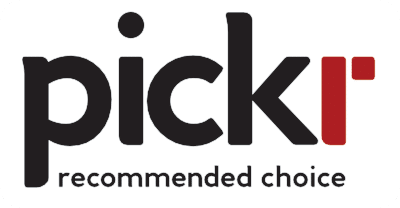 The Samsung T5 SSD isn't like your ordinary backup drive. Small, light, and much faster, it takes the subject of your boring backup and makes you kind of excited to get it one.
After being in this industry for ten years, I can tell you something about hard drives. In fact, I could tell you a lot about hard drives before it: I was a geek, and I've always been a geek. In fact, I'm one of those geeks that likes hard drives.
Yep, I said it: I like hard drives. I like drive technology. I've always been interested in disks and tape and flash and memory. I like backing up, and find it kind of relieving, almost in the same way that some people find doing the dishes or vacuuming the house relieving. It's a kind of mental drama I don't need to think about as much.
But you know what? I'm not normal. Normal is to not care about backups, because backing up as a whole can tend to be quite fussy.
Few of us backup on optical media these days, what with the death of DVD and Blu-ray never really making a dent on digital backups due to media pricing, and the cloud hasn't improved things dramatically in Australia. Thanks to a national broadband network that really is taking its time, online backups are difficult, as upload speed for much of Australia is kind of stuck. Unfortunately, uploading 200GB of files at a teeth-gnashing 1 megabit per second — 125 kilobytes (KB) per second, or 7 megabyte (MB) per minute — is a type of hell I'd rather not think about.
That means backing up needs to be done offline, and given that you keep your files with you, it makes a lot of sense. But you want it done fast, and since your laptop is smaller than it's ever been, you'd prefer to keep the backup drive small, with it.
OK. We can do something here. Meet the Samsung T5 SSD.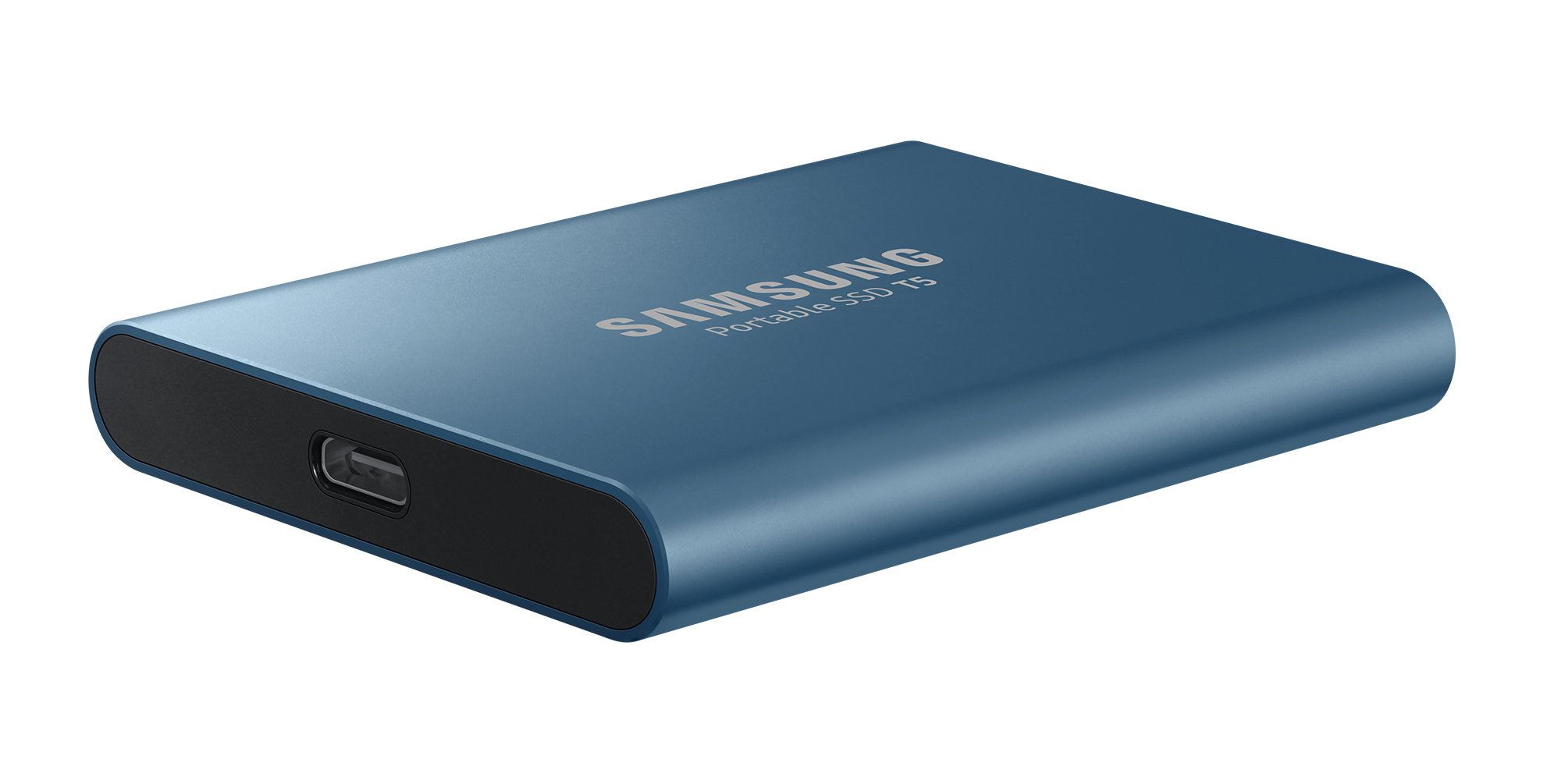 Design and features
Picking up the Samsung T5 SSD, you might feel inclined to comment: "that doesn't look like much of a hard drive. Is it?"
The answer to your question is yes and no.
It isn't a hard drive; it's a solid state drive, which is what "SSD" means. In fact, it's very similar to the memory used inside your phone and your new laptop, with flash memory used instead of a moving part hard drive.
Samsung's research into this technology goes back a fair way, and a few years ago it decided to bring an external version of this technology to market, starting with the T1 in 2015, before releasing the T3 last year, and now releasing the T5.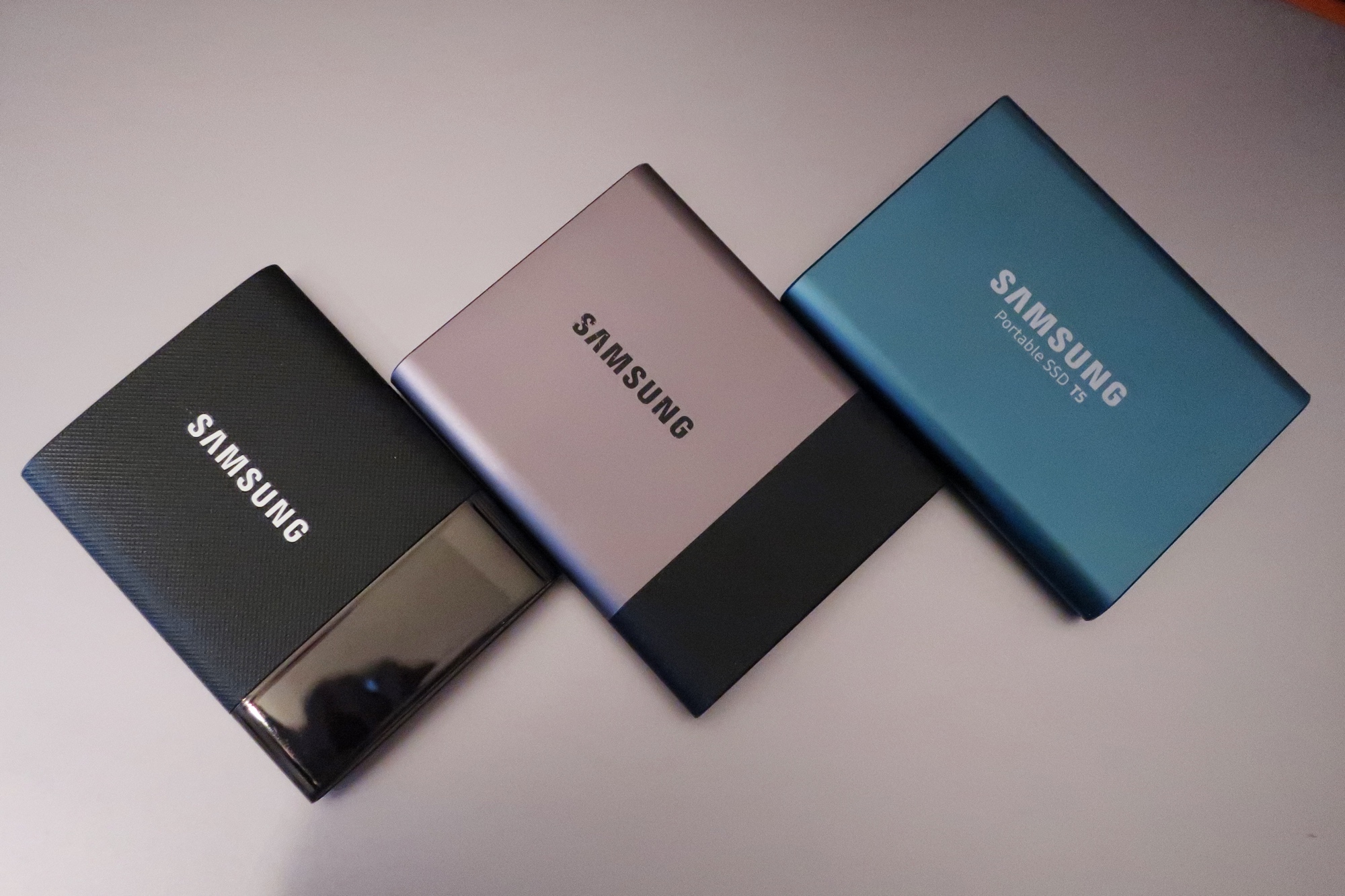 While we're not sure why Samsung likes the odd numbers, we're glad it like metal in its designs, because that's what makes this drive look and feel a little different from your ordinary plastic-cased hard drive.
A full metal jacket literally surrounds the Samsung T5 SSD, keeping it shock proof from drops of up to two metres, something a hard drive would struggle with due to damage inside the drive, and it also keeps the T5 looking and feeling cool.
The T5 is also quite small; we've heard people describe it like a credit card, but we think a box of sultanas is a more apt description for the Samsung T5 SSD, simply because it's also about as light as one, too, sitting comfortably at 51 grams.
There's only one port, so it's difficult to mess up, with USB Type C used on this hard drive, the same port seen on many laptops across both Windows and Mac, and even on quite a few phones, including those released by Samsung this year.
And that's no coincidence.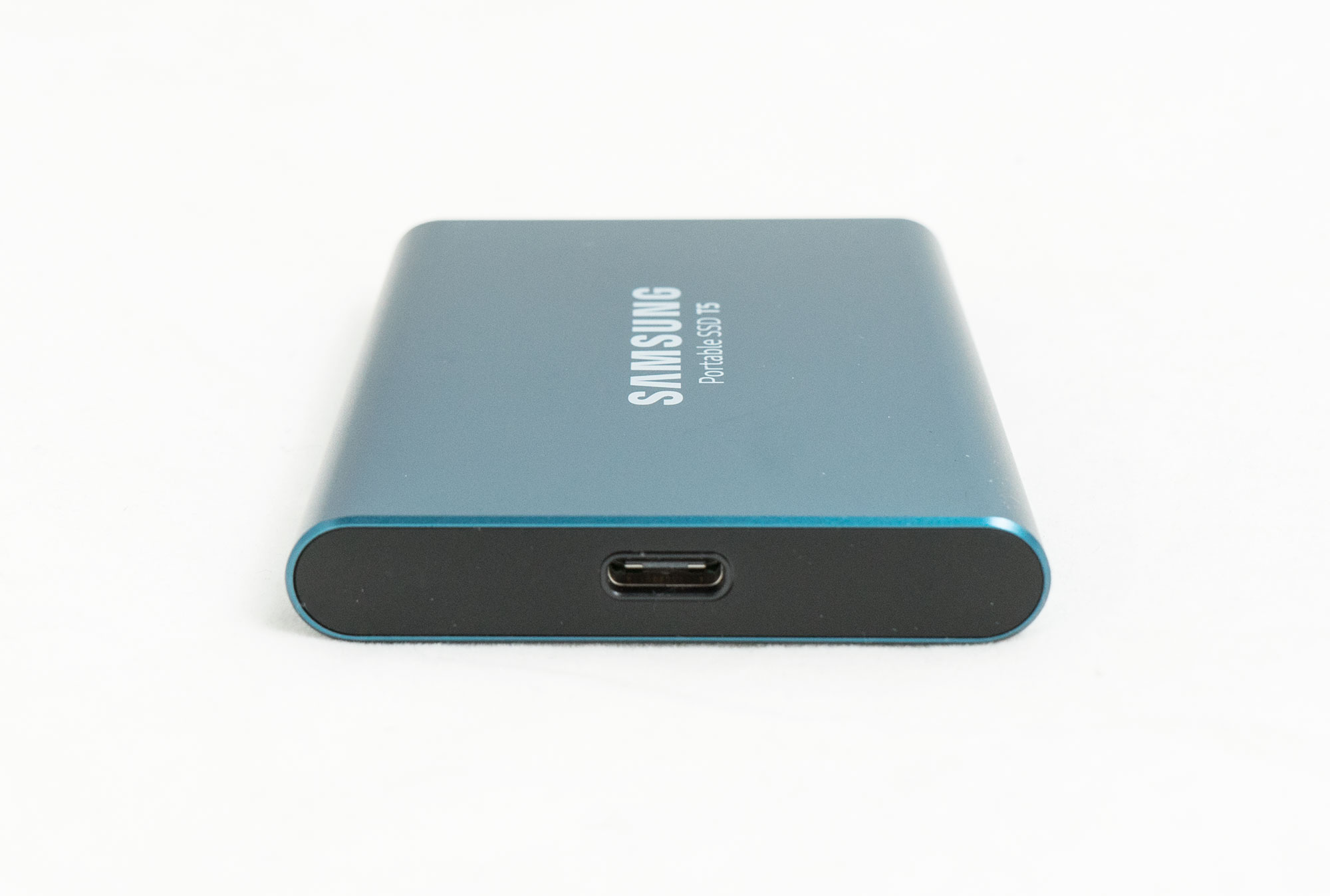 Features
One of the primary features of this drive is that for the first time, it's not just made for your computer, designed to also work with your phone, provided you have a recent phone with USB Type C used as the charging port.
"Recent" is also quite encompassing, because phones with the USB Type C port go back to the end of 2015, and while companies like Oppo and Motorola are still pushing out phones with microUSB, almost everyone else (except Apple, which uses Lightning) has made the jump.
So that means if you have a Google or Huawei or Sony or HTC or LG or even Samsung that you bought in the past year, you probably have the same port the Samsung T5 SSD connects on.
In the box, are two cables, with one USB Type A to Type C cable — what's seen as the standard USB plug to the smaller Type C plug for the drive, ideal for most computers — and also a Type C to Type C cable, with this smaller plug able to be plugged from your phone directly into the drive. It's the same sort of cable Google's Pixel XL came with, and the same sort of cable that the MacBook and MacBook Pro charge from, just in case you're curious if there's anything different about the cable.
Really, this is just about ports, but it's important to note simply because new phones have this port, and including that cable means the Samsung T5 SSD is made to be plugged into phones and computers.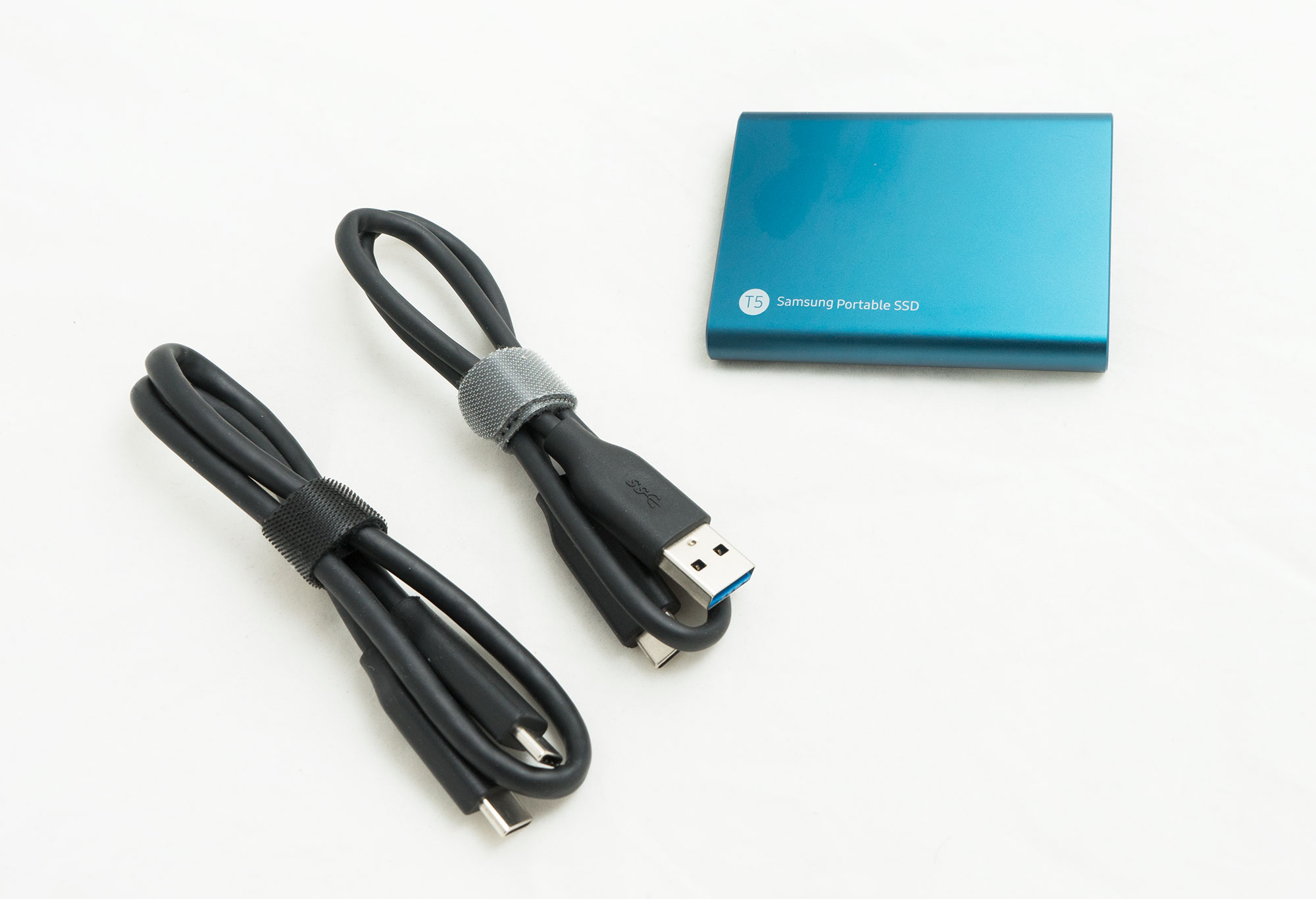 Performance
Testing this drive, however, happens on a computer, and testing it with Blackmagic's Disk Test on the Mac reveals that Samsung's claim of a maximum of 540 megabytes per second isn't too far off the mark, with a drive speed closer to 514 megabytes read, just 30-odd meg shy.
Writing speed isn't quite as fast, but still nothing to sneeze over, providing speeds of 485MB per second, much faster than any of the tests we did for hard drives we had, many of which seemed to top out at around 40-50MB per second, while Samsung's T5 also beat last year's T3.
So it's fast, and that makes it fast for backing up, but also for working from. That's long been one of the pitfalls of the hard drive, since a comparatively low speed made it impossible for creative types or anyone with a big file to work efficiently without wanting to throw their drive and computer out the nearest window.
With the Samsung T5 SSD smashing speed, that thought disappears, because here is a drive you can comfortably work from if you have large files and a minimal amount of space left on your computer.
Value
While speed and portability reign supreme on the Samsung T5 SSD, value may not.
Keep in mind, this is a fairly new technology, and so much like how it tends to cost to be an early adopter, don't be shocked if the price of admission to having a small and light super fast drive cost more than a hard drive.
Let's just think about this, people: portable solid-state drives that aren't thumbdrives have been out for a grand total of three years, whereas portable hard drives have been out for close to 20 years. That means a hard drive's dollar per gigabyte value will likely beat that of a solid-state drive without even thinking, and that's reflected when you see the numbers.
While a 2TB portable hard drive can cost around $100, the 2TB Samsung T5 SSD arrives for $1249, a staggering difference. Less storage is less expensive, mind you, with $649 getting you 1TB, $329 getting 500GB, and $199 grabbing a modest 250GB. The colours are slightly different, too, with 250 and 500GB getting the blue drive (the one we reviewed), and the terabyte models getting the Samsung T5 SSD in black.
Keep in mind that the technology is totally different, and so while a terabyte of portable storage roughly equals $50 in Australia, it is also both slower and larger than its solid-state cousin in the T5.
What needs work?
Even with the price conundrum, it's hard to deny the excellence of this drive. Yes, it's expensive if you take the dollar per gigabyte argument, but it's also not.
A hard drive will never be able to execute the speed and size the Samsung T5 SSD pulls off, and your thumb drive — despite being similar technology — isn't really the same, and won't likely achieve the same sort of speeds, barring any plug port changes.
So skipping the value argument, Samsung's T5 really does feel like a grand slam of a perfect product, so what does it miss?
Aside for the price tag, we think the Samsung T5 SSD could have included a backup app. It could've been small, but it feels like it would have been the perfect inclusion, especially since the T5 makes the perfect case for people who have been looking for the ideal backup drive, but are unsure the right way of backing up.
Operating systems do arrive with their own backup systems, but a small app would have been appreciated, especially since Samsung has been kind enough to include a password locking encryption app for the drive, meaning you can easily lock the T5 SSD down so friends don't try to take your files, and if it's stolen, they're not easily accessed by all.
There's one other missing feature, like the omission of a backup app, it's minor, but worth nothing: proper ruggedisation.
You shouldn't be dropping your hard drive. In fact, doing it intentional is a rather bone-headed way to ensure your files disappear, so do the world a favour and take care of your data, not just by backing it up, but by taking care of the drive housing your data.
But if the worst does happen, the Samsung T5 SSD has a hint of ruggedisation with a shock-resistant casing that can survive a couple of metres max.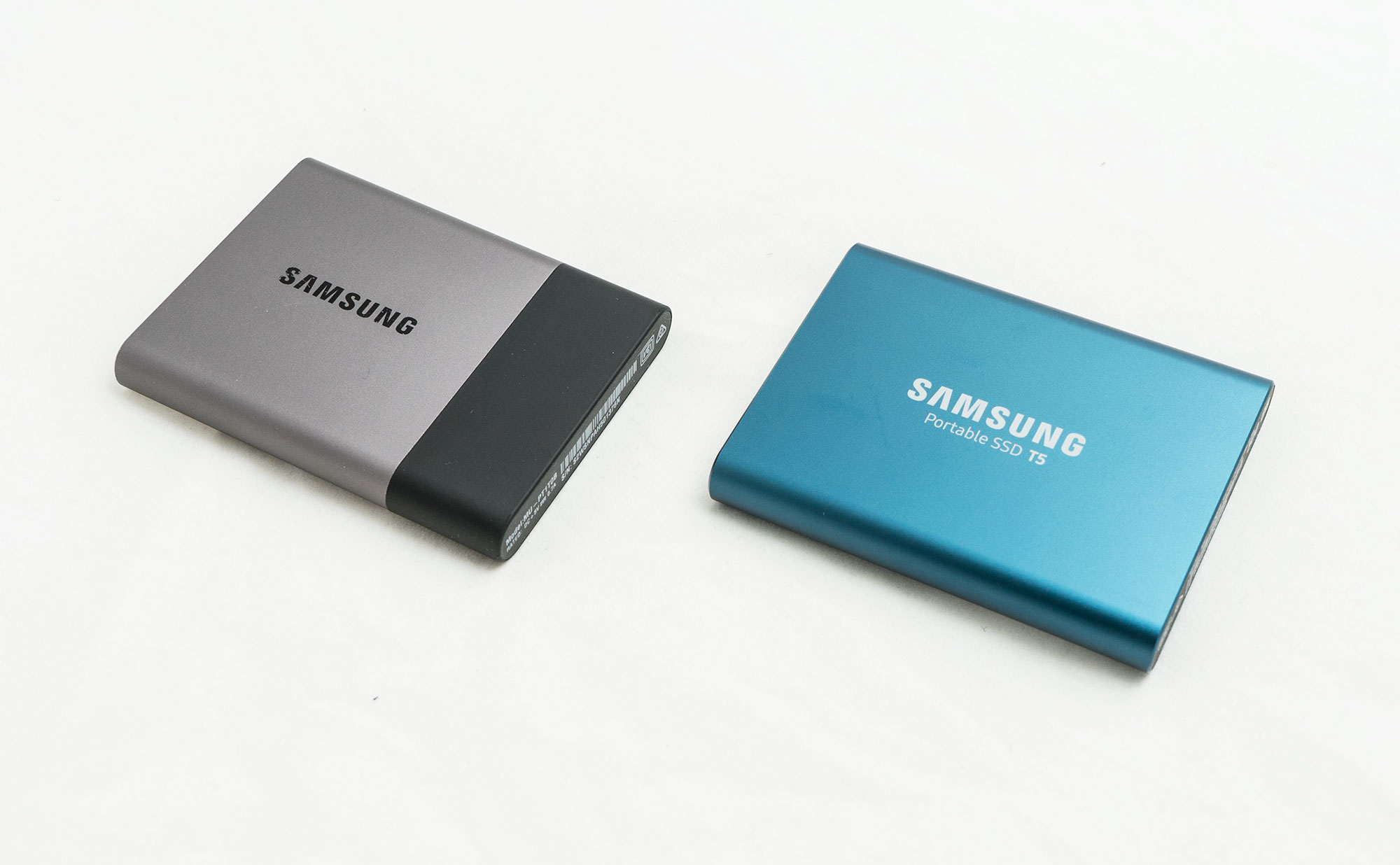 Final thoughts (TLDR)
Missing out on both a backup app and water resistance isn't enough to dampen our enthusiasm for the Samsung T5 SSD.
In fact, it's quite the package, with Samsung not only improving its backup drive to make it faster than ever, but also throwing in both types of cables that you need. And that essentially completes things, making for one of the best external drives you can find today.
Simply put, it's hard to look past Samsung's T5, delivering a small and speedy solution that makes backing up less like a chore than it's ever been.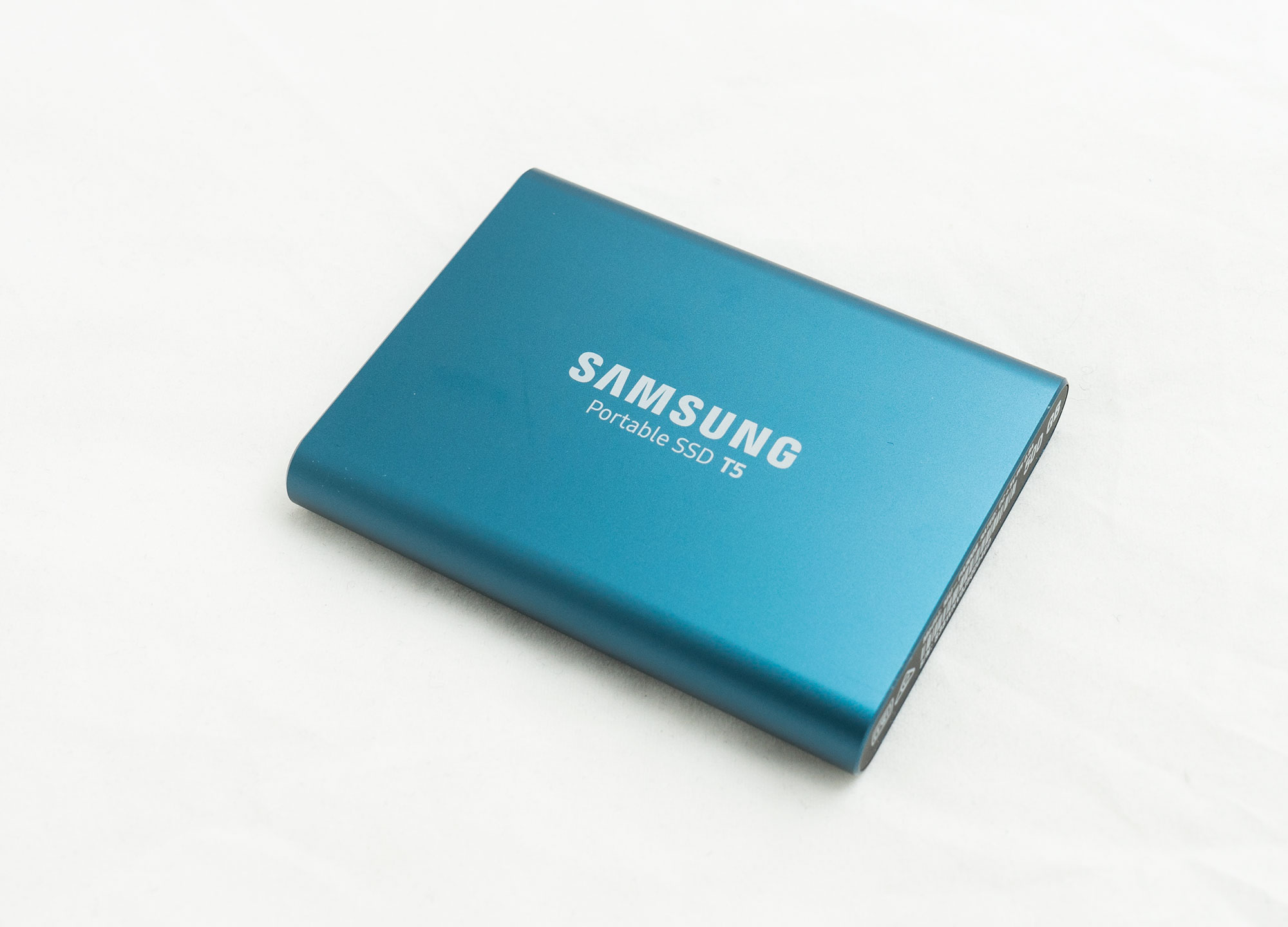 The good
Fast
Small
Light-weight
Encased in aluminium
Includes both types of cables in the box, fixing what was needed last time
The not-so-good
Expensive
No water resistance
Needs a backup app