Easily one of Motorola's most successful smartphone models, the G series is back, and with it one of the best sets of value for the brand yet.
Design
For this year's take on one of Motorola's most trusted phones, the mid-range handset is moving away from what it was designed with for the better part of, well, every other G series handset to date.
In other words: goodbye plastic, hello metal.
In fact, you know the old Motorola ads of "Hello Moto"? They may as well read "Hello Metal", because that's one of the massive changes for the Motorola G series, as the company makes the shift from plastic to metal, with a design that is reminiscent of the flagship phones Motorola makes in the Z series.
While the camera is still on the back, it now occupies a slightly more pronounced hump, with a full circle dedicated to its presence, sitting on a body made of metal.
Granted, the metal body isn't necessarily as nice as the metal on say something like an iPhone, but we're still delighted to see a change from the plastic the Moto G series has used for the past four generations.
That change means the once recessed Motorola logo for your finger is no longer recessed, but the Moto logo is still present, and the G5 Plus appears to basically appear almost as if it's the Moto Z Play with a smaller screen and smaller battery.


Features
The features and specs are even close in this regard, too, with a change from what appeared in the previous G4 Plus to something closer to what's in the Z Play, or the current iteration of that phone, anyway.
As such, you'll find Qualcomm's mid-range Snapdragon variety here, the 625, an eight-core processor that is paired with 4GB RAM and either 16 or 32GB of storage depending on how much you're willing to pay.
If you end up forking out $399, you'll get the 16GB version, and if it's $449, the storage doubles to 32GB, but either way, Motorola has left a microSD slot available to you to upgrade the storage at your leisure.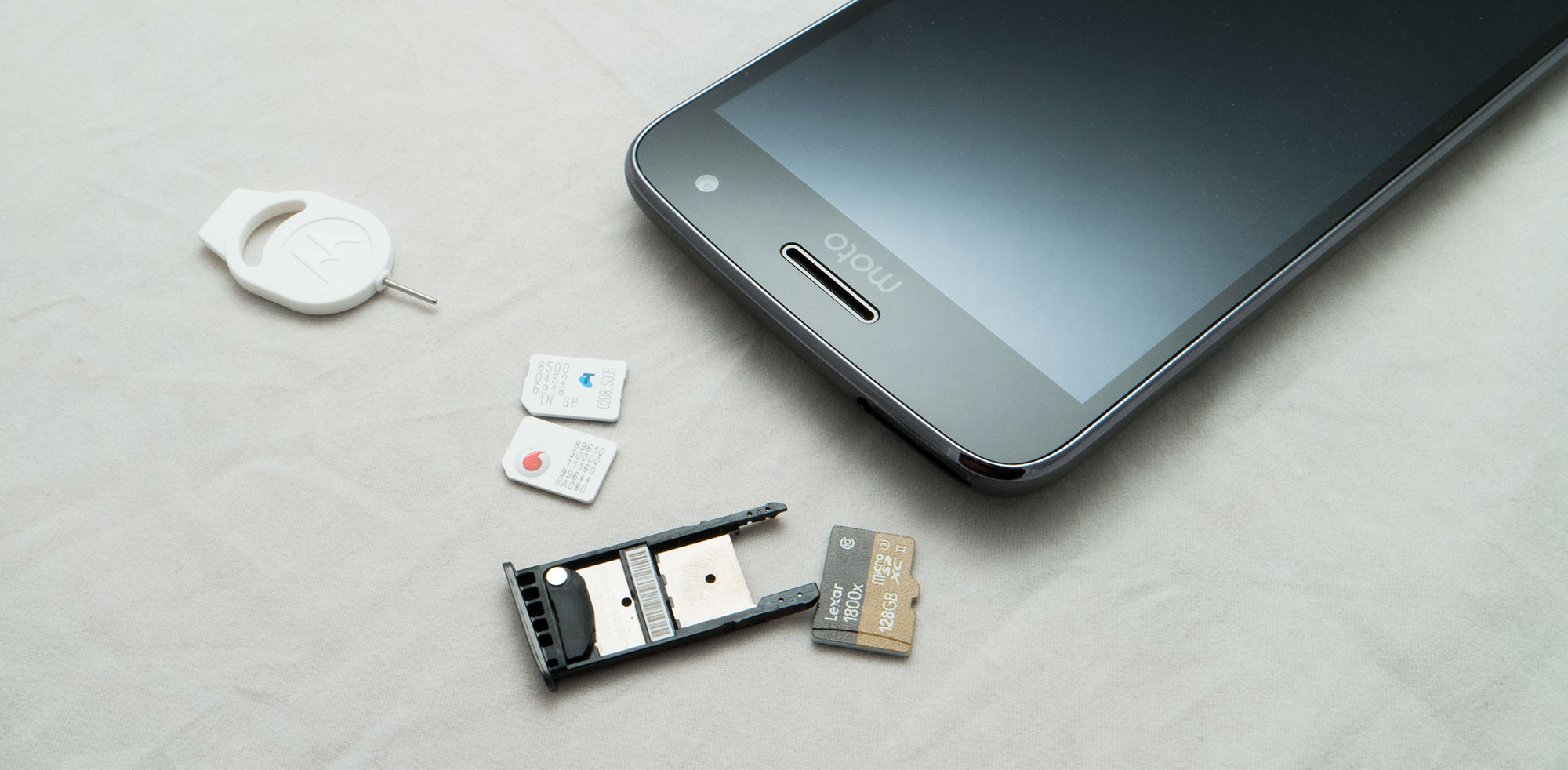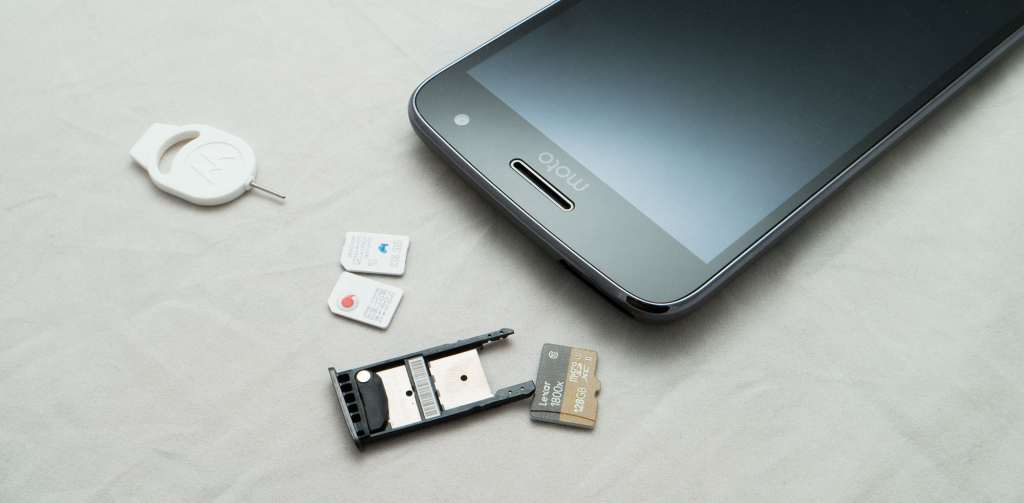 In fact, there's not only room to move with the storage, but also with the SIM, as the Moto G5 Plus supports two nanoSIMs in its Australian release model, making it useful if you plan to travel and would like two SIM cards in the phone.
Outside of these extra bit of connectivity, you'll find 4G speeds as high as 300Mbps making it at Category 6 LTE phone, with wireless connections extending to Bluetooth, GPS, Near-Field Communication (NFC), and 802.11b/g/n WiFi.
Wired ports are limited in comparison, not a shock these days, though Motorola has stuck with what the mid-range commonly receives, and that's microUSB for charging and data transfer at the very bottom of the phone alongside its only other wired connection, a 3.5mm headset jack.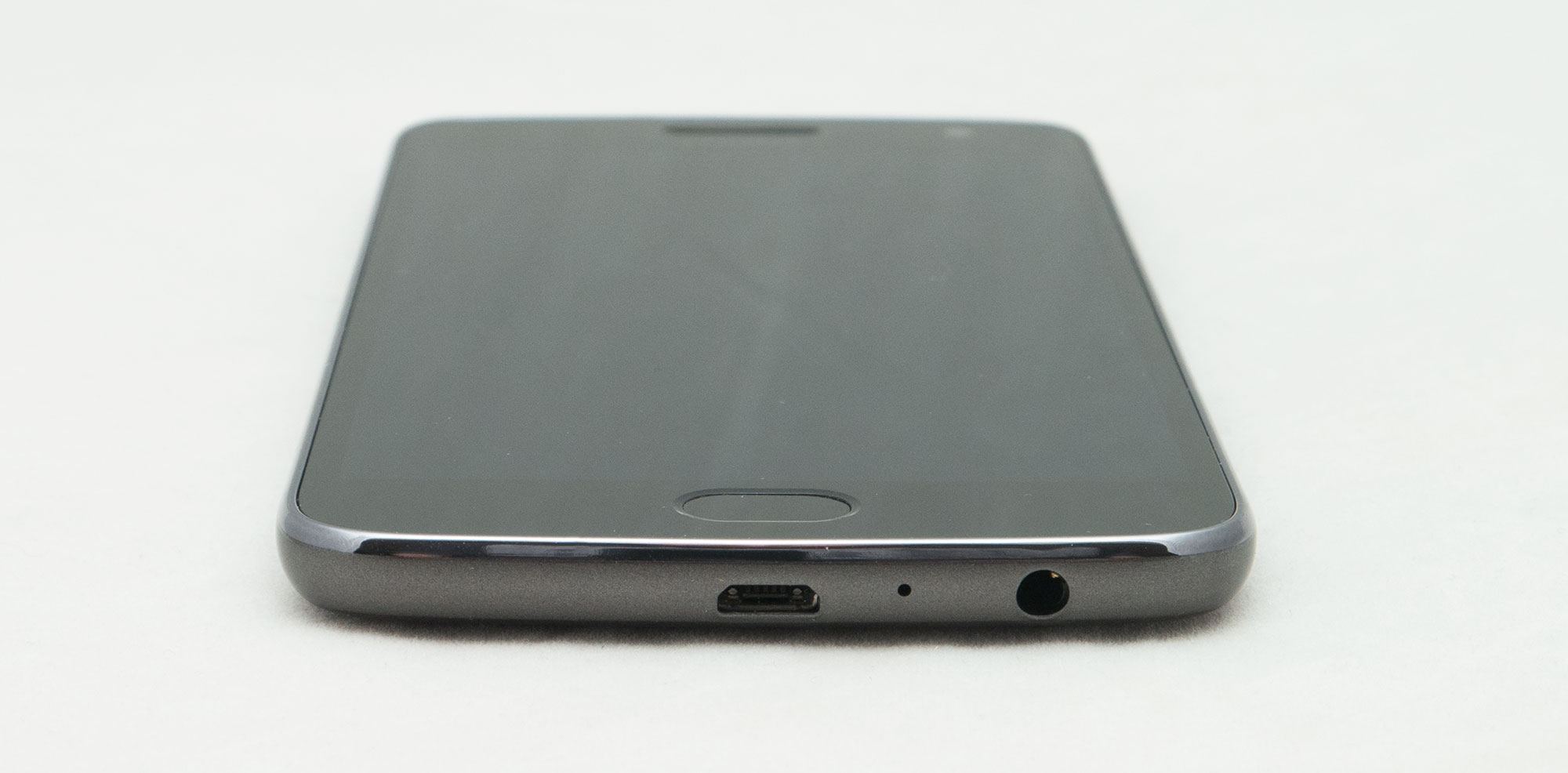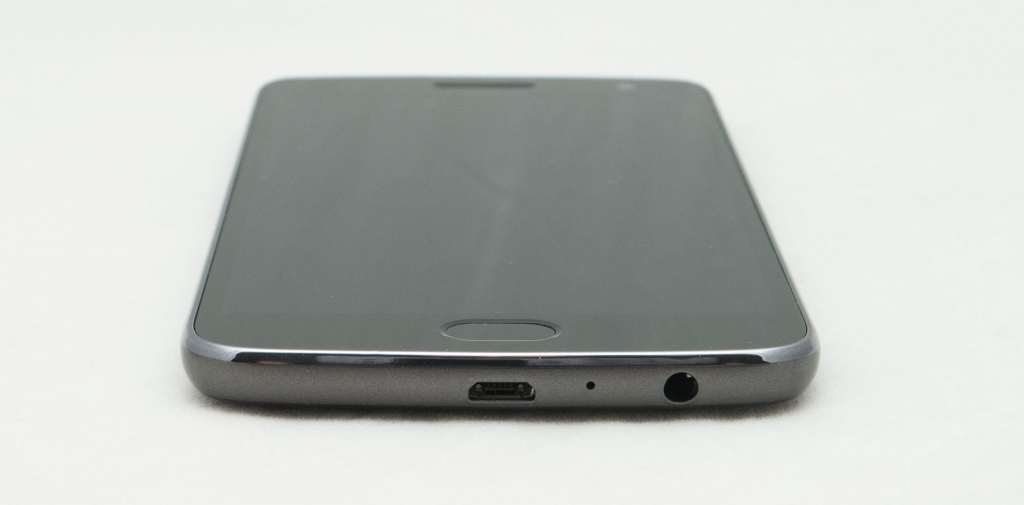 Cameras are here, too, with a 12 megapixel camera on the back with a flash and F1.7 lens, also supporting 4K Ultra HD video capture, while the front camera is set to 5 megapixels with an F2.2 lens.
Android 7.0 "Nougat" arrives on this phone in more or less a "stock" configuration, delivering an experience closer to what Google envisions and not far off what you're likely to receive on a Nexus or Pixel smartphone, and all of this is encased in a handset primarily composed of metal and weighing 155 grams. The thickness is a little bit over shop because of the design, but for the most part, the edge looks like it belongs to a 7.7mm phone, though it can thicken up along the camera bump to be around 9.7mm.
And you'll find all of this under a 5.2 inch Full HD display, offering a pixel clarity of 424 pixels per inch, making it sharp enough for most, and even higher than the clarity offered by the iPhone 7 Plus' 5.5 inch Full HD display (401).
The battery inside the Moto G5 Plus is rated for 3000mAh and is not removable.


In-use
A new year, a new Motorola G series, but while the model is brand new, the interface is not, as Motorola relies on what it learned during its time being owned by Google, sticking with a stock edition of Android and keeping things pretty close to what you can experience on the Pixel phones.
That means you'll find Android the way Google thinks it should be, and pretty much nothing else, with widgetised homescreens, the Google Now assistant all the way to the left, and a swipe up getting you the app menu you know you need, with a few of the most recently used apps sitting at the top.
In a way, it's what happens when Motorola is allowed to port over some of the look and feel of the Google Pixel, and given that now constitutes what Android's vision is, that's kind of what you get, albeit with a darker colour scheme.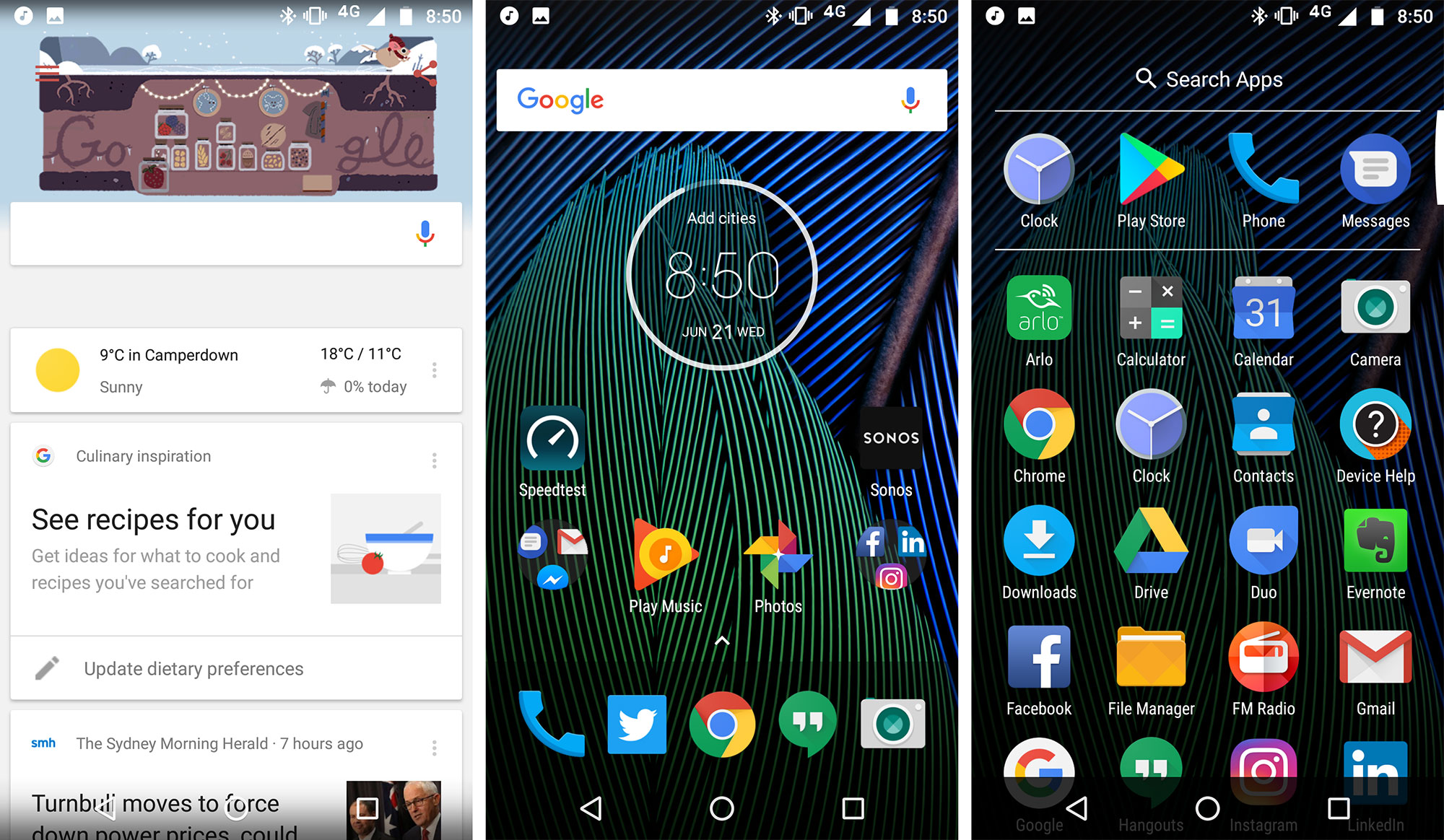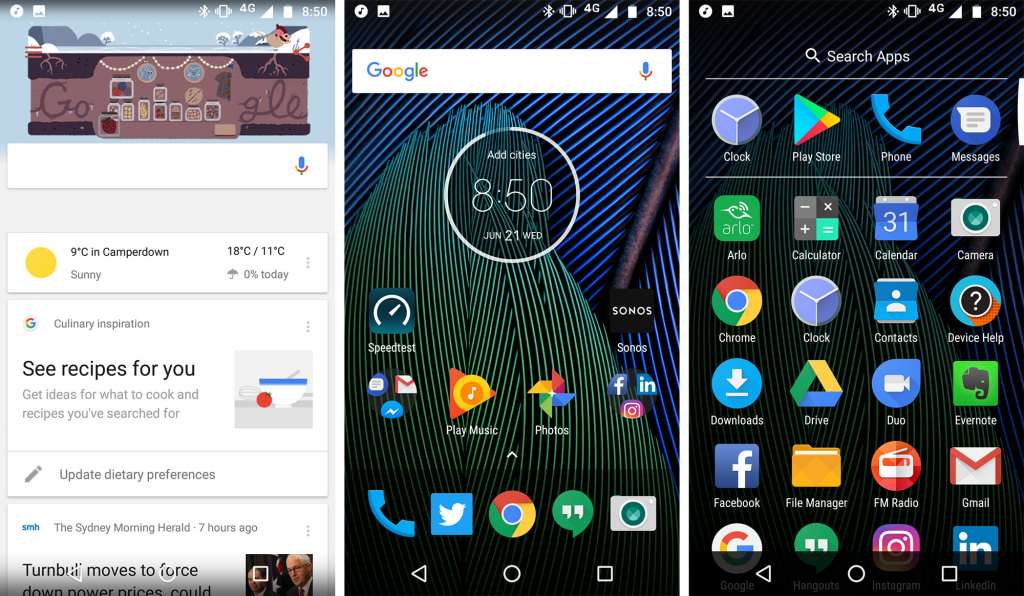 And because Motorola has kept things stock, you'll find usability is pretty much identical to most of the Android phones out now, with on-screen soft buttons that change based on what you're doing, while a softened rectangular fingerprint sensor sits at the bottom keeping the phone locked.
That sensor is a slight change, because now it's a longer sensor rather than the softened square it used to be, and while it's still there to unlock the phone, it can now be used to lock the phone also.
Performance
While aspects of the Pixel OS are here, the Pixel's performance is not, with a totally different processor operating inside the G5 Plus.
Qualcomm's Snapdragon 625 eight-core processor is clearly different from the high-end chip Google used last year, and even different from what we saw in the Moto Z, but it can still handle its own, albeit with a touch of lag as you jump between multiple apps.
Motorola has tried to quell an performance issues with 4GB RAM, and that amount helps, as the only time you tend to notice the slow down as when you know you have too many apps running, which Android will let you close.
Mobile performance is also different, and with the phone rated as a Category 6 LTE phone, you'll see solid download speeds across the country, though they'll only peak as high as 300Mbps maximum, which we didn't find in our testing, getting as close to 77Mbps in our tested across Sydney's CBD.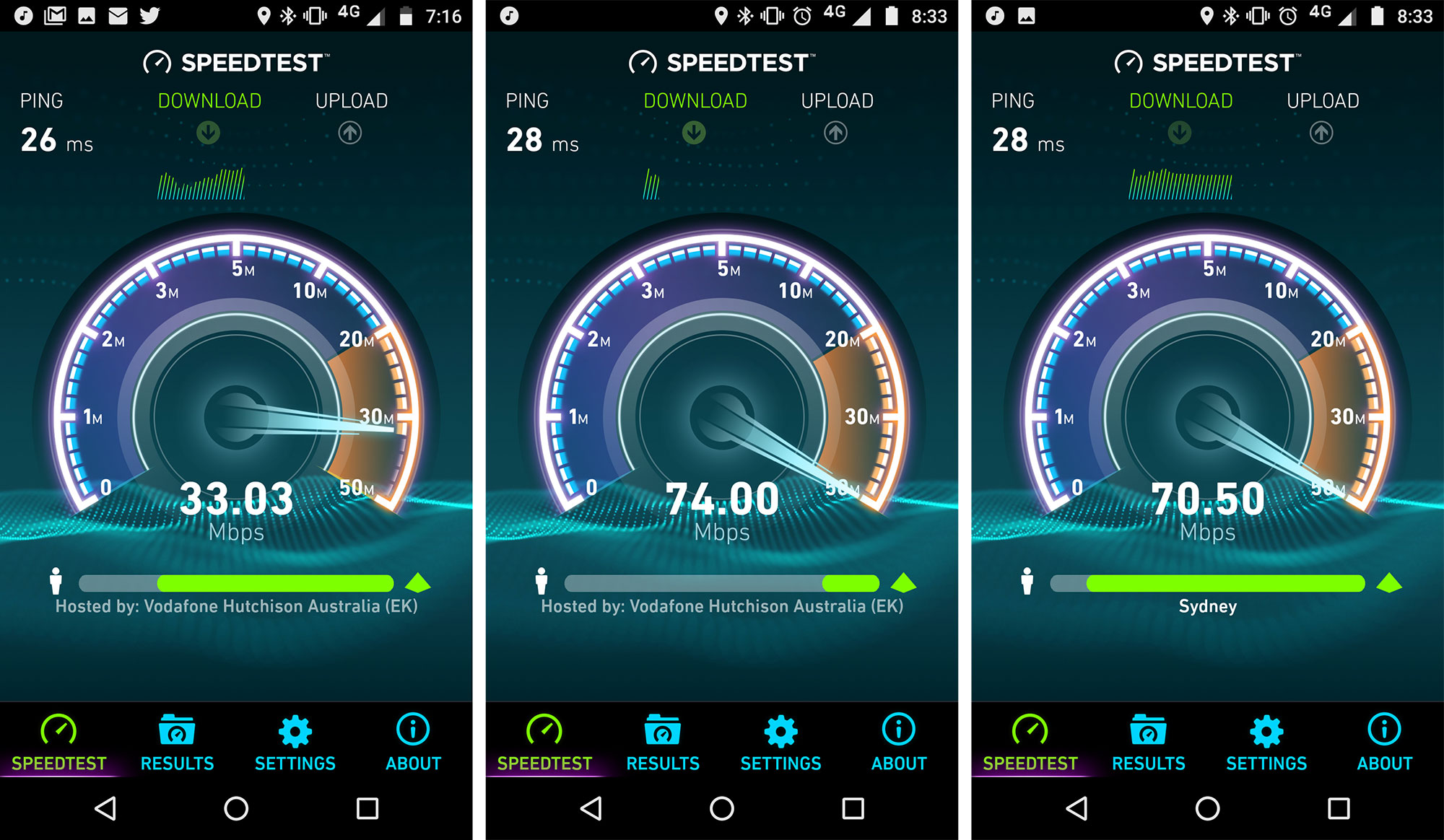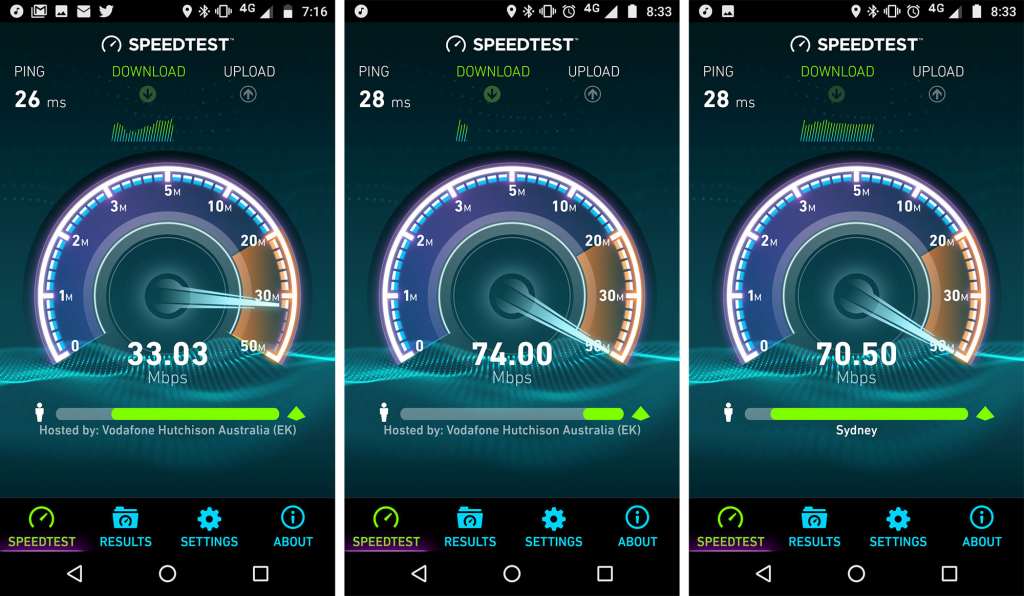 Cameras
Cameras are next, and for that you'll find a 12 megapixel camera on the back and 5 megapixels on the front, and in a nice change, the G5 Plus camera even looks a lot like how the flagship Z series looks, with a slight protrusion out the back.
Inside that camera, Motorola is relying on dual autofocus technology not unlike what we've seen on other cameras, the Galaxy S7 included, making for fast and solid camera focus.
Some old features known to Motorola phones have come along for the ride, such as the easy camera interface and the wrist shake, a gesture Motorola has offered for quite some time that allows you to quickly shake your wrist back and forth to fire up the camera quickly.
Remember that gesture, because it will save you time, and maybe even a shortcut on the home screen, working on pretty much any and every Motorola smartphone we've tested for the past few years!
Back to the camera, the picture quality is where things get a little questionable.
While you'll find some relatively speedy focusing from the dual-pixel autofocus camera, pictures from the 12 megapixel camera are only really usable in daylight, with night-time giving you softer visuals and some blotchy darks when the lights start to go down.
Things get worse as you begin to zoom in, with the images quite soft on details as you hone in and get closer, revealing the camera's issues pretty quickly.
The fact of the matter is Motorola's G5 Plus will handle itself for the odd Facebook, Twitter, and Instagram image, so long as you don't expect to get close or make a severe crop.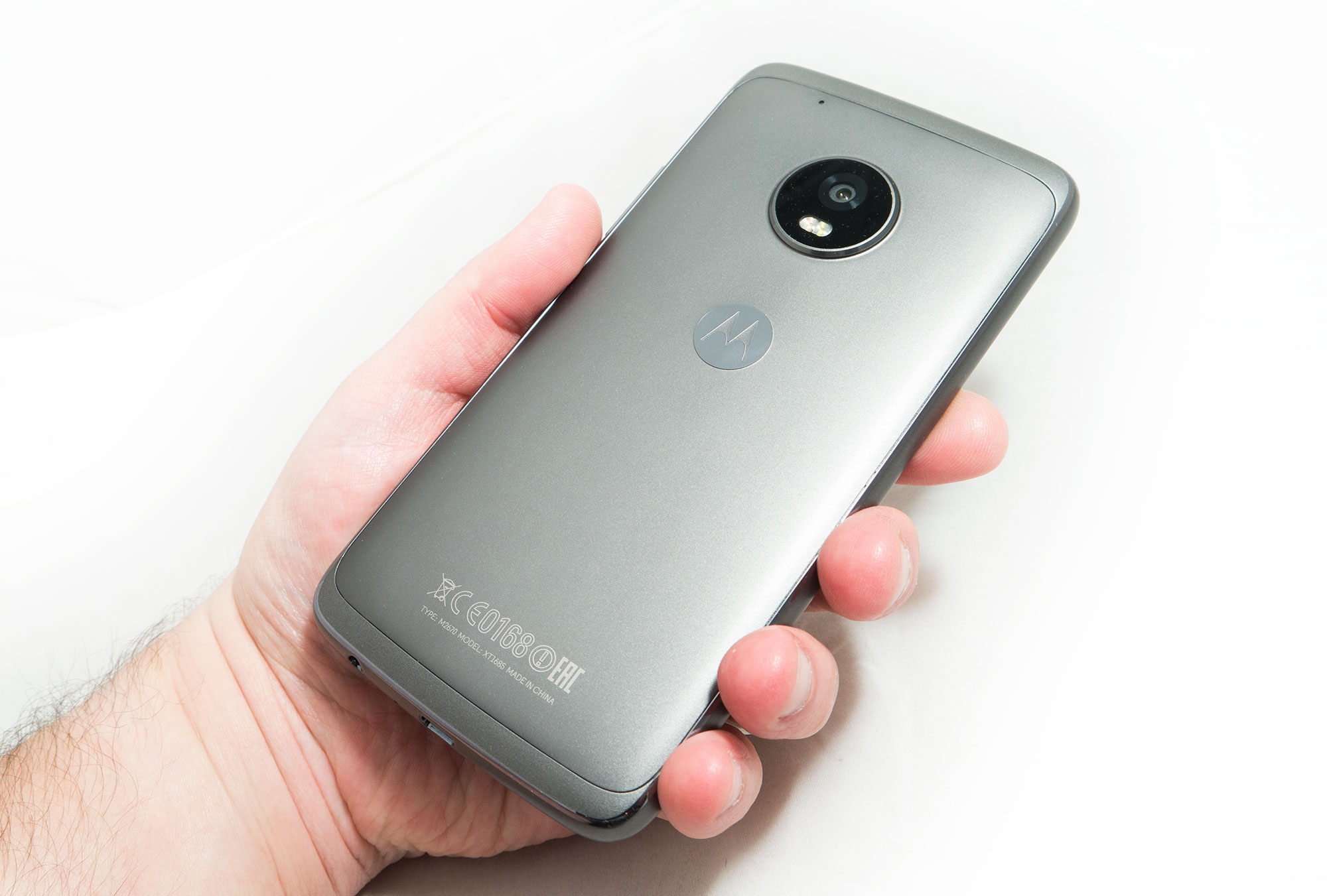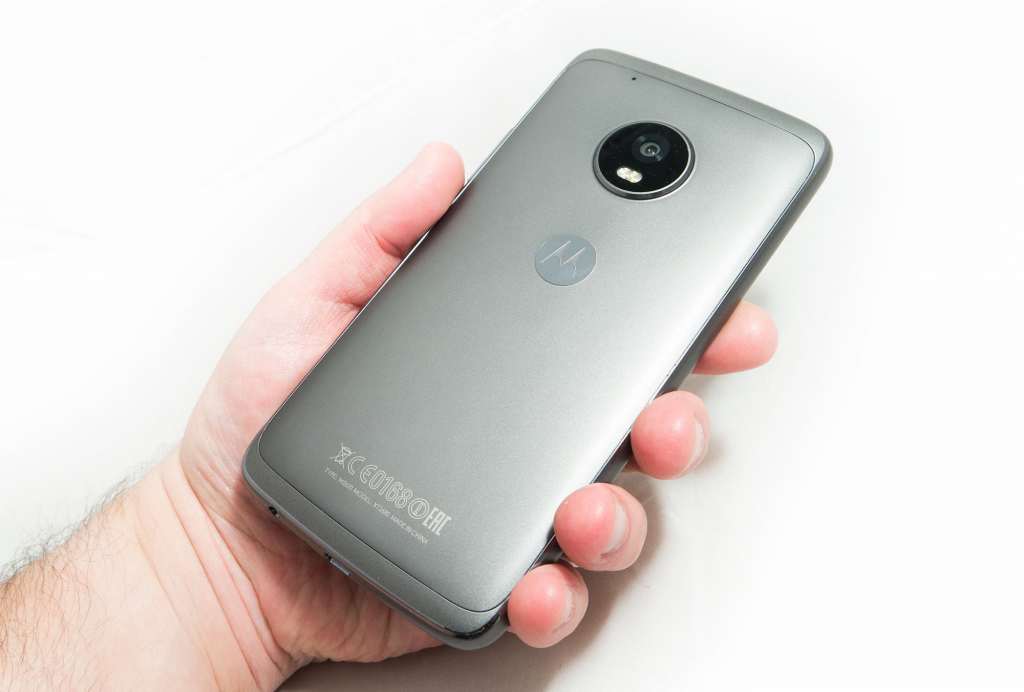 Battery
While the camera needs work, one area that doesn't at all is that of battery life, with the 3000mAh battery inside the Moto G5 Plus really pulling its weight with no problems.
In fact, it came off the charge at 6am on day one and didn't need to go back on until 8pm on day two, something that for us technically constitutes a two day battery life.
As a point, that's two days of battery life with Bluetooth switched on and connected to a smartwatch and a pair of wireless earphones, the former running 24/7 and the latter connected in the morning and evening.
That is very impressive for a 3000mAh battery, and says a lot not just about the processor Motorola is using, but also about the optimisations the company has made to the phone in order to achieve it.
Value
Value is the other side that works well, and while the mid-range competition is well and truly heating up, the $399 price for a 16GB phone with this solid a battery life does stand out, particularly when you get a metal body and a fingerprint sensor.
Tack on an extra $50 and the storage doubles to 32GB, which is the variant of the G5 Plus we tested.
It's hard to argue with a sub-$500 price on a phone that can hit two full days of life with a decent security measure and a metal body, even if that camera needs a bit of attention.
What needs work?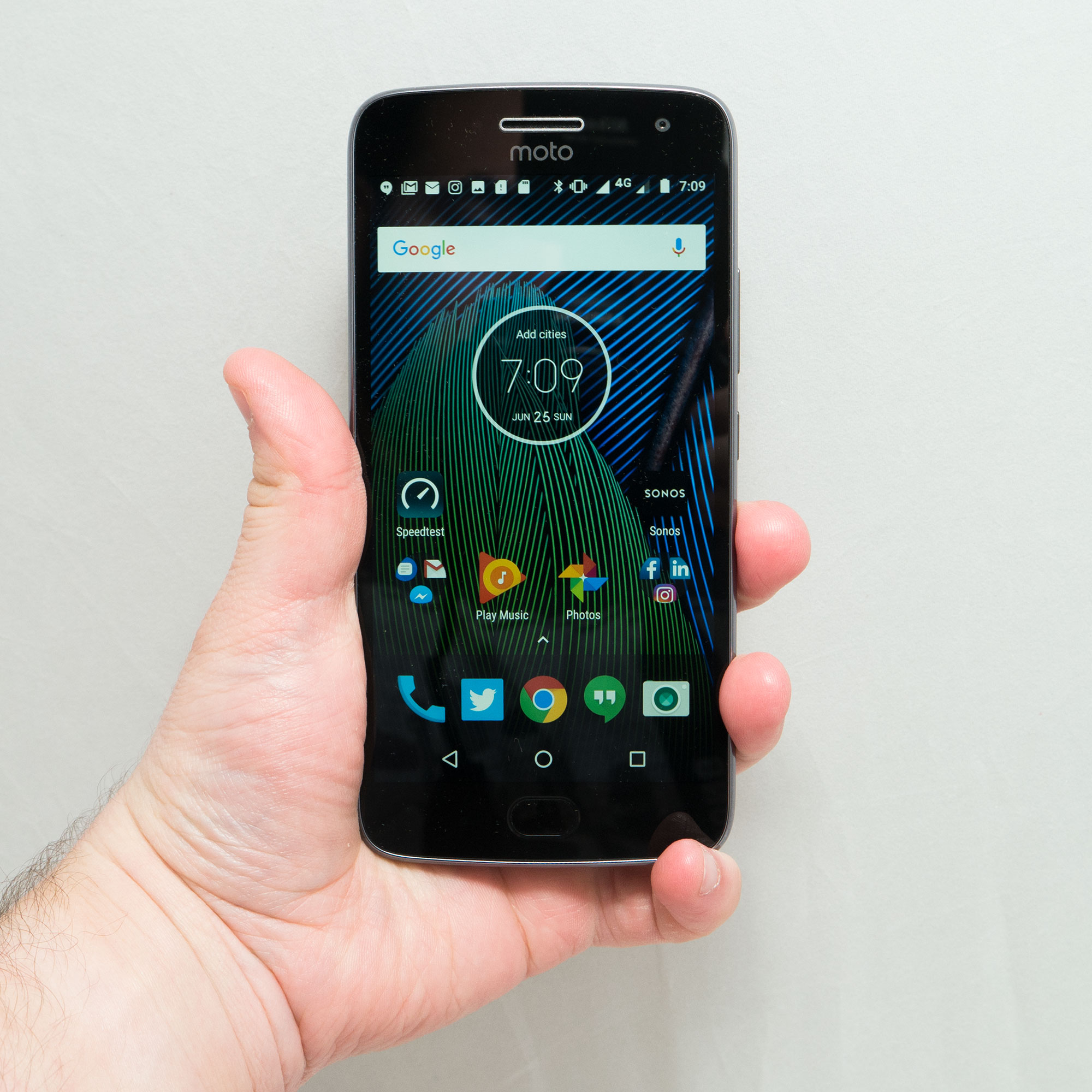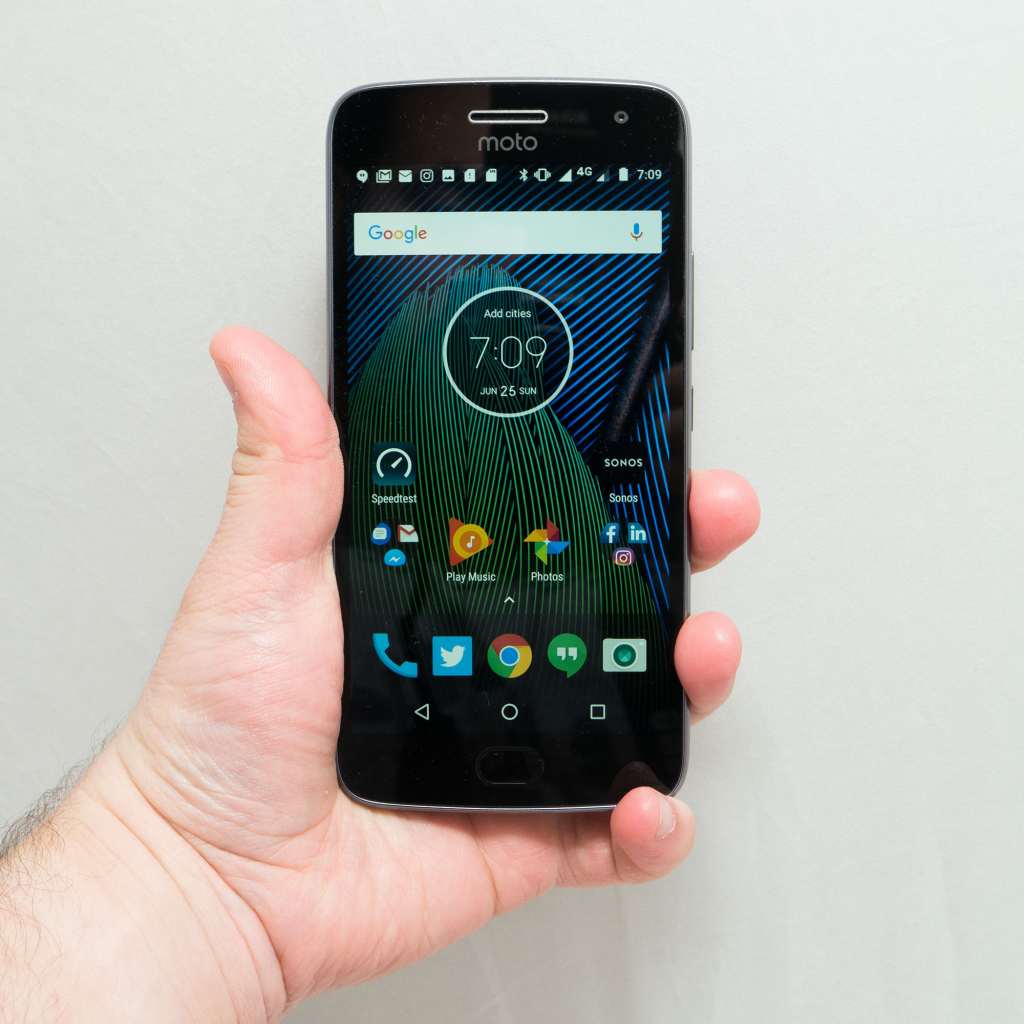 So with a good battery and decent performance, not to mention a nice metal build, you might be wondering what's missing?
Water resistance. There, we said it.
Like last year's G4 Plus, the G5 Plus moves away from the water resistance the company offered on the G3, something that comes as a bit of a surprise since it's a feature more and more smartphones are offering moving forward.
Even Motorola's new Z2 Play offers a skerrick, though its IPX2 rating barely qualifies as more than splash-proof, ideal if you've accidentally gotten it wet or have perhaps dropped a beer and need to get it cleaned off quickly.
Water-proofing in some form, however, would have completed what is otherwise an excellent mobile phone, and we're a little shocked to not see it here.
Final thoughts (TLDR)
Motorola's "G" series has always been solid, but the fifth generation sets an overall standard for mid-range mobiles. While the camera could do with some work, the phone itself offers excellent value, with some of the best battery life in the business, a nice build, support for two SIM cards, and a way of locking down the phone using your fingerprints.
In terms of mid-range excellence, this metal Moto makes it work, especially for the price.
Great 5.2 inch Full HD screen
Responsive fingerprint reader
Decent performance
Supports two nanoSIMs
Solid two days of battery life
Metal build
Good value
Camera needs work
No water resistance