From made for kids to made to do more than what smartphones regularly do, Motorola's mobiles in 2017 look truly special.
One of the original phone makers, Motorola holds a special place in our collective hearts. Not unlike Nokia, which also returned to Australia this week, we're always curious to see that Motorola likes to build, and over the years, we've seen proof that the company wants to be a point of difference in a world that had become same-same.
"Motorola's message is that it's not afraid to be different," said Motorola Australia's Danny Adamopoulos, and this year that's message aims to really show itself.
Amidst a push to become the number three smartphone brand, it will itself offer three smartphones alongside its recently launched mid-range duo of the G5 and G5 Plus, with the new three ranging from totally budget, a little bit more, and a whole lot more with customisation options to spare.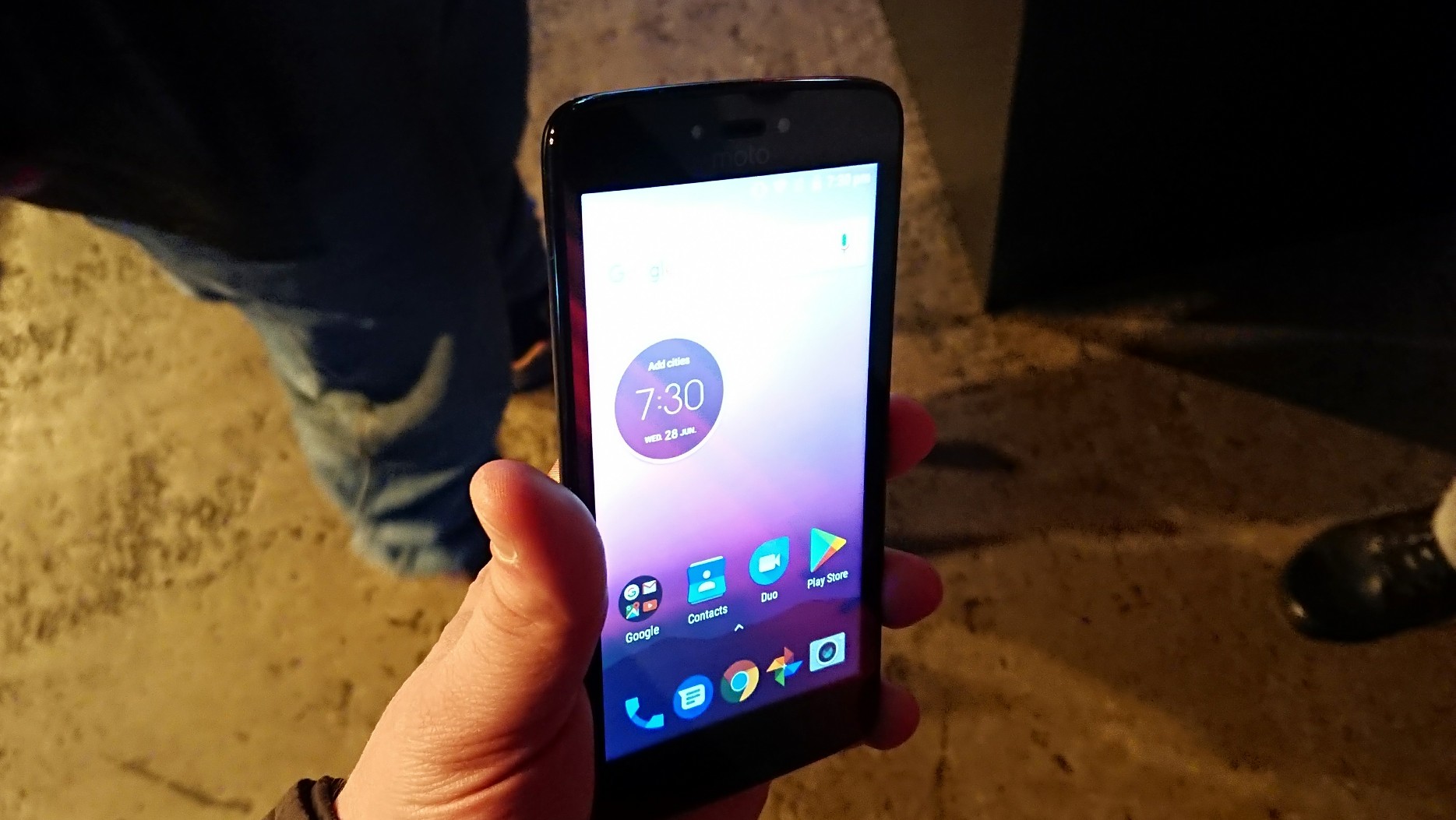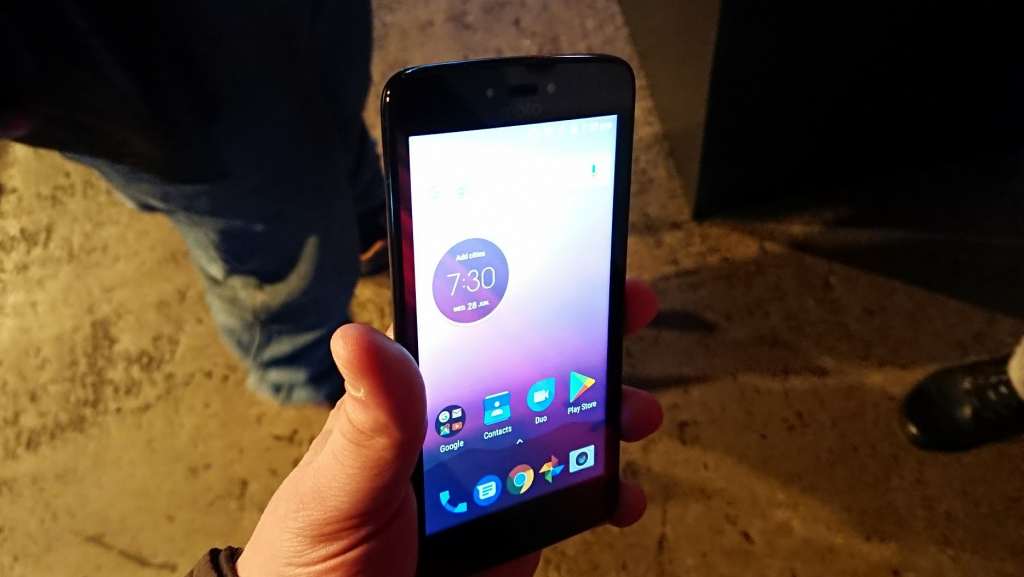 That first one is a more intriguing proposition than you might expect, as Motorola introduces the Moto C, a budget smartphone that is "budget" in perhaps every sense of the word.
The phone will arrive in a plastic case, with 4G, a 5 megapixel camera on the back and a 2 megapixel camera up front, and a 5 inch low-resolution (854×480) screen that from our hands-on this week washes out very easily.
But it also arrives with the most recent iteration of Android, upgradeable storage, and a $149 price point, and that's outright. How often do you find smartphones for below $150 not on prepaid? We'll tell you how often: practically never, and that's why this mobile is so interesting.
While the specs don't sound like they'd be able to hold the attention of anyone over the age of 14 or 15, a $149 phone that stays up to date and runs Google as it is could be a truly intriguing cheap-as-chips smartphone for kids or anyone else that just doesn't want to spend much.
If you want a little more or expect it, Motorola is returning its original budget mobile "E" series to Australia this year.
Skipped over with the last generation, Moto's E4 takes much the same mobile and improves everything for about a hundred dollars more.
You'll still find a 5 inch phone in the Moto E, but in this generation, you'll get a high-definition 1280×720 screen, a metal body, an improvement to the cameras with 8 megapixels on the back and 5 megapixels on the front, and hey, there's even a fingerprint sensor included, too.
The inclusion of metal and a fingerprint sensor tells us that Motorola is going right for the other budget makers with this one, issuing a price attack on Oppo, on Huawei, and on anyone else trying to tackle and dominate the budget and mid-range aggressively, which we've certainly seen in the past couple of years.
In fact, in the hands the Moto E4 feels surprisingly good, and while the metal and glass build can feel a touch slippery from the pre-production units we fondled, for $249, that's a perfectly fine feeling to walk away with, simply because we'll always take metal or glass over plastic. Hey, we just like premium materials. It's a thing.
And "things" are also important for that last phone, as Motorola revisits the "Z" factor.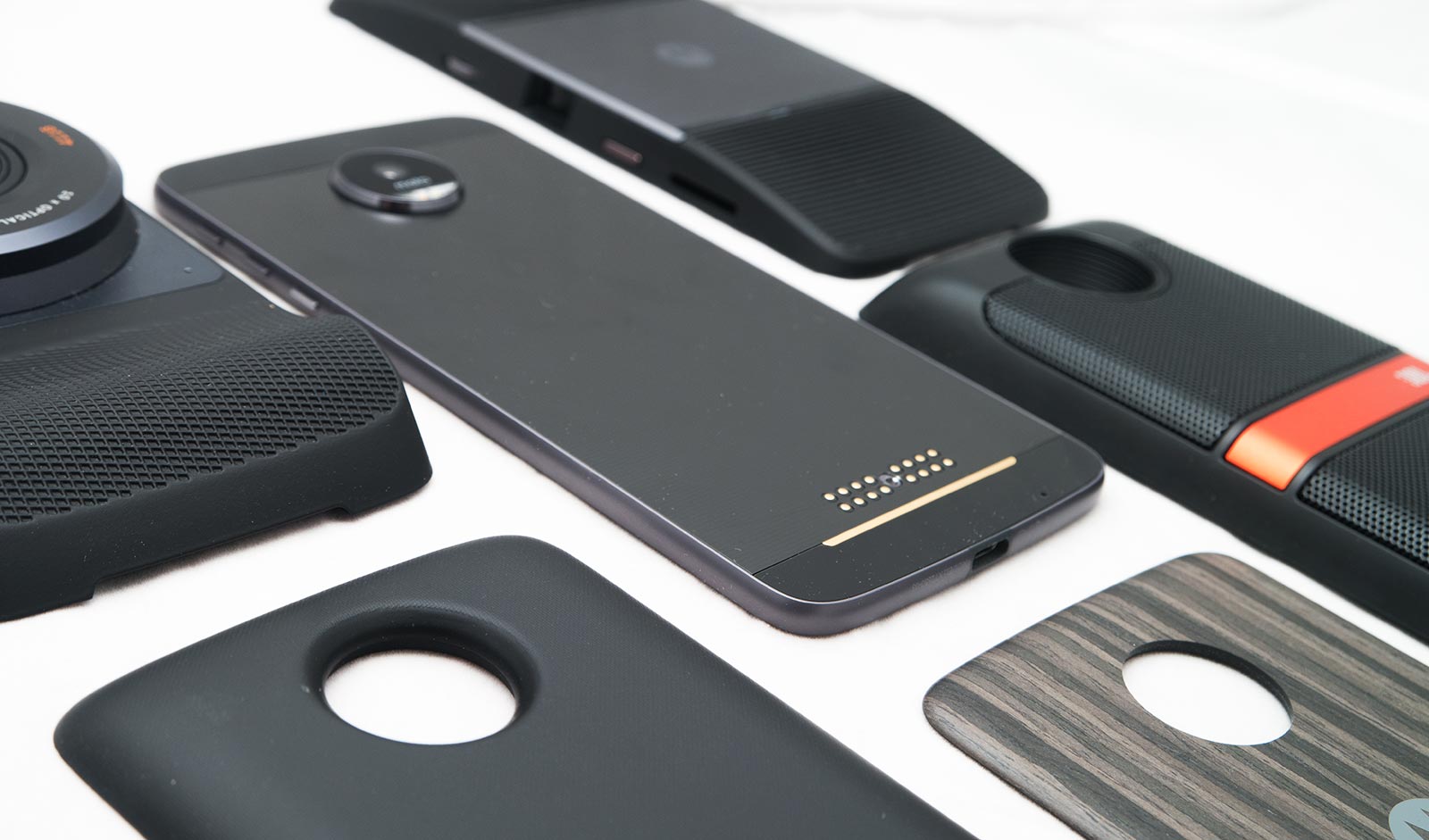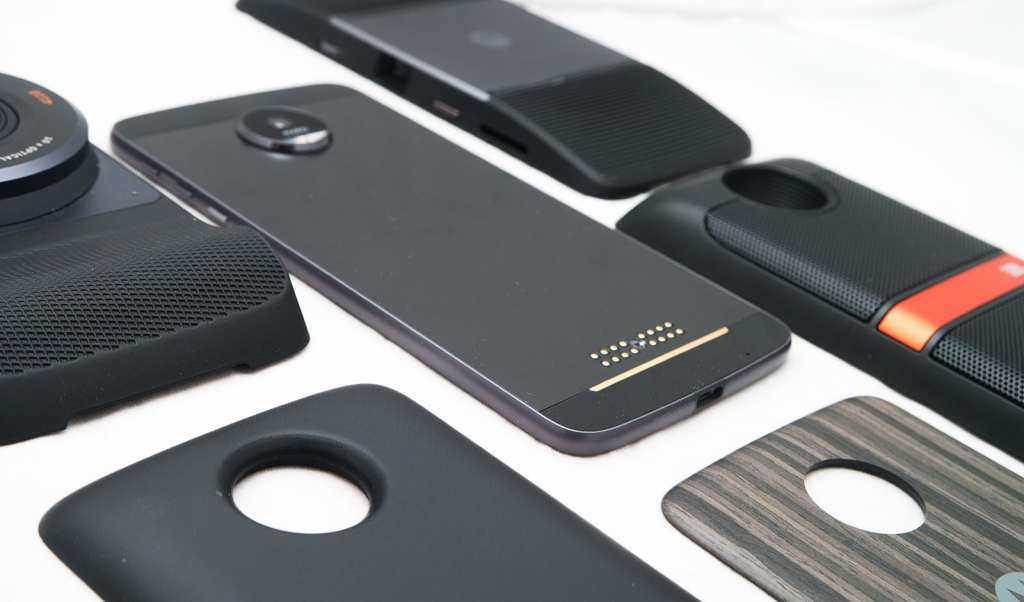 You might remember the first Z, a phone that aimed to deliver something unique to the world: support for accessories that could snap onto the back of the phone and change what it did.
Called a "mod" or more specifically a "Moto Mod", this sort of customisation allows your phone to do other things: turn it into a loud speaker and skip the Bluetooth speaker, add on a special camera accessory and snap pictures with a zoom lens, or attach a projector and literally project YouTube and your favourite photos on the ceiling.
Moto Mods essentially give the promise of total customisation to a smartphone world looking for a point of difference, and the phone itself wasn't bad either. Slim, powerful, and with a nice screen, it was a breath of fresh air, even if it lacked a headphone jack,
This year, the Moto Z is back, but it's coming back first in its mid-range sibling, the Moto Z2 Play.
In this iteration, the 3.5mm headphone jack is back, and Motorola is including quite a lot of value, which could be enough to not only win over hearts and wallets, but call it a "Modest Moto".
For starters, the phone is thin and very premium, delivering a 5.5 inch Full HD (1920×1080) device that is all metal and glass and measures 5.99mm thin, visible from the sides. That size doesn't include the camera hump, however, which extends a little more, though is something we need to measure when we get our review unit.
So most of the phone is 5.99mm thin, and this thinner-than-the-iPhone size actually manages to include a 3.5mm headset jack, a feature you might have missed.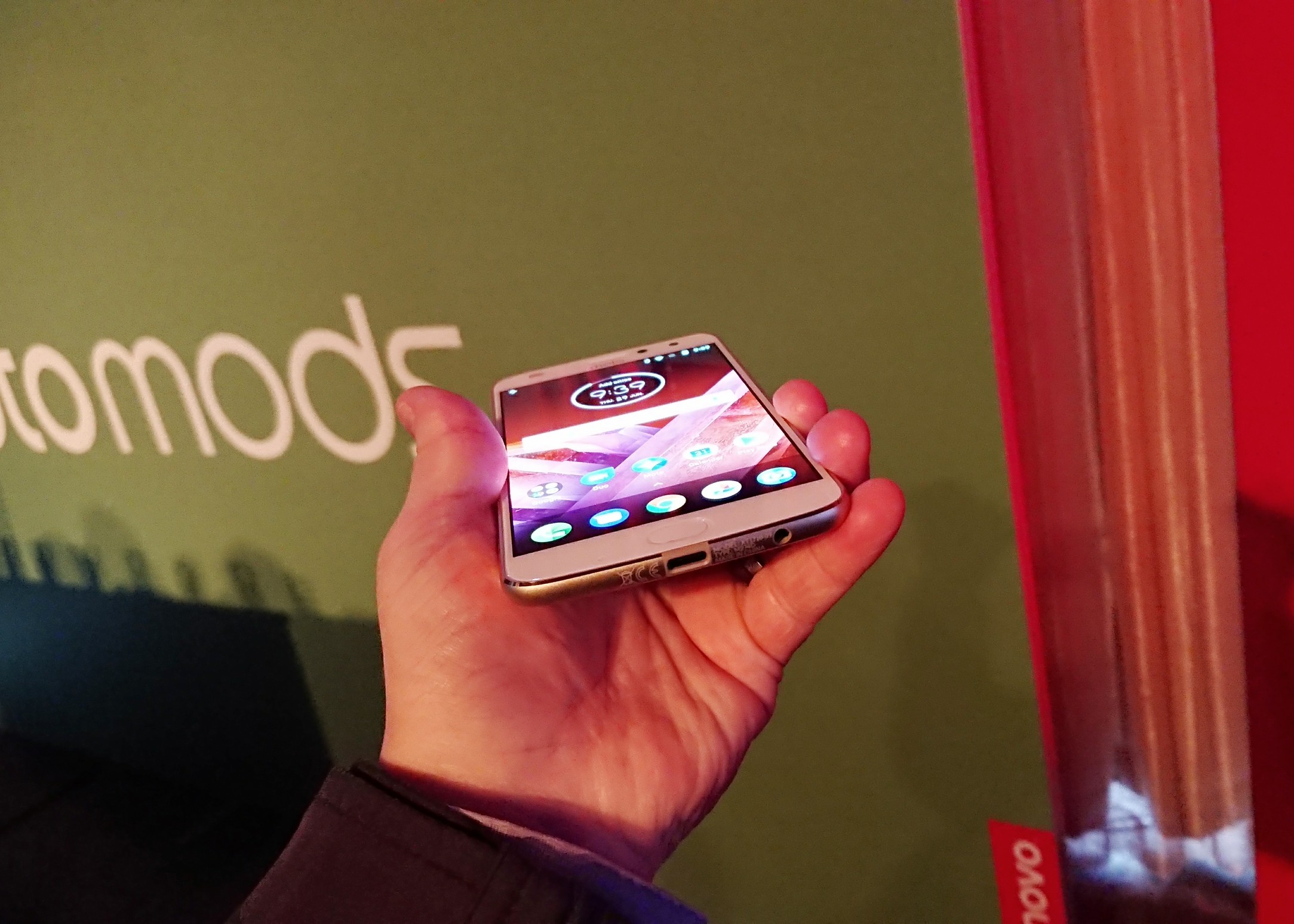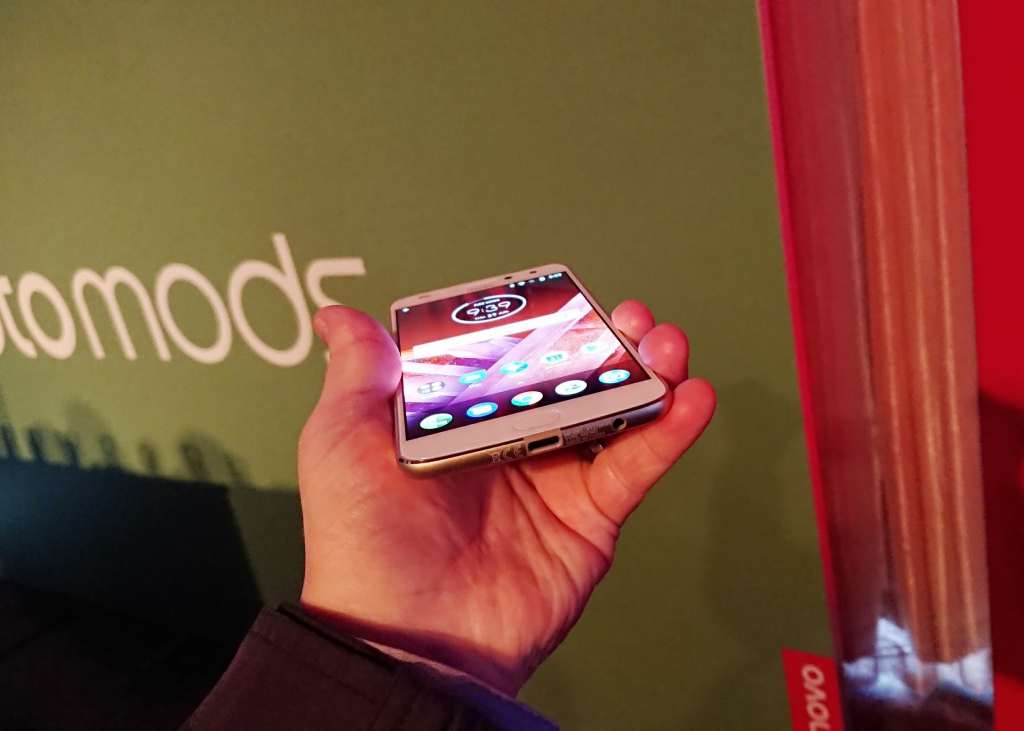 Also included is a 12 megapixel camera on the back with flash and an F1.7 lens, while the front gets a 5 megapixel camera also with a flash, and not just one made up from your smartphone's screen.
There's also a mid-range Qualcomm Snapdragon 626 processor along for the ride, 4GB RAM, 64GB storage plus a microSD slot, the latest Android 7.1 "Nougat", and a fingerprint scanner, as well as a big 3000mAh battery.
And there's also support for Motorola Mods, which are back this year, backwards compatible with last year, and promise to be compatible for three generations, giving you an indication as to how serious Motorola is for its "Mods" to stick around.
So if you bought one or two last year, they'll be compatible with the Z2 Play, likewise if you find some on eBay or on another used goods site, and there will even be a few newbies.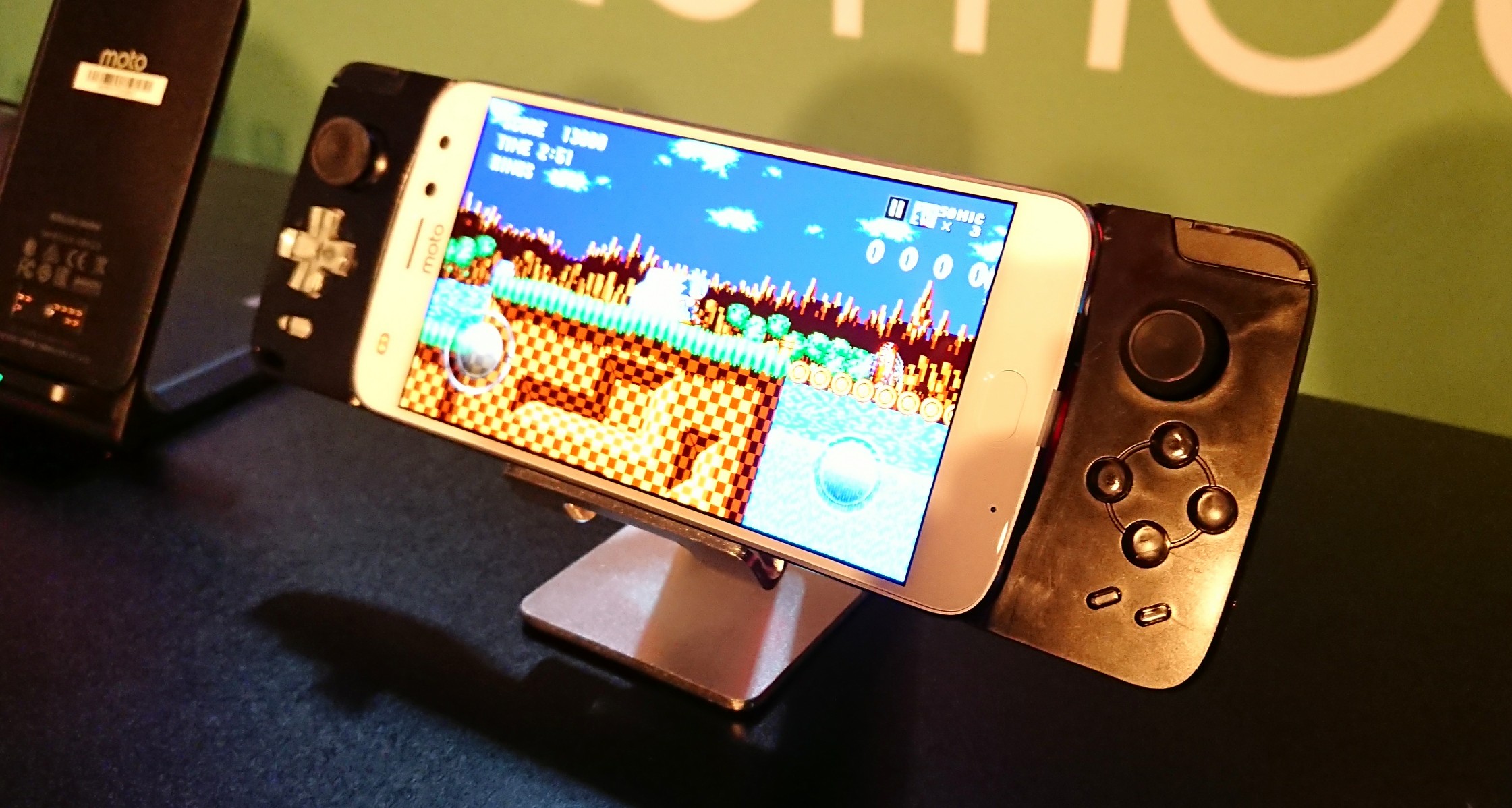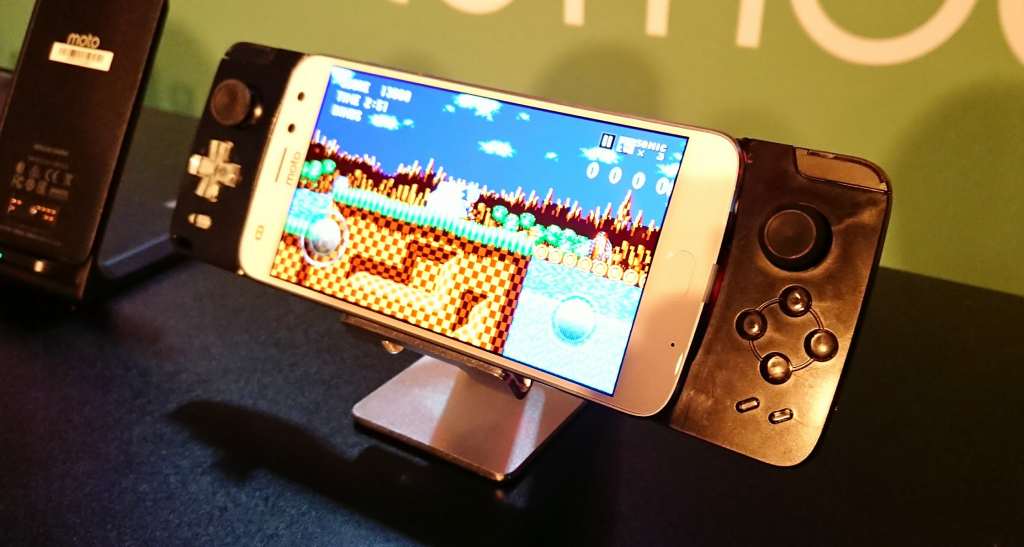 Motorola gave us a bit of a play with a few, including a Turbo Power battery pack that would charge your phone super quickly much like when you plug it into a high-powered USB brick, a more colourful regular battery pack that you can keep plugged in regularly, a new speaker, and even a very cool Lenovo-connected gamepad, which essentially brings both an analogue and D-pad game controller to a smartphone, because phones these days aren't remarkably far from what gaming consoles can do, especially with the quality available in mobile games.
The Moto Z2 Play handset itself felt nice and to hold, too, and while the remarkable thickness is still a little hard to get your head around, it feels like the phone should do nicely for those looking for premium without taking too serious a hit on the wallet at $699.
All three are set to arrive in stores from July, giving you an idea of just how fast these will hit the market, and we're hoping to have reviews soon.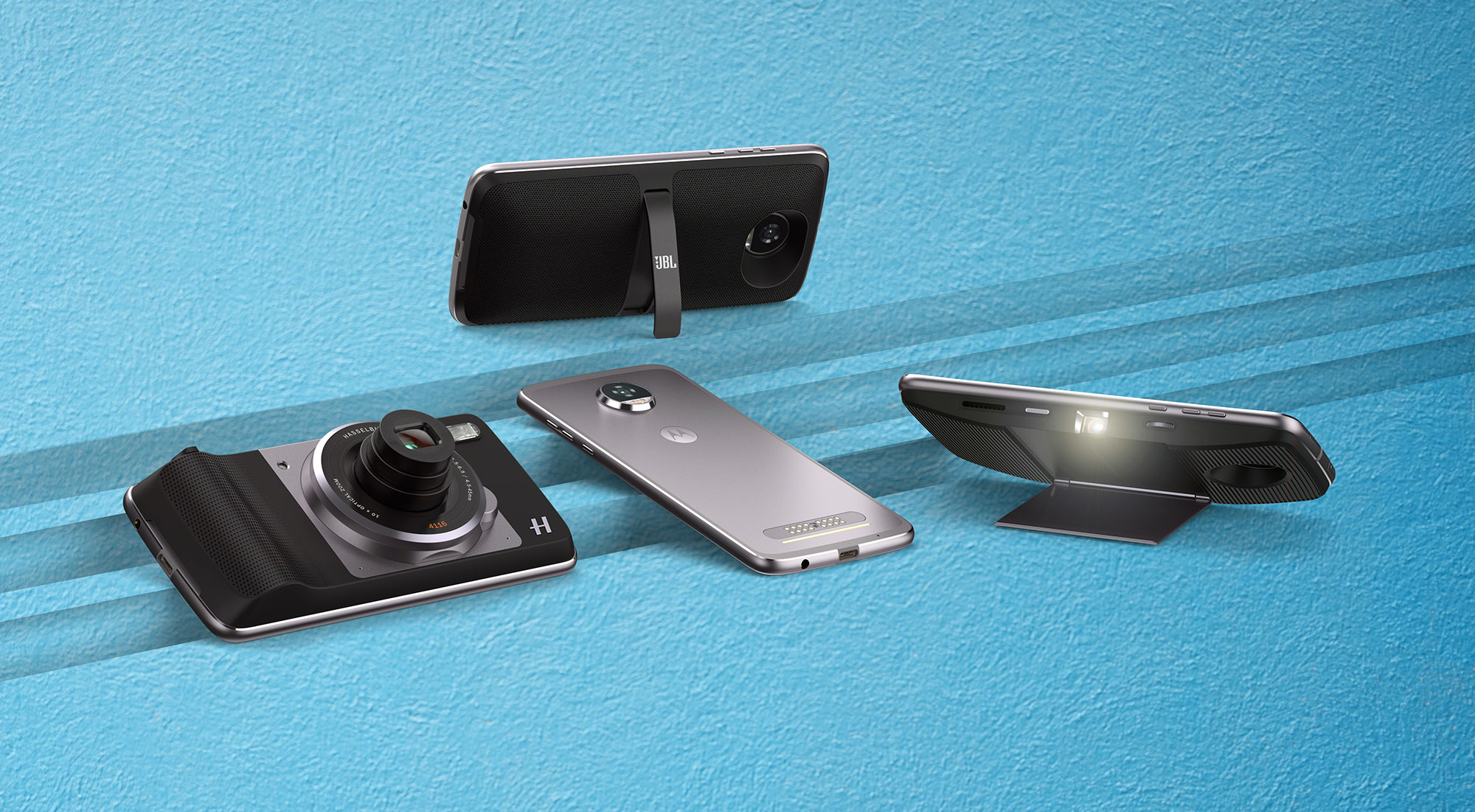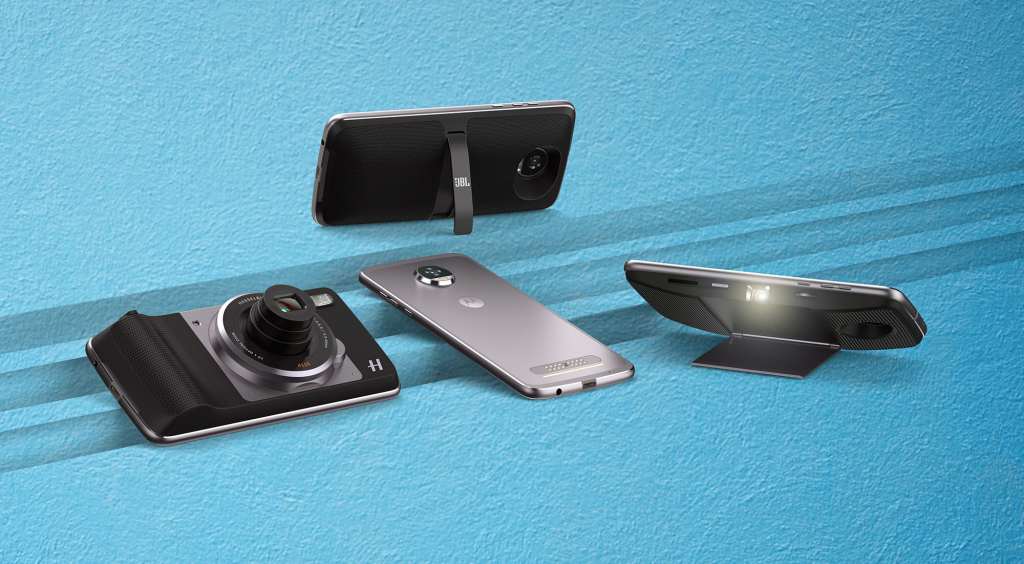 For now, you'll find the Moto C, Moto E (E4), and Moto Z2 Play in the Pickr Trackr for your smartphone comparison needs.