The 55 inch immersive Ark 2nd-gen screen for gamers looking to go beyond regular TV or computer design is now available, but you'll need a lot of money to play.
Gaming on a big screen is now easier than ever, and we have a sheer number of options to thank. There are big computer monitors, big TVs, big projectors, and even small head-mounted displays that trick your brain into seeing something bigger overall, with each of these providing a way to see a big picture as you game.
Each is handy and different, with various options providing a way to feel like immersed in the game thanks to the overall size.
But immersion means different things to different people, and if you're looking for an immersive experience, you may be instead looking for something that swallows you without full encompassing your head.
While a head-mounted display or virtual reality headset can definitely take over your head, it mightn't offer the breathing room that a TV or monitor delivers on. Meanwhile, big screens may not give you that same level of immersion, missing the wrap-around feeling gamers go after.
The solution could be something Samsung has been toying with, using its research into the curved TVs that we no longer have, and making it useful for computer monitors instead.
Curved monitors make sense in working environments because they allow the eye to draw in more of the screen at once, compared to the couch where the central focal point doesn't typically work for more than one person. Flat makes more sense in the living room, while curved has benefits on the computer, and not just for a working world.
For gamers, a curved screen draws the eye of the person behind the screen to the centre, creating an immersion that not only allows them to take in more of the screen, but also potentially have more running on the screen at once, particularly with a big display.
It's with this in mind that Samsung last year launched the Ark display, a massive screen that not only was big and curved in the standard horizontal mode, but also worked in a portrait configuration, able to give a tall view with a 1000R curvature to wrap around a field of vision.
This year, the Ark is back as Samsung makes Gen 2 bring the screen up to date alongside the rest of Samsung's screens.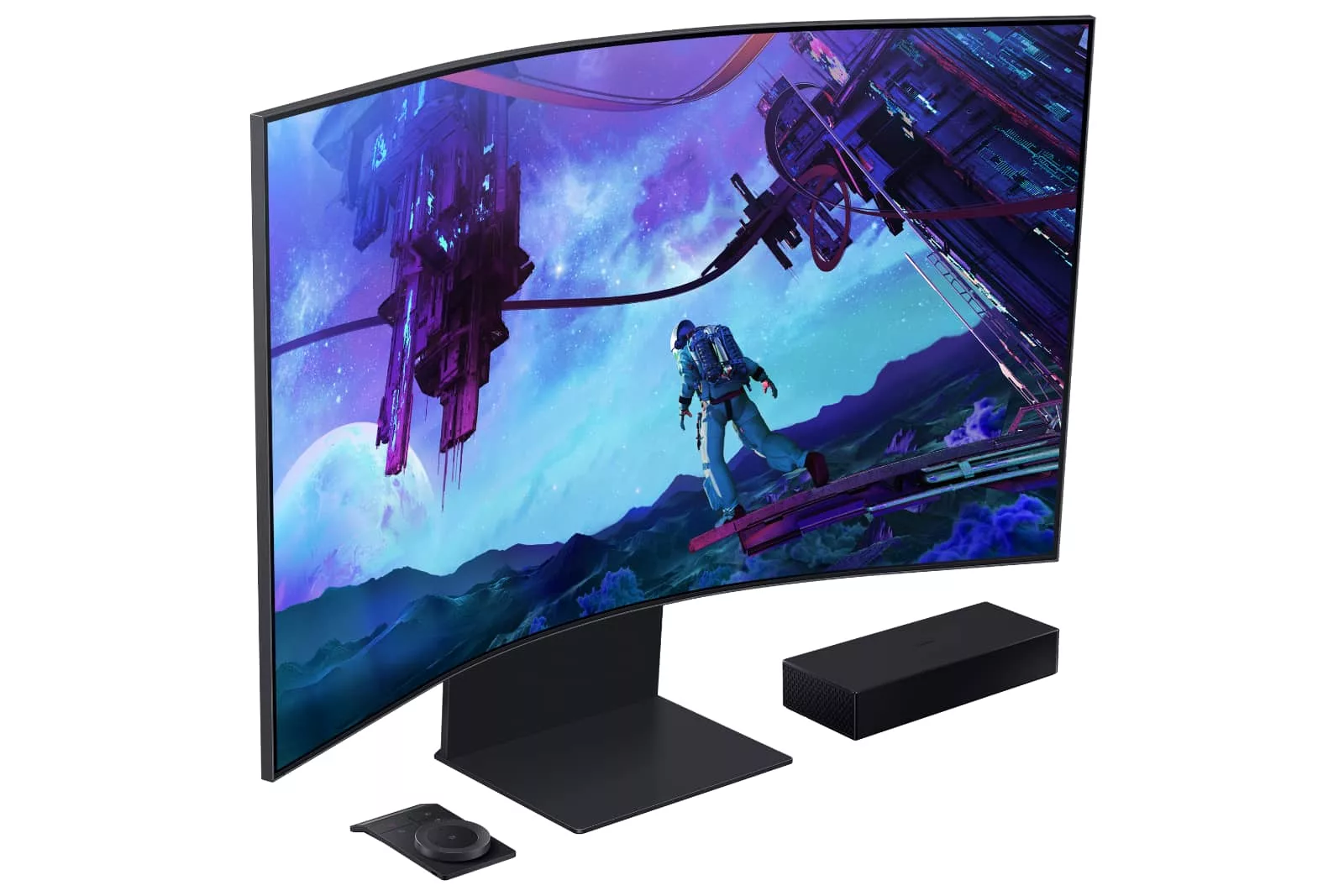 It'll still offer a 55 inch curved display, but will include a multi-view input system to let users see up to four devices on screen at once, helped by a box that includes three HDMI ports and a DisplayPort connection, basically turning the system into a monitor switch of sorts, complete with keyboard and mouse support. Up to four connections mean up to four different windows for gamers in horizontal mode, though portrait's tall positioning limits it to three, something Samsung calls "cockpit mode".
The technology includes Quantum Dot on Mini-LED, making it similar to what's in Samsung's high-end TVs this year, while the 55 inch screen is a 4K panel controlled by a little solar-panel dial you can leave on your desk.
That panel gives you some control of what goes on the picture, allowing you to move items on the display with a feature called "Flex Move Screen", which doesn't physically move the display, but instead changes the position and aspect ratio of on-screen content, allowing you tailor what you see to your preferences.
Outside of this, expect a speedy 165Hz refresh rate, support for AMD FreeSync, Samsung's Smart TV interface with its Xbox Cloud Gaming-compatible Gaming Hub, and a 60W audio system with Dolby Atmos spatial audio support of sorts.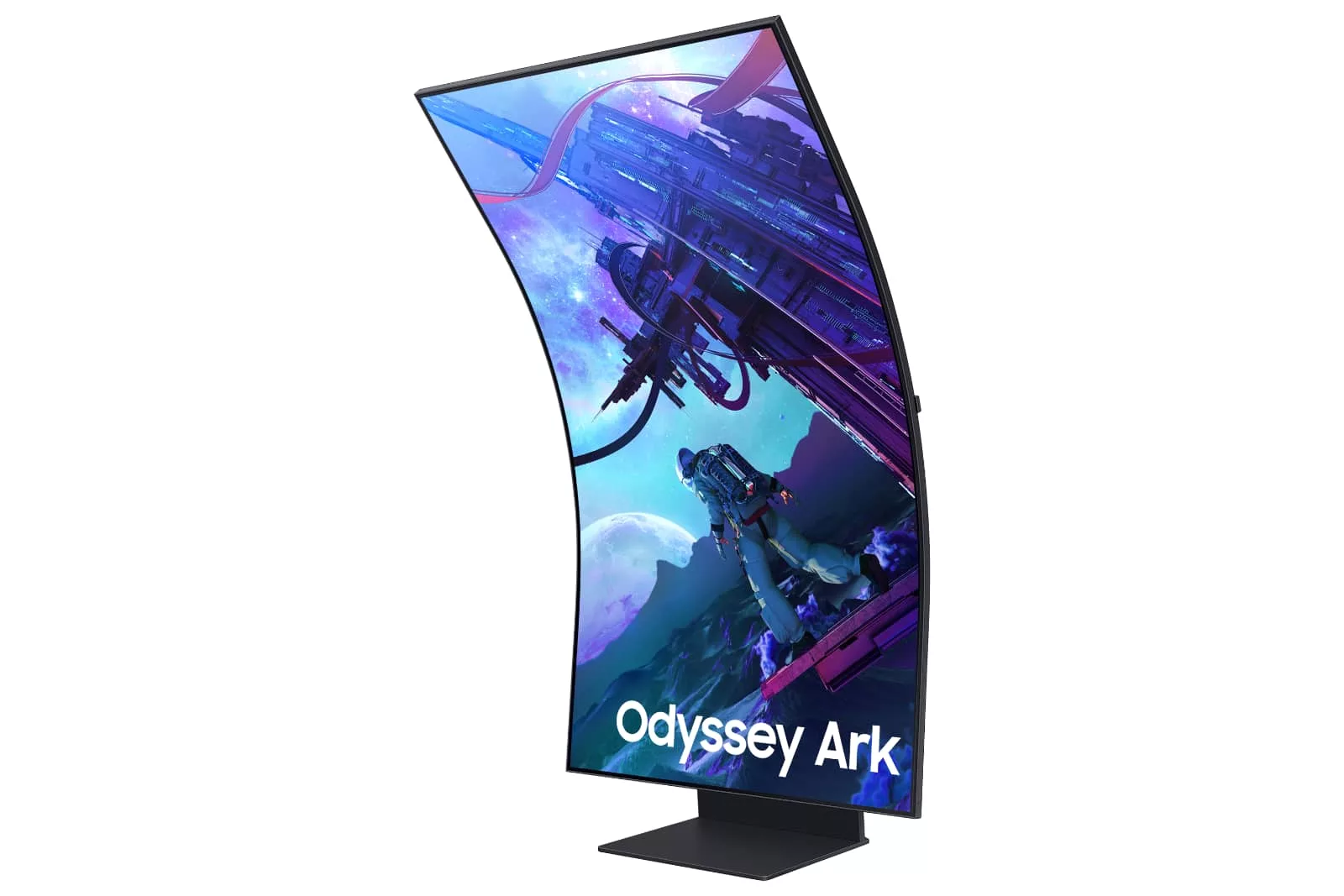 "We are thrilled to bring these new enhancements to the Odyssey Ark, which assist in creating the ultimate entertainment screen for premium gaming experiences," said Phil Gaut, Senior Director of Display and Brand Memory for Samsung in Australia.
"The new features come from Samsung's mission to meet the dynamic needs of the gaming community, in which ground breaking design, performance and personalisation is optimised to inspire a new way of gaming," he said.
This is a premium screen, however, and so pricing for the Samsung Ark 2nd-gen is equally premium.
In Australia, the 2023 Samsung Ark is set for a price of $3999 locally, with availability only found via the Samsung online store.