New Amazon gadgets are on the way, and they're focused on the home in more ways than one, as a new generation of Echo and Fire launches locally.
Turning your home into a smart home has never been easier, what with all the WiFi and Bluetooth arriving in gadgets of late.
Need a smart light? There are bulbs that can screw right in. How about a laundry machine that can be monitored from your phone or watch? Yep, those exist, too. And what about a connected security camera, doorbell, floodlight, or some other form of home security? There are plenty of those.
While upgrading your home to a smart home is easy enough with the right tech, managing it all can be a little fun. There are standards to help with that, what with Matter, Thread, and Zigbee available, not to mention the smart assistants of Google Assistant, Amazon Alexa, and Apple Siri that can assist, but if you want a visual top down approach to managing the home, you typically need to dive in and out of apps and settings.
Fortunately, things are changing, and at least one gadget coming from Amazon seems to suggest smart home management will get easier with time.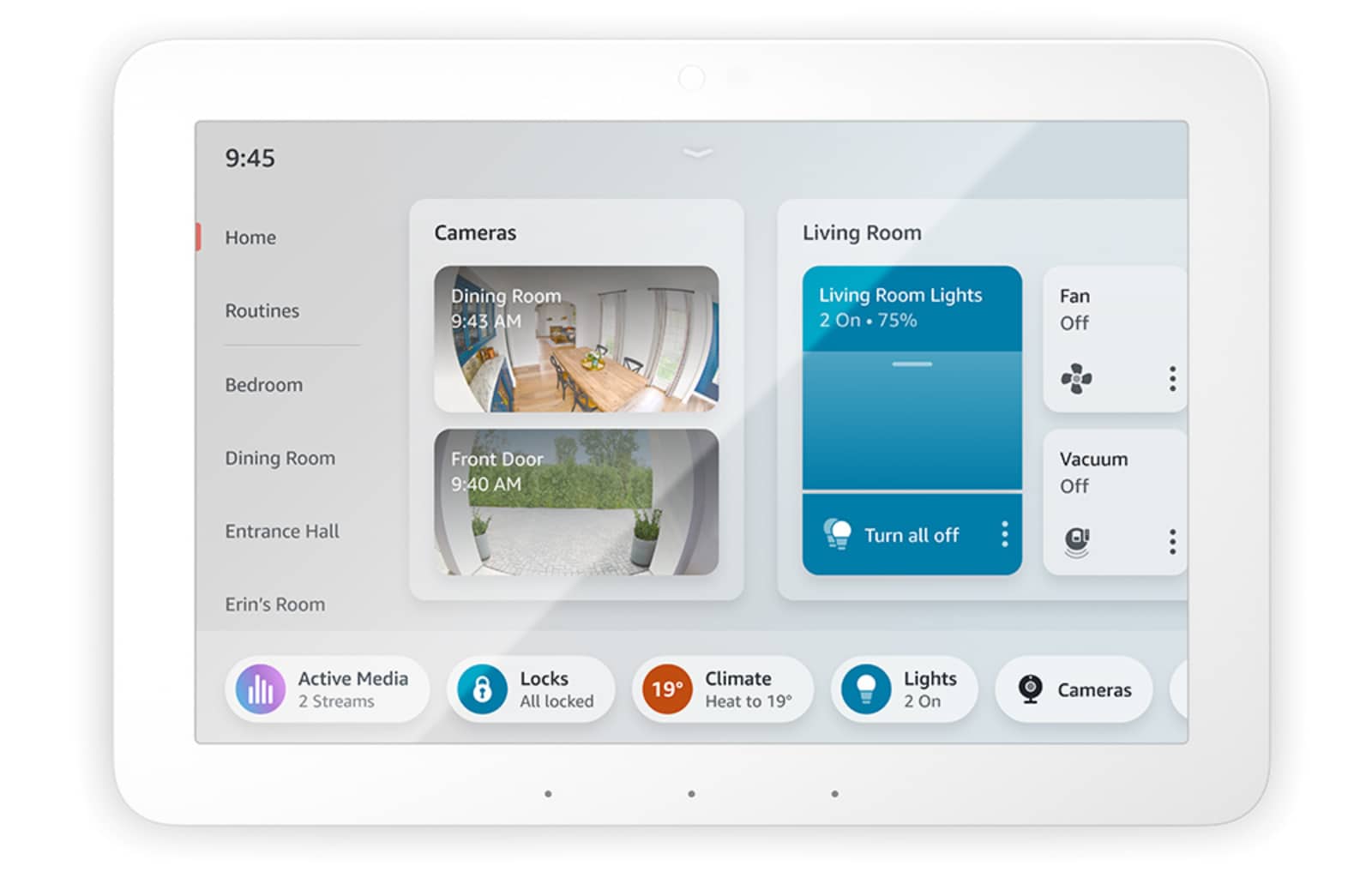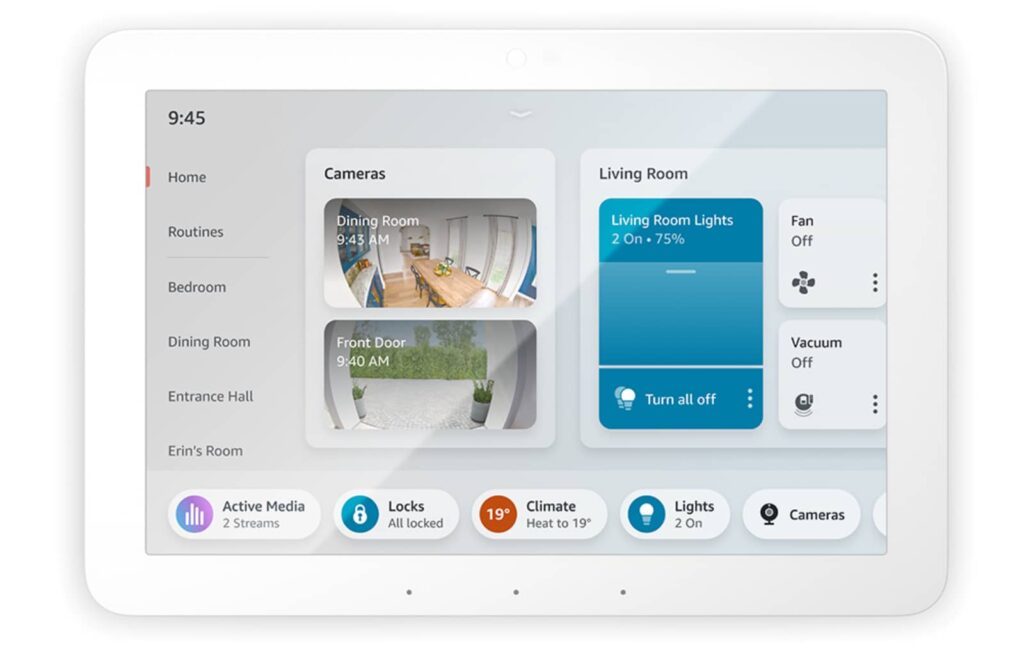 The latest Amazon Echo looks designed for just that. Called the "Echo Hub", it's an 8 inch smart home control panel designed to be wall mounted that could also be set on a stand, and will feature a customisable dashboard to track and manage smart home devices.
Think of it as a more complex version of the air conditioning panel you might have at home, offering a way to group smart home devices, control volume and media, and typically see what's smart and on inside your home.
Like other smart displays, Amazon's Echo Hub will work as a smart display when not in use, offering the time, weather, and even a collection of photos not unlike how you can turn a Google Nest Hub into a photo frame of sorts.
Amazon notes that its Echo Hub will support those aforementioned regular smart home standards — Matter, Thread, Zigbee, and of course Bluetooth — and that it's compatible with more than 10,000 devices, plus plays with power-over-ethernet by way of an adaptor.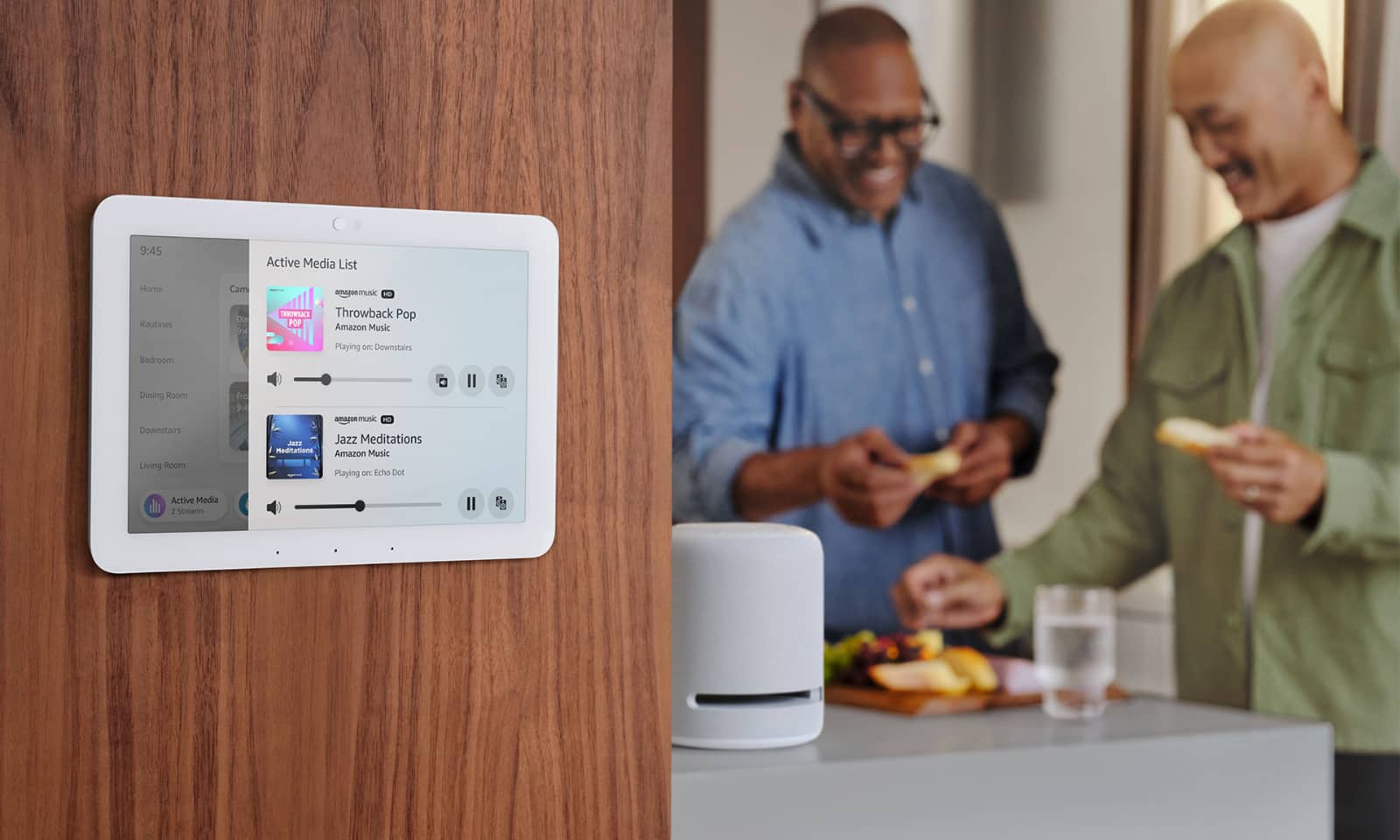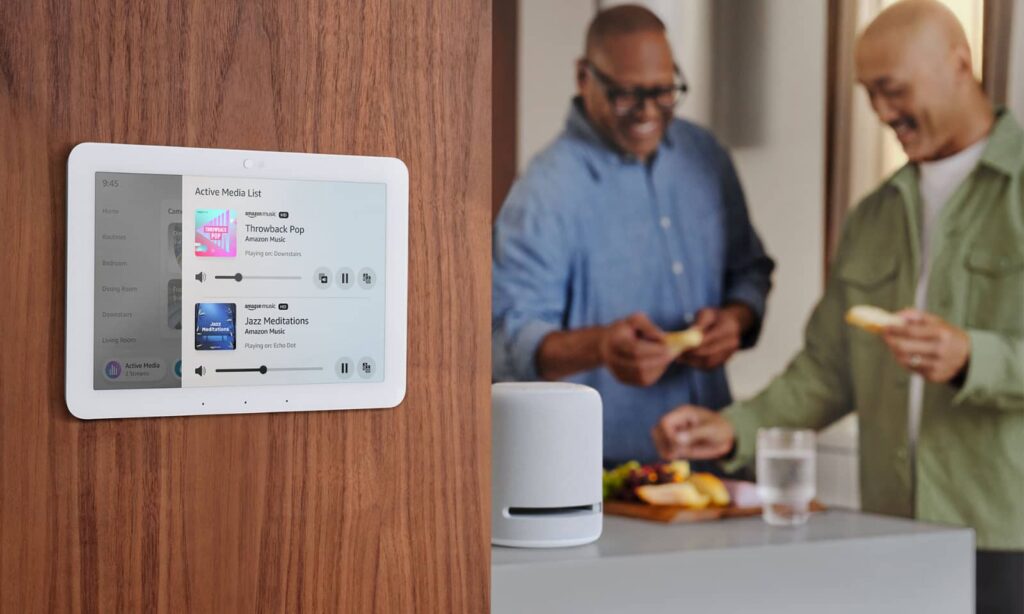 Rotating your pictures is one part of what Amazon's new devices can do for your entertainment, but there's another gadget coming that can also do that and a little bit more.
Amazon is launching two new variations of its smart TV gadgets, the Fire TV Stick, which will see a $79 Fire TV Stick 4K clearly out to compete with the Google Chromecast, while a more premium 4K edition called the Fire TV Stick 4K Max will cost a little more and make your TV into a piece of art. Kinda sorta.
While the Max edition of the Fire TV Stick 4K comes with faster WiFi in its support of WiFi 6E, it will also get support something Amazon calls the "Ambient Experience". Distinct to The Hendrix Experience or even The Kennedy Experience, the Ambient Experience is Amazon's attempt to convert TVs into something like a smart display, showing more than 2000 pieces of art from around the world without a subscription, including some from Australian artists.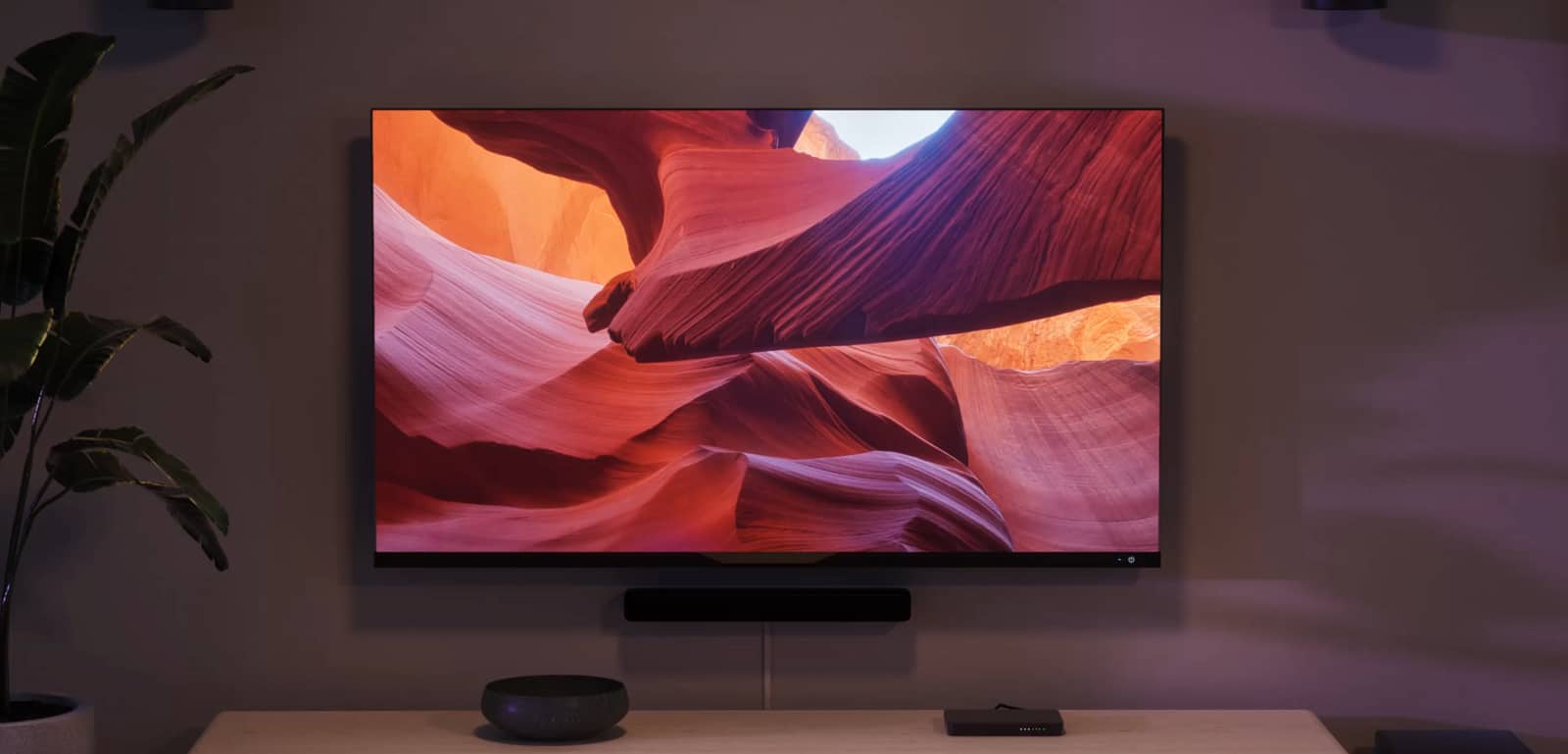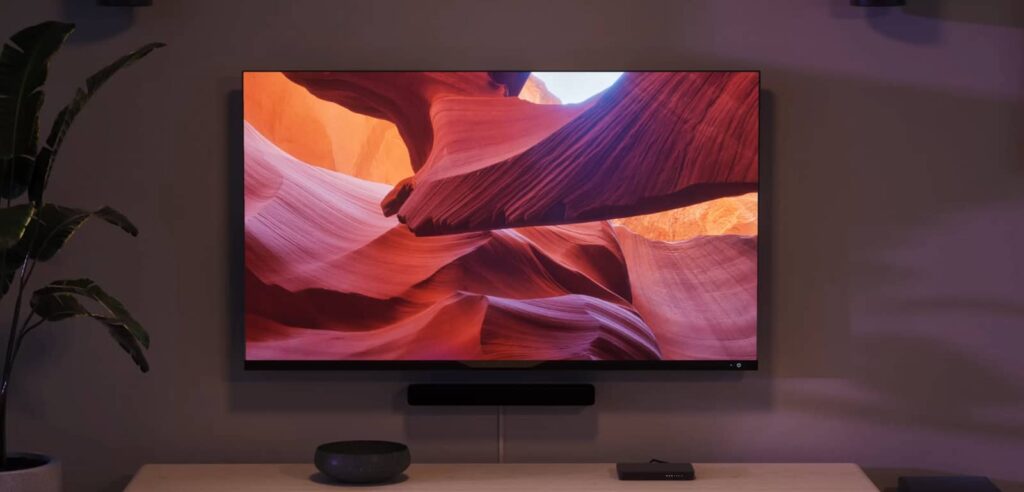 It's a little like what Samsung offers on its The Frame TVs, at least in concept. The main difference, however, is that Amazon's Ambient Experience won't likely lower the screen brightness and make the image look like it belongs on a wall. Rather, it'll be gallery images on a TV at whatever brightness your TV regularly runs.
Outside of the Ambient Experience, Amazon's Fire TV Stick 4K Max will offer support for streaming services, 4K video, Dolby Vision HDR, and Dolby Atmos audio, handy if you happen to have a supported Atmos soundbar, too.
Priced at $119, the Max edition of the Fire TV Stick 4K is less than $50 more than the standard edition, but gives you that little bit more, with both bringing Amazon's Alexa voice assistant to TVs regardless.
Both Fire TV Stick additions to the Amazon gadget lineup look to be heading to stores and online later this month, while the Echo Hub's arrival in Australia is very much in the status of "coming soon".