It's not just Huawei and Samsung that have shown us a foldable phone, with TCL showing something off in that category, too. But TCL owns Alcatel, so does that mean a modestly priced foldable is on the horizon?
As expected, Mobile World Congress has offered new phones aplenty as it always does, and the anticipated feeling that the 5G and foldable future will start now. The past week or so has seen at least two foldable phones, at least one of which had 5G inside, but not a single one of them has come across that it will be the least bit inexpensive. Far from it.
Every time we've seen a glimpse of a foldable phone, seeing the height of convergence it's been able to address has given our wallets pause, screaming the feeling "this thing isn't going to be cheap".
While there's been no official price for Australia for any of them, the suggested US pricing goes beyond the complaints of an expensive phone made by any other smartphone brand, and ventures into the territory that only early adopters dare justify.
But one brand normally known for less expensive phones is showing something at Mobile World Congress that could give hope: TCL.
You probably know TCL from its TVs, but you might also be interested to know that it owns Alcatel, a brand that not only has its own Alcatel phones, but also makes the BlackBerry models that have been coming out for the past couple of years.
Most Alcatel devices in Australia tend to sit as inexpensive phones, and indeed, we haven't really seen a flagship Alcatel as of yet, though we're sure one will eventually come along. Based on what TCL has shown at Mobile World Congress, it might even be a foldable design.
At the show, TCL previewed what it's working on for the foldable category, building what it calls a patented solution called "DragonHinge".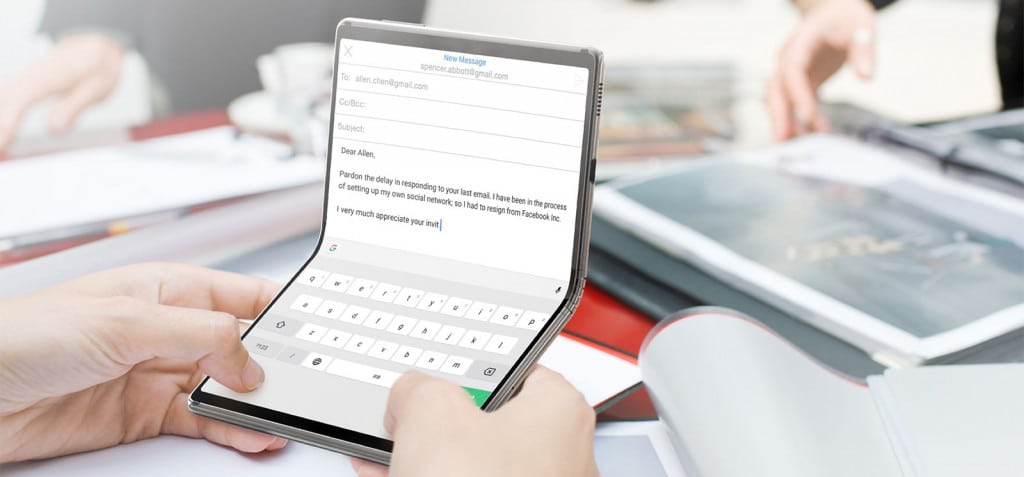 Like at least one other foldable phone we've seen in the past two weeks, TCL's DragonHinge uses AMOLED as its screen technology, but is built using flexible AMOLED displays that can bend and fold in place by way of the DragonHinge mechanical housing.
As exciting as another foldable phone is, you might want to hold onto your expectations, because while TCL is building and experimenting with foldable designs, it has said that consumer-ready devices aren't expected to arrive until 2020.
"When we look at the practical application of flexible display and foldable mobile devices, there are really three challenges that need to be overcome: the flexible AMOLED display itself, a durable mechanical housing, and of course the software that can seamlessly adapt to these new form factors," said TCL's Shane Lee.
"We now have a hardware solution to build from, freeing us up to tackle the unique software experiences this new technology enables, and how it all ties in to the larger connected ecosystem as we prepare to launch our first foldable device next year," he said.
While it's a little disheartening that TCL won't be among the first with a foldable phone of its own out in the world, the extra time could allow it to nail the bugs that the first models from other companies might have, while also allowing the technology to find a better price point.
There's little doubt that the first generation of foldable devices are going to be pricey, and that's something few TCL-made phones we've seen have in common.
With a year separation, it's genuinely possible that one year could make it possible for TCL to build a mid-range variant of a foldable phone under the Alcatel brand, as well as a high-end model for the BlackBerry brand, releasing next year to shake up a market focused almost entirely on the high-end.
Like all technologies, foldable phones will likely trickle down from the high-priced flagship to the more affordable mid-range over time, but how long that will be, no one can really say. However it's possible that could be expedited if we end up seeing models from manufacturers that have predominantly only become known as a budget and mid-range maker.