If you still fancy a Samsung phone with a big screen and several camera, you won't have to spend a thousand bucks this year. Far from it, actually.
We're not even halfway into the year, but if your'e keen to buy a big phone, you definitely have choices. Everyone is embracing the big phone, because a big screen means you can see more, and it also means manufacturers can throw a bigger battery under the hood.
And that's something everyone is getting into. You'll find bigger batteries in flagship phones, including both the Samsung Galaxy S10+ and the Huawei P30 Pro, two of 2019's biggest phones already, and you're also going to see bigger batteries in the mid-range and budget categories, as well.
Motorola only recently announced a big battery was coming in the mid-range with its G7 Power, and now Samsung is getting in on the fun with both the big screen and big battery without the big price point.
That's what's coming in the 2019 Samsung Galaxy A series, which from what we understand is a shift from Samsung's regular budget Galaxy J range to the A series.
Essentially, you'll find both budget and mid-range in Galaxy A this year, distinct from previous years where it's been split across. Fortunately, the Galaxy A numbers will help you work out the difference between the models, as will the price points.
From the top to the bottom, there's the Galaxy A70, Galaxy A50, Galaxy A30, and Galaxy A20, and while a single digit separates the models on first glance, there are other differences as well, though some may be more difficult to work out.
How every they all come with big screens, and the Galaxy A70 gets the biggest of the bunch, offering a 6.7 inch display that takes up most of the front with a close-to-cinema 20:9 aspect ratio (cinema is 21:9) and a Full HD+ Super AMOLED panel.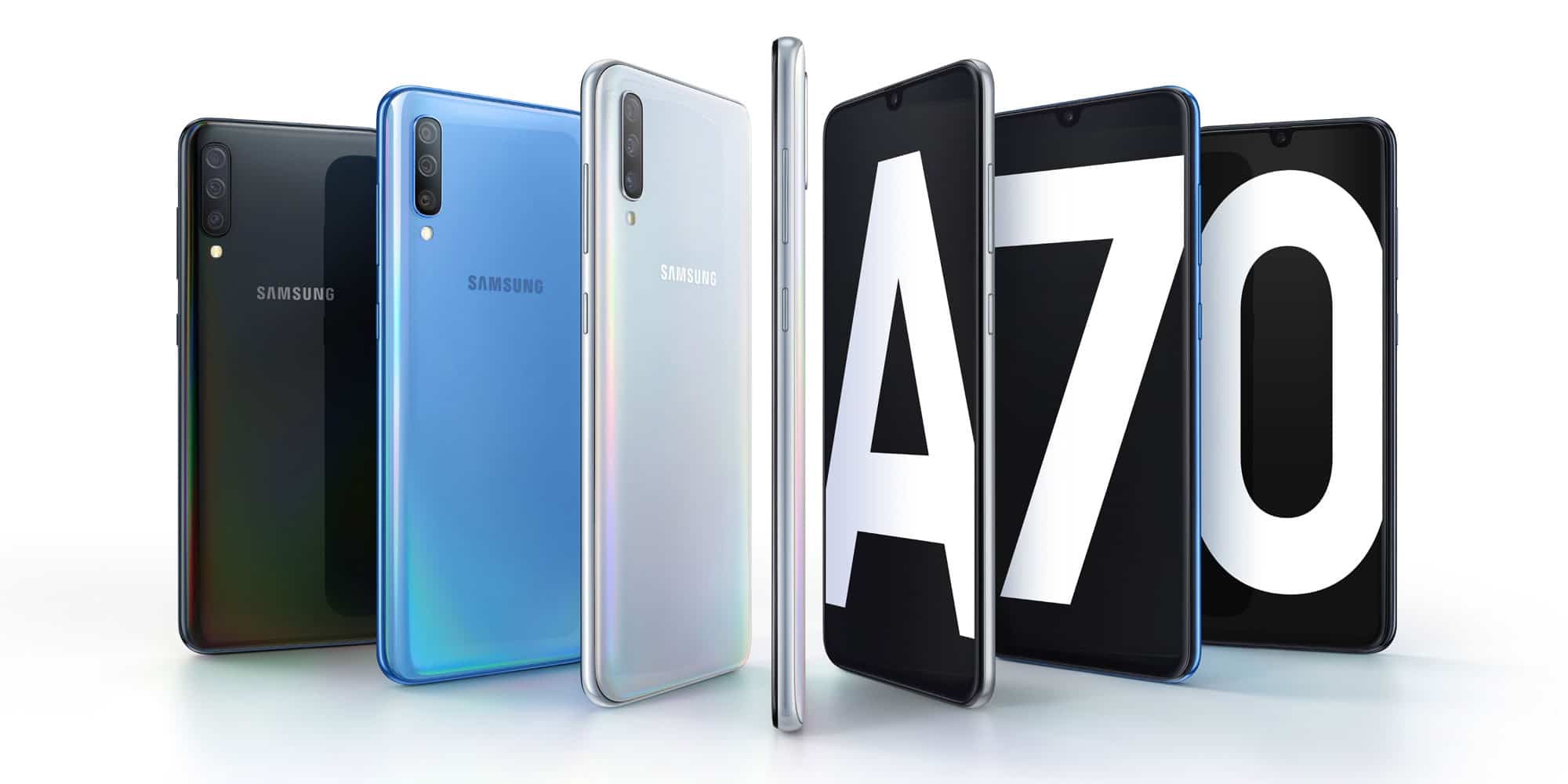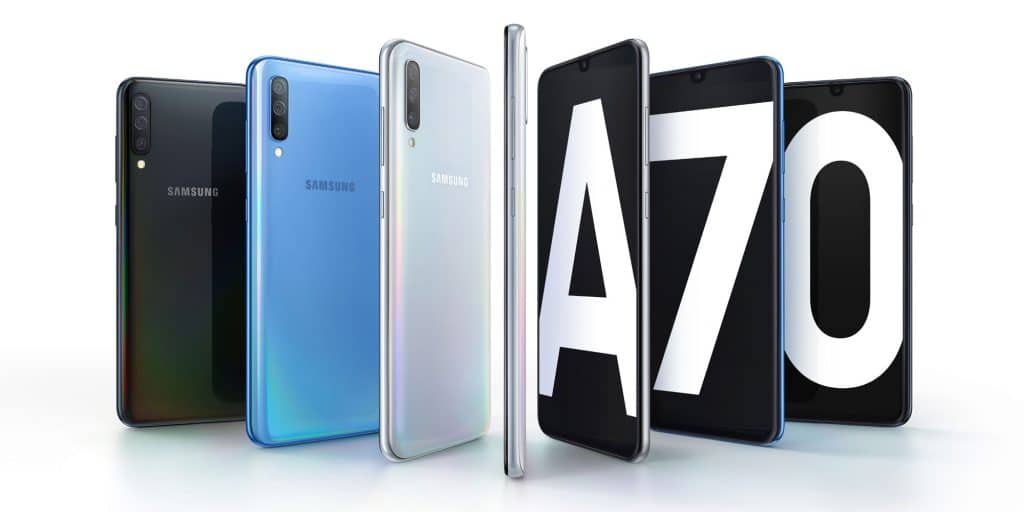 The 6.7 inch Samsung Galaxy A70 (above) will pack in some mid-range processing power in the Qualcomm Snapdragon 675, alongside 6GB RAM, 128GB storage, an in-display fingerprint reader (optical instead of the ultra-sonic used by the Galaxy S10 and Galaxy S10+), and a massive 4500mAh battery. There are even three cameras on the back here, with a 32 megapixel F1.7 main camera, an 8 megapixel F2.2 ultra-wide, and a 5 megapixel depth camera for portrait shots with the background out of focus.
You'll find this mid-range option at the $649 mark when it lands in stores from June.
Samsung's other Galaxy A models are a little friendlier on the wallet, and offer the same screen size and battery across the board. All three models — the Galaxy A50, A30, and A20 — offer a 6.4 inch Super AMOLED screen with a 4000mAh battery, though everything else is a little different.
In the $499 Galaxy A50 (above), there's a Samsung-made Exynos 9610 chip, 4GB RAM, 64GB storage, and a combination of a 25 megapixel camera alongside both depth and ultra-wide cameras from the Galaxy A70.
Slightly below that, the $379 Galaxy A30 (above) keeps the same screen and battery, but changes the specs, the camera, and the body, switching from the in-screen fingerprint sensor to the external one on the back of the phone, while also offering a Samsung Exynos 7885 chip, 3GB RAM, and 32GB storage, as well as only two cameras on the back, a 16 megapixel F1.7 and a 5 megapixel ultra-wide F2.2.
And finally there's the $279 Galaxy A20 (above), which takes the same 4000mAh battery and 6.4 inch screen size, but drops the resolution down from Full HD+ to HD, as well as other parts. The camera is lower at 13 megapixels F1.9 and 5 megapixels for the ultra-wide (F1.9), while the specs stay at 3GB RAM and 32GB storage.
"Designed for the digital native, the Galaxy A Series is packed with so many of our signature, premium Galaxy S Series features, giving Aussies unprecedented access to Samsung's latest innovations at an accessible price point," said Garry McGregor, Vice President of IT and Mobile for Samsung in Australia.
While battery life appears to be a strong focus for the Galaxy A range alongside price — something you can see in those massive 4000mAh+ batteries — they will all include some variant of fast charging, too, making it possible to get battery life back up when you desperately need it.
You'll find the Galaxy A50, Galaxy A30, and Galaxy A20 in stores now for $499, $379, and $279 respectively, while the Galaxy A70 will arrive from June for a recommended retail price of $649.