Is one screen not enough for your smartphone? LG's take on how a foldable phone could be ready now has arrived, with the unusual dual screen LG V50 ThinQ.
With the launch of 5G in Australia on Telstra last week, it's not unusual to see smartphone makers get models out to take advantage of the new speeds on offer.
Granted, those speeds are only available in pockets of cities around Australia, but they're out there, and now consumers need choice in hardware to give 5G a go.
Last week, that choice started, first with the Samsung Galaxy S10 5G, while Oppo's Reno is set to arrive in a few days, as well.
And those two aren't the only 5G phones you can expect to see in the coming days.
While the Samsung Galaxy S10 5G is the only 5G phone out until around mid-June, another is rocking up on June 11, and it's not just 5G, but a different take on the phone altogether.
LG's first major flagship released in Australia this year, the LG ThinQ V50 5G is a phone that will come with a dual screen accessory, effectively turning the phone into a foldable phone of sorts, and yet also kind of not, making it one of the year's crazy phones, thanks to an included accessory.
The LG V50 phone itself is a 6.4 inch device sporting a high resolution of 3120×1440, making it a very sharp screen, while the system is spec'd with an eight-core Qualcomm Snapdragon 855, paired with 6GB RAM, 128GB storage, a microSD card slot, and Android 9.0 "Pie".
There's support for all the typical bits and pieces, including 802.11a/b/g/n/ac WiFi, Bluetooth 5, NFC, with three cameras on the back for wide (16mp F1.9), standard (12mp F1.5), and 2X telephoto (12mp F2.4), while the front gets two cameras for standard (8mp F1.9) and wide (5mp F2.2).
LG has omitted the 3.5mm headset jack this time, though you still get the 32-bit Quad DAC from previous LG V-phones, as well as aptX, and aptX HD for wireless high-res sound, a fingerprint sensor, face recognition, and IP68 water resistance, but it's not talking so much about those features.
Rather, LG is talking about the accessory the Australia LG V50 ThinQ 5G arrives with, something it calls the "dual screen".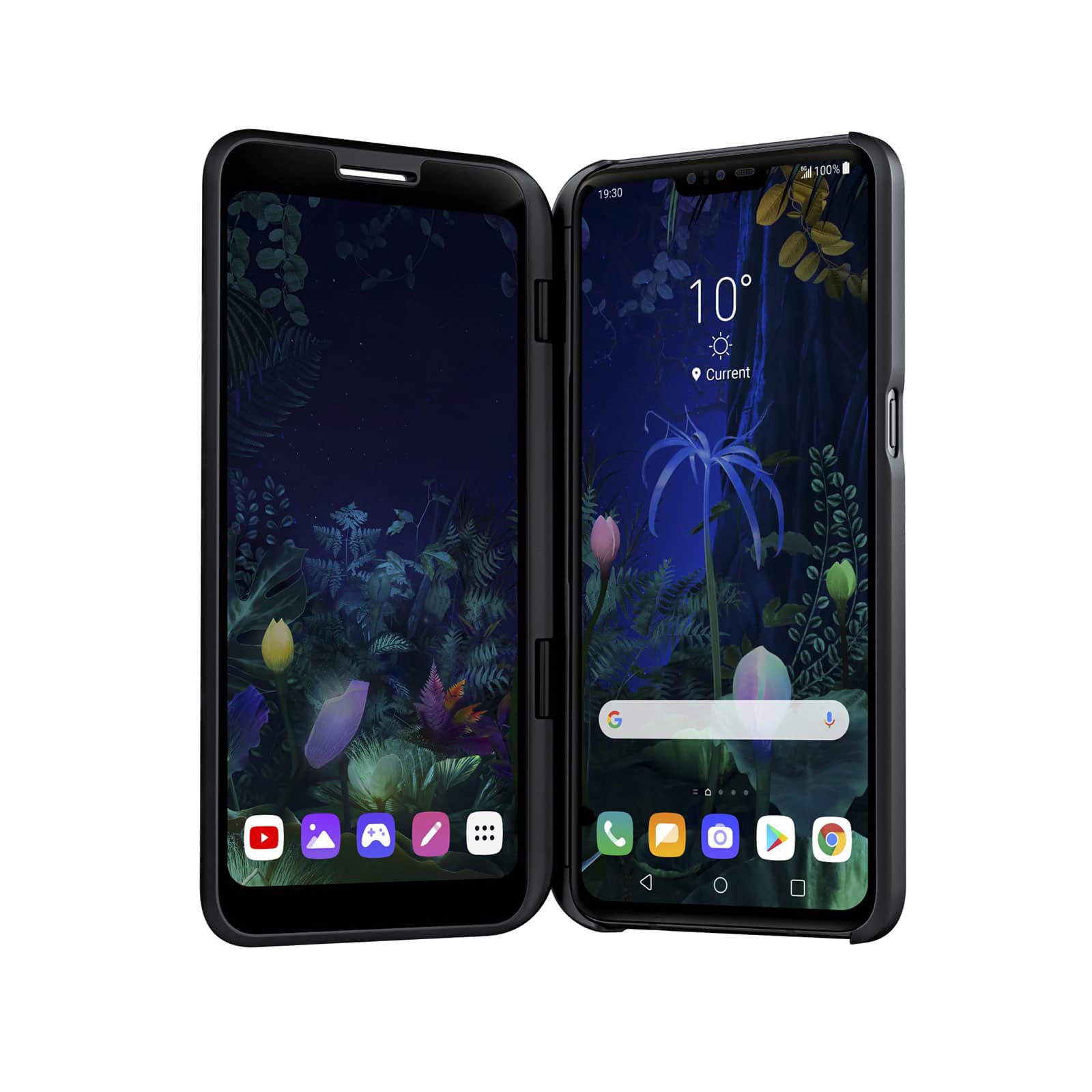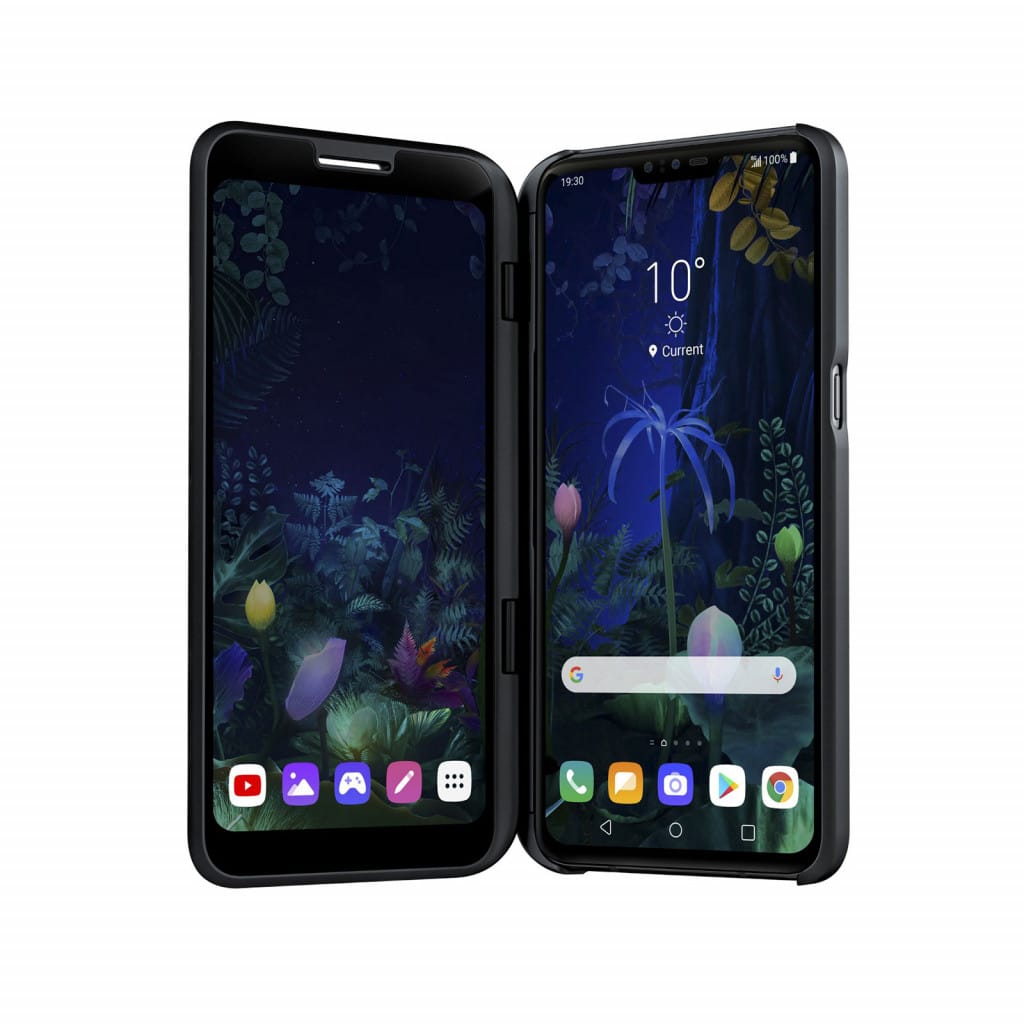 Almost seen as a middle-ground for foldable phones, this little accessory connected to the LG V50 ThinQ 5G by way of of pin port on the side of the phone not too dissimilar from what the Samsung Galaxy Tab S4 uses for its keyboard, though the LG Dual Screen is hardly a keyboard.
It's a screen. In fact, it's a secondary screen.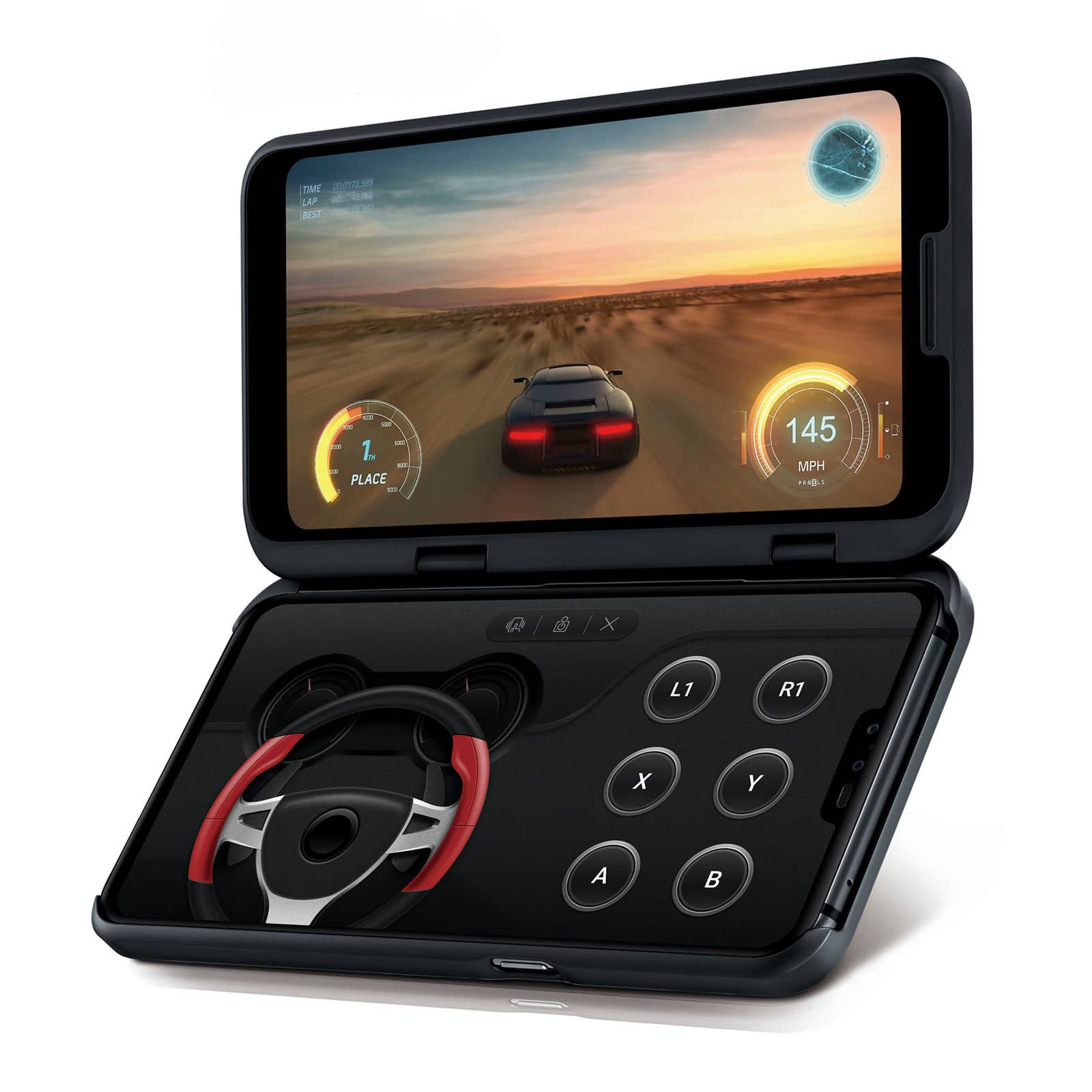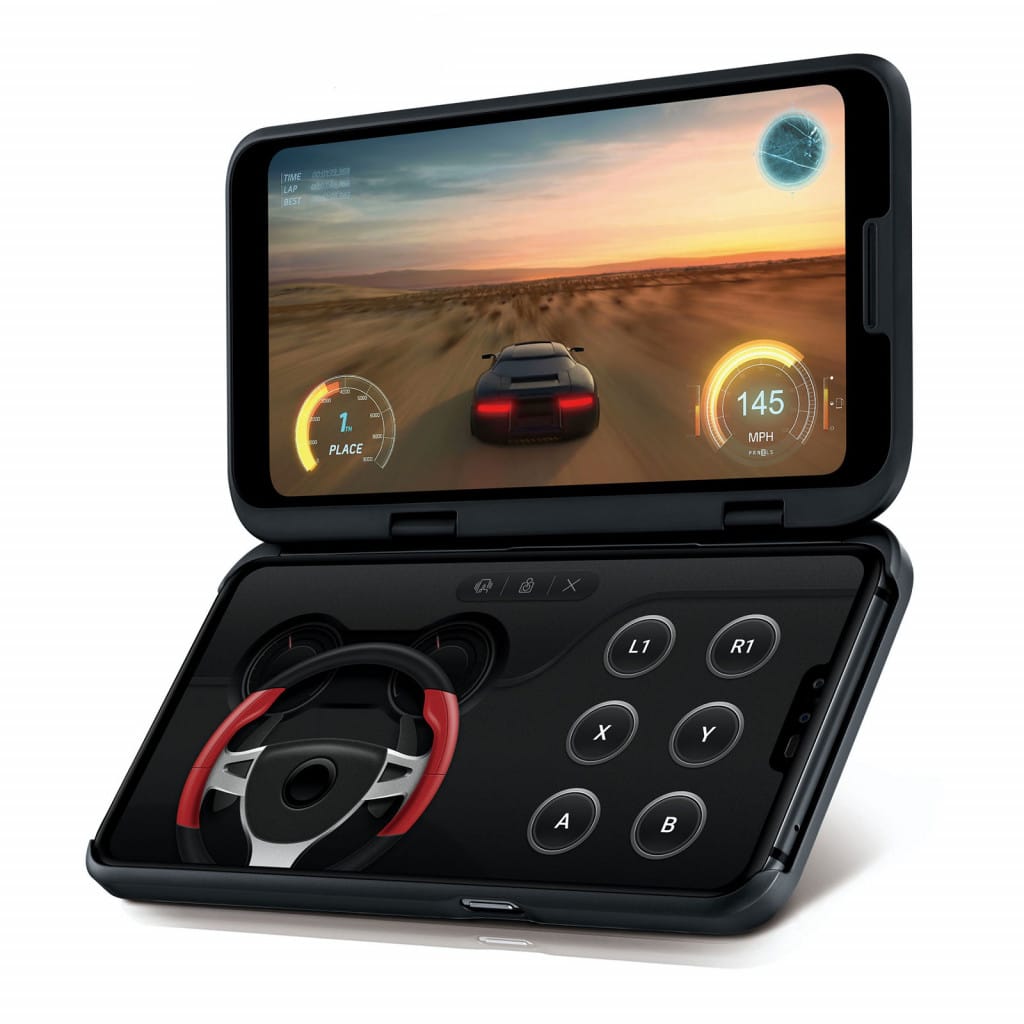 The Dual Screen isn't the same screen as what you get on the LG V50, so you're not getting another 6.4 inch hinged to the other. Instead, you get a 6.2 inch display that provides a secondary screen to be used horizontally a little like a Nintendo DS with the main phone as the controller, or so you can hold it like a book and jump across screens on both sides of the phone.
"The LG V50 ThinQ 5G is an exciting Smartphone design, crafted to change the way consumers interact with their apps and one another," said Angus Jones, General Manager of Marketing at LG in Australia.
"From gamers live-streaming their friends and using social media to business users reading documents while video-conferencing, the Dual Screen option offers a streamlined approach to multi-tasking."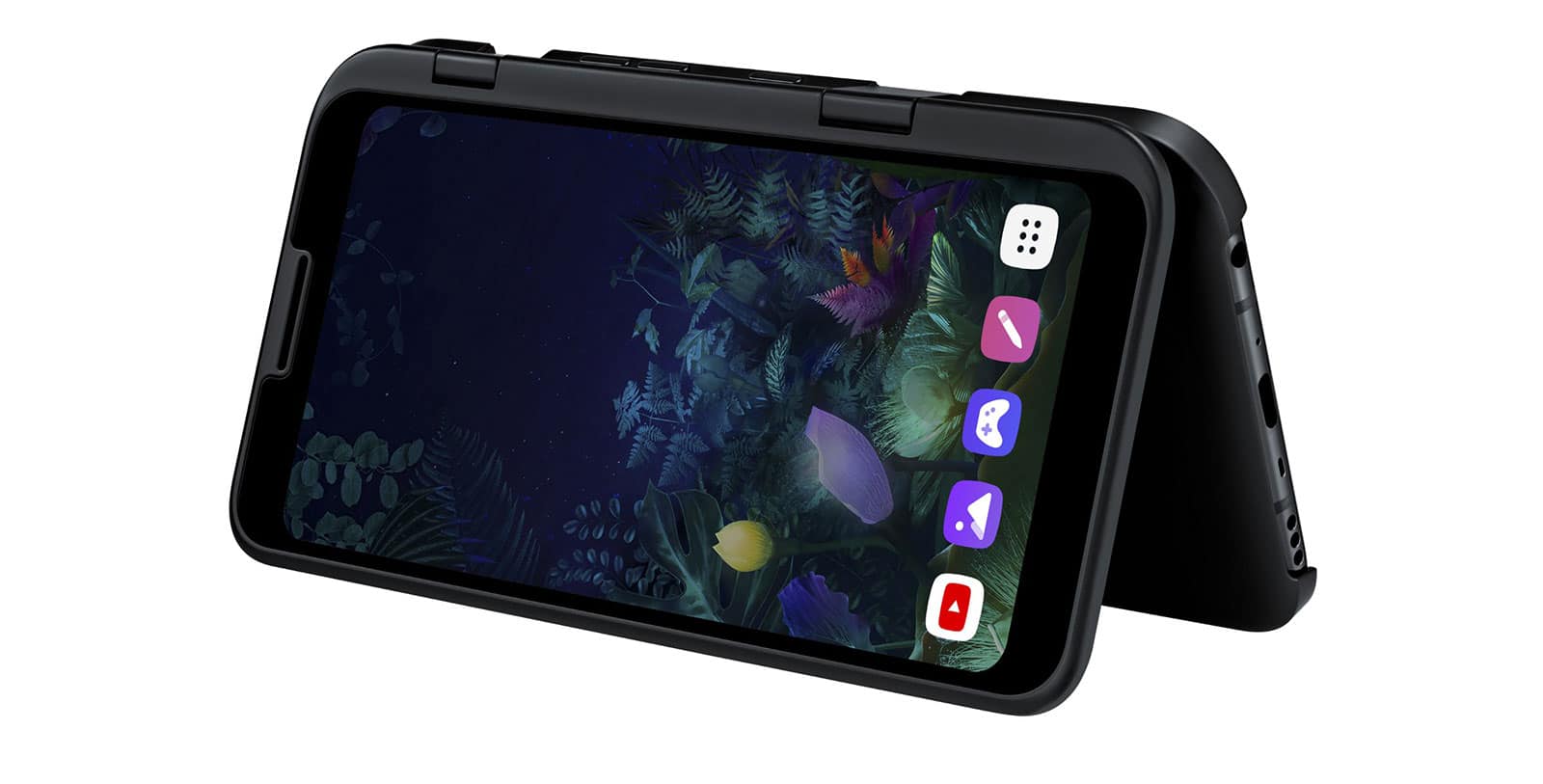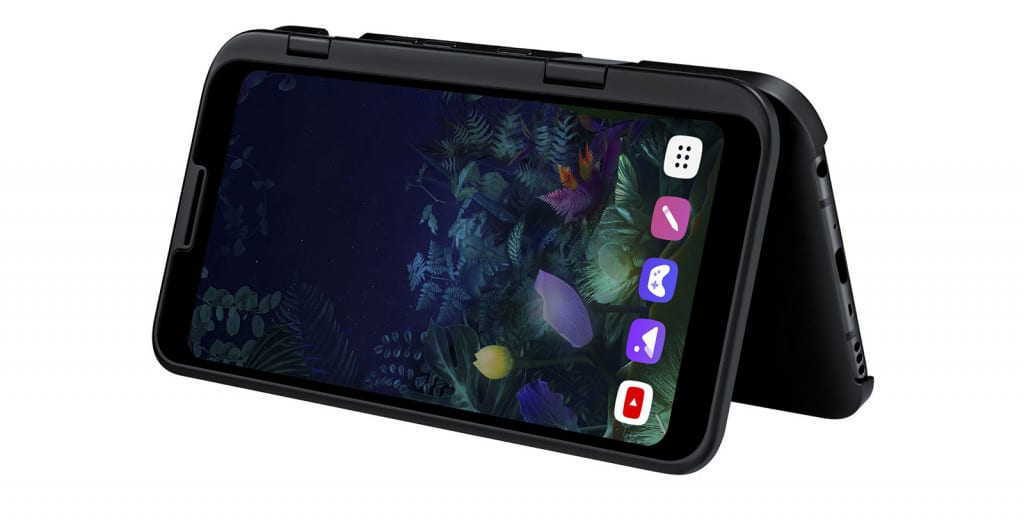 Locally, the LG V50 ThinQ 5G will be available with the Dual Screen accessory from Telstra for $1728 outright, as well as on plans Telstra for its 5G network.
While we're keen to see the phone and its accessory work together, one thing we're curious about is why LG hasn't opted to release the phone without the accessory, especially if it would get the price down a little.
At $1728, it's clear the LG V50 ThinQ 5G isn't necessarily an inexpensive phone, though it might have been more wallet-friendly if LG were to range an option without the dual-screen option which, let's be honest, may not be used by all customers. If the Dual Screen accessory cut the cost by a good $150-$299, the LG V50 ThinQ might be an even more compelling option than Oppo Reno, which is the least pricey of the 5G phones, coming in at $1499 when it lands shortly.
For now, LG's handset occupies that middle spot for 5G smartphone pricing, with a $1728 phone that customers will be able to get a look at from June 11 at Telstra stores.