Huawei's next groundbreaking camera phone comes with an interesting catch or two, and they just might stop you from buying the phone.
The year has been rather interesting for Huawei.
After a solid start to the year with the introduction to one of 2019's best phones, the P30 Pro, Huawei and Google eventually had a bit of a rocky relationship, thanks to the US government. With the US placing Huawei on a trade ban, companies such as Google were told it could not do business with Huawei, which meant any products announced after the ban would run into a problem and wouldn't get support from Google.
The Huawei P30 Pro was announced and released before the ban so wasn't affected, but the latest phone, the year's back half release in the Huawei Mate 30 Pro, that's a different story altogether.
With it being announced and released well after the trade ban came into place, Google cannot have its Android software or apps on Huawei's new phone, resulting in a bit of a problem for Western consumers.
Over in China where Google's services aren't as big of a deal, the issue isn't that much of a problem, but if you happen to be from Australia, America, the UK, Europe, or other parts of the world where you rely on apps from the Google Play Store, Gmail, Google Drive, Google Maps, and other services, this disconnect is a bit of a problem.
It's a problem for that new phone, because it means it will ship without Google apps and services, and without support from Google. While the Huawei Mate 30 Pro runs on a variation of Android, it's just that — a variation — and part of the Android Open Source Project.
It's Android, but not as you know it, and it's coming to Australia, confusingly.
Announced back in September, the Huawei Mate 30 Pro is finally on its way to Australia, though it comes with some rather interesting catches that may prevent you from buying it altogether.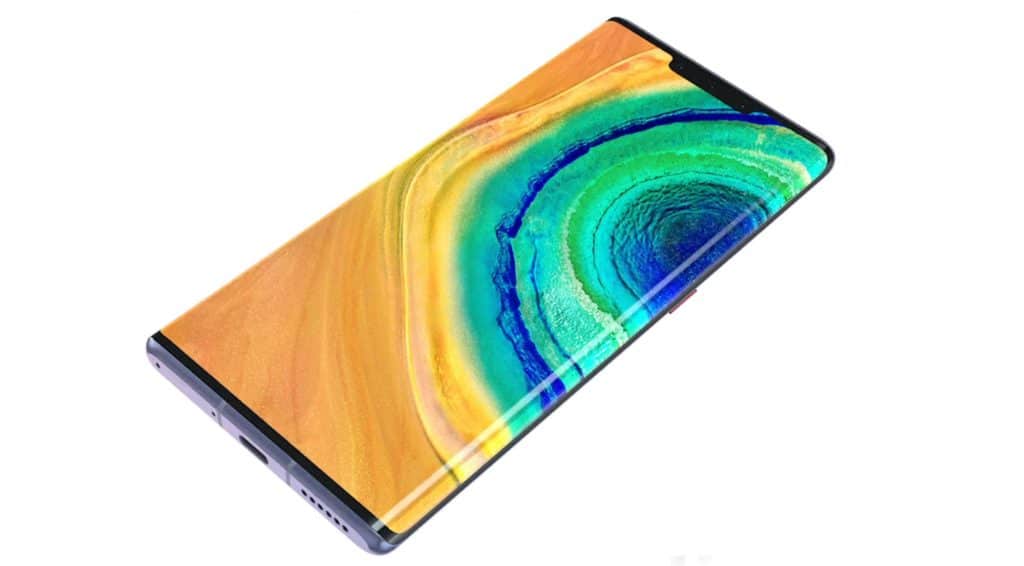 You can't download your apps to it
Huawei's latest phone sports some pretty impressive features, including a 6.53 inch OLED screen, water resistance, wireless charging, Huawei's new Kirin 990 processor, reverse wireless charging, an in-screen fingerprint sensor, and a new camera combination that includes a 40 megapixel cinema camera to add to the 40 megapixel camera from the P30 Pro, depth sensor, and an 8 megapixel telephoto camera.
On paper, the Huawei Mate 30 Pro reads like a machine made for internet, apps, and some of the most interesting camera prowess you're likely to see this year.
But it also doesn't support everything you might come to expect from an Android phone.
While the Mate 30 Pro runs on an operating system based on Android, the EMUI10 OS it uses is based on it and doesn't actually have Google support.
That means the Mate 30 Pro doesn't come with Google's Play Store, Google Mail, Google Docs, Google Drive, Google Play Music, Google Maps, or just about anything with Google in the name, as well as the YouTube app. None of it. Nada.
No Play Store connection means Huawei can't connect apps made available through Android's app platform, which is pretty much everything on Android.
You want Uber, Deliveroo, Spotify, Netflix, Stan, Snapseed, Sonos, Shazam, Domain, Tripview, Chrome, Qantas, or anything else found on the Google Play Store? Too bad. Without Google's help, the Mate 30 Pro can't run it.
That means you'll get that big camera setup, but little to no app compatibility, a problem that will affect anyone who relies heavily on apps.
Huawei does have its own App Store, the Huawei AppGallery, and it has over 45,000 apps made available on it, but these may not include apps you want or care about. You might be able to ask a developer you like to add its app to AppGallery, but outside of side-loading an app outside the store and hoping it works properly, finding apps you rely on might be difficult for Mate 30 owners.
That's a pretty sizeable problem for one of Huawei's biggest phones, but Australians have another issue: buying it in the first place.
You can't just buy it, either
If the app issue hasn't dissuaded you from going out and buying a Huawei Mate 30 Pro, the rules Huawei is setting up in order to let Aussies buy one just might.
Instead of just being able to buy one, a Mate 30 Pro pre-order consists of basically entering a competition to win the chance to buy a phone, a concept that is beyond crazy when thought about.
The rules from Huawei's registration page include:
Due to limited availability in Australia, the HUAWEI Mate30 Pro can only be purchased by people who complete this form and supply the best answers as to why they would like to purchase the phone. The top 200 answers will win the opportunity to buy the HUAWEI Mate30 Pro. The lucky winners will also receive a pair of Freebuds 3 when they make their purchase.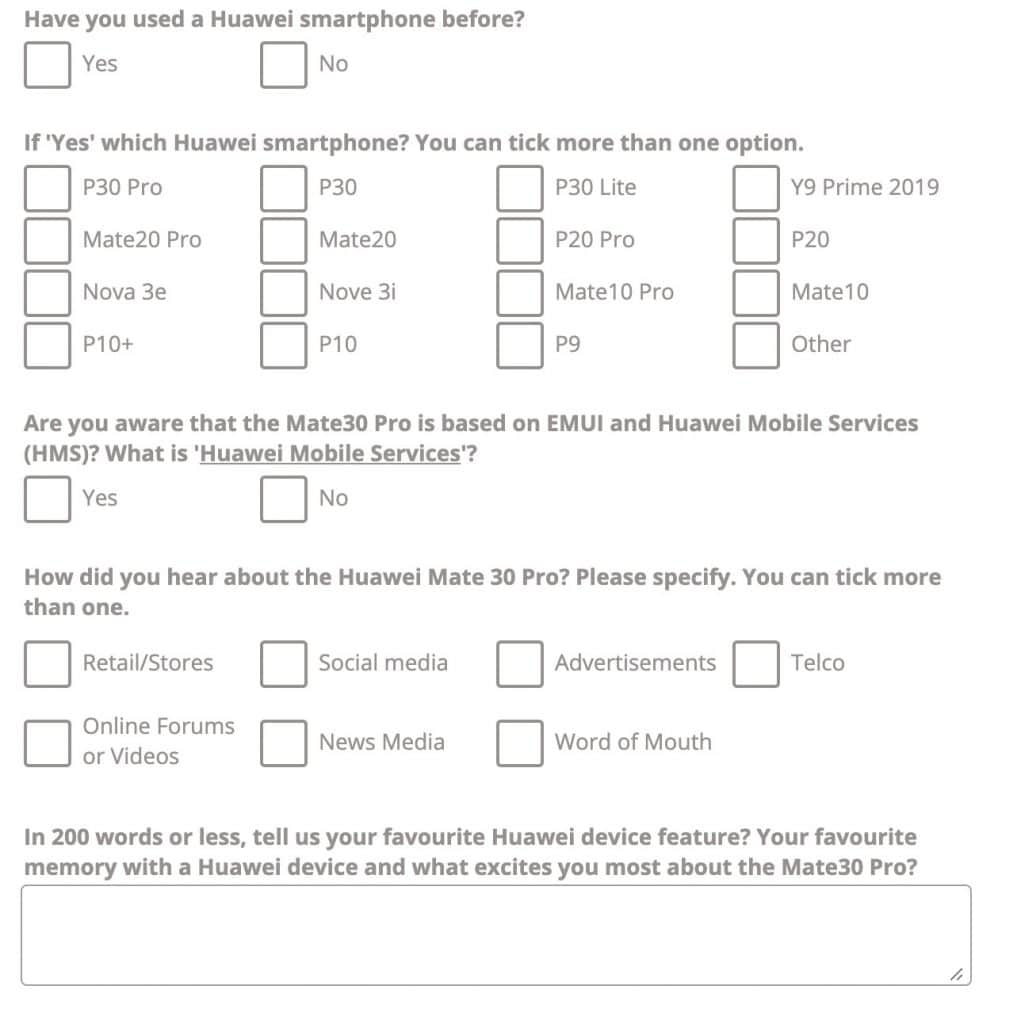 Essentially, if you want to buy a Mate 30 Pro, you need to fill out a form, check a box saying you're aware that the phone is not Android (that it is "based on EMUI and Huawei Mobile Services"), and then write in 200 words or less your favourite Huawei feature and what excites you most about the phone you haven't yet bought. You are essentially entering what is a cross between a competition and marketing in order to spend money, a concept that beggars belief in execution.
If you "win" this competition, you'll not only receive a free pair of wireless Freebuds 3 earphones, you'll get the chance to hand over $1599, with 200 "lucky winners" selected to hand their money over (seriously, it's difficult to write this without raising an eyebrow).
It's hard to cite why exactly Huawei is doing this beyond limited handset availability. Our guess is it's trying to minimise any negative press around the phone's lack of Google apps by only selling the phone to people that:
Check a waiver selection box and realise there's no Google support before they buy, and
Confess their love for Huawei's services as well
It's the sort of marketing approach that doesn't make a lot of sense, and kind of delivers this idea that Huawei is picking its customer very, very carefully. If you want a Mate 30 Pro, these are the hoops you need to jump through, as opposed to waltzing up to a phone store and saying "I want that phone". You can't do that with the Mate 30 Pro, and you can also only pick it up from a Happytel store or Mobileciti's online presence. Huawei is being very, very particular with this phone.
That is, of course, Huawei's right, and if you want the multi-camera capability of the Mate 30 Pro, this is the way Australians will have to go and get it. And you only have until the end of November 18 to do it. Crazy.

Will the Mate 30 Pro ever be more widely available? Will the Mate 30 Pro ever run on Android?
It is entirely possible that when Huawei, Google, and the United States government sorts this whole trade ban issue out, Huawei will set the Mate 30 Pro back to a proper version of Android, grant Google apps, and the phone will become more than just a neutral zone of smartphones.
It could happen. It's entirely possible. We don't know, but there is a possibility.
And it's entirely possible the Mate 30 Pro will be made more widely available if that happens.
Right now, however, the Mate 30 Pro seems destined for fans of the brand, the technology, or just people who don't need Google to have a good time with their phone.