If you're a creative, you might wait to edit photos or art until you get back to your laptop, but you might not need to anymore.
The iPad is changing the way we consume information, but it's also shifting how we create it, too. Even though it had humble beginnings, the iPad has grown from being just a mere content consumption tablet to something far more powerful, useful for writing, for photo editing, for painting, and more.
Armed with the right software, the iPad can be a formidable tool for work, something that is helped along by its operating system, The recently launched iPad OS.
The right software is the point, however, because you need that to make your words and actions count for something, be it the creation of graphics, documents, movies, and more. Much like any other computer, it's how you use the iPad that defines what you get out of it.
If you're a creative, there's a good chance you have one in your life, using it for the arts, and that's something Adobe is embracing lately.
With the photo processing tool Lightroom rolled out across Apple's popular tablet as well as a recent entry with a new version of Premiere to go, Adobe is expanding into other areas, reworking one of its most popular tools to suit.
Photoshop is making the transition to the iPad, built from the same codebase to work in much the same way it would on Mac or Windows. This development means PSD files made on the desktop will be editable on the iPad, and vice Versa, with support for multiple layers, editing, spot healing, and more.
Photoshop for iPad isn't quite as versatile as its desktop counterpart, at least not yet, but that will likely change over time. Currently, Photoshop for iPad is in version 1.0, compared to the current version of Photoshop for the desktop, which in Photoshop 2019 is closer to version 20.
Adobe has said it plans to "add new capabilities as quickly as possible on a regular cadence of releases", with an effort to "rethinking every experience for the pencil and touch screen" to make the Photoshop experience better.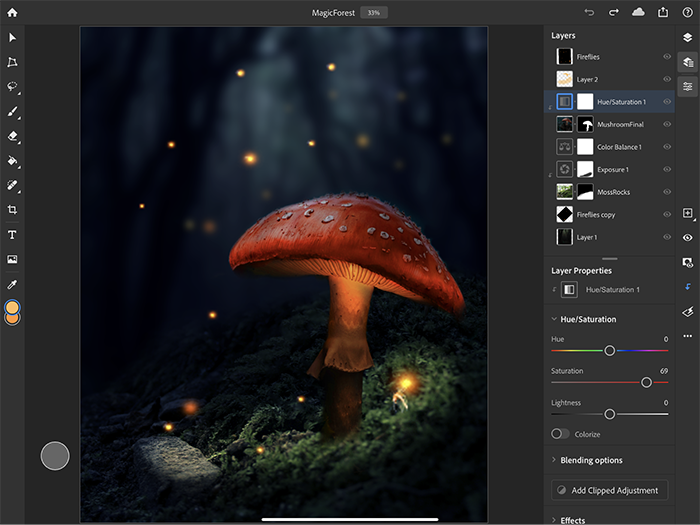 And it's not the only place Photoshop plans to improve in.
Photoshop on the desktop gets a few changes, too, with support for more AI-based tools, leveraging machine learning in the object selection tool, which can now work out what you're trying to select simply by using Object Select and drawing around the objects you want to select. It's a similar approach to Select Subject, which is built to be faster and will soon be available on iPad, while Adobe's Content Aware Fill will use a dose of AI to work out how to fill the scene when you change things around.
There are other changes coming to the desktop version of Photoshop (the "proper" Photoshop), including more control to warp and distort objects, while blur filters will be faster with a graphics chip.
"We're excited to push the frontiers of creativity to make everyone more productive and express their creative vision," said Adobe's Scott Belsky.
"Today's announcements redefine the creative experience for everyone — not only seasoned professionals, but also the next generation of designers, photographers, filmmakers and illustrators," he said.
While the changes should kick in shortly for Photoshop customers using Creative Cloud shortly, there's more on the way, with Illustrator also being worked on for the iPad. Set to take advantage of the Apple Pencil on the iPad Pro, Adobe is planning Illustrator for iPad to work with Illustrator files, while also leveraging a tablet interface.
It's not quite ready yet, but Adobe is talking up a private beta, so if you're interested, you might be able to grab an early invite and try it out for yourself.