When it comes to taking photos, backing up is essential, even when you're on the go, but it can take so long, and that's where a new drive comes in.
There's only so much you can store on a memory card, and at one point, you're just going to have to bring it back to a computer.
Professional photographers tend to defeat this problem by carrying extra cards, but it can still rear its head because photography and videography tend to amount in file size pretty quickly. That essentially translates to "the more you capture, the more space you need", and when you're on the go and trying to do it as light as possible, that can be hard.
The cameras can already weigh you down, and who wants to bring a laptop when they don't need to?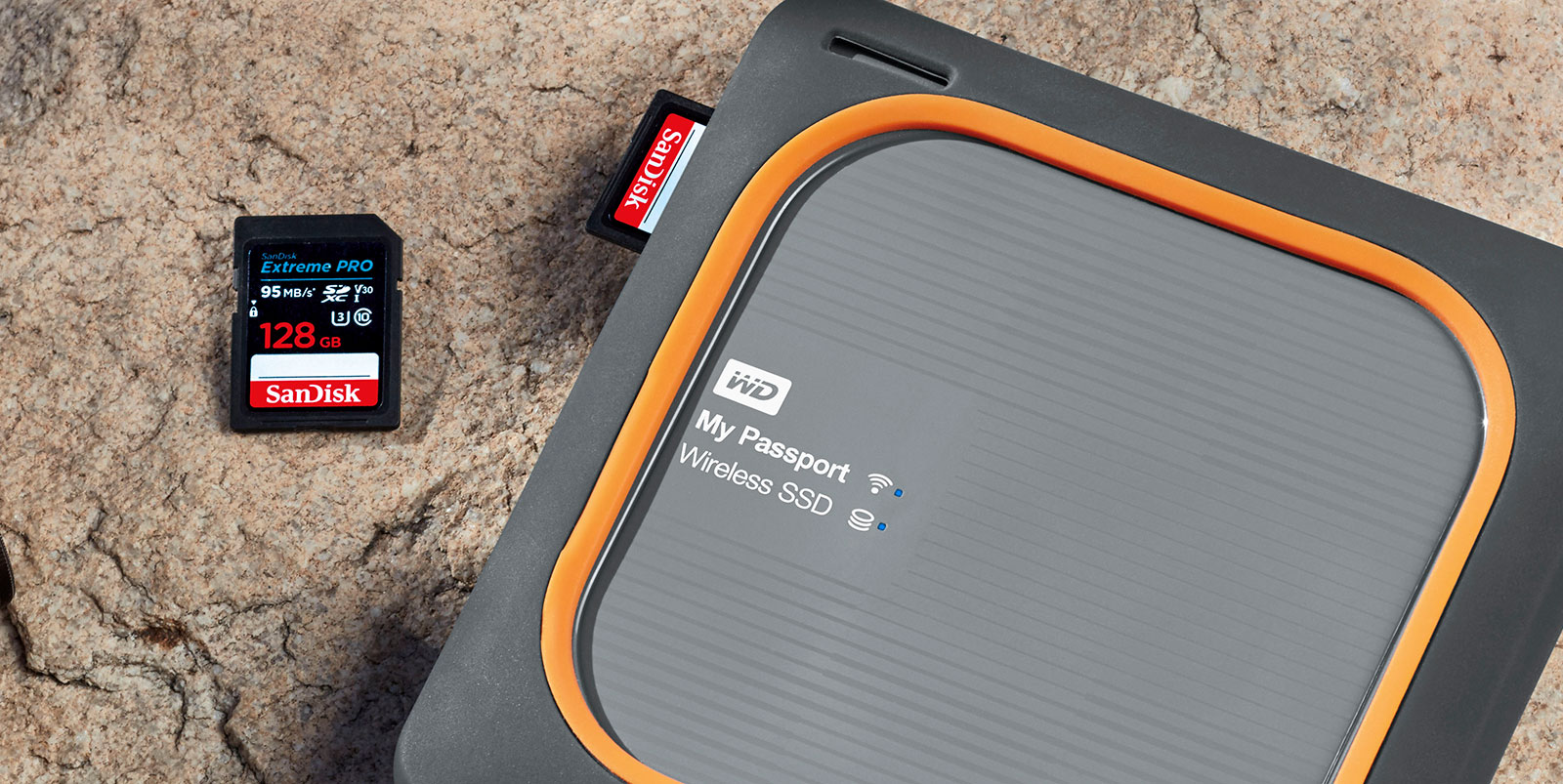 WD may have a solution for this, and it's one that has seen evolution over the past few years. In the past, the company has offered select models of its external My Passport drives with an SD card slot to make it easy to copy files as quickly as it could, backing the card and storage up so that the images are good to go.
The last generation of this drive even featured wireless technology, so you can store remotely and still access the files from a phone, a tablet, or a computer, streaming them remotely without needing to store them on the limited space of your device.
Wireless technology is definitely still wanted, but while those older drives are still good, the technology has improved, and we're now pushing past in the hard drive space, opting for something with improved speed and weight, and moving to something else.
If you've seen solid state drives in the past, you know that they're light, shock resistant, and getting quite spacious in terms of what they can hold, and that's where WD is shifting its focus to.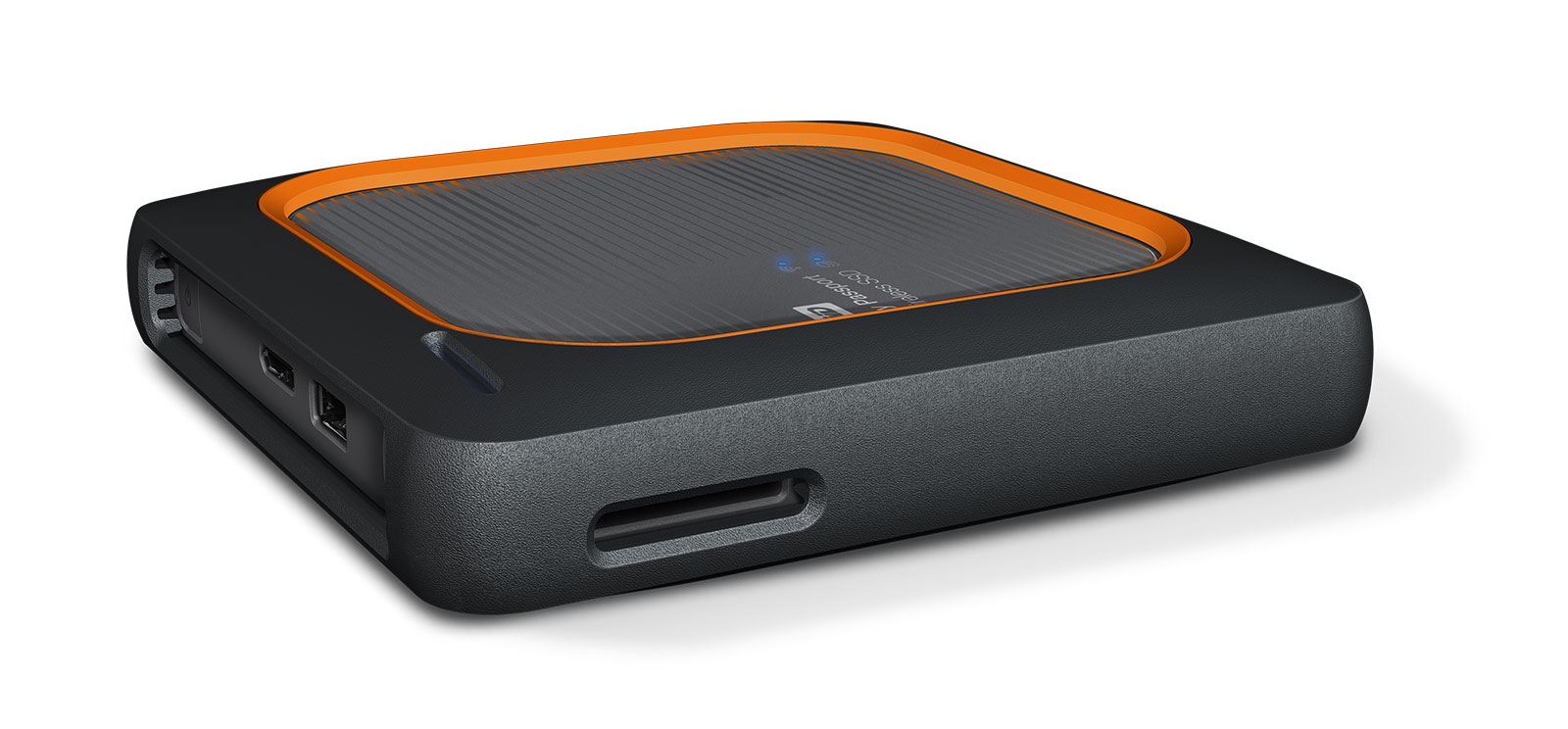 The next generation of WD's My Passport made for images and media is the My Passport Wireless SSD, a model that takes the familiar square form-factor of the previous model, but updates the insides, taking one of the Western Digital solid-state drives and throwing it inside, making it possible to transfer at high speed when plugged into a computer (because wireless isn't its only option), and backing up SD cards fairly quickly, too.
The drive is powered by a battery capable of hitting a maximum of ten hours of life, and if you drop the drive — heaven forbid — it's shock resistant for drops of up to one metre. Technically, it can still be used as it has been dropped, thanks in part to that wireless connectivity.
One thing of note is that speed: WD says the SSD transfer isn't technically as fast as its other SSDs, hitting a maximum of 390MB/s read, slower than the My Passport SSD we checked out recently. That's still quite fast, but not as fast as it can be, though WD's drive does come with the SD slot built in, making it ideal for on the go backups instead. We guess this one comes in more with a question — which feature do you prefer: convenience or speed?
Once you work that out, you'll find pricing for WD's wireless My Passport SSD coming in at a little more than your standard SSD, and that's likely because of the wireless nature, starting at $429 for the 250GB, $529 for 500GB, $849.99 for 1TB, and $1399.99 for 2TB.
Availability for the WD My Passport Wireless SSD is at electronics and camera stores across Australia, including JB HiFi, Ted's, and Amazon.