Not having the best of luck with streaming your favourite sports broadcast? A new technology could help out with that, and Telstra is first to get it.
With the Optus debacle producing problems in streaming the World Cup still fresh in our minds, it can be pretty easy to be even the slightest bit mistrustful of anyone claiming to be a provider of streaming media.
It's not just sports, as anything that is sent to your phone through mobile broadband can run into buffering issues, leaving you with pixels and delay, and then more pixels and delay, a burden that is easily a first-world problem, but one that many still have to suffer from. It's different from how you would watch on TV, which only required that you be in range of the signal, and would practically guarantee transmission.
Phones may well be adapting from how television broadcasts work in the near future, and it comes off the back of a new technology that forms part of 4G.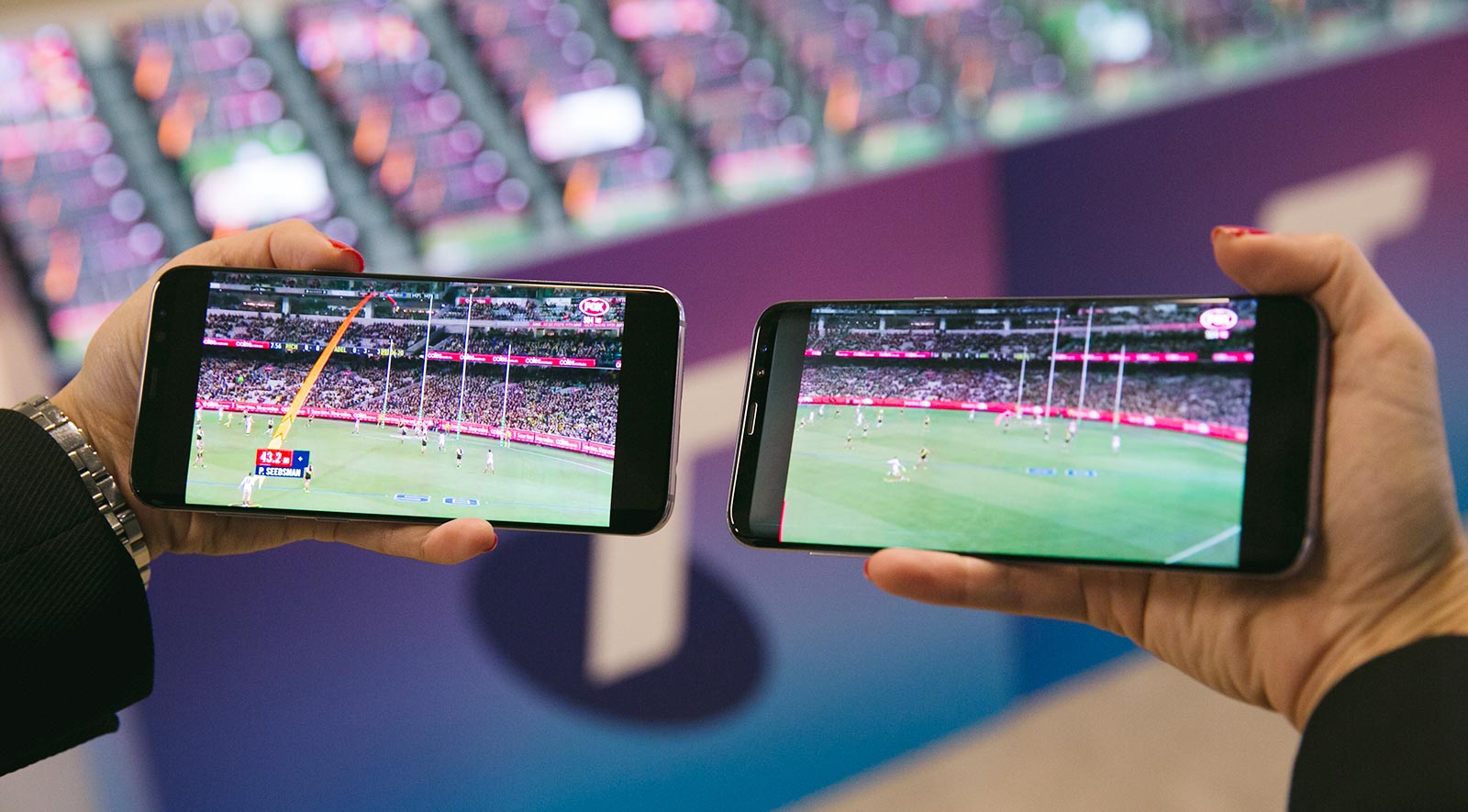 Switched on this week over at Telstra, the technology is called "LTE-B", with the first part being 4G's Long Term Evolution, while the latter has the "B" standing for "Broadcast", and it's essentially a solution to make broadcasts stream to phones separately from the 4G LTE network.
Or to put it in layfolk's terms, LTE-B uses a special part of the network solely for broadcasting to send video broadcasts in real-time to smartphones that support the LTE-B standard.
According to Telstra, it's the only operator in Australia to have one of these networks running, and one of the first in the world, making it possible for the company to stream broadcasts using a slightly different technology to guarantee the streams work without failure, and in the time they need to.
Telstra plans to make it work with HD streaming of AFL games using its "AFL Live" app, and even demonstrated the technology this week streaming to over 100 Samsung Galaxy devices huddled in the same place. According to Telstra, the phones using the extra LTE-B network streamed in real-time collectively without fail, while phones huddled near each other using 4G for data saw occasional lag and stalling, as they each tried to gain as much connection from the network as each could, competing for speed and download quality.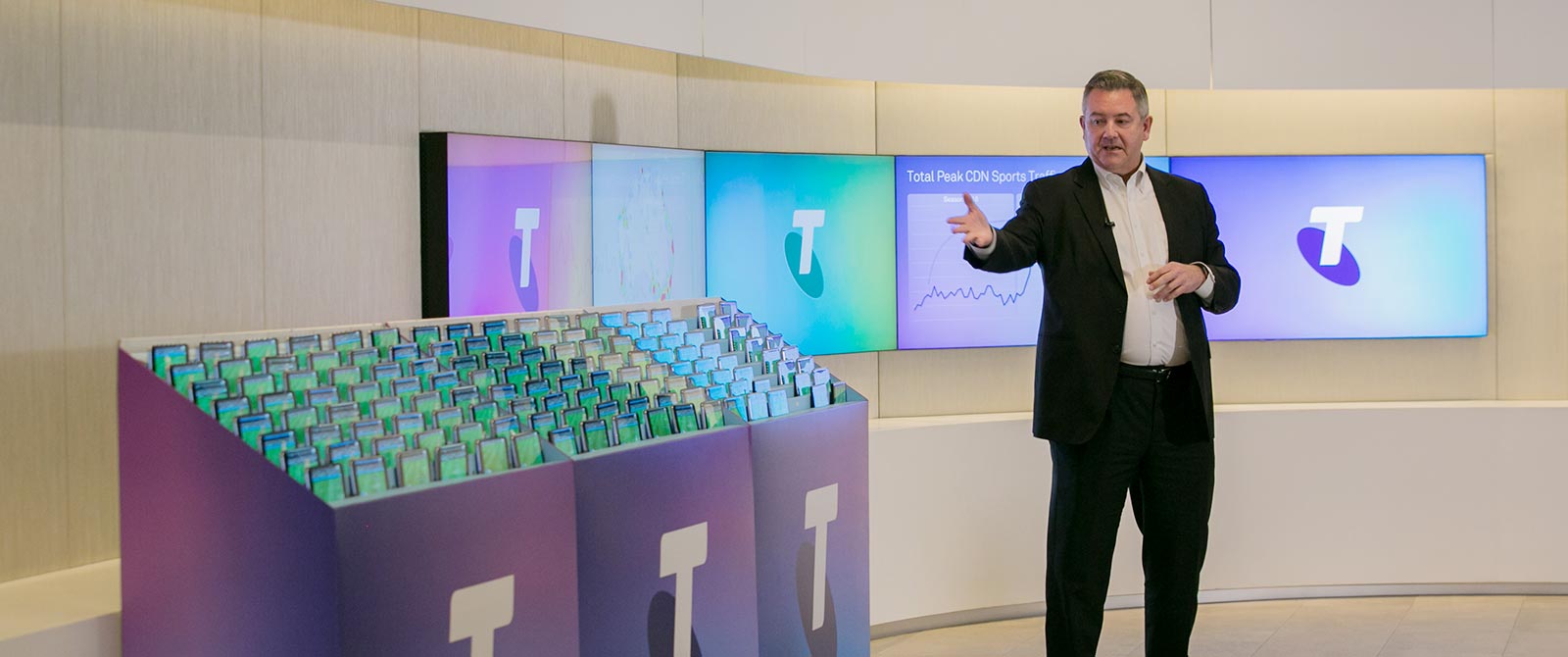 "Video streaming is transforming the way we consume entertainment, including how we watch sport," said Mike Wright, Group Managing Director for Networks at Telstra.
"Today's LTE-B demonstration highlights the improved quality and enhanced video and audio experience for customers watching live and real time content," he said. "And while usage is steadily growing, it's clear that key moments in a game, and snacking on games, is the key usage trend we see on mobile — and ensuring the highest quality experience is paramount for us."
"With more and more people tuning into games live and unmetered in more places, Telstra's sporting apps are now becoming some of the world's leading examples of real time sports consumption. The popularity of these apps makes them a prime use case for LTE-B," said Wright.
Simply put, the technology addition to Telstra's network means broadcasts of sports and later on other things will potentially be improved so that people watching it on their phones will see the stream without problems, and will reduce the impact the downloads have on the rest of the network. LTE-B essentially streams to multiple devices at once using the towers, dedicating a portion of the technology to the purpose of streaming, something standard mobile connections don't have.
There is a catch, however: your phone has to support it, and right now, there are only four, with Samsung's Galaxy S8 and S8+ from 2017, and Samsung's Galaxy S9 and S9+ from this year. Not even the Galaxy Note 8 gets the tech immediately, though we expect this will change later on, with Telstra saying that "more devices and applications will be added over the coming months".
For now, if you have a Galaxy S8 or S9 and like AFL (or don't and just want to watch the streaming), you can check it out, though we expect it won't be long before other devices also see the support, too.