Mobile World Congress gave us more than a hint of what big mobile players like Sony have in store for the world in the next few months, so what's coming first? The mid-range.
While you might already have a vague idea of what's coming in the Xperia XZ2 and XZ2 Compact, Sony isn't going to let you have a hold and a play as early as you might expect, as those devices are still on the cards for a release later on.
Even though flagship releases are what we've become accustomed to at this point, Sony is instead pointing to the mid-range, and waiting until the moment is right before its flagship models make their way out to the world.
Before that happens, it is letting loose with a phone that saw itself get announced while CES was on in Las Vegas this year, a smartphone to start the year off with that showed a few changes to Sony's design language.
Those changes are mostly on the back, mind you, because the front offers the same pronounced bezels we've seen on Sony phones for years, while the edges include a circular power button, volume rocker, and even a camera release button, because they're handy, too.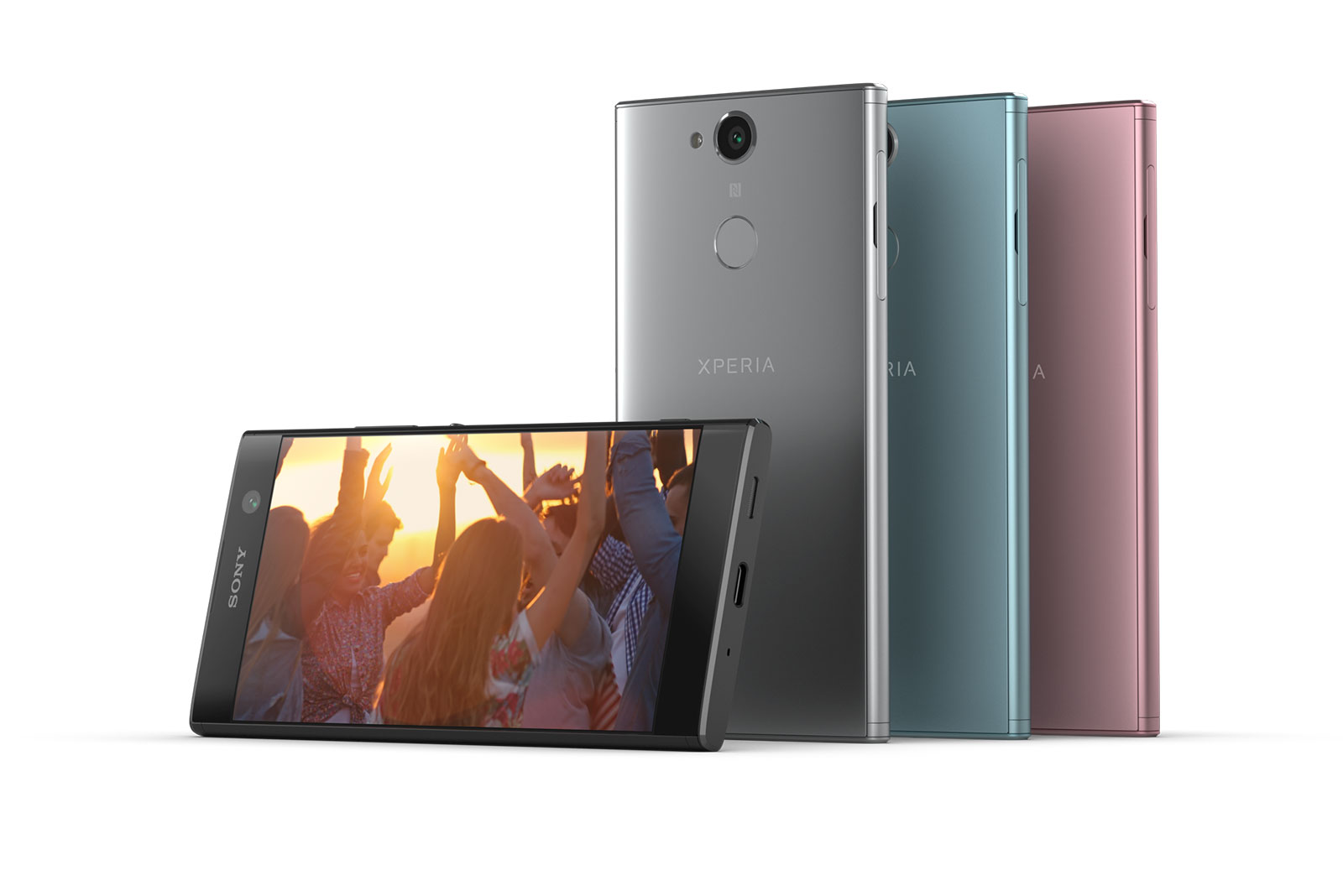 New for a Sony, however, is the rear fingerprint sensor, which sits below the camera, a 23 megapixel camera leveraging a Sony Exmor RS mobile image sensor, low-light sensitivity up to ISO 12800, and 4K video capture. While there's none of that extreme 960fps ultra slow-motion video capture, Sony is providing 120fps slow-motion in the package.
That package, by the way, includes a mid-range Qualcomm Snapdragon 630 chip paired with 3GB RAM, 32GB storage, Android 8.0 "Oreo", and two nanoSIM slots, because that can be handy if you ever intend to fly anywhere. A microSD slot will let you expand the storage, and all of this sits beneath a 5.2 inch Full HD 1080p screen in a phone made for the mid-range.
In fact, you know it's made for the mi-range thanks to the price, because with an RRP of $549, the middle of the market is clearly where Sony's Xperia XA2 sits.
"We're excited to bring such a strong mid-range product to the market that is packed with Sony Mobile's exceptional Xperia camera technology and impressive performance features, housed in a sleek, intuitive design," said John Featherstone, Managing Director for Sony Mobile Communications in Australia.
"This is just the first of several incredible devices joining the Xperia portfolio this year, and we can't wait for Australians to experience it," he said.
While we're always excited to see a new phone join the mid-range, it's important to point out the naming of this phone is where things could get curious, especially with new flagships on the way.
Specifically, you're looking for that second letter in the model name. Take the "XZ" in the "XZ2" flagship name: the Z implies flagship. Meanwhile, apparently for this handset, the "A" in "XA2" means mid-range.
We'll let Sony's marketing team explain it best through whatever advertisements make it through, but sufficed to say, if you're looking for a flagship Sony for 2018, you'll be waiting a few more weeks yet for a Z-class phone, while if you want something decidedly more mid-range, Sony's XA2 will be in stores from April 17 onwards.