It might seem like Apple has won the tablet war with its iPad, but Samsung is still putting up a fight, and has two more as of this week.
The iPad may well be the dominant tablet in the world, but it's not the only one, and even though the tablet fight has shifted from Android battling iPad to Windows taking on the iPad, Android is still kicking around a bit.
Almost everyone who made an Android tablet seems to have given up in recent years. You can still find budget models around the place from brands, but there's been nothing super duper amazing from the likes of Lenovo and Sony for some time.
But Samsung is still kicking the Android tablet around, and it's doing more than just having a bit of a play, with an upgrade to its tech across the board.
This week, the company announced that two new Galaxy Tab models would be on the way, announcing the follow-up to last year's Galaxy Tab S3, as well as a slightly more cost effective Tab A series.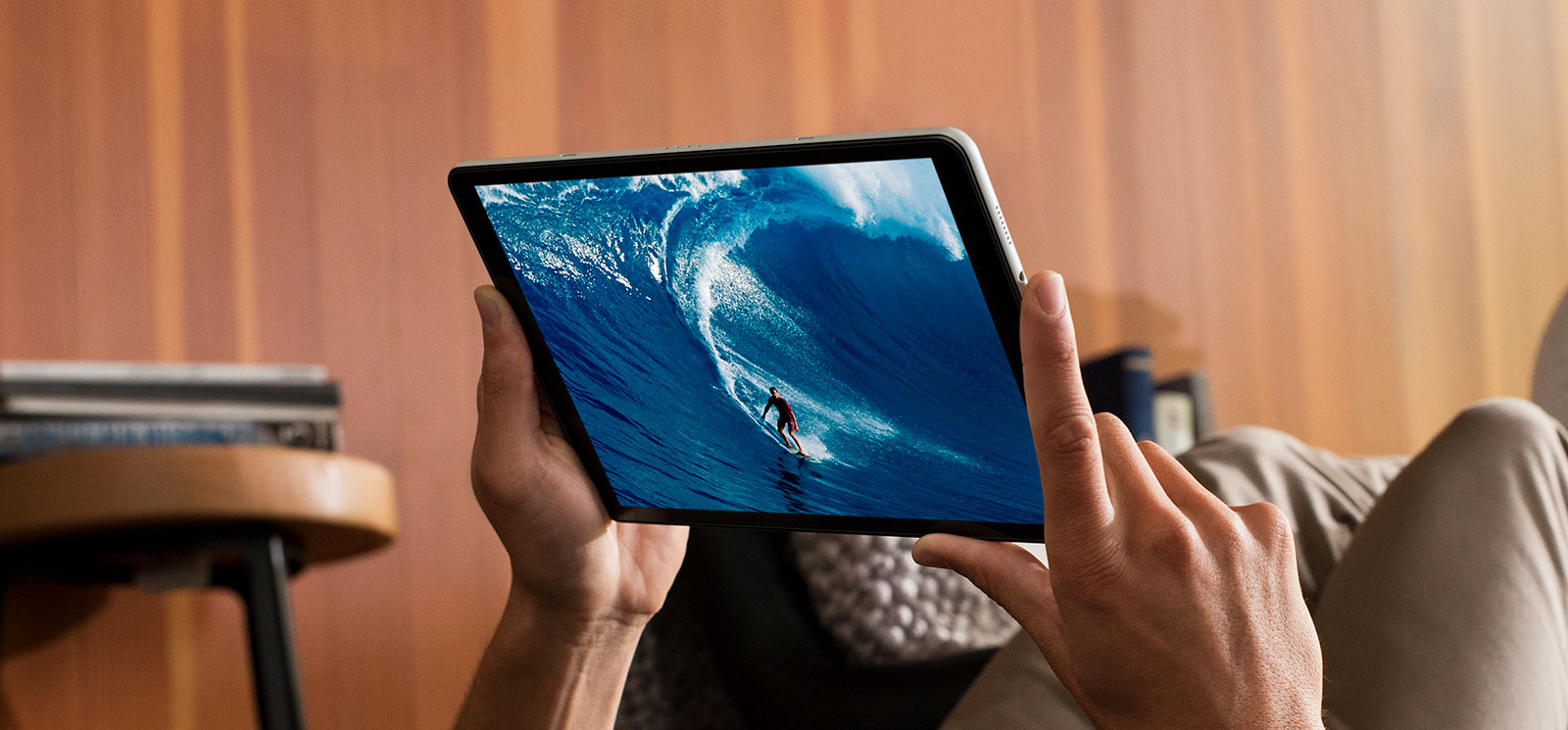 The premium Galaxy Tab S4
The "S" model follows on from Samsung's "Galaxy S" range, making it the premium of the of tablets, and this year's Galaxy Tab S4 aims to be the Android tablet for folks who'd like something like the iPad Pro, but wish it was built in Android.
That makes it a large-ish tablet, sporting a 10.5 inch screen with slimmer bezels than previous Galaxy tablets, but also no home button on the front, keeping it in line with other Samsung phones.
There's also a pen included, helping you to draw and write on the device, and there's some new technology there, too.
Locally, Samsung has said it will include an eight core Snapdragon 835 processor, a little down from the Snapdragon 845 chips we've been seeing in phones this year, but still supporting of some high speed app and game support, complete with 4GB RAM and either 64GB or 256GB of storage, the latter of which can be upgraded with a microSD card.
You'll also find 802.11a/b/g/n/ac WiFi, Bluetooth 5, and if you get the 4G version, support for Category 16 LTE, meaning speeds as high as 1Gbps from supported networks in Australia (provided you're not limited by your plan).
From a multimedia point, there are four speakers tuned by AKG (which Samsung owns) and supportive of Dolby's 3D sound technology Atmos, as well as a 13 megapixel rear camera and an 8 megapixel front facing camera.
The screen is one of those AMOLED displays the company is famed for using on its phones, though found in a 10.5 inch 2560×1600 screen, and the tablet also features a Pogo port, allowing a keyboard case to be attached and used without Bluetooth connectivity.
There's also no fingerprint scanner, as Samsung moves away from that as a feature, replacing it with an iris scanner, meaning like the Galaxy S8 and above, you can unlock the tablet with your eyes.
One other feature may end up grabbing you, with included support for DeX, Samsung's "Desktop Experience", which essentially turns a phone or tablet into a fully fledged computer. While that feature is normally unlocked using an accessory to dock the phone or tablet with, obviously you can't dock a tablet with an accessory made for your phone, and so the DeX technology is built directly in, and can be activated with a specific USB plug Samsung will sell.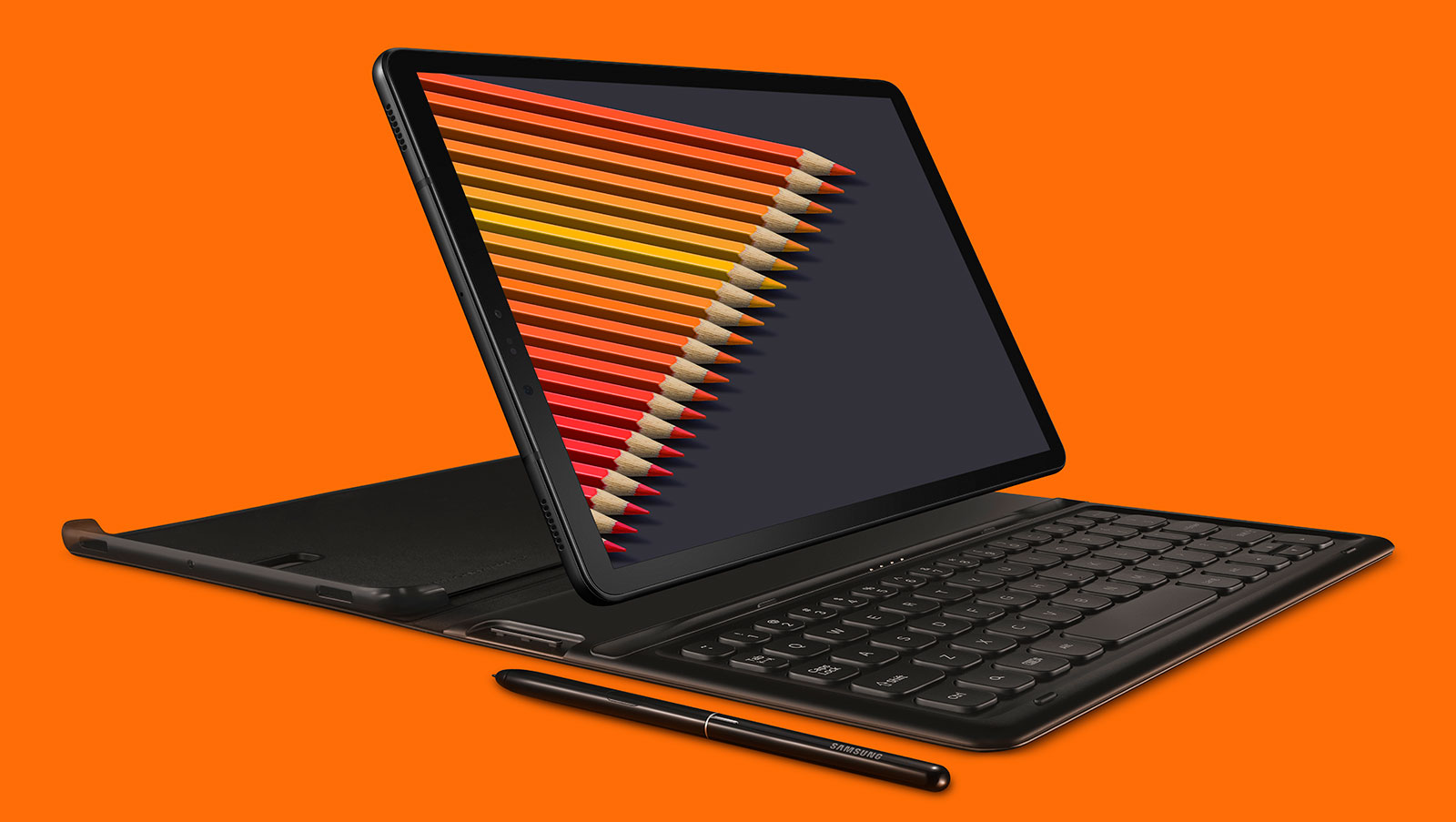 "At Samsung, we believe tablets play an increasingly important role in making lives easier and improving the mobile experience for everyone," said DJ Koh, President and SEO of Samsung.
"With the Galaxy Tab S4, we're introducing a premium tablet equipped with Samsung DeX that helps consumers perform their absolute best wherever they go."
The more budget friendly Galaxy Tab A
It's not the only model being announced by Samsung, with a second mostly screen 10.5 inch tablet also announced, similar but not exactly the same.
This one is called the Galaxy Tab A, and it's the 2018 edition of that tablet, arriving with a 10.5 inch screen like the Tab S4, though the tech isn't the same.
Yes, the screen size is the same, but the resolution and technology is not, with a more standard 1920×1200 LCD display instead of AMOLED.

In fact, most of the specs are different, with a more mid-range eight-core Snapdragon 450 chip, 3GB RAM, 32GB storage, a microSD slot, and lower-end cameras, as well, sporting 8 megapixels on the back and 5 megapixels on the front.
There's also no fingerprint sensor on this tablet, but also no iris scanner either, meaning you'll have to be happy with password or PIN only.
Samsung has made the Tab A more focused for budgets, families, and kids, and there's even support for Dolby Atmos here, complete with four speakers, as well.
Pricing and availability is a big question mark
However how much either of these will cost, as well as when you can find them in Australia, remains a bit of a question locally.
We do know that both are coming, but local details are as of yet unknown.
"Samsung Electronics Australia is excited to confirm that the Galaxy Tab S4 and Tab A 10.5 tablets will be available in Australia," said a local spokesperson. "Information regarding pricing and availability will be announced closer to the launch date."
Given Apple is expected to launch a new iPad Pro in September, our guess is that we could see release around then, giving Samsung a possible edge ahead of Apple, though how much of one remains to be seen.
We'll let you know when we hear anything else, though.