Now that tablets have begun to take over, more people than ever are using them, but are they for work or play? If you're Samsung this year, the answer is both.
Your laptop computer can do a lot of things, be it work or leisure time, but can it fold up into a slim size and still handle the goods? And can you make it so that you don't even think about it, truly integrating it with your life so that you know it's there, even if you don't have to feel it in your life?
Those are the questions Samsung is asking this week, prepping two tablet computers for release in Australia, as the mobile giant pushes on from its dabble in last year's Galaxy TabPro S.
You may not have seen that machine, but essentially it was Samsung's first play in ages for folks keen for a computer designed to work with their Samsung smartphone.
Designed in much the same vein as Samsung's previous smartphones, the TabPro S offered a metal casing, big AMOLED screen, and a unique ability to connect to Samsung phones using what it called its "Flow" technology, a piece of software that could talk to its smartphones and turn them not only into a mobile hotspot for the computer, but also a fingerprint-locking security system for the computer, keeping those files all tight so that only someone with your fingerprint and your phone could get in.
In the past few weeks, Samsung has opened up its "Flow" software to more computers, and while you still need a Samsung phone if you want to play, you don't need a Samsung computer.
However, if you do want a Samsung computer to go with that Samsung phone you might own, by the end of July, you'll have a couple more options.
Just like we see new computers from every computer maker on a yearly basis – and usually after chip-makers have released a new processor or two – Samsung is updating its Galaxy computers that run Windows 10, announcing the replacement for the Galaxy TabPro S in the form of the Galaxy Book, set to arrive on Australian shores very shortly.
The new machine was previewed earlier in the year, and will arrive in both a 10.6 inch variant and a 12 inch model, sporting either a 1920×1080 Full HD screen on that 10 inch or a 2160×1440 slightly better than Full HD screen on the 12 inch, and both arrive with new Intel processors too, delivering the 7th generation Core m3 if you opt for the 10 inch or a Core i5 if you go for the 12.
And outside of those differences, the hardware is largely the same, with 128GB storage on the 10 inch, and a choice of either 128GB or 256GB storage on the 12 inch, both of which will get room to move with a much needed microSD slot, something last year's TabPro S lacked.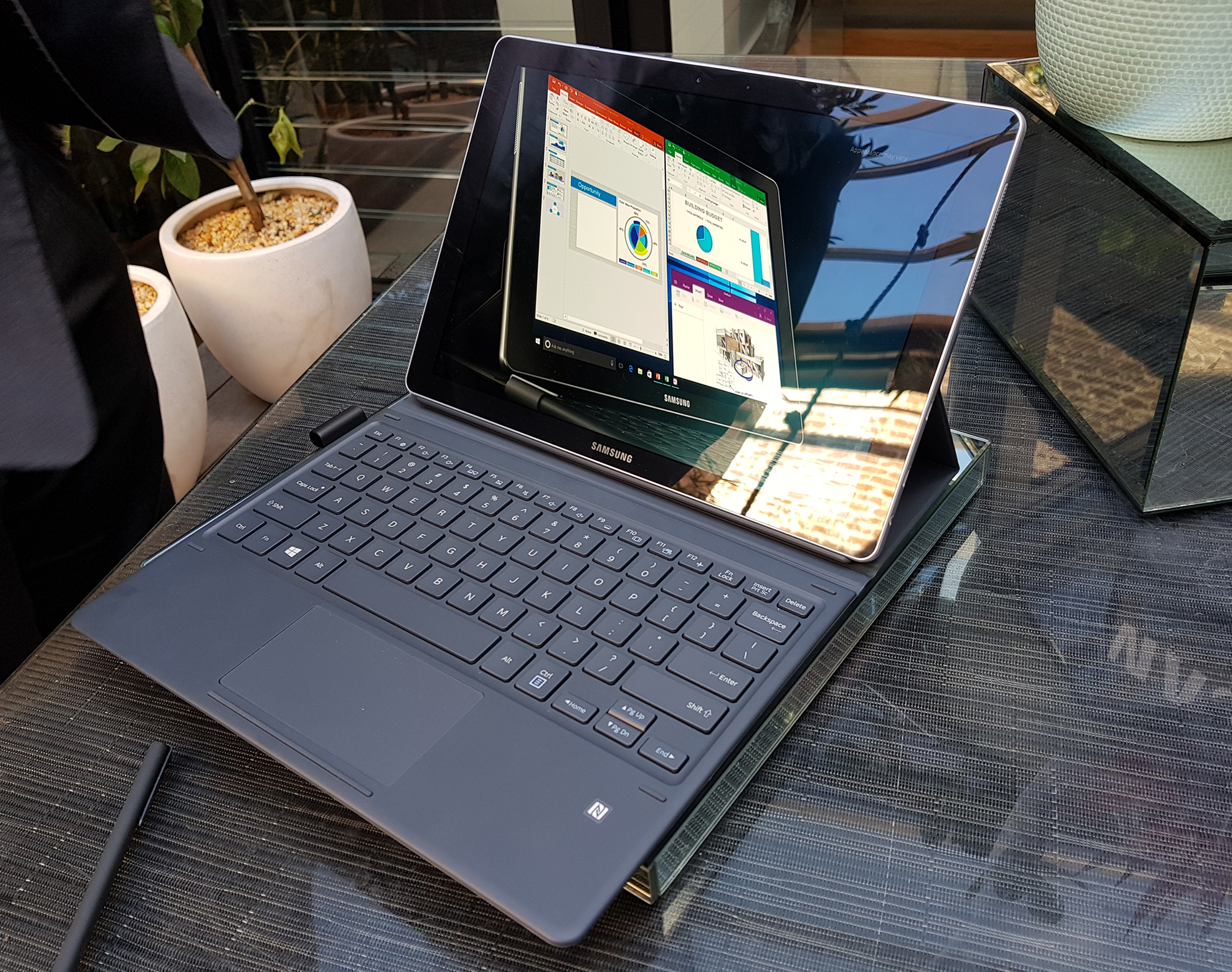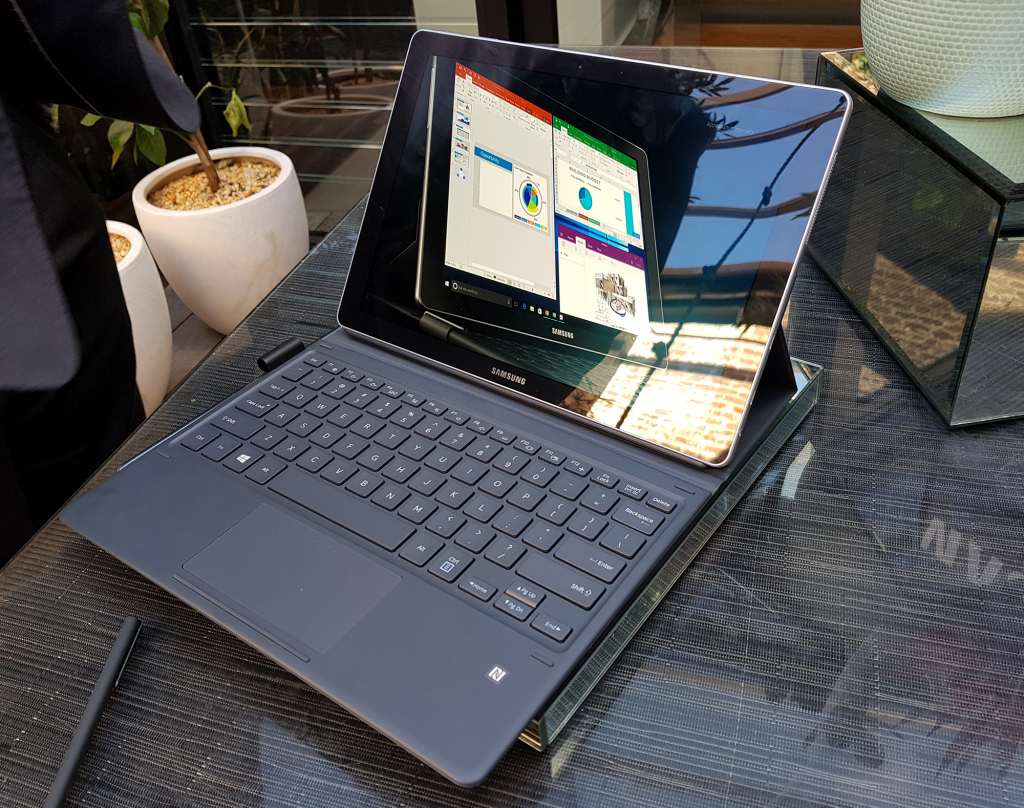 While you can expect some high-end connections, including 802.11a/b/g/n/ac WiFi, GPS, Bluetooth, USB Type C, and depending on how much you spend possible Category 6 4G LTE, the real play here is for a screen that can let you take notes on it.
Even though Samsung currently doesn't have a Galaxy Note phone in the market, its Galaxy Book will basically take up the call, working much like its phones did as a way to scrawl notes and let you draw, and do so with a new edition of the S Pen, now supporting up to 4096 pressure levels much like Microsoft's own Surface Pen.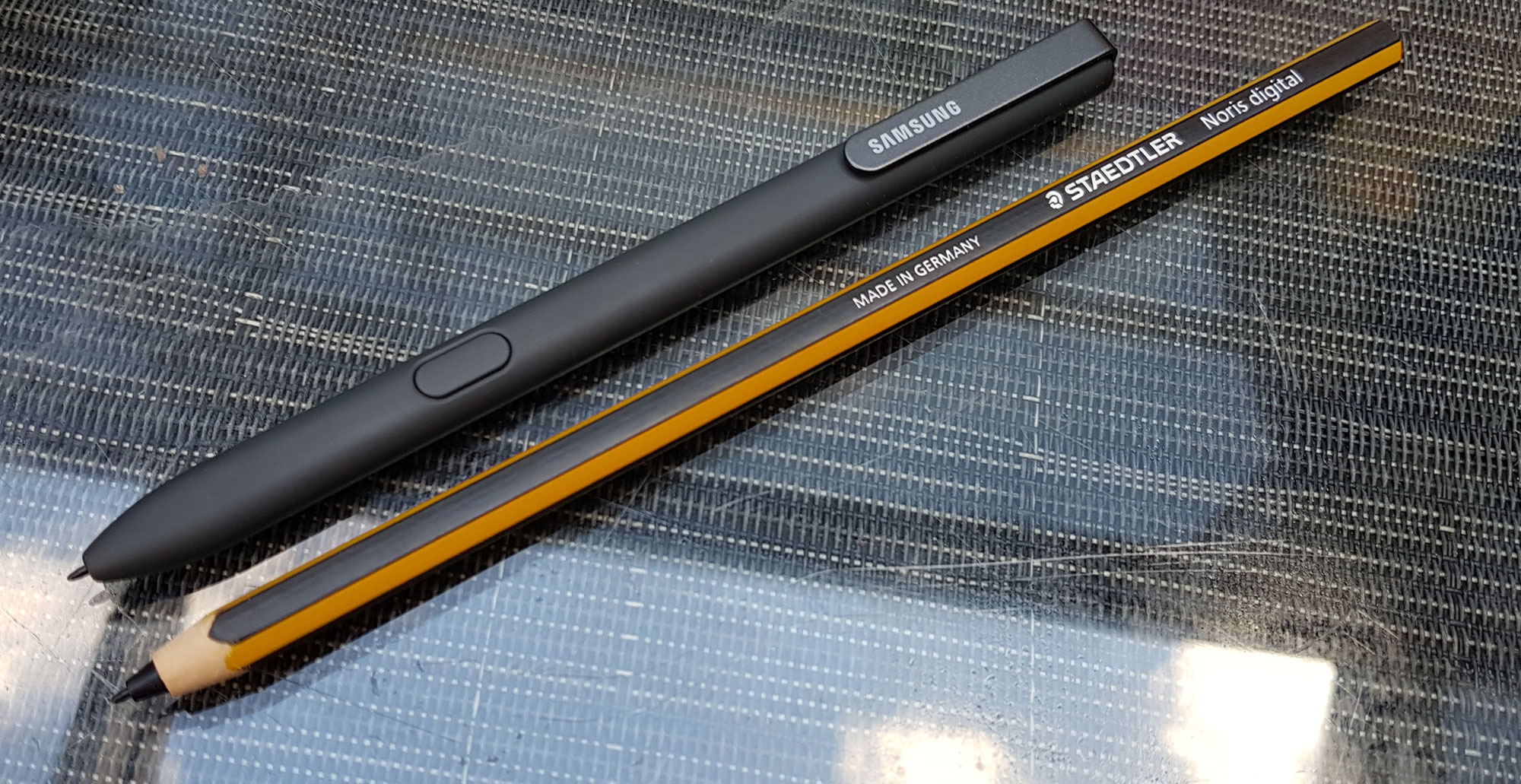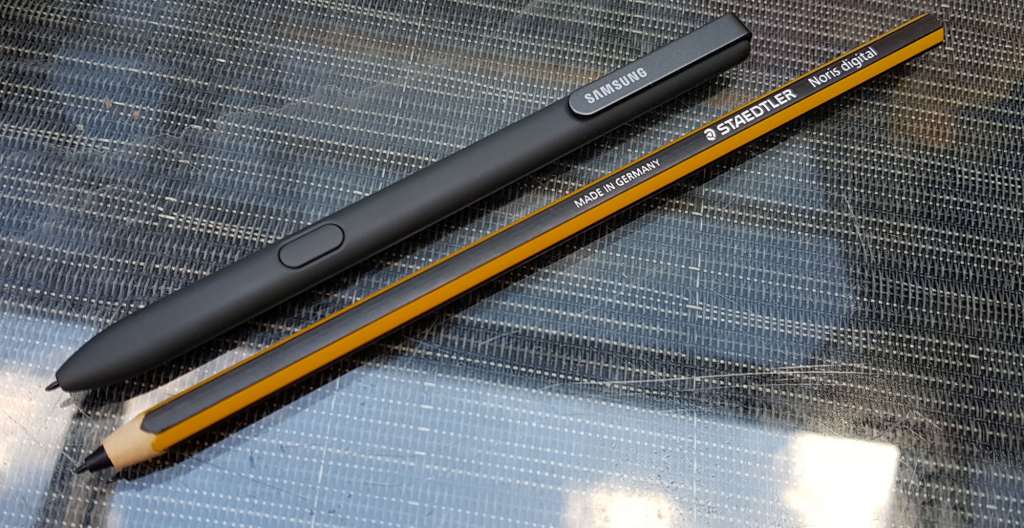 In fact, Samsung has actually collaborated with writing instrument company Staedtler to develop a stylus that looks and feels just like a pencil, made for folks who haven't quite gotten the hang of the stylus and would prefer a digital pencil to look and feel just like a pencil.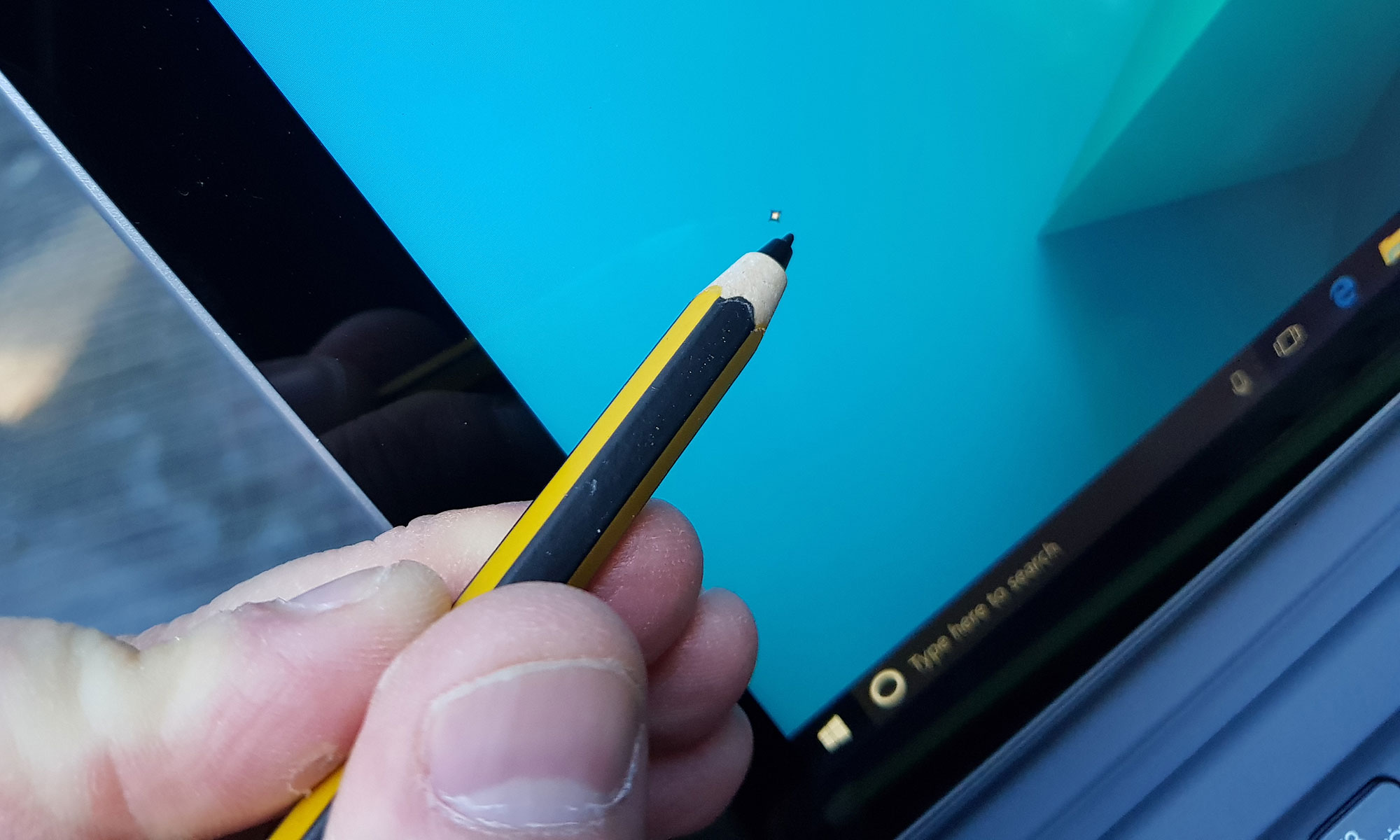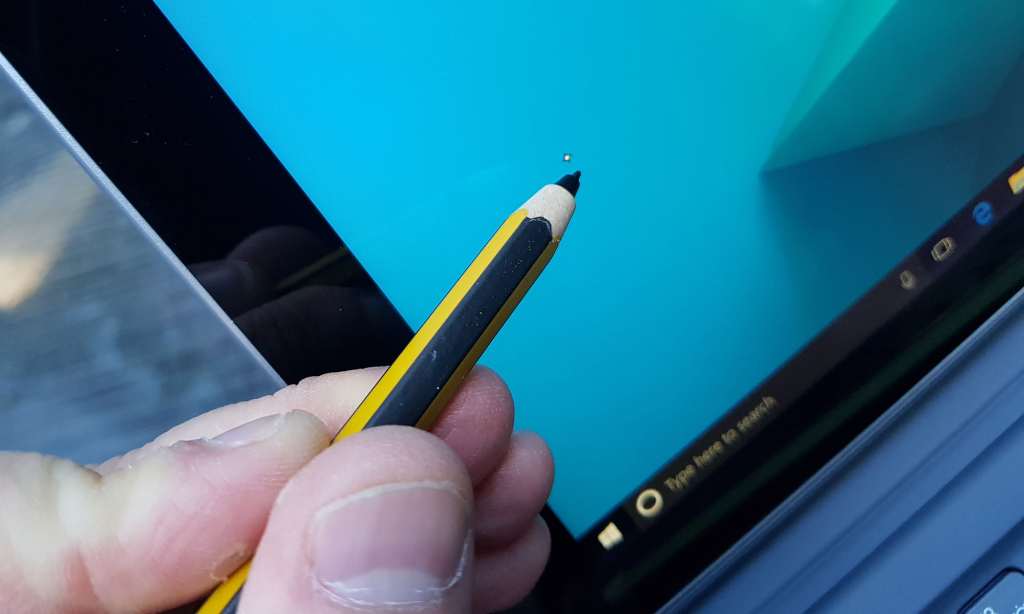 Giving it a play with this week, it's easy to see what Staedtler and Samsung hope to accomplish with the Staedtler Pen, even though it seems like it would be easier to mistake the real pencil for the digital version, so just make sure to check the barrels before you go about writing on that screen.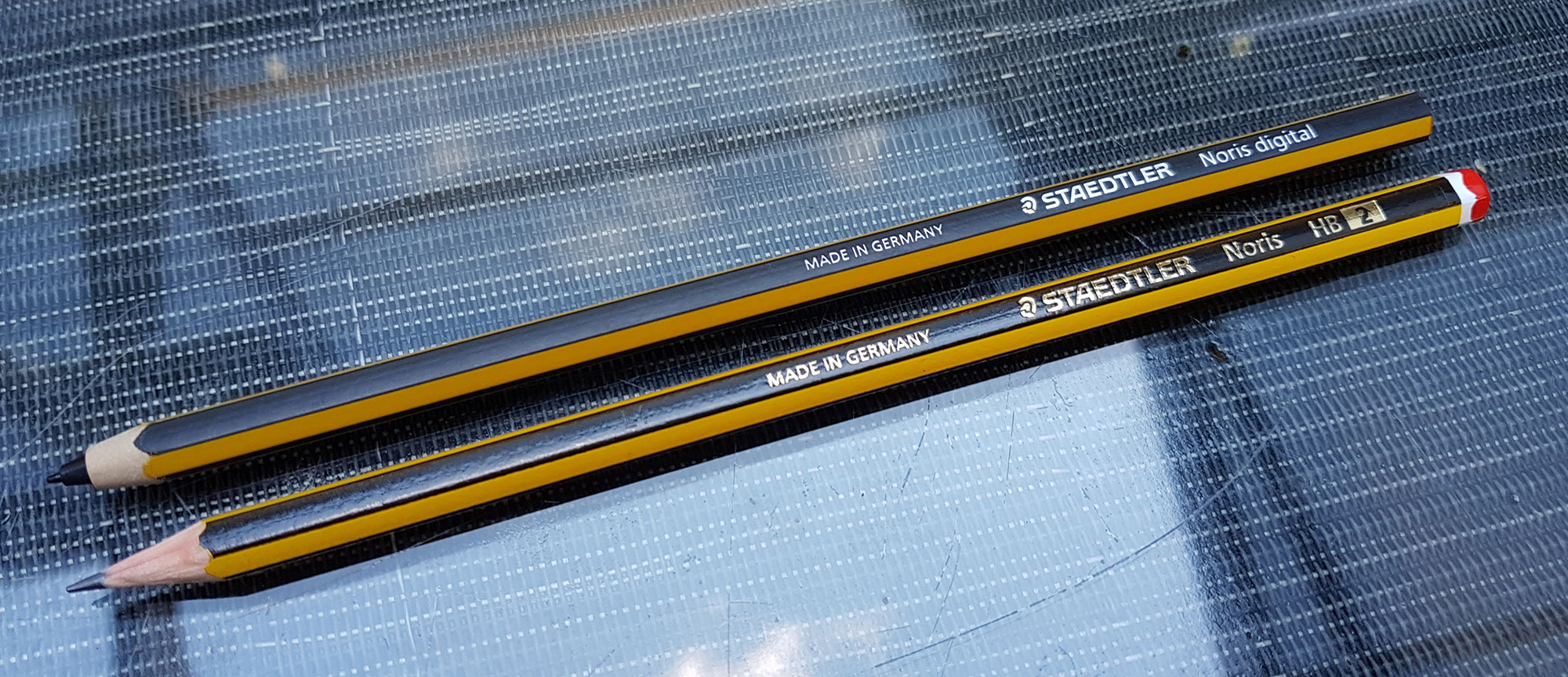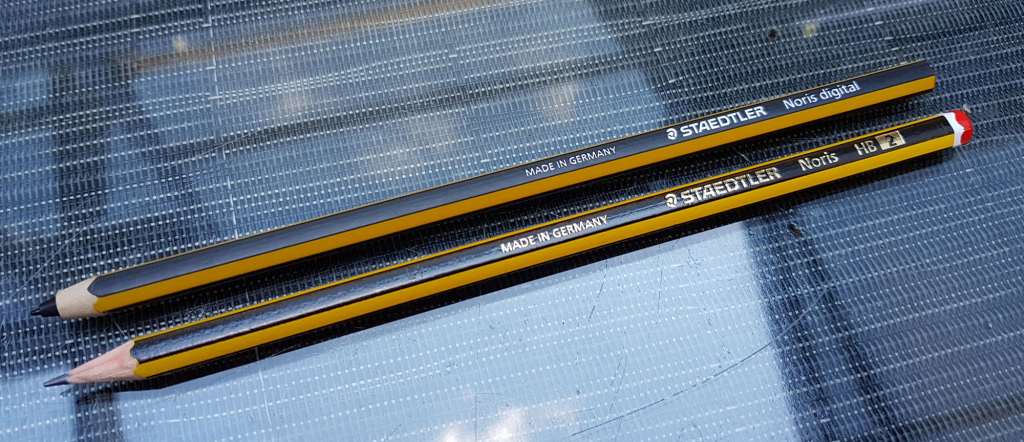 There are other improvements, too, with Samsung changing the included portfolio case of the Galaxy Book from what it was on the TabPro S, still including that keyboard but improving the design and making it possible to sit the computer at more angles than just two.
One other gripe appears to have changed, with a more secure magnetic connection on the Galaxy Book from our brief time with it, making it less likely your laptop will go tumbling out from its casing and fall to the ground.
Samsung's efforts in the tablet space also aren't focused entirely on work, because while both Galaxy Book models arrive with Windows 10, they're not the only tablets Samsung is making.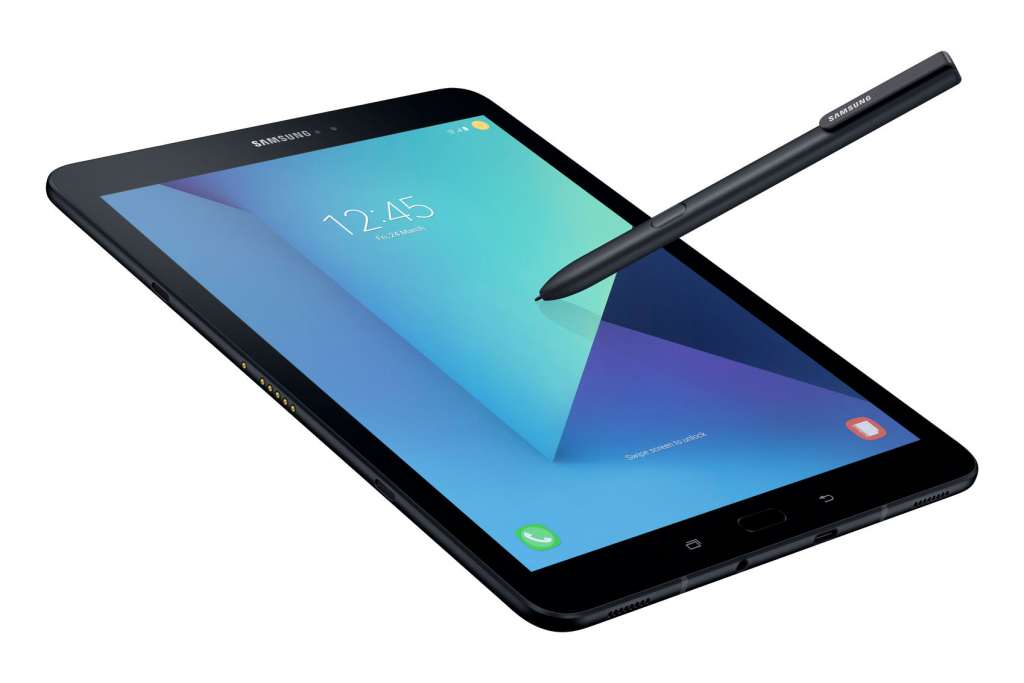 You'll also see an update to the Galaxy Tab this year, arriving in one variation with the 9.7 inch Galaxy Tab S3.
An update to now quite old Tab S2 (which originally arrived in both 8 inch and 9.7 inch sizes), the Tab S3 updates the processing technology to be more future friendly, keeps the 9.7 inch Super AMOLED screen, but provides a 4K capable video camera inside, while also adding USB Type C and four speakers and that have been tuned by AKG, as well as a pair of headphones like those from the Galaxy S8.
"Samsung believes in premium experiences and choice, and the Galaxy Book and Tab S3 give Australians the ability to choose the tablet that suits their needs and stay connected with a 4G offering," said Richard Fink, Vice President of Samsung's IT and Mobile Division in Australia.
"Whether it's the Galaxy Book 12-inch productivity powerhouse with a keyboard and S Pen, or a beautifully crafted and sleek Tab S3 engineered for premium entertainment experiences, our new range offers a great solution for a variety of users, from busy professionals on-the-go to people relaxing whilst streaming content at home," he said.
You'll find all three models in stores very shortly starting from the Samsung stores, with pricing set to $949 for the Galaxy Tab S3, $1099 for the 10.6 inch 128GB Galaxy Book, $1599 for the 12 inch 128GB Galaxy Book, or $1899 for the 256GB 12 inch Galaxy Book. Those are WiFi specific prices, so if you fancy spending a little more to get a 4G connection, you'll find it for $1099 for the Tab S3, $1299 for the 10 inch Galaxy Book, and $1799 and $2299 for the 128 and 256GB models of the 12 inch Galaxy Book.
Mind you, if you have a Samsung smartphone, you can always just rely on Samsung Flow to get you that 4G connection, bypassing the need for 4G built into the device altogether.