You probably already knew that Samsung wasn't going to stop making the Galaxy phones, and that the S9 would be the next in line, but did you know Samsung's latest chip can give away some of the new features?
Apple may well keep most of its features tight lipped until leakers get their hands on prototypes, but over in the world of Android, things can go a little differently. While devices don't reveal everything from the hardware that gets used inside, often technology is revealed by mere virtue of the processor, which is certainly what tends to happen with Android devices.
And that appears to be happening with the next Samsung phone, as the company announces that its next processor is in production, an eight-core CPU Samsung is calling the Exynos 9810.
Developed on the company's second-generation 10 nanometre processor, it's essentially the latest hardware with a lot of speed and some neat smarts, and even a nod over in one of CES' Innovation Awards for the year.
You'll likely never get to see the chip in a phone, unless you break open a Galaxy S9, but it aims to deliver a burst of speed, support for artificial intelligence, image processing with deep learning, and support for even faster 4G internet pushing beyond the 1Gbps internet connection offered in the Galaxy S8 (and supported in Australia, albeit very selectively). In fact, this new chip will support Category 18 LTE, delivering 1.2Gbps maximum down and 200Mbps up.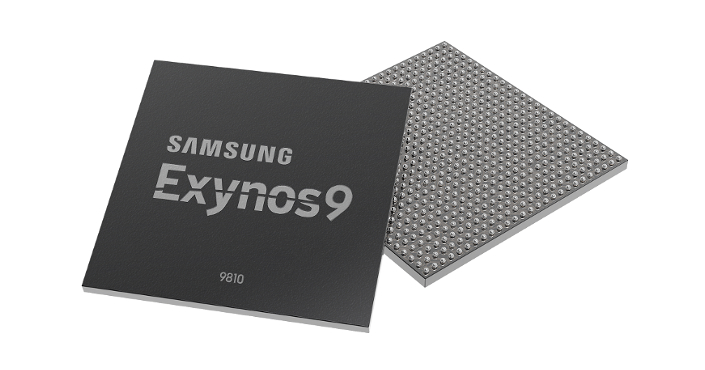 And it's not just speed, with the Exynos 9810 using intelligence to add to the previous security technologies of facial, fingerprint, and iris scanners. On top of those, Samsung is including support for 3D hybrid face detection, essentially suggesting the Samsung Galaxy S9 will support four sets of security technologies.
Support for better image processing will also be a part of the chip, delivering digital image stabilisation, better low-light, 10-bit High Efficiency Video Codec support for Ultra HD video with more colour, and the ability to grab photography in and out of focus to capture better images.
We're sure there will be more, much of it likely packaged up in a neat little way that makes it easier for the general public to consume, but right now, that's a pretty solid amount to be handled by the chip rather than software.
"The Exynos 9810 will be a key catalyst for innovation in smart platforms such as smartphones and personal computing for the coming AI era," said Samsung's Ben Hur.
Locally, it's highly likely we'll see these benefits in action, as Samsung's regular effort of using two processors across the world for its phones generally means an Exynos chip in Australia compared to Qualcomm's Snapdragon chips over in the USA.
That means these features will likely arrive as they are for the upcoming Samsung Galaxy S9, S9 Plus, and whatever else moniker Samsung decides to use for its next phone. And over in the USA where the Snapdragon-based Galaxy models arrive, you'll likely see similar technology, too, just without the Exynos hardware inside; seriously, we can't imagine Samsung releasing an unequal experience for a flagship phone.