Another week, another phone, with Motorola adding a curiously priced mid-range option to its Moto Mod family.
If there's one thing Australians aren't starved for, that's mobile phone choice. There is just so much to choose from in the smartphone world, and this week there's at least one more, as Motorola adds another option.
It's called the Moto Z3 Play, and it's the latest in Motorola's "Mod" family, a line of smartphones that features a specific design and a set of gold connectors on the back so that you can plug more devices in and make your phone do a little more.
Want to turn your phone into a projector? Add a projector mod.
Need proper zoom on your smartphone camera? Add the Hasselblad camera mod.
And how about printers: do you want to be able to print pictures and stickers of your friends right from your smartphone's camera? Add a Polaroid printer mod.
The idea with the Moto Mods is that it could expand a smartphone's use, an idea that we first saw back in 2016 with the launch of the Moto Z. Since then, we've seen new phones every year that support the concept, and a trickling of mods that let you add functionality, as well.
This week, we're seeing a new phone, as the Moto Z3 Play offers up a mid-range option, even if it skips out on what we would normally call the mid-range price.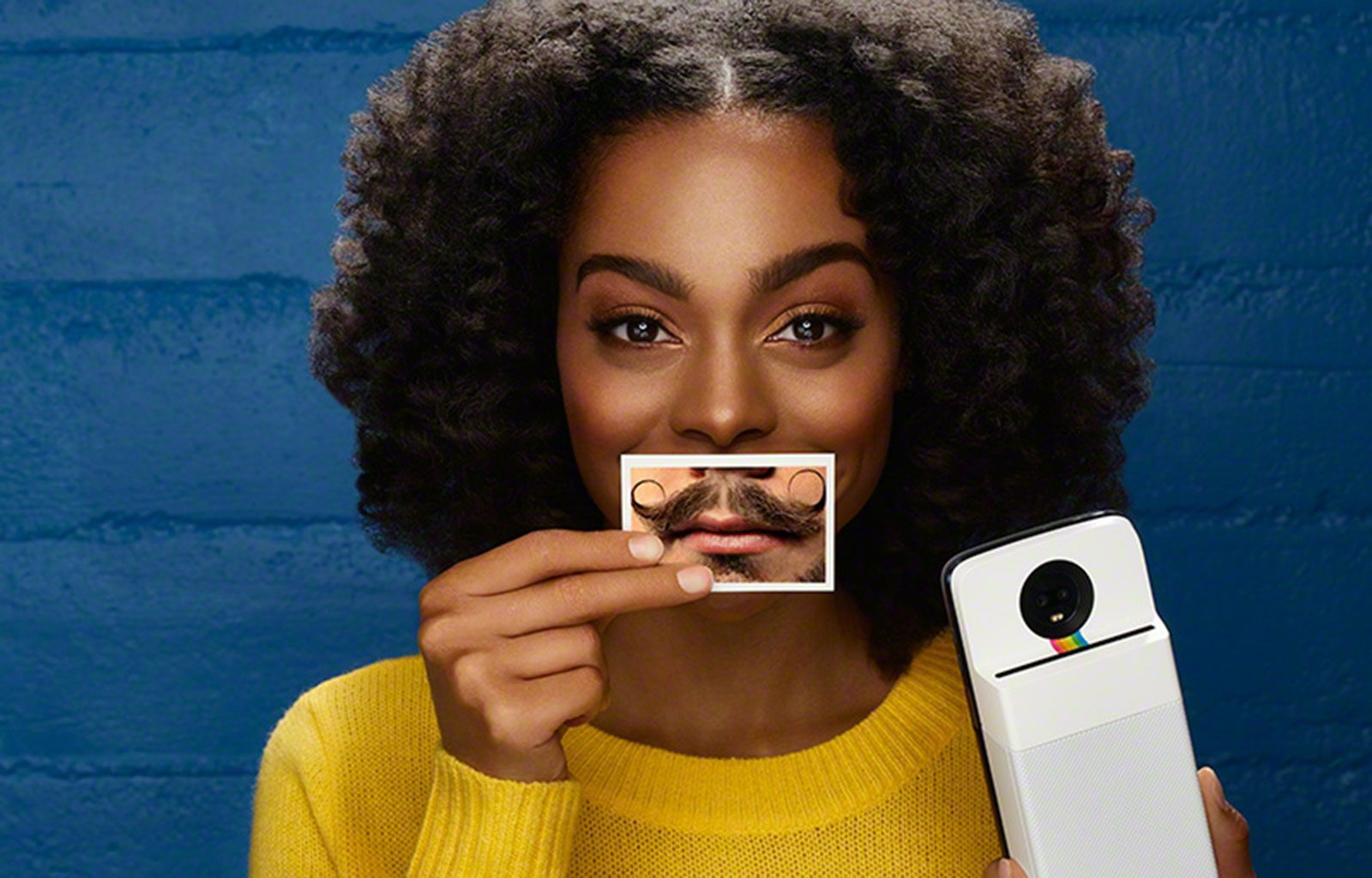 On a feature level, Motorola's Z3 Play has a 6 inch Full HD 2180×1080 mostly full-view screen, Qualcomm's Snapdragon 636 processor, 4GB RAM, and 64GB storage, the latter of which can be upgraded with a microSD card.
Those specs — specifically the processor — tell us a lot about the phone, and it will arrive with Android 8.1 "Oreo" out of the box, not exactly the latest, though we have to hope Android 9.0 "Pie" would be close.
You'll find two cameras on the back, with a 12 megapixel F1.7 main camera, and an extra 5 megapixel camera for depth, which translates to doing the background for those soft-background portrait images. Meanwhile on the front, Motorola offers an 8 megapixel camera.
And for the most part, the specs remain pretty consistent with what you'd expect in a phone these days, with the option for two SIMs or one SIM and a microSD card, no headset jack, one USB Type C port, Bluetooth 5, 802.11ac WiFi, and a fingerprint sensor in the side, a unique position for Motorola which normally goes for front below the screen or back behind it.
It also supports those Moto Mods, meaning expandability, though it comes with a cost.
While we're becoming all too used to seeing phones hit high price points, Motorola's Z3 Play is built like a mid-range phone, but priced out of that area, hitting $799 when it lands in stores in the next few days.
With mid-range phones generally fetching between $400 and $700, that reminds of when the mid-range prices started to shift because phones were getting more expensive. Indeed, that is still the case, and other brands have certainly pushed that more recently, but we're not sure that means every phone can just charge more all the same.

There might be one saving grace, though: Motorola's Z3 Play is relatively thin, sitting at 6.75mm if it weren't for the camera bump. A millimetre between friends may not be that big of a deal, but when flagships are increasing the thickness as opposed to decreasing, that may be a factor worth considering.
Sadly, you won't be able to find it in stores to help you make up your mind, with the Motorola Z3 Play available for Motorola's website from October 4 for $799.