It's not enough to have a great camera, these days you have to have the best camera, and with the latest in the "Mate" series, Huawei might just have it.
Your phone is hardly just a phone anymore. Even though you still probably use it to make and take phone calls, there's a good chance it does more than just the job of call and receive.
In fact, now that smartphones have become the ubiquitous internet-connected gadget that doesn't leave our sight and stays with us at all times, you're probably using it for everything. Surfing the web, checking Facebook, sending emails, playing games, listening to music, watching movies, and a whole heap more.
Unsurprisingly, a big part of our smartphone experience comes from the camera, and it's a technology that has been improving over the past decade or so that has led the phone to become so central in our lives. This year, we've seen some pretty staggering developments in phone cameras, and Huawei has been responsible for at least one of those.
Announced back in March, Huawei's evolutionary take on the smartphone camera was to package three cameras into the back of the P20 Pro. A first in the phone world, the tech not only brought a telephoto lens to the phone, but also combined a colour and black & white sensor together, and resulted in some pretty impressive technology able to compete with some dedicated cameras.
But Huawei isn't done for the year, and in its last major phone release of 2018, it has a few tricks up its sleeve.
Big, and not just in size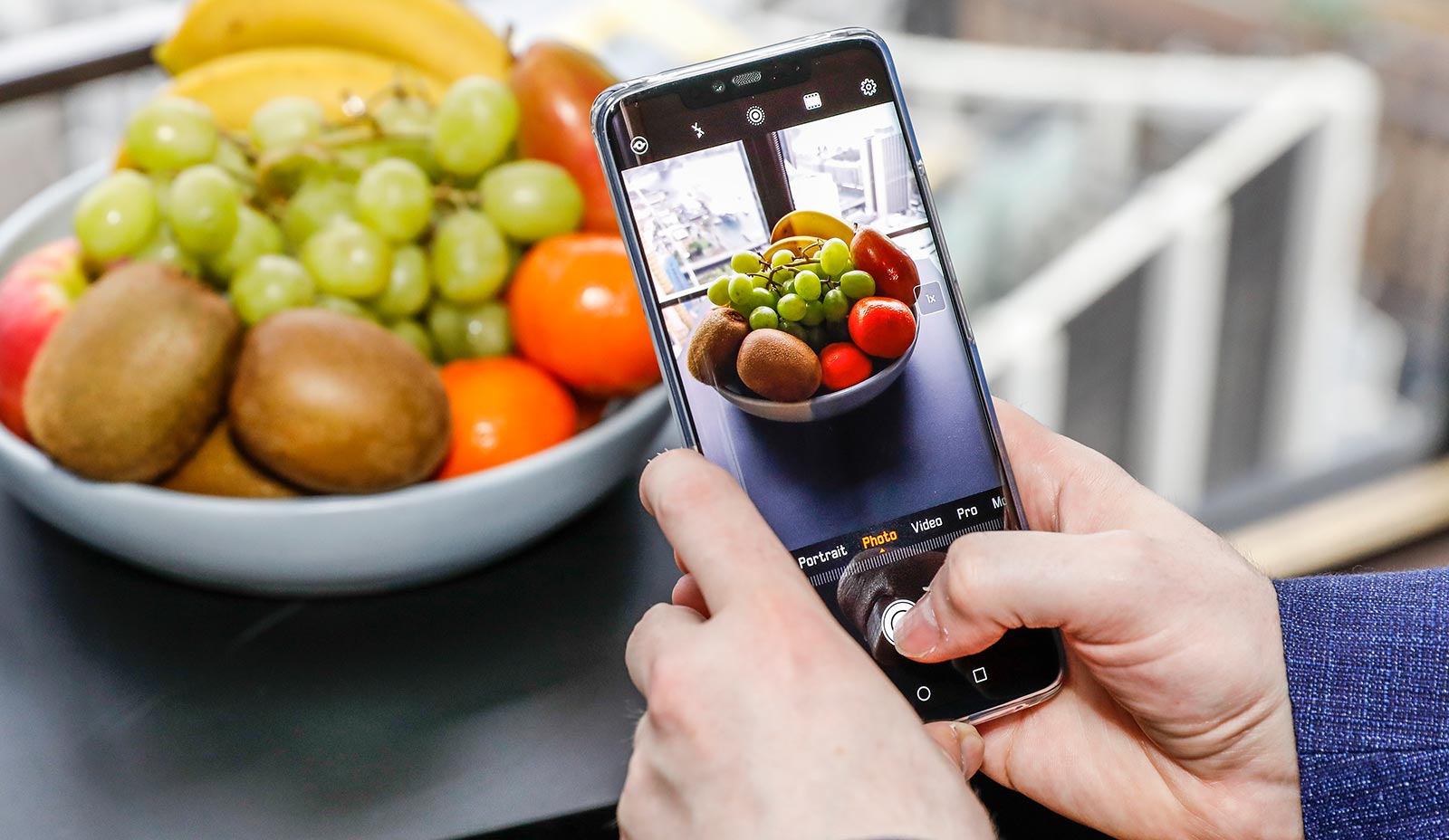 Announced this week, Huawei's play for your next smartphone comes in the form of the Mate 20 and Mate 20 Pro, an addition to the Mate series that once spelled out the "big phones" for Huawei.
These days, everything is "big", and so this means a little less, but Huawei's feature spec aims to be just as big as you might expect.
There's Huawei's latest processor inside, different from what came in the P20 Pro with the 7 nanometre Huawei-made Kirin 980 chip, the first announced 7nm processor that was beaten to the punch on release by Apple's own A12 in the iPhone XS and iPhone XS Max.
There's a good 6GB RAM working alongside as well as 128GB storage, and unlike the P20 Pro which featured fixed storage, you can upgrade this memory using a new type of memory card called "nano memory", made to be the same size of a nanoSIM (hence the name). Nano Memory right now is specific to Huawei phones — specific to the Mate 20 and Mate 20 Pro — and will cost $139 for 128GB when you want to expand the storage of the new phone.
You'll find 802.11ac WiFi, Bluetooth 5, GPS, and even that infrared port to give you control of your TV and air conditioner, something only a handful of phones still support.
Android 9 "Pie" arrives on Huawei's new phones out of the box complete with Huawei's "EMUI" take on top, as does a big battery, a big screen, and a big new design for Huawei's triple-camera collaboration with Leica.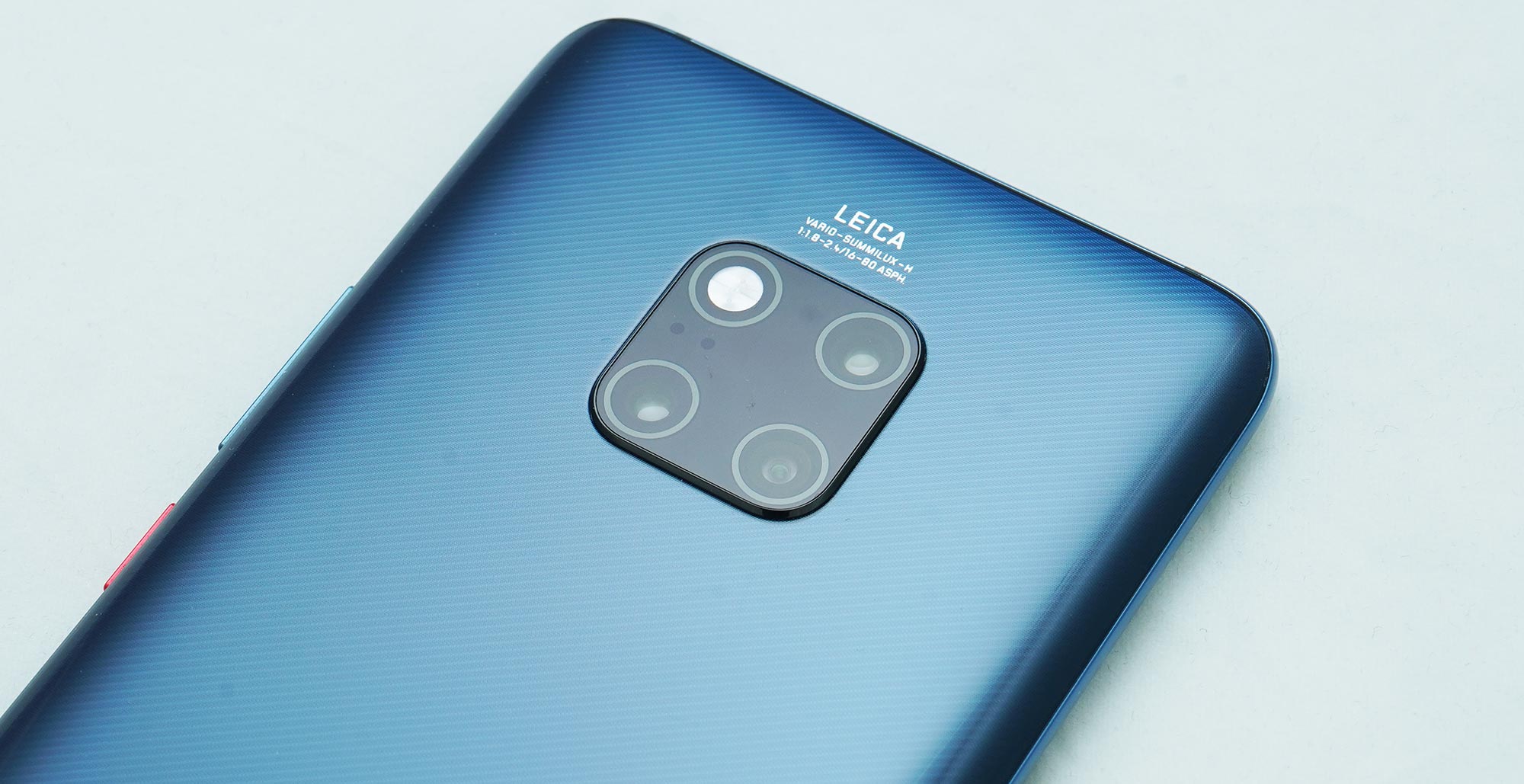 Three cameras, multiple view points
Yes, Leica is still involved with Huawei's take on smartphone cameras, and the formula is a little different this time around.
Since the beginning of this whole Huawei-Leica relationship back in 2016's P9, the focus has been on what a dedicated monochromatic camera can bring to the smartphone camera equation.
The results have so far been pretty impressive, with the P9, Mate 9, P10, Mate 10 and Mate 10 Pro, and P20 Pro all being given some pretty solid reviews for the combined colour and monochromatic camera component.
And in the Mate 20 range, that component changes. While there are still three cameras, the focus is now on viewpoints instead of contrast from the previous generations.
Specifically. you'll find an ultra-wide camera, a standard camera, and a telephoto lens working together, allowing you to not only get more in or get closer up.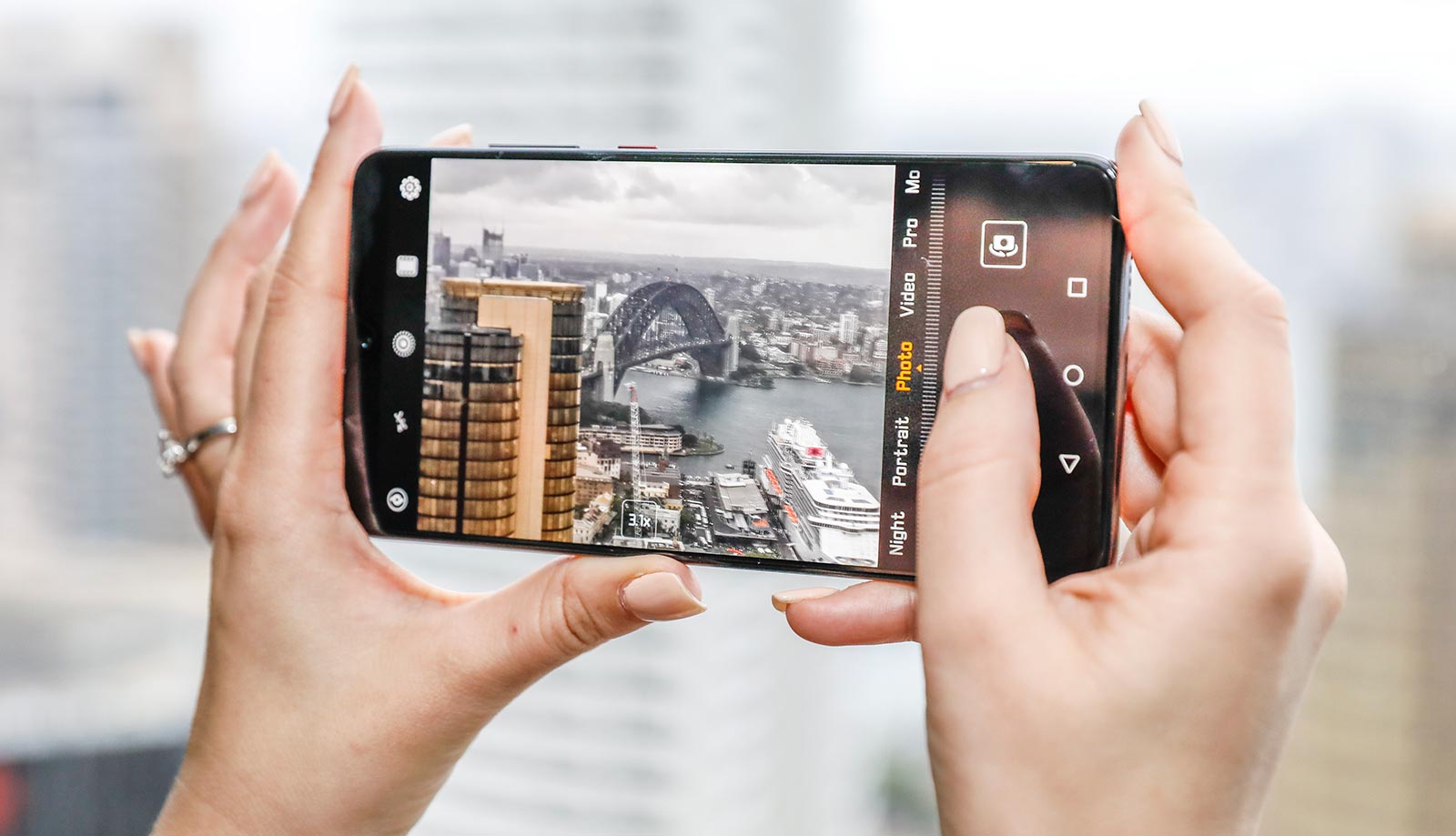 There's also more work on the artificial intelligence side of things, and that's helped by Huawei's 7nm Kirin 980 processor, which aims to not only help set the camera up for your shot, but also do some of the work connecting the cameras, especially if zoom plays a part.
Both Huawei's Mate 20 and Mate 20 Pro get these features, but the tech isn't exactly the same between them.
A difference of cameras
With two phones, Huawei has two specific specs and price points to work with, and they differ quite dramatically. The concept behind the cameras in each is the same — ultra-wide, wide/standard, and telephoto working together — but the tech is clearly superior in one over the other.
In the Mate 20, Huawei is packaging a 16 megapixel ultra-wide with a 12 megapixel wide and an 8 megapixel telephoto camera. But in its Mate 20 Pro sibling, there's more inspiration and development from the P20 Pro, grabbing a 20 megapixel ultra-wide camera, a 40 megapixel wide/standard, and the 8 megapixel telephoto.
The amount of megapixels on offer from the Mate 20 Pro means the AI can do some snazzy things, such as get you closer with a super zoomed macro mode, or use those extra megapixels to downsample to a sharper 10 megapixel image, which is the image size the Mate 20 Pro tends to deliver in, for the most part.
Mate 20 vs Mate 20 Pro
And it's more than just a camera that separates the two phones.
While both are big phones with big three-camera setups, the Mate 20 is a big 6.53 inch phone with a full-view LCD screen that includes the tiniest of notches at the top.
There's no water-resistance or wireless charging, but the 4000mAh battery should get you through a fair bit of time, and the rear fingerprint sensor and facial lock will provide the security folks crave.
Huawei's Mate 20 Pro takes a different tactic, though, grabbing attention with wow factor.
For instance, the screen isn't as full a screen, and there's a bigger notch on its 6.39 inch display, but the screen is a higher quality OLED with a better resolution.
The Mate 20 Pro also nets IP68 water resistance and wireless charging, and it comes with a snazzy new feature we've never seen on a phone before: reverse wireless charging. Simply put, you can charge other wirelessly charged devices through the Mate 20 Pro, like the iPhone X or the Galaxy Note 9.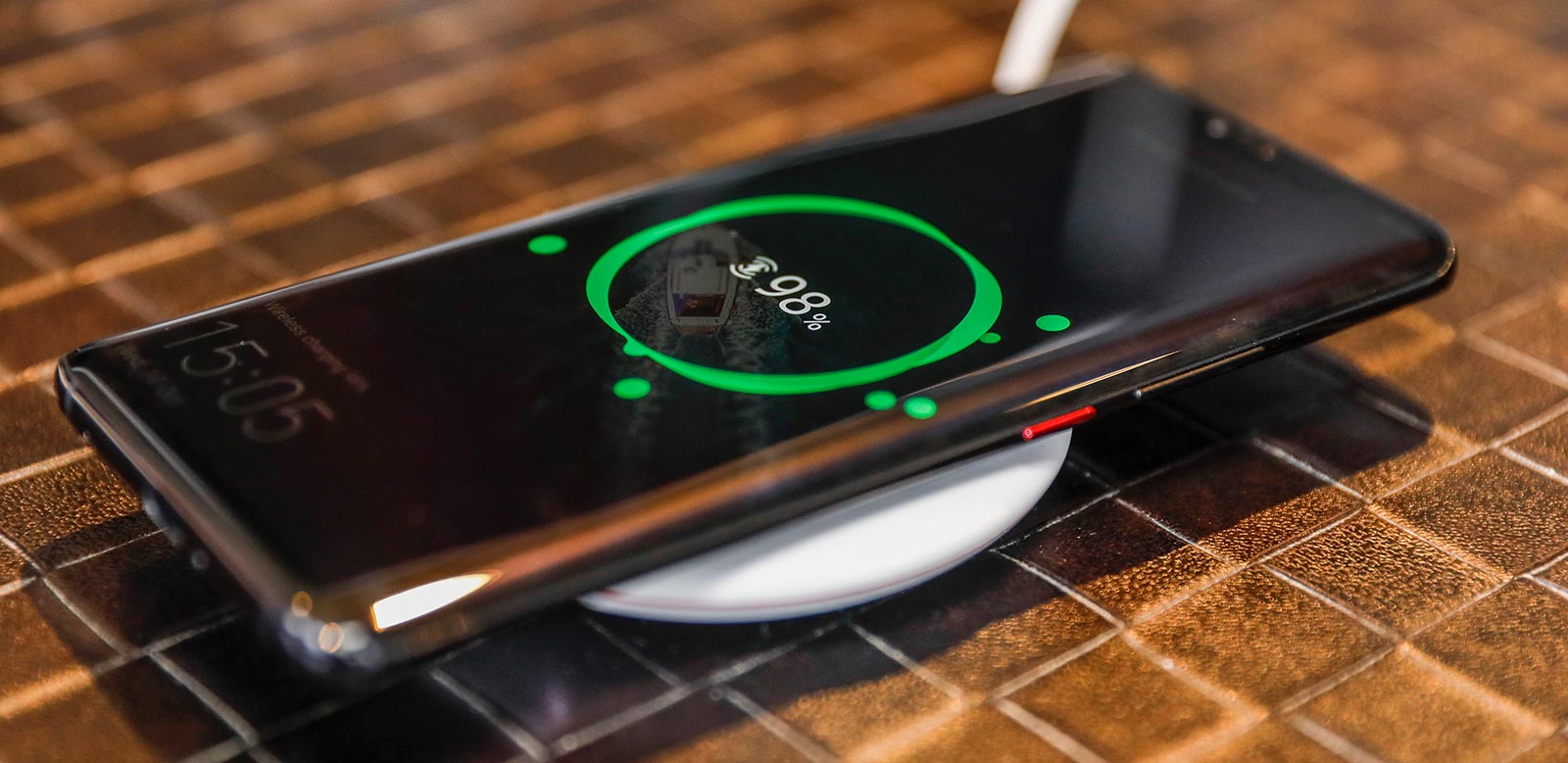 This crazy taste of the future is accompanied by something that hasn't seen release in Australia before this: an in-screen fingerprint sensor.
Yes, the fingerprint sensor is still around, and Huawei has made it work in the screen, pressing on a specific part of the screen with your fingers to unlock the phone. There's also facial recognition using similar infrared dot tech as to what Apple uses as well as Oppo in the Find X, as well as a bigger battery.
Price and availability
The good news is the Australia will see both, adding to the sheer phone choice we all have available to us, with the Mate 20 range arriving on November 1.
The Mate 20 will be priced at $1099 outright in dual SIM, and in single SIM on plans from Vodafone, while the Mate 20 Pro will see a higher cost at $1599 in both black and blue, with single SIM options available from Vodafone and Optus, respectively.
Leigh :) Stark traveled to London, UK as a guest of Huawei Australia for the launch of the Huawei Mate 20 and Mate 20 Pro.