Dyson has been super secretive about its latest project, but when you're in the business of changing the world one engineering concept at a time, it all makes sense. So what's special about this new idea?
The windows are covered, and there are barricades in the way. It's only when the friendly faces at Dyson say in the most charming English accent ever "sorry mate, you can't take photos in here" do you believe they're serious. The truth is that Dyson has something big to show, something big to reveal to the world, and they're not taking any risks.
Dyson is a company of engineers. It's a company of folks that do what they can to make the world a better place bit by bit by engineering bit. There are over 11,000 people working at Dyson around the world, and around a third of them are engineers. The company operates a university for students who want to become better engineers, and who have a chance to go on and work for the brand, a company going serious places. It even supports students who want to go on to make the world a better place, thanks in part to its James Dyson Award.
The products it works on going through hundreds to thousands of engineering prototypes to nail the right balance. The engineers working at Dyson still use cardboard to build things, to prototype ideas, and it pours billions into future research projects, with currently 200 live projects working their way from sketch to manufacturing.
In essence, Dyson is a company out to build things, but it's also a company that has been burned. It has seen several companies clone and copy its technology, as its unique signature hand drying concepts and vacuum cleaning processes have been copied by other companies, something that has seen Dyson head to court on at least one of those.
It's no wonder that Dyson is only keen to show us its new concept behind fake walls, behind blocked windows, behind closed doors so closed that even folks inside Sydney's Dyson office have no idea what we're looking at.
But there's a great reason why: Dyson plans to unveil something that not only intends to change the world of vacuum technology forever, but something that will even make a dent in its own line of products.

You see, while Dyson's stick vacuums have long been the company's major seller, they don't win everyone over. A spot of research from Dyson indicates that while a quarter of the population relies on a cordless vacuum of some kind, that remaining 75 percent does not, and stays tethered to the wall.
That essentially means three quarters of the Australian population relies on a bigger, bulkier vacuum, and whether it's a stand-up or a ball-vac that you drag along the floor using the cord, there are probably good reasons to why.
Dyson told Pickr that power and battery life were both strong reasons as to why consumers tended not to make the leap, relying on the stick for small cleans, but going back to the big vac when they needed proper power, when they needed to do some solid cleaning where the battery didn't cark out 15 minutes into cleaning.
It's a serious issue, too, because if you start cleaning, the last thing you're going to want to do is plug that vacuum in and wait a couple of hours for it to charge before you can start again.
So Dyson went to work making something better than its V6 and V8 stick vacuum cleaners could ever be. Borrowing from the same tried and trusted design, it put plans into action to build a bigger, meatier stick vac, one that could take the place of its regular vacs.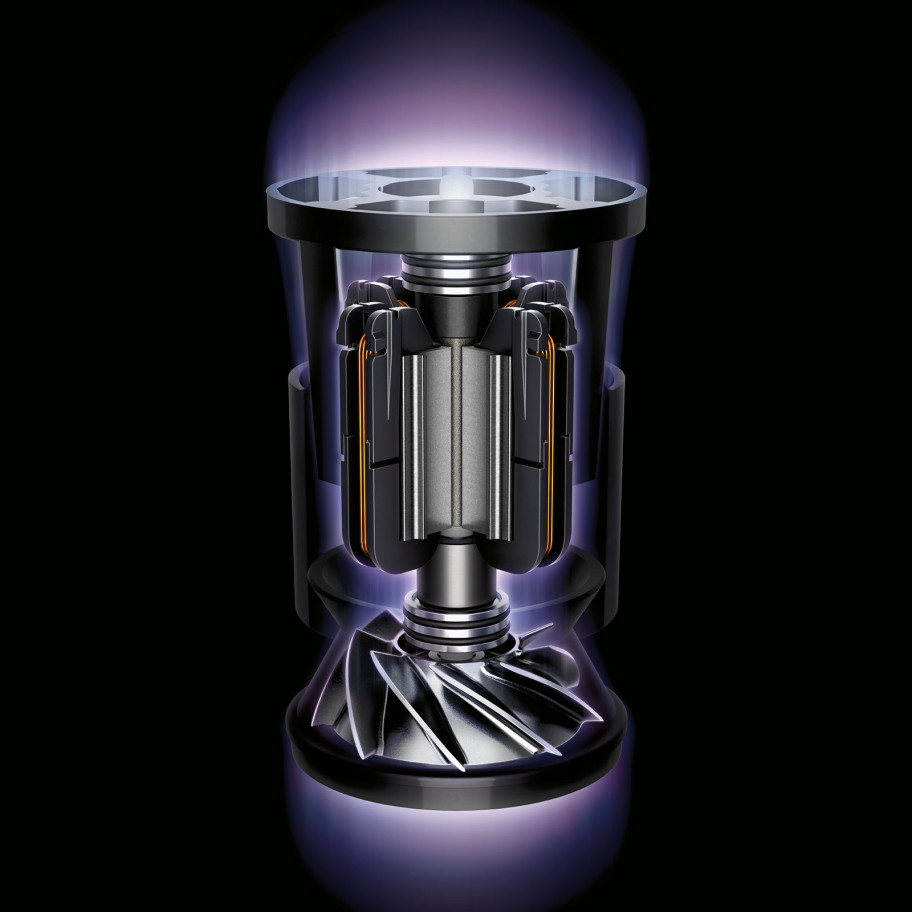 To make this work, it would need to build a different motor based off the same cyclonic principle it had been using for its previous vacuum cleaners, and would need to look at how it all came together.
The motor itself was improved to a new version, the V10 which is able to spin at 2000 times per second, making it the fastest Dyson digital motor yet and re-engineered to deliver stronger performance.
To put that into perspective, the V10 motor weighs 125 grams and runs at a staggering 125,000 revolutions per minute, while the previous V8 was 225 grams and ran at 108,000 RPM. Yes, that means the Dyson V10 is small, lighter, and faster, too.
Being a digital motor, it's also continually adjusting itself, using pressure sensors to work out how high up you are and how the weather affects things, able to provide the best performance regardless of where you use it. This means that if you use it in Sydney, New York, New Orleans, or Helsinki, you'll get solid performance across the board as the motor corrects itself for the conditions around you.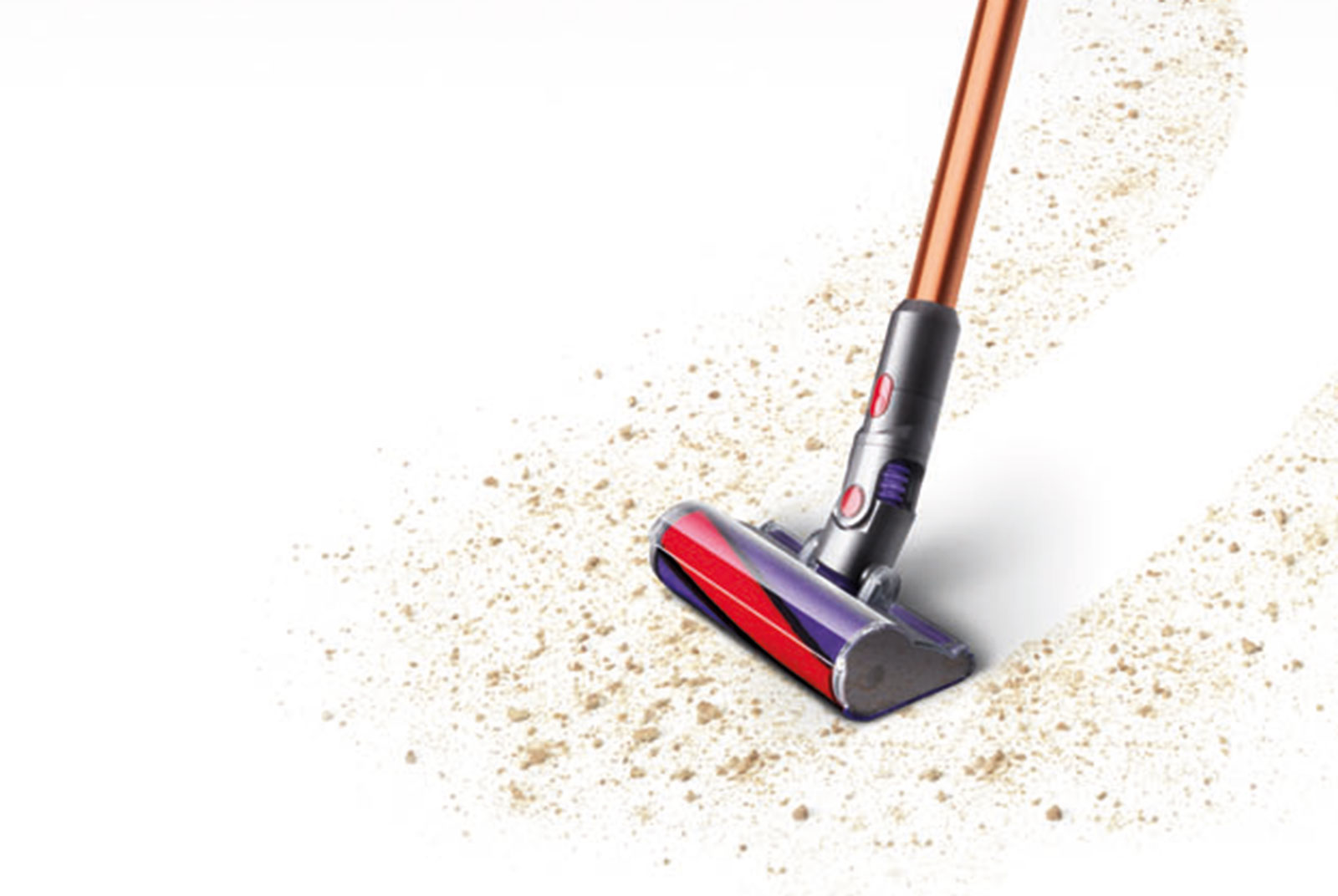 That sits in the back, and plugs into a body with improved air usage, and a dust and debris pin that can hold more, and that even pushes itself away from the shaft to release the waste into a bin or bag for disposal with less chance of it coming back to you.
It's just one of the many changes, such as the battery which differs dramatically because it runs for much longer. While a typical Dyson stick vac like the V8 might hit 15 minutes of runtime before it needs a charge, Dyson's V10 can hit 60 minutes, making it possible to clean a home. There's even a battery indicator on the side of the vacuum, and three power settings, giving you a little control for your home.
In fact, control is one of the big parts, because with lots and lots of different tubes, extensions, and heads. Those heads include things like nylon bristles and carbon fibre filaments to remove dust better, to help it lift things off the ground, all of which appear to help you control the flow of dust in your home.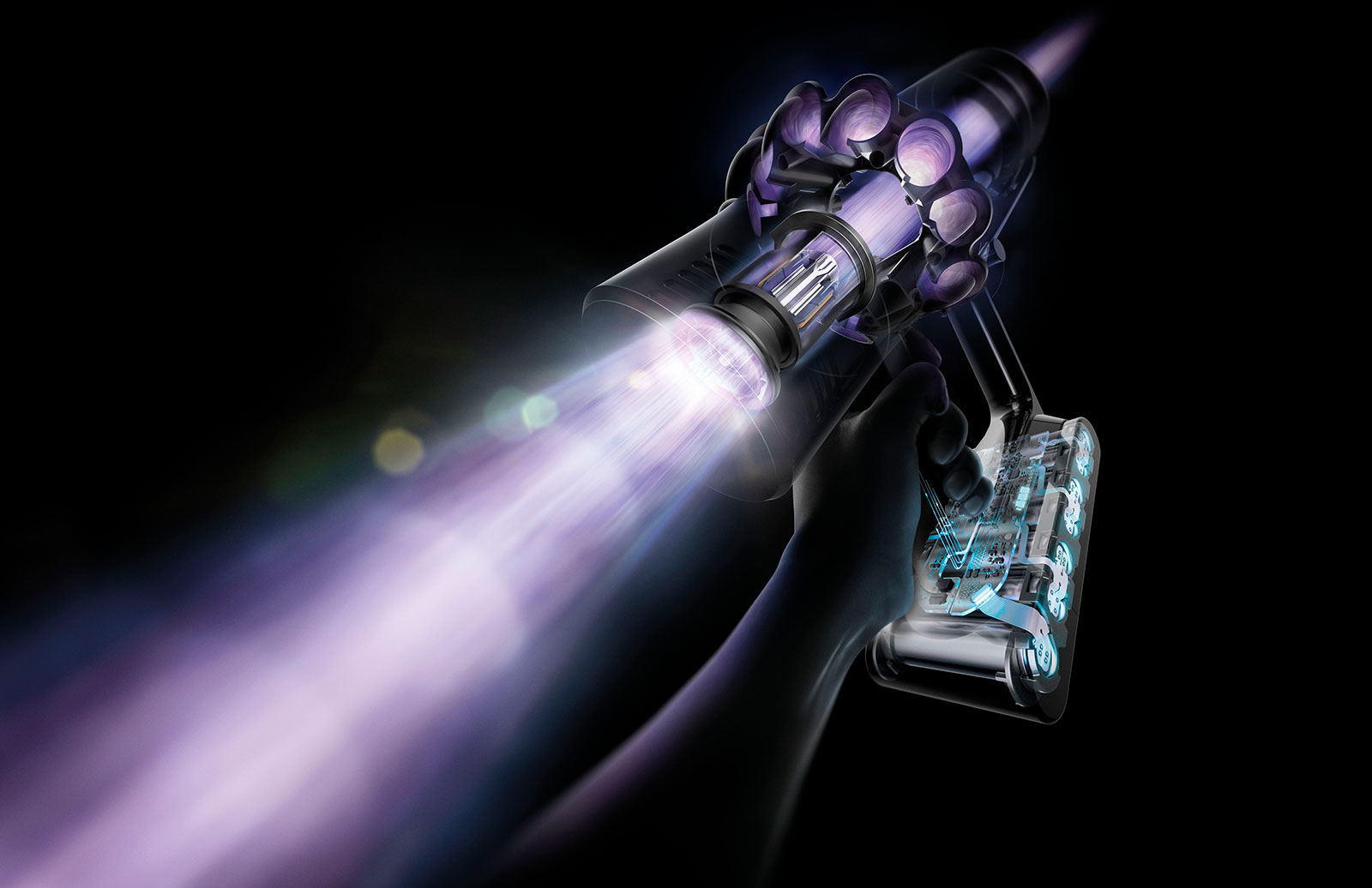 And control appears to be what Dyson's latest vacuum has been influenced by.
That, and getting rid of wall-tethered vacuum cleaners for the company, forever.
"The Dyson Cyclone V10 vacuum is so light, so powerful, it can deep clean anywhere in your home," said James Dyson, Founder of Dyson. "It is the reason why I've stopped developing full-size vacuums."
He's not wrong, either. Representatives for Dyson confirmed to Pickr that with the release of the Dyson V10, the company will stop making its corded vacuums, meaning it's all battery-based and wireless from here on out. It means that we'll still likely see the smaller V8 vacuums for smaller homes, while folks who want to operate over a larger surface area will have the V10 upon release.
"The Dyson digital motor V10 is Dyson's most advanced," said James. "It's what enabled us to entirely change the format of a vacuum cleaner."
We'll have our review along shortly, but for now, you'll find Dyson's V10+ in pre-order from March 16, with release from April 6.
There'll be two of them, with the animal model with a couple of heads in the $899 V10 Animal, while the full kit will arrive in the Dyson V10 Absolute+ for $999 in April.