Few headphones are made for kids, and yet kids are clearly using headphones, so what happens when a pair is specifically made for the little ones?
Children have different needs to adults, and yet when it comes to gadgets, we tend to treat smaller versions of ourselves as if they were the same regular sized versions.
Take the whole thing of phones and tablets, because even though devices made for those age groups exist, they're often of a lesser quality, and so it's not totally surprising to just hand over the real deal to the kids, letting them take an iPhone, an iPad, a Galaxy, or something else that would normally be big and expensive, and hoping they don't drop it.
Headphones are a similar area, and while you can give your kids a nice pair of headphones, few pairs of earphones, earbuds, or headphones are engineered for kids, especially when it comes to volume limiting, because the last thing a kid needs is to go hard of hearing early in life.
As parents ourselves (granted of a very, very young one), this is an issue we've been thinking about, because adult ears are very different from the needs of a child's ear.
JBL, however, has been working on a solution for this very issue, and this week has announced that October will see the release of a new line of headphones engineered specifically for kids.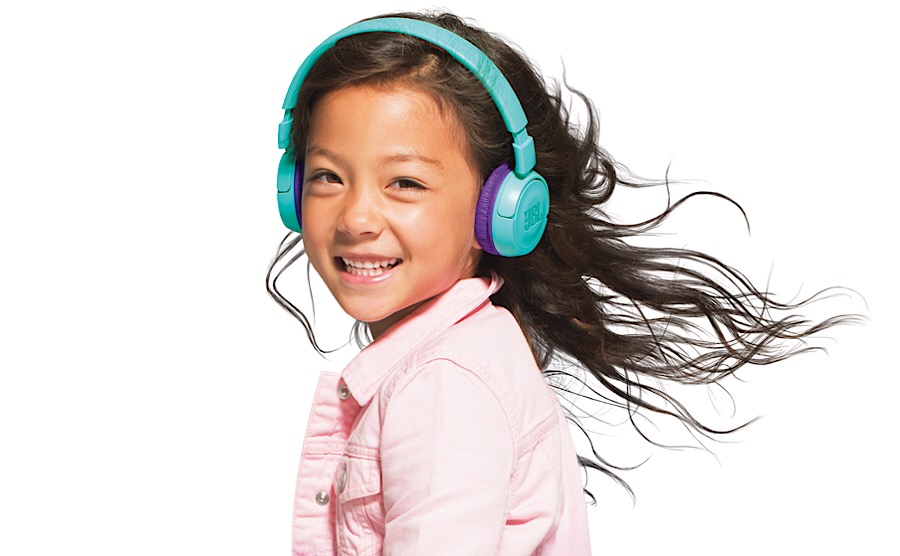 Called "JBL Jr", the headphones are designed to provide a safe amount of volume for kids aged three to ten, offering colourful exteriors with stickers to decorate them, a foldable and portable design, and more importantly a level of engineering that JBL calls "Safe Sound" which limits the sound to a maximum of 85 decibels (dB).
That should keep the volume at a safe level to stop kids from driving the sound to deafening levels, and JBL is also talking up a "Pure Bass" design that maximises the bottom end in movies and video games without losing much.
JBL Jr's range does start with two headphones, but both are very close in what they offer, with the JBL JR300 being wired, while the JBL JR300BT are identical but are wireless thanks to Bluetooth and run on a battery providing up to 12 hours of battery life.
Most interestingly is the price, and that's an area JBL is definitely trying to appeal to parents with, as the wired JBL JR300 fetch a retail price of $39.95, while the wireless Bluetooth variety (JBL JR300BT) can be had for $30 more at $69.95.
You'll find these at electronics stores across Australia in October, and they're a pair we can't wait to try, either.