Now that the HomePod can be made into a stereo system with two speakers, it means you can get it working with two speakers on a TV. But is it worth it?
The launch of stereo support on the HomePod means that two HomePods can make a proper set-up for rooms, bringing the power of sound from both sides to Apple's excellent speaker.
Before this, the HomePod's singular design still emitted stereo sound in all directions, but now with the addition of iOS 11.4 and the ability to link up two HomePods, Apple has made it possible to make sound arrived from both directions, left and right.
But what if you could make the HomePod work on your TV, and use the power of the HomePod's excellent speaker for your films and TV shows?
With the release of iOS 11.4, you can, and the update that brings stereo support also means that a pair of HomePods can be linked to an Apple TV, choosing the grouped HomePod speakers in your home as the output for your sound.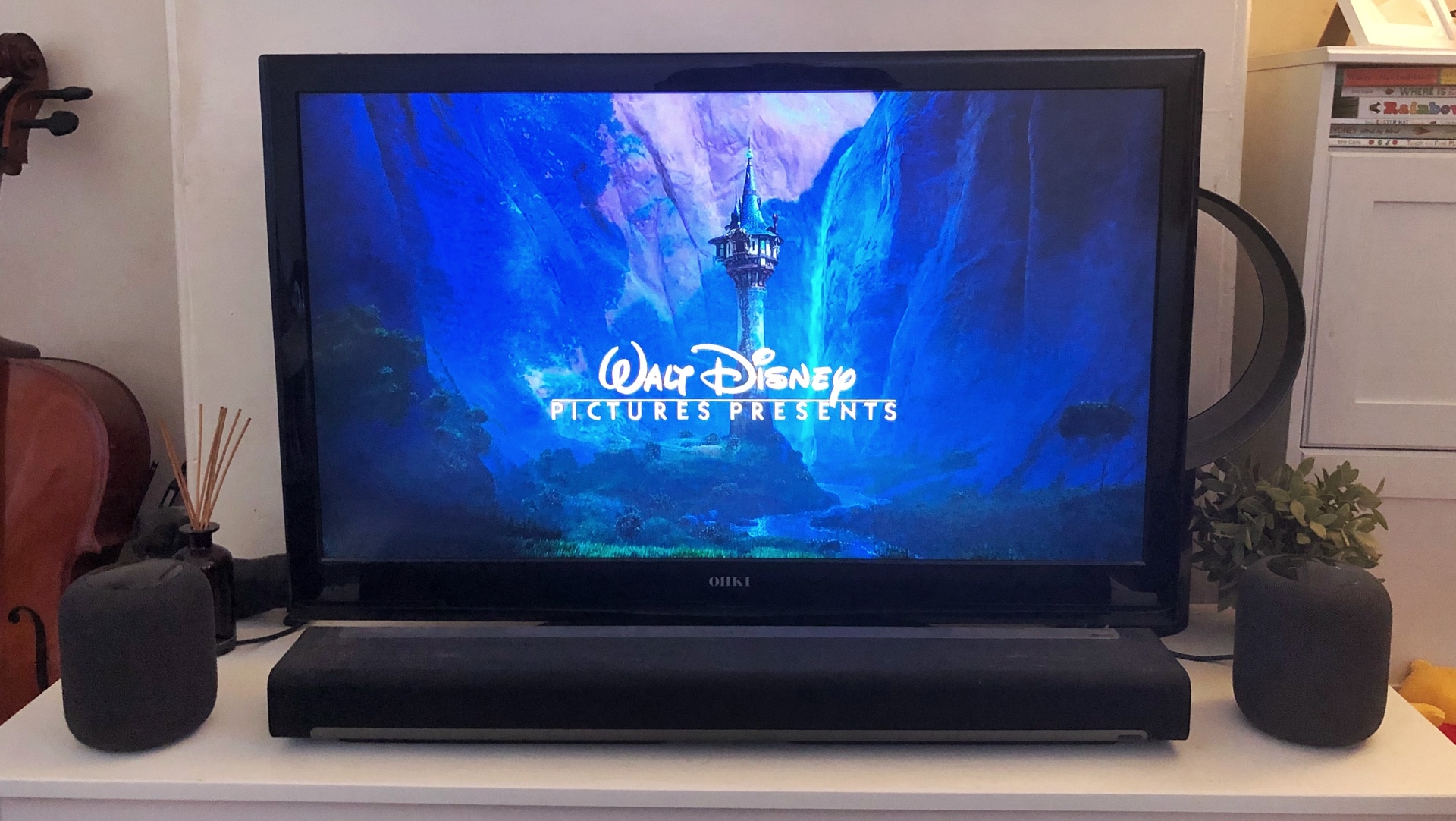 Testing the two HomePods as a soundbar, our feeling is that while the HomePod is an excellent speaker by itself, it's not the best product to use for your TV. Sound is still clear, but volume is a little more murky, and the top end of the HomePod when used with an Apple TV is lower than what the HomePod regularly regards as "high". Much lower. In fact, it's so low that we wouldn't call it loud, but really just normal.
Volume isn't the only reason why you may not want to go down this route, either. Rather, the issue might even be synchronisation.
While typical amplifiers, sound systems, and speakers will rely on a cabled connection such as HDMI or optical to get audio from the TV to the speakers, the problem with Apple's HomePod being used as a TV speaker is the connection method is strictly wireless. Simply put, there is no way to send the sound from a TV or media player to an Apple speaker using a cable, forcing you to either delay the stream by a millisecond or two as the two vie to get in sync.
We didn't find too many synchronisation issues with our HomePod TV speaker test, though the volume issue did grind at us, forcing us to turn the volume all the way up for TV viewing, only to have everything be too loud for music later on.
Remember, this also works with a single HomePod, and you don't need the two. We had the two for testing stereo, but a single HomePod can be set up to work as the speaker for an Apple TV. You'll still run into the volume conundrum, however, as it seems to be a limitation of using the HomePod with a TV.
As such, while you can make the HomePod into a make-shift soundbar for your Apple TV, we wouldn't recommend it just yet. Later on, it's possible that Apple will make the connection a little more concrete and boost the HomePod's audio to account for the TV, but right now, it's merely something to do simply because you can.