Quick review
Xgimi Halo Plus portable projector
The good
Compact
Neat idea
Works from power and on battery
Great sound for the size
Includes Android TV
The not-so-good
Auto-keystone can be hit and miss
If you lose the remote, the projector isn't remarkably easy to use
Portable projectors are typically a gimmick worth skipping, but if you want to watch movies in the great outdoors, there's a great idea in the Xgimi Halo Plus.
The excitement of the big screen is one of those things that completes a movie experience like none other, and is best represented by what happens when you actually go see a movie. If you've ventured to a cinema at one point, you know exactly what we mean, because nothing recreates the experience of the big screen better than there, except maybe for the projector at home.
Convenience is king in our world, and while we love going to the movies for a big screen and sound experience, a projector at home can deliver something close, with the added helpfulness of being able to pause and run to the kitchen for more snacks when you like.
But there are other places a projector can go, and you mightn't even be thinking of them. Simply put, there are portable projectors, and these allow you to take your movie experience to go.
You'll still need a darkened environment to make it work, but bundle in a night sky, a wall or screen, and some of your favourite movies or shows, and all you really need is the gadget to make it happen.
In the past, these have been low power little things in the category of "pico projectors", which were just that: tiny projectors with a small battery, featuring a low resolution and mediocre sound. The whole idea with a pico projector was taking a small projector with you, though they weren't typically focused on quality.
These days, though, the idea of a portable projector is changing. More than a handful of companies make them, and it's an area Samsung is even jumping into with its 2023 Freestyle.
It's a similar a story with a brand you've probably never heard of, Xgimi, which has built a projector that looks more like a speaker, and lets you bundle in cinema to go for as much as three hours. Called the "Halo Plus", it's a neat little gadget that might just have you consider a brand you've never heard of before, and makes us keen for what's next.
What is the Xgimi Halo Plus?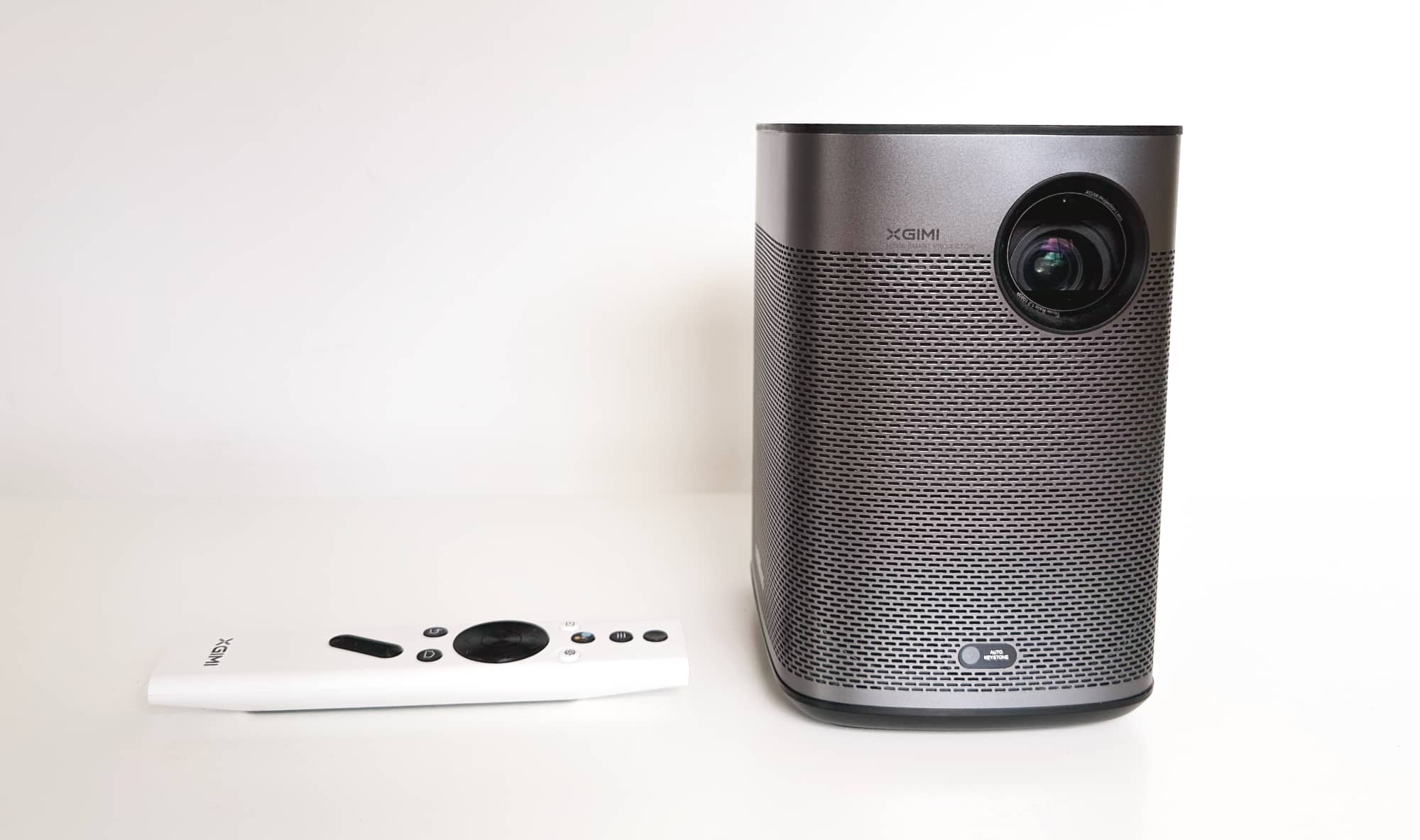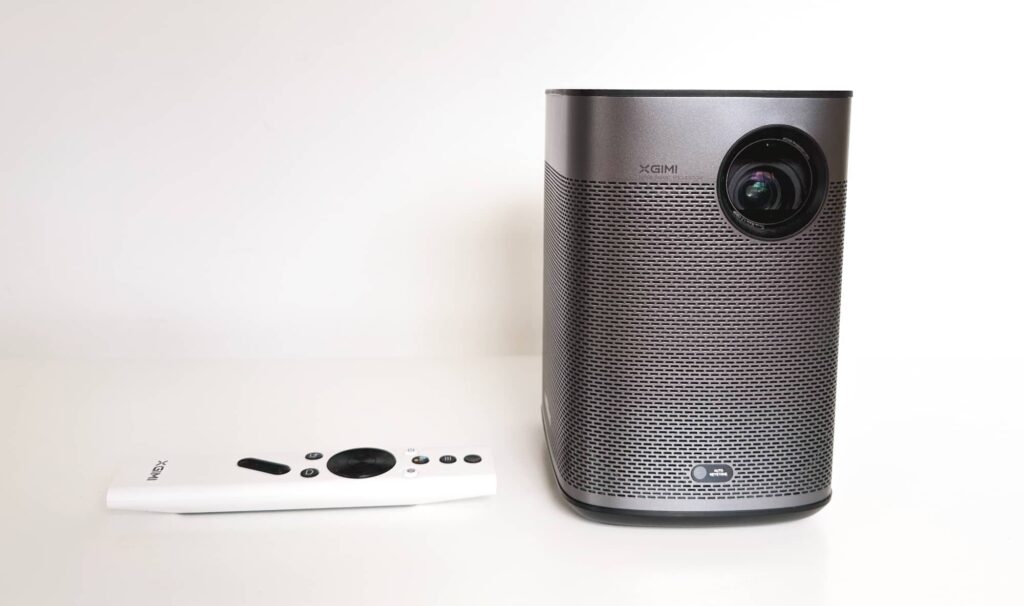 Looking more like a speaker, the Xgimi Halo Plus isn't your regular projector. Upon first glance, it doesn't look anything like a projector, giving off the impression that it's been built into a recycled Sonos Play:1.
We still have a few around the house, and this is the spitting image, save maybe for the obvious lens at the front, which makes it a speaker with a projector inside.
That is what the Halo Plus looks like, and when you get it down to brass tacks, that's also what it is and what it does, as Xgimi packs in a projector, a battery, and a sound system into a stand-up design that is basically a speaker with all of that inside.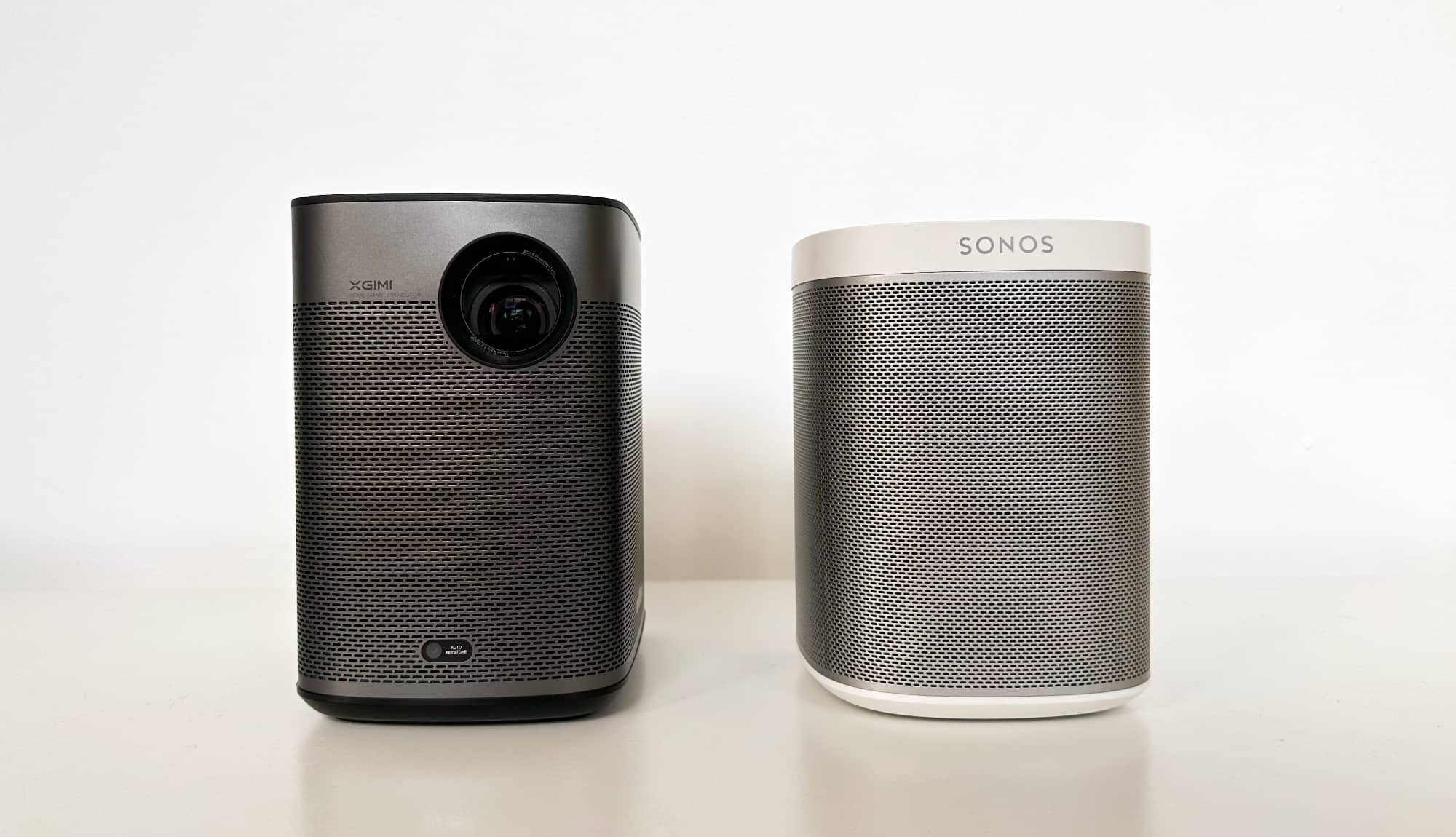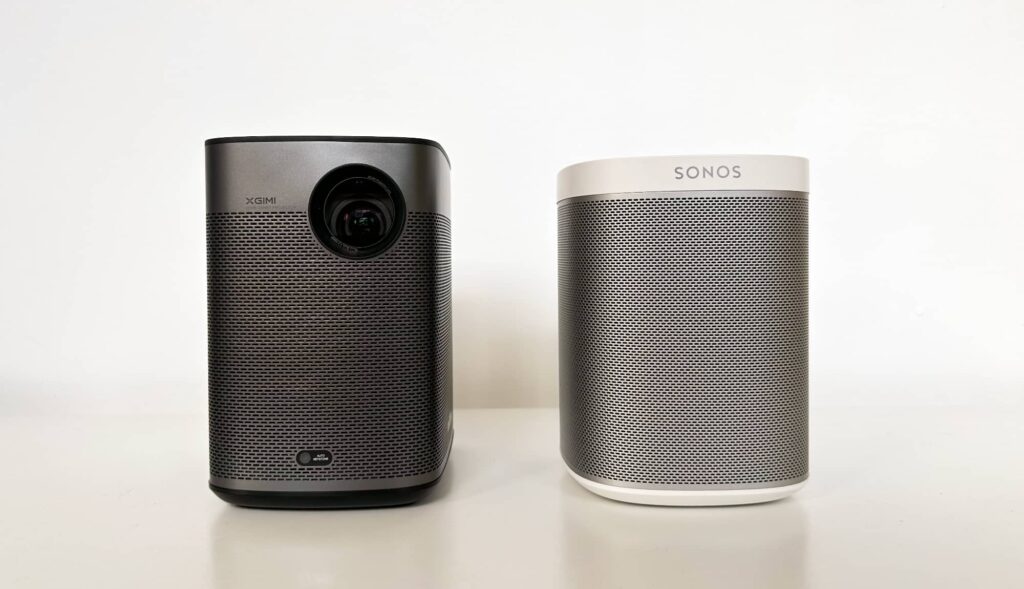 What does it do?
With a large lens found at the front and speakers all around it, you don't have to try very hard to work out what the Xgimi Halo Plus is focused on.
This is a projector, and one made to be portable, packing in a 59 watt battery capable of achieving up to three hours of mobile projection, and packing some neat tech to make that possible.
There's a Full HD 1920×1080 resolution and 900 lumens of light, with support for HDR10, a quick boot time as little as 6 seconds, plus some automatic calibration using autofocus and auto-keystone correction, aligning the screen without too much effort, provided there's nothing in front of the projector like a fly screen. You'll want a pretty clear path to make this work, though you can manually tweak things using the remote if need be.
Screen sizes as big as 120 inches diagonally can be catered for here, though you'll need to move the Halo Plus projector for that. Move it back and the screen size grows, just like it would with any other projector, with around two metres back giving you an 80 inch screen, while a little over three metres can give you as much as a 120 inch screen. As big as 200 inches is technically supported, though you'll need to push the projector back a bit to make this work.
Xgimi also notes there's technically support for 3D content, though 3D movies are a little hard to find these days, and you'd need to grab some of the optional 3D glasses Xgimi makes to even attempt this.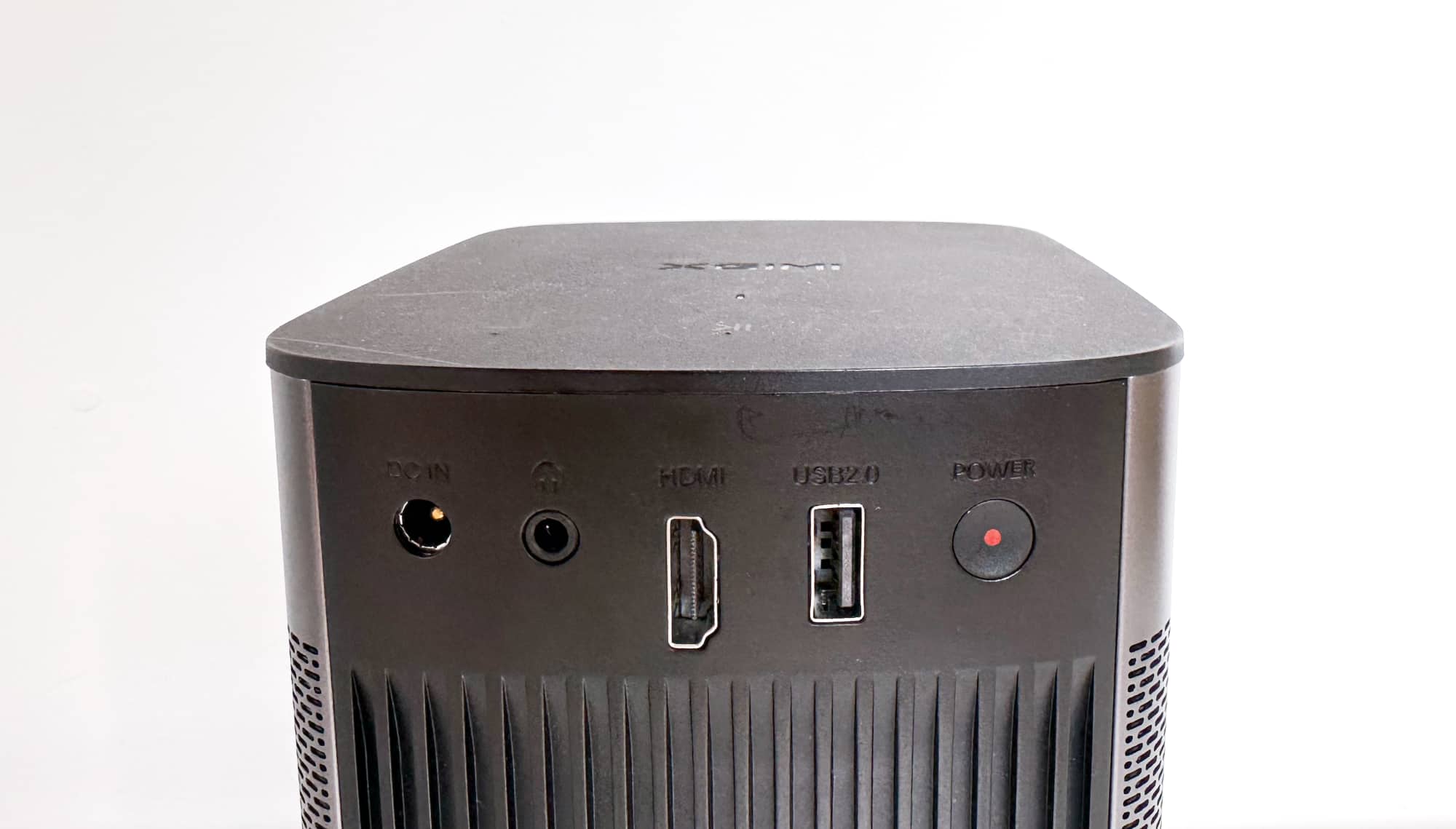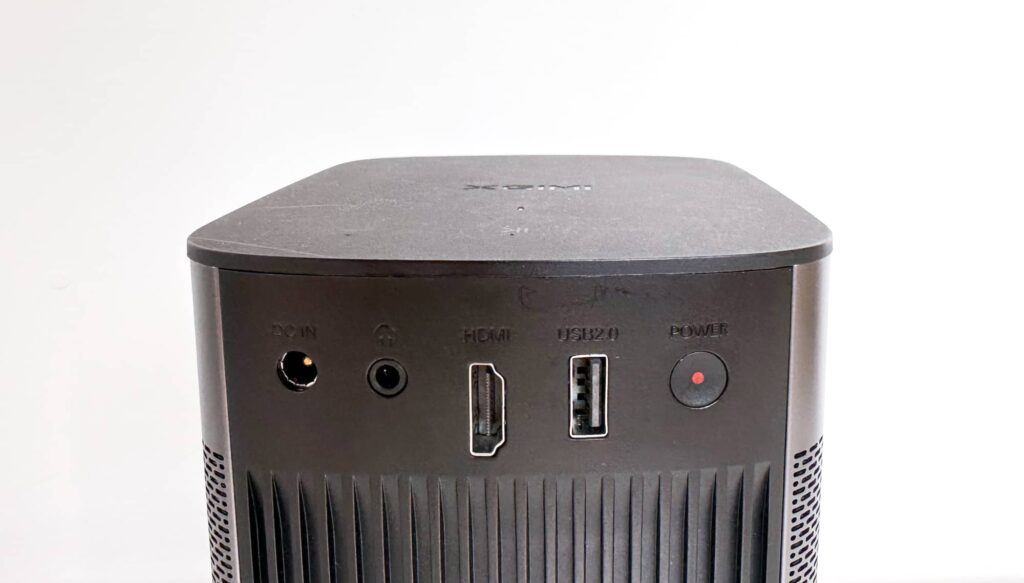 Chromecast is built inside, however, handy for streaming, as is Android TV, the variant of Google TV that came just before. That means you can find apps aplenty much like you can on the Chromecast with Google TV, and outside of this, you can find an HDMI input on the back for feeding in whatever you want, such as a game console or other media player.
There's also the matter of sound, and there are two 5 watt speakers inside this design tweaked by Harmon/Kardon, with support for Dolby and DTS audio, though it's not the Atmos stuff you might be expecting.
Does it do the job?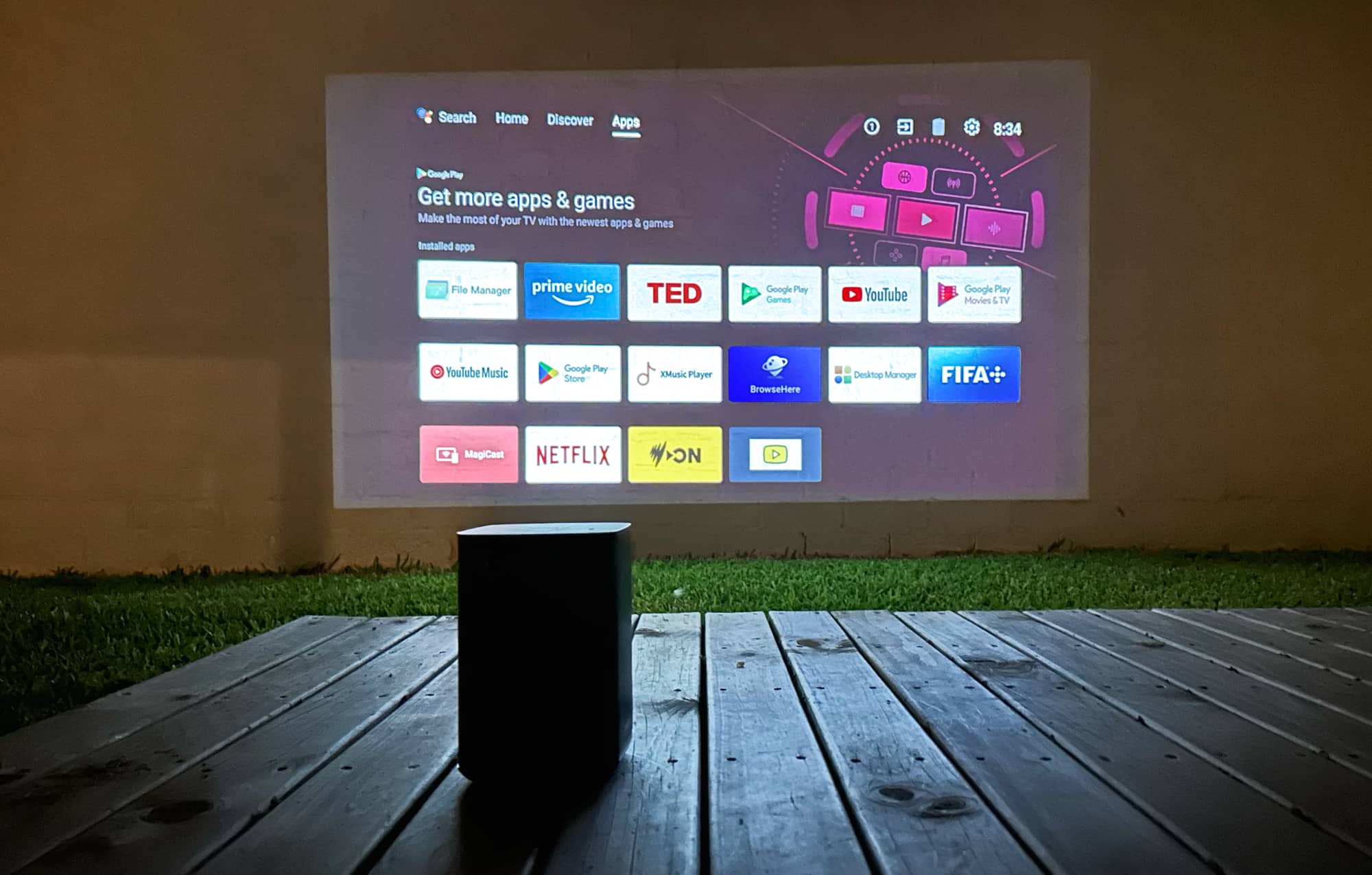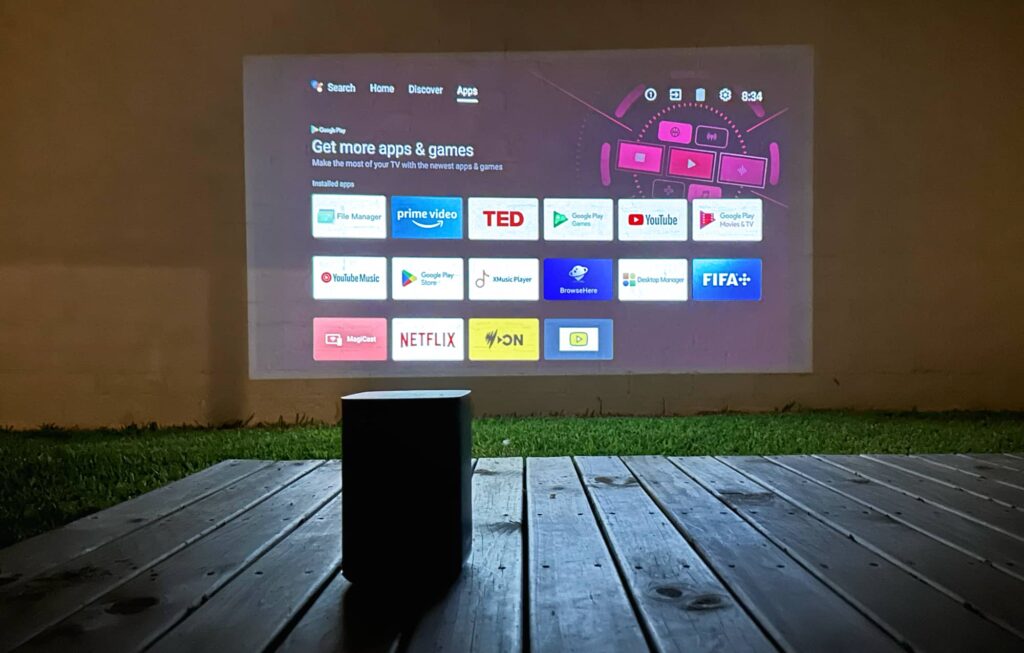 You might also be interested to know that you can run the Xgimi Halo Plus both on and off a powered connection, with the former giving you a little more light, while the latter provides a little lower light output from battery power until you run out.
And it certainly works well in either situation, though we'd say the portable variation makes it one of the more interest gadgets.
In one device, Xgimi has delivered a compact entertainment system that could work in the backyard on a wall, or even out on a little camping trip if you brought a screen, or happened to have a particularly pale tent.
We're not going to say using the Halo Plus in its portable incarnation always delivers the brightest experience; it doesn't, and the light you get out of the projector can sometimes feel like it should be more.
But if you leave the Halo Plus at home, keeping it plugged in like any other projector delivers enough for a night-time viewing against a back wall, and makes for a real treat for the family.
What does it need?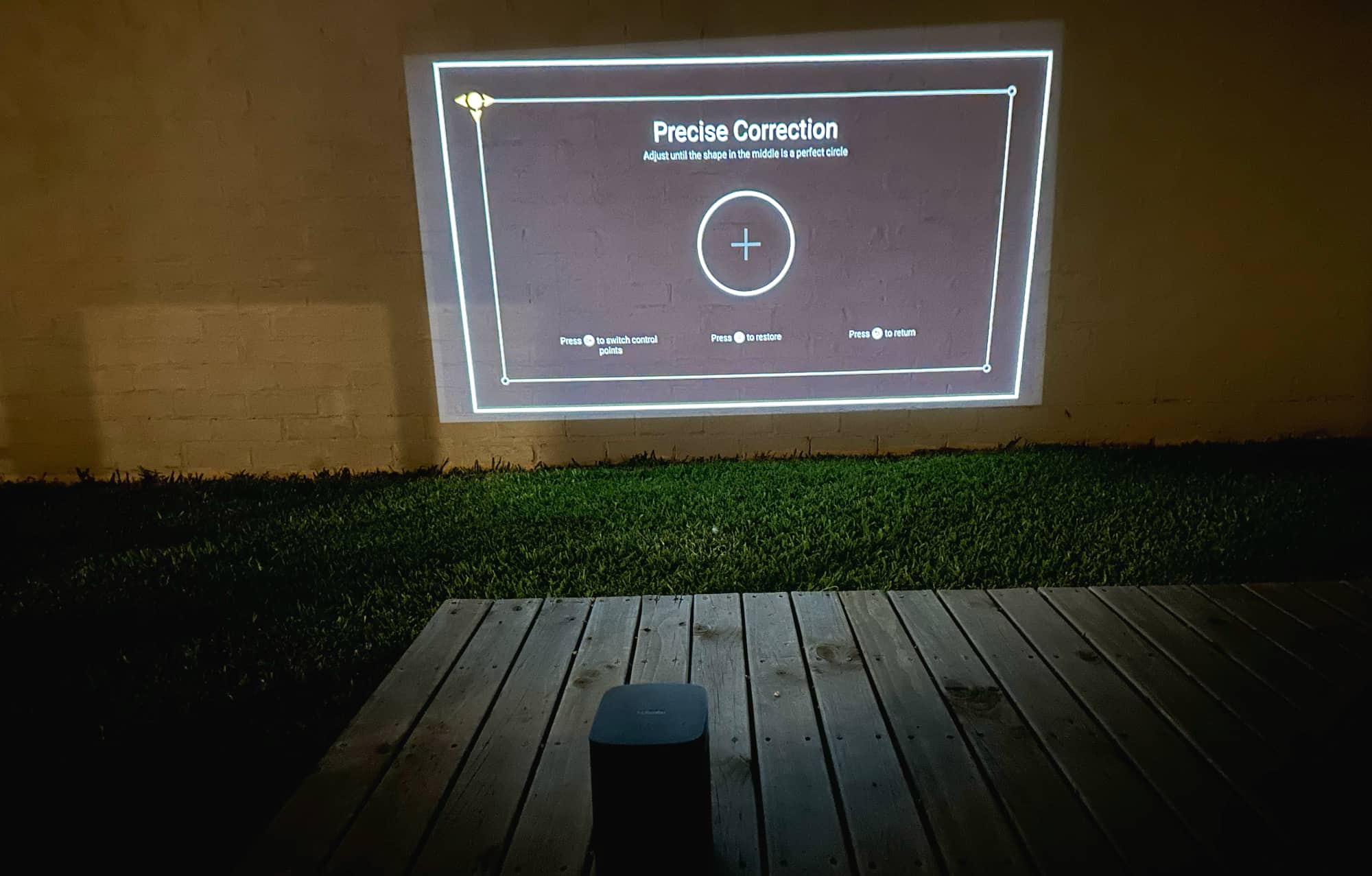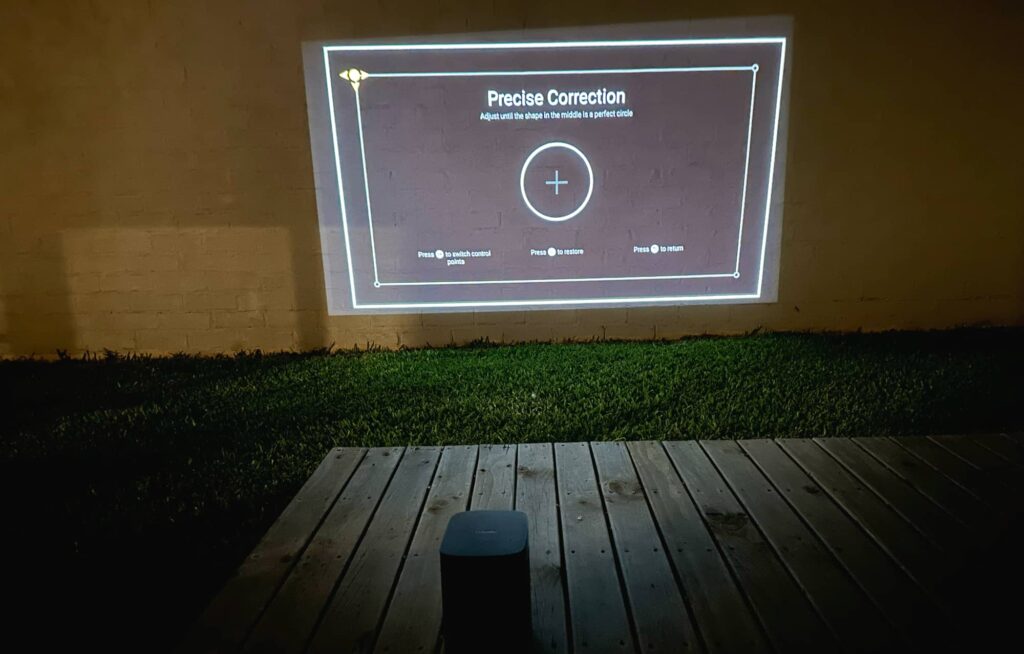 But while you can watch a good movie or some episodes of a show, be it at home plugged in or remotely when you go camping, we'd love more light.
With the battery plugged in, you'll get a little more, but operate it as a battery-based projector — which itself is a cool concept — and the Xgimi Halo Plus really needs the screen close and the light to be absent.
We spend an evening watching Star Wars from the three metre distance outside that our regular laser projector would occupy, and while the sound was excellent and the picture quality was acceptable, more light was needed. Plug it in, and you'll get a little more out, but make sure the environment is dark for the Halo Plus to really deliver.
Brightness is just one of the minor quibbles we have, because some of the convenience choices Xgimi has made are both a positive and negative.
On the one hand, the auto keystone feature is really neat, and it can do a great job of delivering a picture that automatically fits to your screen, especially if you don't have a real screen or are angling it from the side. But on the other hand, it can also mess things up entirely, and it can get confused easily.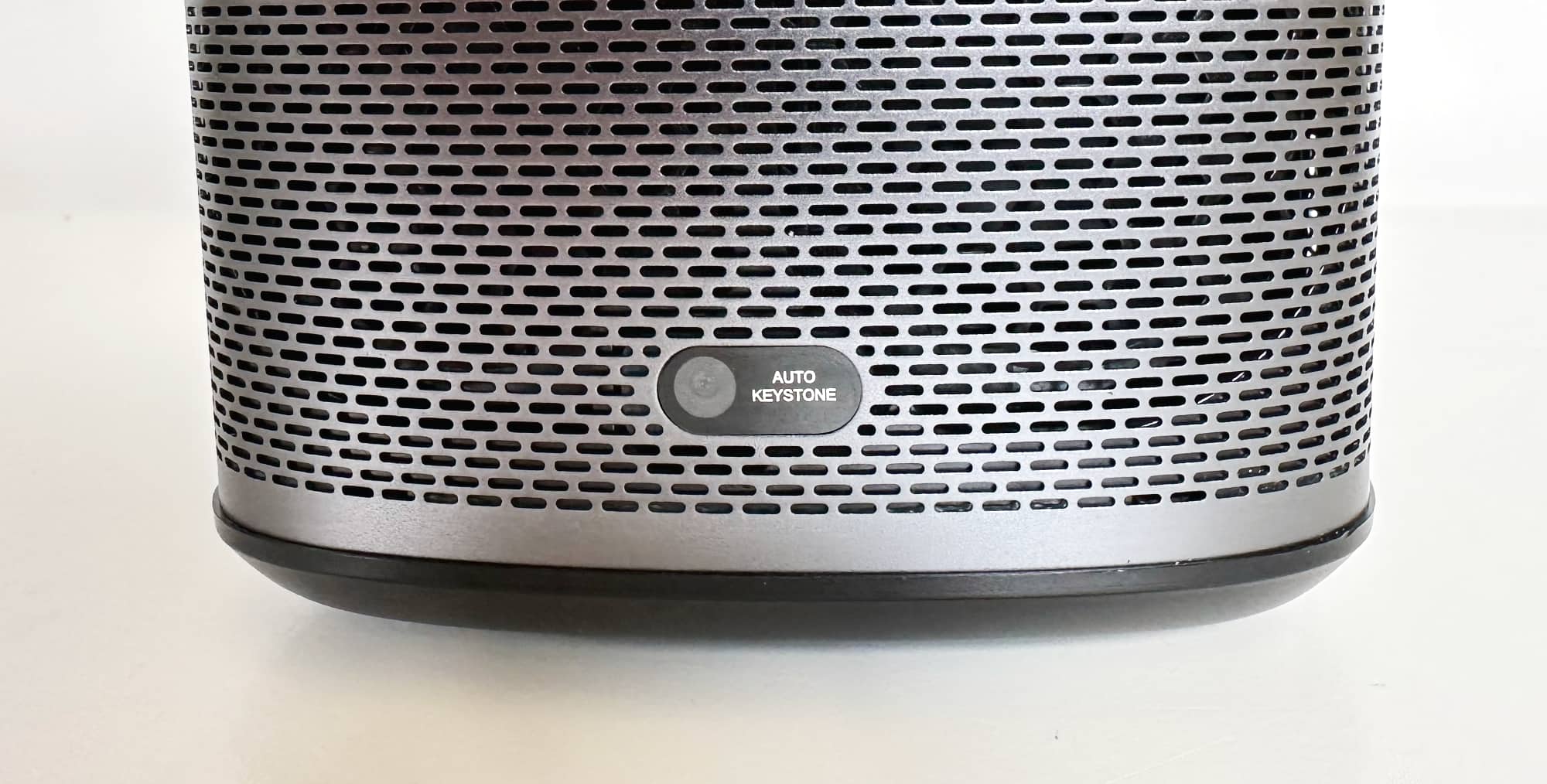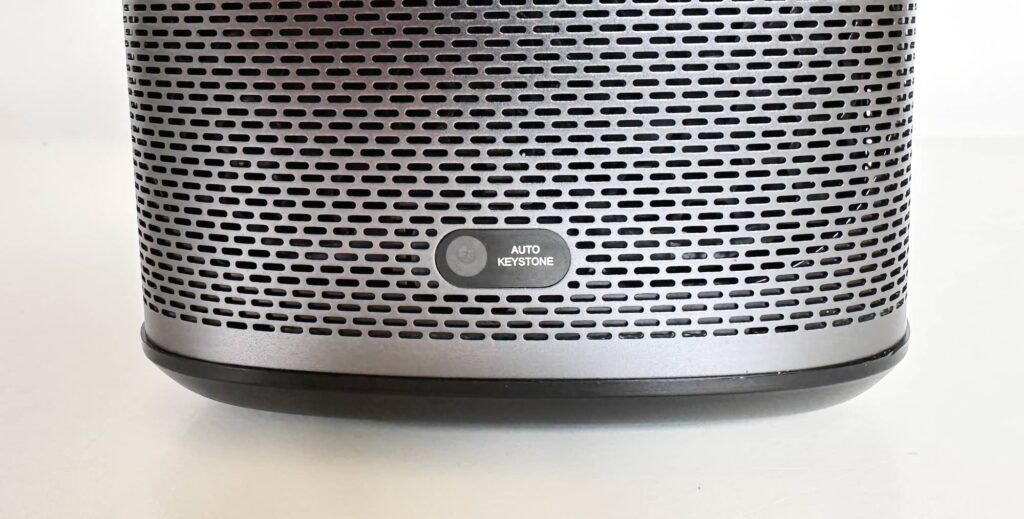 You get the feeling using Xgimi's auto-keystone that this is a first-gen tech that will only improve, and that's great, just expect to keep the remote with you for manual set up of the keystone correction.
And while we're talking about the remote, let's talk about how important it is, because with no physical controls to speak of on the Halo Plus, you'll want to safeguard the remote and make sure you never lose it. Ever.
The interface for using the Xgimi Halo Plus without the remote is practically non-existent, beyond say a volume control up top and a pause and play button.
Lacking physical controls outside of those means the Xgimi Halo Plus becomes rather useless without the remote. We didn't misplace it, but we did try to do some basic things without it, and found that it was largely impossible. Push and prod a fair bit, and you'll still crave the remote quickly.
Xgimi does appear to provide a bag for storing and carrying the projector, but it would be better if the projector itself had a spot to hold the remote when it wasn't in use. Losing this thing would likely make the projector impossible to use.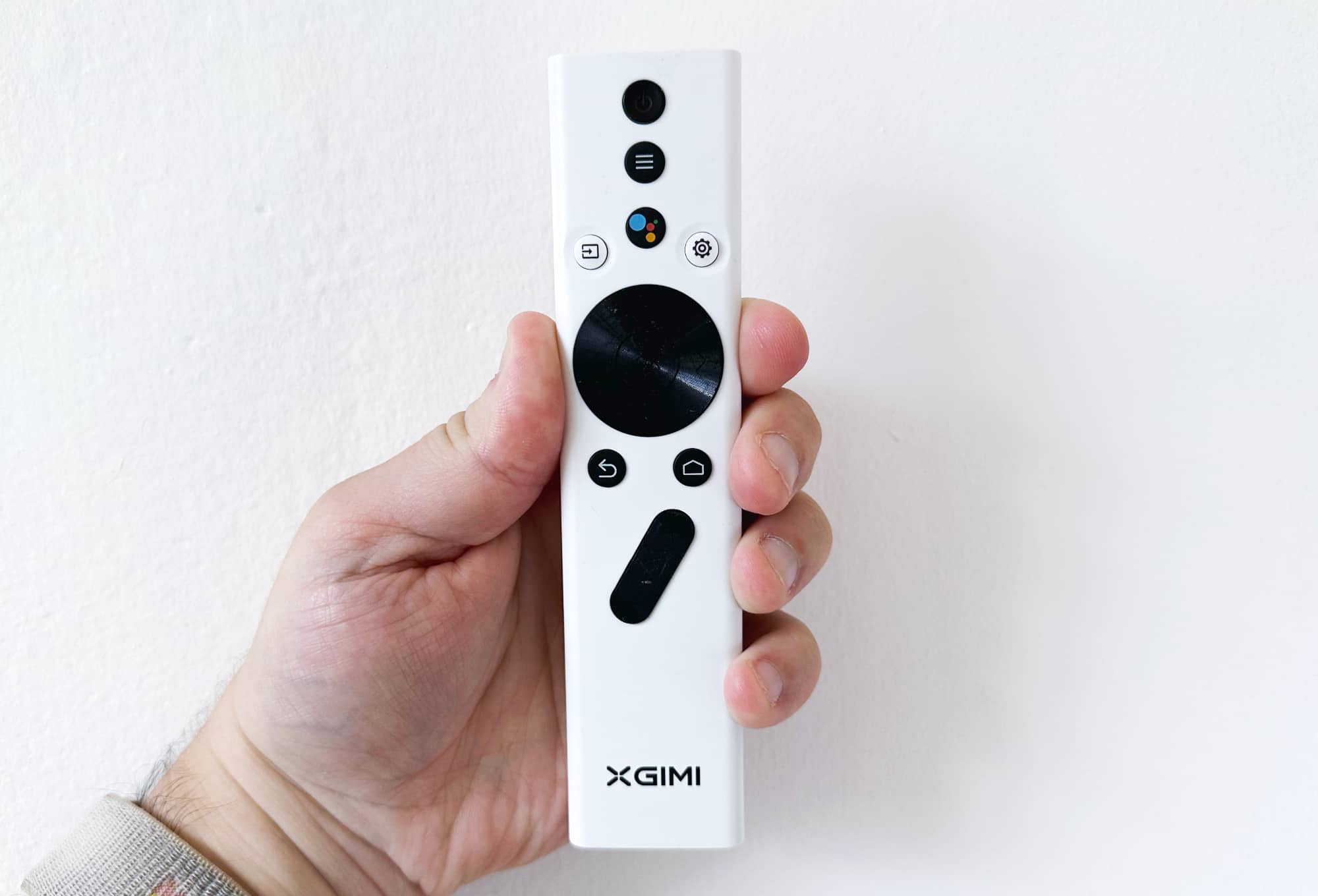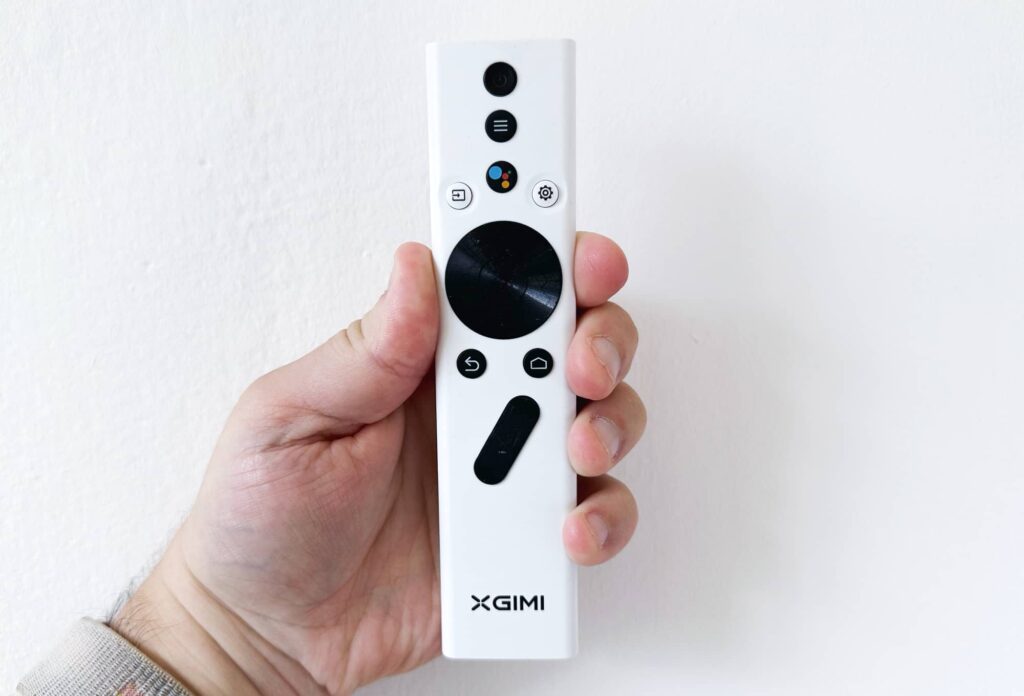 Is it worth your money?
Quibbles aside, though, the $1499 price in Australia for the Halo Plus isn't a bad effort for what you get: a projector you can take with you.
While it won't quite hold a candle to a better projector or even a laser projector — and those can be quite competitive, too — the Halo Plus isn't quite in the same category. Rather, it delivers entertainment to go for $1500, and its street price can be arguably a little better at that.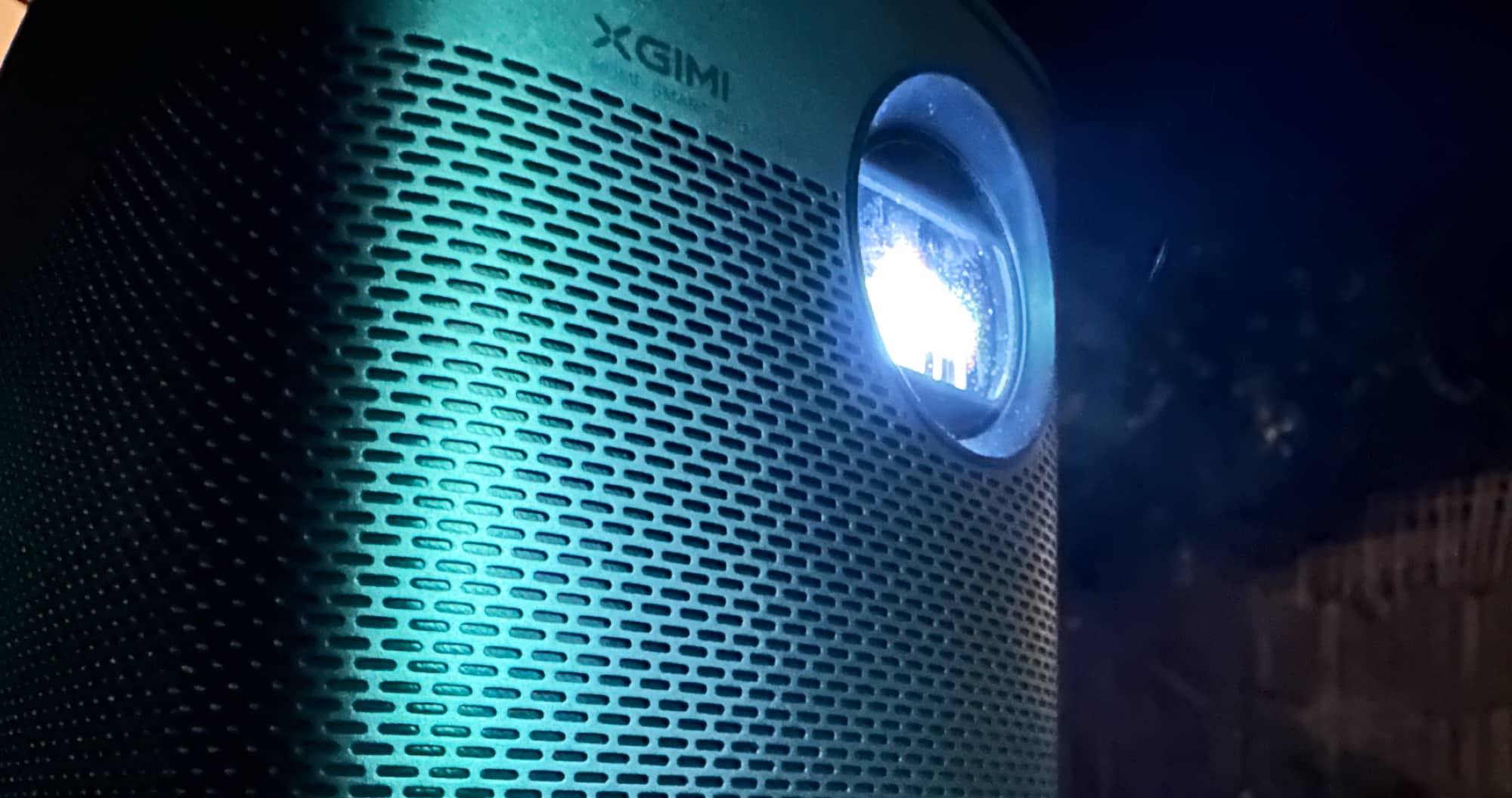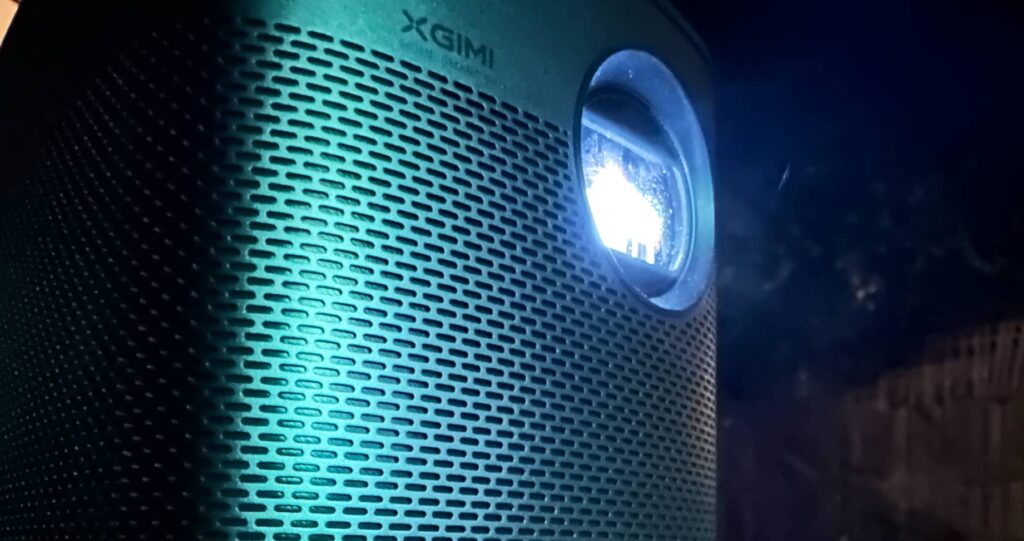 Yay or nay?
Even with the odd quibble on light and design, there are real reason to consider Xgimi's Halo Plus portable projector, particularly if you love entertainment and aren't going to be at home. Or even if you are, and want to project a movie out on the wall.
Portable projectors aren't new, but they've always been a bit of a gimmick, and lacked in serious areas. They were usually a weird balance where one feature was completely forgotten about, and the package just didn't make sense. It was often the battery and the sound that manufacturers didn't think about, both of which would arguably be useless for entertainment in the unknown, and left you with a gimmick more than a usable portable projector.
Xgimi's Halo Plus is different in this respect. Rather than just build yet another mediocre pico projector, the package is entirely considered.
It's entertainment to go in a good way. You get light, sound, and a battery capable of up to three hours of life. That's more than enough time to get a movie in the dark before heading off and catching some shut-eye.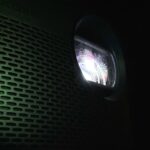 Xgimi Halo Plus portable projector
The good
Compact
Neat idea
Works from power and on battery
Great sound for the size
Includes Android TV
The not-so-good
Auto-keystone can be hit and miss
If you lose the remote, the projector isn't remarkably easy to use