Quick review
Satechi Slim Aluminium Monitor Stand
The good
Holds a laptop or a lightweight monitor up a few centimetres
Simple design that matches the look of many a Mac
Allows you to store a few things underneath, such as a keyboard, mouse, etc
The not-so-good
Doesn't support large monitors, despite the 14kg weight maximum
No USB hub built in
Looking for a way to hold your laptop or monitor up from a desk to keep you from craning your neck down? The $69 Satechi Slim Aluminium Monitor Stand does it, but there's a slight catch.
Working from home is now here to stay for so many, as workplaces either keep the momentum going from the pandemic, or switch to a hybrid remote/home model.
And we couldn't be happier. It was a long time coming, of course, and something freelancers and contract workers had already become familiarised with, but now so many who work behind a screen can spend more time at home and less time in transit.
But while the initialism "WFH" has become part of the vernacular, so too has the idea that the home office typically needs an upgrade. You need a desk, a chair, your laptop (of course), and it should all preferably not be in the kitchen.
If you can, you might want to work on giving your WFH desk a little more touching up, with a way to keep your eyes and neck happy, and lifting either a screen or laptop off the surface so you can keep both comfortable.
This is where the monitor stand comes in, and suitably where Satechi's $69 Slim Aluminium Monitor Stand is focused on, providing a thin metal tray to lift laptop or display up and give your desk a bit of assistance.
What is the Satechi Slim Aluminium Monitor Stand?


What's in a name? With Satechi's products, the answer is typically exactly what you expect, and in this gadget, that trend is the same.
The Satechi Slim Aluminium Monitor Stand is just that: a slick and slim aluminium tray that holds up a monitor or a computer a few centimetres from your desk, and gives you a little bit of room underneath for something else, say a keyboard and mouse, or maybe just some random nicknacks you might have laying around.
It's a fairly simple stand designed in a way that makes it look like other Apple products, using the space grey or silver aluminium style, handy if you have computers that look that way, though it might dent the look if you have a Mac in any other colour. Midnight M2 MacBook Airs and colourful M1 iMac models mightn't retain their neat colours, though MacBook Pro owners should be suitably happy.
Satechi's metal monitor stand can hold up other things than just Macs, though the aesthetics have clearly been made with Apple in mind, though you will need to add the little sticky rubber feet yourself. It's really the one part of the design where you need a tiny amount of DIY.


Does it do the job?
There's not a lot to this gadget — you're basically buying a tray pushes a laptop or monitor up from your desk — but there is a weight maximum, and we're not quite sure it matches what Satechi suggests.
Officially, the Satechi Slim Aluminium Monitor Stand will hold up to 31 pounds (written on the box), which is 14kg for folks living in Australia and other metric-led parts of the world. That should cover the 4.48kg of the recent iMac, and theoretically the 8.92kg of the 27 inch iMac Apple last offered.
However, our Dell U3415W monitor weighing 8.44kg (or 18.6 pounds) isn't much more than half of what Satechi says you should be able to hold, and it started bending the metal of the stand the moment we put it on there.


Immediately upon placing our big ultra-wide monitor down, the Satechi Aluminium monitor stand began to show some flex, and made us concerned. The last thing we needed was for the metal to warp and break in the middle of the night, and to have the monitor come teetering over and smash.
We suspect part of this issue may come from the obvious design differences between an Apple product and other gadgets, and if our Dell had a differently designed base that distributed its weight more evenly, the Satechi monitor stand might make more sense. Here, though, it was struggling in seconds.
Compare that to the Satechi iMac Stand we reviewed back in 2021, which has been holding up the same Dell monitor practically since, and shows no flex or bowing in its similarly designed metal tray. Granted, there's a USB hub built into its design and it's a touch shorter, but outside of that, it is largely the same gadget.


What does it need?
As such, it's hard not to feel the current Satechi Monitor Stand needs some reinforcement, and maybe a middle post to hold up thicker and heavier devices.
The 31lb/14kg maximum may well be a note of how much you can safely hold, but at a little past half way, we got nervous, and rightfully so. It's not as if Satechi is safeguarding your goods against breakages, only holding them up.
A middle post might dent the diminutive design somewhat, but it would at least prevent some of that bowing, as might thicker metal overall.
Granted, this isn't as complex a solution as the Satechi iMac Stand with its Type C USB hub. That's a little more useful thanks to the port expansion, and yet also feels stronger overall. Worth noting that the iMac Stand as a maximum weight limit of 50lbs or 22kg, which supports our 8kg monitor so much more comfortably.


Is it worth your money?
The good news is the Satechi stand isn't expensive, priced at $69 in Australia to lift a laptop or screen off the surface of a desk.
It's a simple price for what basically amounts to a small stand, which also makes for an inexpensive way to lift screen and system off the surface.

Yay or nay?
In short, it's simple with a catch, though that catch is how much your monitor is going to weigh in general.
Lightweight monitors will be fine, as will laptops being held up off the desk. It's very easy to give your eyes a bit of a reprieve with the Satechi Aluminium Monitor Stand, as it can raise a laptop screen just that little bit more on a regular desk.
But as a "monitor stand", we're a little harsher. The maximum weight doesn't appear as firm as what Satechi suggests, and really seems to want a better balanced base and monitor design.
If you have a large and wide monitor, we'd look to another stand, maybe even the better iMac stand Satechi has made before, as it will give you more faith in what this is supposed to do. For folks with light needs and not a lot more, this is fine for the money.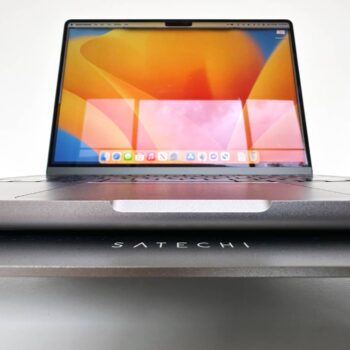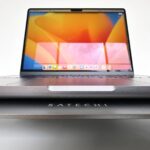 Satechi Slim Aluminium Monitor Stand
The good
Holds a laptop or a lightweight monitor up a few centimetres
Simple design that matches the look of many a Mac
Allows you to store a few things underneath, such as a keyboard, mouse, etc
The not-so-good
Doesn't support large monitors, despite the 14kg weight maximum
No USB hub built in