If you've always thought a big phone could be made even better with a keyboard attached, the latest Tech21 case could be for you.
Some gadgets take the full year to make their way out. Even though they might be announced in the beginning of the year, it can take a calendar year of turnaround time to get what the company is going for.
At least one CES 2019 announcement is sitting in that boat, and it's not something you might expect it from, either.
Announced earlier in the year in the first few weeks of January, Tech21's Evo Type case is finally on its way out, a concept that makes a lot of sense in theory, particularly for folks who write a lot. Simply put, it's a keyboard for your phone, provided you have a recent phone.
Depending on how comfortable you are with your smartphone's screen, you might be a fast and capable typist. You might know the on-screen keys better than the back of your hand, or you might swipe like a champion handling that gesture typing better than anyone you know.
But you also might long for physical keys, the type that you can run your fingers over and feel the letters with. If you're someone who writes a lot on the go, a keyboard could mean the different between a long email written with time and errors and one without.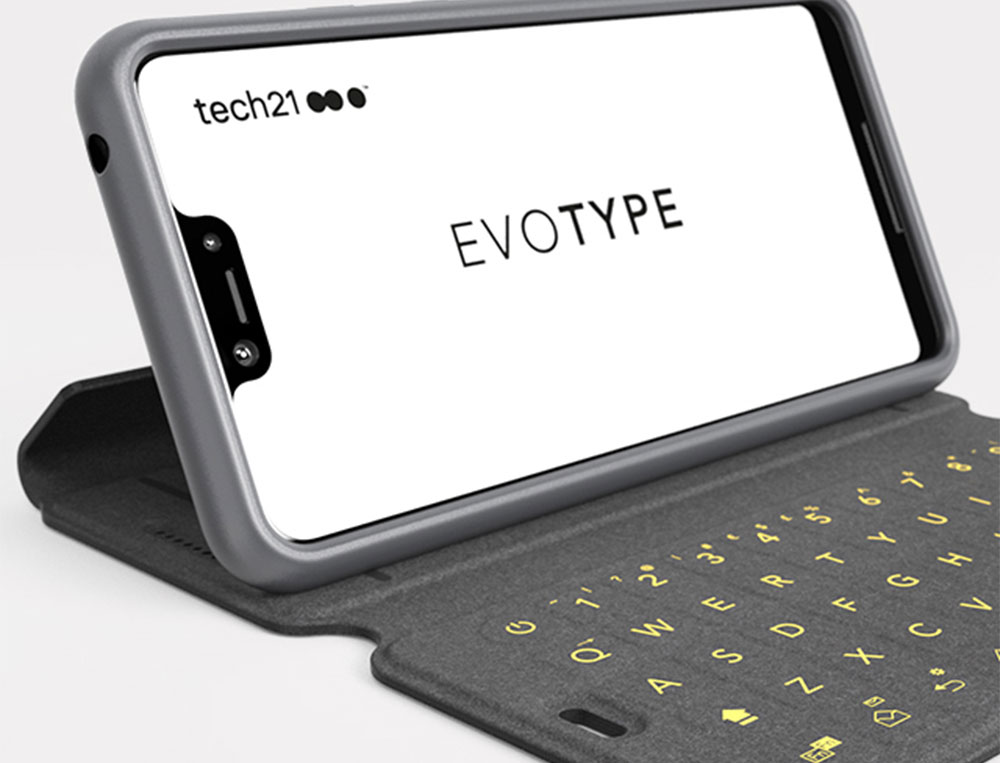 Back when it was announced at CES, the Tech21 Evo Type was being made for the Google Pixel 3 XL as an NFC keyboard case, but that was a good 11 months ago. A lot has happened in between, with numerous phones including an updated take on the Pixel, now in the Pixel 4 range.
But Tech21 is finally ready for a release, redesigning aspects of the Evo Type case announced earlier in the year, including 30 percent plant-based materials and a magnetic clasp, while also integrating three meters (3m) of drop protection. It will cost $69.99 at launch this week, and is available for the Galaxy Note 10 and Galaxy Note 10+ initially, though other variants could pop up later on down the track.
We've been interested in the Evo Type since the announcement, so we're a little excited to see what Tech21 has cooked up. Is this a solution for typists on the go?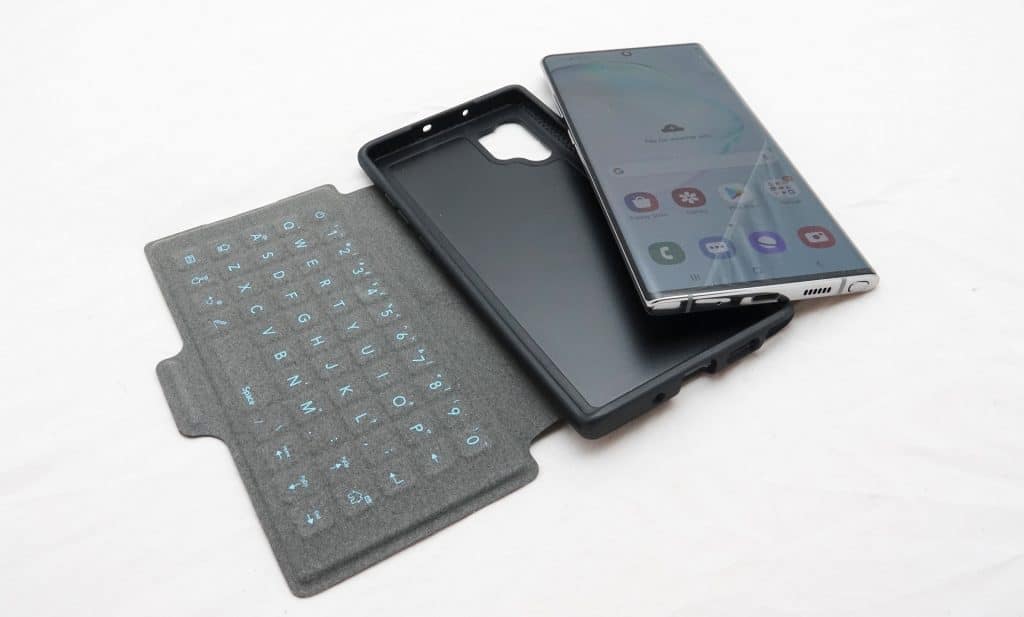 Hands-on review of the Tech21 Evo Type
Taking it out of the box, the case is pretty much your typical Tech21 fare. It's clear this thing has been built to be semi-rugged, and it adds a little bit of extra plastic around the otherwise svelte design of the Galaxy Note10+.
For the most part, it comes off looking like one of the folio cases Tech21 is already known for, except where your cards normally go, there's a keyboard with the keys etched out. It is a little different from a conventional keyboard, as the letters and keys are totally aligned instead of the slightly skewed key design keyboards typically see. This might throw some hands out of the typical comfort zone, though given the tiny size of the keys, we suspect the keyboard size will be the first issue for most.
Interestingly, you don't need to do much in the way of installing the keyboard or even plugging it in. You will need to install an app and set the keyboard up as a main, but when it's not in use, you can go back to a standard on-screen keyboard.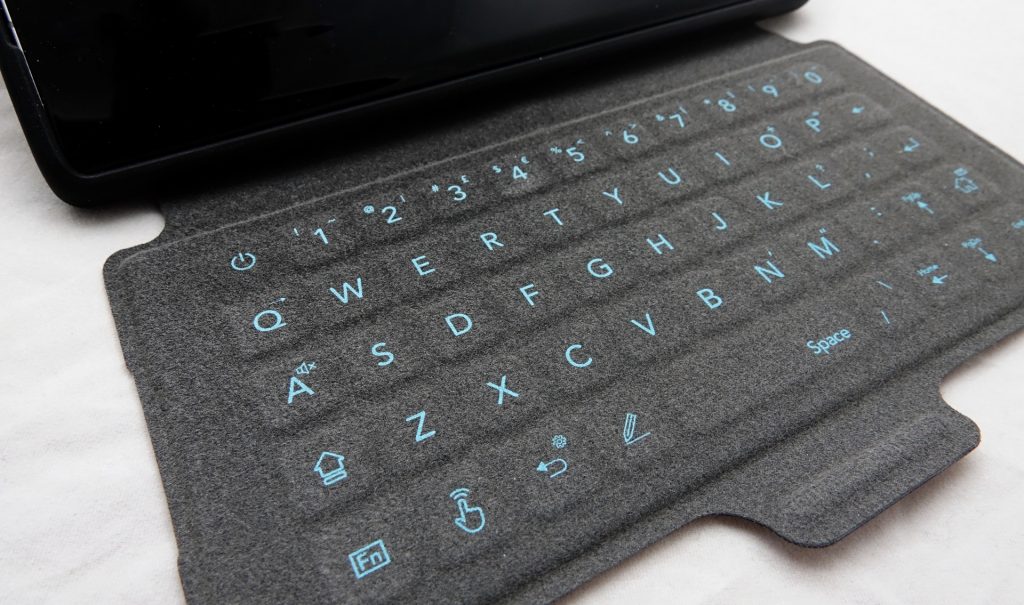 When you're ready to use the Evo Type, you simply hold down the power button in the top left, and wait for the keyboard to vibrate, and the phone to talk to the keyboard.
There's even a small stand at the back of the case to prop your phone up. Once it's ready, you type. Well, kinda.
While the Tech21 Evo Type looks like the buttons will depress like a proper keyboard, the etched keys are just that: etched square shapes with no actual movement underneath. Only one of the buttons on the keyboard has travel, and that's the power button. Everything else is basically just a touch panel, and not a terribly fast one, at that.
That is perhaps one of the more obvious missteps in the Evo Type: while the keyboard appears to have travel for its keys, it's basically just there for appearance, and you'll have to type with minimal physical interaction.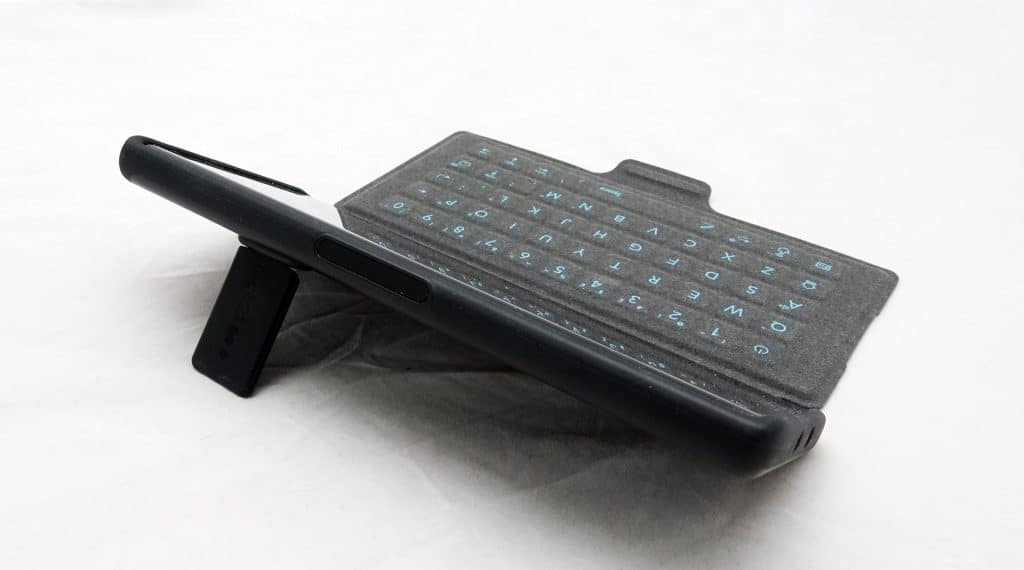 The other flaw comes from the speed, because it is not a fast keyboard to type on.
As part of our review for the Evo Type miniature keyboard, we had started to write:
Writing on the Tech 21 Evo Type doesn't quite offer the experience you might expect. If you happen to be a fast typist, this isn't for you.
What we ended up typing was this:
Writin on th tech x21 zevotype doesnt qute offer the ,eve, of cucur ayy oyou migh expect. An of you happen to be a fast tpist. This isnt for you
No doubt that's a staggering difference, and one that may cause you to seriously take some time getting used to the keyboard on offer.
Somewhere between an issue of speed and comfort, the Evo Type just doesn't hit the nail on the head, particularly if you're the sort of person dependent on typing on the go. We could type that paragraph faster with an on-screen keyboard through either punching the letters in or gesture typing, which left our feelings for the new keyboard in kind of a sad place.
We wanted to like the Tech21 Evo Type, too. It's one of those gadgets that makes a lot of sense, especially in an era where typing in the go is the norm, and when big phones are very much considered a replacement for tablets, especially the kind that are often equipped with physical keyboards. The fact that Tech21 made it resistant to drops is super helpful, but it lacking that keyboard feel has clearly not helped.
There's probably a line that needs to be treaded between form and function, and while we can't imagine it's necessarily easy to build a compact keyboard for phones, the Tech21 Evo Type gets some of the way there, but not all. It comes off a little half-baked, almost like Microsoft's failed Touch Cover idea which was like the Type Cover for Surface Pro computers, but entirely flat. Lenovo has tried that in a variant of its YogaBook in the past, and again, it eventually killed it off from its designs and range.
In comparison, the Evo Type doesn't offer any of the tactile feedback or travel that you can find on Apple's Smart Keyboard cover for the iPad, which while thin and light, still achieves a comfortable typing experience all things considered. If a slim typing experience on the go is what you're after, this may as well be considered one of the best, though you need to have an iPad variant, starting with the $529 iPad 10.2.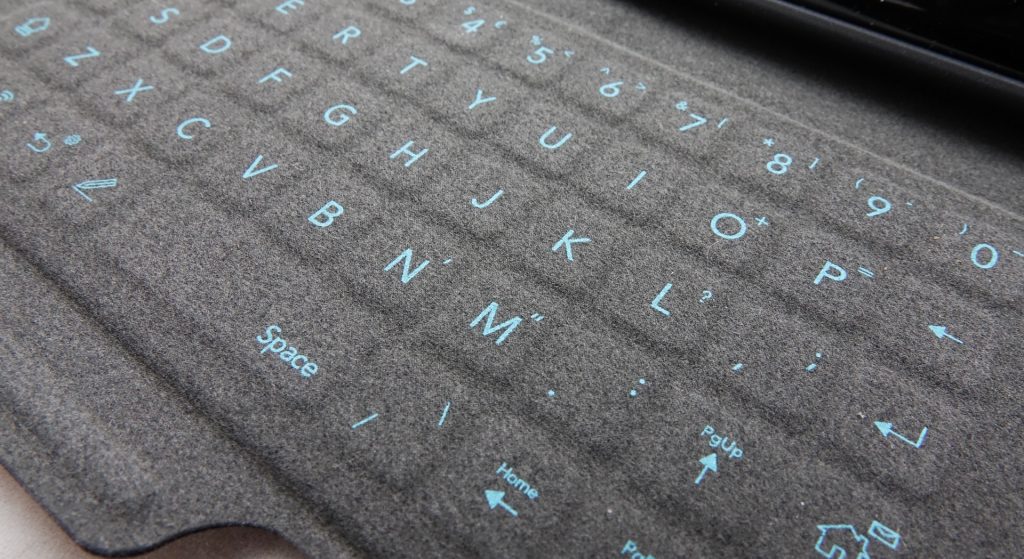 The simple truth is that touch covers lacking tactile feedback typically don't work for keyboards, and while the Evo Type has raised keys, it's not enough to make for a comfortable typing experience. Marry that with a connection that comes across as a little slow, and you have a recipe for a compact keyboard that just doesn't work, at least in its initial phase.
Mind you, it's entirely possible a slower typist who craves that physical connection from their phone might just like what's on offer.
If you only want a portable keyboard because the imagery makes you feel like you're using a proper laptop, but you take your time with your typing, the Evo Type could achieve that. You'll just seriously want to take your time, because in version one of the released take of Tech21's Evo Type, it's not a keyboard made for people who love to type, more just folks to remind them roughly of the keyboard they yearn to be using.