The Huawei Watch GT is a little different from your regular smartwatch, and that's not just because it comes across more like a fitness band than a watch. In Australia, it also has a rather unusual price tag: free. Ish.
Not sure if you want to shell out money for a smartwatch? We get it, and Huawei might too, bundling in the Huawei Watch GT with the Mate 20 phone in Australia.
But just because it's bundled in and technically "free", you still have to want to strap it to your wrist. Is this device worth keeping with you, or would it be better going with some other wearable?
What is it?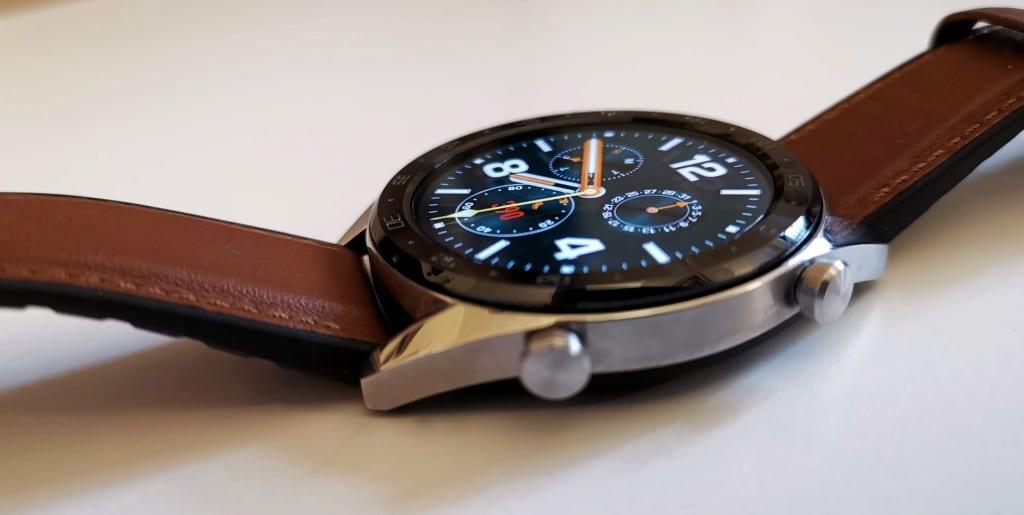 This will totally surprise you, but the Huawei Watch GT is a watch-shaped device that connects to your smartphone to deliver notifications to your wrist, as well as health information and the time.
Okay, maybe that wasn't a surprise, though aspects of the Watch GT definitely are.
For instance, the Huawei Watch GT doesn't rely on a standard smartwatch operating system. There's no Android wearOS, no Apple watchOS as that's specific to Apple's Watch, and no Tizen as that one only comes to Samsung wearables.
So there's no standard wearable operating system here, but that doesn't matter, because the Huawei Watch GT only needs the Huawei Health app on your phone — iPhone or Android — to talk to the watch.
That makes it something that can work with any device, which is great news, until you realise that in Australia, it's only available as a bonus when you buy the Huawei Mate 20 Pro.
No big deal, we guess. That phone is great, and it's a bundled-in extra from Huawei in this country.
What does it do?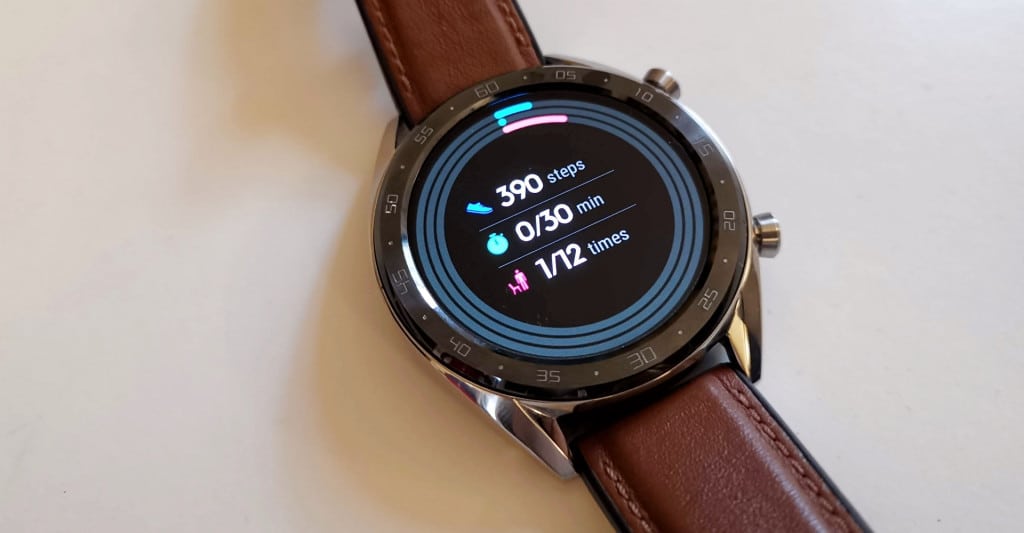 Aside for technically coming for "free" (that's a feature, right?), the Huawei Watch GT is mainly a health tracker sitting in the body of something that looks like a watch.
It will tell the time, offering both analogue and digital watch faces on its 1.39 inch AMOLED touchscreen, which sits under ceramic bezels and inside a stainless steel which measures 10.6mm thick. Like other smartwatches, there's a heart rate tracker underneath to check up on what your blood is doing, and it also has GPS technology built into the Watch GT, as well.
Armed with the GPS as a tracker, Huawei's Watch GT can watch your fitness and tell you where you've gone when you activate one of the many fitness programs available to you, and when you get back home, its sleeping technology can monitor your sleep and even offer suggestions, something Huawei apparently developed from a joint study with Harvard Medical School CDB Centre.
Water resistance is part of the package, though the leather-band version we received didn't seem like something we should take in the water, so didn't test much of this out.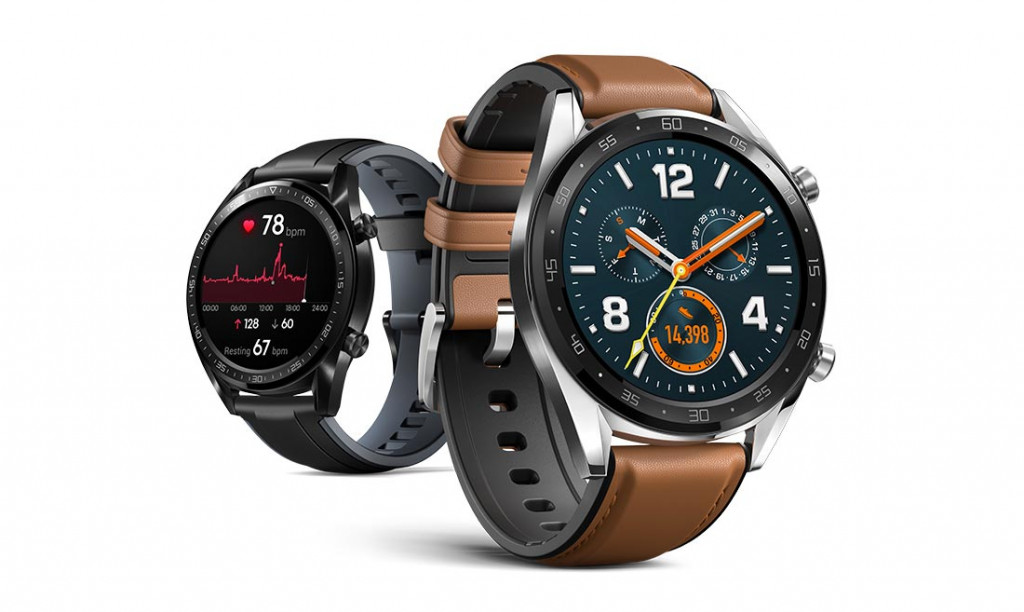 Does it do the job?
For all intents and purposes, the Huawei Watch GT will do what you want it to, provided what you want is a wearable that tells the time, show notifications, and track your fitness and sleep.
While it doesn't come with Google's WearOS or Samsung's Tizen, and instead uses something a little more proprietary from Huawei, the Watch GT can still do plenty of other things.
It can measure your heartbeat all the time. And we mean all the time, with continuous heartbeat monitoring on this thing, even giving you a cute little graph that you can slide your finger through (on your phone) to tell you what your heart beat was like throughout the day, be it when you were doing yoga, when you suddenly realised that bill was going to be more than you'd like, or when you decided that you were going home to relax.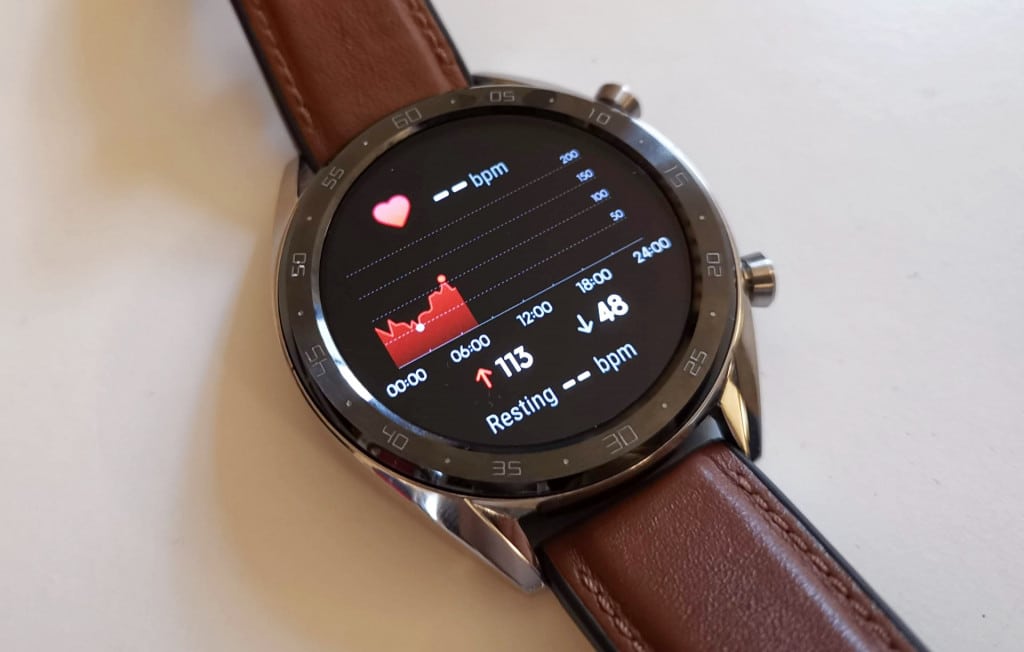 It will track your position using GPS if you decide to go for a run, a big walk, or some proper outdoors action, and that's because the Huawei Watch GT has a lot of emphasis on fitness. In fact, while the Watch GT looks like a watch — while it looks like a smartwatch — you learn pretty quickly that it's more like a fitness tracker that looks like a watch, with a few of those nifty smartwatch notifications thrown in for good measure.
It will even track your sleep, and do it quite well. We'd say Huawei's Watch GT did a slightly better job of calculating when we were asleep and awake than Samsung's Galaxy Watch, which repeatedly thought we were asleep for an hour after we had woken up (we wish).
Perhaps the best thing it does is survive.
Not only is the Huawei Watch GT water resistant, but it also manages to survive on your wrist with some of the longest battery life we've seen from a full-colour circular smartwatch.
When all was said and done, our Huawei Watch GT review managed to hit a staggering eight days of battery life. That's eight days a week, almost like what The Beatles sang about, and we suspect we could have hit a ninth or tenth if we had turned off the constant heart rate checking, one of the major features of the watch.
But even with that enabled, we saw over a week's worth of battery, something that really impresses, especially when it's become fairly normal to recharge a smartwatch every second or third day.
If we were traveling with the Huawei Watch GT on a week-long business trip, we'd definitely be looking forward to not worrying about needing to charge yet another gadget, and could leave the minimalist magnetic charging dock at home.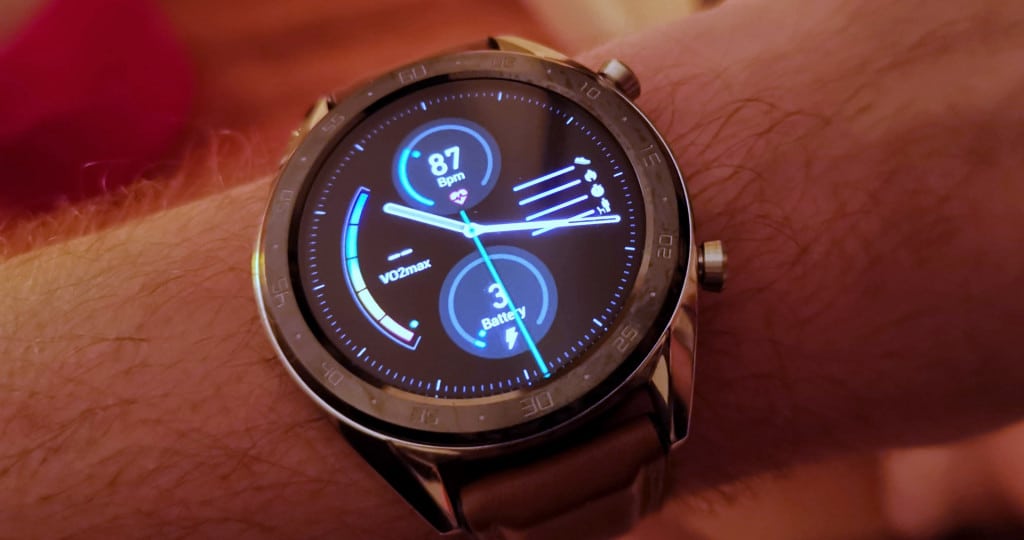 What does it need?
But there are some pretty interesting reasons why we think Huawei can hit this sort of battery life, and the specific things you can't do with the Watch GT kind of give it away.
For starters, while the Huawei Watch GT is a smartwatch, it lacks most of the smarts we're used to seeing on its competition.
We get the feeling that issue is one of the reasons the Huawei Watch GT can nail such a solid battery life, because you're not using the Watch as often as you might with one that lets you control more of your smartphone experience.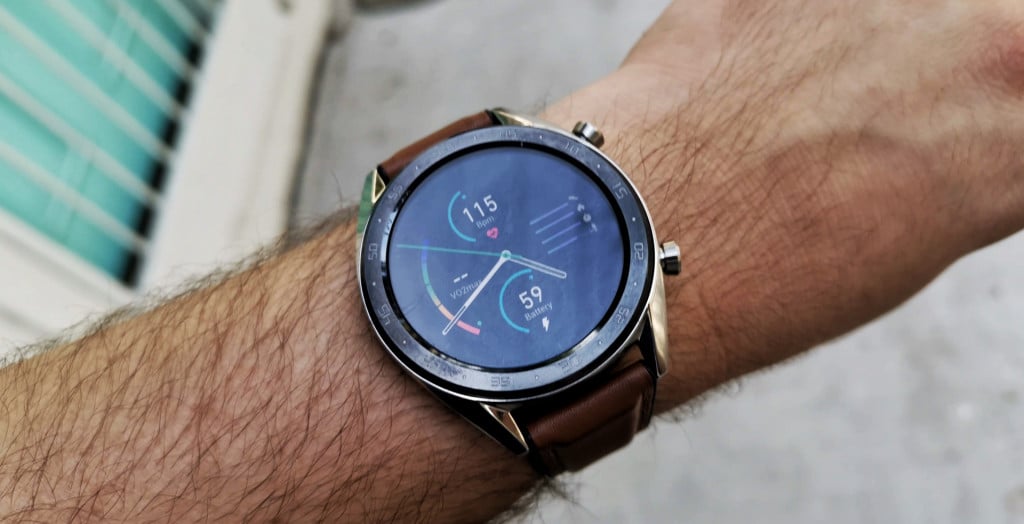 That means you can't control music with it, which is one of the hallmarks of pretty much every smartwatch. No Spotify control or standard music control is available on the Watch GT, forcing you to rely on those headphone controls or your phone if you want to skip tracks or turn the volume up. It will tell you when you have a call, but you can't answer it on the Watch. Fun fun.
And don't expect to pay using the Watch, either. While many wearOS wearables get Google Pay, the Apple Watch gets Apple Pay, and Samsung's Galaxy and Gear watches all get Samsung Pay, Huawei hasn't adopted any format.
There's also no way to customise the 14 watchfaces that come with the Huawei Watch GT, which is a real shame. One of the hallmarks of the smart wearable is customisation, and outside of changing the watch faces, there's nothing else Huawei's Watch GT allows.
You can't change the clock hand colour, what the little metres do, or even set up a nice picture of your loved ones on a photo-based face. Also, there's no photo-based clock face, possibly for this reason, though there is a Chinese New Year inspired one that alternates images that Huawei has picked out.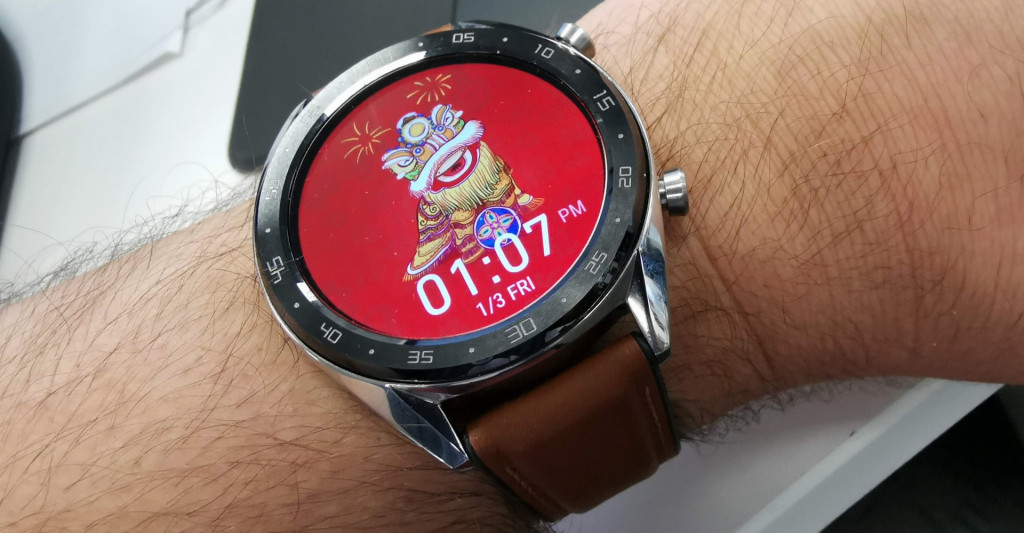 Is it worth your money?
But even with those flaws, approaching value is a little difficult with the Huawei Watch GT because it doesn't actually cost money in Australia.
Locally, Huawei hasn't made the Huawei Watch GT something you can buy, at least individually. Instead, it's a bonus supplied when buying the Huawei Mate 20 phone, making it only purchasable in Australia if you also buy a phone.
The advertising suggests the Huawei Watch GT to be a value of $399, but in Australia, it's only a bonus, so we can't evaluate it against its price tag.
Certainly for the price you get it for — bundled in with the phone — there's an easy observation of value, though that's something that items we regard as costing nothing extra usually garner.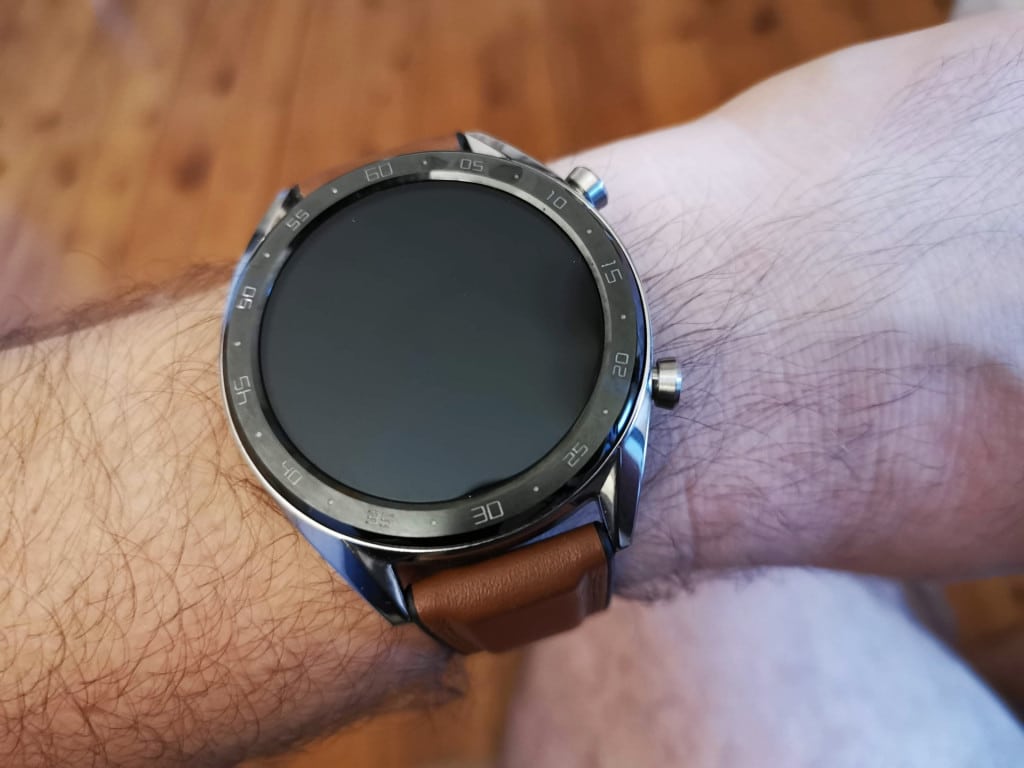 However we're not so sure that's a fair approach. After all, you don't get any other wearable free, so it hardly seems a fair comparison.
Instead, we feel it's worth comparing it with the perceived price, which Huawei says is $399.
At this price, we're not quite sure it lives up the tag, especially since it's only kind of smart. It can talk to your phone, but for the most part, it's a fitness and sleep tracker that talks to your phone for notifications, similar to how Fitbit's bands work, but with a large colour screen.
Fitbit's bands don't cost nearly this much, and so the $399 doesn't feel right for the Huawei Watch GT, even if the "free" cost feels better.
Frankly, at the cost you're getting it with the Mate 20, it's justified, but if you had to buy it, we don't think we'd pay over $250.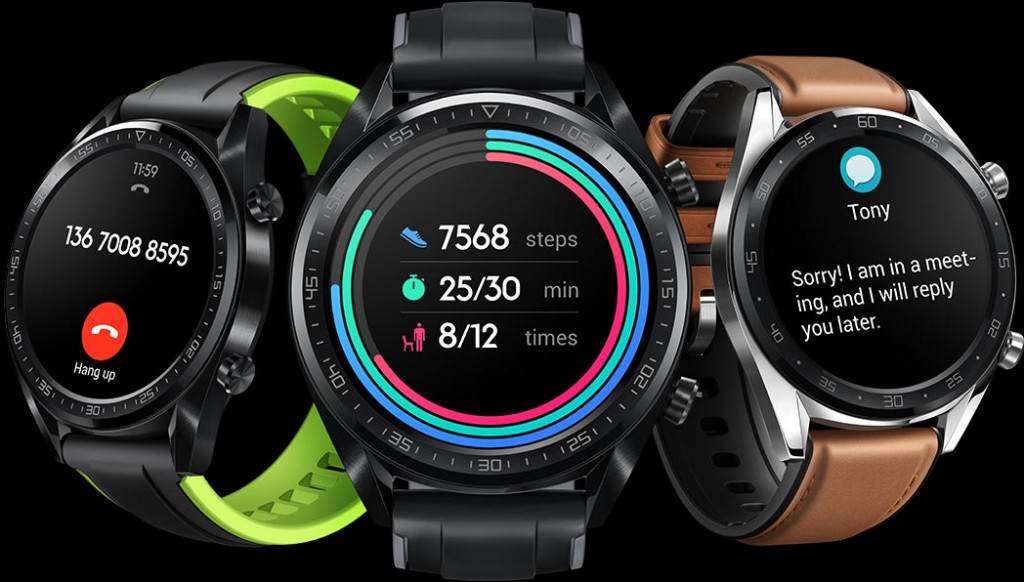 Yay or nay?
Huawei's Watch GT is a curious beast, and one that's really hard to pin down.
On the one hand, Huawei has designed and assembled a very nice looking watch that has some excellent features, offering always-on heart rate tracking, handy sleep tracking, and one of the best batteries of any full-colour wearable to date.
And yet on the other hand, the Huawei Watch GT kind of masquerades as a bit of a smartwatch. Sure, it can get notifications, but it won't control music or let you download apps to it, and you can't even send your phones to the watch or customise any of the faces.
That makes it a slightly compromised smartwatch, and one that won't be for everyone.
But you know what? The Huawei Watch GT really grew on us.
Somewhere between the excellent battery life and simple design, we grew to like the Huawei Watch GT just that little bit more than we expected. It's still not our favourite smartwatch, and definitely needs more to it than just the features Huawei has set it up for now, but it's not a bad product, and one that would easily sit on the wrist of someone who didn't know what they wanted in a smartwatch.
If you're looking for the complete integration of a phone into a wearable, the Huawei Watch GT is definitely not for you. It's not even what you want if you're after a halfway point.
But if you want a wearable made for fitness that looks decent and offers a strong battery life, the Huawei Watch GT delivers. You'll just need to buy a phone if you want it in Australia, which is too high a price for the watch itself, but a workable combo altogether.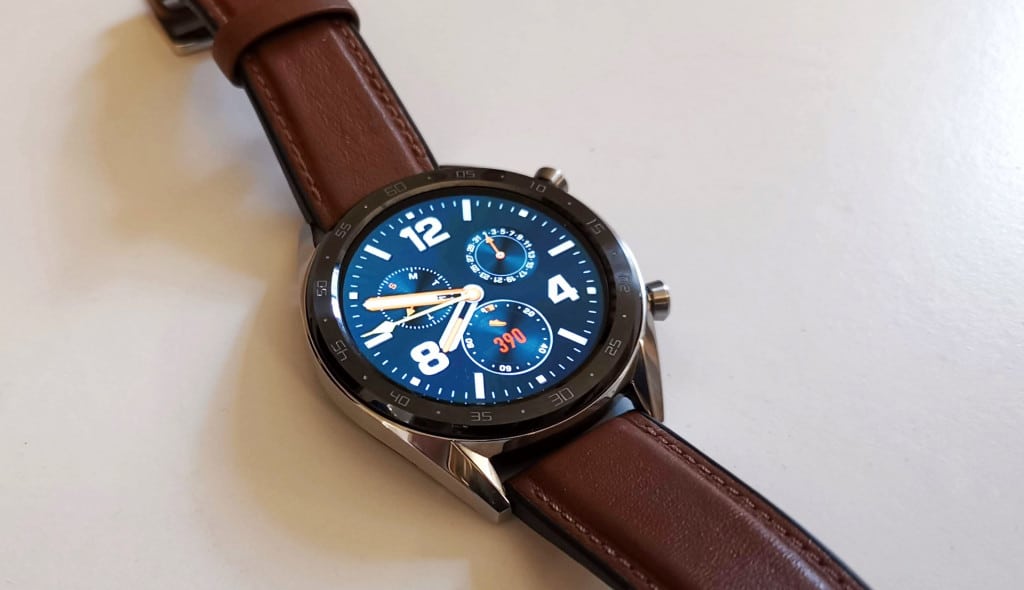 The good
Comfortable design
Excellent battery life
Works on iOS and Android
Really made for health tracking
Water resistant
The not-so-good
14 watch faces, and that's it
No way to add or customise watch faces
Can't control music with it
Doesn't support custom apps
No payment support through it
Comes across less like a smartwatch and more like a fitness band shaped like a smartwatch