Wonder what the dog is doing when you're not home? A new gadget "Furbo" could just tell you, and you might even be able to treat your pup, too.
Design and features
One of the more unusual gadgets we've seen this year — and possibly ever — Furbo is a security camera sitting inside something that looks very much like tall Tupperware.
It almost comes off like an hour glass, except it's tall, white, and stores not just a camera, but also little pieces of dog treats and food in a top section accented with bamboo.
Overall, Furbo is a relatively attractive camera, and it's one that doesn't make you jump through hoops or train you to use it.
In-use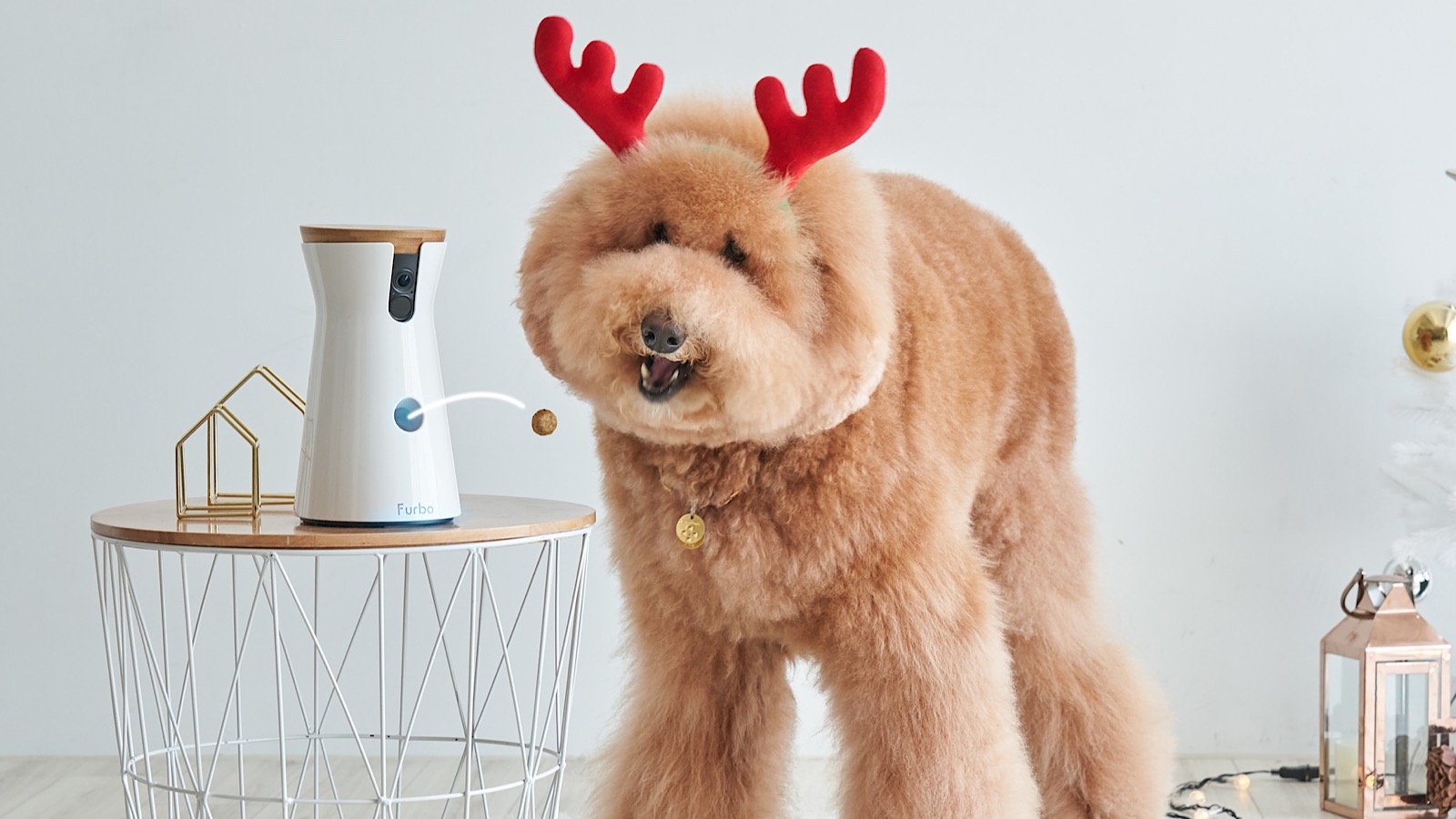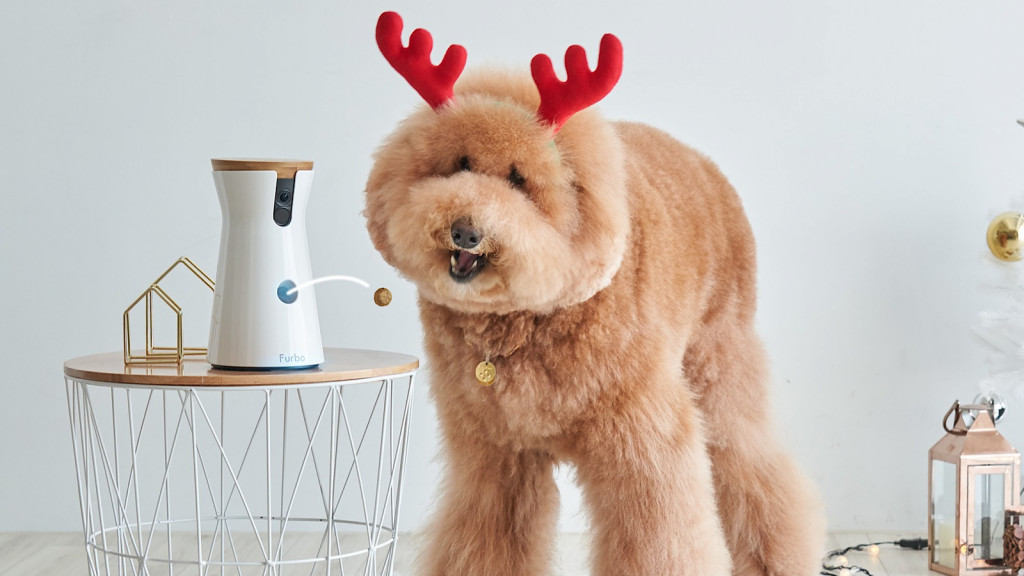 Setting up the camera is fairly easy, and more or less involves plugging it in and running the app that's available on iOS and Android, so you probably won't be surprised to find out that using the Furbo is just as easy.
You run the app, which is so easy, anyone can really do it.
Furbo's app aims to be easy, offering you the ability to quickly login, take photos, record video, and even talk to your pup directly using the microphone, which comes out of the Furbo's speaker in a way your dog may or may not care about.
Most interestingly, however, is the button that lets you fire treats, because what's the point of watching your dog if you can't tell them when they've been a good dog?
Furbo makes that possible, with a small treat button at the bottom of the app.
Performance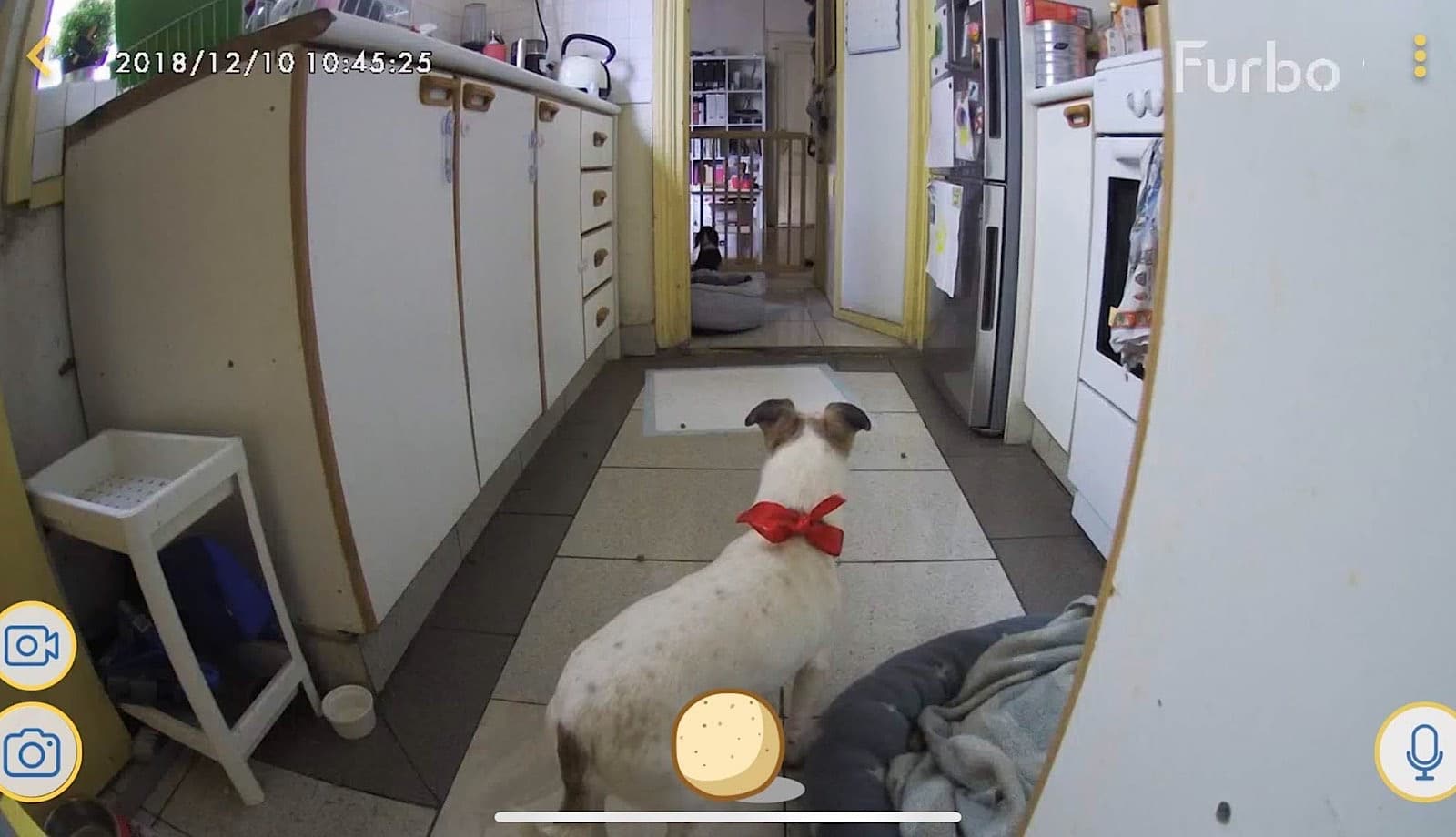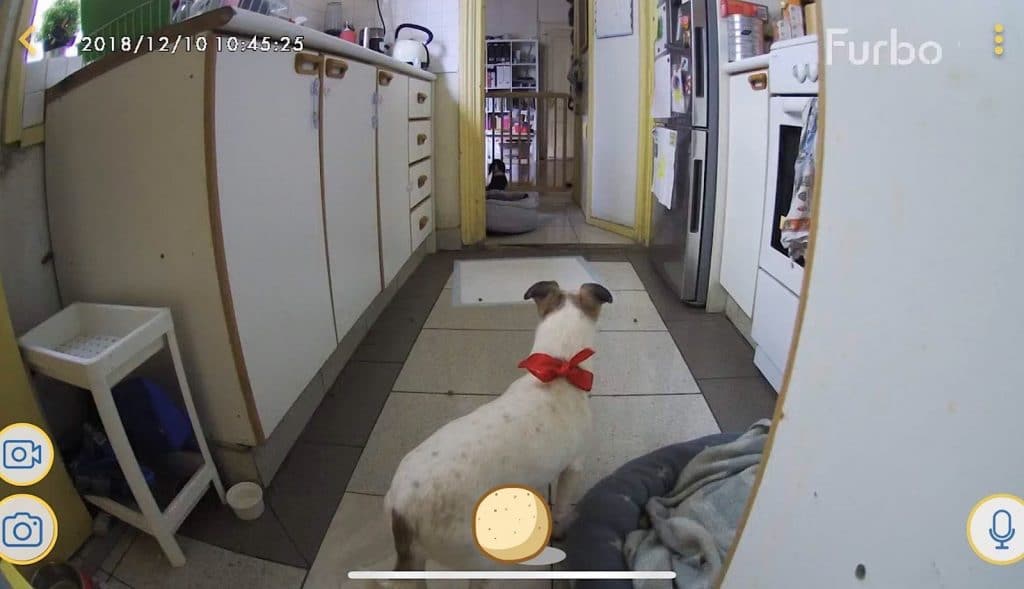 Press that button and if your dog is lucky, treats will come flying out, ready for them to eat.
Outside of that button, the camera will send you notifications when your dog is barking, telling you of the fact on your phone and wearable, and inviting you to log in and see it for yourself.
The camera itself provides decent enough quality, sending out high definition video of your dogs on camera, and the system even has night vision enabled, though its level of penetration isn't necessarily the best.
You will see your dogs in the night if you're watching them, but you have to be logged on at the time, as there's no cloud storage or video capture unless you specifically control the camera at the time.
Value
However, this technology doesn't necessarily come cheap, and you might widen your eyes much like your dog does when it sees you going for the leash and saying the V-E-T word.
That's because at $349, the Furbo is a cool idea, but not necessarily an inexpensive idea, though it's one homes with a new pup may want to look into if only to help come the dog down.
Throughout our testing period, that's exactly what we did, welcoming a new pup into our lives, with Maisie, the eight week-old Beaglier that joined our 14 year old JackChi, Milo.
Testing it with a new puppy, we were able to log in and find when she was barking and pelt food her way when she was feeling a little low, all while the other dog watched, or occasionally got caught in the line of fire of food, a phrase you can really only write or utter once a year for fear of sounding like a grade school drama.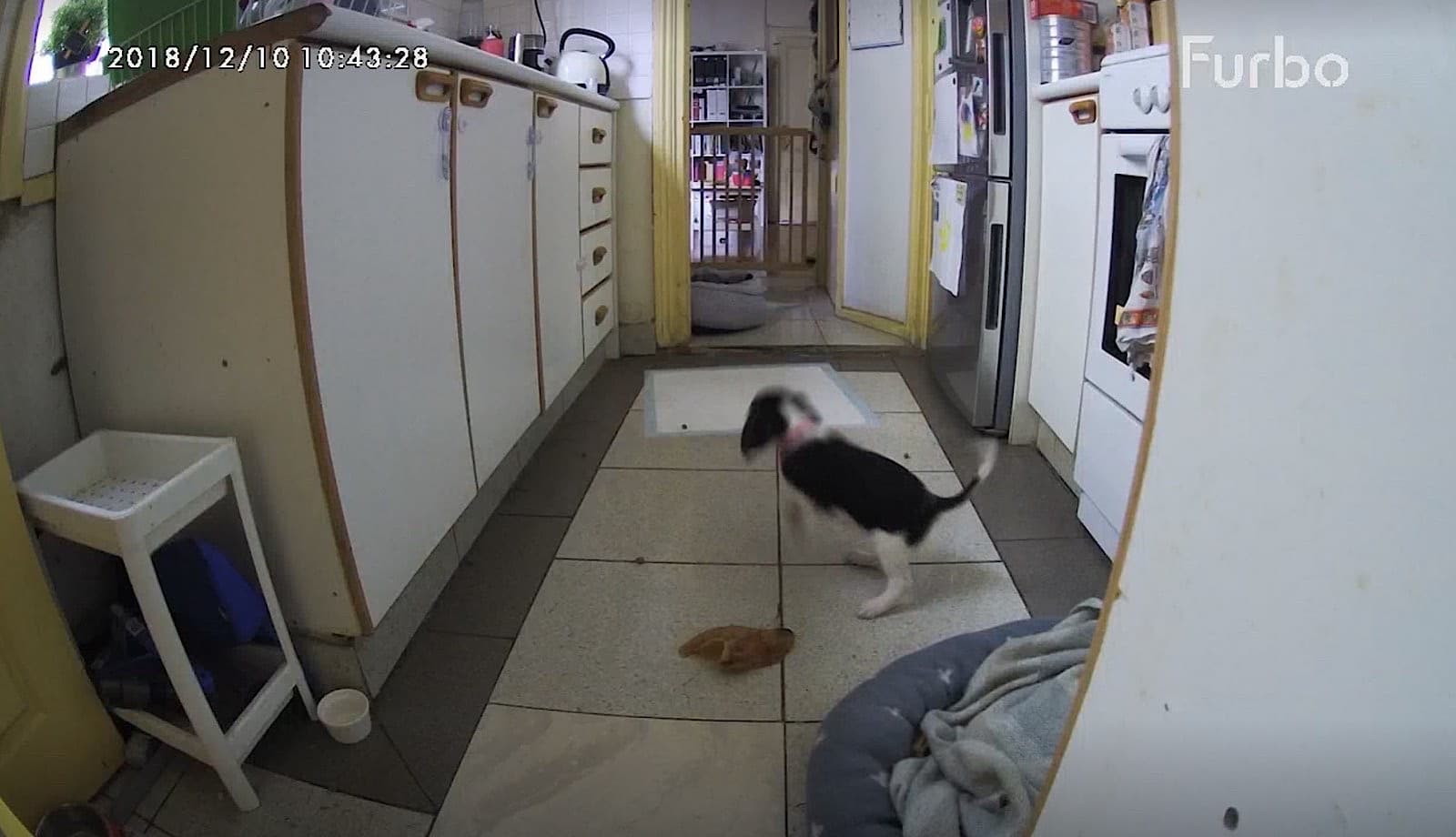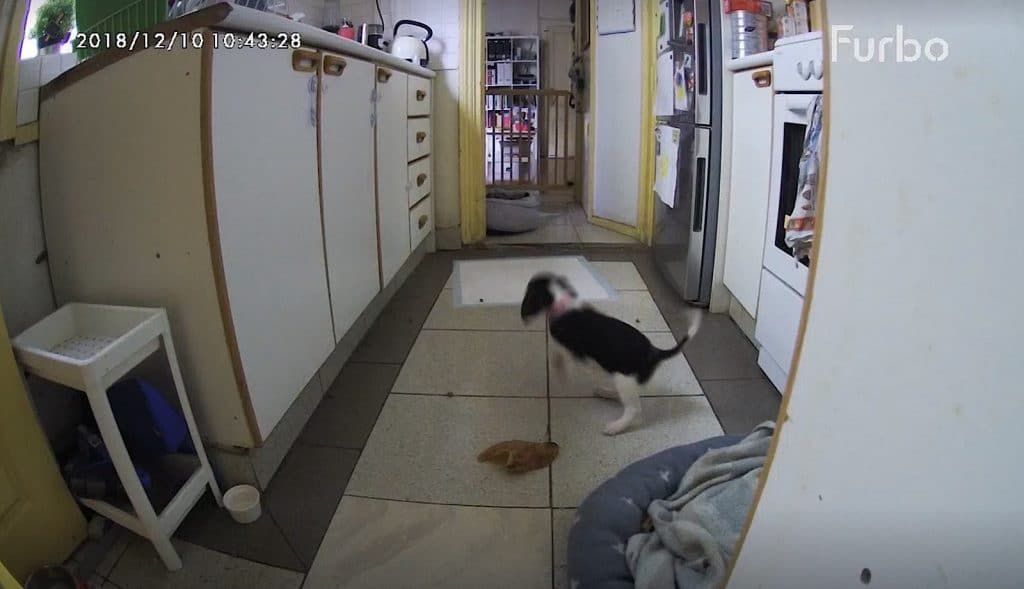 But that's what we did — watch the pups — because it's something we've never really had available to us. You see regular security cameras for protecting your home, and baby security cameras for making sure bub is okay, but this is something different, giving you eyes on the little bundles of fur.
It's a cool idea, and one that gives you some sense of security for the four-legged friends in your life.
What needs work?
As cool as the concept is, there are things that need a bit more development, both on the software side of things, and also on the hardware.
With that software, the app can be buggy, and we found often that you had to close the app and restart it if the connection struggled to connect the first time. It's an error that reared its head when we jumped across apps and did some multitasking on our phone, but it wasn't always triggered. It's just one of those niggling bugs.
There's also no way to store the videos of your dog barking, at least not yet. That's something Furbo could easily add, as it would likely be something on their end mixed with an update to the software.
A welcome touch, it would be great to see past events, if only to have some oversight on what your dog is doing after it's happened, something the Furbo can't yet tell you. Right now upon release, you'll need to log in as it's happening, and in the age of smart security cameras, that seems a little like an oversight.
Outside of this, Furbo's other issue is that of the servo mechanism for firing food at your pets, something that often results in pelting pups with pebbles of food.
The issue is this: sometimes it works, and other times it doesn't. It's as simple as that.
Fortunately, you can fire it again over the air, touching the food icon and watching the Furbo spring to life as it fires food at your dog, likely scaring it in the process (it did with ours). Often it fires three as opposed to the one you might expect, and sometimes it fires one. And then, of course, it sometimes fires none, and you need to trigger it at least one more time.
It's minor, and your dog won't mind eating the extra second or third treat, but it's still the sort of thing that warrants a bit of a fix.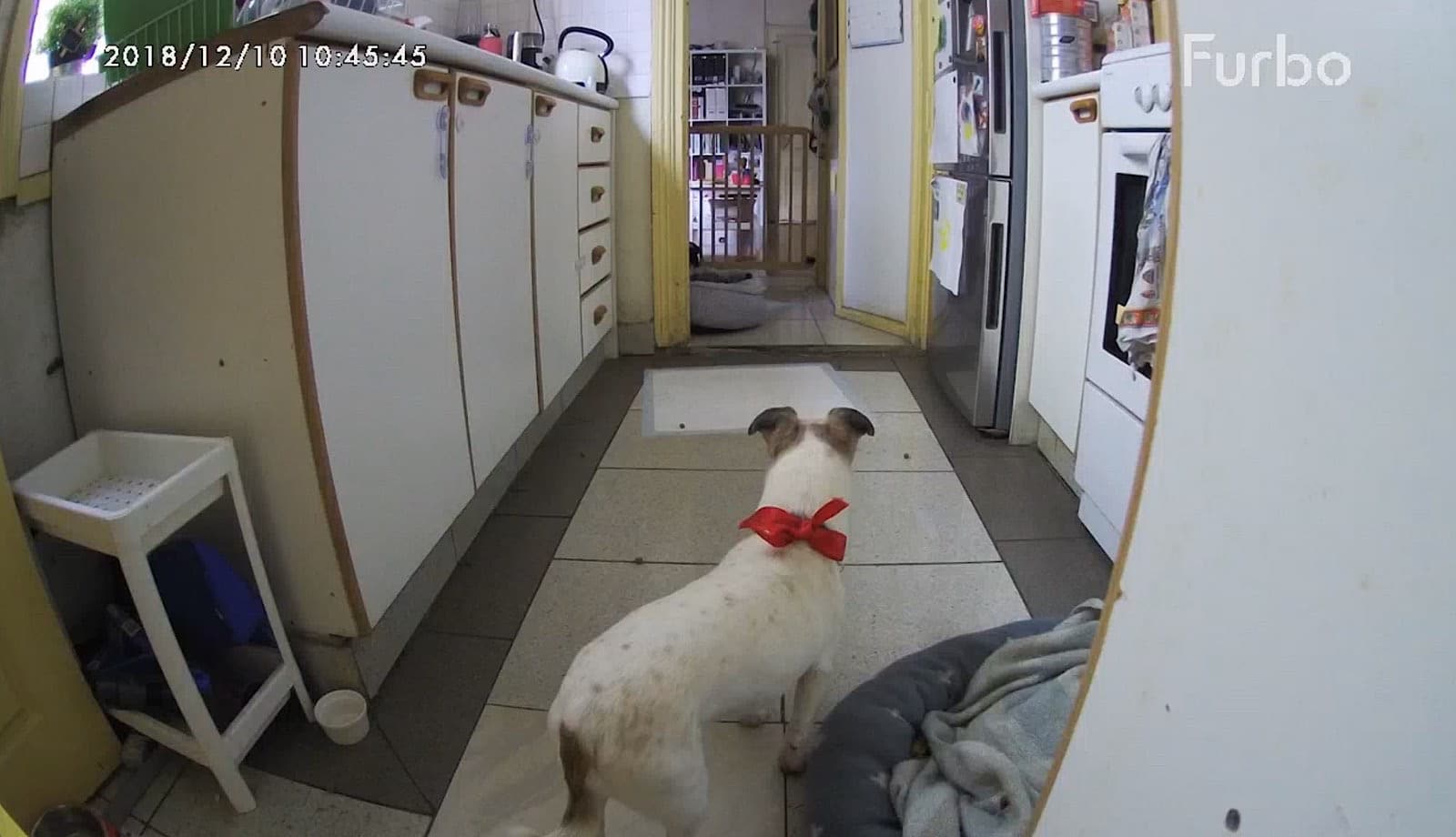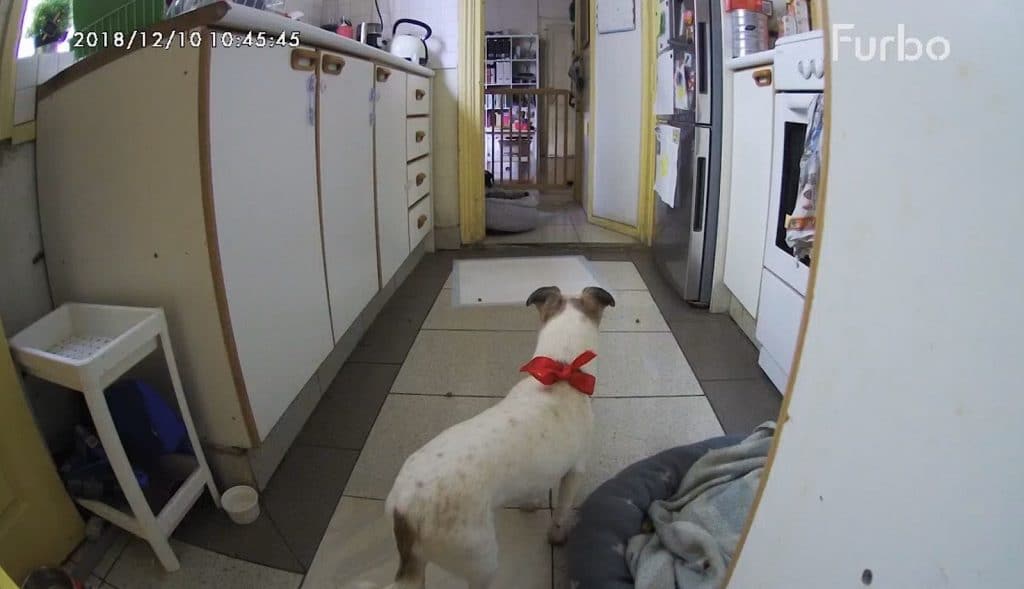 Final thoughts (TLDR)
There's little doubt that this is a unique take on the security camera, and one that is clearly made for people with dogs in their life. For folks who can't get enough of their fur babies, the Furbo is a really cool concept that gives you eyes on the mutts at home, and that is without a doubt very handy.
That said, as cool as Furbo is, it still has room for improvement, and video storage is definitely the first thing we'd suggest. We can look past a buggy app and even a food firing mechanism that doesn't always work, but being able to find out when and why your dog barked would be super handy, and feels a little like an oversight to go without. But it's also something that could come later on, arriving as the platform matures, much like how a puppy eventually turns into dog.
For the moment, Furbo is more like a pup, and a good one at that. Worth checking out if you have dogs.
The good
Great concept
Design is very home friendly
Takes a fairly standard treat size: small pebbles of dog food
Sends alerts to phone and wearable
The not-so-good
Doesn't record video when motion or sound is triggered
Food launcher doesn't always work
Buggy app