Need better WiFi? How about internet security at home? The D-Link D-Fend has both covered in one device. Is it made for your home?
We've all had issues with wireless network performance at home, making the odd complaints to friends that know how to fix it usually when they're in earshot. Dodgy WiFi is everywhere, and it rarely gets better on its own.
Recognising that is one of the first steps to getting better WiFi at home, because it can lead you to a new router, and one that offers more than better WiFi overall.
These days, wireless routers can offer more, such as support for parental controls, media playback, and more, but not all of these features are useful for every home.
In fact, if you're looking for something that could be useful for everyone, you probably need to turn to a hot button issue like that of security.
Security is a problem, and it's a problem for most. Not everyone goes out and buys internet security, and those that do aren't always going to pay the annual subscription to keep it updated. It's a thing you can generally rely on, and between the problem of outdated security signatures and the constant threat of an ever-evolving security issue landscape, you can bet that leaves many in the lurch.
Simply put, if you don't have security, you might have some problems further down the track.
But what if that new wireless router could take care of your security issues in the one device?
That's the premise in the D-Link D-Fend, a wireless router that includes security for the home and beyond in a cube of a device.
What is it?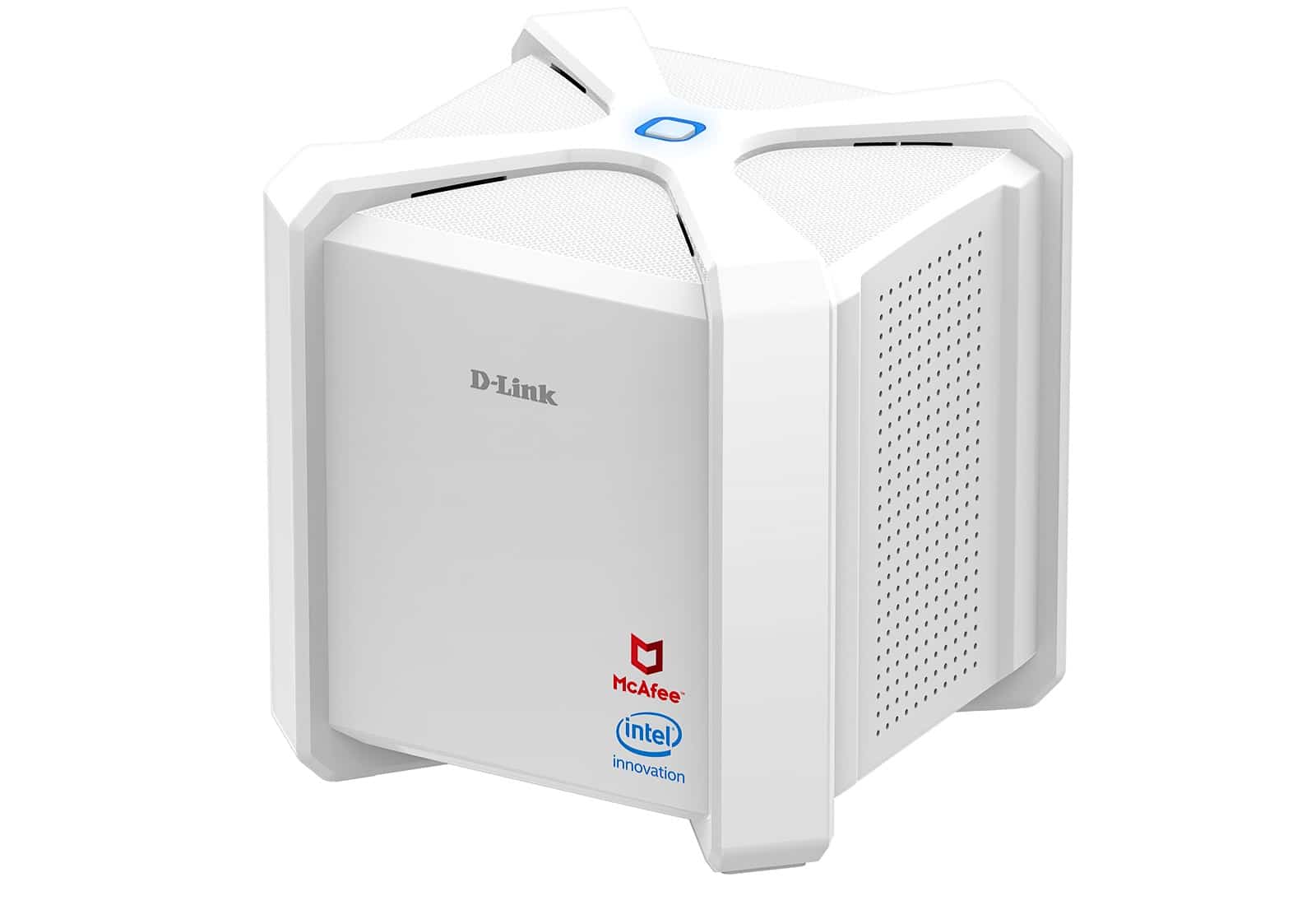 The first thing you need to know about the D-Link D-Fend is that it isn't your typical router.
Oh sure, it connects devices to your internet, sends wireless around the home, and acts as a traffic manager for everything wireless you plan to bring into your premises, but it's also a little bit different.
It's a wireless router built for security, and one that has brought over someone you might know to handle that side of things.
While D-Link could have built that side of things itself, it has instead partnered with McAfee to take care of the security, which will mean the D-Link D-Fend router is doing a little more than just handle security: it's also going to handle security for your computers, too.
What does it do?
That means while it can handle your wireless transmission traffic control like any other router, it will also ensure what's going from point A — the internet — through to points B though Z — your devices — is clean and secure. Which, long story short, means essentially what's connected to your network is protected from online nasties.
Typically, you might think this means just your laptop, tablet, phones, and if you happen to have a desktop, but D-Fend goes a little deeper than that, protecting other devices that can't have security software installed on them. Devices like smart lighting, a security system, a smart appliance, and so on and so on. Appliances and other connected devices that rely on internet access are protected by the D-Link D-Fend security technology, which means you don't really have to worry about security issues online with this in your home.
We'd call that a win, because security is inherently an ongoing problem, and it's one few really think about.
Throwing that technology into something so crucial like a wireless router is a great approach, and while D-Link and McAfee aren't the first, McAfee does include a license for its security software for two years as well, meaning devices that go beyond the secure D-Fend wireless network are also going to have security on them.
One could argue that the D-Fend could end up saving you money: it can protect at home and beyond, something few routers can lay claim to.
You can even control it using the typical voice assistants, including Google Assistant and Amazon Alexa. If you're relying on one of those smart speakers in your home now, that's an added bonus for sure.
Does it do the job?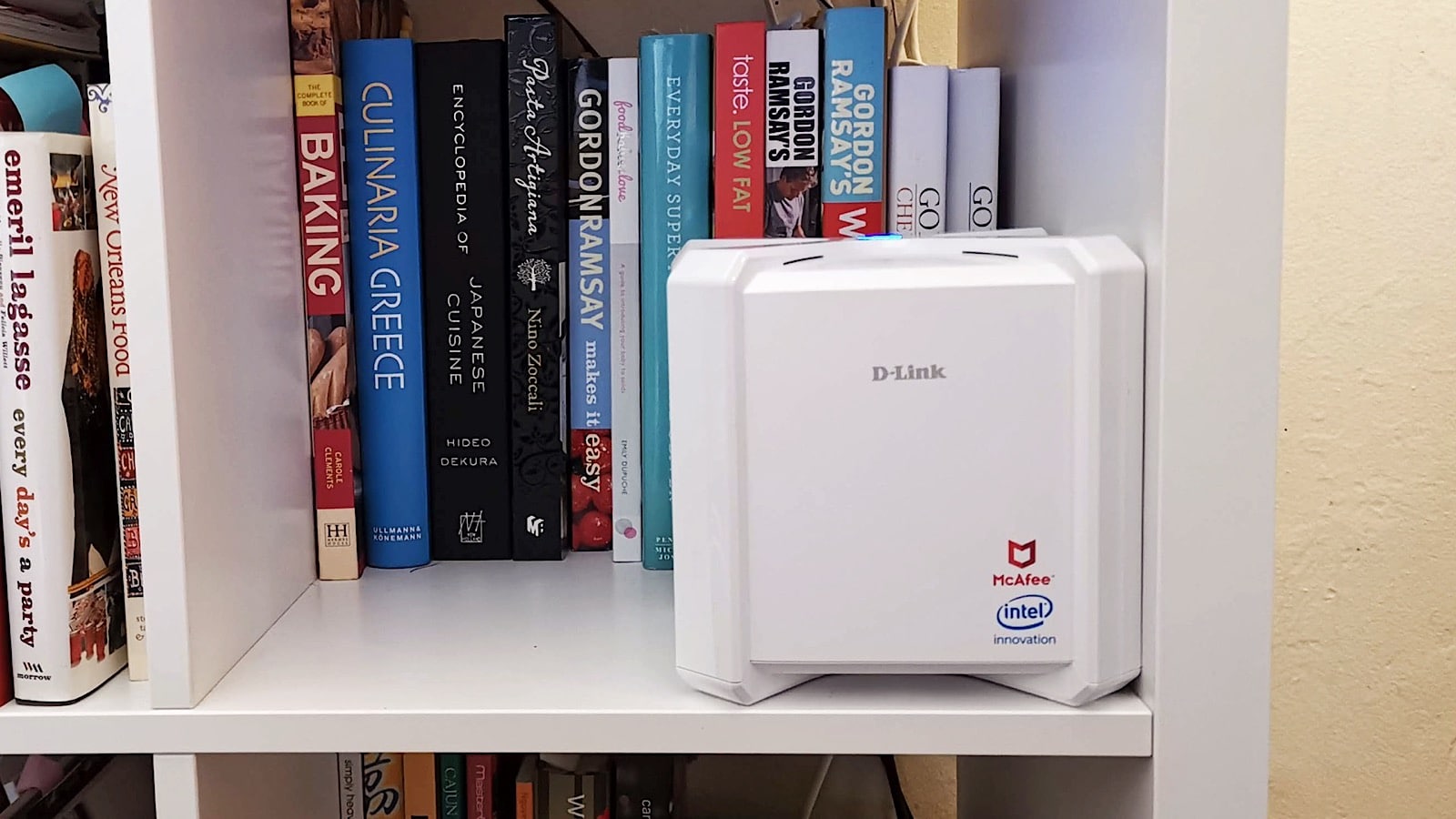 Testing the 802.11ac connection, you'll find two bands for your activity, with both the standard 2.4GHz for lower end WiFi speeds and 5GHz for everything else that demands priority.
Wireless activity can be unified thanks to Smart Connect, which means you won't have to break up the bands into two distinct wireless networks, though that's an option if you want to.
Thanks to the AC2600 technology found here, there's a maximum Of 2.6Gbps of bandwidth to work with, spread between 800Mbps on the 2.4GHz band and 1733Mbps on the faster 5GHz band, and depending on how large or long your home is, you should see ample use of it.
We didn't find the range was necessarily as strong as we'd like, that said, and as we pushed throughout the home, we found it would taper off.
However, if your home is centred around where the router might go — maybe your home is more a square than the longer length that a Sydney terrace stretches out for — you're less likely to find this as a problem.
D-Link provides two methods to control the D-Fend router, either through the web browser or via an app. And technically not just one app, but two.
There's the D-Link WiFi app for the network settings and the D-Fend app for the security controls, a combo which honestly could be reduced to one app for simplicity, we think.
Interestingly, if you want to take advantage of the security, you need to use the D-Fend app on either iOS or Android, as the web browser interface lacks the security tools completely, something that can come off as a bit of a miss.
What does it need?
That's only one aspect of the system that's missing, but it's not alone.
We're big fans of what the D-Link D-Fend delivers, because there's little else like it. Or more specifically, there's little else like it anymore, now that Symantec's Core router has been withdrawn mere months after being released.
But if you're one of those sorts of people that likes to organise your network devices so they don't look all wiry and cumbersome in the home, the piddling length of the power cable that comes with the D-Link D-Fend will make it difficult to place the router unless you bring with a longer power board.
We'd also love it if D-Link's product categories played nicely with each other, such as if the D-Fend and Covr network devices could talk to each other. That would allow the D-Fend to extend its coverage easily, which depending on your home size, might be something you'd want to do.
Is it worth your money?
At $499.95, D-Link's D-Fend router does sit as a relatively pricey router, but not so much compared against the high-speed routers, which can cost as high as close to a thousand.
For this near $500 cost, the D-Link D-Fend delivers much of the wireless speed a small home might need, and then a good dose of security on top.
Perhaps the best value here comes from that — the security.
Armed with McAfee security for the home network for five years and security for computers connected to it going outside the home for two, D-Link delivers a knockout punch in terms of home security.
This isn't just a router that protects inside the home, but one that protects outside as well. That sort of inclusion is practically unheard of in wireless routers, and we hope it's a sign of things to come.
Yay or nay?
And that helps to make the D-Link D-Fend worth it, especially if you need improved wireless and security at home.
People who need an expandable network at home may not find it as appealing, that said, because it lacks support for things like mesh network technologies, meaning if you decide to extend this network around your home more than what the D-Fend normally offers, you'll need to rely on network extenders, which won't necessarily deliver the same performance as a mesh.
That's one thing we wish D-Link had built in, and given it has a mesh system of its own — the Covr mesh points — it's a little surprising to find that it lacks support that here.
But if you live in a smaller home and your router sits at the centre, the D-Link D-Fend makes a lot of sense, and is especially useful if you don't understand the requirements of security in today's society and just want something to do the work for them.
In today's world, it's nice to have something that can protect at home and beyond without having to think too much about it. Recommended.
D-Link D-Fend AC2600 WiFi router (DIR-2680)
The good
Fairly feature packed for the home
Offers voice control via Google Assistant and Amazon Alexa
McAfee security isn't just inside the home for five years, but also included on devices using it where ever they go for two
The not-so-good
Web interface lacks security controls completely
Bandwidth could be improved beyond AC2600
No mesh support
Power cable is astonishingly short