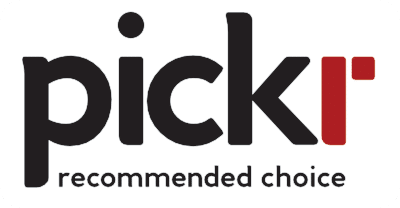 A shift in design for Plantronics BackBeat Fit range has arrived for the truly wireless world. Are the new BackBeat Fit 3100 the fitness earphones to beat?
You have to give Plantronics credit for sticking with a design over the years. Following the "if it ain't broke" philosophy, it has left its BackBeat Fit largely untouched over the past four years, and there's a reason why: it works really well, the neck cord coming up around the ears and anchoring so they don't move.
We get it. The design isn't broken, so Plantronics has kept it active and available.
But this year there's a change, and that's because the market demands it.
Design and features
Now that the world is moving to both cordless and wireless — a category marketed as "truly wireless" — Plantronics is changing things, converting its Fit earphones into the category for folks that prefer a totally wireless style.
You can still get the corded variety in the $160 BackBeat Fit 2100, but if you want to live in the future without a pesky cord behind your neck, the $240 BackBeat 3100 is where it's at.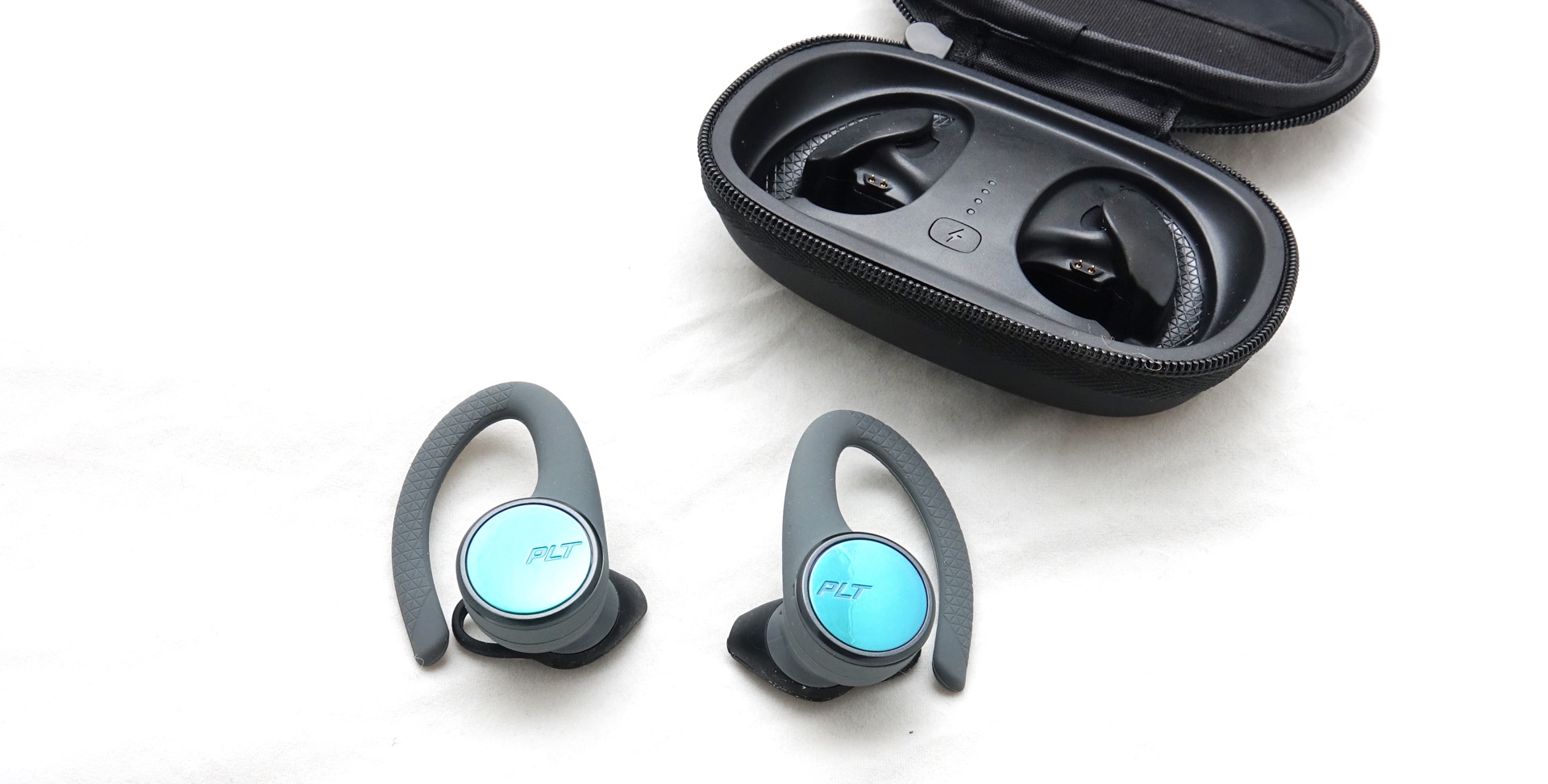 And design-wise, that's exactly what they are, as Plantronics loses the cord and changes the look of the wraparound hook for your ear. Now it more closely resembles a hook, built to cling to your earlobe while the in-ear gel nub sits inside your ears.
The tip of the earphone is largely the same, and Plantronics has stayed with its vaguely one size fits all approach, because there are no extra tips, gels, or earwings to use with the BackBeat Fit 3100. Instead you just put them on and they fit loosely and comfortably.
That's part and parcel of the old design, though here it has been adapted to the truly wireless approach, separating the earpieces, and keeping both sweat and water resistant with an IP57 rating.
This new design makes these cordless and wireless, and they get stored in a case with a battery, that provides a good ten hours of recharging on top of the five hours inside the headphones. There's a battery indicator on the inside of the case, and it zips up for protection.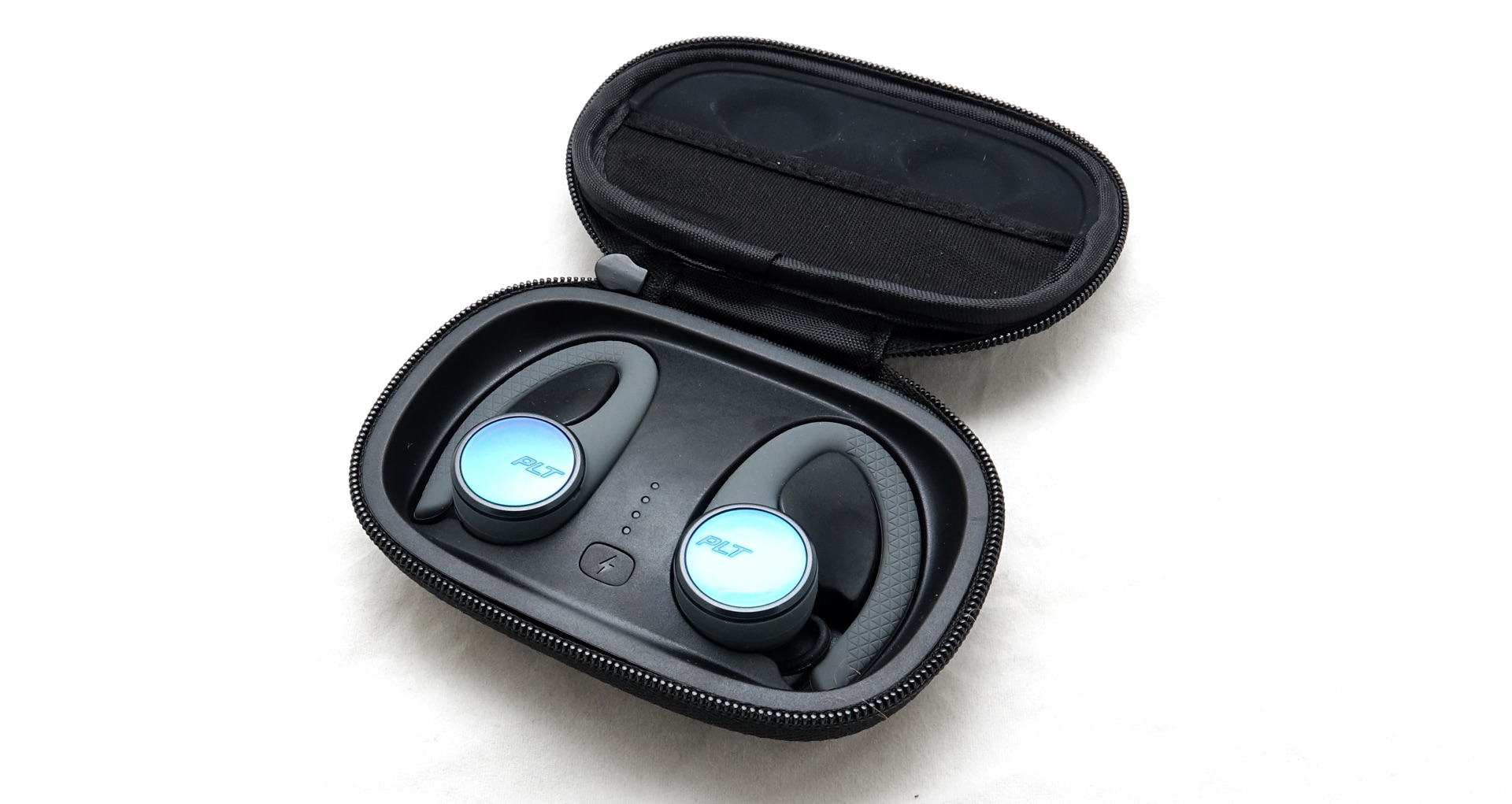 In-use
While the design has changed, wearing the BackBeat 3100 feels as natural as it ever did: slip them on, hide the hook around the ear, and you're done.
Controlling the earphones after this is just a matter of either touching or pressing firmly, with one of the iridescent pads. It's your choice which one, as Plantronics' app gives you that choice, but by default it's set to touching the left pads for volume and pressing the right pad firmly for playback control.
Is it as easy to control as other Bluetooth headphones? Not necessarily, but it doesn't take long to learn, and before you know it, you're controlling the earphones like a pro. And if you feel like it, you can configure the taps to do something else, like launching a playlist from Spotify or Apple Music. Neat.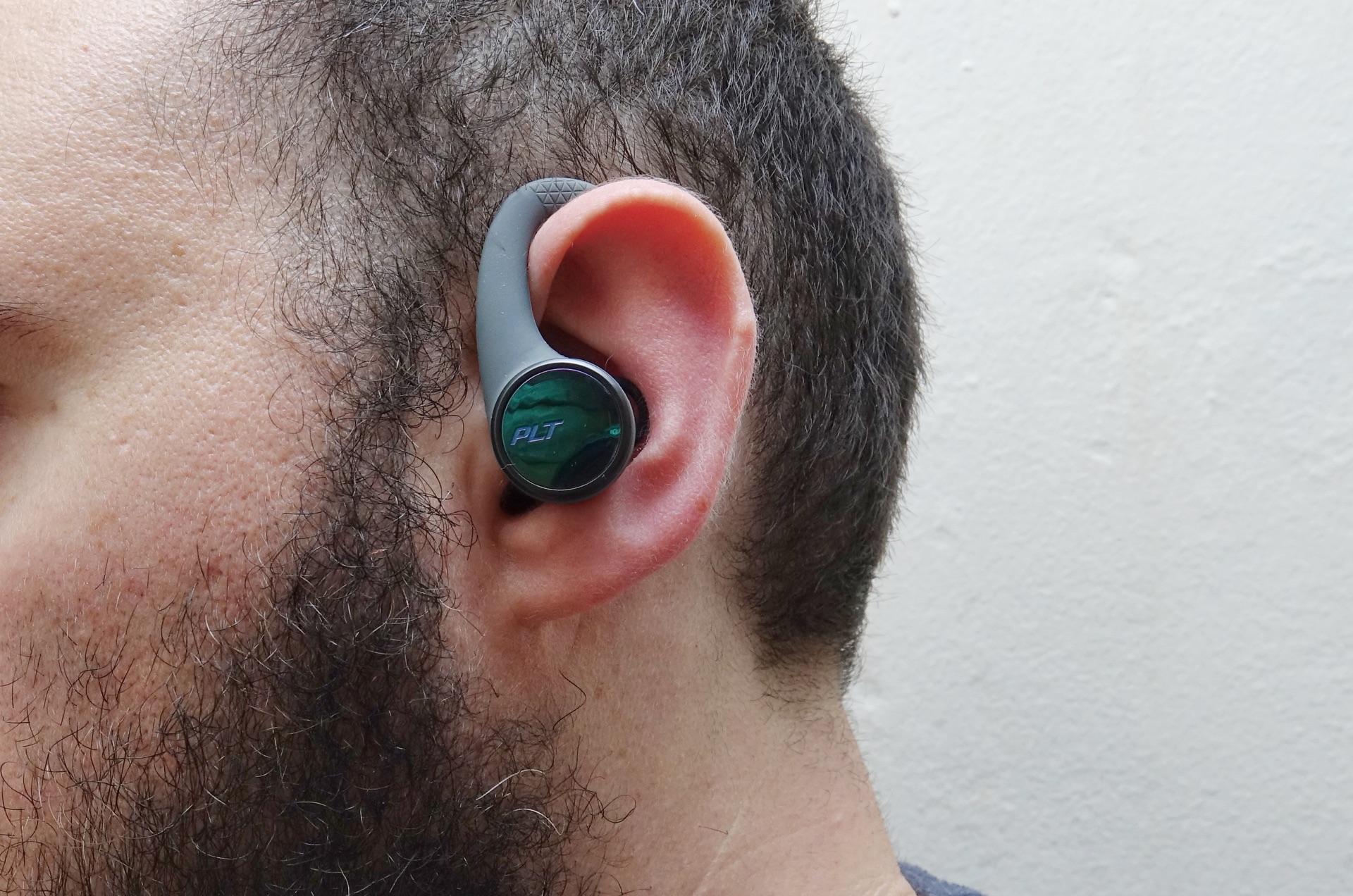 Performance
Once you have controls down pat, it's time to get stuck into audio quality, something we test with Pickr's sound test, available on music streaming services.
That starts with electronic and pop which deliver a surprisingly warm sound that was better on the mids and had a more solid punch of bass than we were expecting. Volume sits about in the middle comfortably, not overloading your eardrums, which is a great place to be, and the style of these earphones is open, so you can hear the world.
That's what we were hearing with Ellie Goulding and Pentatonix, and as we transitioned into the soul or Mark Ronson and Michael Jackson, we found that good punch continued, offering surprisingly detailed sounds for a pair of earphones that are as open as these.
As a point, the Plantronics BackBeat Fit 3100 are open earphones because they're made for running and exercise, so if you want to be able to listen to the world without fear of missing an important sound — like a car honking at you or a friend talking across your shoulder — this is the style of earphone for you.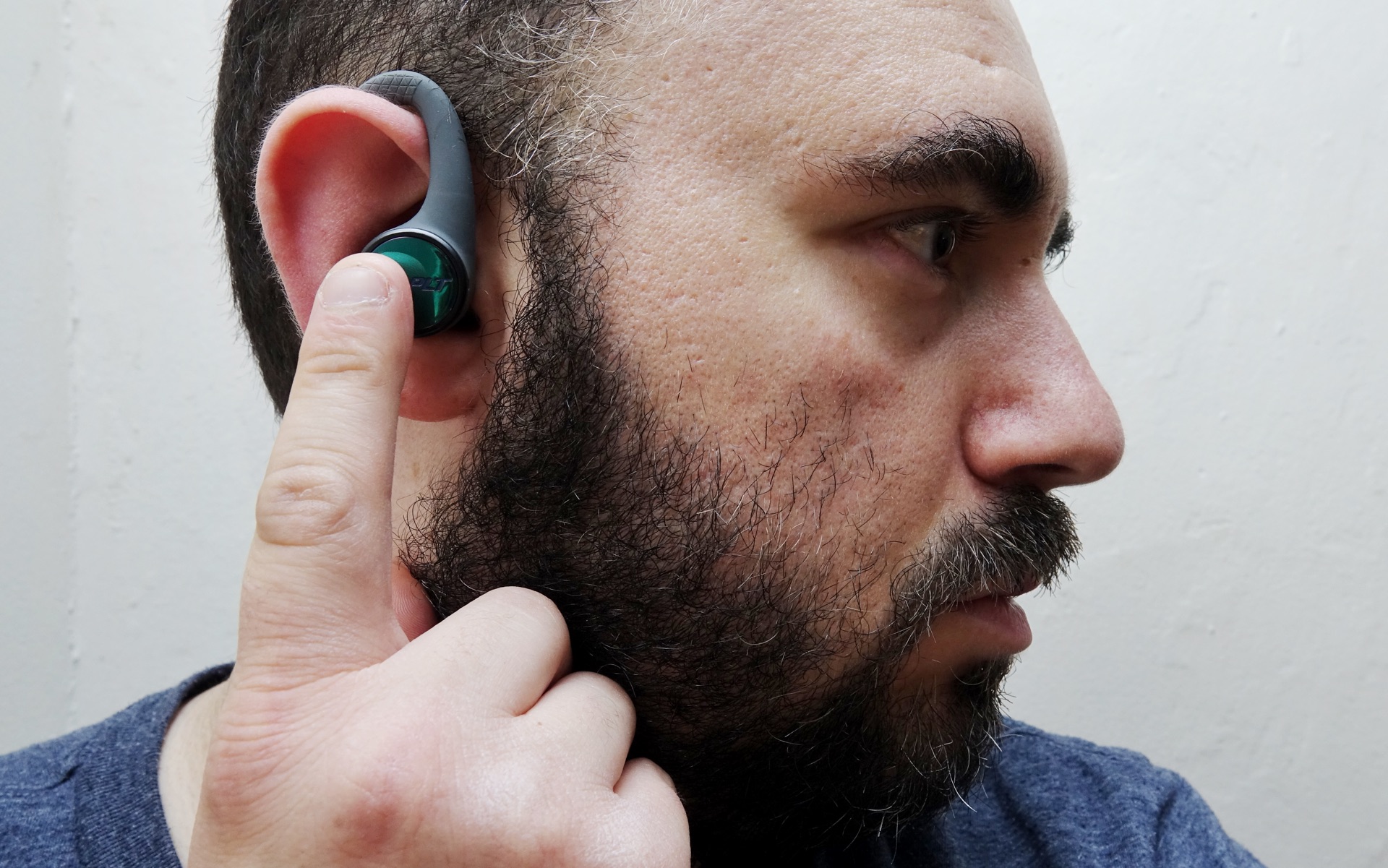 It helps the open design that Plantronics' BackBeat Fit 3100 are of a "one size fits all" approach, because it means you'll never really get that seal, though they do feel like you're getting a better encapsulation of sound than say Apple's AirPods, which tend to let so much noise in and out that you have to turn them up to hear them. Understandably, this isn't great for your hearing, and so we're fans of when comfortable open earphones like the BackBeat Fit 3100 can get the same thing across without having to turn up the sound.
Back to that, you'll find much the same solid balance in rock, though if you're into harder styles, you may find the bottom end doesn't sound as completely fulfilling.
While Beck was punchy and vibrant in "Dreams", Deftones' "Change" lacked a resolute bass that managed to feel as impactful. Our feeling is that the low end in Plantronics' BackBeat 3100 is great for thick meaty punchy bass, particularly bass hits, but music where the bass is natural may miss out.
And that kind of holds true in jazz and classical, which deliver the bright sound of the mids and highs, but feels a little sparse in the lows. Not to the point where they're completely absent, but you do have to look for them.
None of this is terribly surprising, mind you: fitness earphones (particularly those that are open) tend to drive bass when it's pushed, but feel a touch reserved when it's not.
Outside of this, however, Plantronics' BackBeat Fit 3100 feel relatively balanced, and if you listen to music that is made to get you energised as you run, jump, or walk quite quickly, there's a good chance you'll be satisfied using these earphones, which also stay put on the ear quite well, too.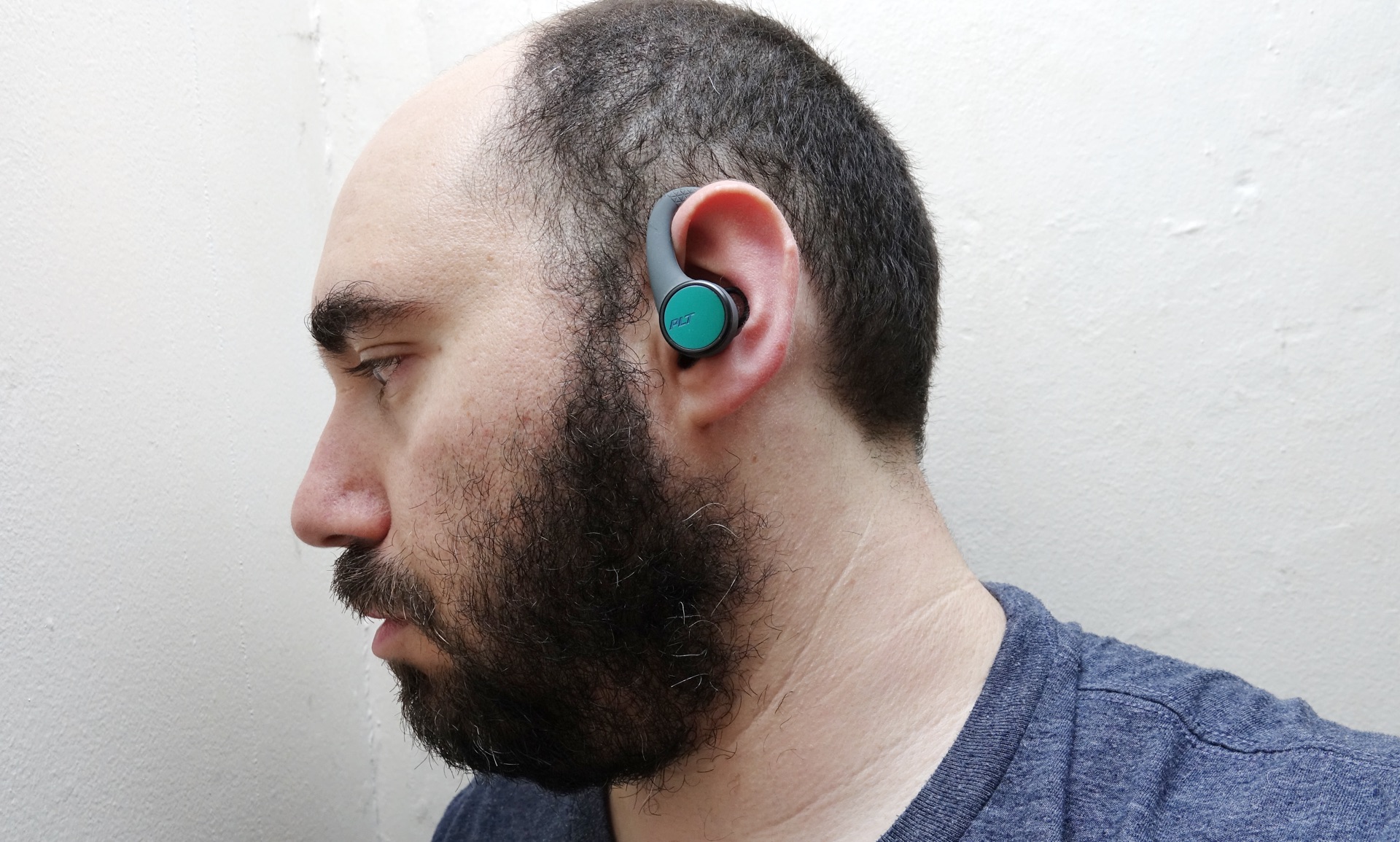 Battery
Another positive is the battery, which thanks to a slightly larger design is able to pack in a slightly bigger battery than other earphones sitting in the "truly wireless" world.
We're used to seeing three to four hours per charge plus whatever is in the battery in the case, but the BackBeat Fit 3100 can hit five hours in the earphones with ten more in the case, sitting at a maximum of 15 hours in total.
Recharging the earphones happens by storing them in the case, which is moulded to fit the earphones, and if you need to charge the case, there's a microUSB port on the back, as well.
Plantronics has also kept its "deep sleep" hibernation technology around in the BackBeat Fit 3100, meaning if you decide to stop running around with earphones on for a good three or four months — up to six months, basically — they'll retain the charge from where you left them. If you left them at 100 percent, they should be good to go as soon as you're back on the fitness train.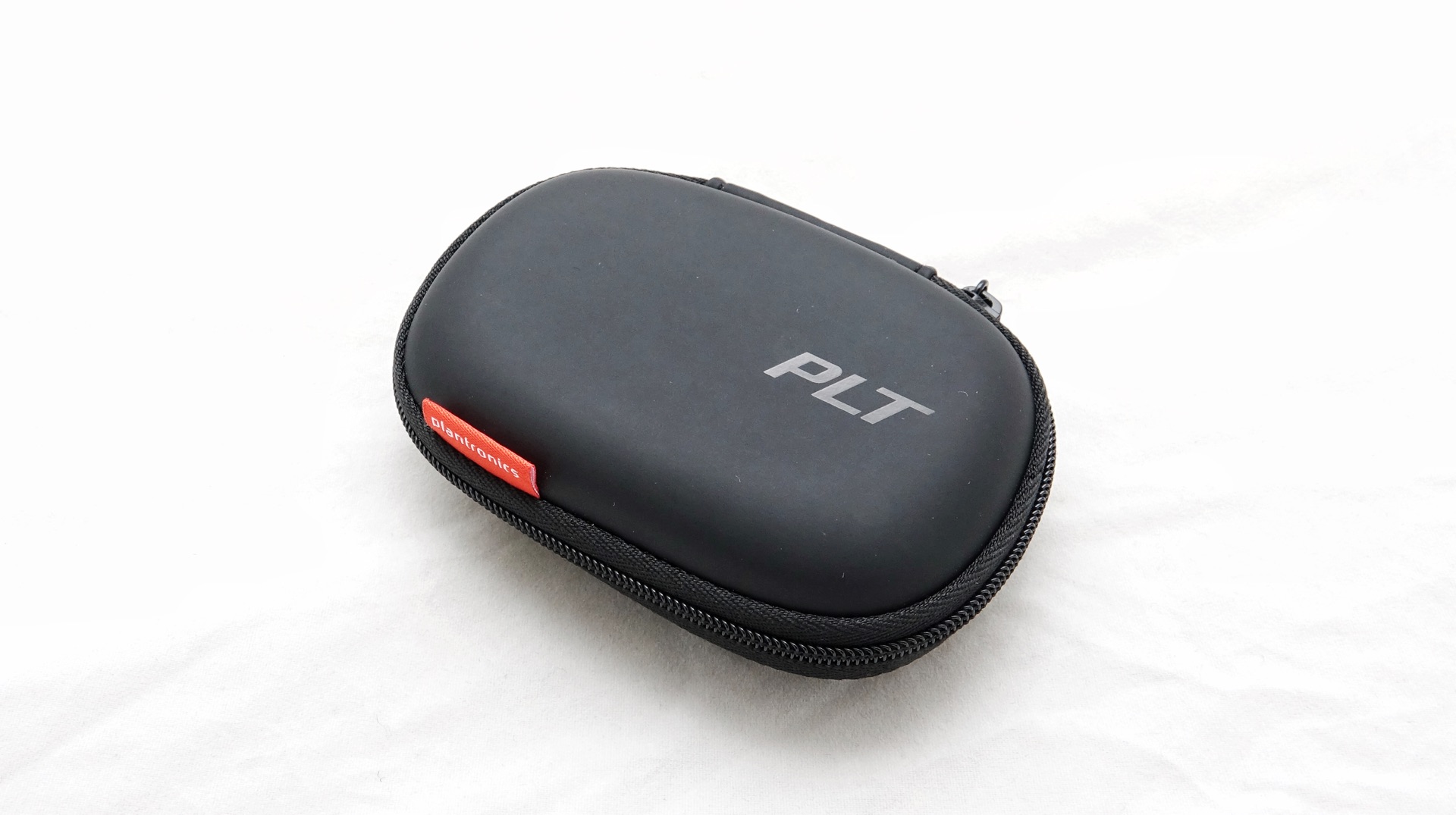 Value
Value is also not bad, and with Jabra's 65t starting at $299, we think Plantronics' price of $240 for the BackBeat Fit 3100 is downright competitive.
Apple's AirPods are a little less at $229, but are a different class: wireless earbuds that aren't made to go running with.
Plantronics' BackBeat Fit 3100 not only feel better, but sound better, too, the universal fit makes them a treat.
There's a lot of movement in the $200-300 wireless earphone space, but for what you get, we'd say the BackBeat Fit 3100 is pretty solid value.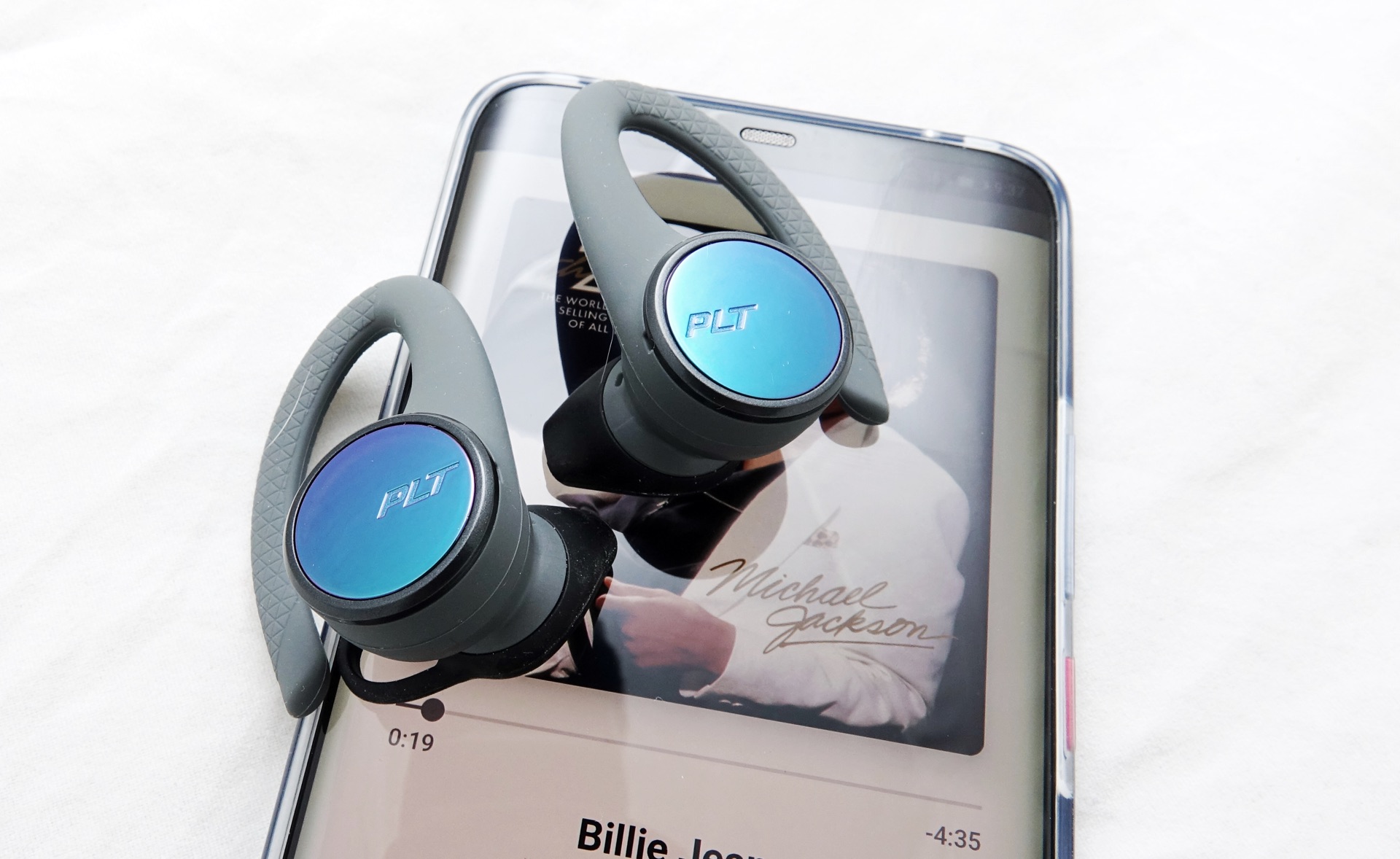 What needs work?
And outside of a little more waxing on the bottom end, there isn't much that Plantronics really needs to do to make its BackBeat Fit 3100 truly wireless and cordless earphones a hit.
We would say, however, that not everyone is going to like the open ear style, simply because they may be looking for a more immersive sound experience.
Prefer to run where it's just the sound blowing through your ears and nothing else, cancelling the outside world? These probably aren't for you.
However, Plantronics' BackBeat Fit 3100 are great at letting you hear everything while still jamming your own personal soundtrack behind everything. There are different ways to run and exercise to music, and if you like hearing the outside world, these are a great place to start.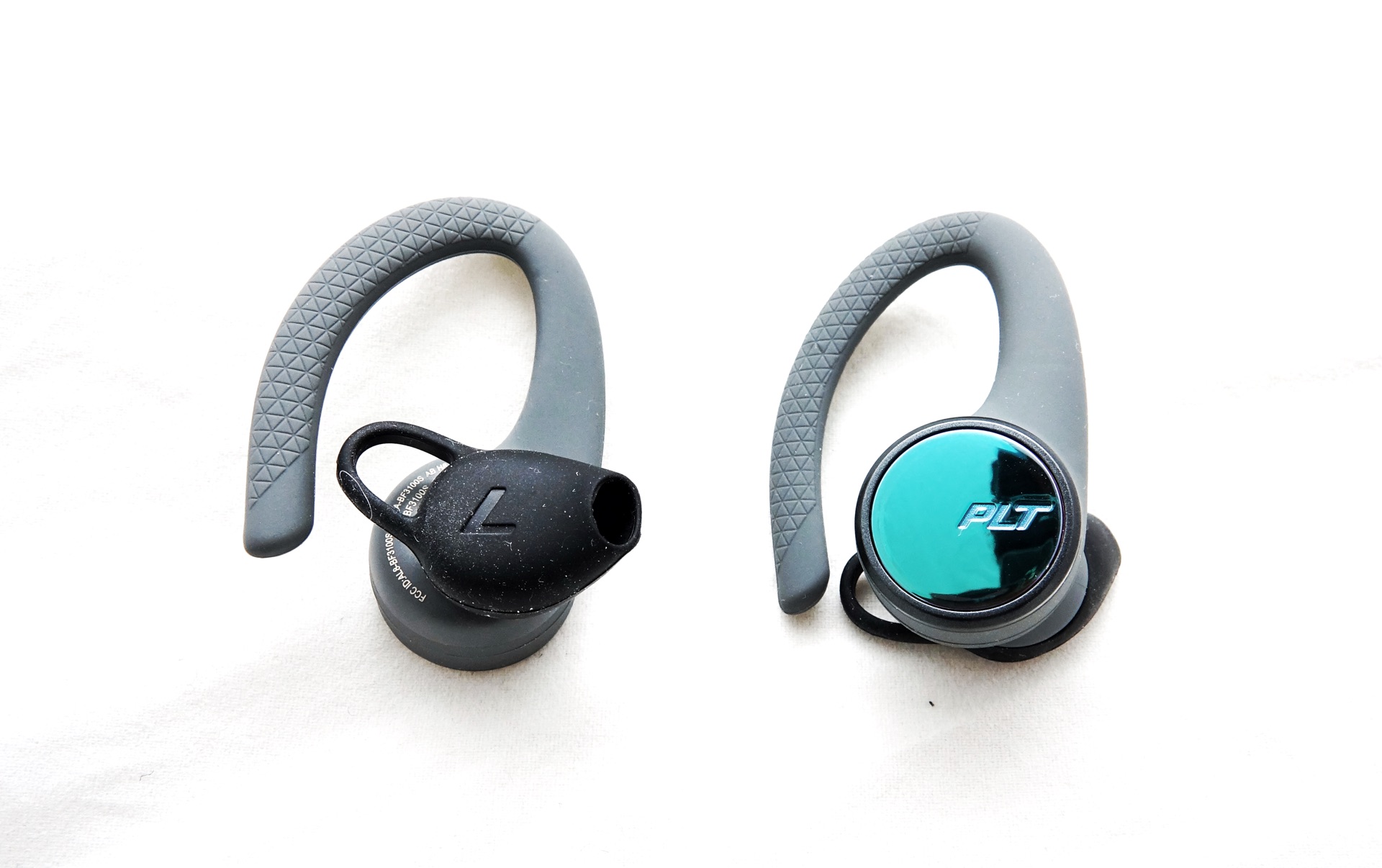 Final thoughts (TLDR)
We're glad it finally happened, and Plantronics updated its BackBeat Fit style.
Now you have two solid choices in the totally cordless and wireless earphone world to go running with, as Plantronics sits next to Jabra, which both produce stellar options.
Granted, they're made for different people and different type of exercise: inside might be better with a closed-off ear like in the Jabra 65t, while outside is possibly going to be safer with the BackBeat 3100.
Ultimately, if you're after a pair of wireless earphones that fits easily without thinking and gives a solid sound while letting you hear everything else, you'll find them in the BackBeat 3100. These earphones are open ear excellence. Highly recommended.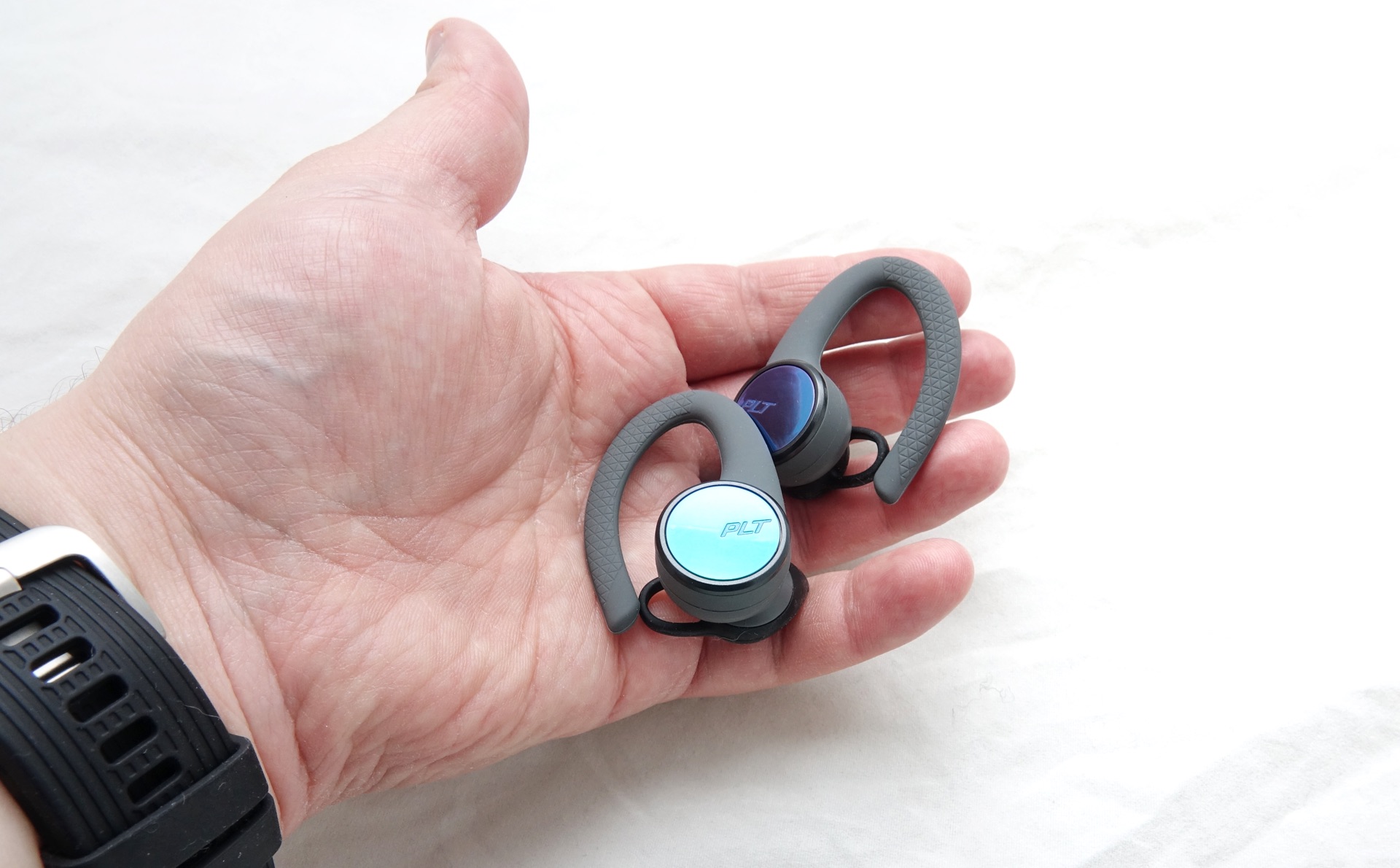 Plantronics BackBeat Fit 3100
The good
Great one size fits all approach
Strong sound for the open listening design
Fairly balanced
Five hour battery life plus ten in the case
Touch controls can be changed based on preference
Slightly larger cordless and wireless design is harder to lose
The not-so-good
Open ear style may not be preferred by all