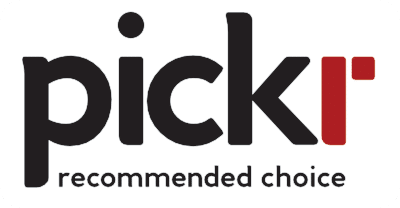 Bose's legendary QuietComfort active noise cancellation cans are back, and this time the focus isn't just about cutting out the world, but letting you talk and have the world come to you. For the Bose QC35 II, it's about telling Google what you want and having it do just that.
To make that happen, Bose has taken what already worked from last year's QC35 headphones and made a tweak here and there.
Specifically, it has added a button to the left can, with it being able to jump between Google Assistant and noise cancellation control, which now arrives in two variations, low or high.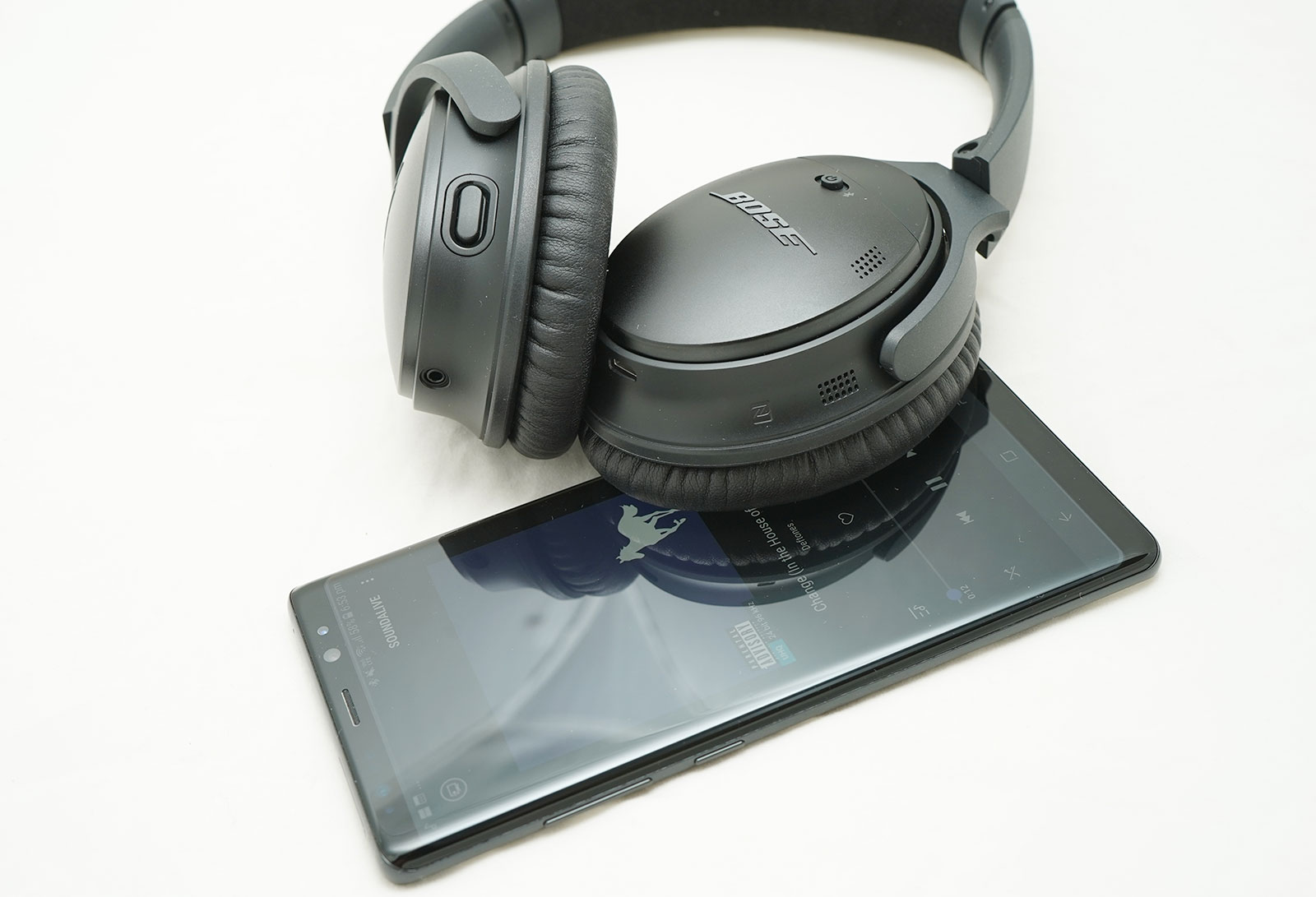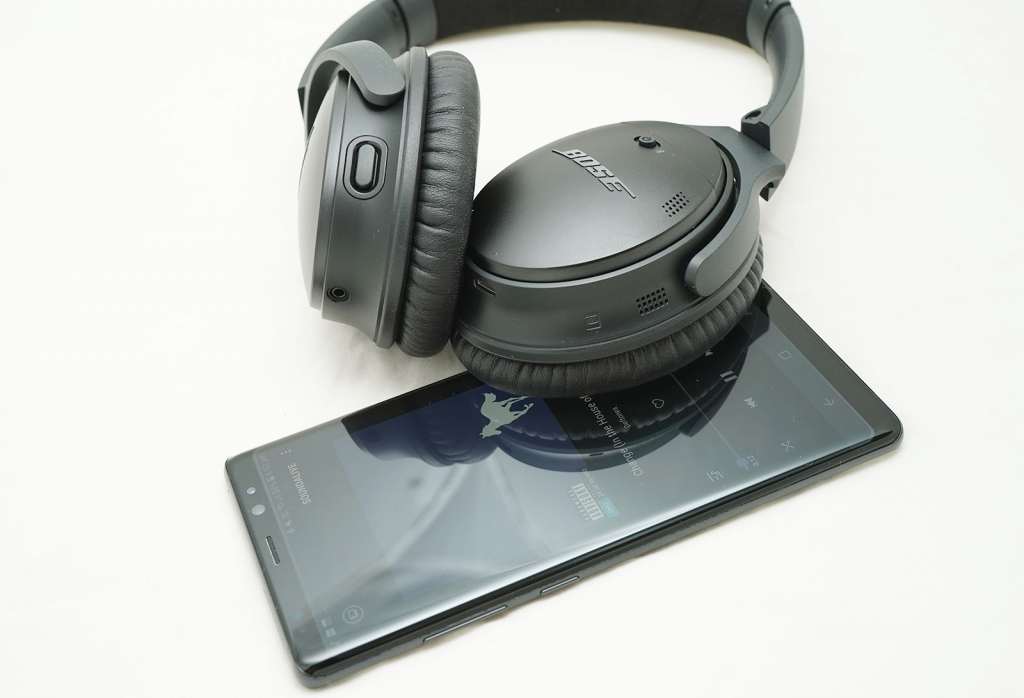 Design
That minor design change of a button means that if you've seen last year's fairly unobtrusive design with a slight curve to the can design, a simple matte silver or black, the metal "Bose" logo on each ear, and the plastic impact resistant headband with its plush Alcantara padding, you've seen this generation, also.
Little has changed because little has needed to, with Bose really just taking the previous model, adding that extra button, and moving on.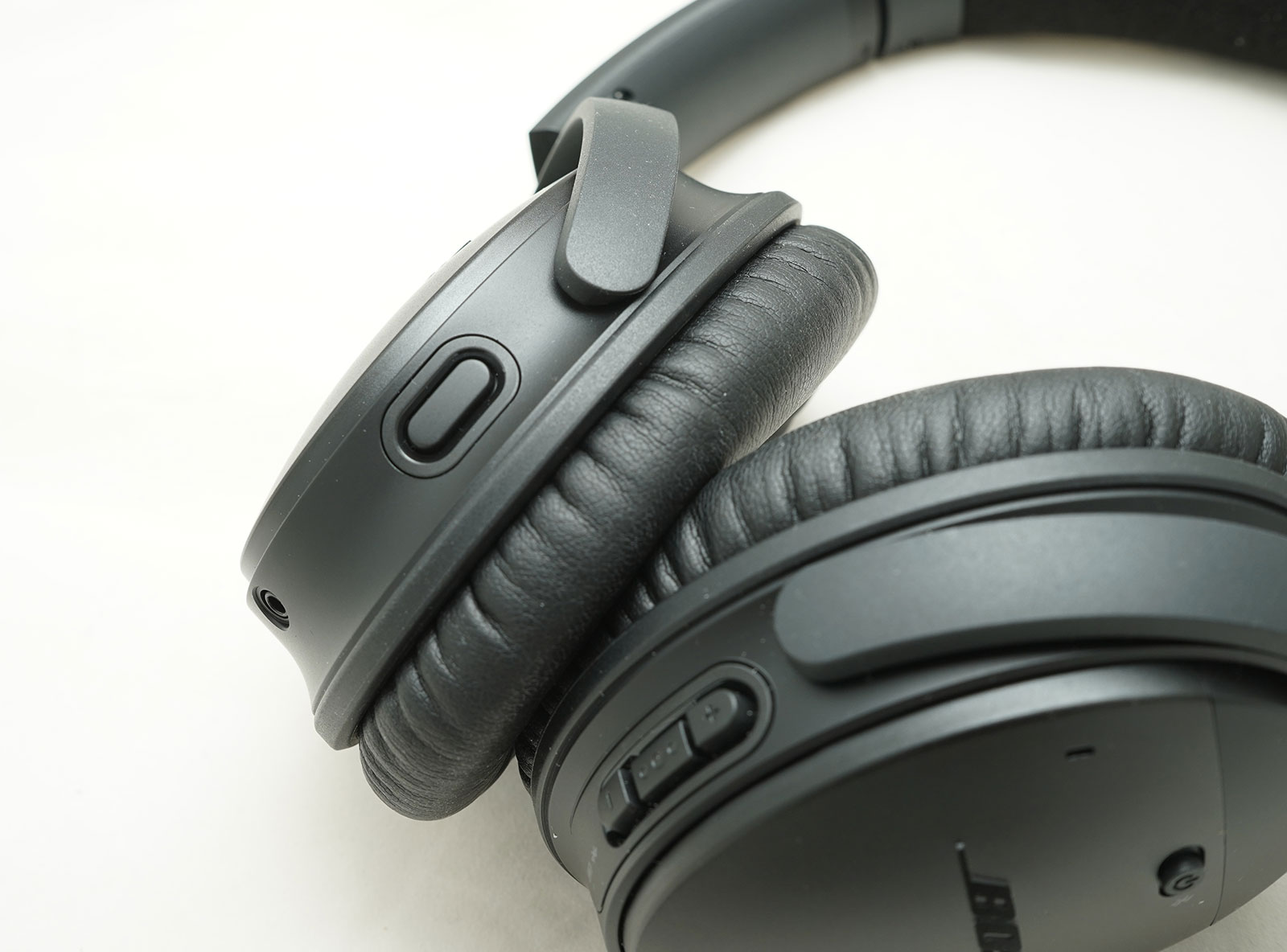 Comfort
With the design all done with, it's time to get stuck into comfort, and that's an area that is always a little bit different with on-ear and over-ear headphones.
The Bose QC35 II headphones feel like more of a circumaural design in that your ears will fit inside of the pads, and while they're not as massive as say the bigger audiophile-grade circumaural cans, Bose has made these headphones excellently.
Sufficed to say, the Bose QC35 II headphones are some of the comfiest we've ever worn, with a design that not only feels good on the ears, but allows you to wear them long term, too.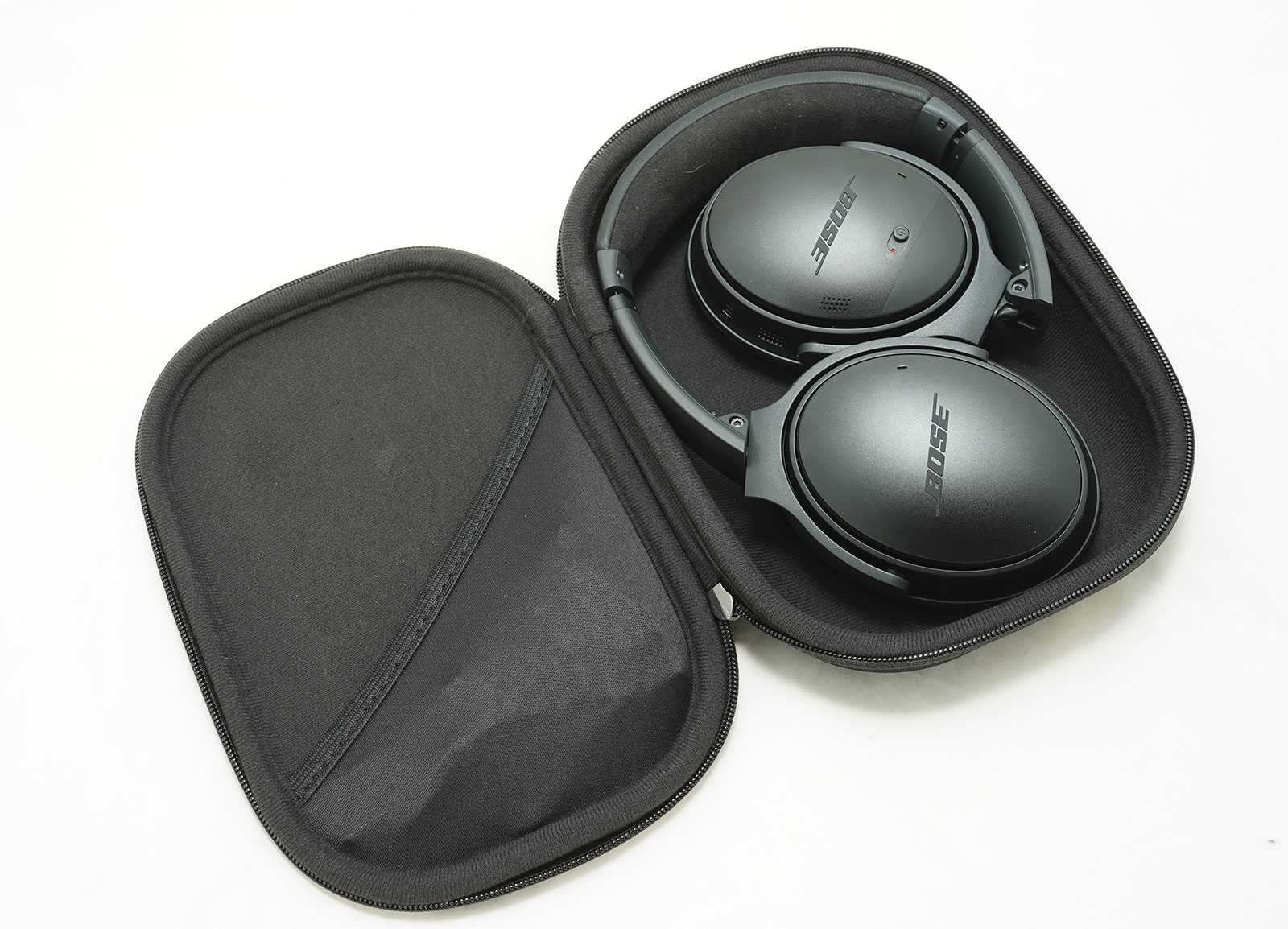 No cable helps out with that, though you can plug one in if need be, and we definitely appreciate the inclusion of Alcantara on the headband, a material used in luxury car interiors and on some of the Microsoft Surface keyboards as well.
Basically, the Bose QuietComfort 35 II are one of the comfiest headphones you'll ever put on. Good luck ever taking them off.
In-use
Next up is usability, and while headphones don't often have a specific "in-use" scenario, Bose's QC35 II are a little different, and that's all thanks to a button found on the back of the left headphone can.
The buttons on the right are all fairly standard, comprising of track control and volume, but the one on the left is very different, and depending on how you set it up, will do different things.
Upon first glance, pressing it will make the Bose QuietComfort cans tell you to install Google Assistant, and there's a very good reason as to why: installing Google Assistant on an iPhone or go to the Google Assistant settings on an Android phone (which you can do by holding down the home button on an Android phone).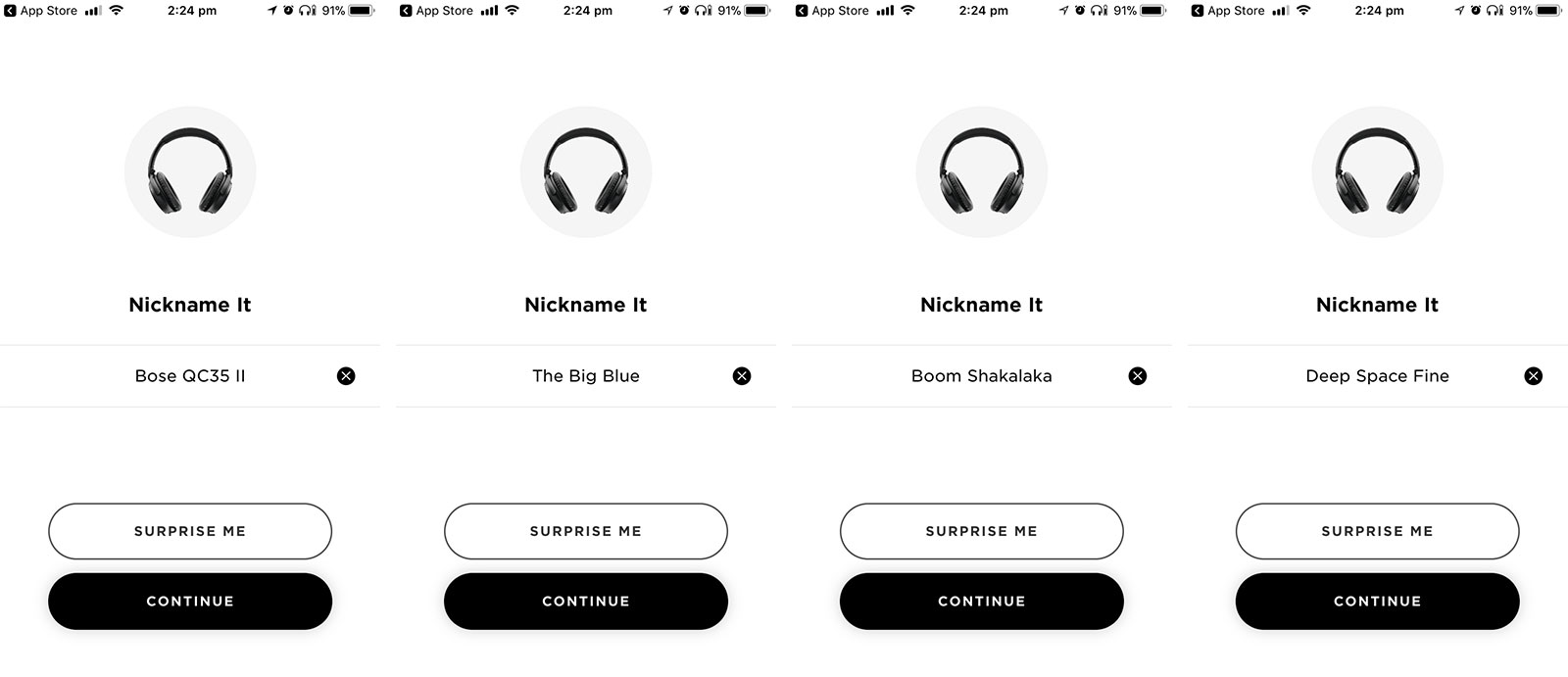 When setup and activated, that home button acts as a direct link to Google's Assistant, allowing you to call it up and have your messages read out to you, while also being used to ask it questions.
"What's the weather?" you might ask sitting in the office staring out at the window trying to work out if it's worth putting on a cardigan, pressing that button and calling out, with Google giving an answer through your headphones.
"What's happening in the news?" you might decide to ask the moment you realise it's easier to just have that read out to you rather than walking down the street adorned in your cardy and not staring down at the phone.
You might even decide to send a message to a friend, holding down the button and calling out "Send message to Nic on Hangouts, 'People are staring at me while I talk mindlessly to myself using these headphones. I must look quite odd.'" for that message to be sent out using Google Hangouts.
That is essentially the crux of what Google Assistant can do for you, though there is one other important reason it exists.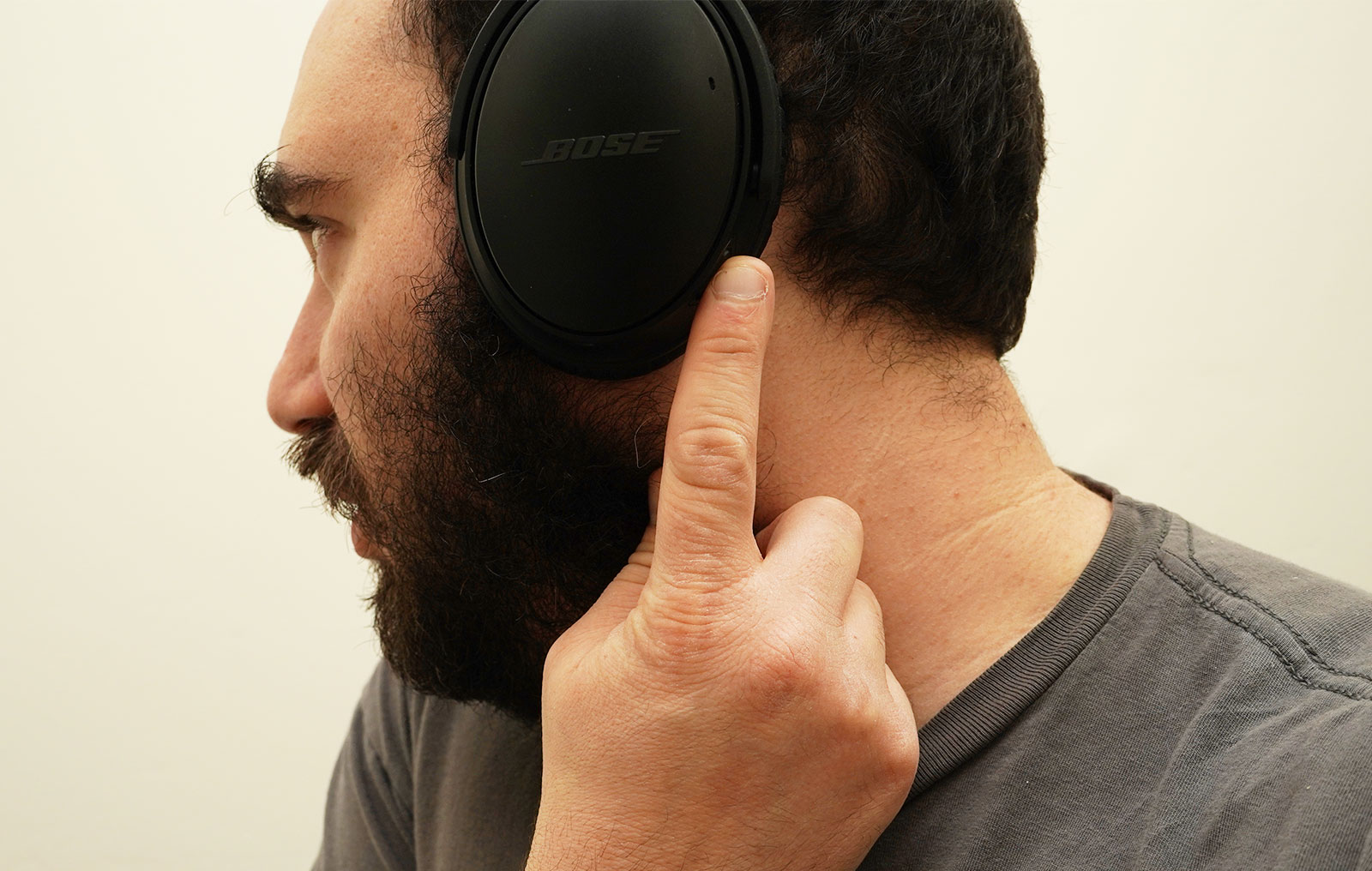 Google Assistant: your personal DJ
Ever had a song or artist on the tip of your tongue, but every time you pull out your phone to change, the thought disappears from sight and you're left with that song stuck in your head?
Having the Google Assistant button on the side of the headphone relinquishes any chance of that ever happening, because thanks to us having those all-you-can-hear unlimited music services of Google Play Music and Spotify, you can simply tell Google to play something and it will do it. Mostly.
Press the button and say "Play Galactic" and the bassy funk of the New Orleanian band will start to be played a couple of moments after Google Assistant's voice says "OK. Playing Galactic on Google Play Music."
Hold down that button and call out "Could you play Lupe Fiasco on Spotify" and Google will go to work, returning with "Playing Lupe Fiasco on Spotify" and doing just that.
And for the most part, it works tremendously well, serving as a solid friend to anyone with musical attention deficit disorder and acting as the personal DJ.
Google Assistant isn't without its misses, mind you, and will occasionally mess up a name, playing bands and songs you've never heard of simply because it doesn't always get the translation right.
It's also good to keep in mind that for Google Assistant to do its magic, you kind of need to have internet access, so if you do this without WiFi or 4G switched on, you may not actually get any results, and you will instead here the subtle chimes of Google looking for something, before she comes back with an apology about not being able to do something.
Performance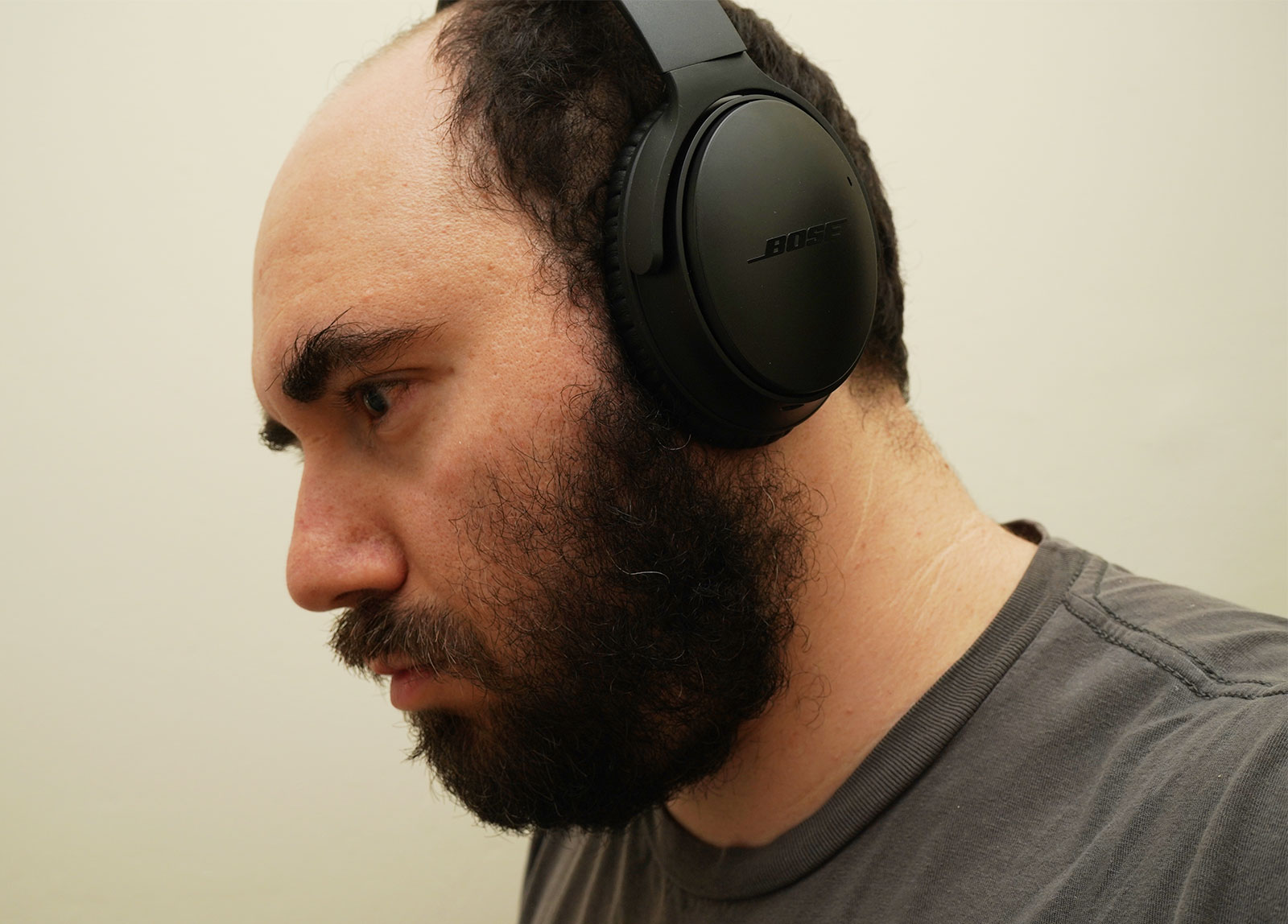 Fortunately, for the most part, she tends to do this job, and the moment she gets your audio, the fun can begin, because what's the point of having headphones if you can't listen to something?
So that's exactly what we did, starting with the likes of electronic and modern pop, as Balmorhea reveals a tight snap of the bottom end with meaty highs and softer mids, with much the same evident from Ellie Goulding's "Army".
There's a nice distinctive separation to the sound, and the balance is reasonable, though the bass can feel a touch lacking unless the track has been over-engineered. In fact, in Pentatonix's a capella take of "Lean On", the audio was a touch shallow, as the mid-heavy structure didn't come together with as much in the way of dynamics as expected.
In R&B and soul, however, music that has been built to be bass-strong comes out on top, pushing that bottom end a little more, something you can hear in both Michael Jackson's "Billie Jean" and Mark Ronson's "Uptown Funk", both offering solid separation.
Next there's rock, and that's where a lack of overemphasised bass doesn't reveal as much drive. Tracks from the likes of Nirvana, Deftones, and The Who still sound great, but the bottom end doesn't push quite as hard, at least not in comparison to the R&B and electronic-pop we heard earlier.
That approach works perfectly well in the classically minded tracks from Nigel Kennedy (classical crossover) and Ben Folds (classical-infused rock/alternative), with less drive of the bottom end allowing the mids and highs to come to the fore and brighten the sound altogether.
And it continues in the jazz, with a lovely softness to Etta James' "At Last" with distinctive spacing to the stereo separation of this classic, while instrumentals of Dave Brubeck's "Take Five" and Miles Davis' "Flamenco Sketches" all shine without excess booming bass.
Overall, the sound is relatively balanced and very comfortable, though while we normally like our bottom end to be a little less pronounced, the Bose QuietComfort 35 II are even a little lower than where we'd like them to be.
It's a minor grievance on the sound, and if you have eclectic tastes or like the areas where these cans perform, the QC35 II will delight.
On the cancellation side of things, Bose's technology is reportedly adaptive, and it does a very good job of working out where to block sound out, especially when you're travelling in transit.
Still designed for the aircraft, that's a fairly easy challenge and test for noise cancelling cans, so the office environment and walking about the place is a much more worthy test, which the QC35 II performed admirably.
We don't think they're the best noise cancellation we've heard, and Sony's MDR-1000X certainly still comes up in flying colours against them, but it would be hard to be dissatisfied at all with how the Bose QC35 II handle cancellation. Simply put, they're noise-free bliss.
Battery
In fact they're not just blissful in for letting you listen to sound in a vacuum, they're blissful for letting you do it wirelessly and for long periods of time.
With a battery life listed of about 20 hours continuous use, we found ourselves able to run for about 8 hours a day and get into the third day with life beginning to dwindle.
Dead set, those 20 hours are a realistic lifetime, and Bose really should be proud, as these headphones perform without cables beautifully, charging up using the super common international standard that is microUSB (even though that is gradually switching to USB Type C).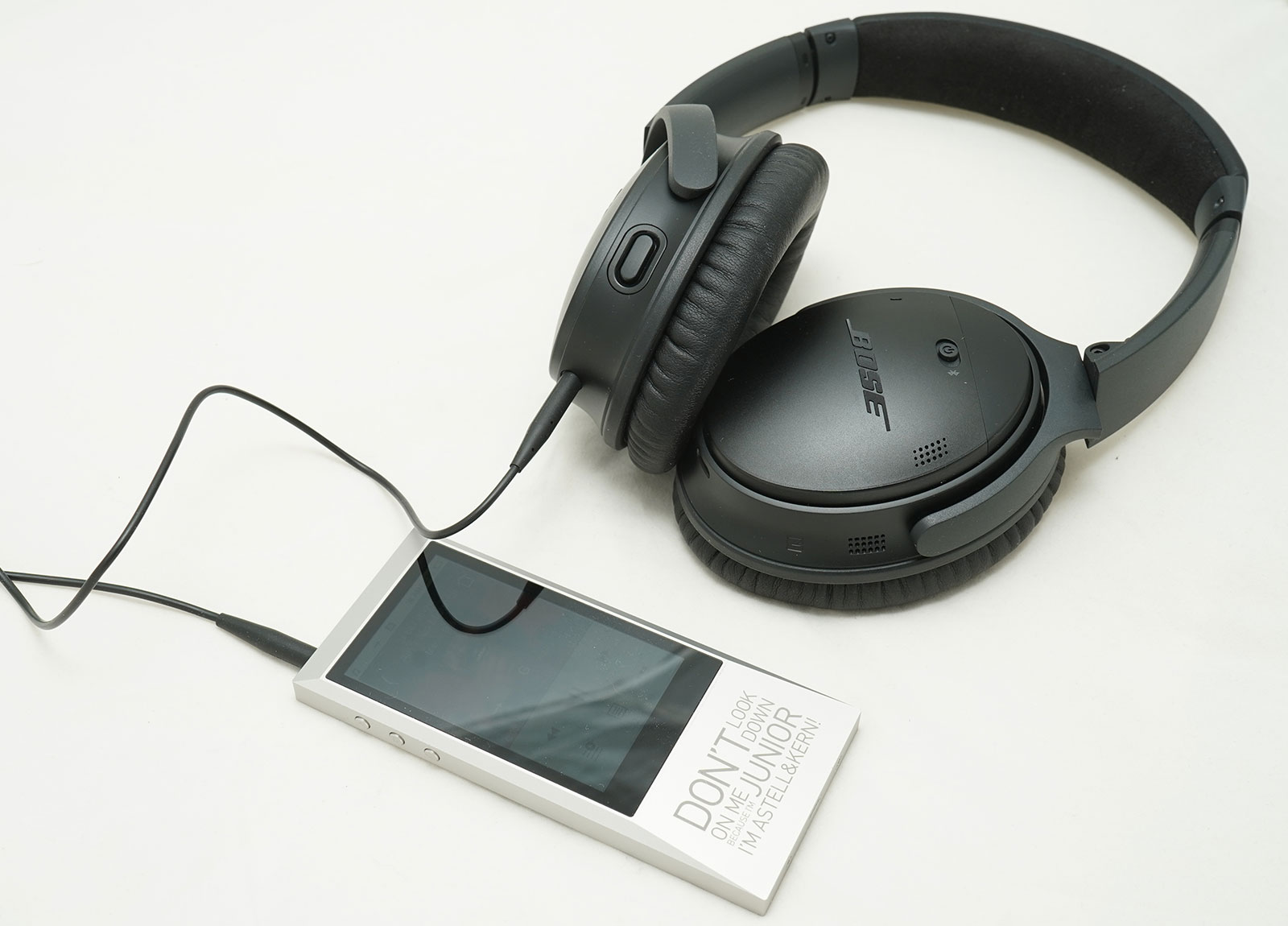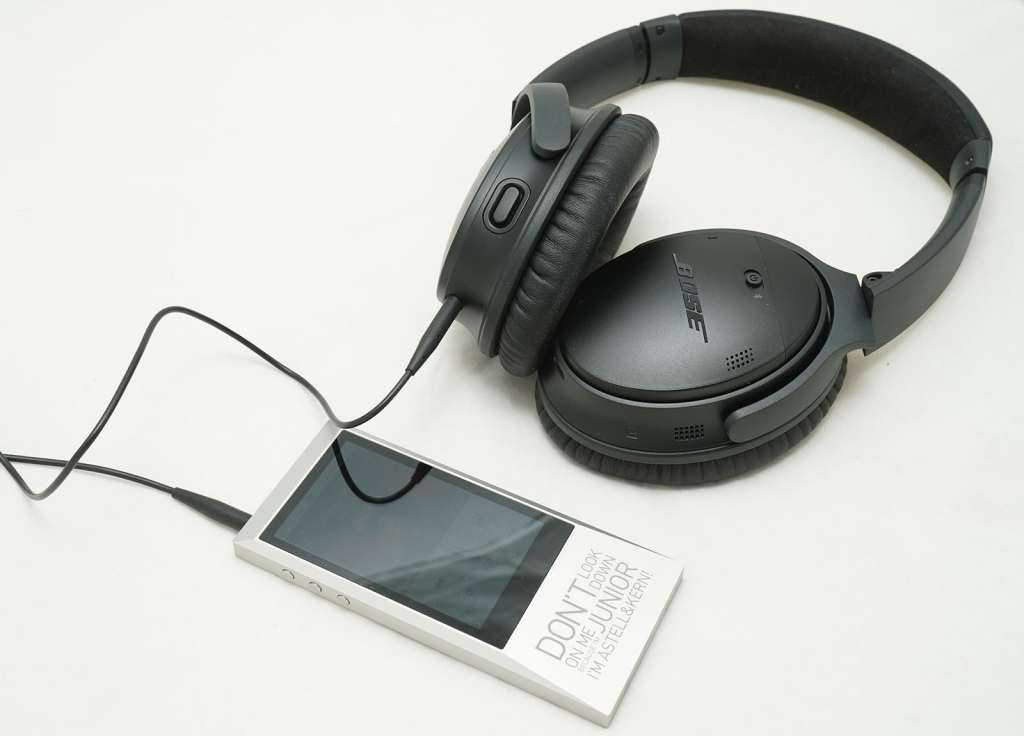 What needs work?
While the Bose QuietComfort 35 II are without doubt one of our favourite pairs of the year, the compatibility between that Google Assistant button and the phones you use it with can sometimes leave you wanting.
In fact, when those times hit, you'll want to do the old IT Crowd tech support trick of turning the headphones on and off to fix the connection, because sometimes, that's all that will work.
This tends to happen more than you'd like, but so do issues with the Google Assistant being unable to talk to applications properly.
For instance, on the iPhone, the Google Assistant will usually play nicely with Apple Music, but sometimes it won't play things through Google Play Music, revealing this amazing phrase that Google Assistant doesn't yet know how to play with Google Play Music. Staggering.
And then it will go back to working again, and you'll start to issue it commands, revealing yet more fun.
For instance, we asked it to play "Mo Money Mo Problems" by The Notorious BIG through Apple Music and had a completely different version play every time. And yet on the instance that Google Play Music did work, it played the right song.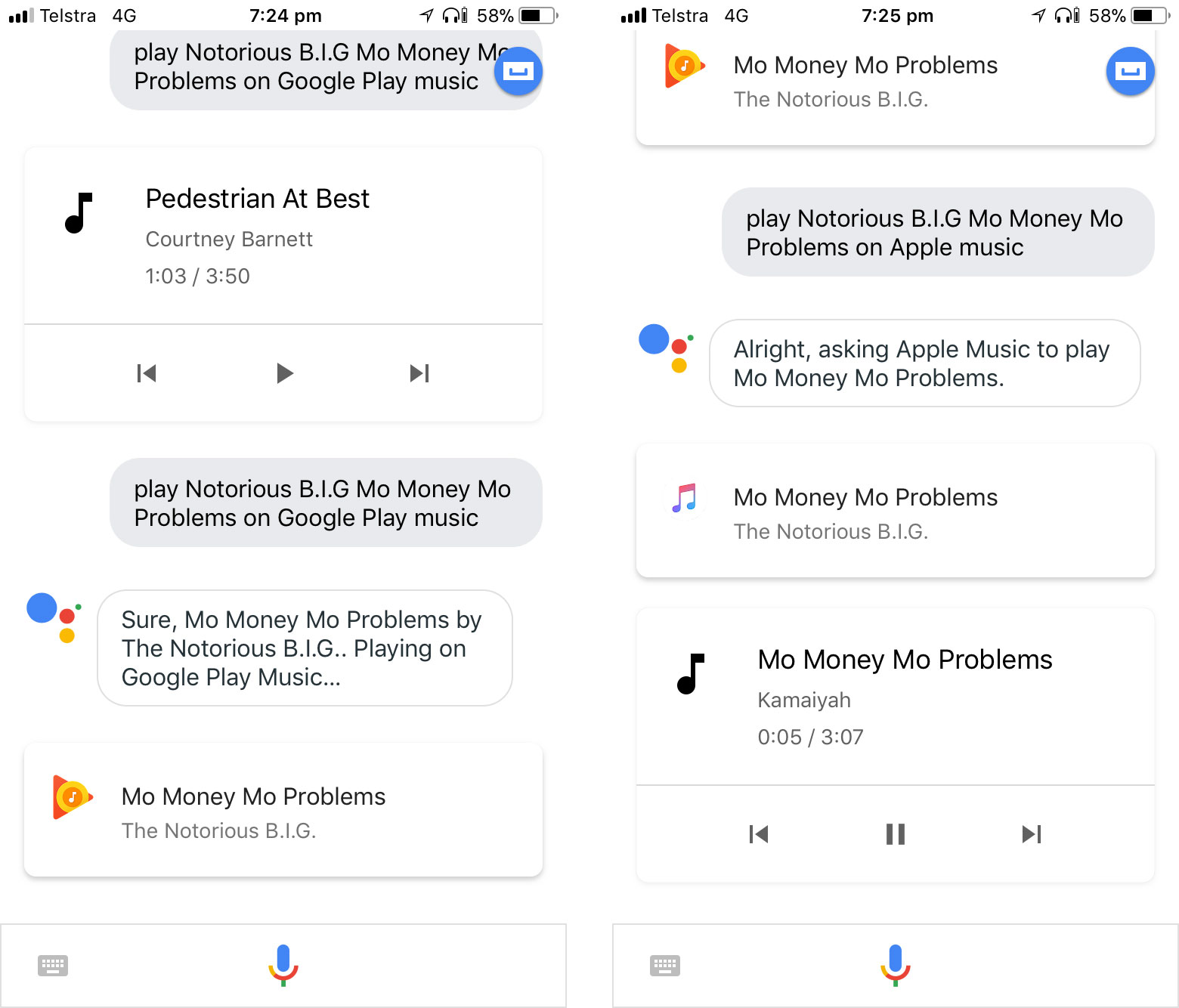 We tried a different approach, trying three distinct times to getting it to play anything from Aussie artist Courtney Barnett, and Apple Music misstepped every time, playing three songs that had nothing in common with Courtney Barnett, with tracks from Zedd, Daley, and "Gaston" from the original "Beauty & The Beast" animation from Disney.
And yet again, Google Play Music got it right, for some reason working.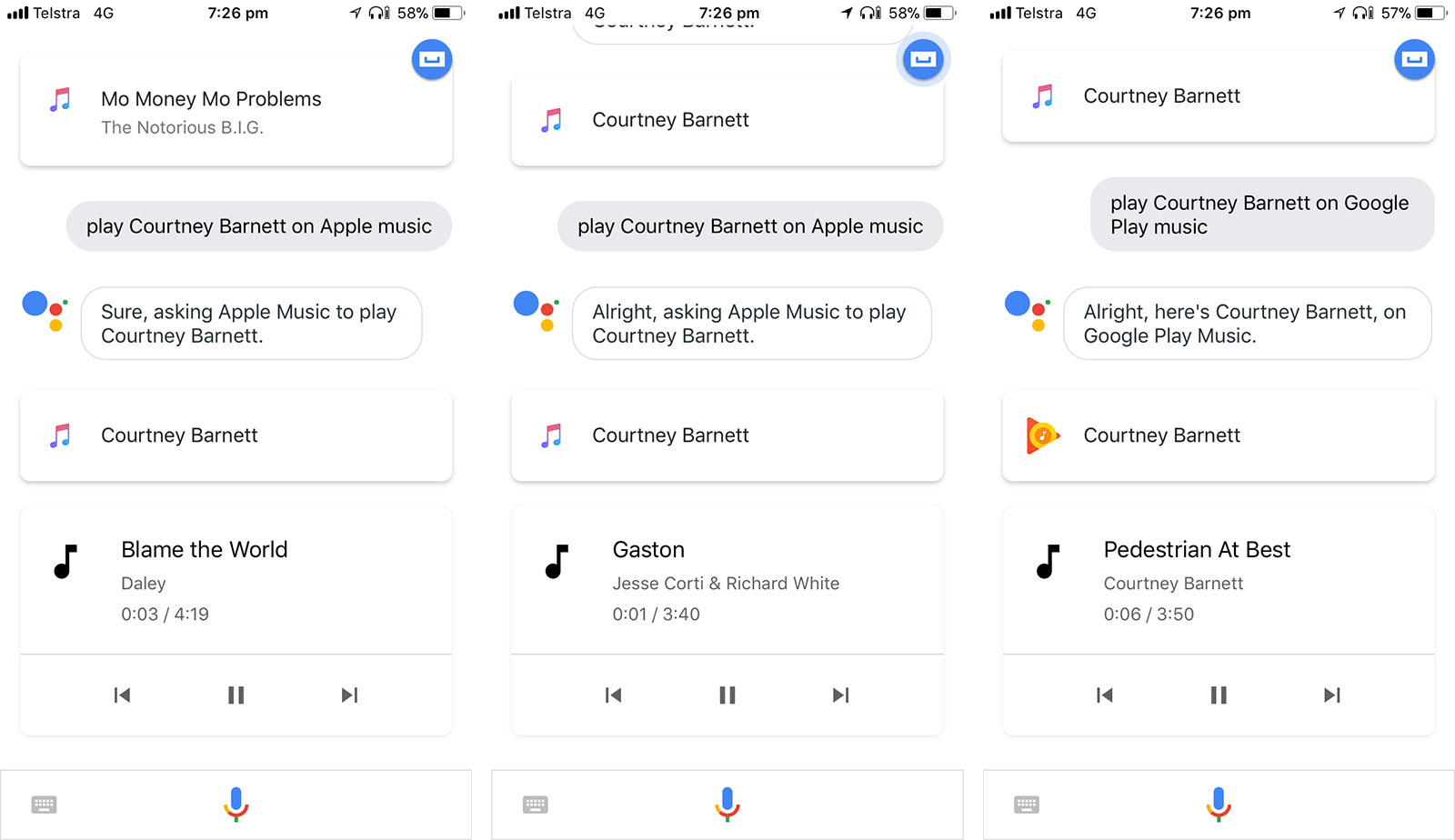 And that tells you a lot about the bugs for Google Assistant, and perhaps that the Bose QuietComfort 35 II headphones may not be ready to full embrace the Google Assistant button.
Let's be clear: we're not sure if these bugs are an issue with what Bose has made or what Google has implemented, but we're fairly sure it's the latter, so we're not marking down dramatically for these issues, but rather for how Google has handled things.
Unsurprisingly, the Bose QC35 II's Google Assistant button worked better on Android, though it would refuse to touch Apple Music on Android every single time, giving you Google Play and Spotify, but not Apple.
It turns out that even with the bugs, the iOS and Android differences may be clear — they might even be Google's fault — but they don't help the QC35 II escape them.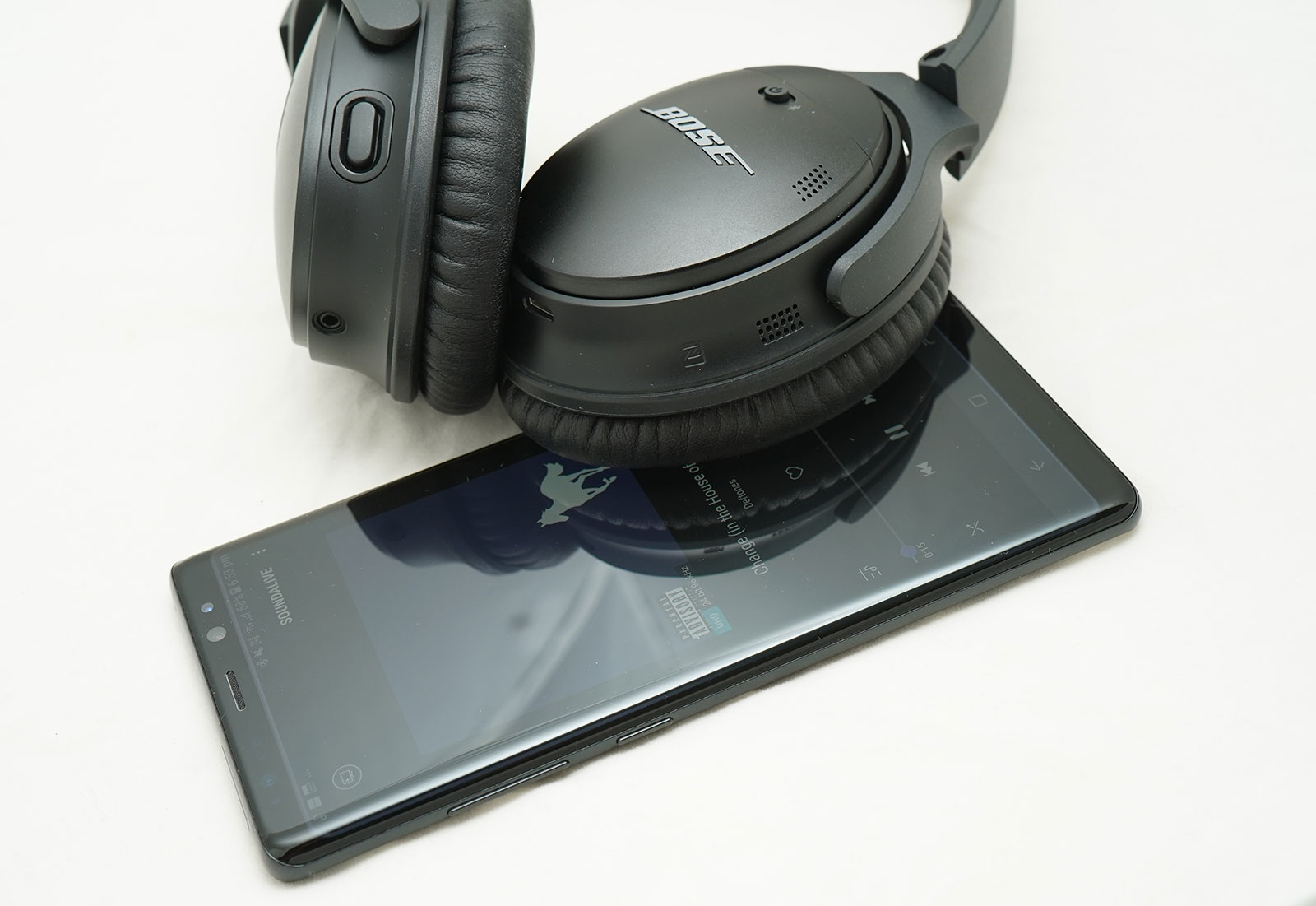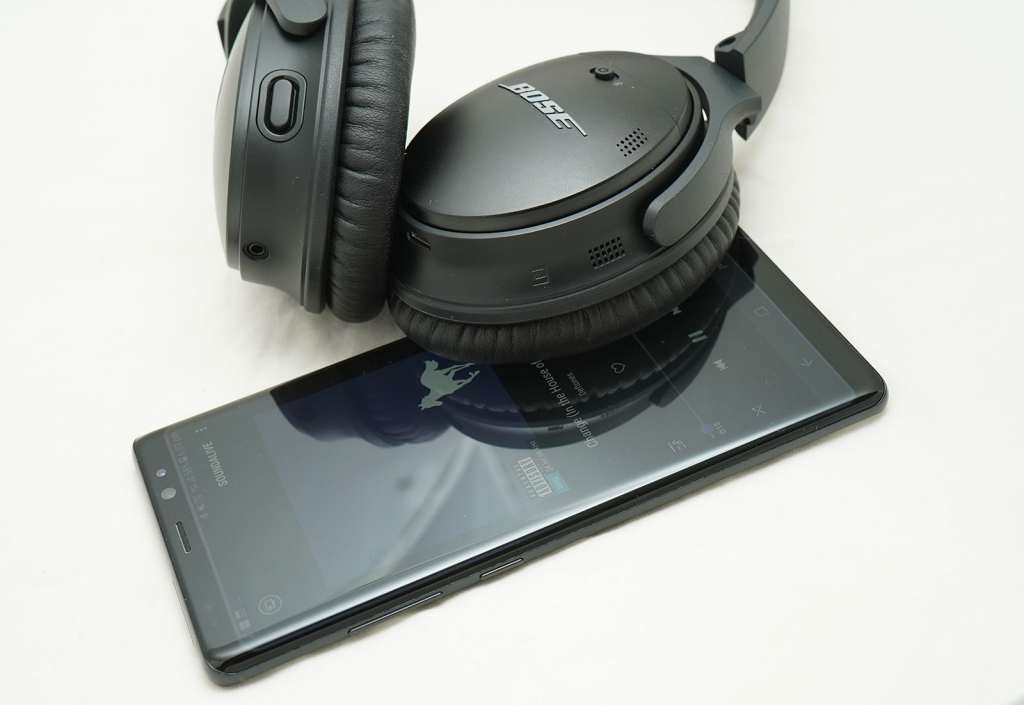 We have one other set of quibbles with Bose's QC35 II, and that's from what they don't include, and it is two specific things.
In this generation of a pair of headphones originally intended for flight, Bose has removed the flight adapter.
Now it's true that more airlines support the standard 3.5mm jack than ever before, but it's one of those things we still expect a noise cancelling pair of cans to include. After all, the noise cancellation technology was originally intended for flying.
The other quibble is with the wired cable, and while the performance out of the headphones is a lot better in wired than it has ever been, we're still not sure why Bose persists with the 3.5mm to 2.5mm cable, with the plug on the headphones themselves sitting as a 2.5mm.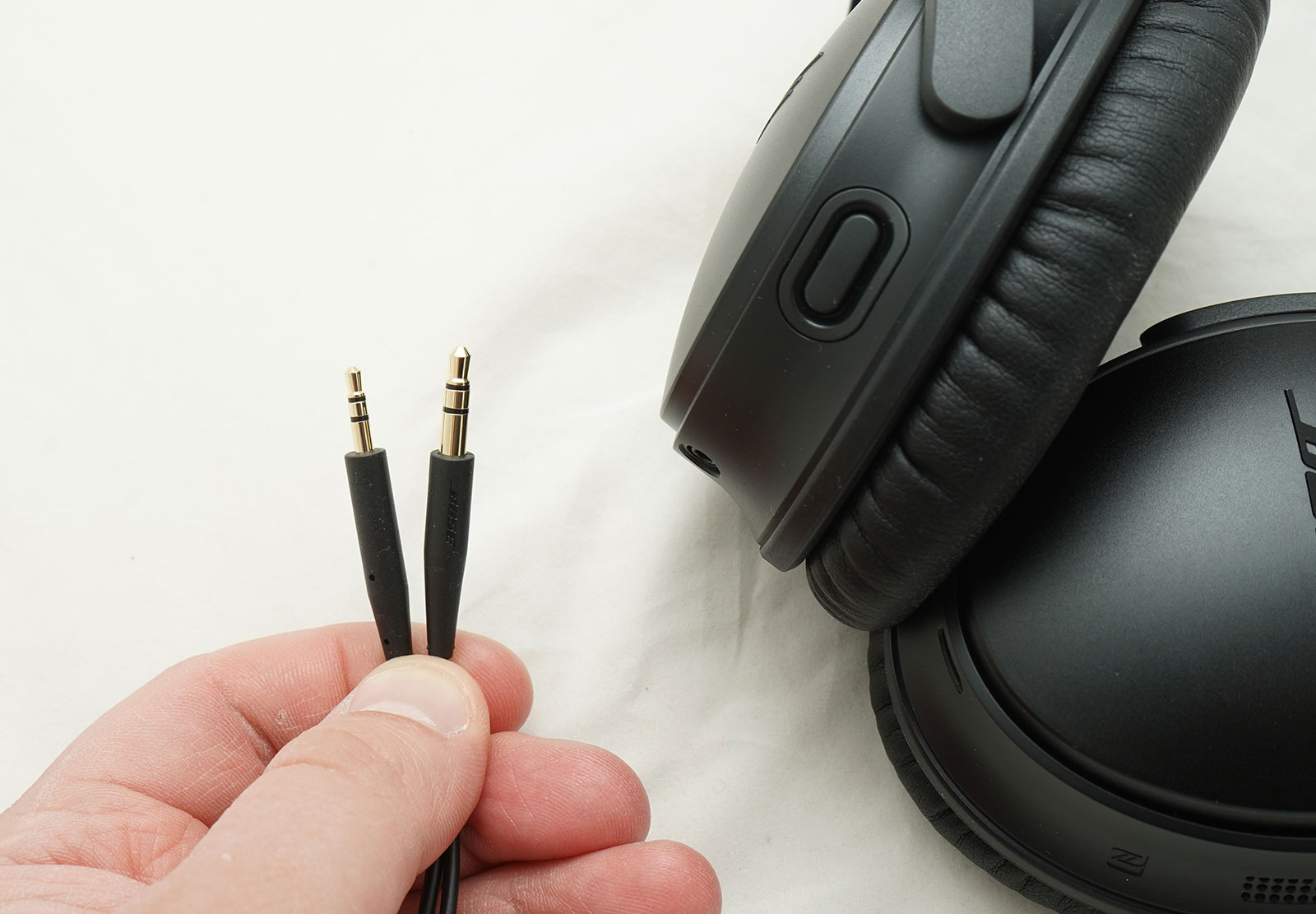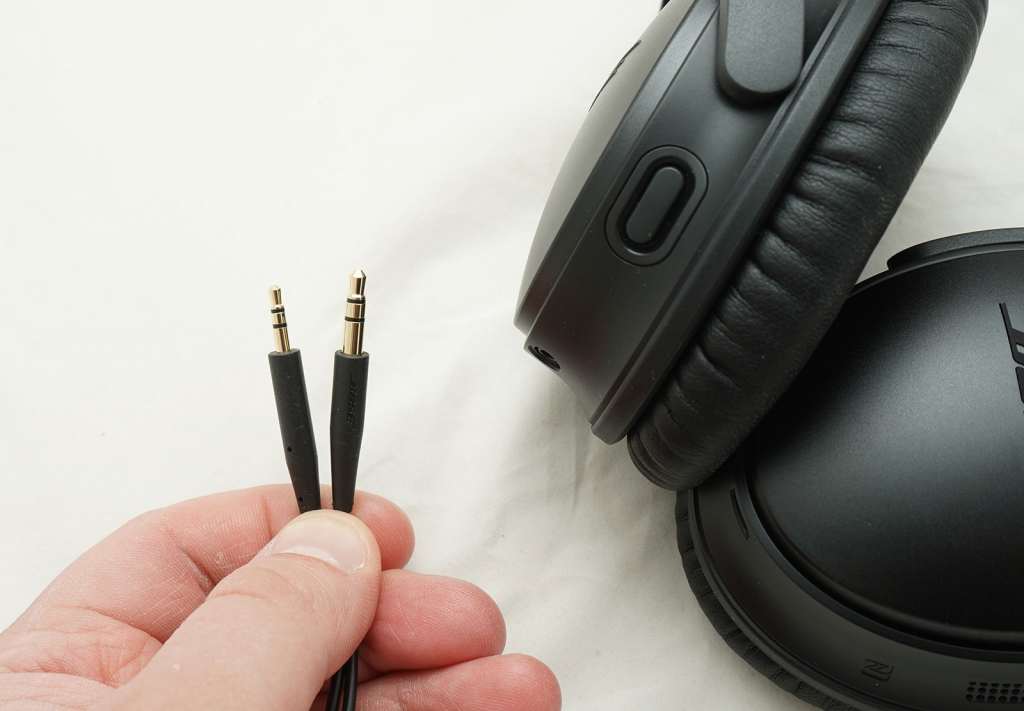 A cynic might say that it keeps you coming back to a Bose store if you keep losing your cable, but we'll try not to think that way.
Seriously, there's no reason why this should not be a standard 3.5mm to 3.5mm, and we're a little surprised Bose hasn't gone with the standard here.
Final thoughts (TLDR)
The battle for the best wireless noise cancelling cans rages on, and in 2017, we're seeing one of the coolest uses for wireless cans yet, with Google going on-board thanks to a dedicated button. Even before Google gets its own wireless earbuds out, Bose is ready with something not just creative and future-friendly, but offering comfortably solid sound. Except for those bugs, of course.
Your experience may differ, however, and if you don't lean too hard on that Google Assistant button and use it sparingly, you'll find yourself having a much better time. Hey, by the time you do get to using that button regularly, there may even be a patch or two out that fixes what we experienced.
When that happens, Bose's $499.95 QC35 II will be practically unstoppable. Right now, they're a solid concept and a neat evolution on Bose's otherwise excellent headphones.
Bose QC35 II wireless noise cancelling headphones
The good
The most comfortable wireless headphones
Excellent sound with strong balance
Google Assistant button is a great addition
Solid battery life
Comes with a case
The not-so-good
Google Assistant button flakes out very easily and often
Control buttons don't always work, too
No airline adaptor in the box
Wired cable uses the less common 2.5mm to 3.5mm cable