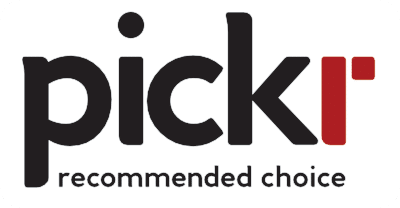 For the past month, I've kept one device on me pretty much at all times. I've switched phones several times, and wearables too. Outside of my wedding band, about the only uniform thing you could find on my person has been an iPad.
There are a lot of great reasons why Apple's latest iPad, the 2017 iPad Pro 10.5, feels like a slam dunk, and while it needs a few things to sweeten the deal and make it perfect, good luck finding a tablet anywhere else this size that is just this good.
Design
A constant evolution, Apple's 10.5 inch iPad hasn't changed dramatically from what we've seen over the past year, offering a more gradual shift in the design to the back, with metal and glass prominent in Apple's tablet.
The design hasn't changed much, with the slope as soft as the iPad Pro was last year, while the quality is as high end as it's ever been, though there is one major change this year: the screen.
After so many years of providing a 9.7 inch display, Apple has moved to a 10.5 inch screen, providing a little more space, and some bezels which appear thinner and smaller. The whole effect comes off making the 2017 iPad Pro appear slim and like a piece from the future, a little thinner and a little cleaner.
You also get a solid amount of pixels to look at, with an unorthodox but still quite high resolution of 2224×1668, making it pleasing on the eyes not just from the design point of view, but from a pixel peeping screen angle, too, complete with 600nits of brightness and support for the P3 colour profile.
Yes, Apple's iPad Pro 10.5 inch screen is lovely, and is an improvement on more or less every other tablet screen out there, and it's not the only positive feature of the new iPad Pro.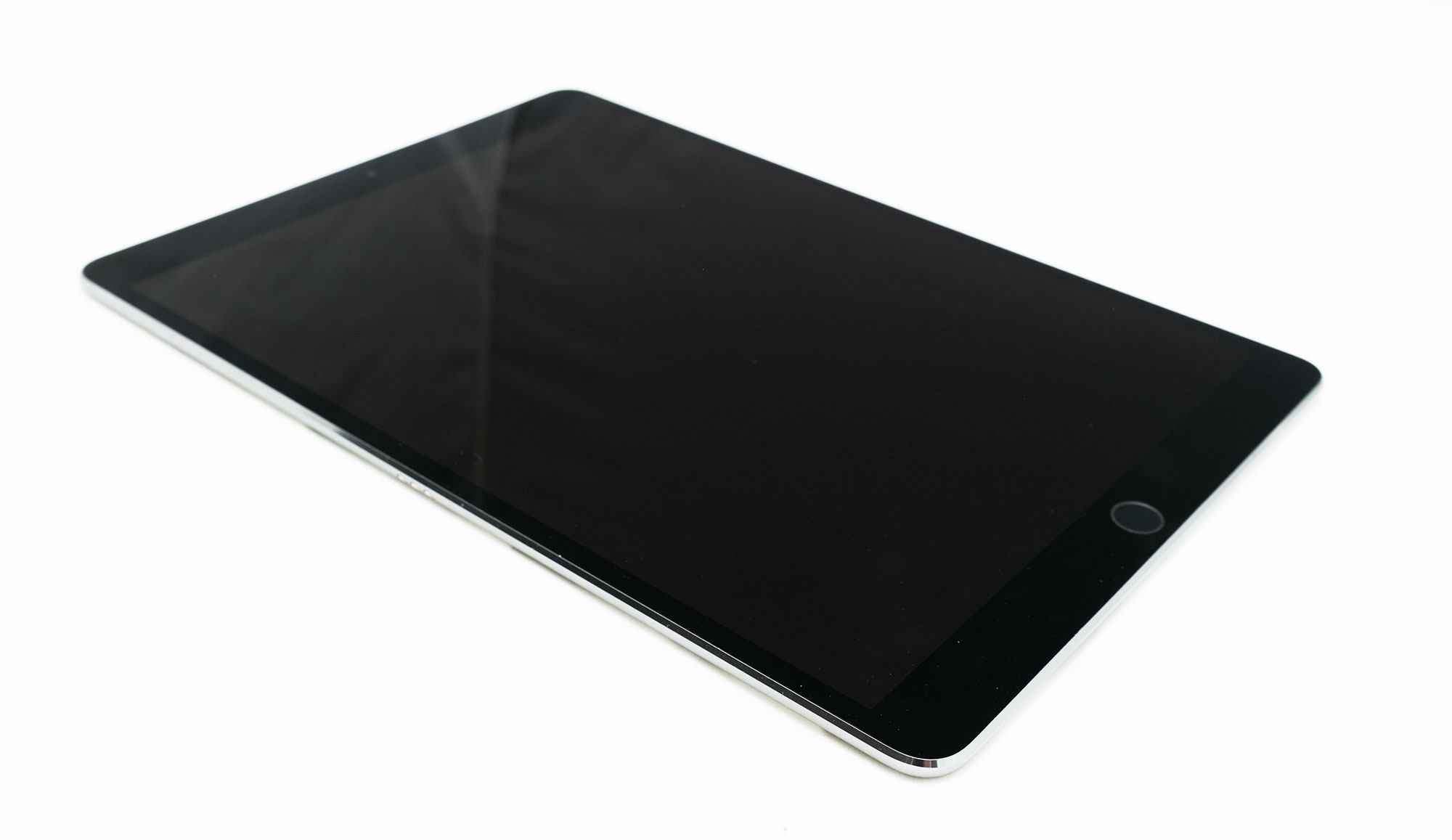 Features
Outside of that screen, Apple's iPad Pro 10.5 is an update of everything that the "iPad" stands for, with the most recent high-speed processor from Apple, the A10X which works alongside the M10 coprocessor.
That may as well be jargon for most, so think of it as Apple's latest and greatest processor, a chip the company says should make it faster than quite a few laptops, though the comparison only works like that if the software is running the same stuff, which it is not.
Despite this, it's still a very fast processor, and basically brings the iPad Pro into 2017 and then some, upping the 2GB RAM from the original small iPad Pro to 4GB RAM to help improve the speed of the tablet, too.
Also upgraded is storage, as Apple gives three options: 64GB, 256GB, and 512GB. We probably don't have to tell you that 64GB is offered to upsell you to 256GB, which given the increasing size of apps is probably the minimum option anyone should go with, and this runs iOS 10 out of the box at the time of publishing, though iOS 11 won't be far behind.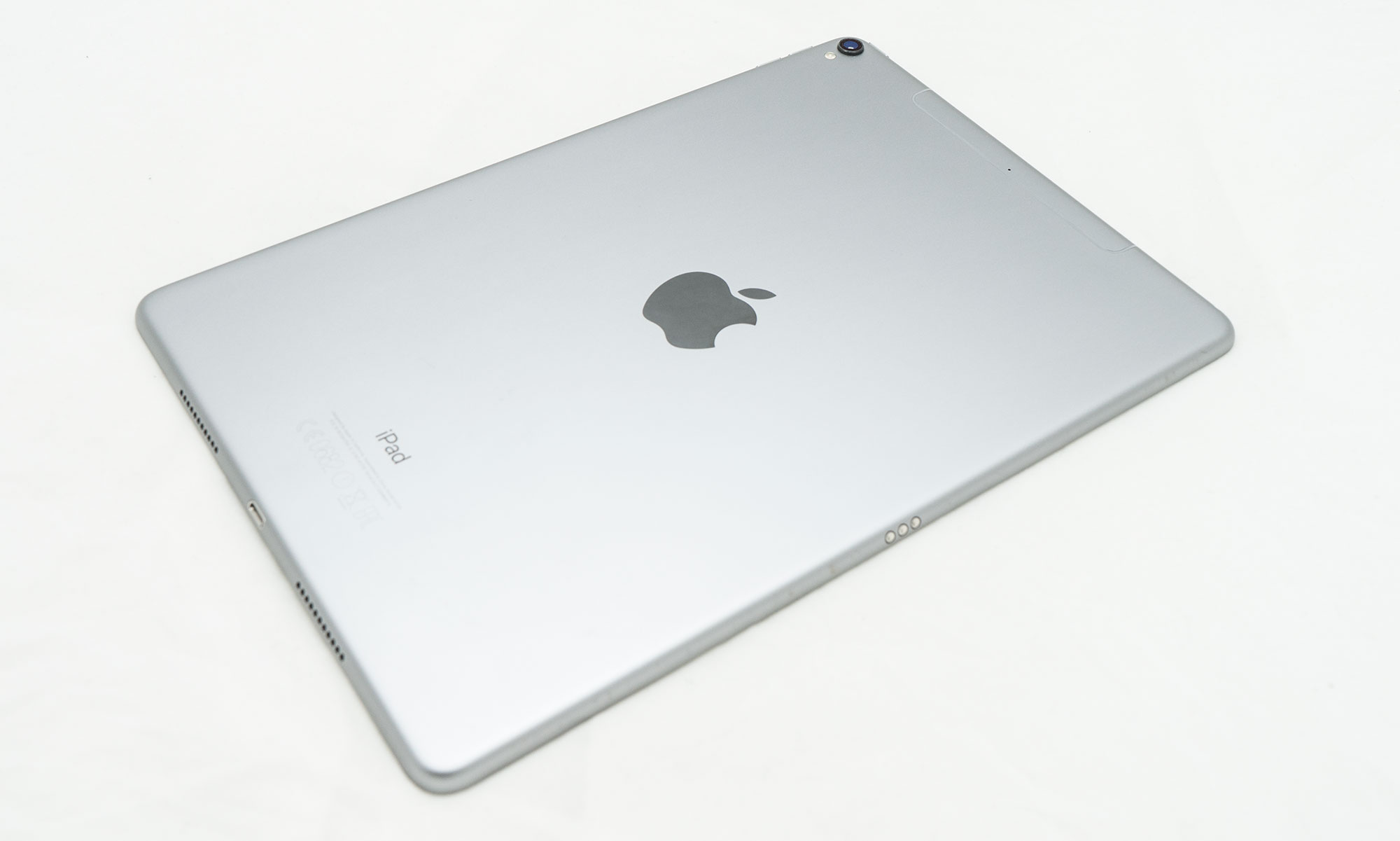 A new camera or two also comes along for the ride, as Apple reintroduces the same cameras from the iPhone 7, with the rear camera offering 12 megapixels at F1.8, a quad-LED True Tone flash, and support for 4K video capture at 30fps, making it just as ideal for Ultra HD video capture as its iPhone 7 sibling, and better for those camera conversion kits that turn the iPad into a fully fledged camera.
Over on the front, Apple has made some changes, too, and the same 7 megapixel Full HD front-facing selfie camera from the iPhone 7 also makes an appearance on the 2017 iPad Pro, too.
Outside of these changes and that new 10.5 inch 2224×1668 264ppi screen, most of the iPad Pro is the same as it was last year, with the 2017 model sporting four speakers, 802.11a/b/g/n/ac WiFi, Bluetooth 4.2, Apple's fingerprint-friendly TouchID sensor in the home button, an optional 4G modem, and a 30.4 watt-hour rechargeable battery.
There is one serious difference that separates the iPhone 7-like upgrades in the 10.5 inch iPad Pro from the aforementioned iPhone 7: the iPad Pro still features a 3.5mm headset jack.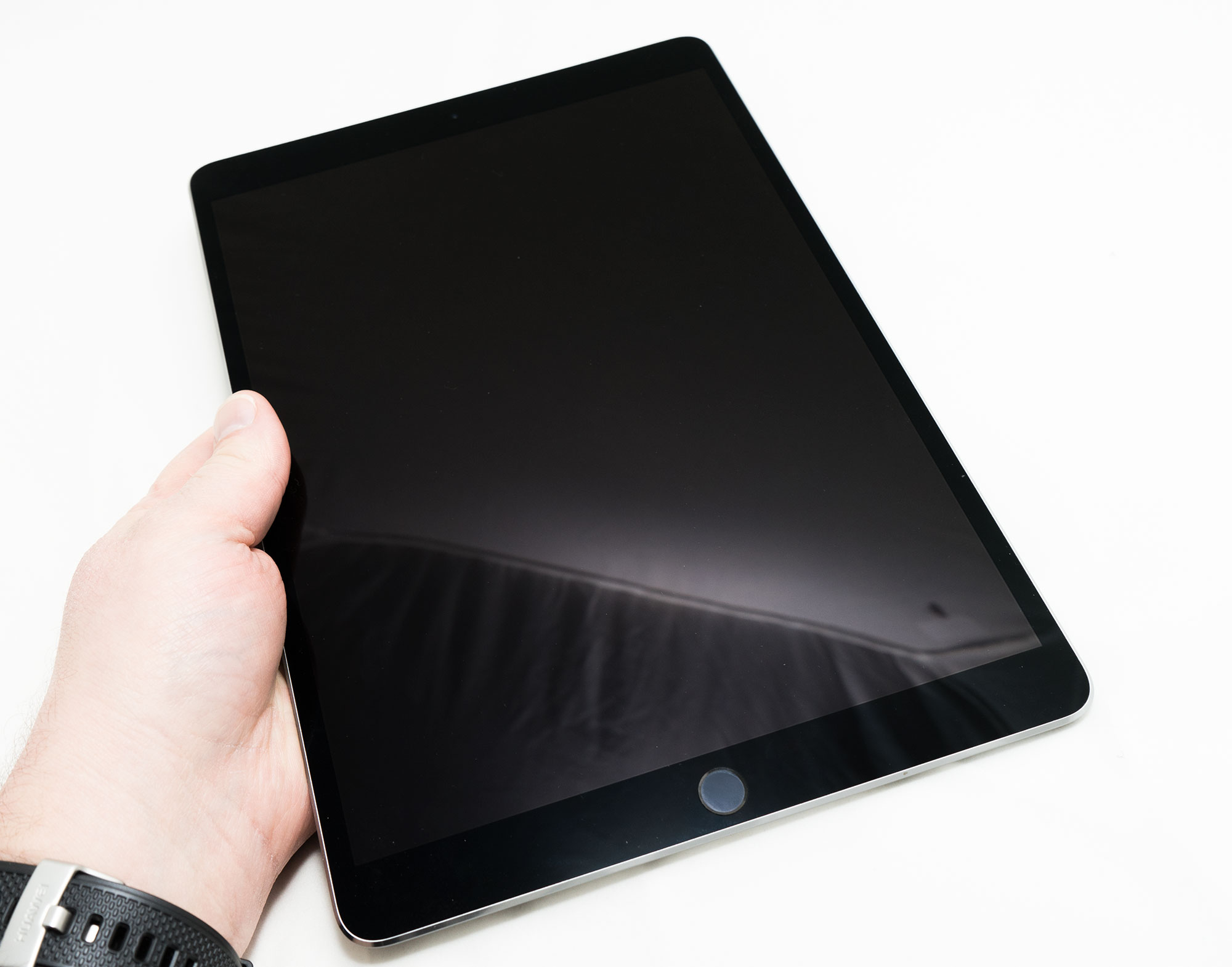 In-use
With all of those features out of the way, it's time to get stuck into the tablet, and if you've ever seen an iPad before, guess what? You know what this is, because it's pretty much the same thing, just improved slightly for the modern iOS experience.
That's coming soon, but tested with iOS 11, the iPad Pro comes across more like a small and thin Mac computer, with a neat middle ground using the new operating system.
Out of the box right now, iOS 10 still makes the iPad Pro feel complete, with fast app switching and the ability to run anything and everything from the App Store.
However, in its most recent beta form, iOS 11 is closer to release, and while the bugs are still there, the combination of a swipe up MacOS-like dock and the touch-friendly drag and drop multitasking allow the 2017 iPad Pro to not only say it's faster than many laptops out there, but feel like it, too.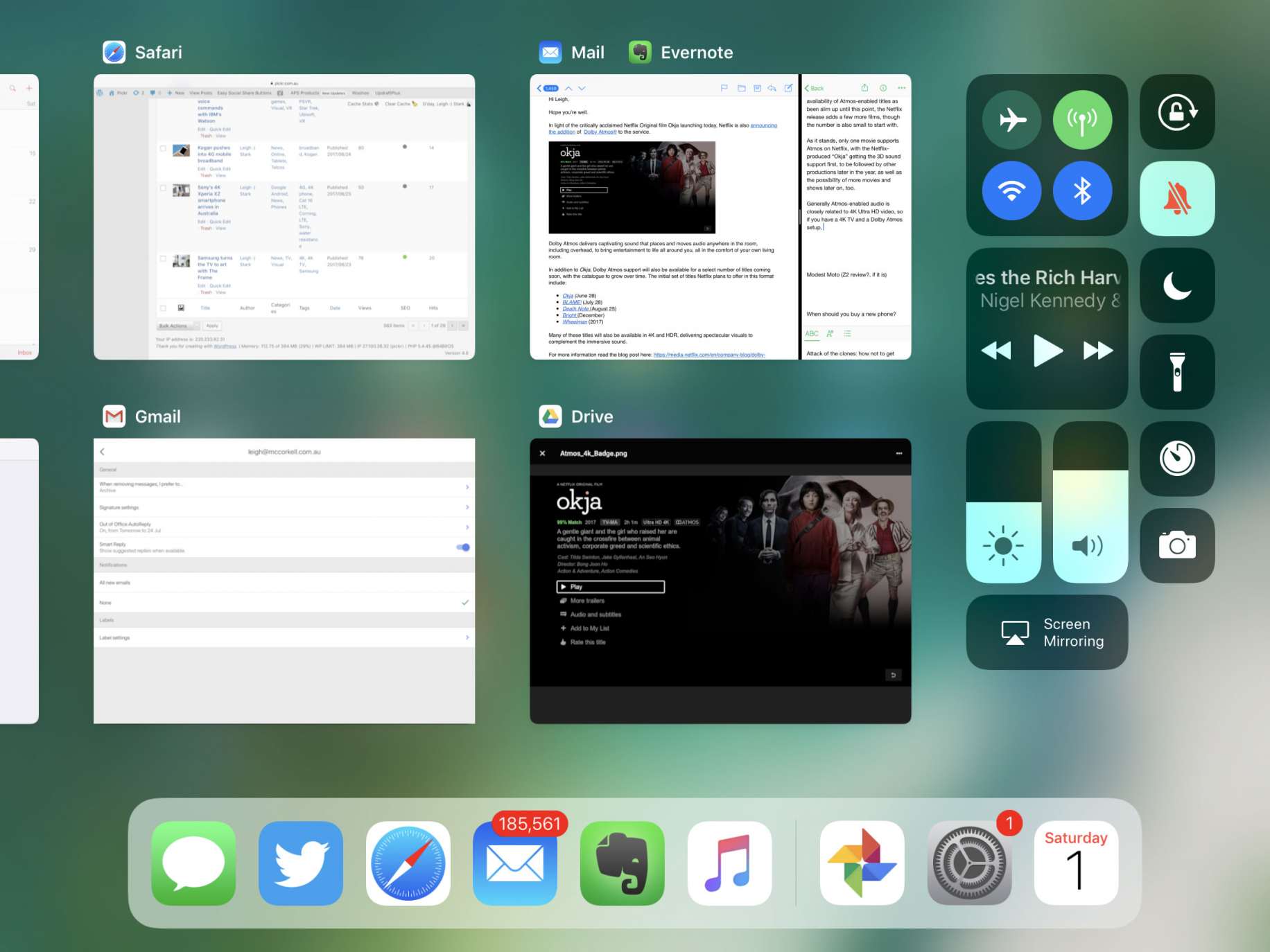 Performance
Understandably, the latest processors in the 2017 iPad Pro lend themselves to pretty solid performance as does the 4GB RAM, with virtually no lag as you jump between apps, and some solid graphics cred, too.
We started this review on iOS 10 and gradually made our way to iOS 11, and while the beta of Apple's latest mobile operating system clearly has some bugs, the 2017 iPad Pro has little problem making mince meat of them, throwing few problems out that aren't related to the beta level of the operating system.
Sufficed to say this thing has more than enough guts to keep you at bay for the next year or two at least, with performance to spare.
And that's unsurprising, given the amount of gear Apple has inside.
Battery
With a new set of innards and a new screen, Apple's iPad Pro offers a relatively solid battery life ranging between a full day to a few depending on what you plan to do with it.
Planning on doing a fair amount of productivity and web connected bliss over a 4G connection? You'll be charging it daily.
Doing much less and pulling that iPad Pro out a couple of times per day? You'll find a battery life closer to two days, and possibly a little more.
Charging is easy, too, with the standard Apple Lightning plug, and a fairly efficient charge time. All up, it's about where Apple's iPad Pro was last year for battery life, which is more than plenty for today, and easy to charge, too.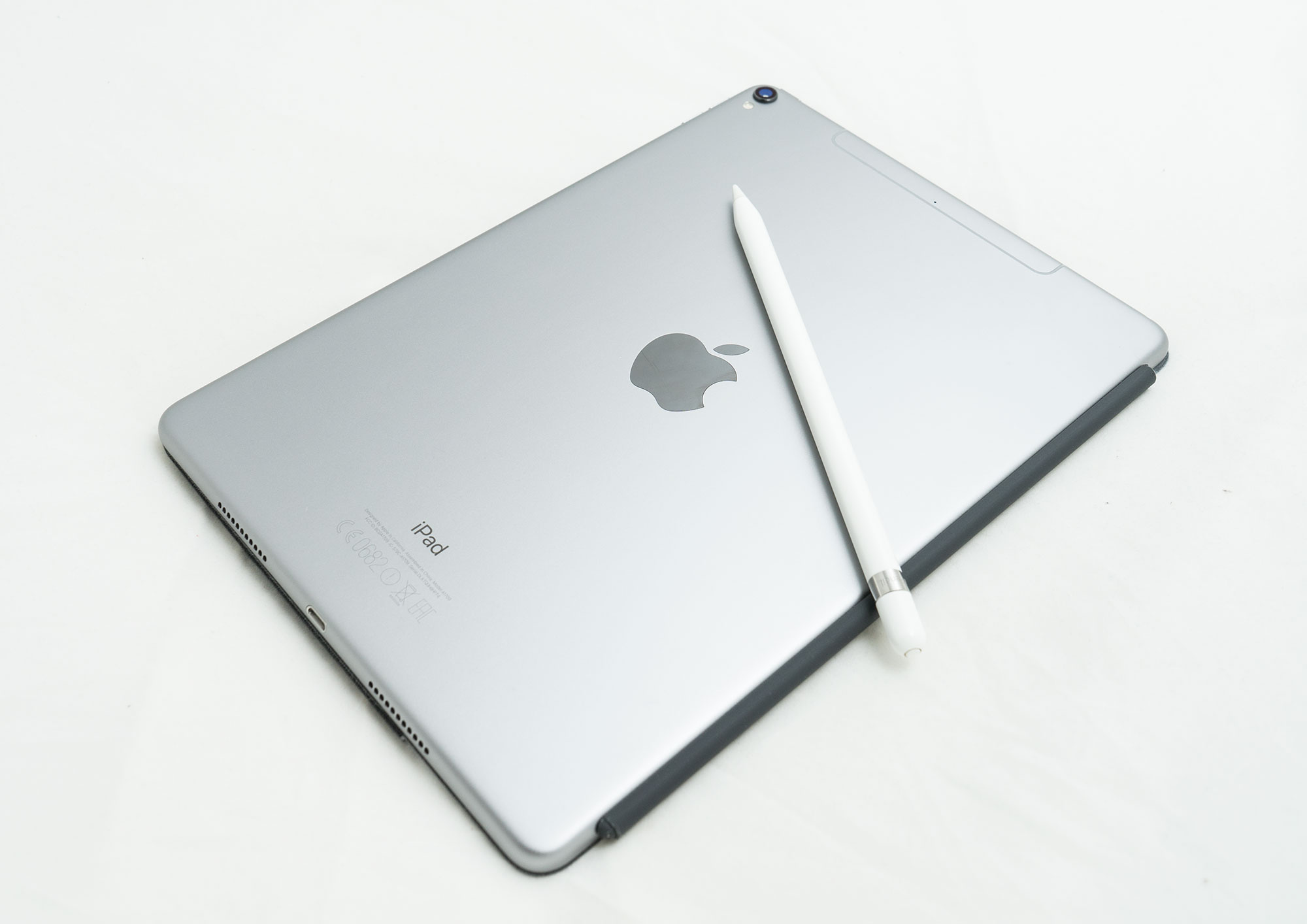 Apple's new foldable iPad keyboard, the Smart Keyboard case
One of the best additions you can make to the iPad Pro has always been the keyboard, a gadget that adds a cover, a stand, and a flexible fabric and membrane keyboard that essentially turns the iPad Pro into something closer to a laptop computer.
While you've been able to do this with Bluetooth keyboards for the longest time, the last iPad Pro brought in a magnetic connection at the side of the tablet to let you snap on a keyboard in a way that wasn't too dissimilar from how Microsoft's Surface worked.
In the new generation of the iPad Pro, things haven't changed much, with the same connection, but a new screen size to work with, and while a jump from the 9.7 inches of the old to the 10.5 inches of the new doesn't seem like a whole lot, it has made a big difference to the keyboard.
First of all, it's bigger, even if it's only bigger by a little, because that leads to the second point: with a bigger surface area, even marginally, Apple has managed to make the keys a little larger and increase the overall size, making everything just that much easier to type on.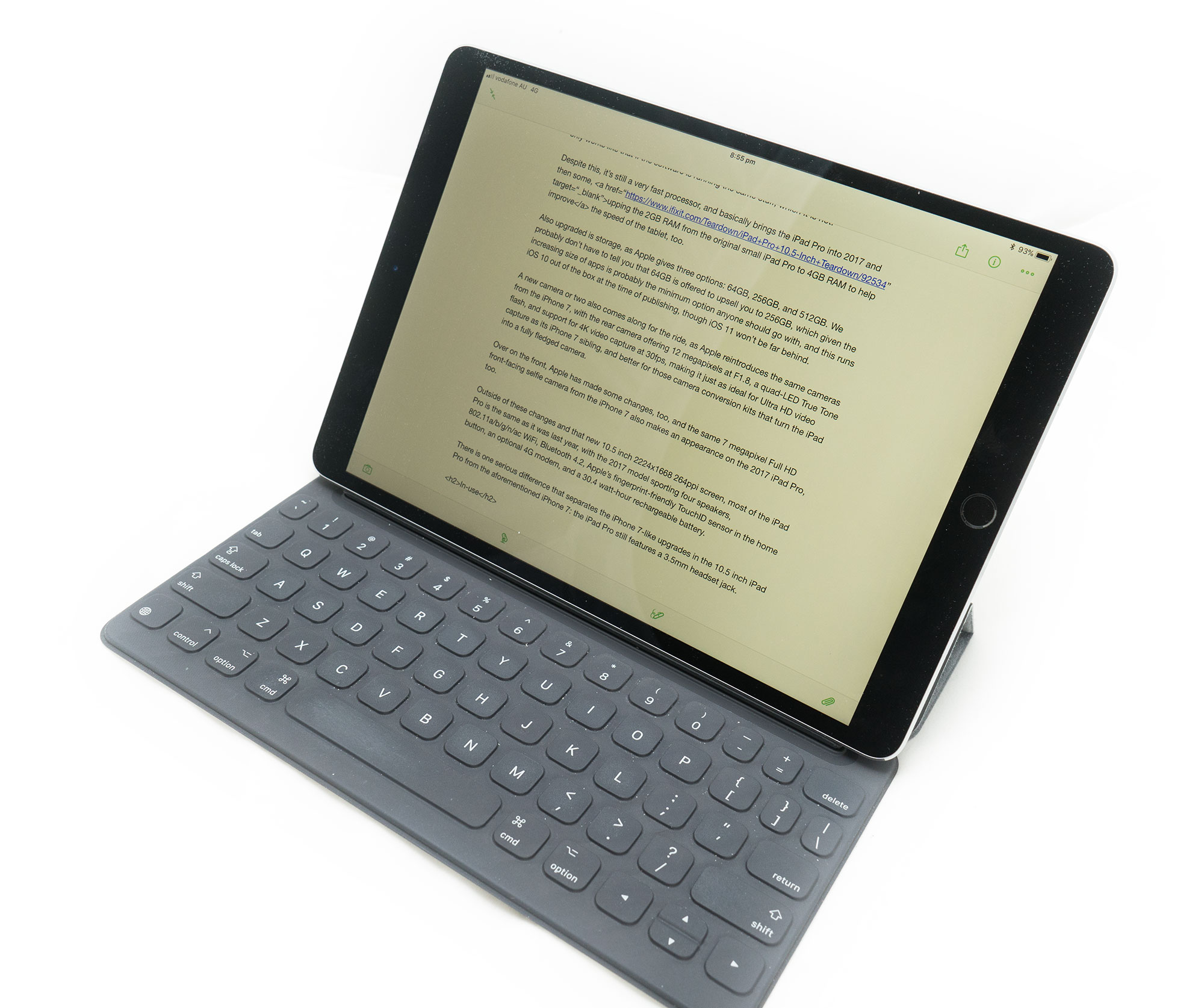 Let us be clear: we weren't huge fans of Apple's first-generation Smart Keyboard case, a unique proposition that found a way to embed the keyboard into fabric using a neat flexible membrane technology. The idea was good, but the first generation didn't feel quite right, and amounted very much to typing on a keyboard made of Blu-tac.
This year's Smart Keyboard is very different, and that's a good thing.
With a slightly bigger size, the keys feel more natural, and Apple feels like it has tightened up the whole Smart Keyboard overall. In fact, there's less getting to know this keyboard than you normally find with others, making it easy to adapt to for oodles of writing, typing, and thought transcribing.
You may not believe this, but for the better part of the month or so we've been reviewing the iPad Pro, we have typed almost every review on the iPad Pro's Smart Keyboard, with the special keyboard case not only offering some of the fastest typing, but also amongst the comfiest and quietest.
It's quite the combination, delivering solid portability and great keyboard despite the sheer minimal travel you receive.
There's only one major catch: the price.
At a cost of $235, Apple's Smart Keyboard is one expensive accessory, bringing the minimum cost of the iPad Pro even higher. Especially higher, because the iPad Pro's cost is already quite high.

What needs work?
That is one of the slight problems of the 2017 iPad Pro, making it an absolutely expensive tablet.
Starting at a cost of $979 for the 64GB model and fetching as high as $1129 and $1429 for the 256GB and 512GB models, factoring that extra cost of $235 to realise the full extent of the iPad Pro's capability makes it hit full on laptop pricing, resulting in what is easily the most expensive tablet to date.
That doesn't include the stylus either, which Apple charges a good $145 for, though you may not need it, either. We found that while we had the Apple Pencil, we used it sparingly, making it a part of the iPad Pro package that isn't as necessary, at least not in comparison to the Smart Keyboard case.
Our other quibble with the 2017 iPad Pro stems from what it lacks, and it's a surprising one given how much of the iPad Pro normally comes from the iPhone it follows.
And what did the most recent iPhone offer? Water resistance. And what is missing from the latest iPad? Water resistance.
That might come across as silly to you, but a water resistant tablet makes a lot of sense. We have water resistant phones, water resistant cameras, and water resistant eReaders, so why not a water resistant tablet?
Sony has made them before, so we're surprised that Apple's latest lacks this feature, especially since you could use it to watch movies or read books in the bath, or not feel so concerned if you use the tablet outside near water like the beach.
So we're surprised the 2017 iPad Pro lacks water resistance, and honestly, it would complete the package, and practically perfect it.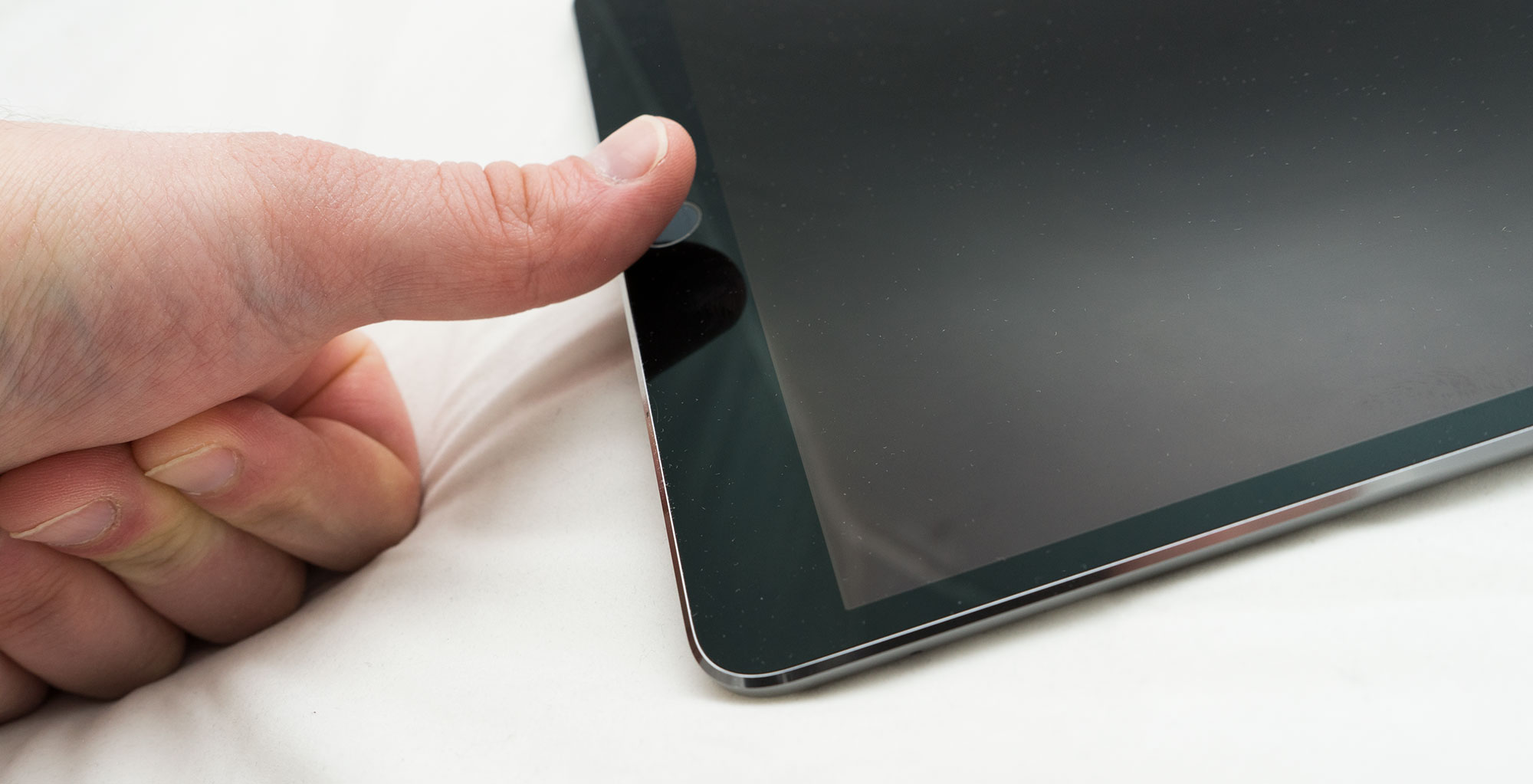 Final thoughts (TLDR)
Outside of the lack of water resistance and the price tag, if our glowing comments haven't nailed what we think about the 2017 iPad Pro, then let the following words ring out over the digital lands: we love this thing, and while we wish iOS would mature just a little more and let us do things closer to a real operating system, Apple is as close as it's ever been to finding that middle ground between what it is to be a computer and what it is to be totally portable.
Microsoft's Surface is about the only other tablet that feels there, and the latest Apple iPad Pro and its excellent case-based keyboard encroach upon its space, really finding a way to seal the gap.
Ultimately, the 2017 iPad Pro is an excellent machine, and paired with the latest operating system, it feels about as close to being the most portable computer you've ever used, short of that one you keep in your pocket and handbag. Highly recommended.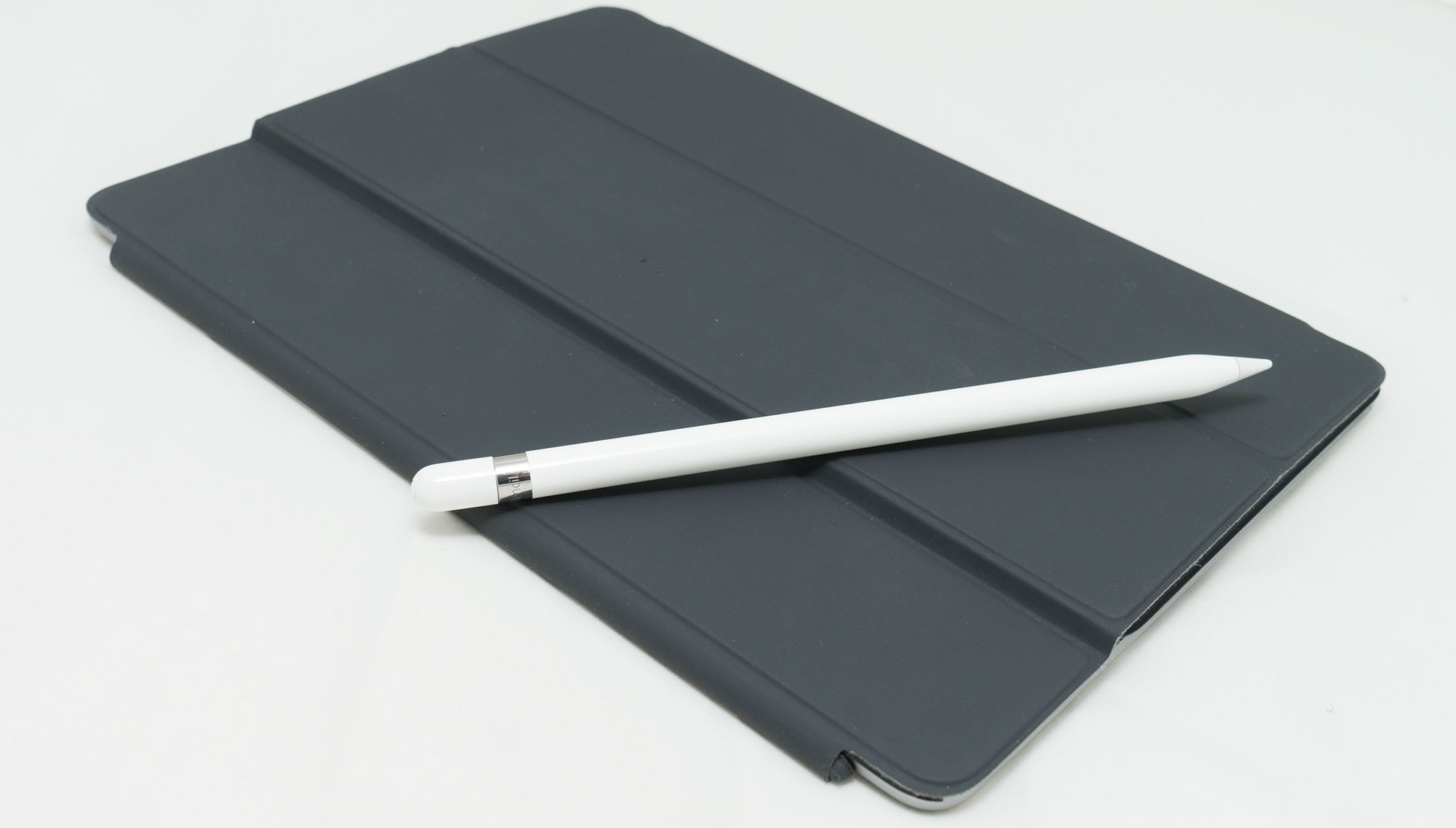 The good
Beautiful screen
Excellent and sturdy design
Performance is solid
Optional keyboard case should be mandatory, and is an excellent addition
The not-so-good
Not waterproof
iOS is close to working like a full computer, though it still needs a few things
Expensive