Quick review
Acer Aspire Spin 5
The good
Fairly solid performance
Windows Hello is supported by a fingerprint sensor
Good assortment of ports
Loads of solid state storage
SD card slot included
The not-so-good
Massive bezels on the display
Battery could be better
No place to store the included Windows Ink pen
The tablet market isn't doing quite as well as it once did, and you have phones and computers to thank for that. Back when phones were smaller and laptops were purely laptops, tablets made a lot of sense.
Now, however, everything is different.
Phones are bigger than ever, sporting positively enormous touchscreens and practically taking the place of their tablet cousins, turning into our content consumption devices. Meanwhile, computers are becoming more complicated, and now that Microsoft has worked out the touch-friendly kinks in its Windows operating system, computers that once sported keyboard and mouse only may have a touchscreen, making the content creation devices that are computers into tablets, too.
That means unless you're the iPad, you may have trouble getting people to buy into the whole tablet thing. And sometimes even if you're the iPad.
That's good news for companies making computers with big touchscreens, because it gives them some room to work their magic, which is exactly where Acer wants to do things with its Spin 5. A 13 inch computer sporting a double hinge that makes it one part tablet, one part computer, it intends to be a relatively meaty machine made for today and then some, all while keeping the size and thickness down.
Does it succeed? Is the Acer Spin 5 your next best machine, or would you be better with something else?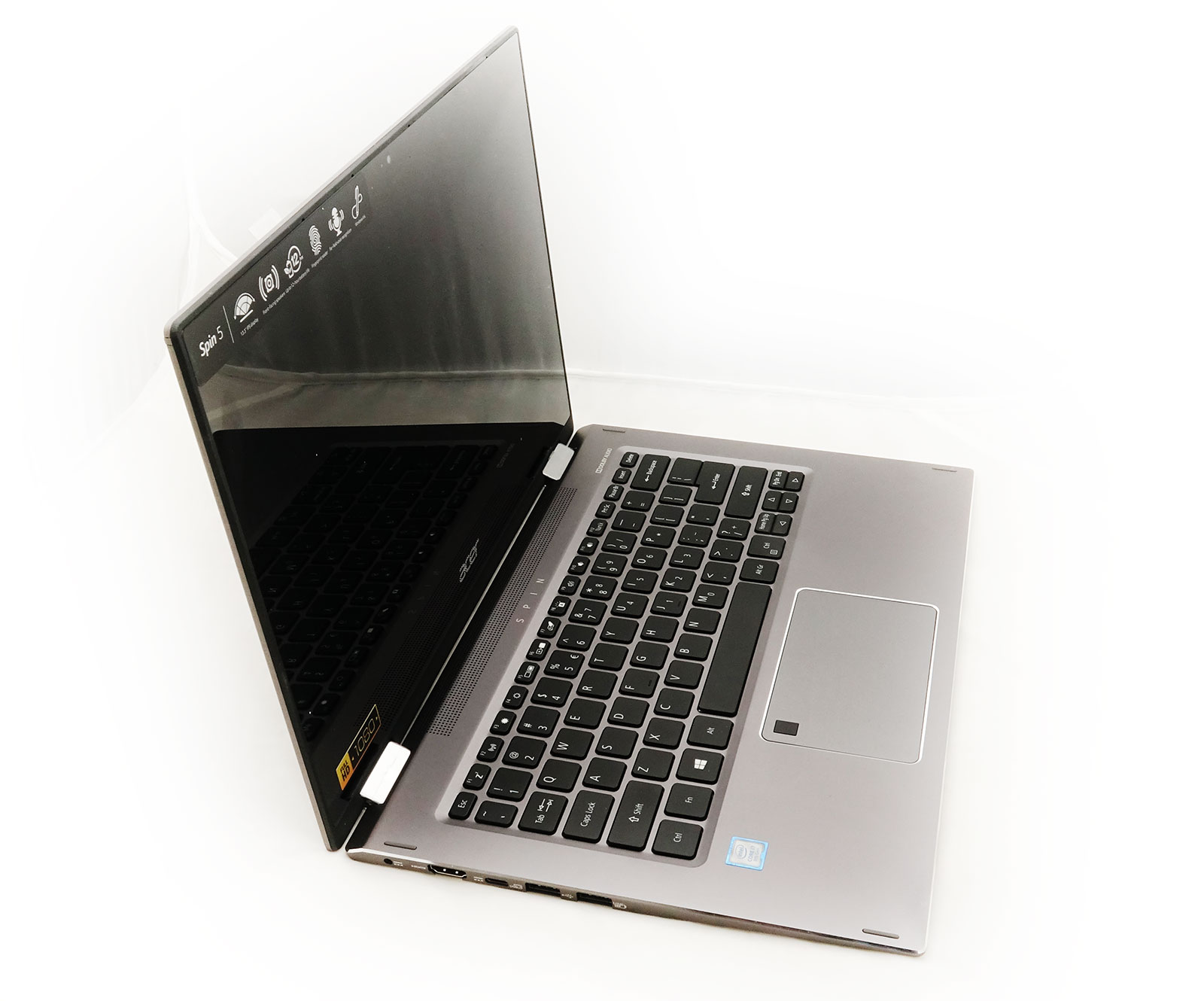 Design
Ever seen a laptop before? There's a good chance you've seen Acer's Spin 5, with the hardware not really switching up the design much from what you're probably used to, offering a simple grey interior and exterior, with aluminium on the outside to help make the computer more modern.
Most notably in its design is the hinge, which sits at the top of typically clamshell laptop design and allows the screen to lay not only flat, but also fold back on itself.
Outside of this, however, the Acer Spin 5 is your typical computer, and while it can support touch and pen scribbling from a Windows Ink supported pen, there is no place to store it, suggesting it's more of a bolt-on features.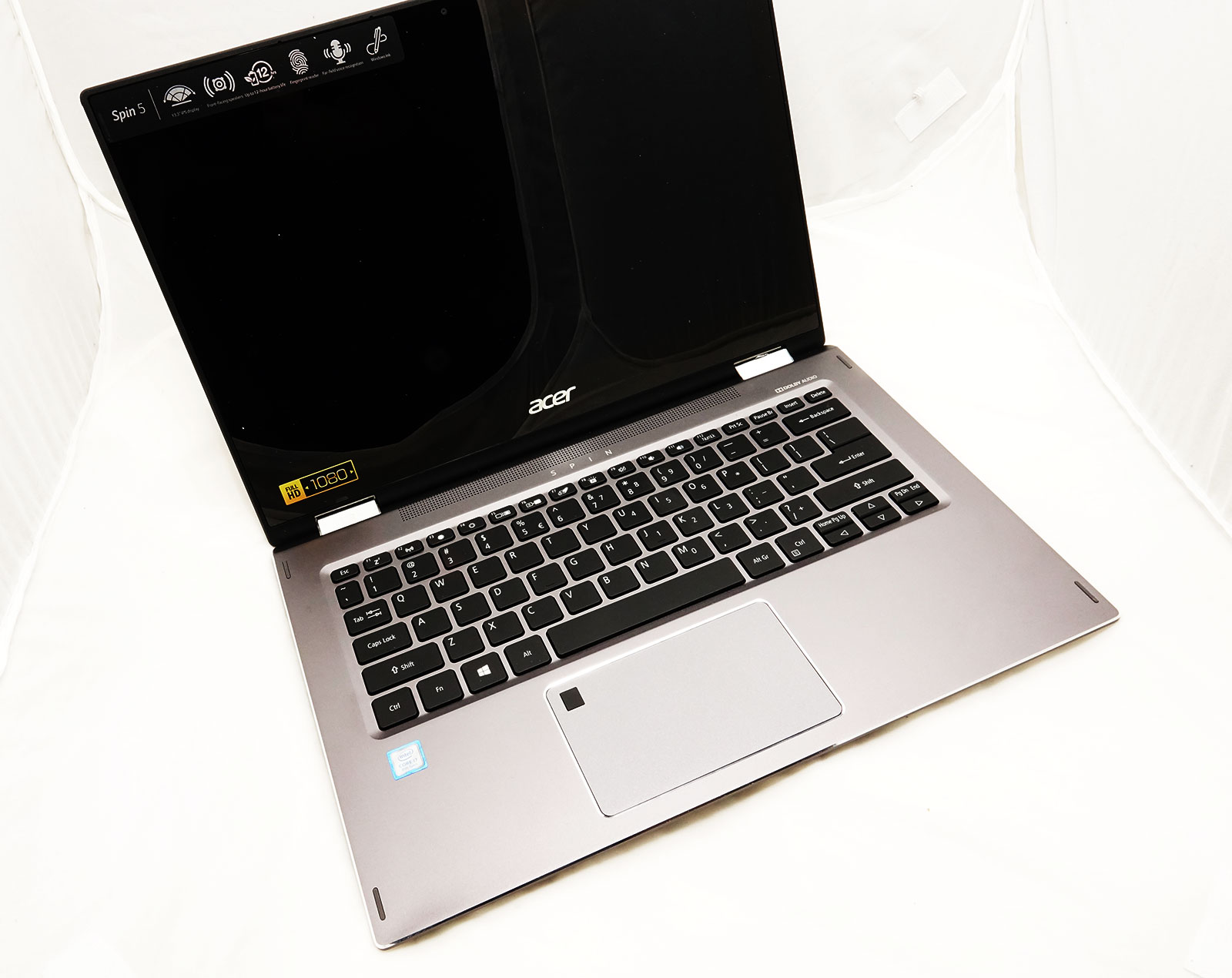 Features
While the design of the Acer Spin 5 is fairly ordinary, the inside is what counts, and at the end of 2017, the feature set isn't bad at all. Quite the contrary, actually, because for a 13 inch machine, it's quite good.
Inside the Acer Aspire Spin 5, you'll find one of Intel's latest Core i7 processors, the 8550U from the eighth-generation of processors announced only a few months ago. This is paired with a fairly standard 8GB RAM, and a less standard 512GB solid state drive.
Windows 10 Home is included and installed out of the box, and there are quite a few connections, including 802.11a/b/g/n/ac wireless, Bluetooth, one USB 2.0, two USB 3.0, one USB C, one HDMI, your regular 3.5mm headset jack, and an SD card slot, the latter of which has been disappearing from many a PC laptop in recent years.
This sits under a 13.3 inch Full HD touchscreen, providing a resolution of 1920×1080, with a camera built into the frame for 720p (1280×720) video capture. Sadly, there's no Windows Hello in this camera for facial login, but Acer has included a fingerprint sensor built into the touchpad for a way to use Windows Hello for biometric login.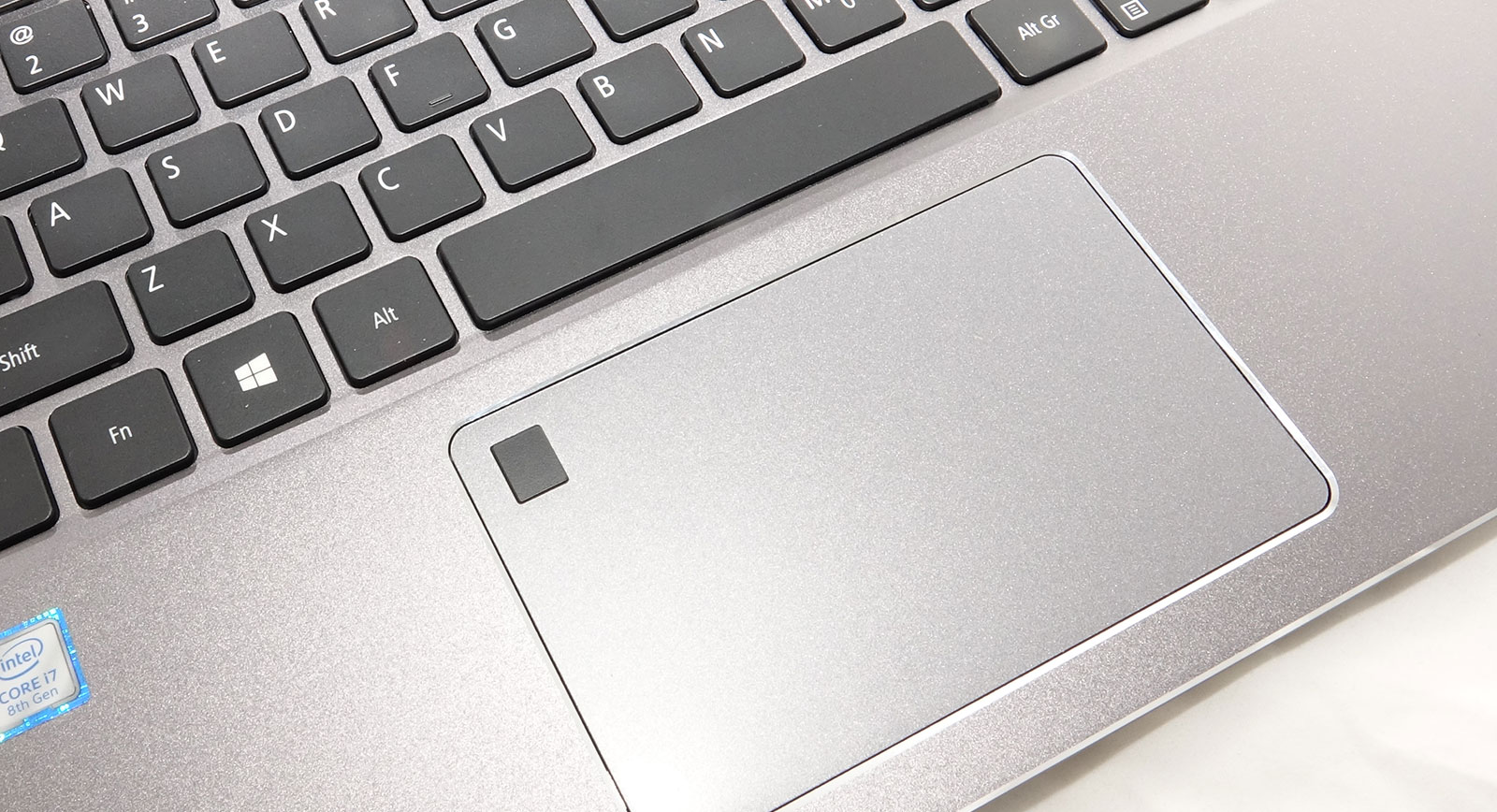 Performance
Intel's eighth-generation Core processor is still fairly new, but Acer is ready with a processor in a computer, providing a Core i7 in a slim enough body complete with a hinge that will send the screen all the way to the other side turning it into a tablet.
As such, the processor really handles its own, taking care of most of what you'd need, be it productivity office work, web surfing, email, and a little bit of something else. While the inclusion of only 8GB RAM is something we wish Acer had addressed, the inclusion of 512GB solid-state is something we can applaud, providing not just a lot of storage, but a lot of fast storage, exactly what people are looking for in a new computer.
One thing we noted in the mornings as we typed, because the Acer Spin 5 gets mighty toasty as you work, with any legwork being pushed by the Core i7 being noticed in the heart exuding from the bottom. We get that this doesn't have much in the way of fans, but you can still get a bit of noise out, and even when it does, it can stay a bit toasty.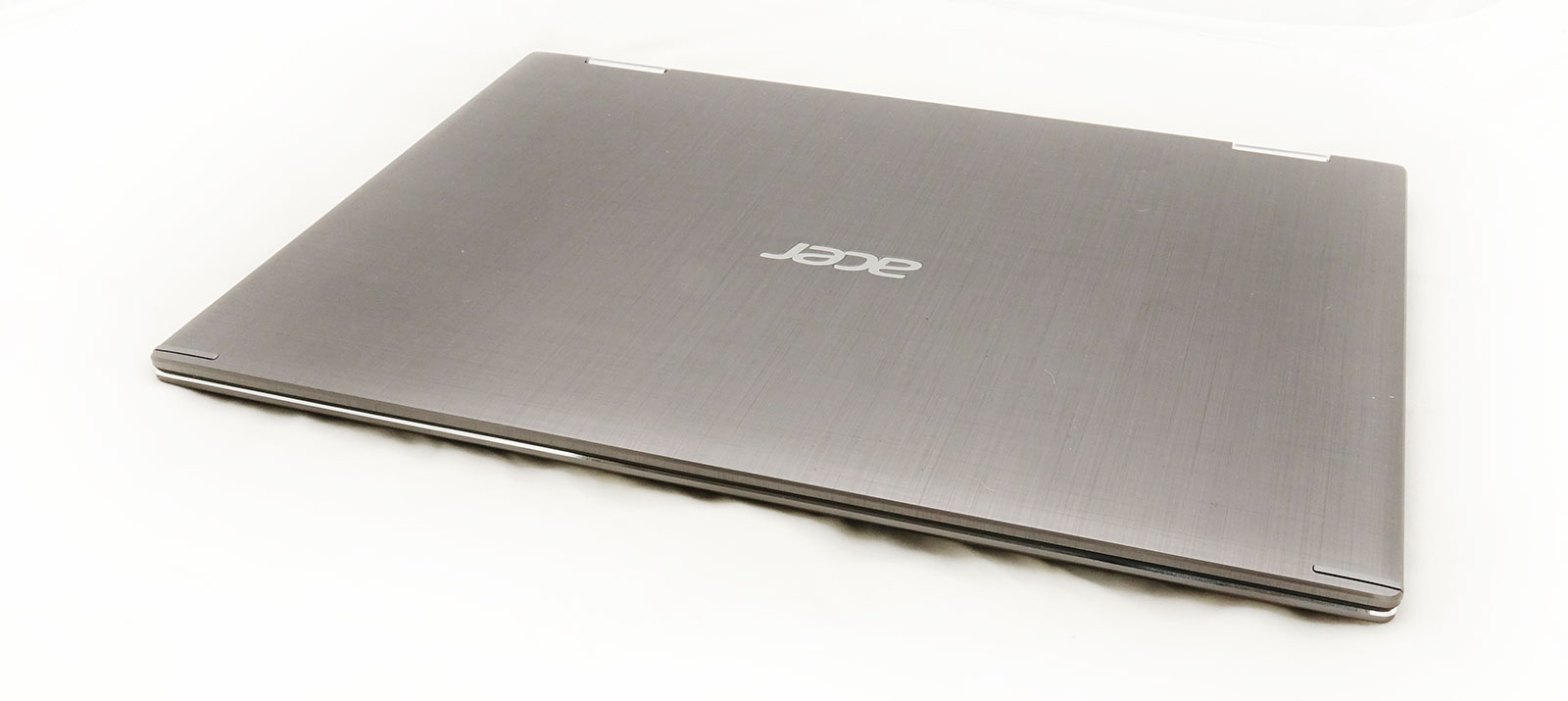 Keyboard and mouse
An area Acer appears to have been working hard in is with the keyboard and mouse, and given that usability needs to rank pretty highly, this makes a lot of sense.
Acer's track record with keyboards and mice has never been truly amazing, but we're seeing a bit of progress with the keyboard on the Acer Spin 5, sporting a solid amount of travel for a machine this size, even if the keys are very plasticky and still feel a smidgen away from each other than we'd agree with.
As such, you might find a very small error rate if you fancy yourself a capable and competent typist, but this is largely a better effort than we've seen from Acer's computers in the past few years.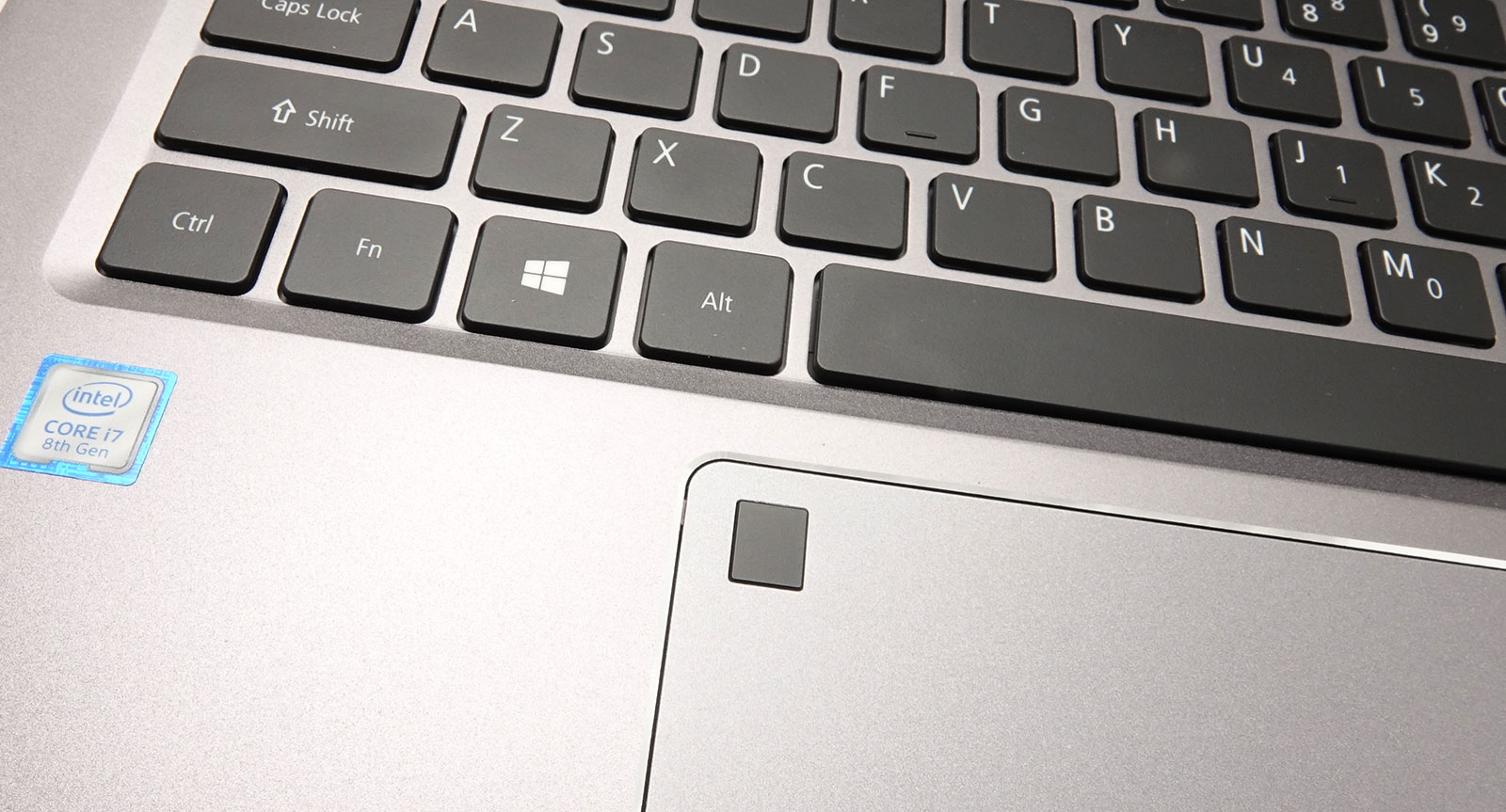 The mouse is also not bad, with the touchpad a little on the smallish side and a touch wider than the space bar, and still responsive enough. You'll find the top left corner of the touchpad has been removed, replaced with a fingerprint sensor for the Windows Hello security login, thanks to there being no camera-based login.
In terms of inclusions, it's a handy way of providing a secure login, even if it does chip away at the mouse space you have available to your fingers.
Display
Fortunately, the trackpad isn't your only way of making the Acer Spin 5 work, with a 13.3 inch Full HD touchscreen available to you as well.
For the most part, you'll find the colours here strong enough, and Acer's reliance on an In-Plane Switching (IPS) screen is a good move, and a nice shift away from its tendency to rely on the cheap-as-chips Twisted Nematic (TN) panels the company used to use, plus the touch-support is handy, too.
Still, we can't help but think the 13 inch panel being used comes off a little less sharp than it otherwise should be, at least when Windows is first installed and setup from out of the box.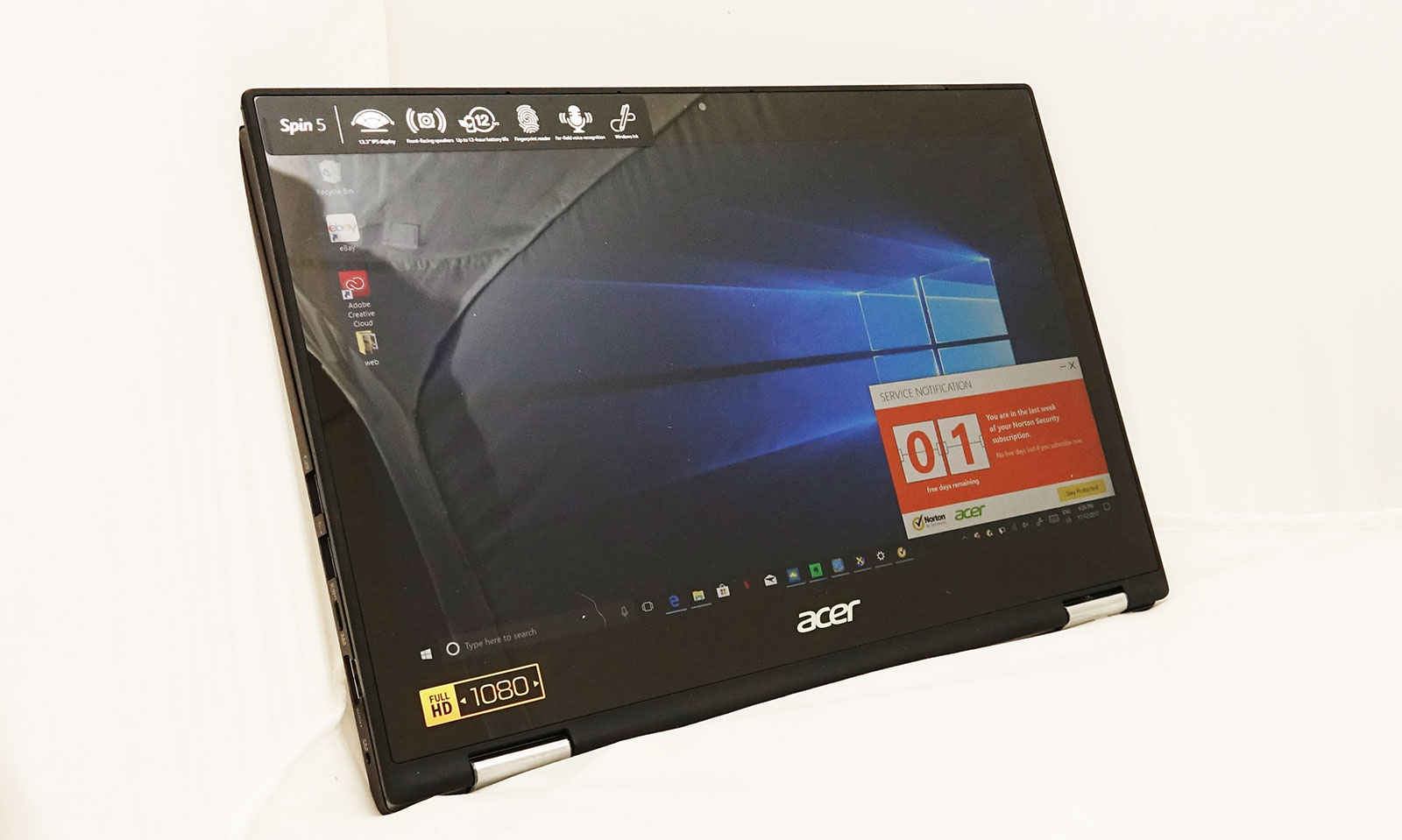 That might be because Acer's out-of-box settings run the screen at a good 150 percent larger than it should be, something we switched off right away, revealing the sharpness provided you did that step and we happy with looking at a smaller font size.
The middle ground of 125 percent still comes off a little less pixel perfect than we'd like, but it's at least more tolerable, so if you end up using the Acer Spin 5, make sure to switch the settings to that, otherwise Windows can come off a little muddy.
At least the touchscreen is good enough, and a Windows Ink pen is included, in case you feel the urge to jot down notes or scribble some drawings.
2-in1
Writing and drawing on the Acer Spin 5 is actually a possibility, however, thanks not just to the inclusion of that touchscreen, but also the 2-in-1 hinge it uses, and this allows you to fold the screen back onto itself or position the tablet screen out and keyboard down, effectively turning it into an entertainment system.
While this technology was new a few years ago and wasn't quite seamless when it came out, Acer has refined things a fair bit in that time, and now Windows does a good job recognising when to switch the keyboard off and to go to full tablet mode when you're fiddling with the keyboard and hinge.
Our one quibble with this mode, however, isn't with the mode itself, but rather the screen when used as a 2-in-1, because as a laptop, the 13.3 inch Full HD display on the Acer Spin 5 is perfectly fine. However, as a tablet, you're wasting centimetres on each side to the bezel, and it can just look a little clumsy.
It's times like these where you just want Acer to switch display makers and go with something offering a little less frame at the screen, as a 13 inch tablet is already large enough, but complicating it slightly by adding noticeable frames on each side, well, that just gets a little irritating.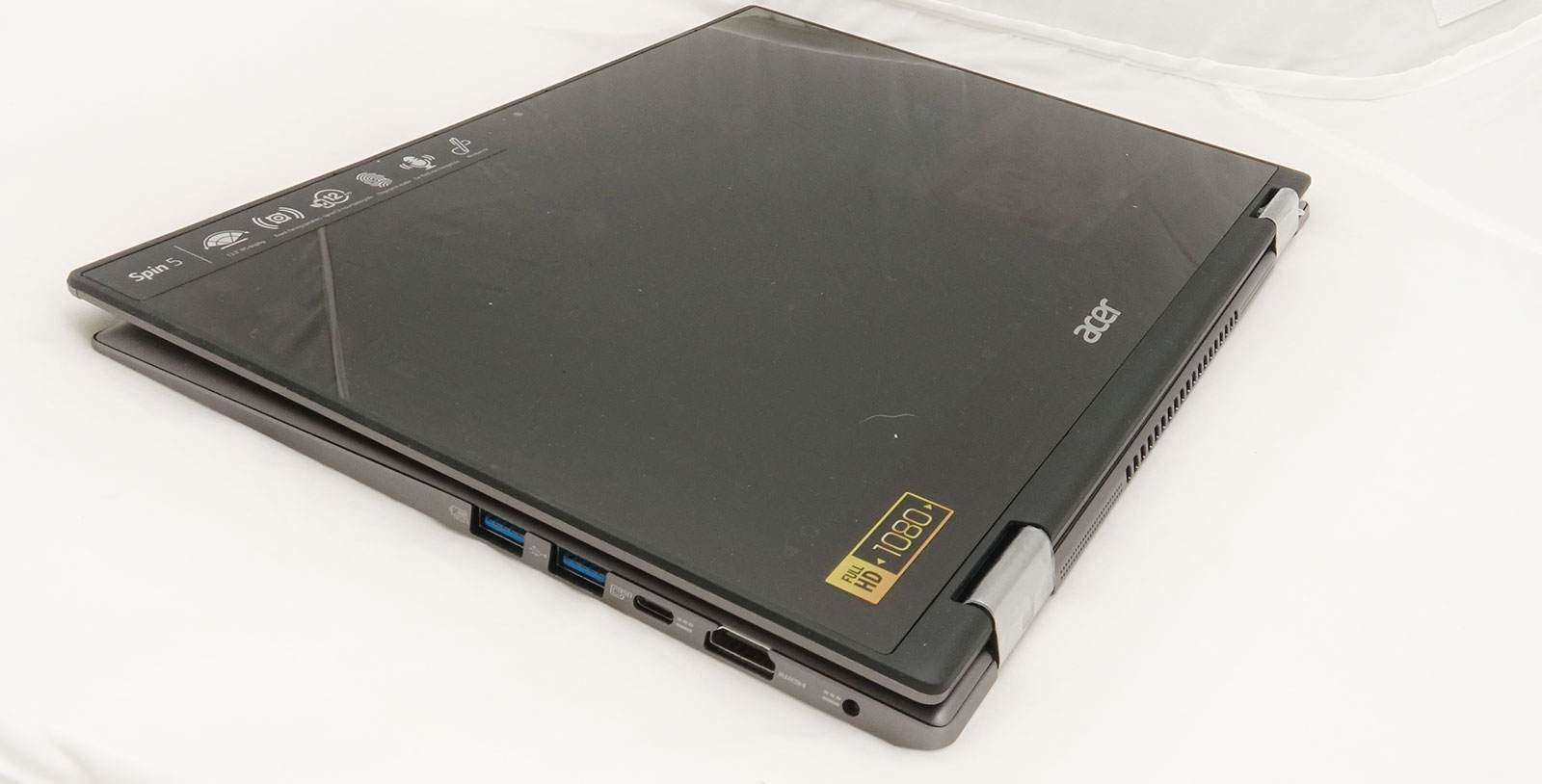 Battery
While Intel's eight-generation Core i7 managed to hit the right strengths with the Acer Spin 5, our battery life wasn't quite as strong as the advertised "up to 12 hour battery life" getting mighty toasty, and netting closer to four or five as we did our work.
From the looks of how the metre dwindles, you'd have to do the bare minimum to keep that battery life on track for an extended amount of time like the 12 hour mark, focusing on productivity only through emails and writing.
Value
However, piced at $1799, it can feel like the Acer Spin 5 wins marks because of the inclusion of a massive solid-state drive, as 512GB is not standard in a machine for below the $2K price. Pair that with an Intel Core i7 eighth-generation chip, the feature set actually feels like a solid amount of value, especially when you consider the competition.
Comparatively, the models the Acer Spin 5 competes with are from Dell and Lenovo are all a little more expensive, but do arrive with 16GB RAM, and include an updated edition of the Dell Inspiron 13 inch 7000 2 in 1 we reviewed some time ago.
That doesn't mean Acer's Spin 5 is poorly priced, but rather that it's about right, providing a little less on the RAM, but more space to work with, since 512GB storage rarely arrives for under the $2,000 mark, and that's precisely where Acer has aimed the Spin 5.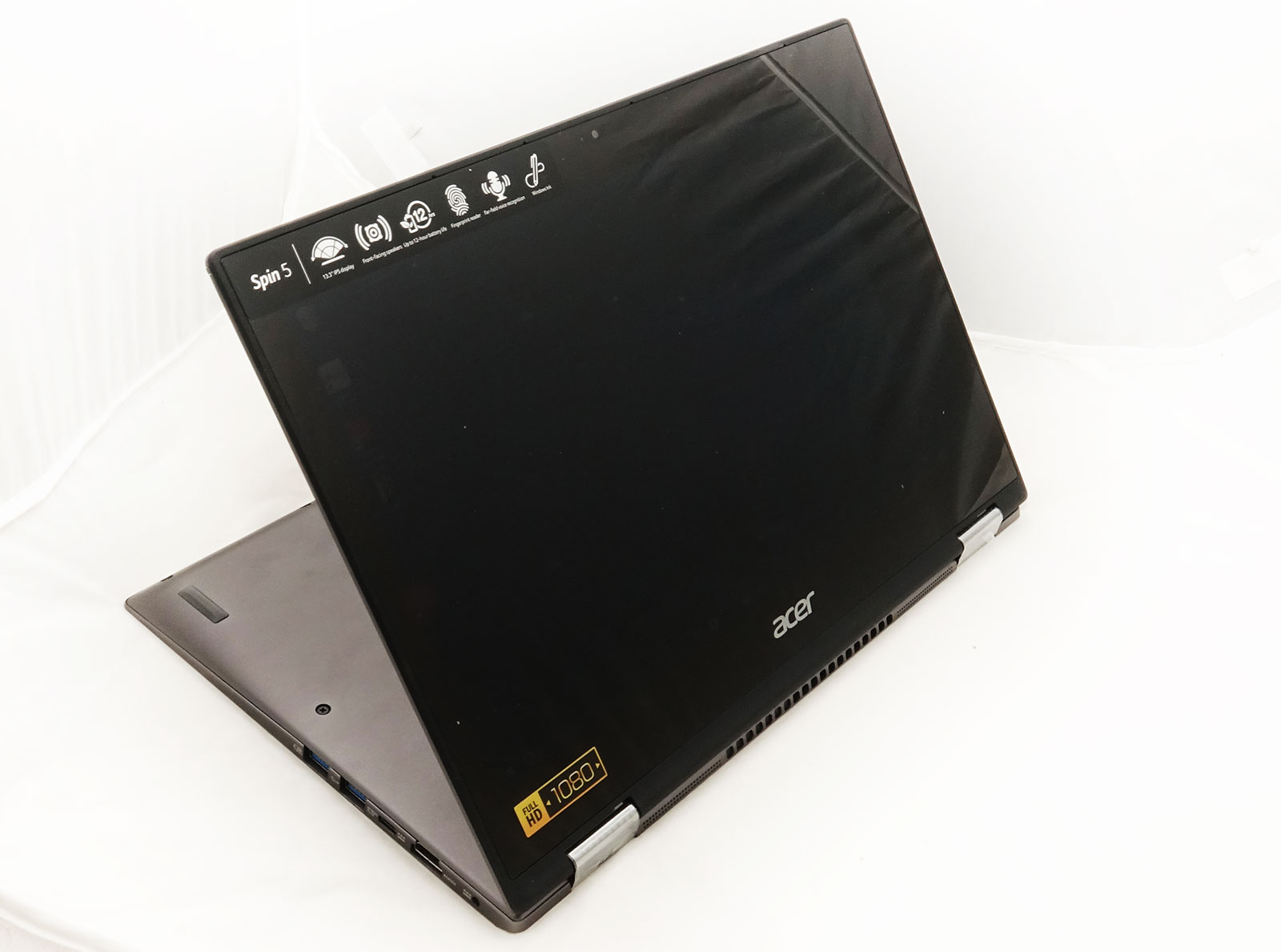 Final thoughts (TLDR)
Finding the right modern computer with the right modern hardware has always been a lesson in compromise, with something being thrown out. Do you want more memory (RAM) or more storage? Do you want a nice screen or a touchscreen? There's always something to compromise.
But in the Acer Spin 5, it feels like a nice balance has been hit, providing enough of the computer most people will need — with Intel's latest and a spacious solid state drive — and enough of what they want — a big enough and decent res touchscreen. Acer's improvements to the keyboard and login security are helpful, too, and the whole Aspire Spin 5 package really comes together quite well.
There are some things that need to be better, and the battery is one of them, but if you need a decent all-rounder without a super expensive price, the Acer Spin 5 has your name on it.
The good
Fairly solid performance
Windows Hello is supported by a fingerprint sensor
Good assortment of ports
Loads of solid state storage
SD card slot included
The not-so-good
Massive bezels on the display
Battery could be better
No place to store the included Windows Ink pen