Quick review
Samsung Galaxy Note7
The good
Edge design has been refined, and feels even better than before
Curved screen gives off that bezel-less impression masterfully
Performance of the phone is spot on for the most part
Two types of security, with both fingerprint and eye-scanning
Battery life is at least a day with no troubles
Various battery modes will actually change screen resolution to provide huge boosts in battery life
Camera is both fast and excellent
Galaxy S Pen offers about the most "pen-like" feeling we've felt on a stylus to date
Phone and pen are both highly water resistant
Includes USB Type C converters in the box to both standard USB and microUSB
The not-so-good
Very, very, very occasional bugs seem to cause a crash
Expensive
In the era of the smartphone, it seems that all anyone is trying to do is beat Apple, as every manufacturer does its best to build something to rival the iPhone. It doesn't matter if you're Samsung or Sony or HTC or what have you, your target is still the same: craft a device that puts you ahead of Apple.
Beating the iPhone isn't an easy task, either. It's not just about assembling the right amount of features, because you need to package them up in a comfortable and high quality design that people can picture themselves using for the next two years, or however long their network keeps them hooked to their contract.
In 2016, Samsung might have finally made that phone.
It's not the first phone from Samsung this year, mind you, because now that we're heading into the back half, it's clear that we've seen quite a few already. The S7 and S7 Edge released earlier in the year proved that Samsung had what it takes to deliver standout  devices that people could want, and the Edge variant emerged the victor there
Yes, it turns out that people like phones that follow form, because the curve is in, and the success of that idea is what has led Samsung to making the new Note a totally curved model, but it's not all that.
The new Galaxy Note 7 adopts the same style of curve to cut back on the bezel, because if you've ever held the iPhone (or practically any other phone, for that matter), you have noticeable framing around the screen.
Not here though, with the Note 7's design still technically featuring the frames, but missed out due to that gentle curve on each side, making the phone appear unframed and floating in space as you hold it.
Samsung still insists that the curve has real use — you can swipe news and contacts and shortcuts in from the side! — but we knew the real reason it exists, and being a vision of future technology is it.
Past the futurist's dream, the Note 7 packs in a heap of incredibly useful technology, making its 5.7 inch phablet size more than just a big phone for you to take up the side of your head with phone calls.
Instead of one function, you'll find many in this remarkably practical device, where it seems so much has been considered.
There's a pen for taking pad- like notes thanks to a smaller pen tip and some improved magnetic stylus technology from Wacom, there's the fast and focused insides that lets you run apps aplenty without slow down, there's the battery life capable of jumping from a full day to close to three dependent on how you tweak its power settings, and there's that fun little fact that the entire package will survive more encounters with the elements and the ground thanks to the combination of being both highly water resistant and being the first phone to sport Corning's Gorilla Glass 5.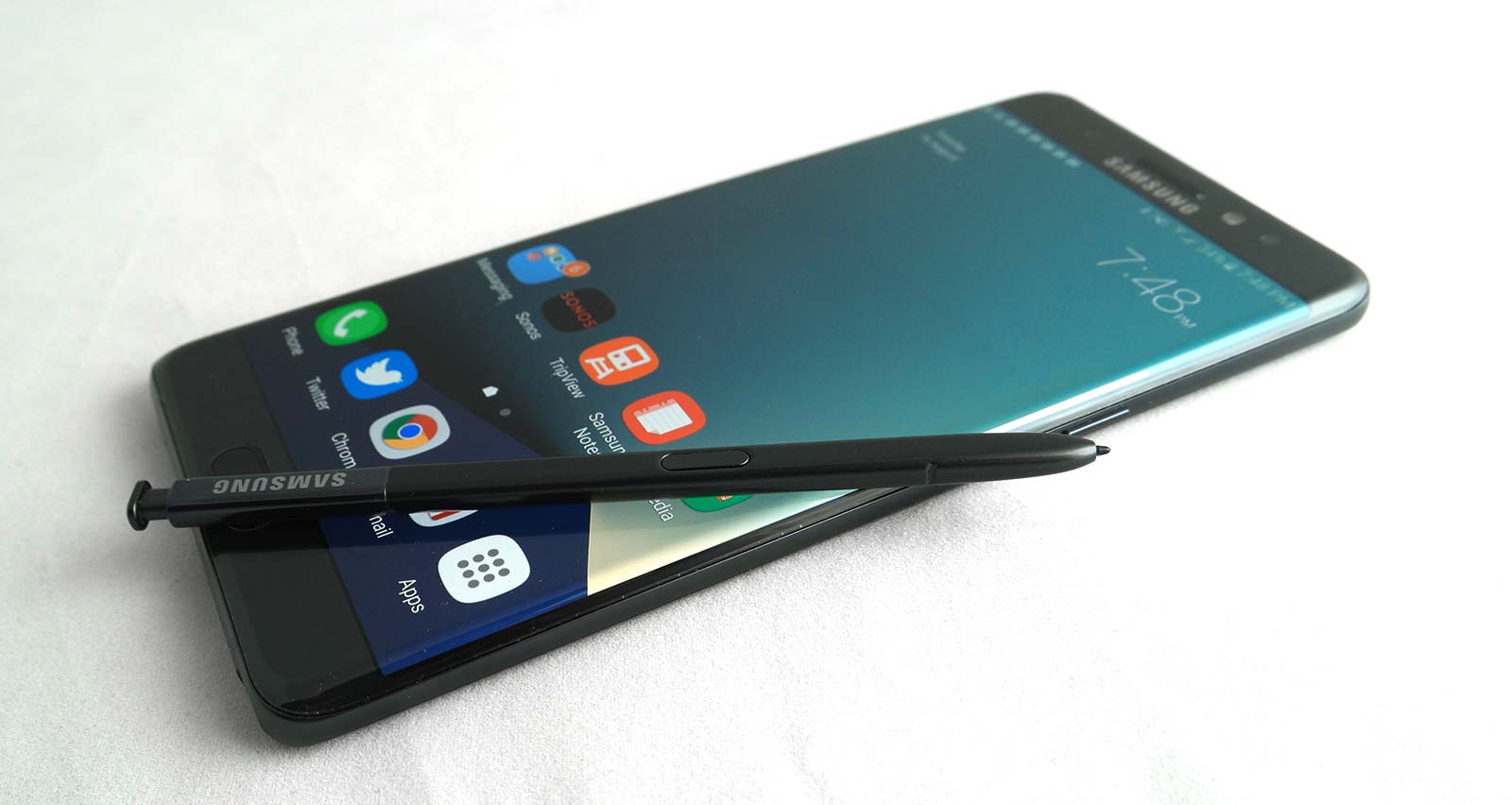 In fact, there is so much positive to rave about the Samsung Galaxy Note 7, that out of the very, very few negatives we can find, the most pertinent is its release comes right before when Apple's iPhone 7 is expected to be announced.
For many, this will be the phone to propel them to the next model, and while it's not really "make or break" time for Apple, in a way it also is. With so many great reasons to switch to Samsung in this Galaxy Note model, Apple needs to show next month why your next phone should be an iPhone, and why — if you're using Apple presently — you'd stay, beyond any selfish need of "I've been using it for X years, and it's just easier this way".
Because right now, that is no longer a valid reason, and if you like the idea of a bigger phone and want everything it has to offer and then some, the Samsung Galaxy Note 7 proves it's not only mightier than the pen, but also mightier than the iPhone, too.
Don't believe us? Explore the full review below where we knuckle down and explore every nook, cranny, port and flaw (the few of them, anyway), revealing practically everything we've learned about the Galaxy Note 7.
Specs
Across the planet, there are two variations of the Galaxy Note 7, and while both look exactly the same, under the hood is where things change.
If you're living in Australia, forget looking up an American review of this phone, because the guts are completely different, much like they were with the Galaxy S7 and S7 Edge.
While our friends on the other side of the world will be seeing a Qualcomm Snapdragon 820 quad-core Note 7, we Aussies (and probably New Zealanders) will be seeing Samsung's Exynos, as will likely the rest of the world that isn't the USA.
So what can you expect if you're not living on the North American continent?
Under the hood, you'll find Samsung's own home-built Exynos processor, the same Exynos 8890 eight-core processor that we saw in the highly successful Galaxy S7 and S7 Edge, and this will be paired with 4GB RAM and Google's latest released operating system, Android 6.0.
Your favourite connections are all here, with about every way of connecting to GPS, Bluetooth 4.2 with A2DP and Low Energy (LE), Near-Field Communication (NFC), Samsung Pay's magnetic strip technology, 802.11a/b/g/n/ac WiFi, and Category 9 4G LTE offering connections of up to 450Mbps down and 50Mbps up depending on where you actually are in the world (or just Australia, though we find capital cities tend to offer the best chance of flexing those mobile modem muscles).
And that is all quite similar to what's inside the Galaxy S7 and S7 Edge because the Note 7 borrows the familiar template, even arriving with the same 12 megapixel f/1.7 rear camera and 5 megapixel f/1.7 front camera, complete with the same rear 4K video capture support.
Where things change is at the upgrade level, because this isn't just a new Galaxy S7 Edge, even if the specs suggest it might be more of the same.
For instance, on the security front, you'll find the fingerprint scanner of the S7, as well as an iris scanner that glows red and looks for one set of eyes to unlock your phone without touch.
That sort of technology has never graced an Android phone that we've seen in Australia, and outside of Microsoft's Lumia 950/950XL where we first saw the concept, it's still a relatively new idea in a mobile.
You also get a slightly bigger screen at 5.7 inches (compared to the 5.5 on the S7 Edge), running that 2560×1440 resolution with a pixel density of around 518 pixels per inch, still more than enough for the human eye to not notice the pixels. The technology is still Super AMOLED, making imagery bright, crisp, and certainly colourful, and thanks to Samsung's S-Pen technology worked on with Wacom (the graphics tablet people), you can also draw on the screen.
Samsung's Note 7 is, however, the first phone to include Corning's scratch-resistant Gorilla Glass 5, and it's here on both the front and the back, making the phone more resistant to both scratches and even a few more scuffles this time around, as Gorilla Glass 5 has apparently been improved against drops.
That's not something we're looking to test — and neither should you — but if the worst does happen, you can rest assured that the best glass technology is in place on this phone, ahead of any other phone in the market.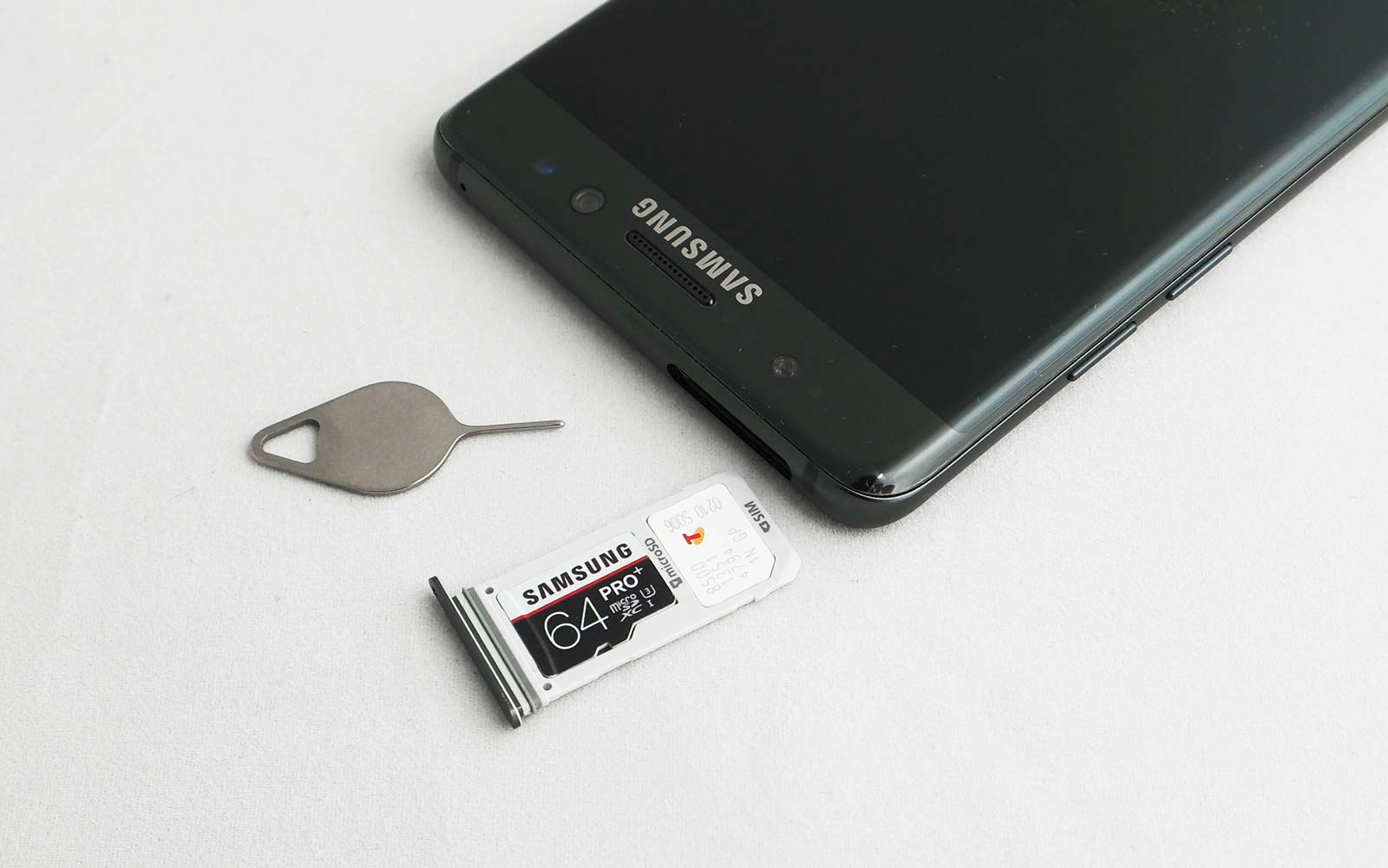 There's also a touch more storage than the S7 series here, with 64GB arriving out of the box instead of the 32GB you found on the S7 phones.
Thankfully, there is still a microSD slot, shared with the nanoSIM tray found at the very top of the phone, and given that you can loan in storage of up to 256GB, makes the Note 7 a phone capable of storing as much as 320GB of storage. Yikes.
One last thing worth including in the specs is a must have, and its the battery, delivering a 3500mAh cell that is not removable, but will be charged using the newer and more-futureproof standard that is USB Type C.
Like the super-slim MacBook, several of HP's laptops and tablets, and even phones from Huawei, LG, Google, and HTC, Samsung has now joined the world of the newest international standard, while also including wireless charging in the box.
Design
It may be hard to believe, but we're at the seventh Galaxy Note, Samsung's once experimental foray into an area that many thought would never work, that a phone bigger than the hand surely wouldn't succeed simply due to people being unable to grip it.
My my, how times change.
Fast forward to now and even Apple has joined in on the massive phone fun, releasing an iPhone that sits in the shadow of the iPad tablet range. Apple's iPhone 6 and 6s Plus phones aren't bad big phones either, competing very well on their first and second tries, but really this is Samsung's dance, and the world is curious to see where the company will take them.
This year, the focus in designing the Note 7 (or "Note7" if you happen to be on Samsung's marketing team) is to make the other big phone release from 2016 into something that works on a larger scale and with a stylus.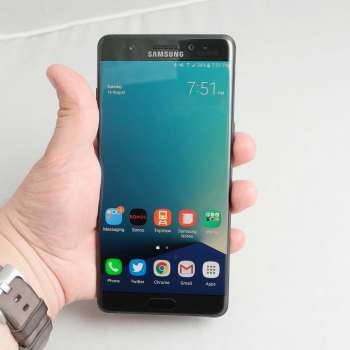 Already Samsung has found great success with the curved S7 Edge, and so that's what is being moulded to match a slightly bigger phone here, providing a 5.7 inch display that curves slightly on each side.
Samsung has also curved the back glass to match, a move that kind of leads you to believing the Note 7 is made from one piece of perpetually rounded glass.
This is helped by a flattened metal edge, a metallic  trim that protruded from the side of the S7 Edge like a bone for you to hold, but is far more uniform in this phone.
Perhaps the best thing about this new and improved design is just how good it feels in the hand. Like the iPhone 6S, the Note 7 feels right, just so right.
Somehow, Samsung has managed to make a 5.7 inch smartphone feel as good as a smaller 4.7 inch phone, and we think it might be due to the curved glass barely tapping that minimalistic metal frame, which is so hard to feel an edge with that you'll wonder why Samsung didn't do this sooner.
Like how the metal back curves into place on Apple's smartphones, the curved glass does the same on the Galaxy Note 7, and this just makes for a super-comfortable design.
And it's not just a design that is comfortable, but one that is also water-proof, or mostly anyway.
Specifically, you'll find IP68 water-resistance here, meaning you can take it into water down to three metres for up to 30 minutes, with the pen IP68 supporting that water-resistant design, too.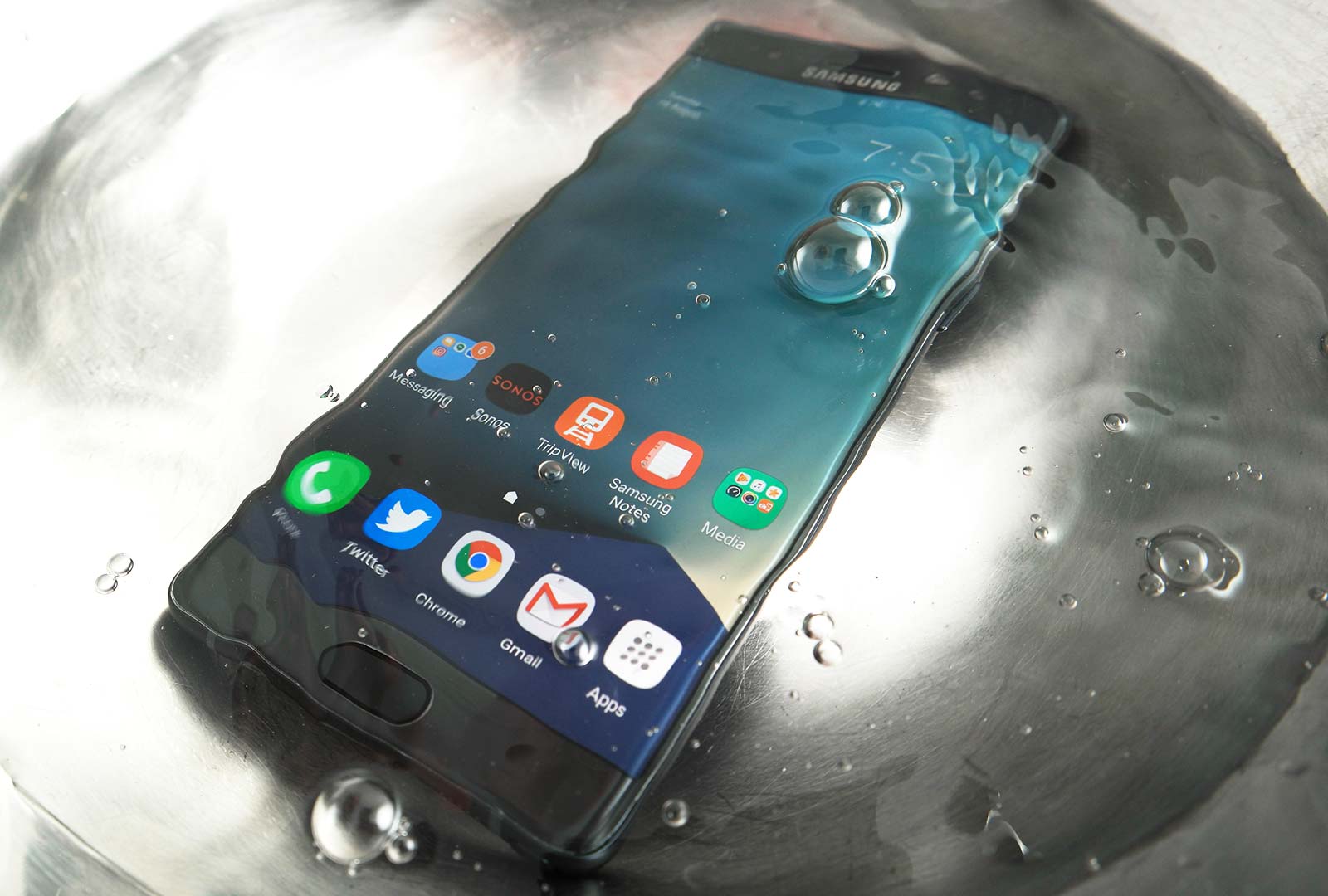 Display
The screen is also worth talking about, because while it hasn't changed much from the previous generation and still relies on a WQHD 2560×1440 Super AMOLED display like the last generation of Note, it is still a beautiful screen.
Sure, Sony had a 4K screen last year, but it mostly ran at Full HD, and above 500 pixels per inch, the pixel argument is mostly academic since the bottleneck is clearly your eyes. So while the 4K Sony Xperia Z5 Premium is very special at 806 pixels per inch, the Samsung Galaxy Note 7 is still pretty special at 518 pixels per inch.
Overall, it's a very pretty display and definitely easy on the eyes, offering some lovely colour, sharp visuals, and crisp text.
Daylight is still the most interesting test, especially when you drag the phone out into the sun, with the phone channeling some advanced brightness you can't seem to switch on manually just so you can see the phone when the sun is pounding on your back.
You know that whole argument about not seeing your phone in broad daylight? It doesn't apply here at all.
In-use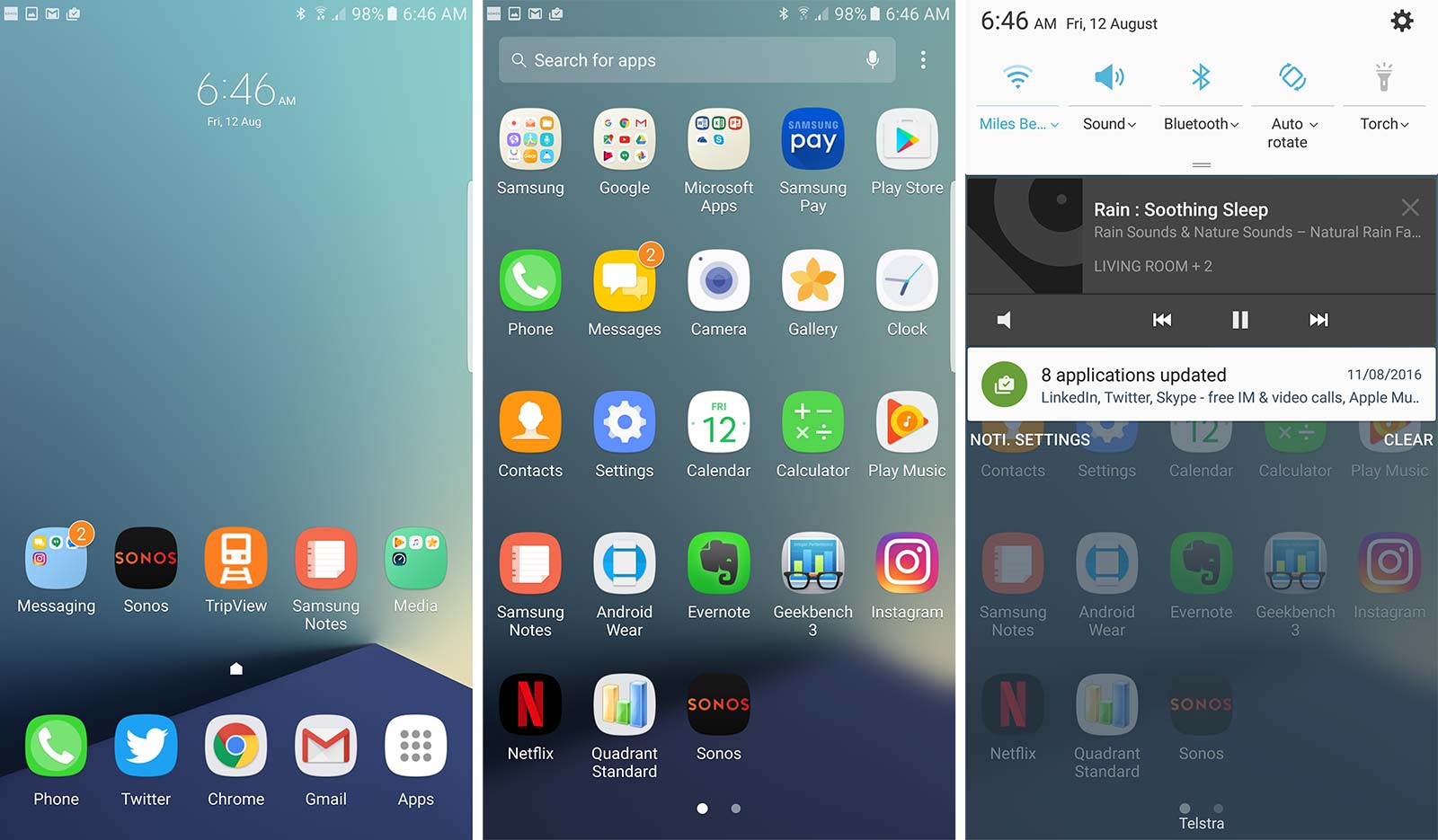 That means you can use your phone in practically any environment, and this is aided by Samsung's attention to Android, which has been getting progressively less ornate as the years have gone by, and now feels positively minimalist.
You still have the several widgetised homescreens as Android owners have come to expect, and you can switch out shortcut icons at the bottom as well as sort app menu icons with ease.
Samsung has actually put some work into this area with what appears to be an icon holding bar in "move apps", so you can actually hold apps in one section, scrolling to a new screen and moving them off. While it looks like six is the limit, we found you could stack this right up, meaning app sorting becomes a little easier if you like a few homescreens.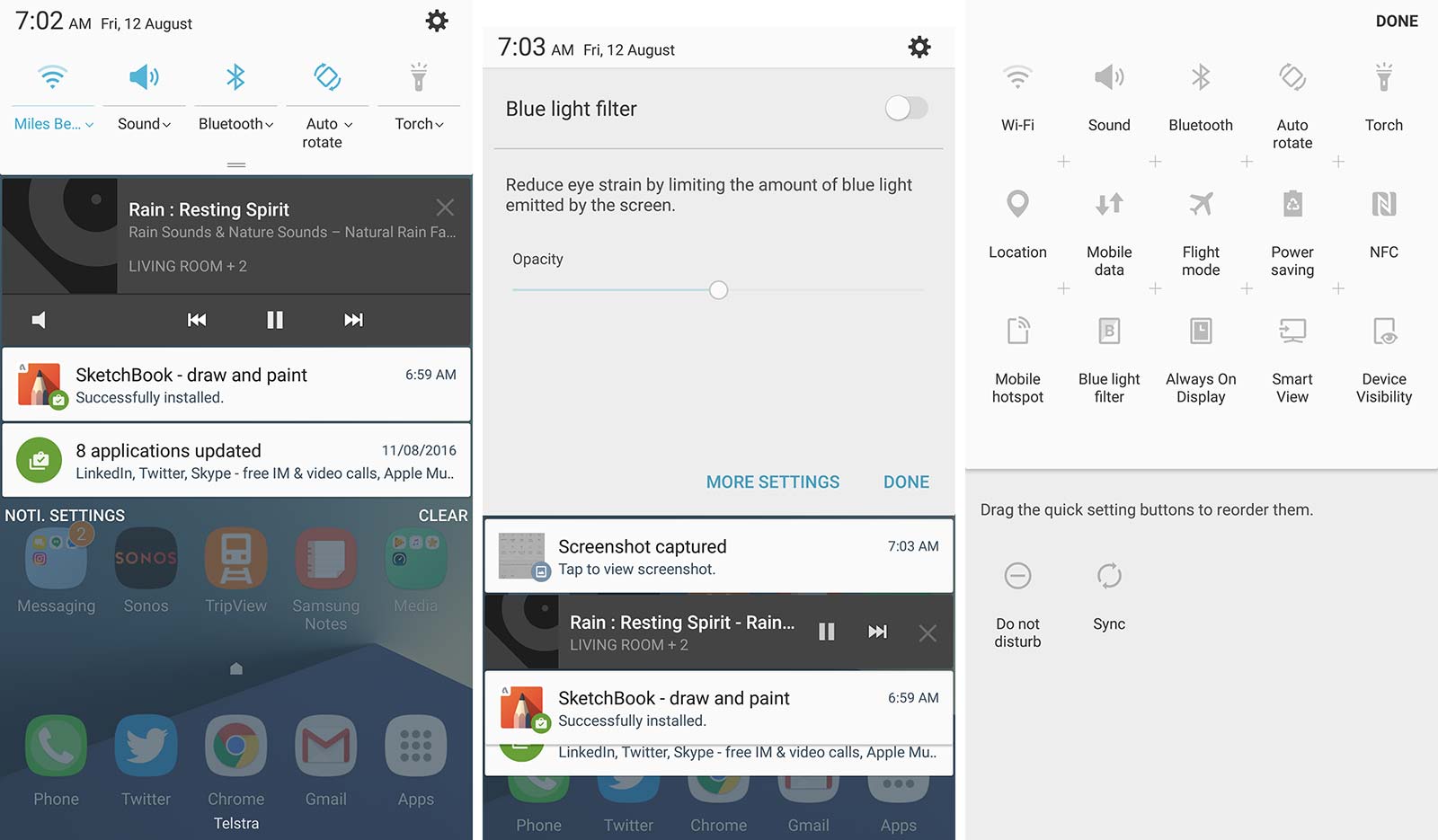 Settings is also the other major beneficiary of the skin changing, and everything feels cleaner, simpler, with text pointing you to everything you need.
There's still a way to search for the setting you're after, and that's great, but overall, the simplicity of the menus shines through and makes Samsung's implementation of Android easier to stick with.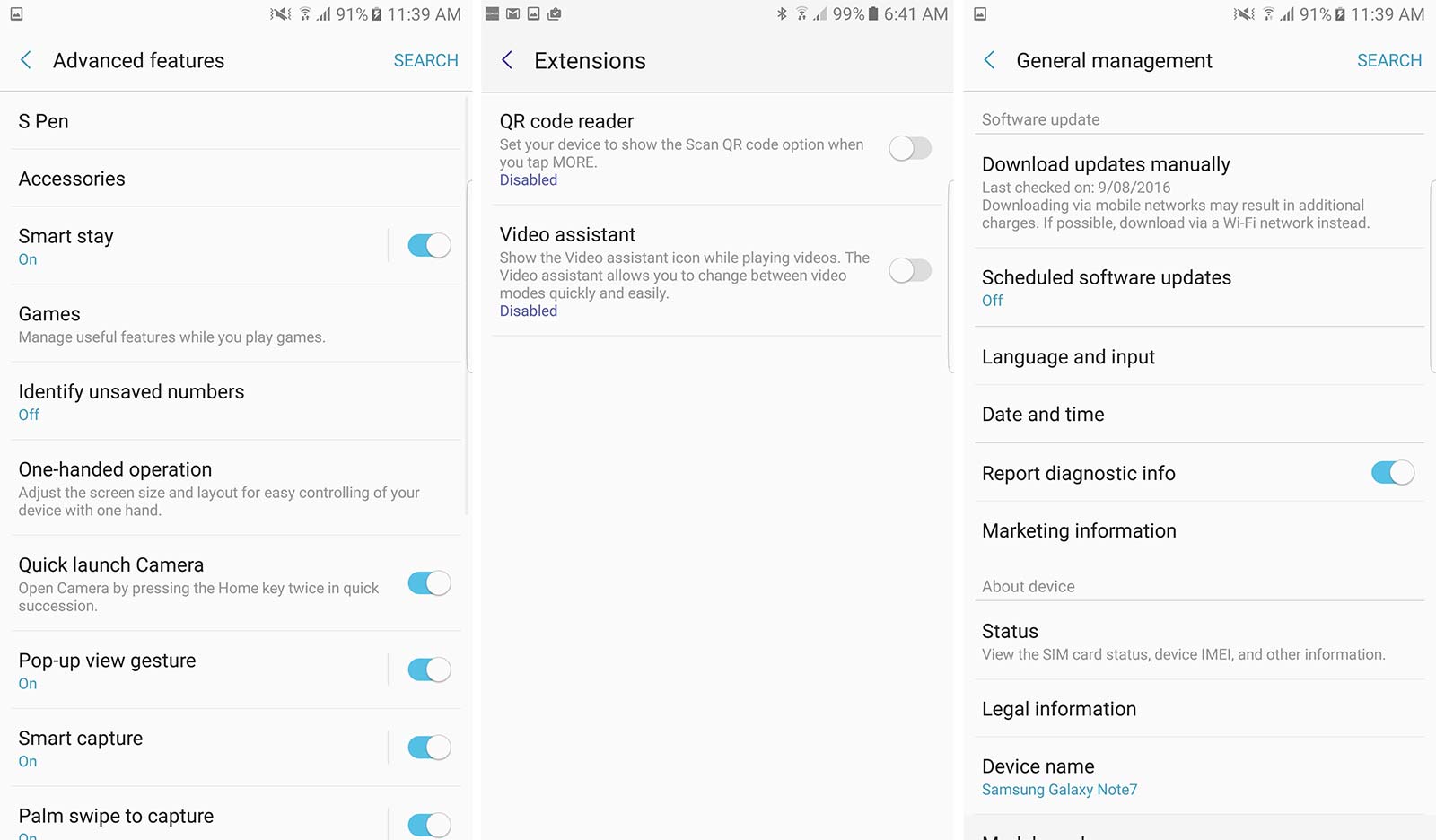 Performance
With changes to the software, Samsung is definitely intent on making the Galaxy series better long term, and the cleaning up of the interface and the unloading of any real heft to TouchWiz overlay has definitely made an impression on the Note 7 in the area of performance.
This is no doubt helped by the fact that there is 4GB RAM to work with — one of the largest amounts of any phone out today — but Samsung's Exynos 8890 is no slouch either, and with Android 6.0.1 "Marshmallow" working under the hood, you'll find very little lag.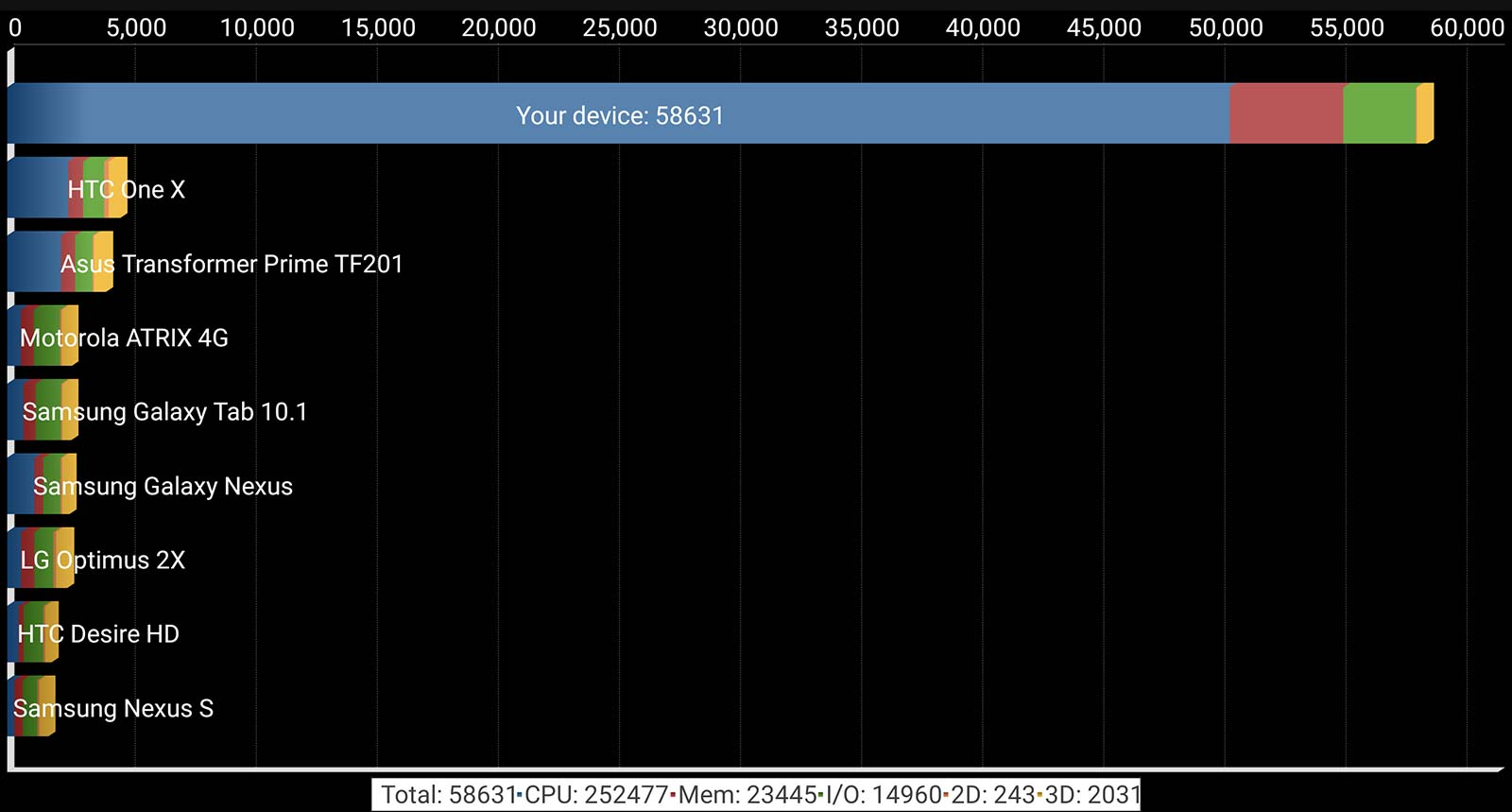 Synthetic benchmarks point out what we already know, too: that Samsung's Exynos is a beast, flooring competition with over 50K scored in a test that has little real world applicability, but yet for some reason still points out how vastly fast this phone is compared to one released a good four or five years ago. As you do.
All you need to know is that apps just work and the Note 7 just flies, multitasking an easy possibility here and only very, very occasionally leading to a slight slowdown here and there. By and large we found our time with the Note 7 went by unencumbered.
Mobile connectivity is also a treat, and with the underlying hardware so similar to what is inside the Galaxy S7, that should come as no surprise. In fact, it's also technically much the same as what was in last year's Galaxy Note 5, so if you have last year's model, you know what you're working with.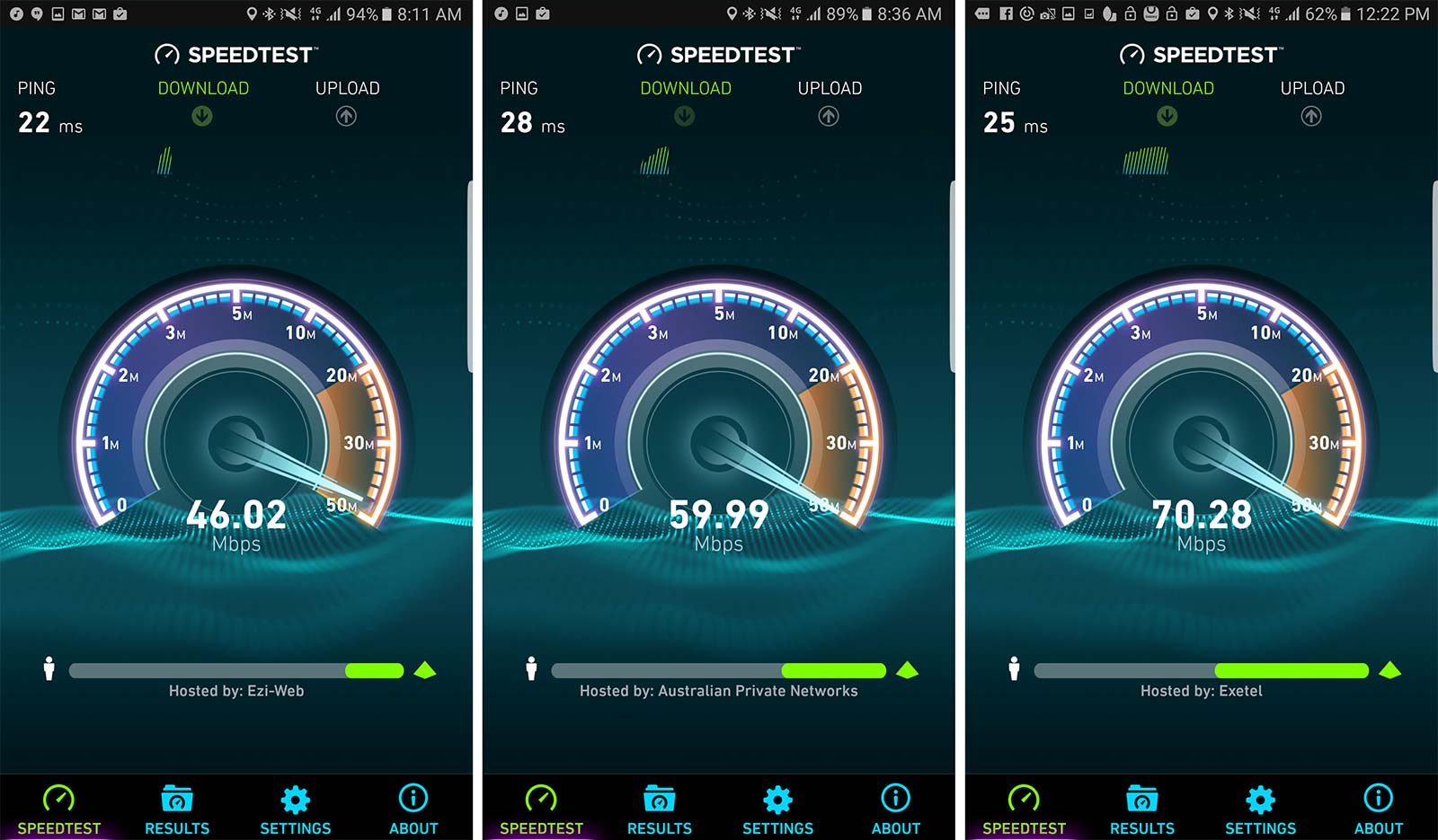 If you don't, that's a Category 9 4G LTE modem, meaning it can pull download speeds as high as 450Mbps while upload is capped as much as 50Mbps. For those playing at home who find the whole "Mbps" or "megabits" thing a touch misleading, that's a maximum of 56MB (megabytes) per second when working at 450Mbps down (take the number, divide by eight), but more likely to hit around 10MB/s (80Mbps) to 25MB/s (200Mbps) in Australia, depending on the city you happen to find yourself in.
Still, they're results that aren't anything to sneeze at, and in our test on Telstra's 4GX network in Sydney's CBD, we found speeds ranging from 45Mbps to a good 80Mbps, though your mileage will, of course, vary.
At home, wireless is generally good save for a bug here and there that we'll note later, but if you've started upgrading your home WiFi with 802.11ac wireless networking, you'll see support, with pretty much every major update to any wireless spectrum that has been ratified and confirmed on this device.
The only thing missing is Bluetooth 5.0, with Bluetooth 4.2 used here, though we guess Samsung has to leave something for the Galaxy S8 to feature as "new".
Security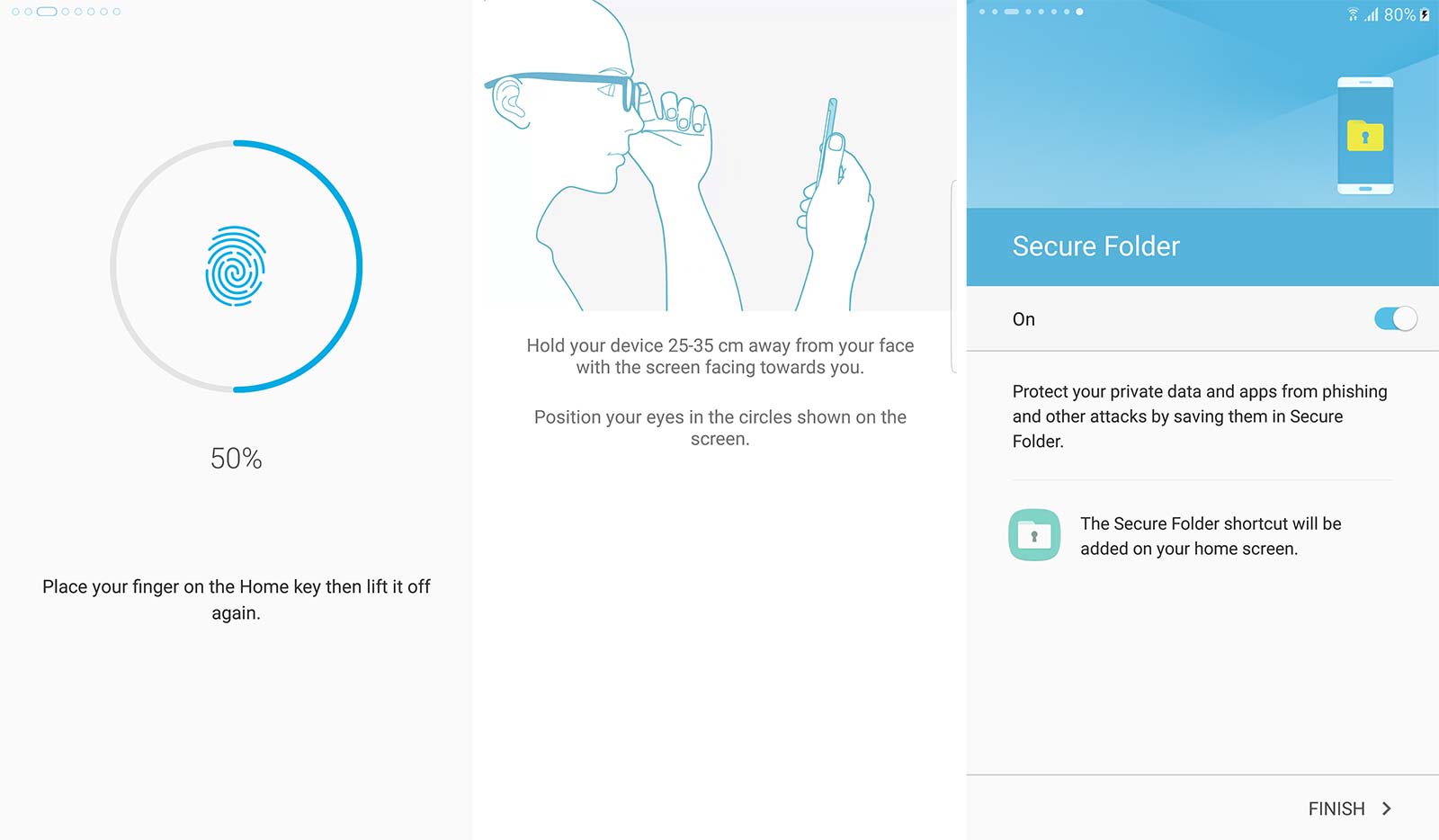 With so much strength in the performance — something Samsung has been tweaking for ages — it should come as no surprise to see a solid attention to security, and while you get some of the same excellent features from the previous phones, Samsung has decided to shake things up a little, with some changes that bolster the security and make the Note 7 a little bolder across the board.
Like last time, a fast and capable fingerprint sensor is part of the package, and while it might not feel as good as the decision by Huawei to put the sensor on the back or the decision by Sony to stick the sensor on the side, the front is still not bad, and echoes Apple's decision to use the front where many people normally leave  their thumb.
Adding to the fingerprint sensor, however, is an iris scanner, something that you find on the front above the screen, glowing red when it switches on as a different option for security.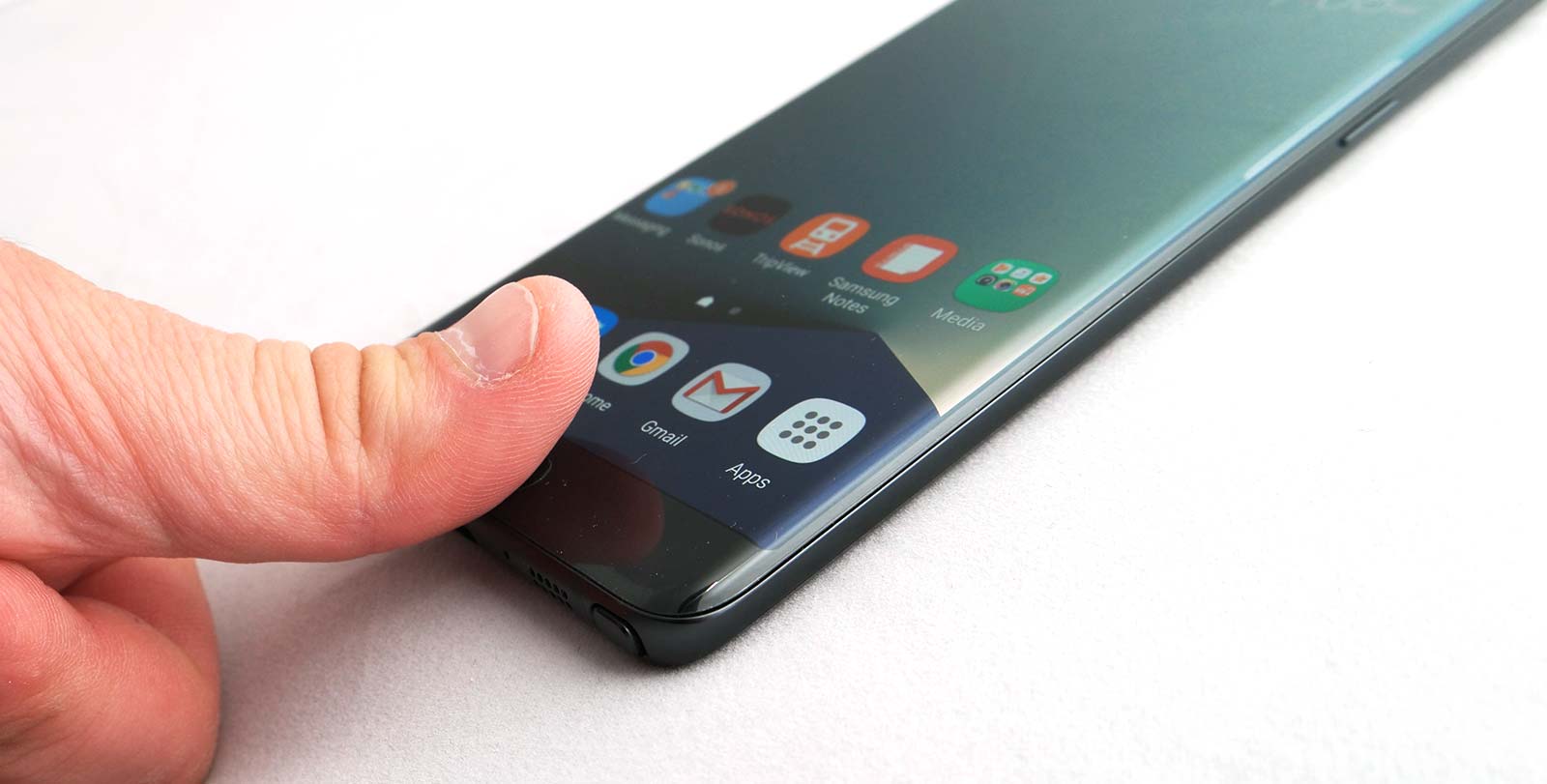 You might find this a better method of logging in if your fingers are wet or you're wearing gloves, and you know the fingerprint sensor will not work. In these situations, swiping the lockscreen away will switch on the iris scanner, looking for your eyes at a small distance and checking whether they are indeed your eyes to open the phone up.
It's a neat inclusion, and something only two other phones have, because if you want this technology, you'll find it only in the Galaxy Note 7 or Microsoft's Windows Phone-based Lumia 950 and Lumia 950XL.
Making this even more secure is the fact that the eye scanning will only work with one set of eyes. If you know someone else who needs access, you might want to give them your passcode or map their fingerprint, because eye scanning at this time is only a one person affair, and likely the someone who uses the Note 7 most.
Iris scanning — though neat — doesn't always work beautifully. Rather, it seems like an extra bit of security, and one for when your finger is otherwise unable to do its job and get down to the bottom of the phone.
There are some other bits and pieces working the security side of the Note 7, including Samsung's "Knox" platform, which makes an appearance, but the one worth taking note of at this time is the secure folder, a folder that lets you hide things you might not want checked out by anyone that will be locked behind biometric security.
Cameras
That Iris-checking camera on the front is now one of three cameras the Note 7 supports, but in fairness you'll really only care about the two main cameras if you plan to take photos.
Specifically, we're talking about the front-facing 5 megapixel camera and the rear 16 megapixel camera, and if you've seen any review on the S7 and S7 Edge phones, you've seen how pleased journalists and reviewers have been with Samsung's progress in this area.
Basically, if there's any area you have to prove mettle in, it's the camera world, because now that we're no longer bringing compacts everywhere (much to the chagrin of camera companies), making sure you have a solid camera worth talking about in a phone is of a high priority.
Apple has proven it knows a thing or two about these things, and has even started showing off the skills of its users on promotional advertisements plastered around the city, and for many, the camera on the iPhone is one of the things always worth talking about. Even photojournalists use it alongside their bigger, more professional pieces of equipment.
This year, Samsung's 2016 mobile cameras have already shown in the S7 and S7 Edge that the company takes competition very, very seriously, boasting excellent daylight, balance low-light, and some beautifully crisp and surprisingly detailed imagery.
And in the Note 7, that continues, with the same sensors used in this model as well as the same f/1.7 low-light friendly glass.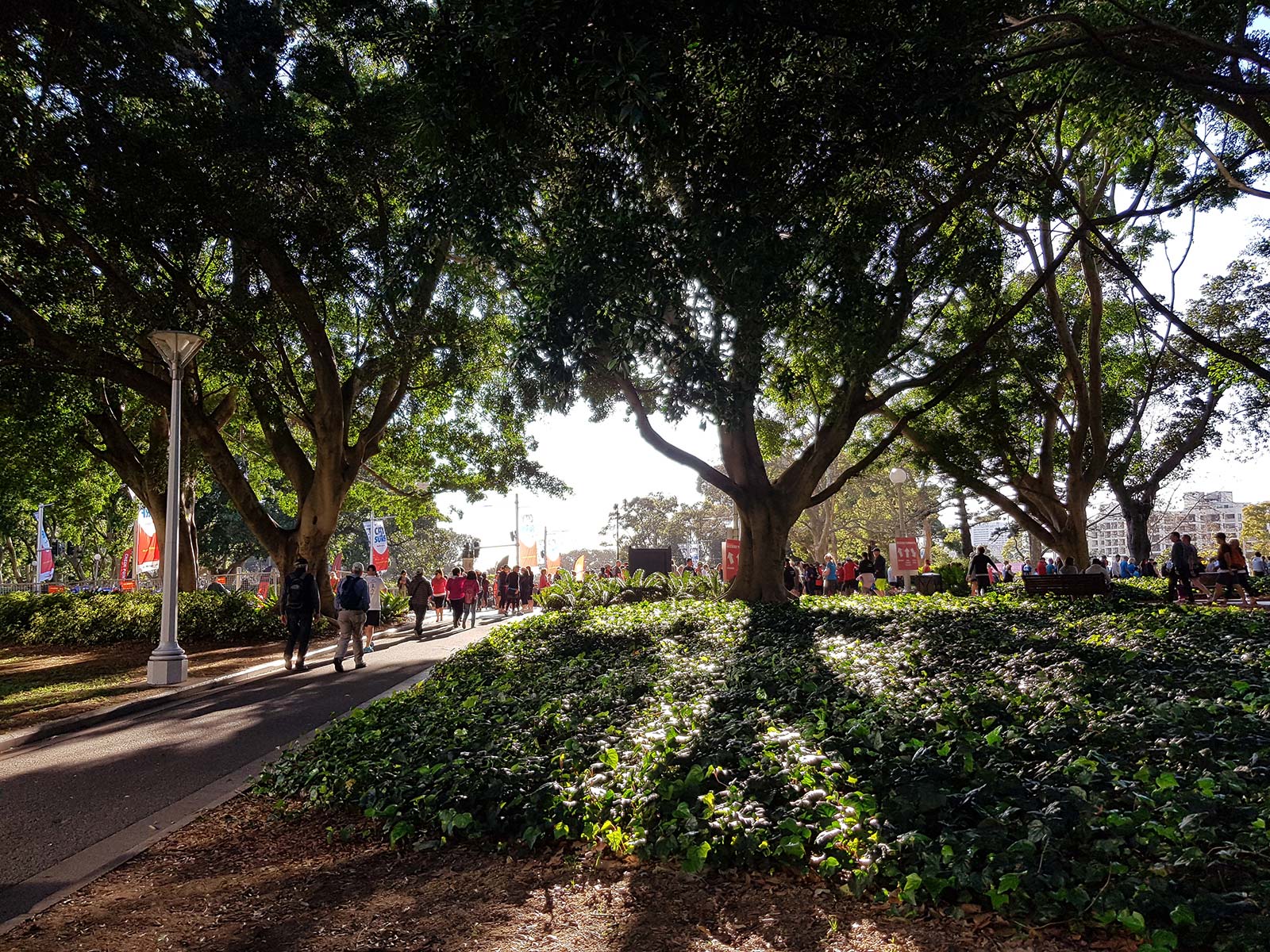 That means that you should have no problem getting the camera to work well in the dark, honing in on any available light and filling up the difference with imagery that isn't overly noisy, or noisy in an undue and completely unexpected way, while daylight images shine like a beacon of brightly coloured and sharp truth you expect them to be.
Food bloggers will appreciated the sharpness, as will anyone photographing kids and pets, or pretty much anything that they aim their camera at.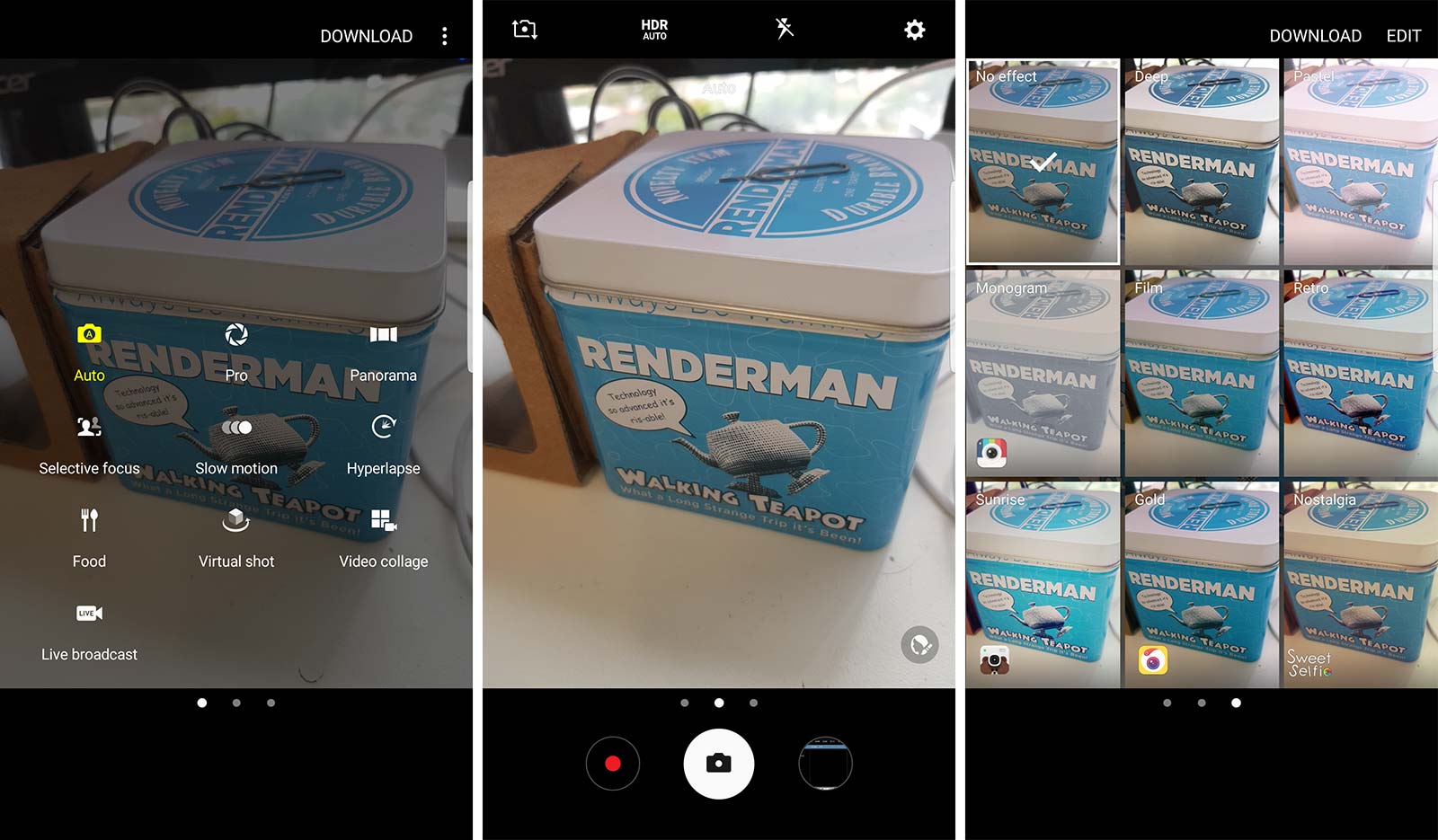 Perhaps the best change the Note 7 brings to the camera is the pared back interface, something that's part and parcel with Samsung's decision to minimise its TouchWiz interface which we noted earlier.
While the design of this interface can feel a little like what other phones are doing, you get the feeling that keeping things minimalist has become the way phone cameras are heading, and so getting your head around this won't take long, and Samsung has even left in the downloadable camera styles. Neat.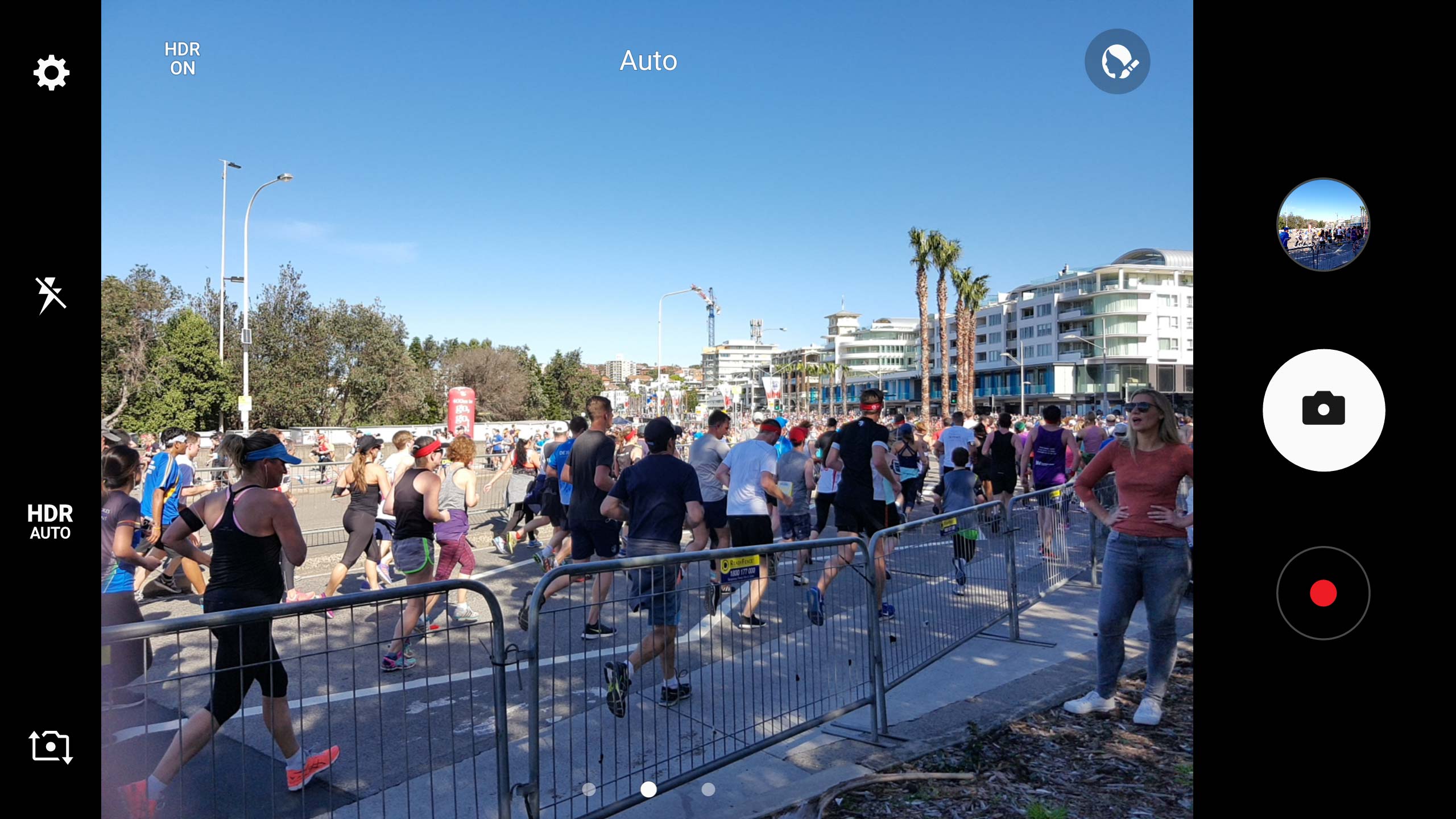 That Pen (The S-Pen)
While the camera hasn't changed from the S7 series, the pen has gone through some work since we saw it last in the Note 5, and there are quite a few positive things to speak of here, so let's get stuck in.
The first bit of good news: you cannot stick the pen into the phone the wrong way, something that was found out very early on about the previous phone.
The clicking back like a ballpoint pen is still there,  perfect to annoy *click* the coworkers *click* with that *click* incessant *click* clicking, but it no longer can cause you to accidentally break your smartphone in the process. So that's nice.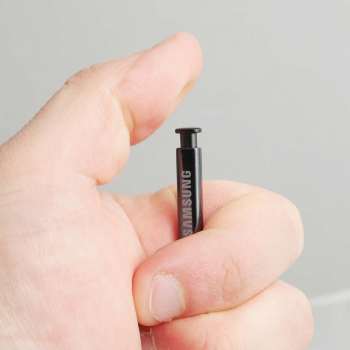 Samsung has also gone to work on making the pen feel more like you're scribbling on paper, and while it can't really get over the obviousness that you're writing on a reflective piece of glass (and paper will never feel like glass), the biggest and more exciting change is a smaller tip.
Yes, we just said that a change in tip size is exciting. You can call us writing geeks now, though since you're presently at word 3848 of this review, that's pretty much a foregone conclusion.
In all seriousness, the shift in size from a 1.6mm tip to a more pen-like 0.7mm makes the Note 7 feel more like you really are using an actual writing or drawing instrument, if it weren't for the fact that the pen wasn't still ridiculously thin and light, which it is.
A part of us yearns for this to be a little wider, a little rounder, and a little heavier, and while we know that will no doubt affect the entire package, it's the only thing stopping the S-Pen from feeling like the physical incarnation of a pen it wants so much to be.
If you can get over the size and weight — and you can, just don't use as much weight in your dominant hand — you'll find a plethora of pencilling and penning is presently possible, starting with taking notes either on standby or when the phone is awake.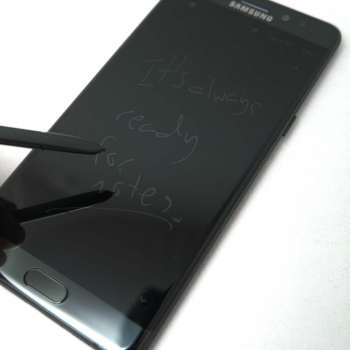 That's one of the cool things, because the phone is literally always ready: take the pen out in standby and you're writing on a black screen, take the pen out while awake and you go to colour.
For more than just the odd note here and there, you'll also find 4096 levels of pressure sensitivity, as well as a Samsung Notes application that also features a drawing and painting mode with various mediums to let you blend, much like Autodesk's Sketchbook but free and made specifically for the S-Pen.
Other features certainly draw gasps (pun intended), such as the stylus hovering over words and translating them into a different language provided you have an internet connection at the time, or the GIF maker which lets you carve out a shape from a video and convert anything happening on screen into an animated GIF, possibly making you into the king and queen of all memes.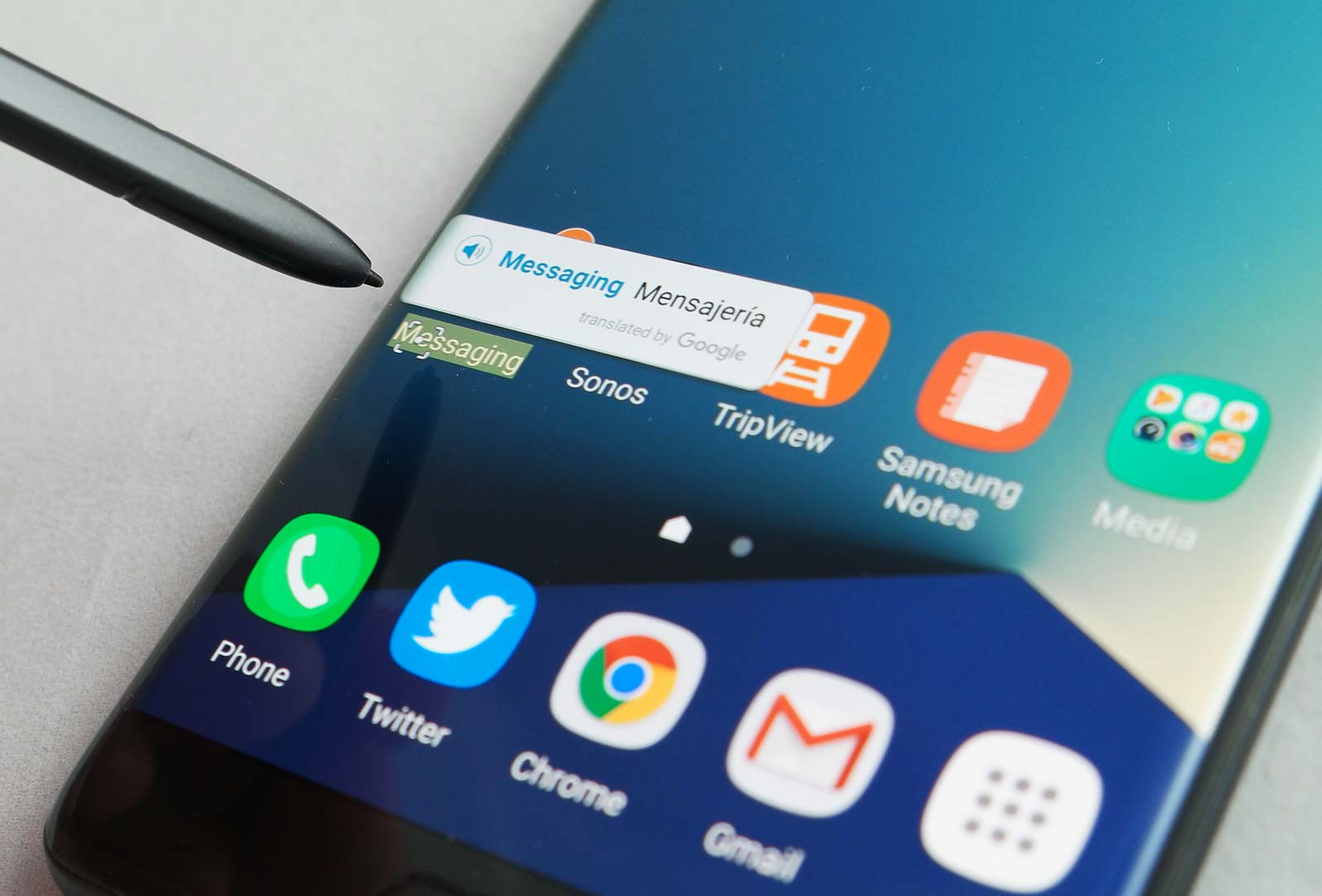 Battery
And if the package wasn't good enough already, the battery life is also pretty much spot on, providing as much as a full 24 hours of battery life in standard operation, and as much two and a half if you decide you don't need as much brightness or screen resolution.
That last part comes from some research Samsung has been refining over the past few years, because while the S5 insisted that a monochrome mode would save power (it didn't), the Galaxy Note 7 will instead lower both the brightness and screen resolution if you want more battery life, both of which are more logical options.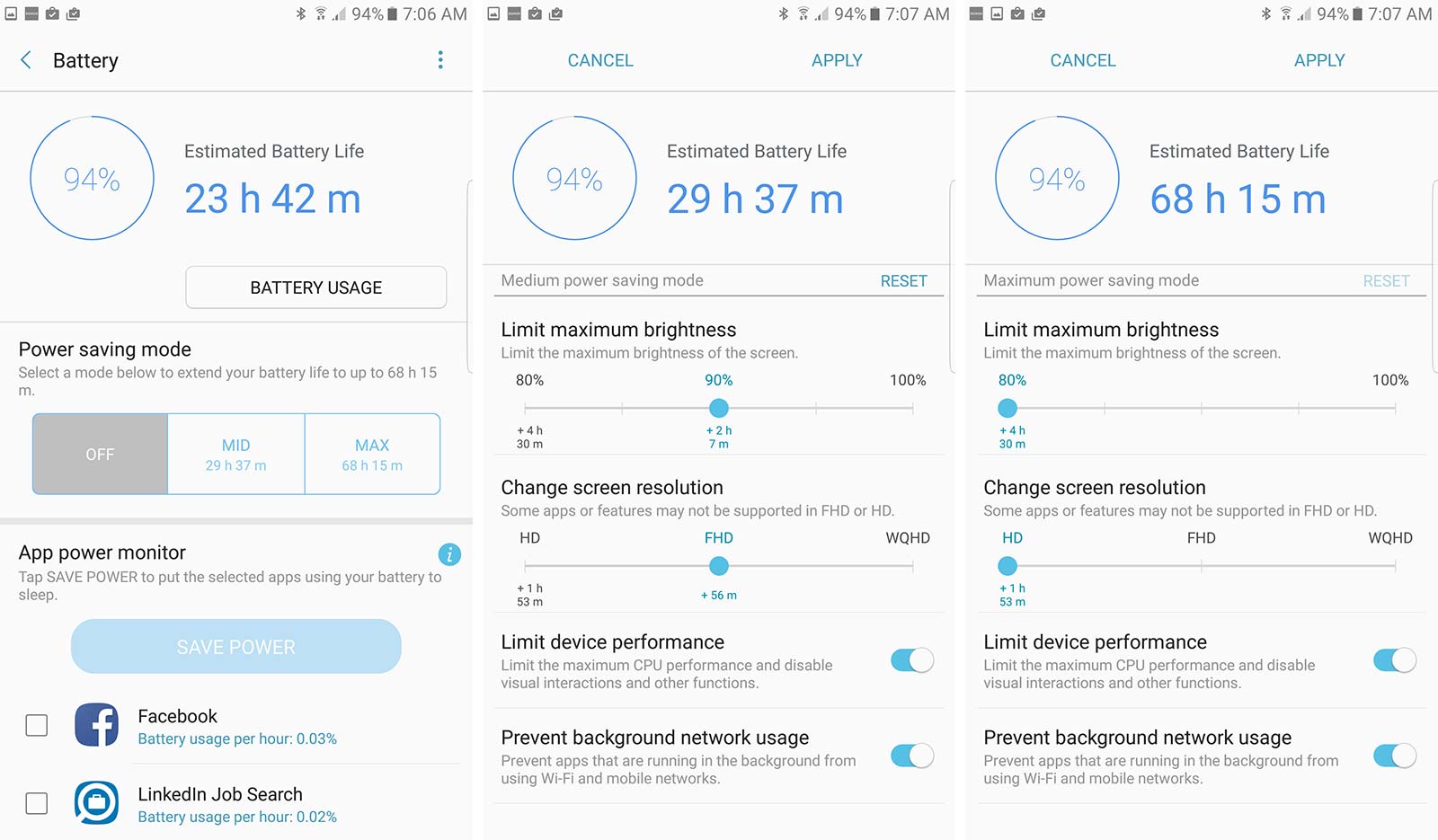 In our extended testing, we found an extra four to five hours were possible if you switched back from 2560×1440 to 1920×1080 in the "mid" battery saving mode with this option also limiting performance, while the "max" battery saving mode pushed the resolution down to the bare minimum at 1280×720 and cut the brightness even more, boosting it to almost two days of life.
This is a great change to how power saving modes generally work, and basically puts the power back in your hands for getting the most out of your smartphone.
If you'd prefer not to do anything, our test of listening to music, writing and answering emails, texting, web surfing, using both a Bluetooth smartwatch and a pair of Bluetooth headphones, and even making the odd phone call reveals a day of life from 6 am to 11 pm with no dramas, and it will even make it the full 24 hours, though we'd charge it overnight.

Charging can be performed in one of two ways, mind you, with that new USB Type C connector providing a fast charge from one of Samsung's adaptors or a standard slower charge from a standard USB port, while wireless Qi charging is also supported here if you happen to have one of those lying around.
Or even if you have one of those IKEA kitchen counter-tops or King couches with the wireless charging built in. Some people do. Not this writer, but we're sure someone does.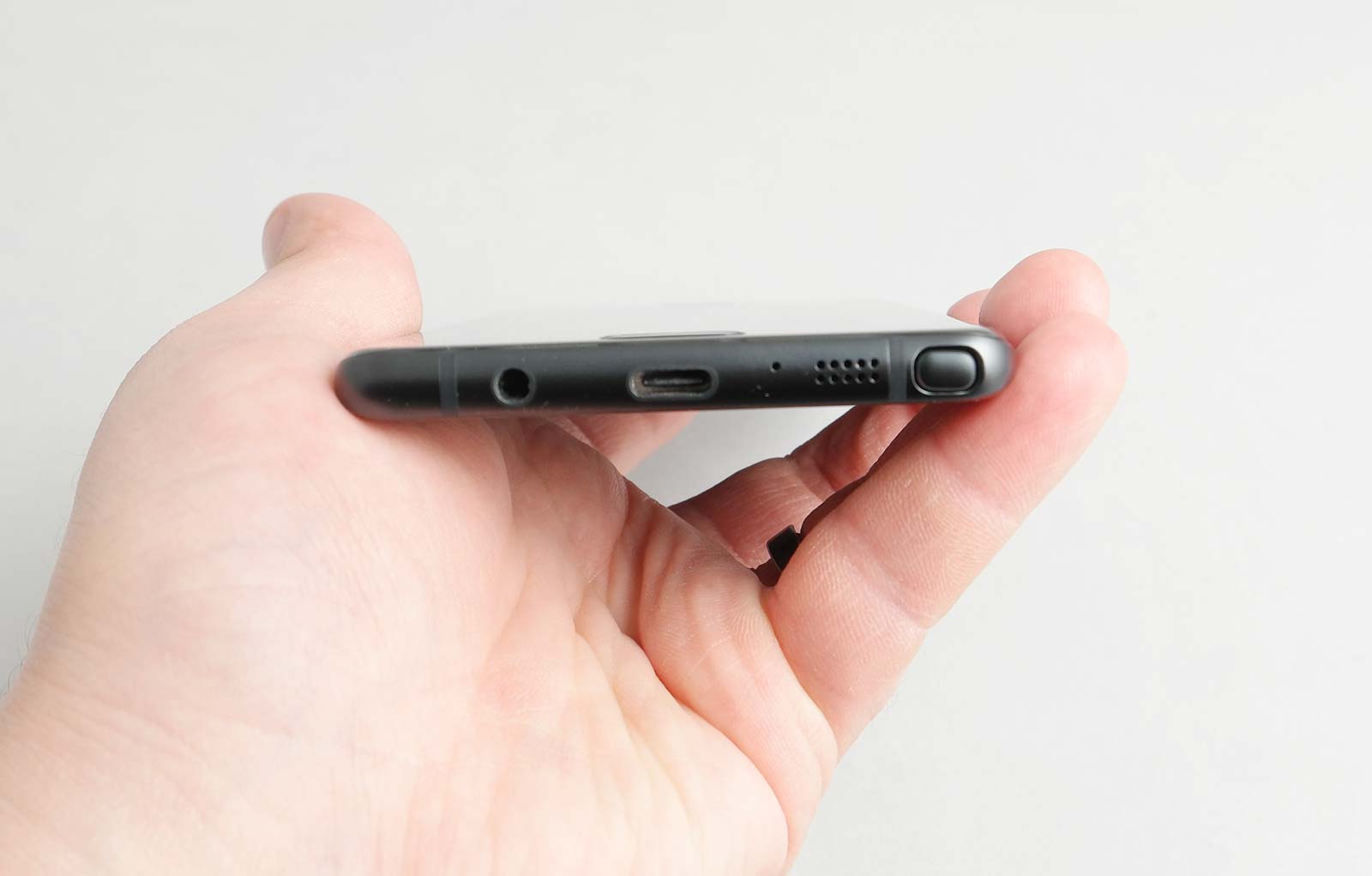 What needs work
Perhaps the most impressive thing about Samsung's Galaxy Note 7 is that it seems as though Samsung has ironed out almost every aspect it needs to. Indeed, lucky number seven is the right release to get it all right.
While the name might be a touch confusing and easily something Galaxy fan-folk can bring into question, it is worth noting that despite the last model being named the "Galaxy Note 5", there were in fact two models when the Note 4 was released, making this technically the seventh Note.
And nearly everything feels like it has been nailed: the design is excellent, the screen is beautiful and even more scratch resistant, the performance is bang on, the storage is expandable, and the camera is just as good as it was on the S7. Hell, Samsung has even cleaned up that last part.
Oh, and the pen is highly usable on that curved screen, and the company has managed to keep the water resistance throughout this inclusion.
About the only thing we can cite are the bugs, because in our pre-release model, there are a few bugs that are next to impossible to recreate but do occasionally cause a phone reset. We found this twice, and the WiFi occasionally flaked out while we were using it, but that was it.
Everything else on the Galaxy Note 7 worked a treat, and in many ways, you get the feeling that the Galaxy Note 7 is the penultimate Samsung handset thus far, taking everything that has made the Galaxy series work and tweaking it just enough to make it brilliant.
Even the curved screen appears to have been improved so it doesn't always feel like your obvious touching from the sides causes as many random touches as it did on the Galaxy S7, meaning if you opt to not get a case for the phone, it's still quite usable, the way it should be.
So what needs work?
Not much, Samsung. Not much. Really, barely anything.
Manufacturers take note: this is the way phones should be made.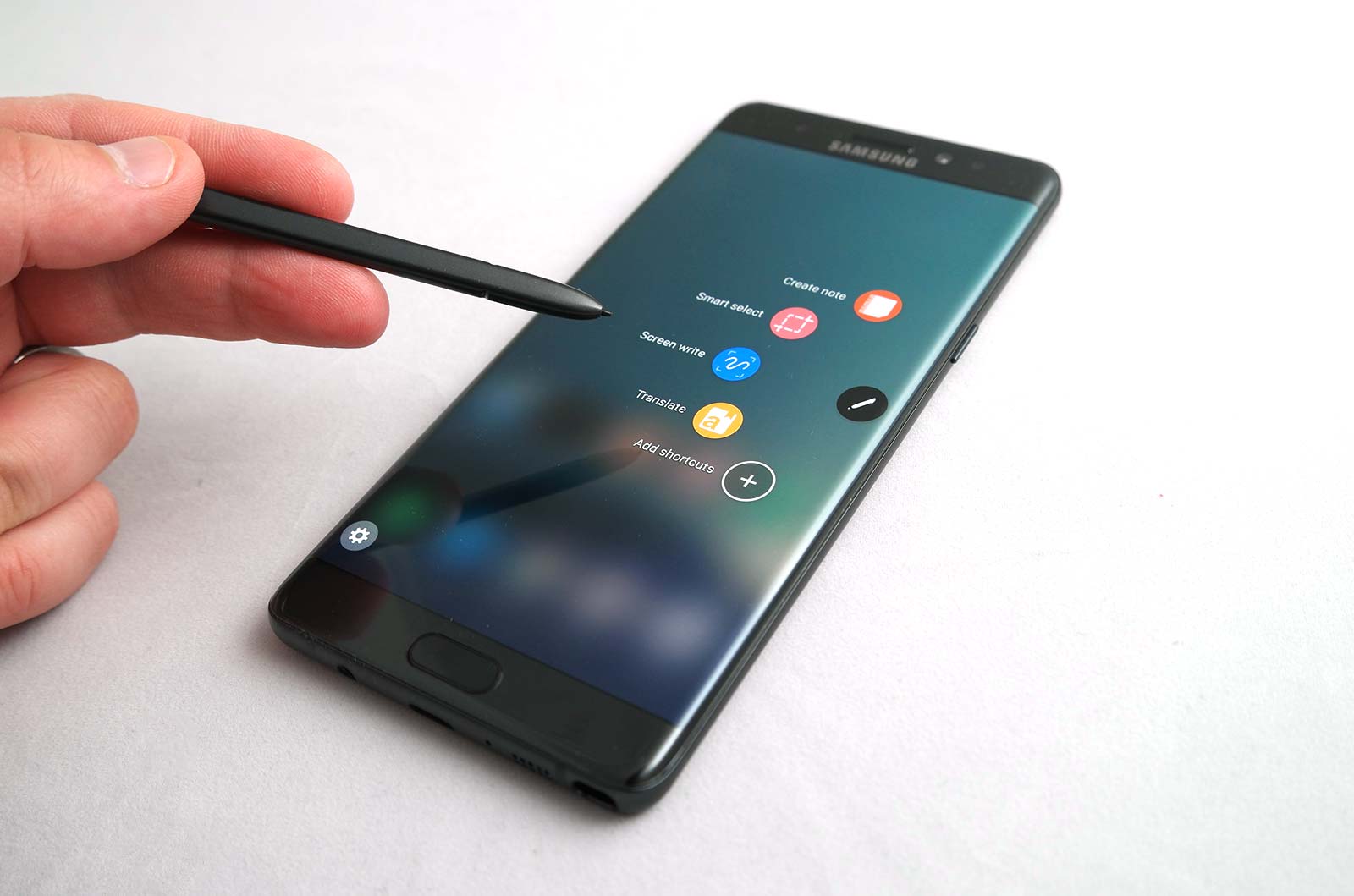 Final thoughts (TLDR)
Simply put, this is the best Samsung phone around, and while each generation more or less automatically provides that summary, this phone feels like it has earned that title more than any other before it, taking the best of what worked in the S7 Edge and amping it up just that extra bit.
Staggeringly, there is just so much in the Galaxy Note 7 to write about, and we already know we've missed bits, like the 192kHz audio support, the wireless Qi-based fast charging, and the gaming tools for capturing in-game video and screenshots built in left over from the Galaxy S7 and S7 Edge. You'll even find physical USB Type C and microUSB converters in the box, providing an easy way to move data to and from the phone, or just charge the phone altogether from a different port.
With the exception of the highly considered value propositions from the likes of Huawei and Oppo, Samsung's Galaxy Note 7 is about the most considered smartphone we've seen to date, offering what is clearly a distinctively premium package that has no trouble taking the fight to Apple's phones.
Highly recommended.
Samsung Galaxy Note 7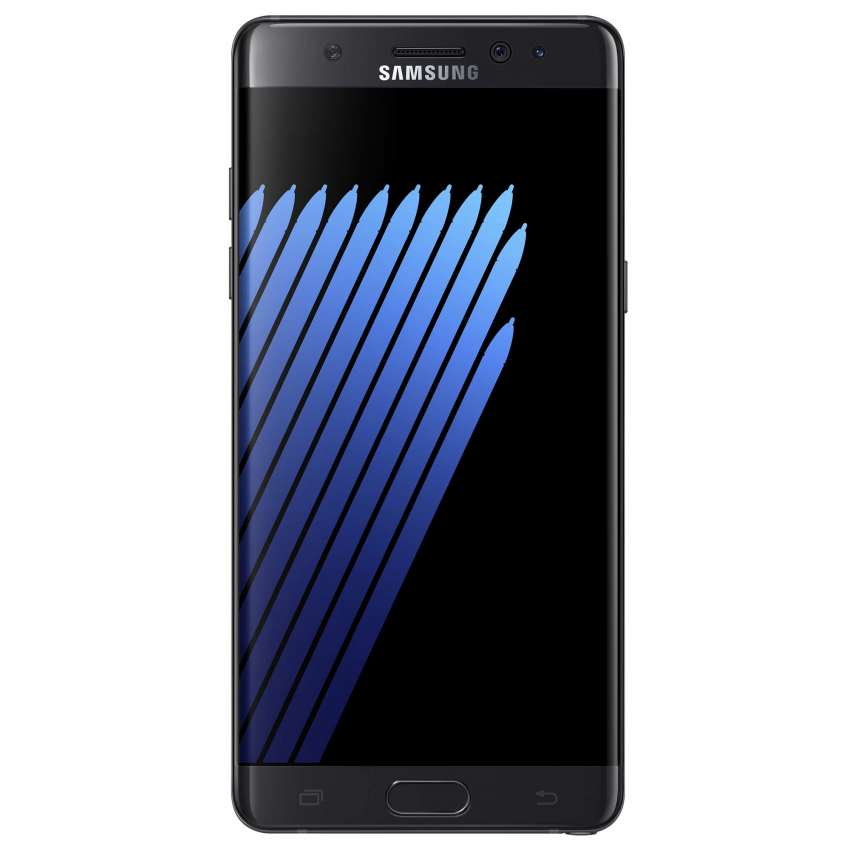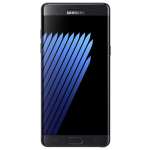 Samsung Galaxy Note7
The good
Edge design has been refined, and feels even better than before
Curved screen gives off that bezel-less impression masterfully
Performance of the phone is spot on for the most part
Two types of security, with both fingerprint and eye-scanning
Battery life is at least a day with no troubles
Various battery modes will actually change screen resolution to provide huge boosts in battery life
Camera is both fast and excellent
Galaxy S Pen offers about the most "pen-like" feeling we've felt on a stylus to date
Phone and pen are both highly water resistant
Includes USB Type C converters in the box to both standard USB and microUSB
The not-so-good
Very, very, very occasional bugs seem to cause a crash
Expensive