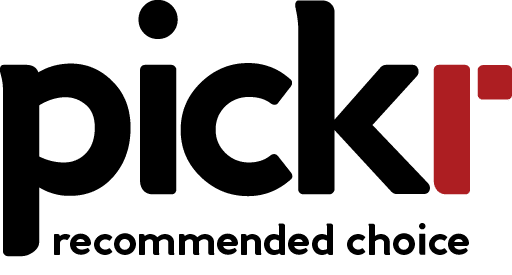 There are two schools of thought for tablets in the world that we've heard to date: content consumption and content creation.
Content consumption is the one most people know of without realising it, and it follows the idea that the tablet — an iPad, a Galaxy Tab, a Huawei MediaPad, and so on and so on — is used for the consumption and enjoyment of content primarily. You store music, videos, photos, apps, and games on a portable device, and while you can also get emails and a bit of work done on the tablet, it's primarily there for spots of entertainment.
A tablet is a content consumption device.
The other school of thought suggests that tablets can be used for content creation, that is to say you can use them for actual work, for actual productivity, and while the screen and touch capabilities makes them more than ideal for photos, videos, apps and games, the fact that they're basically portable computers makes them more than suitable for content creation.
That's certainly how Microsoft has been able to push its Surface range of tablet computers, and this has been part of the focus of Apple's iPad Pro range, the replacement to its beloved iPad Air tablets.
In fact, with a magnetic docking connector at the bottom and support for a specialised pressure-sensitive pen, the iPad Pro is more or less designed to be a content creation device for artists.
But what if you like to write? What if the content you plan on creating is of the written variety, with words and plenty of them?
Apple has a magnetic keyboard for that, but it doesn't really feel like a proper keyboard, with its flexible fabric membrane keys a little too soft for solid typing, so what can you do if you need to hammer out a solid story or some good lengthy work?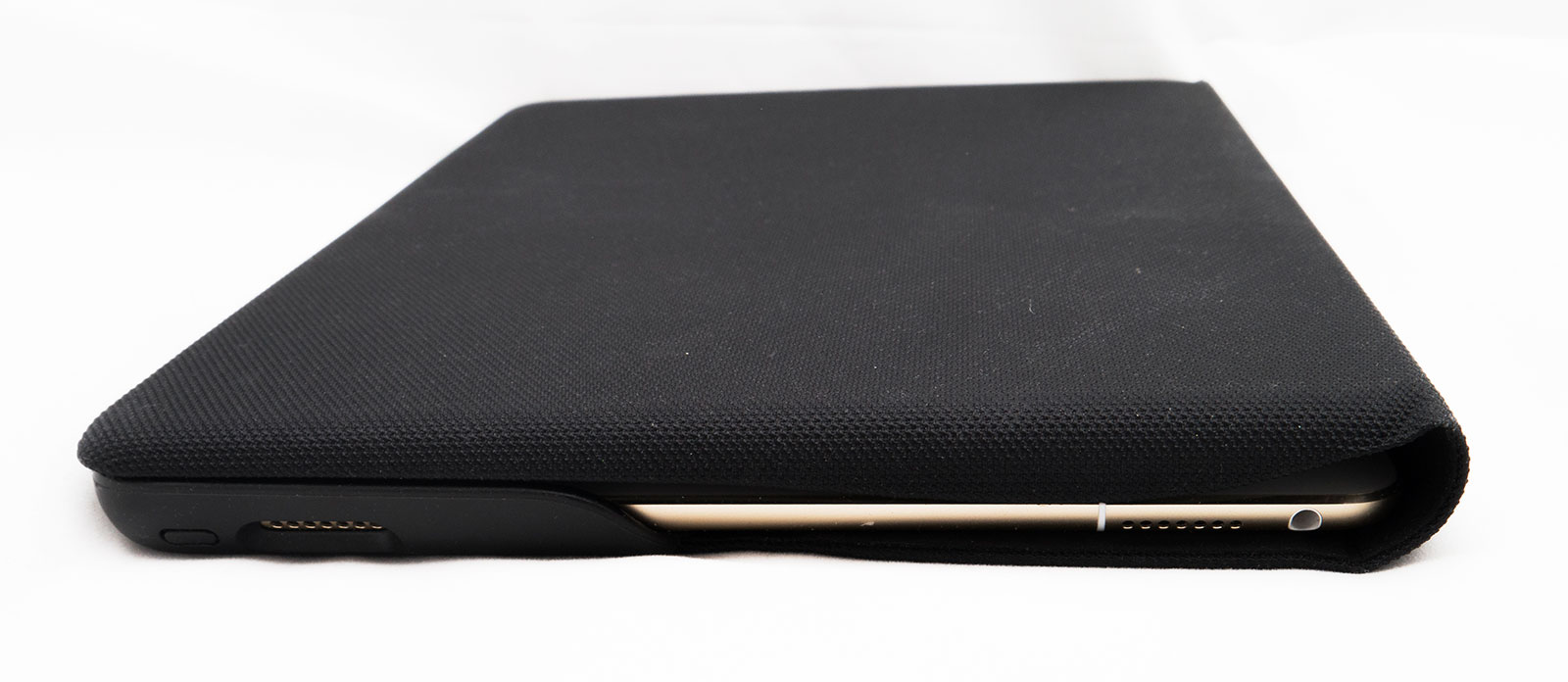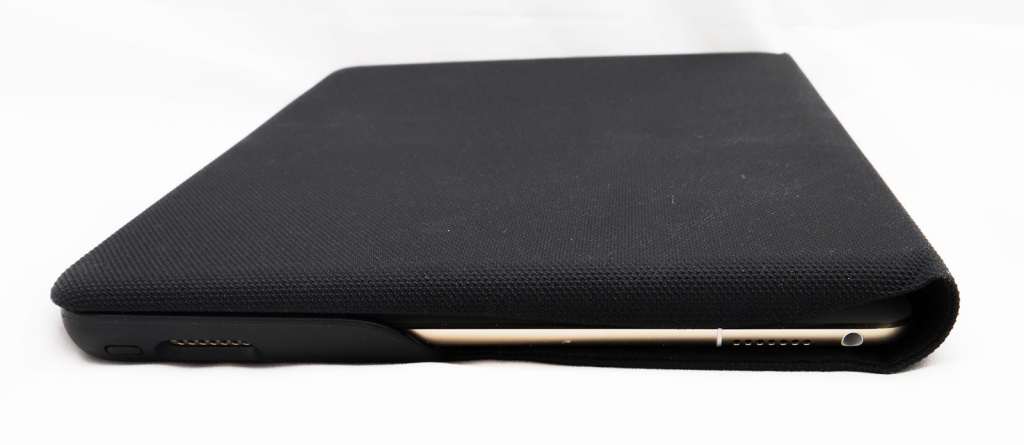 Features
Logitech — also known as "Logi" now (a name we have trouble calling the company) — may have the answer, and it arrives in a product called the "Create".
Arriving with a name that brings to mind the school of thought it is there to service, as you can imagine, the Logitech Create is a keyboard case designed to have you create works of text, housing an adequately-sized keyboard matching the 9.7 inch screen and its bezels around it, while letting you connect this section to the iPad by way of the magnetic dock on Apple seems to be using.
No mouse is included in the design, sadly, but Logitech does include a small holster for the Apple Pen behind the tablet, something even Apple's own cases have neglected to include thus far.
Backlighting is included behind these keys which are, by the way, designed to be like an actual keyboard complete with a level of travel underneath, while the entire case is built in plastic and wrapped in a soft-yet-slightly water-resistant material.
A line of hot-keys is included on the keyboard's top row, too, ranging from app minimization to brightness to backlighting control to music playback, volume, and iPad locking.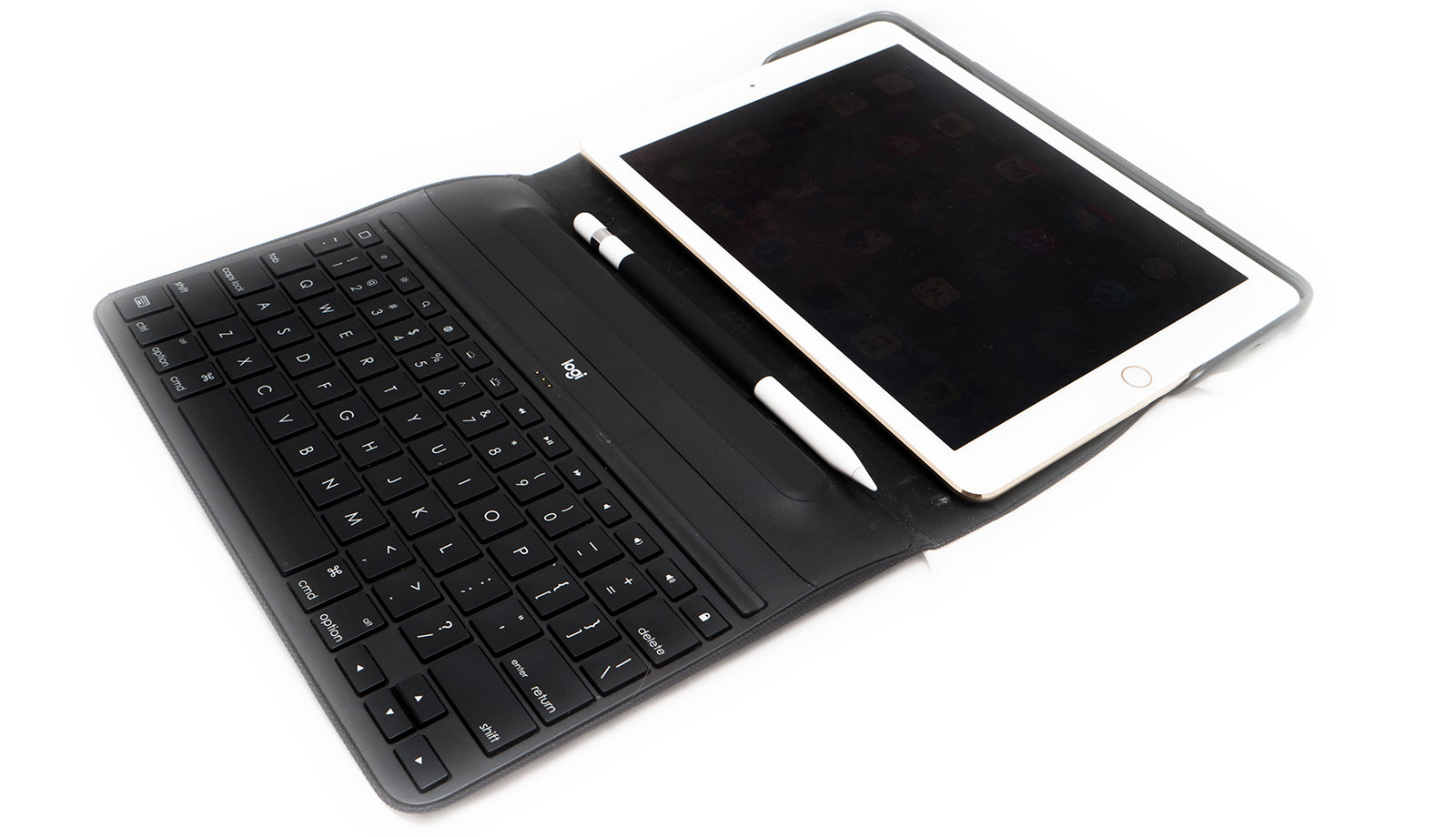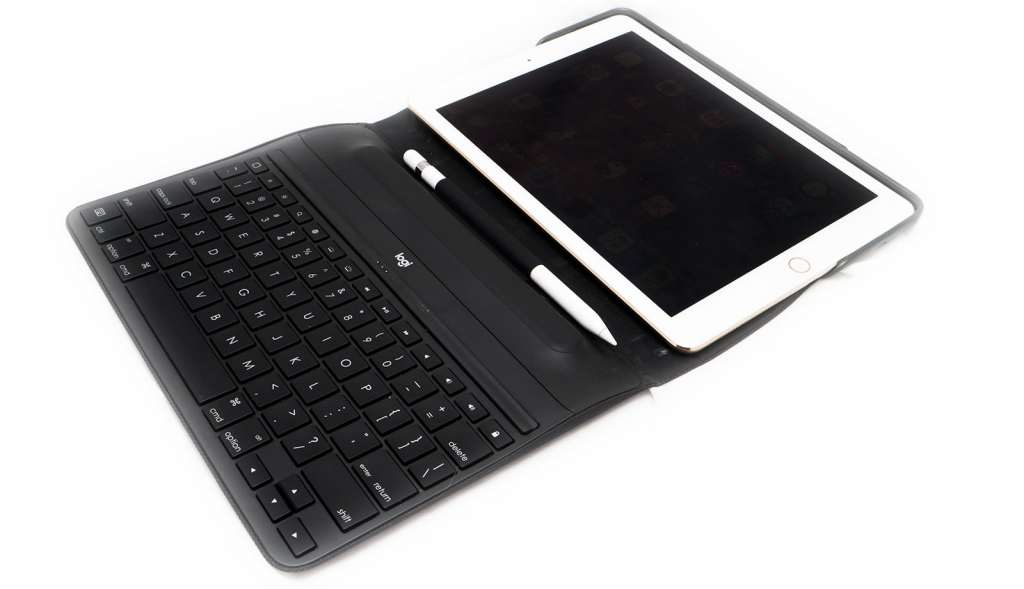 Design
While keyboard cases have more or less been the same thing for a while now — with a keyboard built into a plastic or lightweight metal chassis communicating over Bluetooth to the iPad (or another tablet) — Logitech's Create forgoes the Bluetooth link and instead communicates using something few manufacturers have cottoned onto with the iPad Pro: the Smart Connector port.
This three pin magnetic port sits at the bottom of the iPad Pro and provides a hardware connection for a keyboard, as well as potentially other accessories, something we've seen Microsoft use in its Surface and Surface Pro tablets before.
Both concepts are very similar, but utilise different port configurations, which of course means they're unable to work with each other.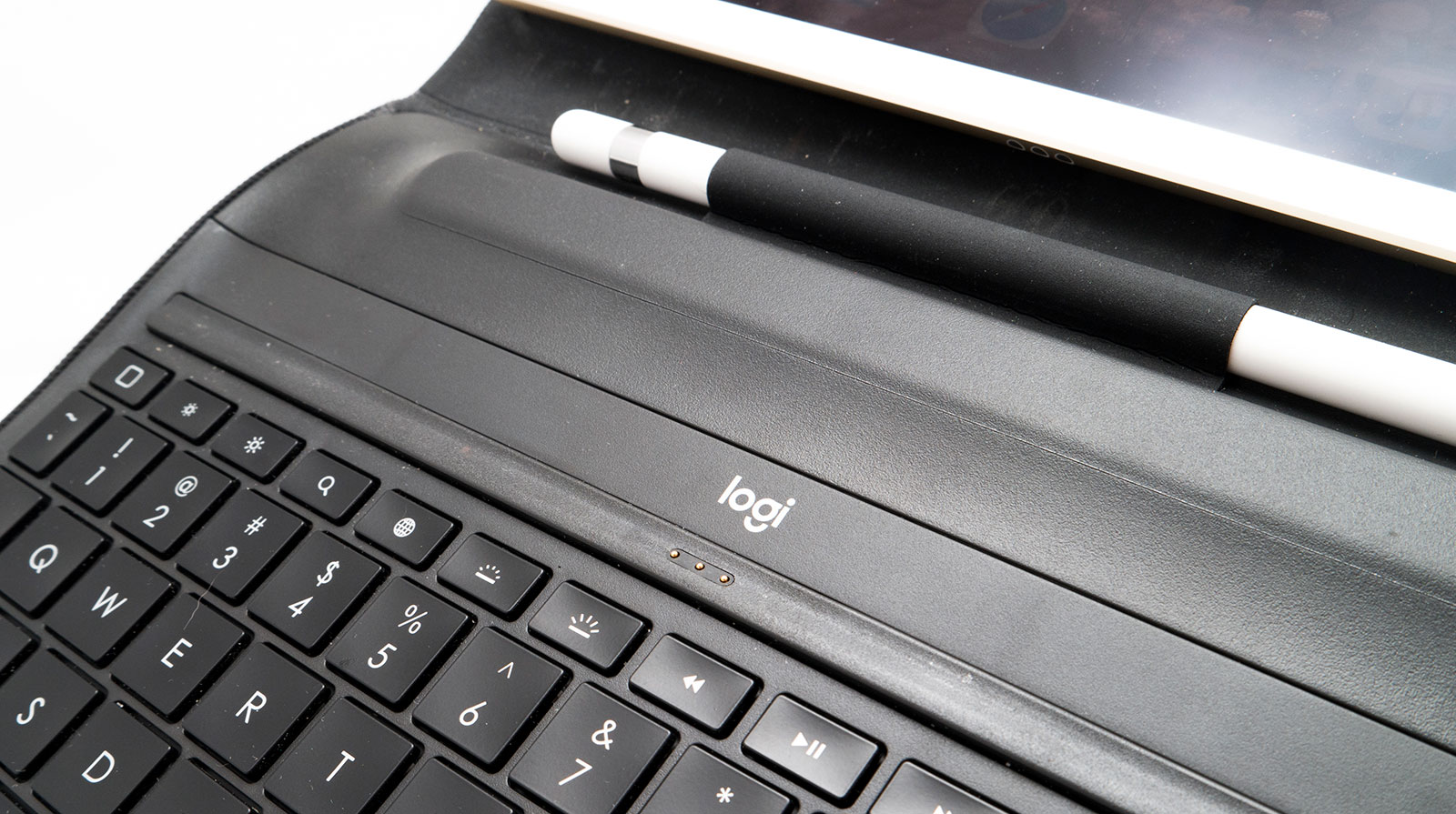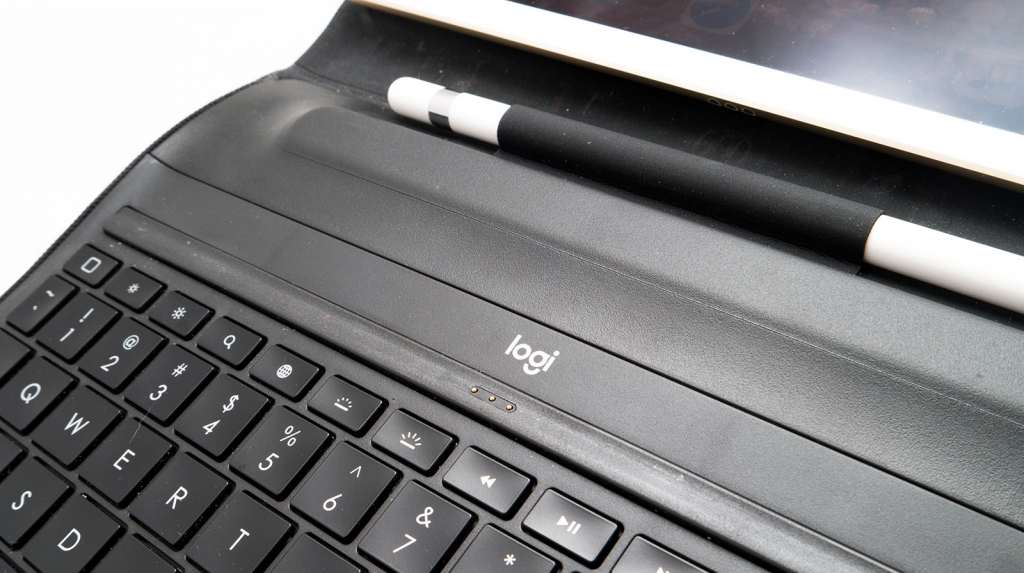 Up until now, this has been a bit of a shame, particularly since the only accessories made to work with the iPad Smart Connector on the iPad Pro 9.7 inch have been made by Apple, but Logitech's Create adds a second option, and it even houses a small holster for the Apple Pencil behind where the tablet connects.
Holding the iPad in this design is half of a plastic casing, with holds the top section of the iPad Pro relatively snugly, while providing large buttons for volume up with a plus and volume down with a minus, while also cutting out the holes for the speakers and leaving a small button for the power button on the left most side.
The iPad Pro's camera can be used through the case, too, with small hold at the back left for that.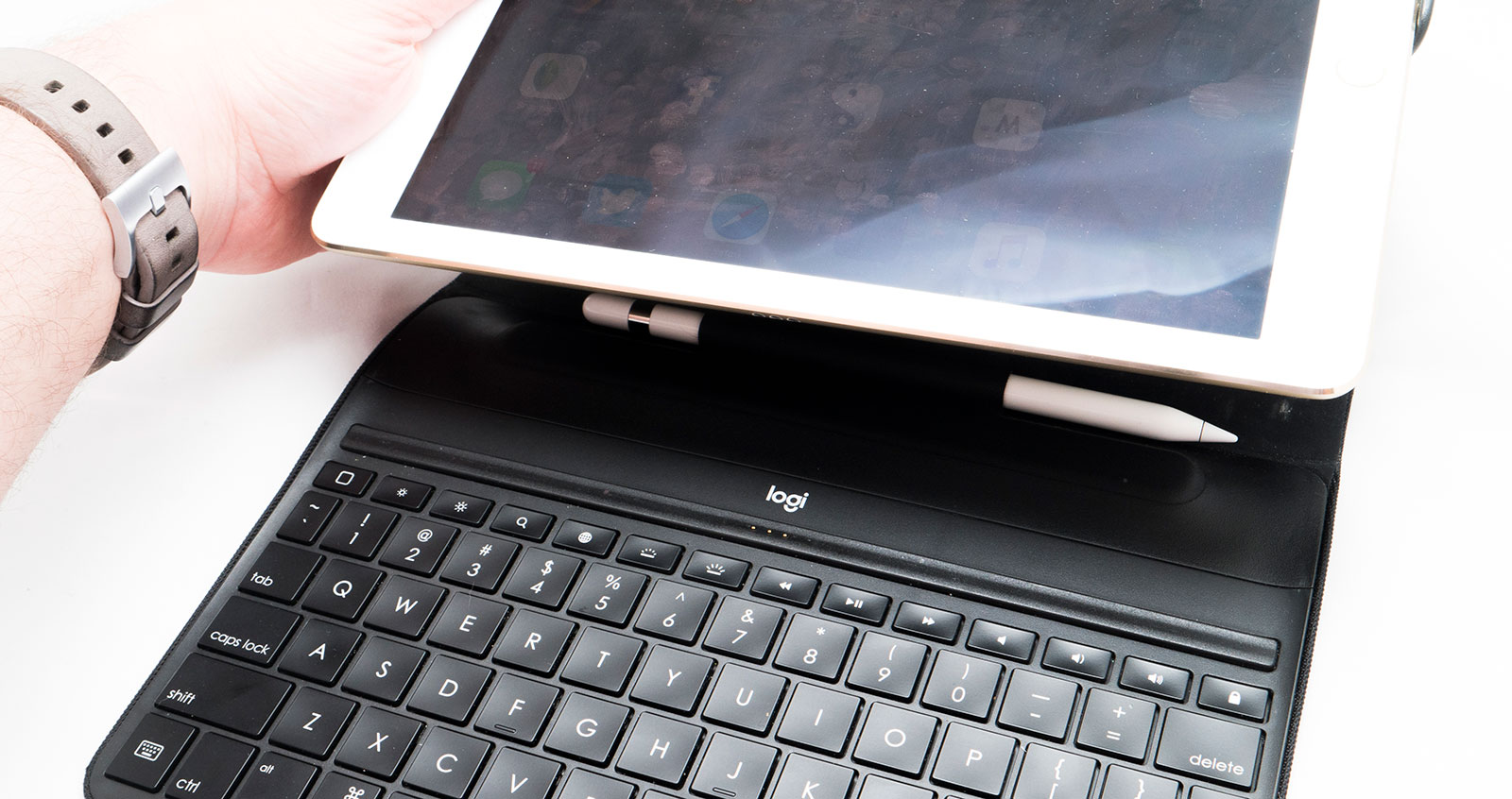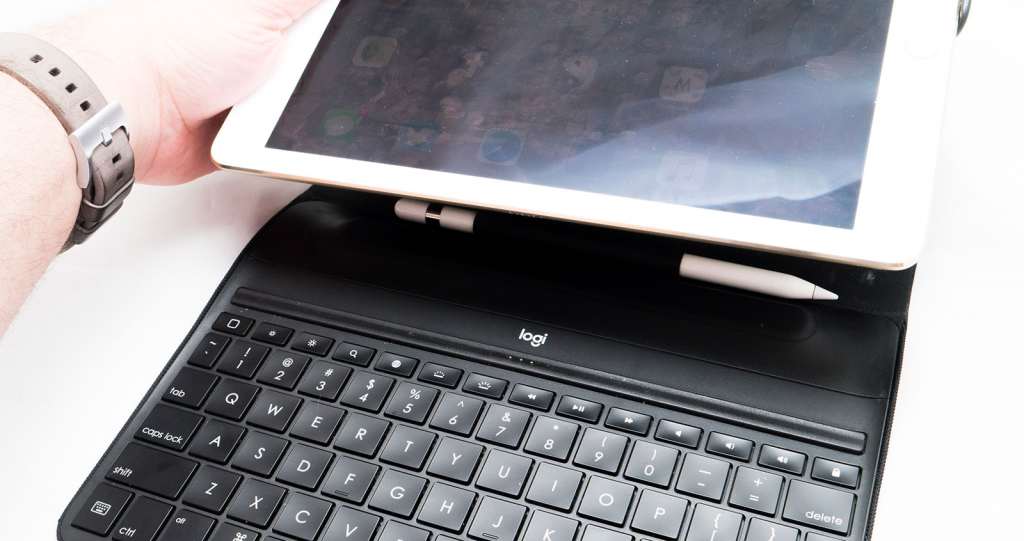 In-use
With no Bluetooth needed in this design, Logitech's Create gets to forgo the same designed that keyboard cases normally stick to, moving past both the hinged keyboard with the iPad held inside a moulded section, or small slot for the iPad to rest in and lean against a crevice's edge inside the keyboard tray.
Instead, Logitech's Create acts a little like a mix between the two, including a case that holds the top of the iPad Pro, while the Smart Connector sits at the bottom acting as a bit of a magnetic anchor and connection point for the keyboard, no crevice here.
Here the iPad is held in place, and thanks to some folds in the fabric-backed plastic case, the Logitech Create can sit comfortable at one angle, with the iPad Pro 9.7 providing one angle for you to type against.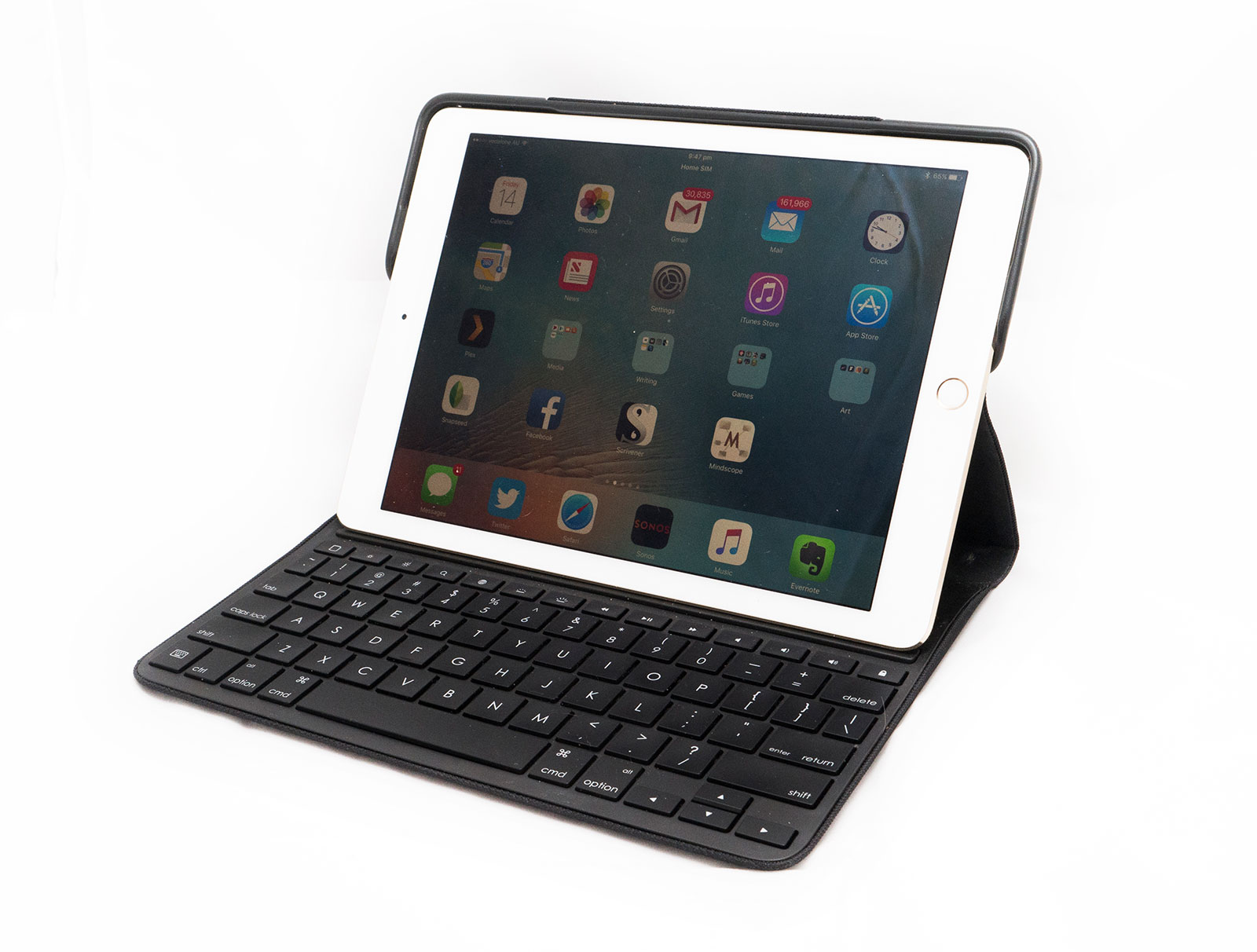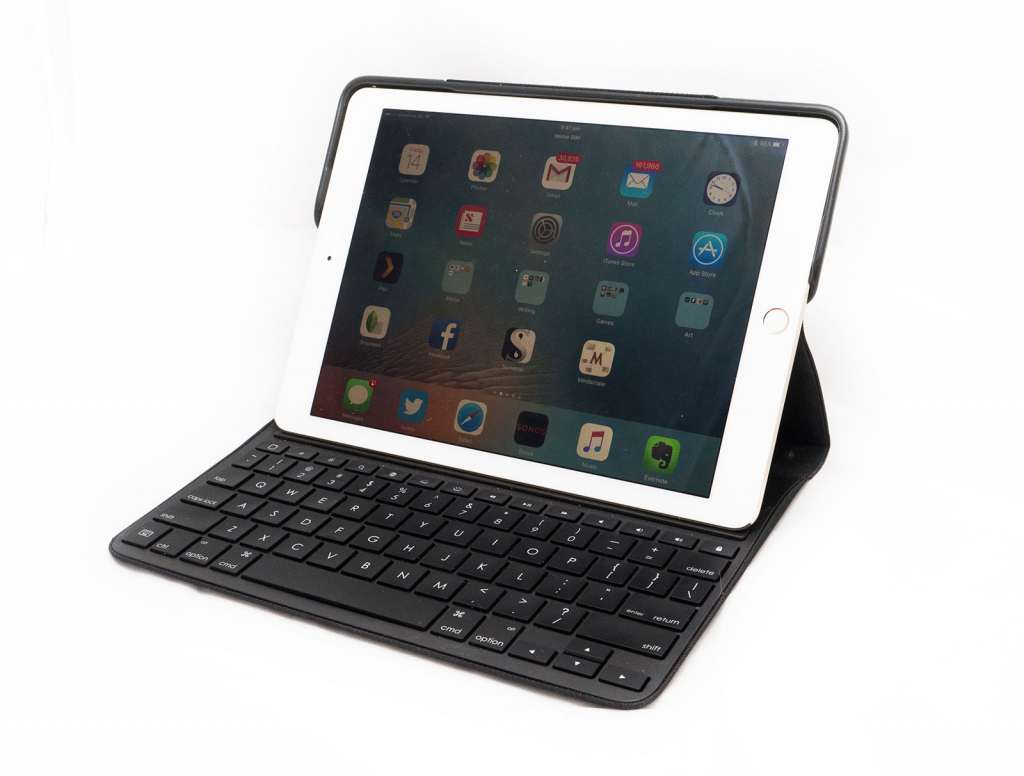 And once connected, the keyboard lights up, offering a backlit keyboard with travel that draws its power from the iPad Pro itself.
We shouldn't need to go into too much detail about how the keyboard works, but the positive side of things is that you'll never need to charge this keyboard, merely the iPad that connects to it.
There's even a decent amount of travel, with Logitech designing what is easily the newest "most comfortable" iPad keyboard, at least to our fingers. Indeed, so many of the reviews that we're working on and quite a few of the articles have been written on the Logitech Create keyboard, as it really is as comfortable as typing on a laptop.
And much like a laptop, we can even take to the skies with the Create, because while airplane mode typically disables Bluetooth on flights, the magnetic Smart Connector means we'll always be connected to a piece of hardware without wireless communication. Neato.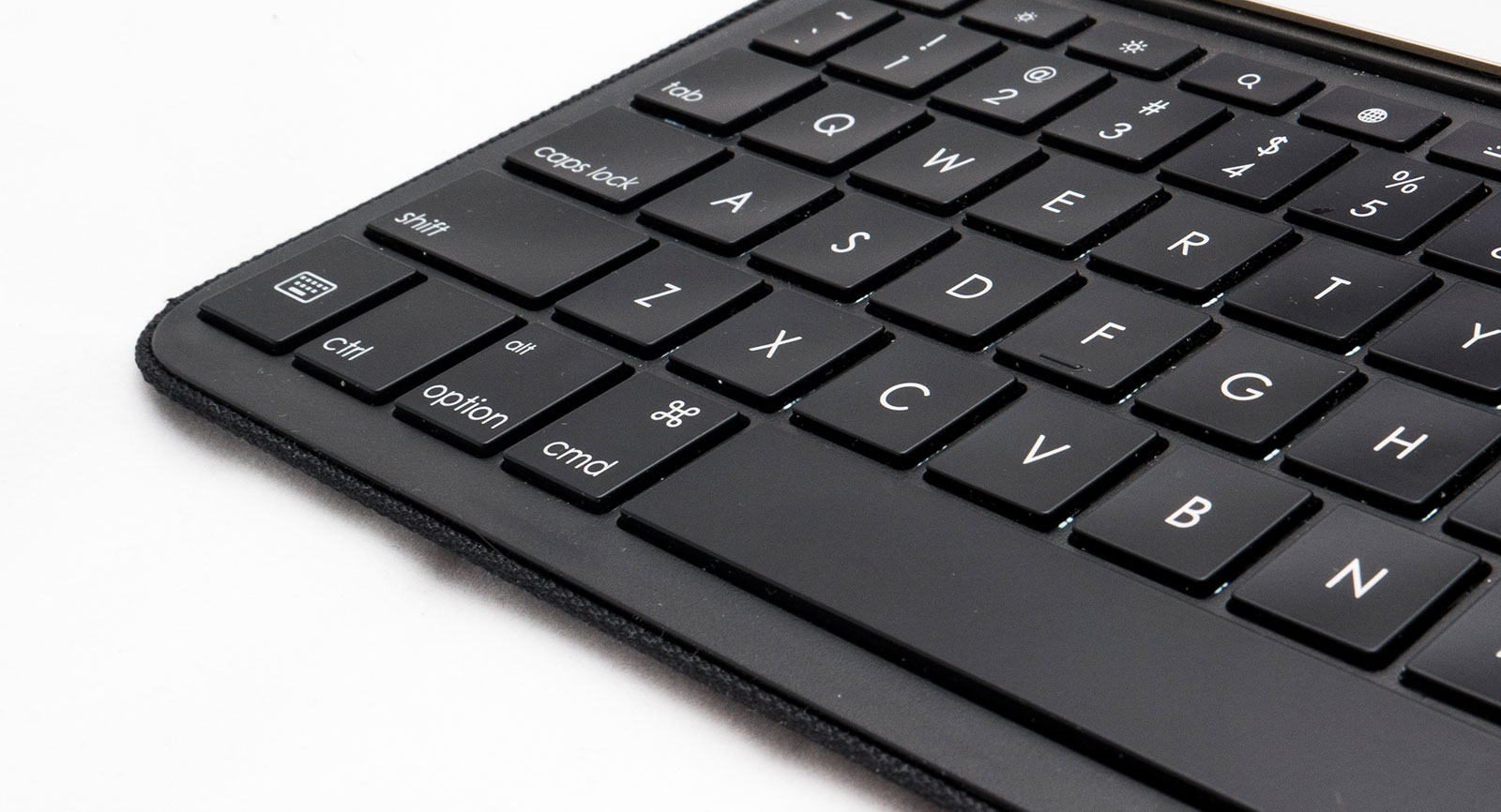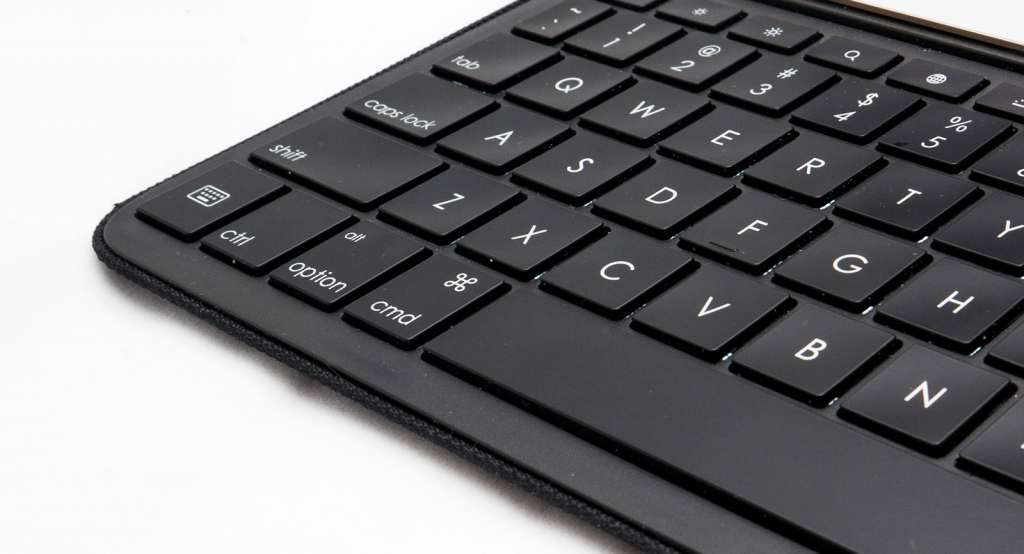 What needs work
For all of its efforts, Logitech has built one of the most laptop-like keyboard experiences you can find on the iPad Pro 9.7, challenging Incipio for the best keyboard with something that even relies on Apple's Smart Connector, something few manufacturers outside of Apple appear to be using.
It's not just that it draws power from the iPad, either, but that it offers two states of backlighting beyond that of "off" while being speedy to use and offering enough tactile feedback and travel to keep you writing comfortably, almost to the point that you might even forget that you're typing on an iPad.
And unlike Apple's own keyboard, it actually offers a holster for the Apple Pencil, something no other keyboard appears to cater for.
Back to that Smart Connector, though, because like most cool Apple functions, it relies on magnets, much like Microsoft's equivalent on the Surface computers. That means when you attach the keyboard to the iPad, a magnet clicks in and holds the iPad and keyboard together, providing one angle to use the Create at.
The magnet is one of the positives of the Smart Connector, because the keyboard's connection to it is so strong, you can actually lift the tablet up when connected and it will carry the keyboard with it.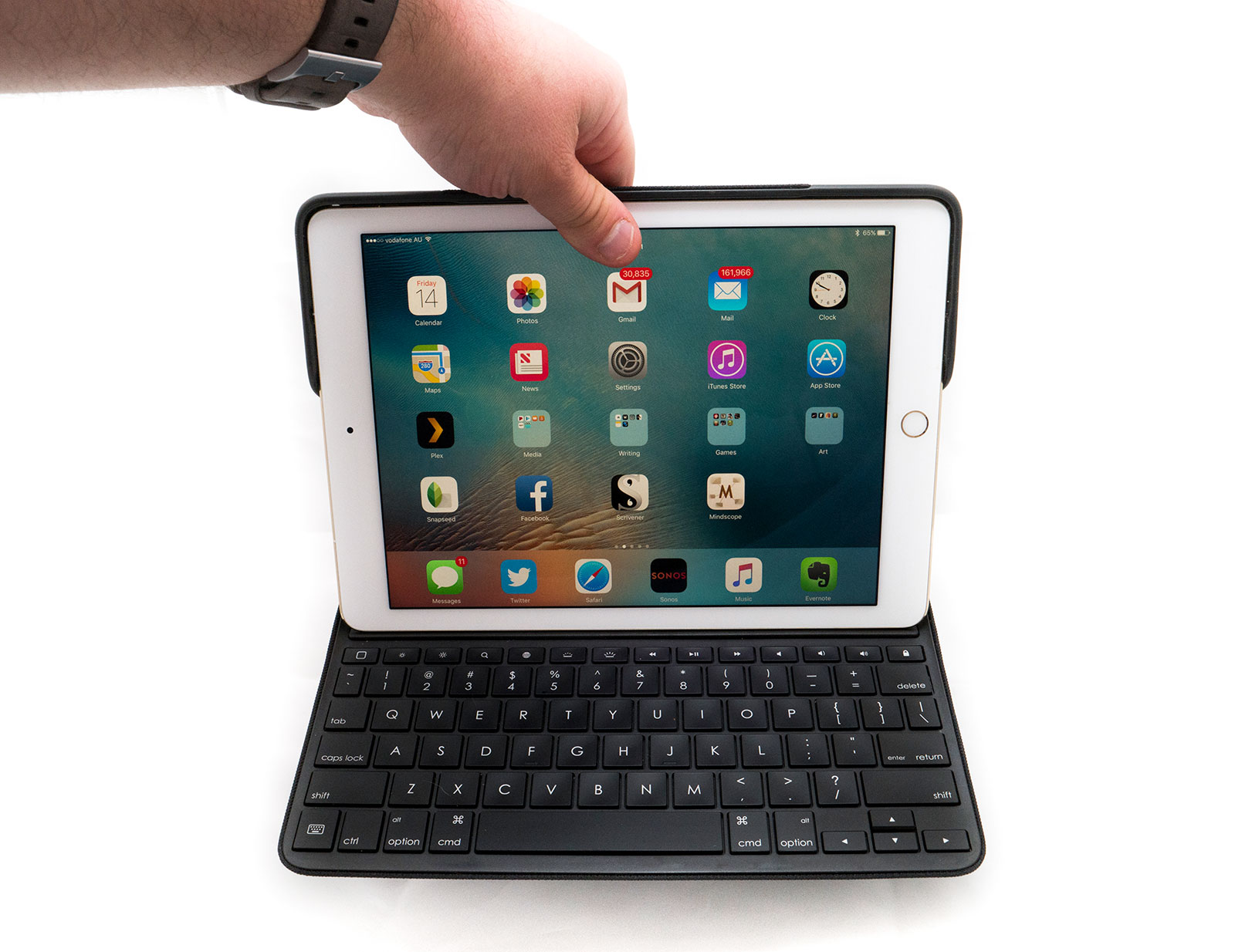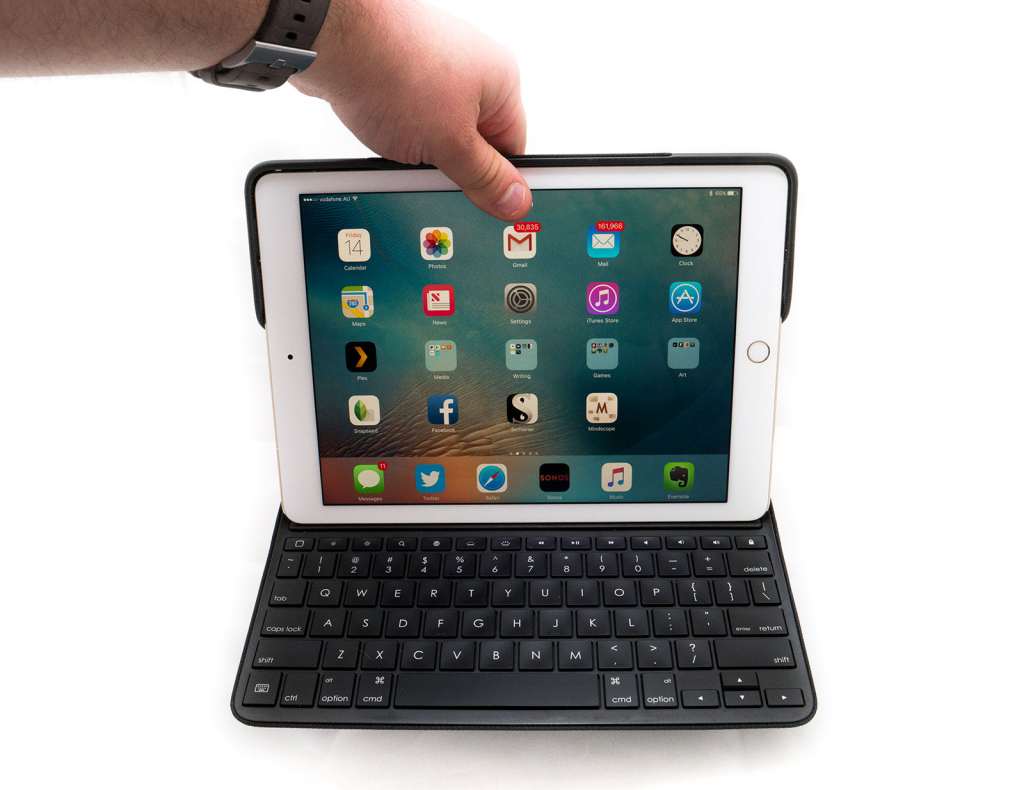 It's also one of the slight downsides, because with only one angle to connect the two pieces at, you may not find the angle quite works for you. Even with the one angle, if the keyboard isn't exactly level, you may find the magnetic connection may not be as connected as you might think, stopping the keyboard from working.
We found this to be a minor issue that doesn't pop up all the time, usually occurring if you type on the bed or on a slight incline, but it is one you can notice and is easily corrected from just changing the angle you happen to be typing at.
The other concern with the Logitech Create stems from battery life, and while the iPad Pro tends to offer a good two to three days normally — possibly more depending on how often you use the iPad Pro — using the keyboard for at least three to four hours per day will likely bring this down to a one day tablet.
That is one of the downsides of not needing a battery in the keyboard itself, because with backlighting and a decent keyboard, you'll find the Create is a bit of a drainer, though it's not as if charging up the iPad Pro is difficult, so we don't see this as a major issue.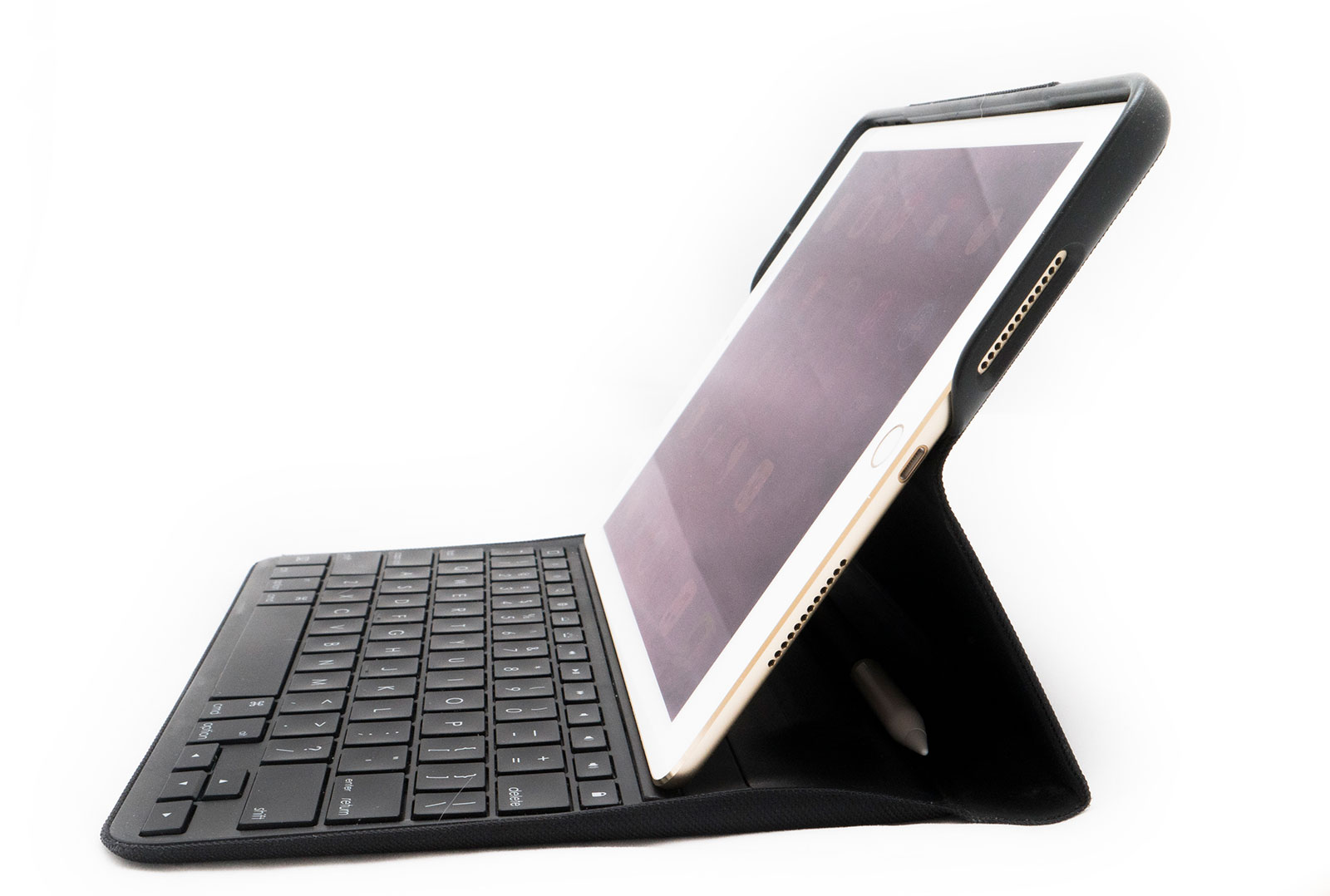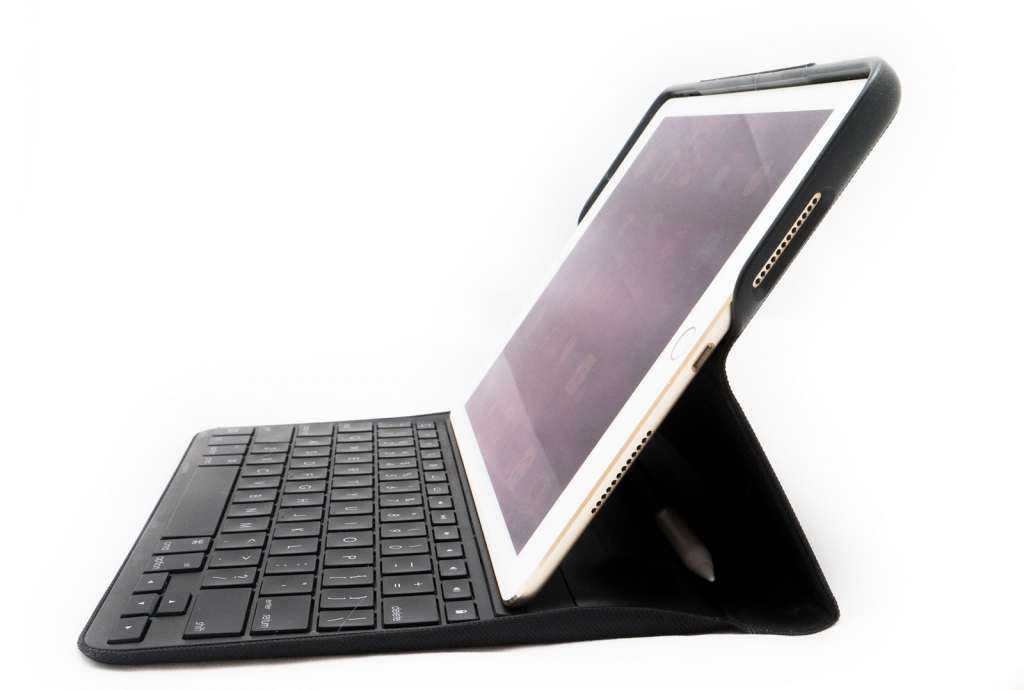 Conclusion (TLDR)
We're big fans of good keyboards and good cases, and in iPad Pro world, there's a new good keyboard case that shines over the rest.
While Incipio used to have the edge for us, Logitech's Create wins the category so far, offering a case that doesn't just temporarily turn the iPad Pro into a laptop, but does it with enough grace that you can still sort of use it without the keyboard, masking it and going back to the whole content consumption way of life.
Overall, it's a solid effort from Logitech, and the exact sort of thing that would be nice to see replicated for more devices with similar connectors, such as the Microsoft Surface and Samsung Galaxy TabPro S devices.
For now, iPad Pro 9.7 owners get the love, and this is good news for them, as it provides them one more way they can skip the PC and MacBook, and stay more mobile than ever. Highly recommended.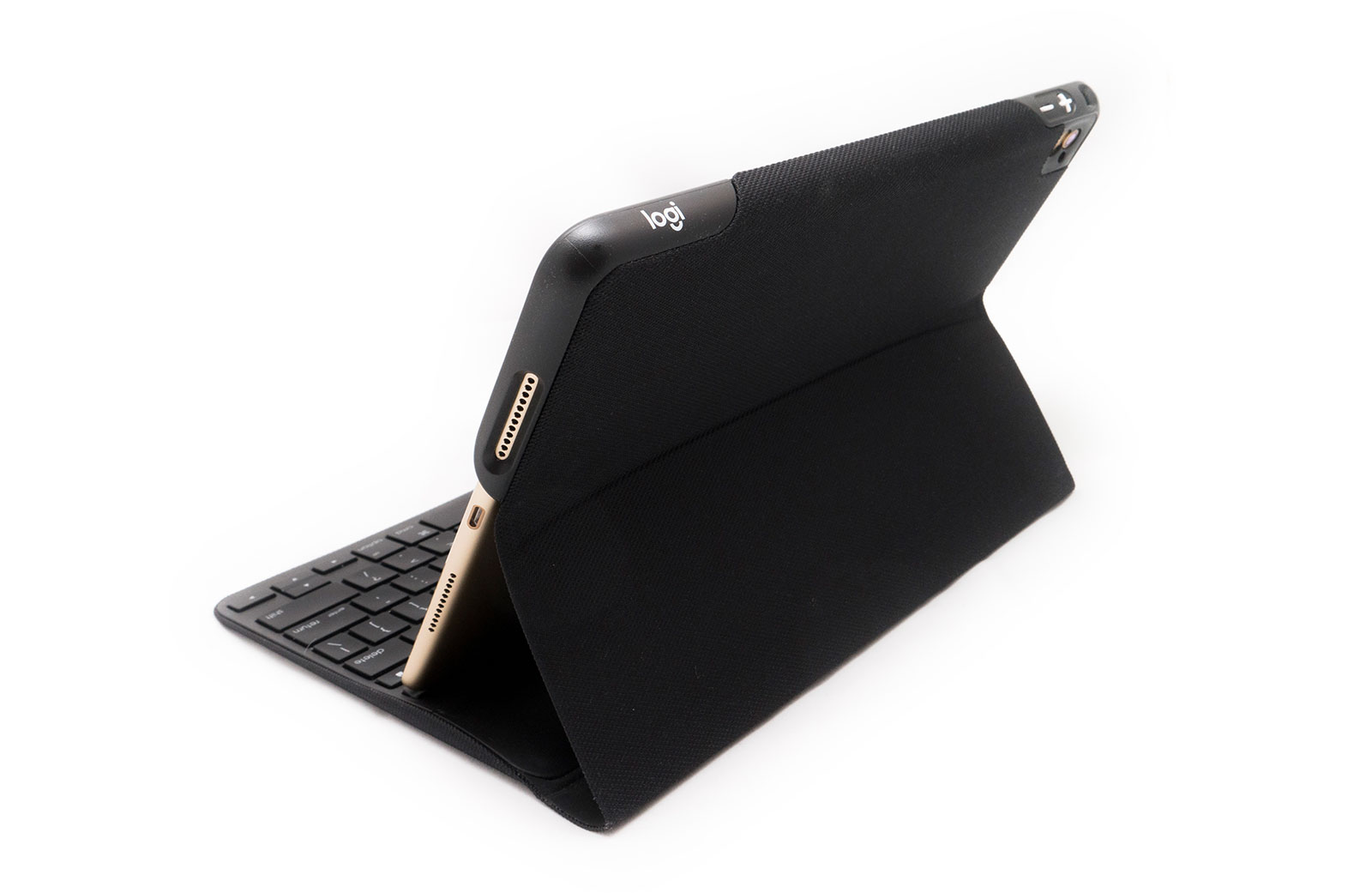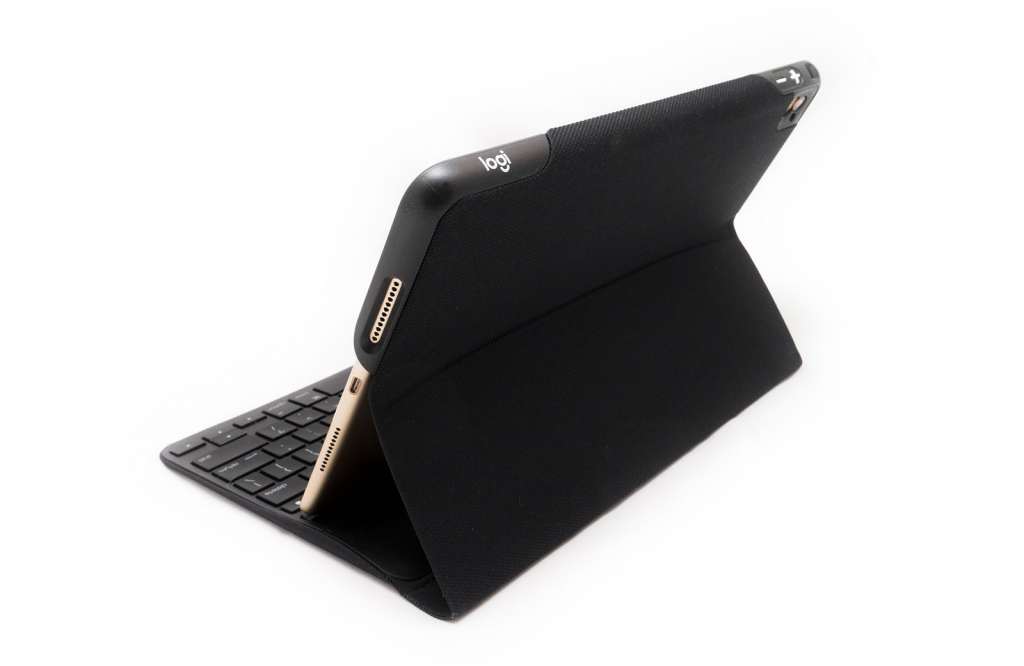 The good
Great form-factor and design
Excellent travel with a super comfortable typing experience
Includes backlit keys
Doesn't rely on Bluetooth, which means you can use it on an aircraft
Features a small holster for the Apple Pencil, something no keyboard case has included thus far
The not-so-good
Keyboard will drain iPad Pro battery
Magnetic connection occasionally disconnects