We may like our phones big, but our laptops tend to go the other way, and thanks to improvements in miniaturisation, we're now getting to the point where a computer can be carried with ease with little drama extended to weight or size.
Thin is in — always has been really — and HP has been working on this for longer than most. Its latest experiment is one that is hard to turn away from, and if you've surfed the web at all in the middle of 2016, there's a good chance you've seen an ad for it, with HP putting any and all effort into getting word about the Spectre 13 out there.
The pictures are easy to spot, with a laptop that looks particularly un-laptop-like, thanks in part to a shiny gold metal hinge on an almost metallic brown body. It's a look that isn't guaranteed to win over everyone, but that's not even the meat, because this machine is mostly bones, measuring an astonishing 10.4mm thin, making it one of the thinnest computers to date.
So if you can spare the rather unusual look because you're getting a positively slim and svelte system, it might be worth a look. Let's find out.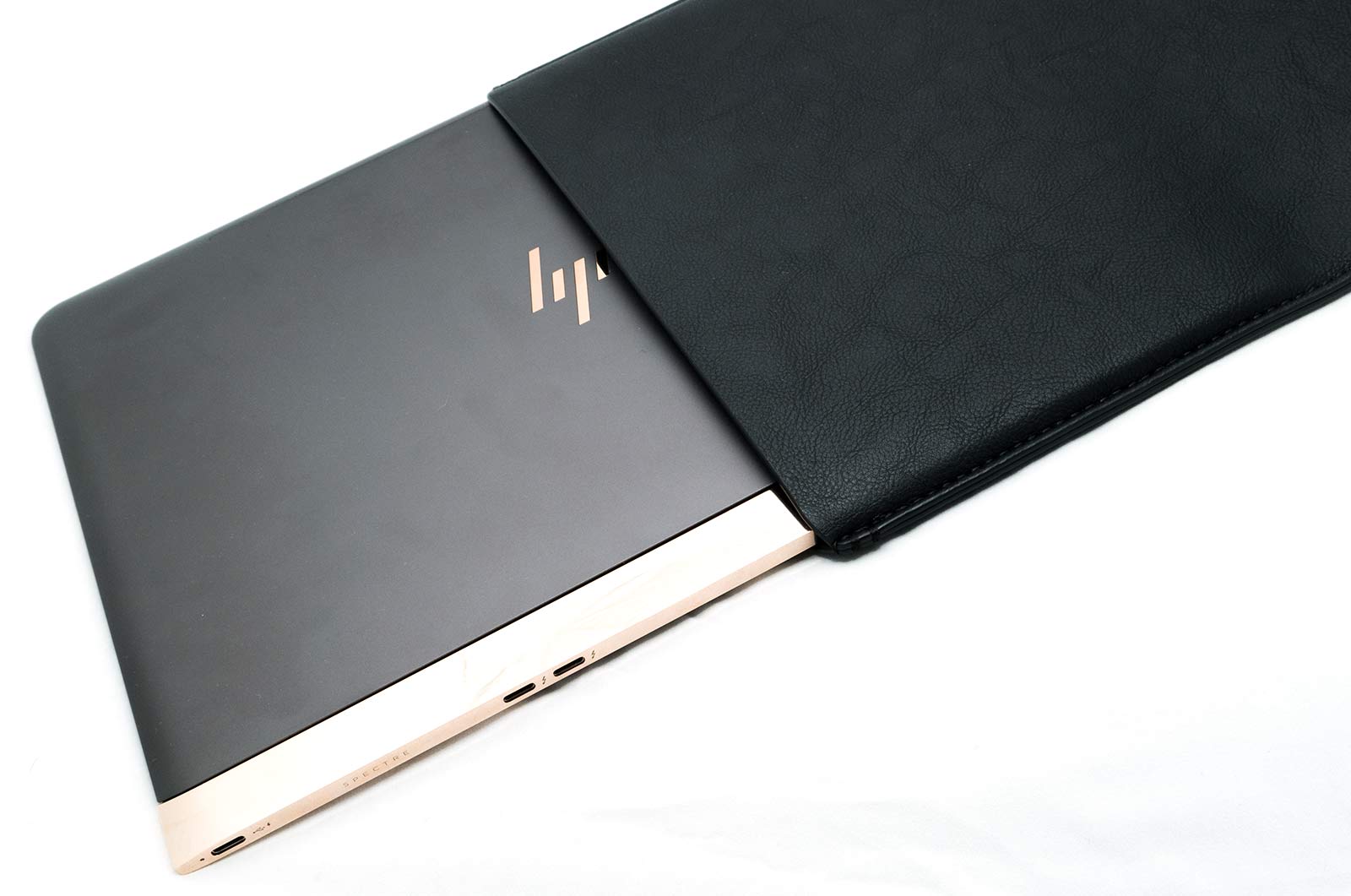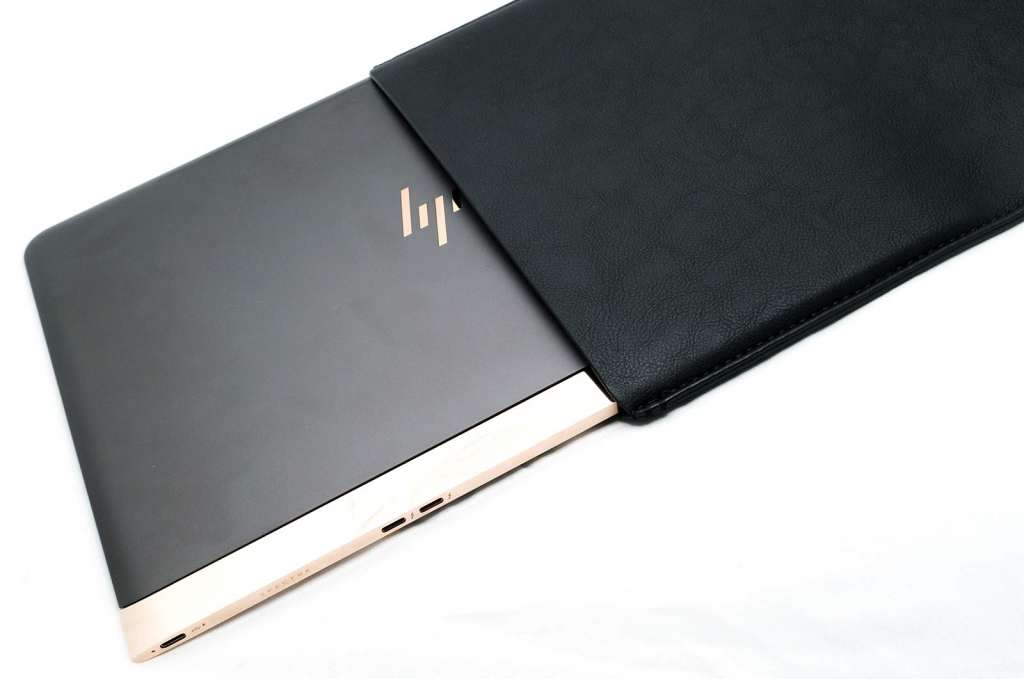 Specs
At least the premise is something we understand, because the HP Spectre 13 is designed to offer most of the processing power you've come to expect in 13 and 14 inch computers, just in a positively pint-sized package.
Inside that tiny slimline box, you'll find a choice of Intel's sixth-generation Core processors, with either the Intel Core i5 6200U at the lower end of the price spectrum or the Intel Core i7 6500 at the more expensive end.
The price difference is either $2399 or $3099, and while you might think the chip is the main reason, there's also a choice of storage amounts, with either 256GB of NVMe M.2 high-speed solid-state storage in the lower end of the prices, or 512GB in the high priced.
Outside of processor and storage, however, it's all the same, with 8GB RAM, Windows 10 Home, and a 13.3 inch Full HD screen. Interestingly, there is no touchscreen in this package, as this glossy display is merely made for mice, so don't even try to touch it, as it just simply will not work.

Connections offered in this computer are positively made for 2016, with wireless extending to Bluetooth 4.2, WiFi working in the 802.11ac spectrum, Wireless Display (WiDi) included, and the wired ports working over only USB Type-C ports, providing 1 USB Type C generation 1 port and two USB Type C generation 2 ports offering support for high speed Thunderbolt 3, one of the first PCs to do so.
Charging the computer occurs using a Type C plug on the back hinge where all the ports are, and there is even a 3.5mm headset jack on the back corner of the hinge, handy if you're itching to plug in a pair of headphones because you haven't joined the wireless headset world yet.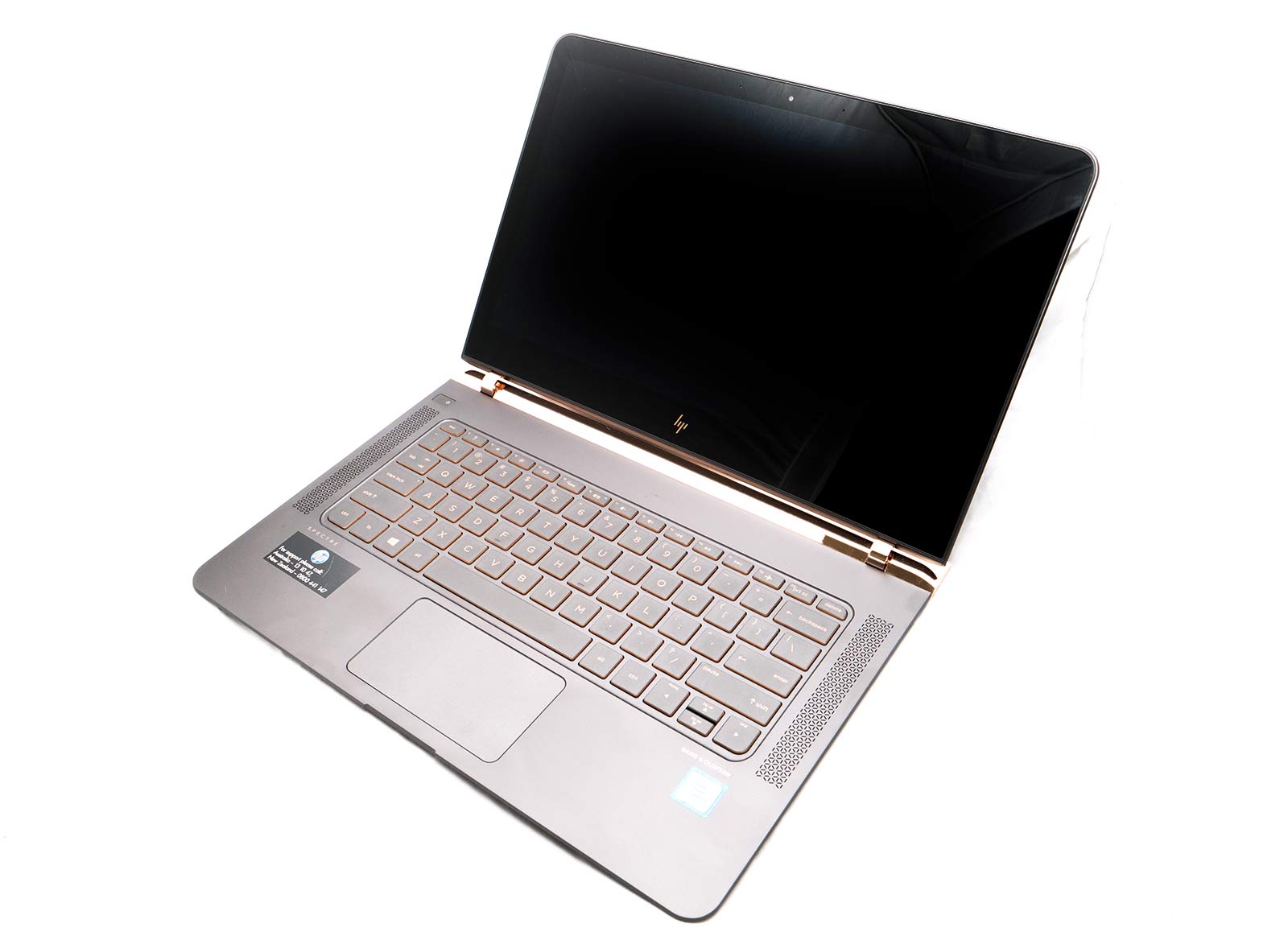 Design
We've already started on the design of the Spectre, and while we like the overall concept, the colour gives us pause.
Showing it to others, it's clear that people are divided.
"The colouring isn't for me," one said, while another declared "that is super sexy".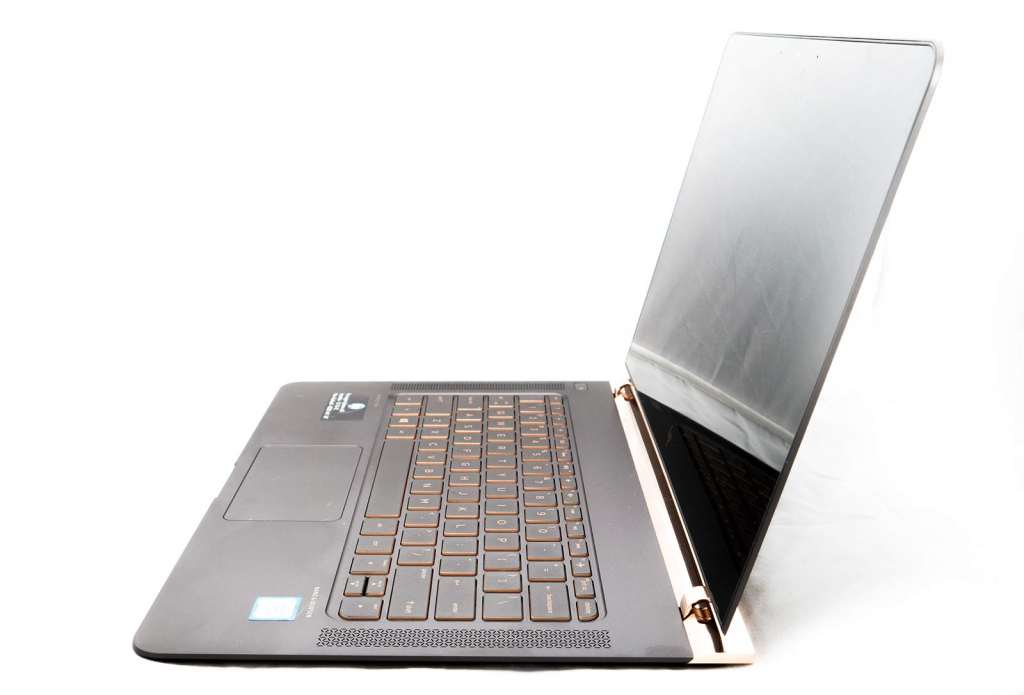 And that's the thing about the colour scheme of the Spectre: it's odd, and strange enough that even if the design wins you over, the realisation that you're taking out a gold trimmed piece of electronics may not, which makes HP's decision to release it only in one colour a very odd gamble to say the least.
More so, we're a little shocked that there's no all black version, or even a dark grey with a gunmetal hinge section, because either is the variant the Spectre 13 really needs with such an unusual and unorthodox colour scheme.
Officially HP calls the colour scheme "Dark Ash Silver", which is a funny concept when you realise that not only is there no silver on the body, but there is more gold offered on the hinge, so if anything, it should be called "Dark Ash Gold" or "Dark Ash Copper".


Brown and gold is what the laptop is, however, and while we give credit for the super slick design and a hinge that the 13.3 inch screen almost floats above, the gold is eye-catching, though not necessarily a good thing for all people to carry about with them.
We won't judge — a laptop is a laptop and you can like what you want — but the Spectre is definitely not made for people who want to be commented on, because this machine will definitely elicit a stare or two.
Performance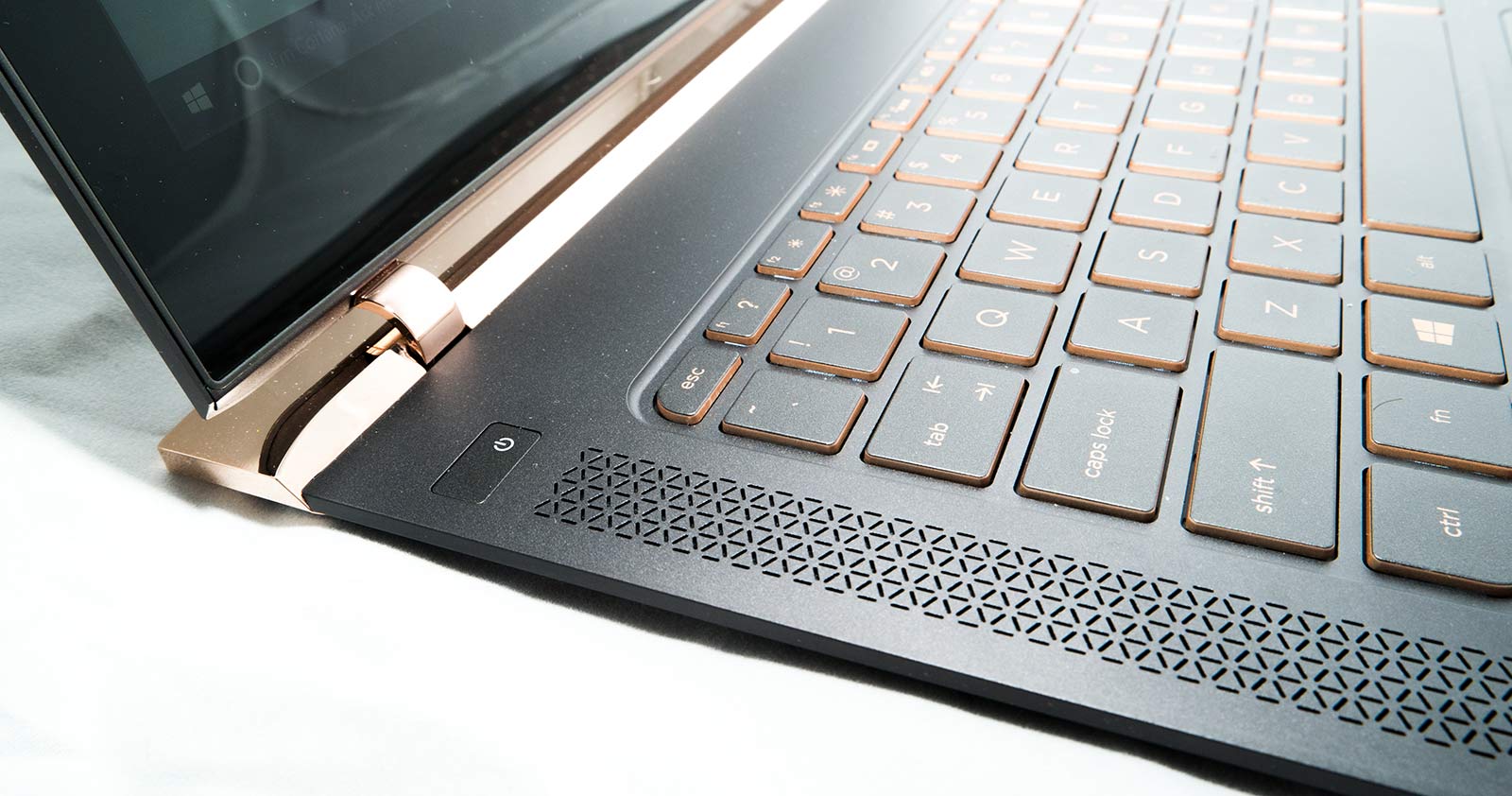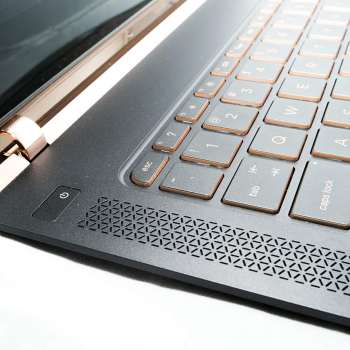 Intel has only recently announced a follow-up to its sixth generation, and that means HP's thin and light machine also gets a pretty up-to-date set of innards to go with it.
Granted, it's not blistering edge technology (at least until HP updates it, which we suspect won't be very long), but it's still more than plenty to hold its own as far as Windows computers go, offering a solid little set of system specs able to get your work done and maybe do a little bit of something else.
This isn't a gaming or performance machine, that said, though a choice of either 256GB or 512GB storage means the light computer can still be depended on for storing a good portion of your documents, photos, and videos, and thanks to the inclusion of the snappy M.2 style of storage, means it's certainly no slouch either.
Windows 10 is the "Home" incarnation, and that should suit most of what people throw at it, though we have to wonder why this machine wasn't treated with the sense of business HP normally imbues its machines with.
Still, it's enough, and Windows certainly handles fine on this computer, with little to no lag reported during our time spent with the Spectre, and apps able to be run on the 8GB RAM and Core i5 variant we spent time with throughout the review.
Keyboard and mouse
At least the keyboard is something special, which is odd because normally the thinnest keyboard struggle to give us a solid typing experience, and yet the HP Spectre offers one of the best slim keyboards we've ever seen.
Thin keyboards tends to be one of the bigger downsides of making small computers (no pun intended), because keys in keyboards need room to move, or "travel" as we call it, which is that space from when they're depressed from your finger to make their way down to the button below, triggering the computer to write a number or letter on the screen.
Unfortunately, getting a computer to be thin often has the downside of creating travel problems, and so companies like Apple have attempted to work out new ways to keep the travel by implementing different keyboard mechanisms.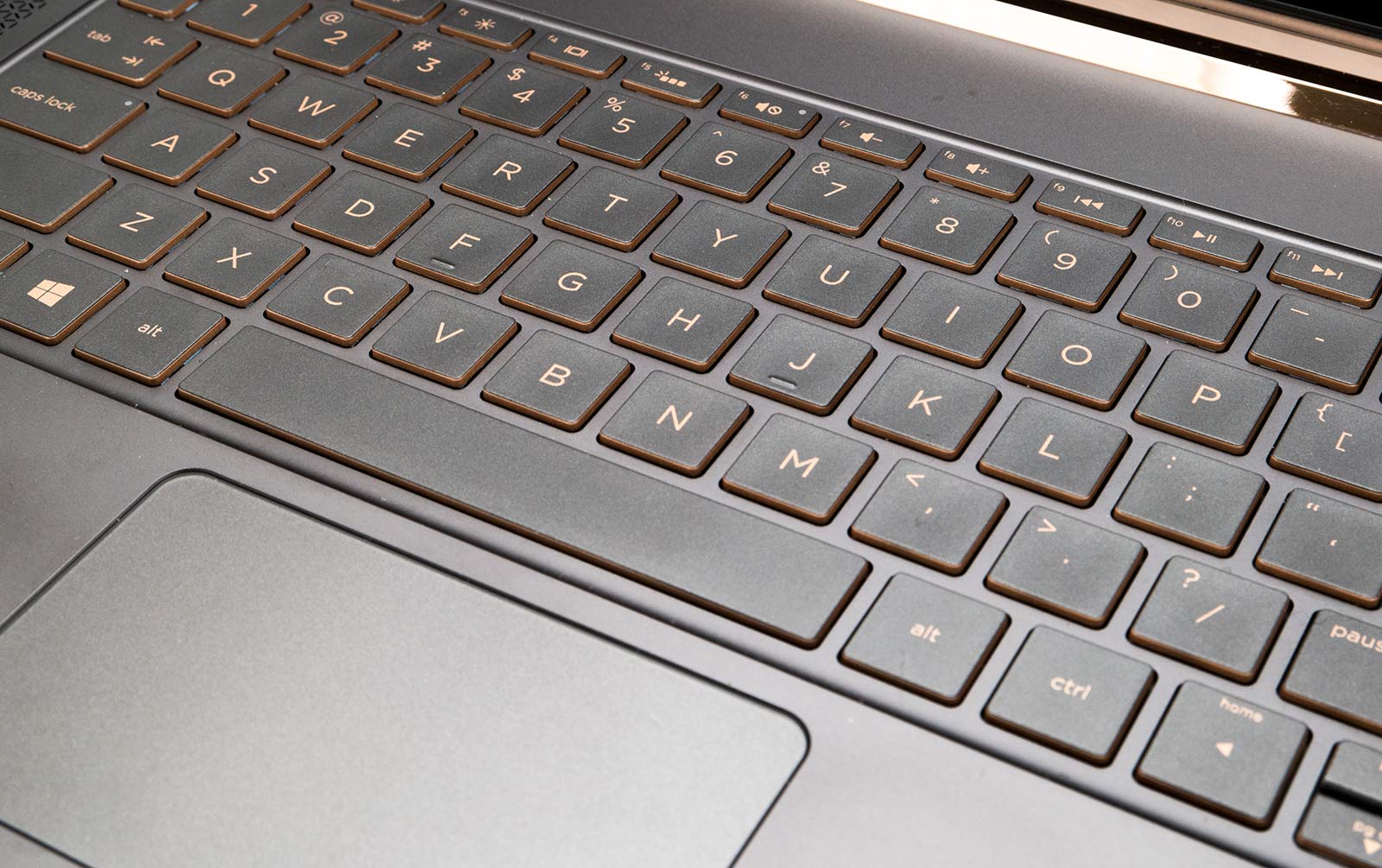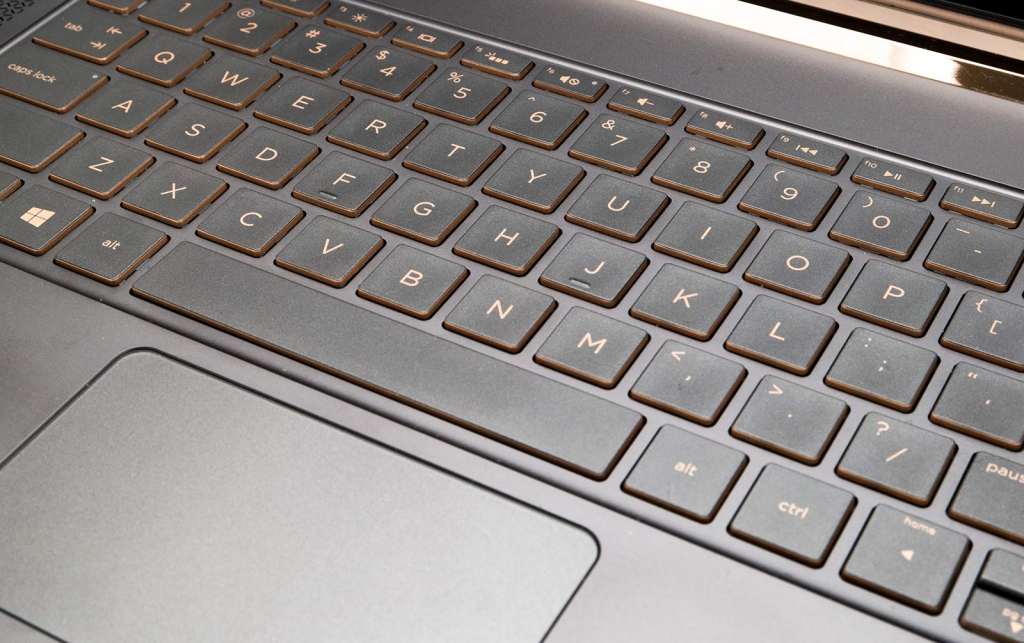 We're not quite sure what HP has done to make the keyboard on the ultra-thin Spectre, but it is bang on superb, and while you might occasionally miss a keystroke here and there, the 10.4mm thin Spectre produced a staggeringly low error rate to the point where we lost count of how many characters we had to type before one didn't show up.
Essentially, that makes this super thin keyboard about as good as they come even though it has to fit in such a small chassis. HP is known for good keyboards, but Apple and Lenovo tend to be the kings, and in the Spectre 13, HP has proven it can sit up there next to them with ease, offering a keyboard that manages to be as good as what we've experienced in the MacBook Pro, and more easy to adjust to than Apple's comparatively slim MacBook.
Simply put, this is a stellar keyboard, and speedy typists won't be stopped by an errant keystroke at all with this thing.
The mouse isn't bad either, with a relatively wide albeit slim touchpad to work with supporting fairly efficient gestures and click action. We've certainly seen better in this regard, and we believe that Apple's trackpad is still generally the one to beat, but the touchpad found here certainly isn't without merit, especially for a PC, and especially with no touchscreen to back it up.
A solid effort, HP.
Battery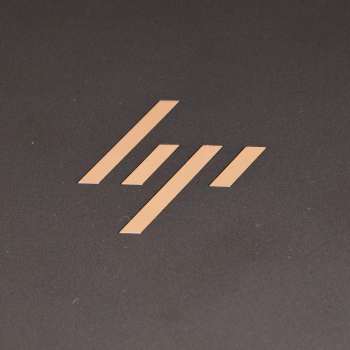 Next up is the battery, and you might be surprised to see the svelte Spectre actually advertises itself as a nine hour laptop, or up to nine hours anyway.
In our testing, we found the battery life to be good, resulting in approximately five to six hours as a maximum with WiFi switched on and battery saving switched off, giving us a relatively good indicator as to what life would be like if you happened to turn wireless connections off and jumped into battery saving mode.
That's okay battery life for the most part, though still pretty decent given the positively thin size HP has managed to make the Spectre into.
One thing that definitely bothers us, however, is the battery meter in Windows 10, and the lack of actual battery life reporting going on for the HP machine. We don't think this is necessarily a Microsoft thing as other Windows 10 computers work the way they should, but certainly our time with HP's Spectre revealed no battery life was  ever able to be calculated from the battery metre found inside the operating system.
Instead, it would merely say "Calculating…" as if the result would eventually materialise, which it never did.
We've heard of this happening on other computers, and indeed we've seen this happen on other computers from HP, prompting the idea that perhaps this is just something HP laptops do, offering no real glimpse into battery life for these machines.
A shame, too, given the battery life isn't remarkably bad, either. It'd be nice for the metre to point that out, but it doesn't appear to be doing anything of the sort.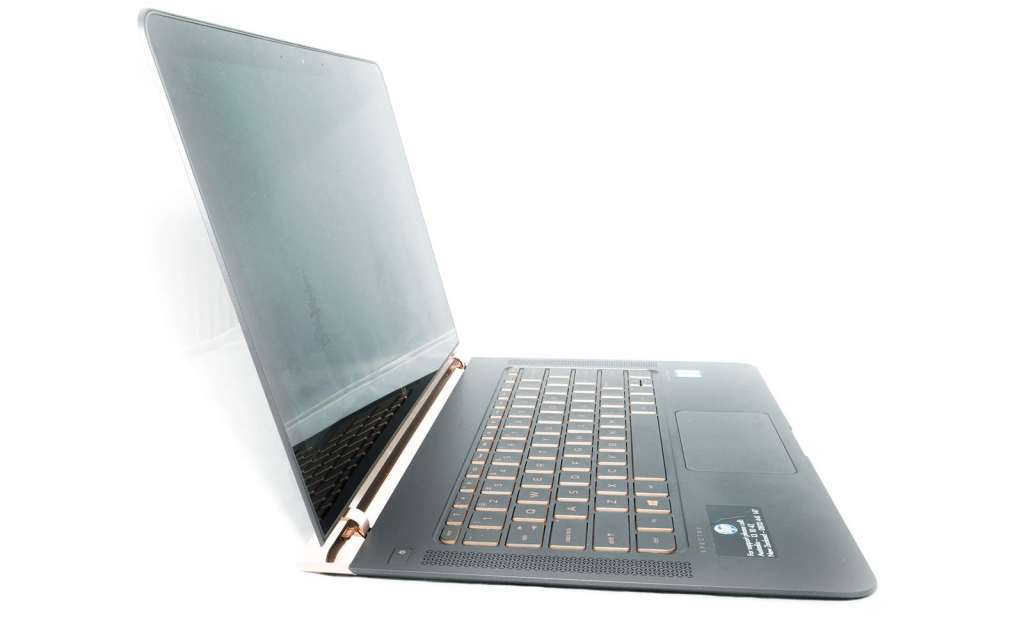 What needs work
HP's Spectre nails quite a lot, but while there's obviously room for improvement in some areas, our "what needs work" category is less focused on what could do with fixing, but what has been omitted.
Specifically, it's surprising to see an otherwise high class machine forgo the touchscreen, even if Windows 10 isn't so hell bent on using it like its predecessor.
Still, with an RRP from $2399, we're a little stumped as to why HP didn't opt for one when the screen technology isn't all that remarkable either, sitting at merely Full HD 1080p when other machines beyond the $2K mark include displays with higher resolutions, some of which include both touch and the better quality display.
And given that the Spectre is a more premium product, why HP has ignored features supporting the biometrics login technology Windows Hello relies on, why we're just not sure.
Unfortunately, you're limited to passwords and passwords only with the HP Spectre, with none of that visual identification login through the built-in camera, nor can you login with a fingerprint since there's no fingerprint sensor either.
Rather, the HP Spectre is just a very, very thin computer with few of those extra fix-ins you might expect out of a high-class beauty, of which this machine is close to being, but just doesn't quite qualify as. Not completely, anyway.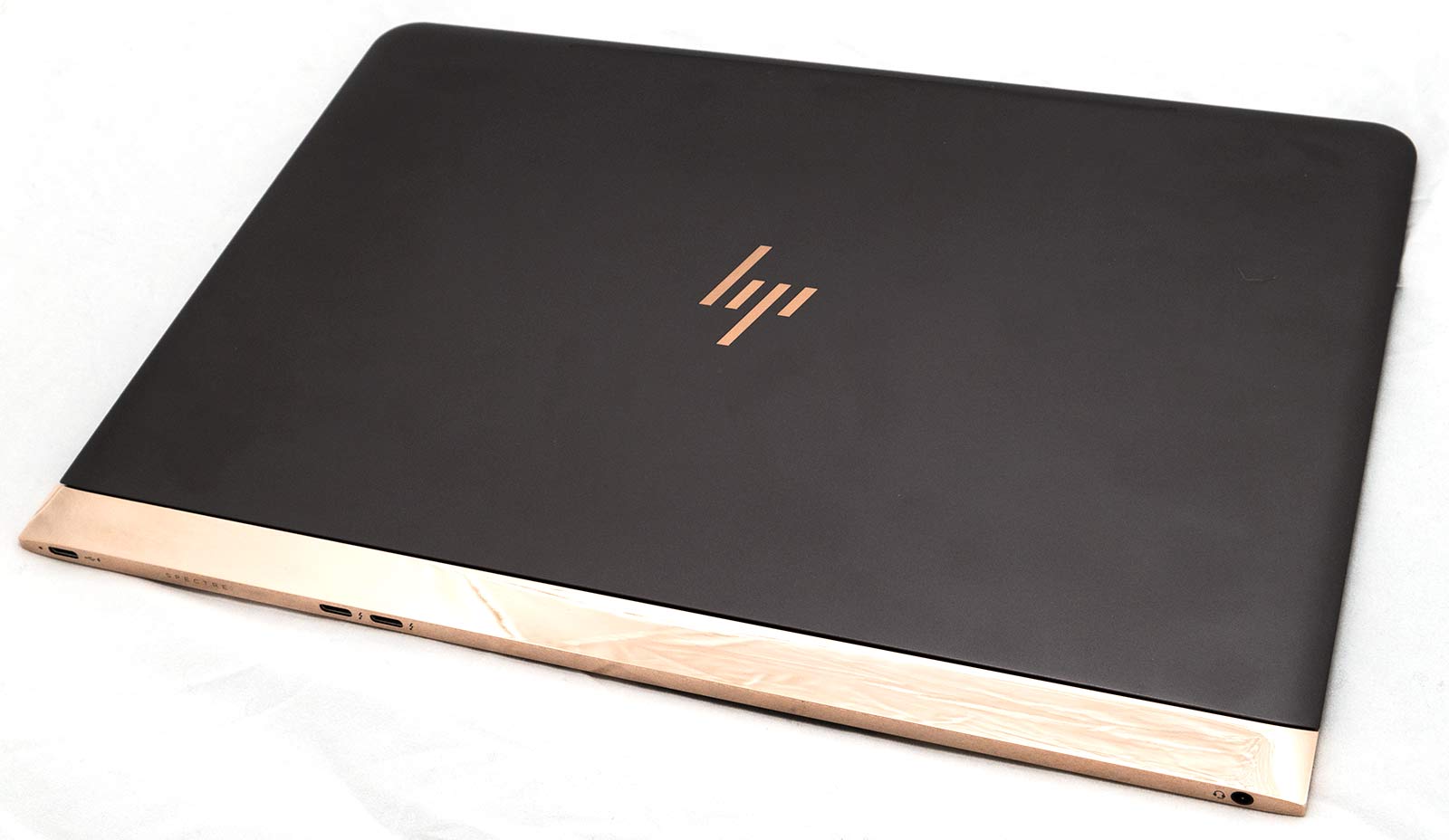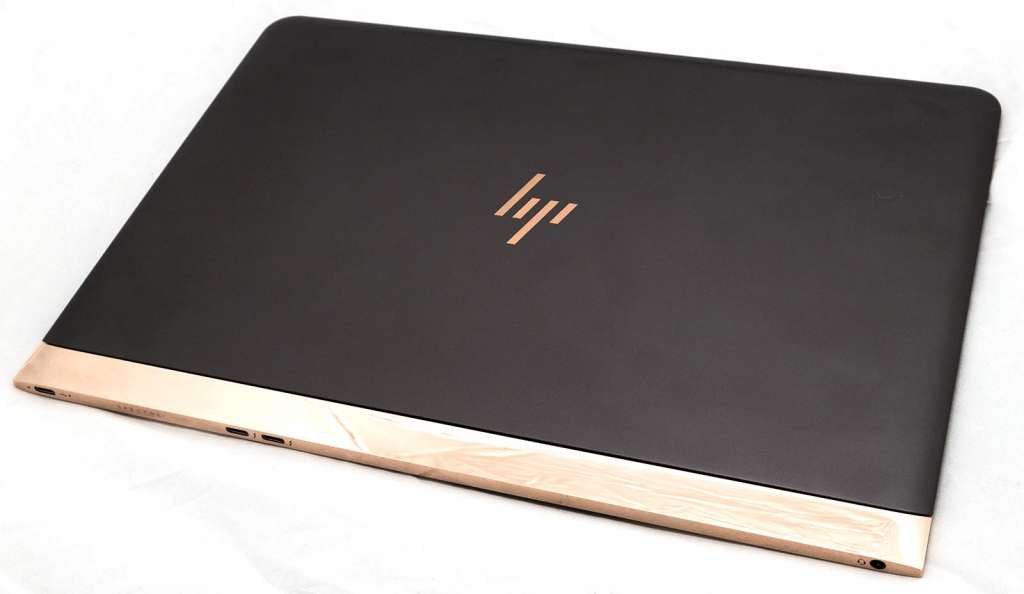 Final thoughts (TLDR)
For the most part, however, the Spectre succeeds because the package being offered is a remarkably thin and light computer in a world craving just that.
Even with the few faults it has, we like this machine, and we could even choose this machine to write on permanently if it weren't for the colour.
Call us fickle, but gold and metallic brown isn't for us, and we're not quite sure how many people who really would go for this look. It's not just HP, either. Apple has a MacBook in gold and rose gold, and we wouldn't pick them either. You might, but we wouldn't, sticking to a slightly more orthodox silver or dark grey for us.
But at least Apple gives you that choice: you want gold, you can; you want grey, you can.
HP does not, and if you like the design, the feel, the processing power, and what isn't a bad battery life despite never telling you in Windows how much it really is, you're still stuck with gold and brown.
Seriously HP: choice is good, and it mars what is an otherwise excellent machine.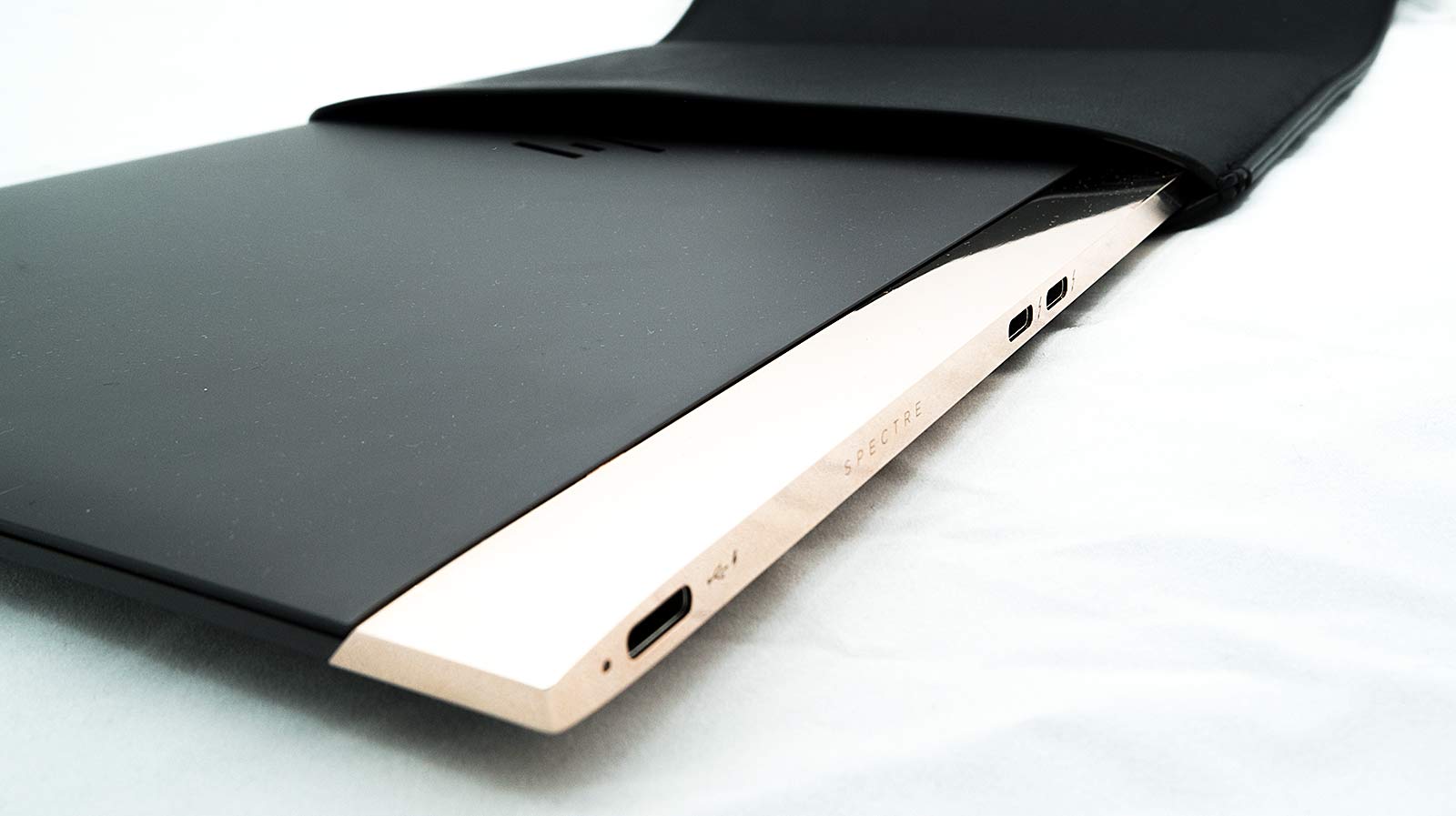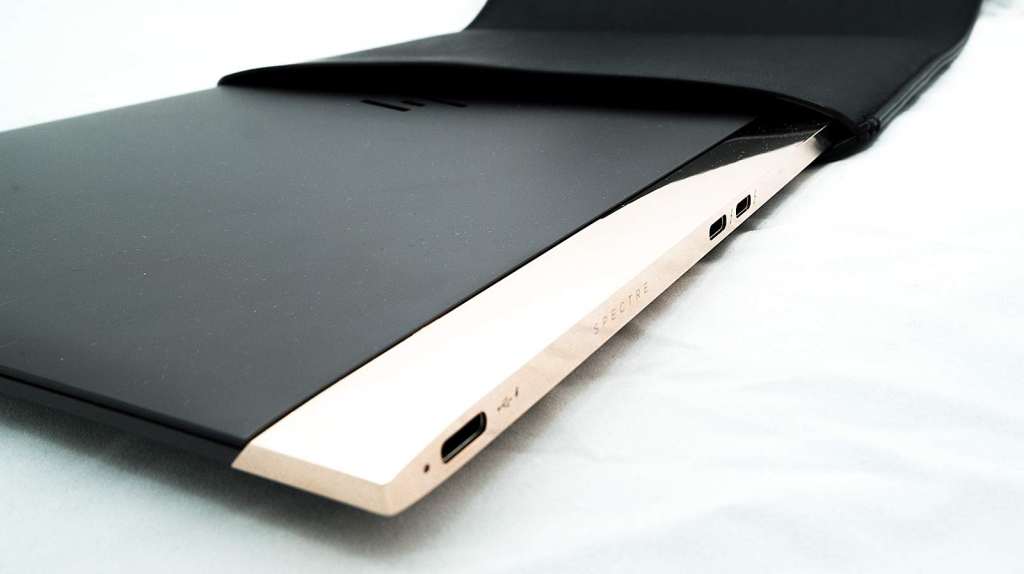 Superbly thin
Includes support for both USB Type C and Thunderbolt
Crisp screen
One of the best thin keyboards we've ever typed on
Ports are a little unorthodox, even these days (though very modern and future-friendly)
No touchscreen
No 4K display
No biometric login (camera or fingerprints)
Design colours won't appeal to everyone