The second major Samsung phone of the year, the Galaxy Note10+ is here, bringing a massive screen, several cameras, stylus, and improved productivity. Is the Samsung Galaxy Note10+ the best phone of the year, or just the best Note?
Phones aren't just phones anymore. Oh sure, you can make phone calls on them and send messages, but these days, you can do so much more.
You can surf the web on phones. You can send and receive emails on phones. You can take pictures, and if you're anything like us, you're regularly relying on your phone's camera rather than the camera you have for pictures, and it's probably gathering dust. You can watch videos and write stories and use phones for lots of purposes, but not every phone is made for productivity.
One range has been consistently looking to push the envelope on what constitutes a productivity-focused phone, however, and that's Samsung's Galaxy Note range of phones.
First released back in 2011, the Samsung Galaxy Note handsets were the original massive screen smartphone to come with a stylus, finding the middle ground between phone and tablet, and evolving that area ever since. Galaxy Note phones tend to offer note taking, drawing, scribbling, and even text translation, something the Samsung stylus of the S-Pen helps provide.
We've seen numerous changes over the years, but this year, there are two models, with a 5G optional variant of the big one available, as well.
This time, we're taking a look at the big 4G model, with a Samsung Galaxy Note10+ review that explores as much as we can.
Design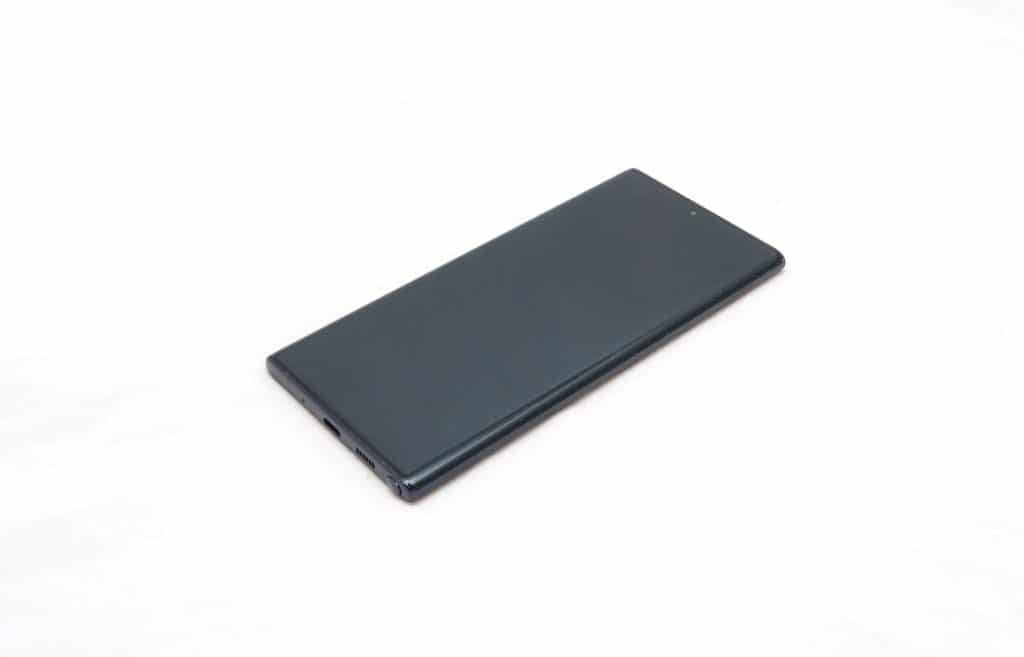 At the tenth generation of the Galaxy Note range, you're not going to see a whole bunch of wild changes or design experimentation. In fact at this stage in the game, it's pretty clear Samsung has found its groove, and the Galaxy Note 10+ is evident of the decade long push for design perfection
What was once a big screen on a big phone with a pen is now something clearly stronger.
The Galaxy Note 10+ is a beautifully designed large phone with a 6.8 inch screen that takes up most of the body, a minimalist and elegant metal and glass design, and a wonderful work of smartphone art.
Not quite the Galaxy S10+ from earlier in the year, the Galaxy Note10+ delivers a slightly softened rectangular frame with curved edges that make it seem like you're holding the screen in its entirety, with a camera clearly in the middle and not throwing out symmetry, plus the back cameras which don't affect hand placement at all.
This is what great phone design looks like, and the Note10+ really delivers. It both looks and feels premium, and comes off as something from the future. Samsung has made a beautiful phone.
Features
Underneath this beautiful phone, you should expect a fairly solid set of features and specs, much of it sitting in the upper echelon of phone hardware.
As such, there's a Samsung Exynos 9825 in this neck of the woods (though the US gets the Qualcomm Snapdragon 855), paired with 12GB RAM and 256GB storage. You can upgrade that 256GB with a microSD if you so choose, though for many, we imagine 256GB will be plenty.
Android 9 "Pie" arrives on the Galaxy Note 10+ out of the box, complete with Samsung's One UI experience sitting over the top, though we imagine when Android 10 is finalised, it won't be far behind.
There are technically four main cameras used in the Note10+, with an ultra-wide 16 megapixel set to F2.2, a standard 12 megapixel with the dual aperture of F1.5/F2.4 that first appeared in the Galaxy S8, a 12 megapixel 2X telephoto at F2.1, and a VGA DepthVision camera to understand object and depth placement for images.
This camera array is capable of slow motion capture and 4K Ultra HD video, though not at the same time, while the front camera can handle 10 megapixels at F2.2 and a portrait mode of sorts for selfies, too.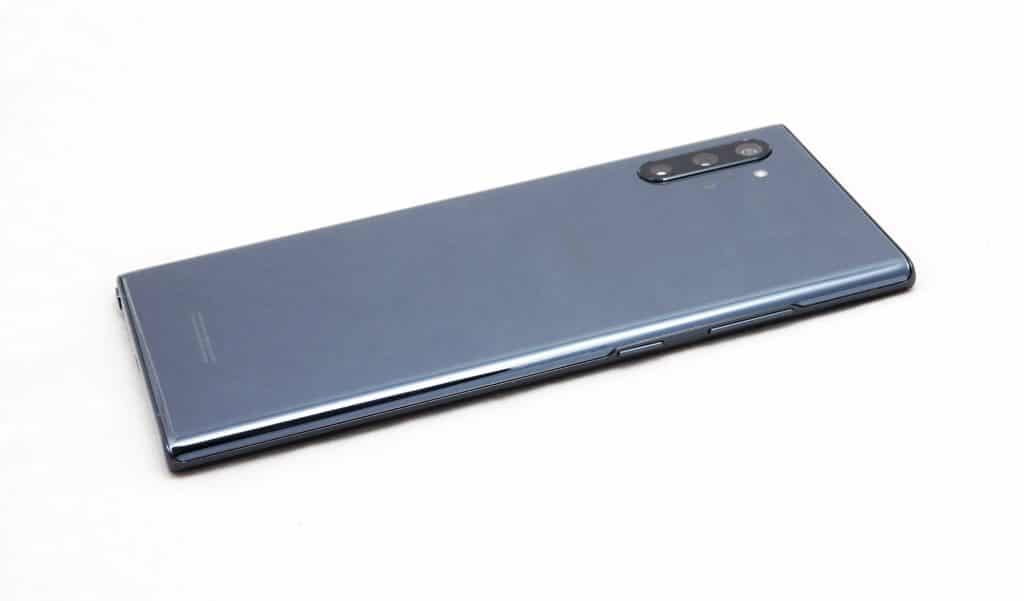 As for connections, there have been some changes from the previous Galaxy Note 9, including the removal of the 3.5mm headset jack, the iris scanner at the front, and even the heart rate sensor strip on the back.
Nothing technically replaces those, but the Galaxy Note10+ used Type C USB for data and wired headphones if you have to use it, plus the front-facing camera doing the job the iris scanner once did for security, while an in-screen fingerprint sensor has been included replacing the fingerprint sensor once found on the back. As for the omission of a heart rate sensor, our guess is that Samsung will just suggest looking at one of its smartwatches if you really need that.
Otherwise, you'll find connections offer 4G LTE at Category 21 speeds, meaning downloads as fast as 1.4Gbps and uploads up to 150Mbps, GPS, Near-Field Communication (NFC), Bluetooth 5, and 802.11a/b/g/n/ac/ax WiFi, the latter of which is also known as WiFi 6.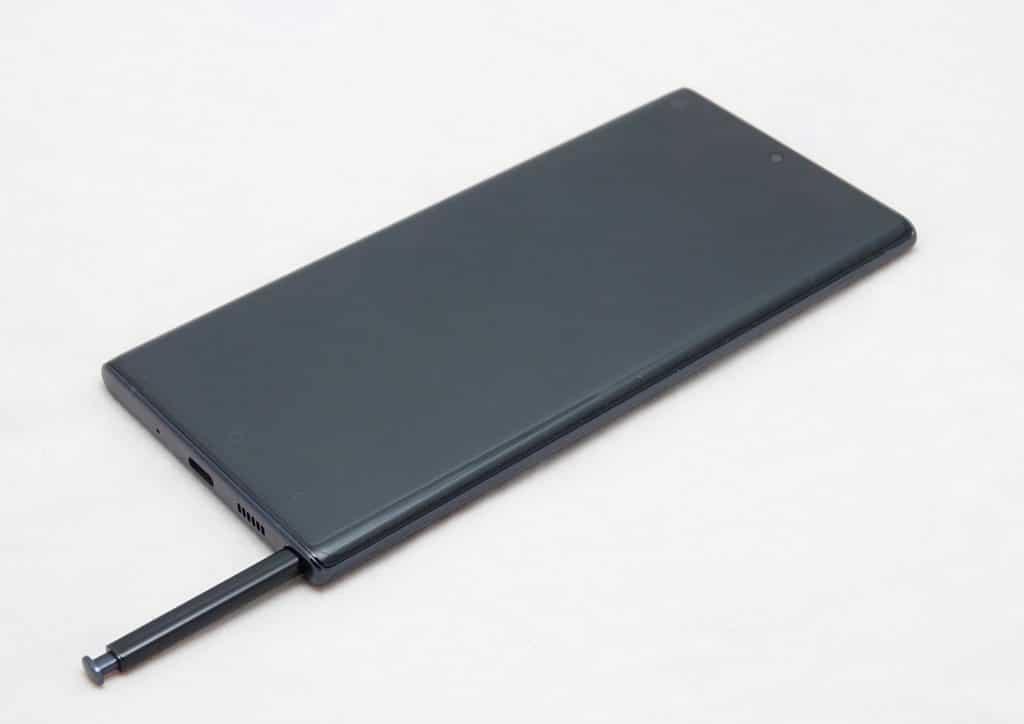 There's also an S-Pen and support for Samsung's desktop experience "DeX", and it all sits in a glass and metal body weighing 196 grams that is water resistance to an IP68 rating, though that has been cleared only for tap water (so if you take the Note10+ into a pool or at the beach, wash it off when you're done).
Atop all of this is a 6.8 inch Quad HD screen sporting a specifically sharp resolution of 3040×1440, resulting in close to 500 pixels per inch clarity at 498ppi.
While Samsung relies on the big touchscreen for most of the buttons, there are still two on the side, with a volume rocker and power button found along the left edge.
The battery inside the Samsung Galaxy Note10+ is rated at 4300mAh and cannot be removed, but can be wirelessly charged, supporting reverse wireless charging, too.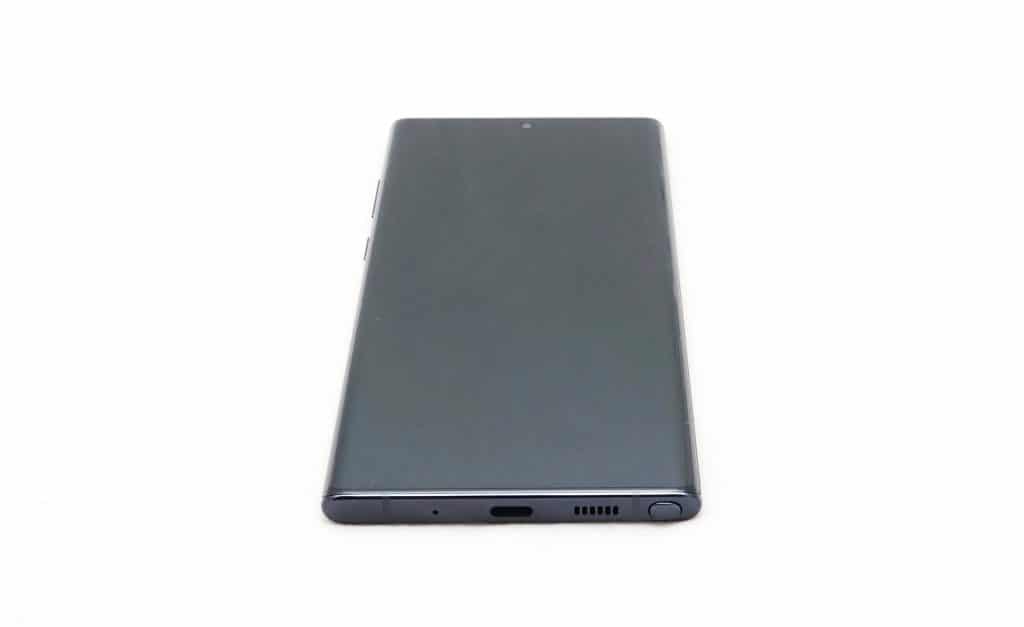 In-use
If you've used a Samsung phone in the past, getting reacquainted with the Galaxy Note10+ isn't difficult at all. Far from it.
While you're not going to see Google Android as a stock Android One device here, Samsung's One UI more than makes up for it, offering a slick and polished take on Android, with widgetised home screens and an app menu similar to stock, or something closer to the iPhone's several app menus if you prefer that.
Outside of these differences, the look and feel of Android on the Galaxy Note10+ is special, providing one of the more flagship feelings you can get out of an Android phone, save for the Google Discovery feed, which is typically the left-most screen on an Android phone, but isn't here at all.
On Samsung phones, your left-most screen is either the Bixby screen or nothing at all. We chose the latter.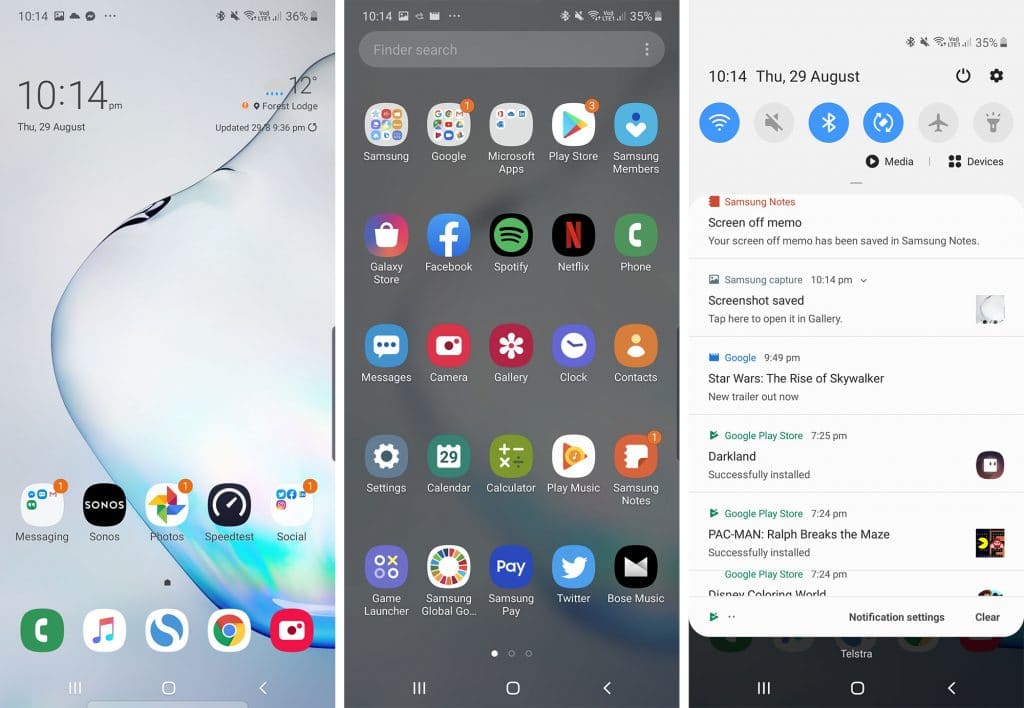 Interestingly, Bixby takes a bit of a backseat in the Galaxy Note10+, as Samsung has also removed the extra (and superfluous) Bixby button from this design, leaving you with volume rocker and power button on the left edge.
No Bixby button means you won't accidentally call up Samsung's take on the voice assistant by accidentally pressing a pointless button, something that has been a bit of a problem since the release of the Galaxy S8 when Samsung first added the button to its phones. Gone on this release, you can still call up Bixby if you like, but only if you hold down the power button, which seems far harder to accidentally trigger now.
Outside of the button change, everything else on the Galaxy Note10+ is fairly easy to get your head around, though the size can be large. This is a 6.8 inch phone sitting in roughly the same size as its 6.4 inch Note 9 sibling, which means you get a slightly bigger screen in a massive shape, all the same.
The thickness is a little down, though, shaving off almost a full millimetre, and saving your pants a good five grams in the process.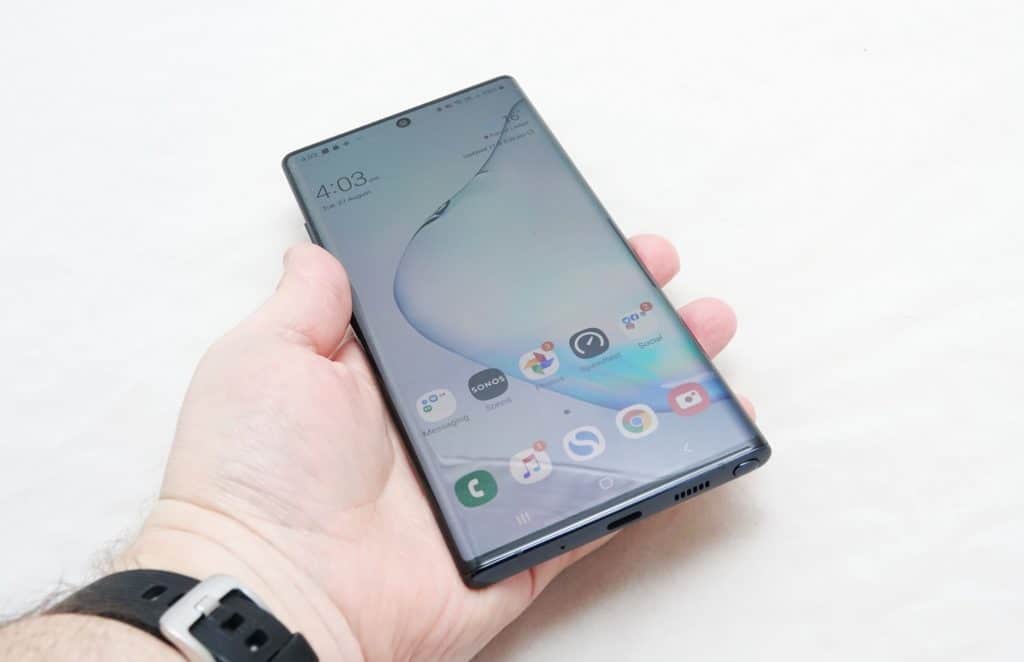 Performance
It's not just a change of size, weight, or buttons, though. The performance is up, as well.
While American Galaxy Note10+ models sport an Qualcomm Snapdragon processor, Australian variants see the Samsung Exynos 9825, a new incarnation of Samsung's Exynos chips made with a smaller process and paired with a staggering 12GB RAM, more than quite a few laptops these days see.
That is a genuinely crazy amount of memory for a phone, and helps to cement the Galaxy Note 10+'s flagship positioning, alongside its performance which is incredibly hard to fault. Sufficed to say, there is next to no lag in more or less everything you do, and no slowdowns anywhere obvious. The Note10+ feels effortless, and the performance really speaks to that.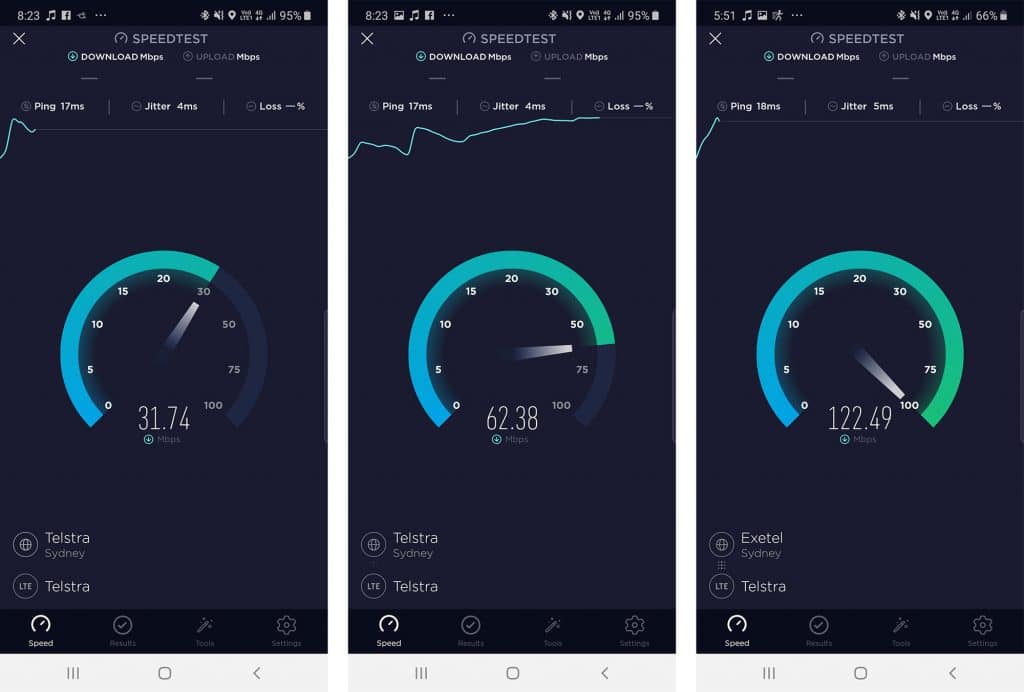 Mobile performance is equally strong, too, hardly surprising given the flagship nature of this phone, even if the Note10+ offers a 4G and a 5G variant.
For the purposes of this review, the Note10+ was a 4G phone, capable of achieving around the 150 to 200Mbps mark in Sydney on the Telstra 4GX network. You can probably get more out depending on where you are and what the network is like at the time, though. Still, it should be plenty fast for most situations.
Camera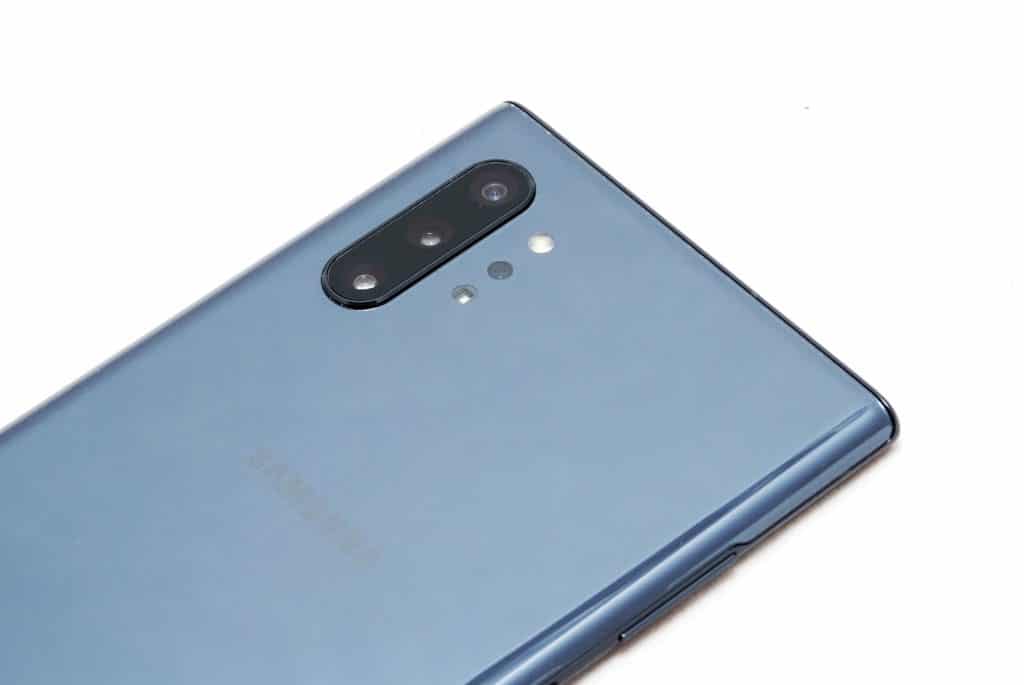 While the performance is nearly impossible to fault, the camera is a little easier. Not because it's bad, but because it's just not the best camera out there.
Despite suggestions by camera benchmarking by DxOMark and a subsequent rating that the Samsung Galaxy Note10+ has the best camera thus far, we're not quite in agreement.
It's good, but it is by no means the best.
You'll find four cameras available to you here, though only three technically do anything you have direct control of. Like the Galaxy S10+, there's a wide angle camera, a standard focal length, and a 2X telephoto lens, and you can jump between those cameras easily in software.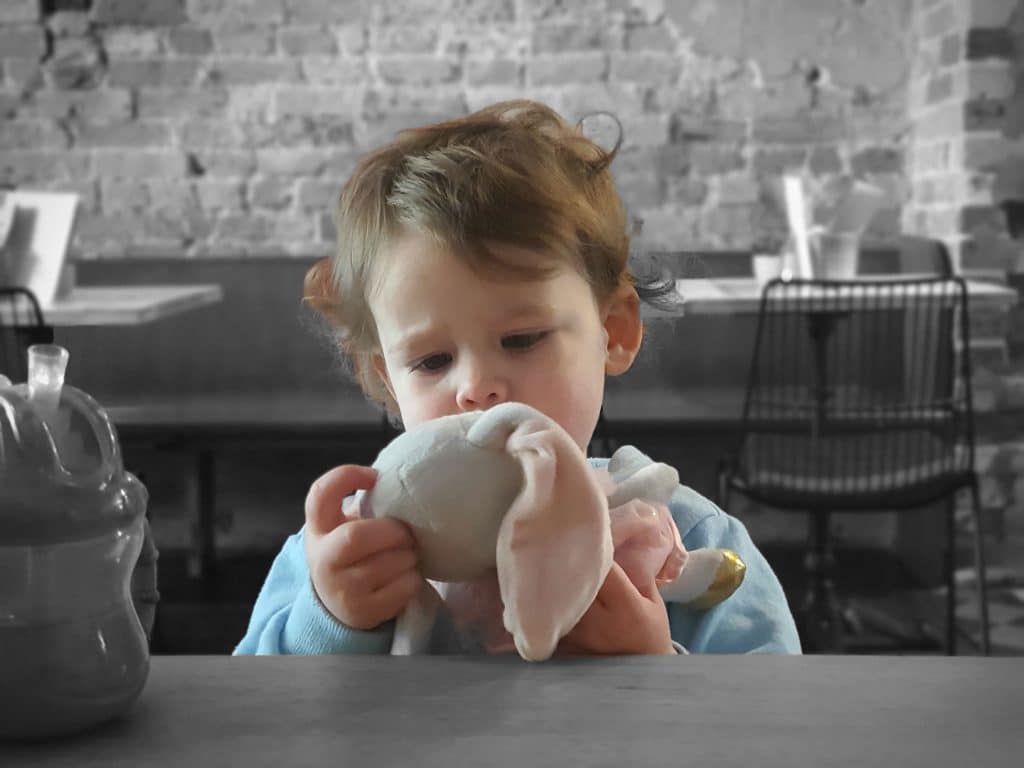 There's also a depth of field camera alongside, and this kicks in when you decide to use the camera's "Live Focus" mode, which works in both photos and videos, now. For Samsung, Live Focus is another way of saying portrait mode, though it's a mode that works on more than just portraits, and also works with different effects.
You can blur the background, but you can also use softened circles, a motion blur effect, and even a colour separation mode with a black and white background. It works in video as well, offering you a hint of creativity when you capture.
Video is actually one area the Galaxy Note10+ handles very, very well, delivering slow motion, super slow motion, and 4K video alongside that Live Focus Video.
Samsung has also included a cute microphone zoom technology for the video mode, and with support for Adobe Premiere Rush, there's quite a bit for video editors on the go to get accommodated with.
On the image side of things, the Galaxy Note10+ is certainly no slouch, delivering great daylight and decent low light, most of which was found in the main camera, the same one from the S10+ that gets two aperture settings to work with.
The wide-angle and telephoto cameras alongside are both decent, but you really feel like the standard length is the best of the bunch.
Taking photos in the dark without light, you may find the Note10+ to perform marginally better than the S10+, but not by a whole lot. It's certainly doesn't have the night capabilities of the Huawei P30 Pro, the benchmark of the year thus far, and that phone even manages to best Samsung's take on Live Focus portrait shots.
Some of the time, Samsung nails it with portrait images in Live Focus mode, and the background drops out well disconnecting foreground nicely. Other times, less so, and the image looks like a poorly etched person sitting atop a blurry background.
It seems to be a little on the hit and miss side of things, though truth be told, we seemed to have more errors with the circle mode in Live Focus on the Galaxy Note10+, so maybe just steer clear of that setting.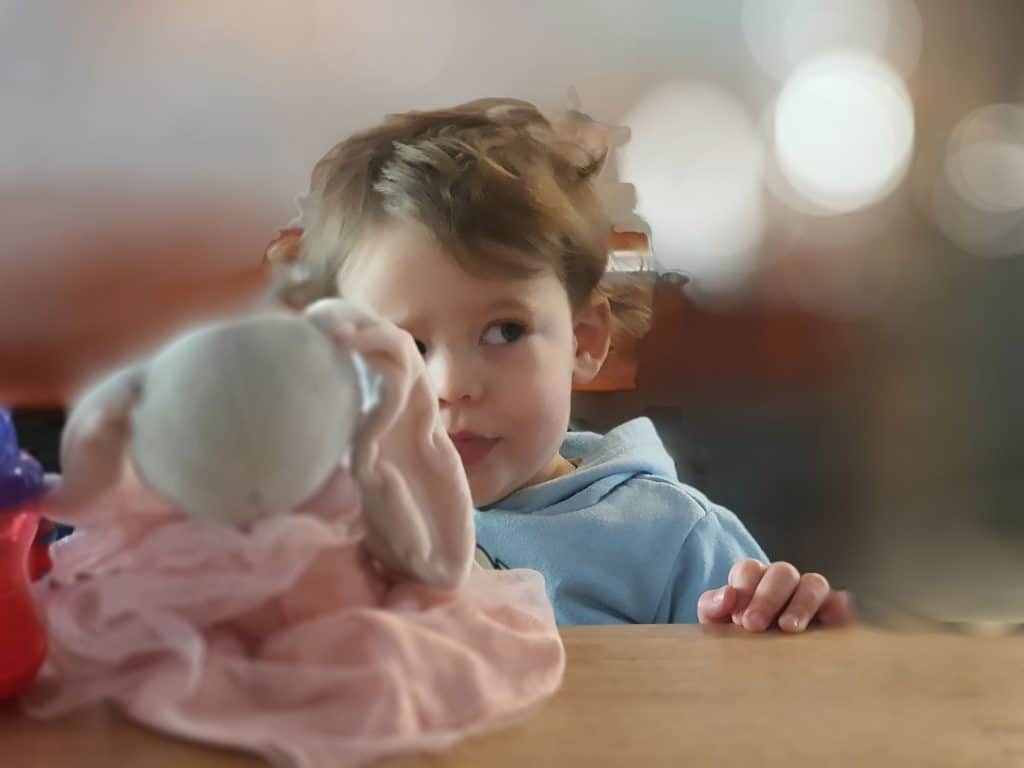 Battery
Much like the camera, the battery isn't quite as strong as you might hope. Even though the Galaxy Note10+ is armed with a 4300mAh battery, a full 100mAh better than the Huawei P30 Pro, the Note doesn't hit quite the same amount of life.
We found closer to two days of life on Huawei's P30 Pro, but the most you'll comfortably find on the Note10+ is a full day, though you can squeeze a little more out if you try, usually by avoiding the camera and screen.
Throughout several tests, we found a good 30 to 32 hours were possible using the same usage test we run with every phone, testing it with a wearable connected and relying on wireless earphones for a couple of hours per day, all the while checking messages, listening to music, surfing the web, using social media, and making and taking the odd phone call.
In other tests, we found if you spend a lot of time looking at that impressive AMOLED screen or using the camera more often, the battery life does drop, making it hard to achieve the full 24 hours you might crave.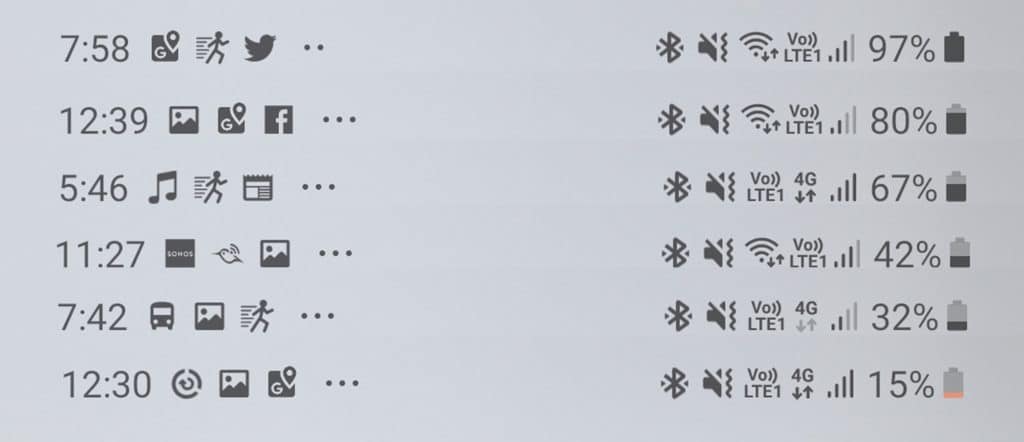 We're not sure how claims of two days of life on the Samsung Galaxy Note10+ could be substantiated, though, and short of pulling back the power and resolution almost to the point of handicapping the whole phone, it feels like you'll want to call the Note10+ a day phone, and not much more. That's not an astonishing battery life for a big phone sporting an equally big battery, and suggests the Note10+ was more made for performance, rather than battery life.
It's just something to be mindful of if you're eyeing Samsung's big new Galaxy because you automatically think a big phone equals big battery life. In this case, it most certainly does not.
Value
It does generally mean a big price tag, however, and that's something the Galaxy Note10+ definitely arrives with, sporting a tag of $1699 for the specs on offer.
That's technically lower than some other devices, including the LG V50, a 5G phone with an accessory granting a second screen that retails for $1728.
All things considered, the Note10+ is actually comparatively decent with its pricing, delivering a solid amount of storage, a massive block of memory, and that lovely screen and industrial design.
That doesn't mean we necessarily agree with the price, but in terms of flagship phone pricing, the Galaxy Note10+ is actually not a train wreck, and is helped by the extras it comes with.
The extras: S-Pen
One of the biggest reasons to consider the Galaxy Note is the S-Pen, a feature that makes use of the big screen the Note has always arrived with.
Every year, the features in that pen get more interesting, and in the 10th take on the Galaxy Note, the focus is on air gestures.
While last year's addition let you fire off images and video by hitting the button on the S-Pen — something that we're pleased to see is still there — now Samsung is advising that you can control volume and media playback using the pen.
The S-Pen itself is made from one block, so feels a little sturdier, but if you want to, you can listen to music and control volume, pause, play, and skip tracks by pressing the button and making a gesture with the pen. Not a rude gesture, mind you, but one waving the pen up or down, or left or right.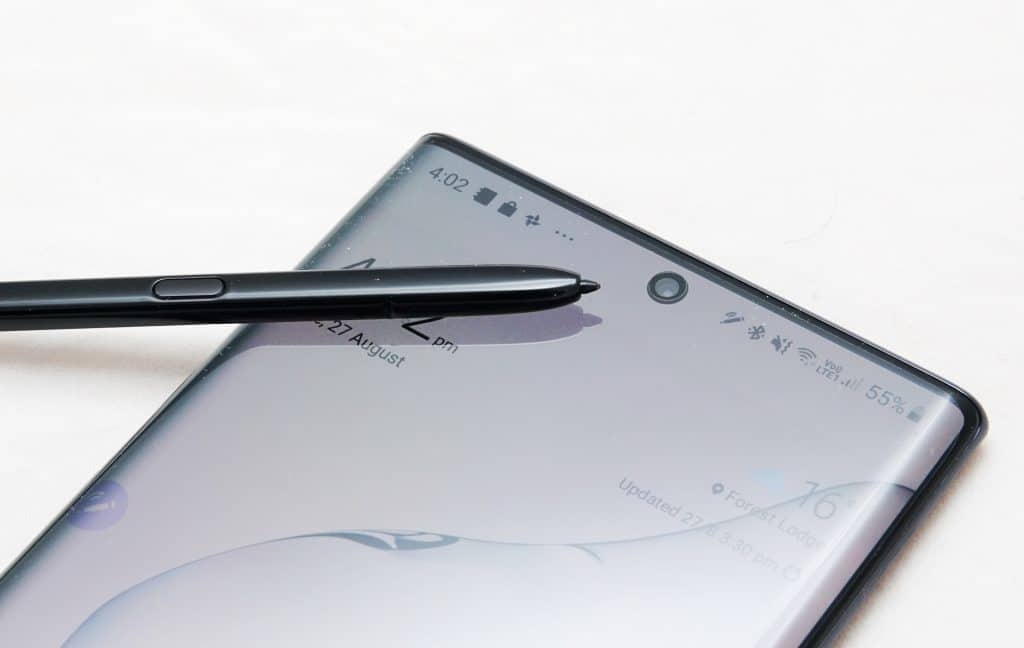 It's just the start, we're told, as Samsung will be supporting developers with gesture controls, though after using it, we're not sure it's the sort of thing everyone will go for.
We can see it being used in presentations, but gesturing with the pen for controlling music volume and playback just comes off a little silly, and doesn't work tremendously well. It's cute, but not overly useful, not compared with the rest of the S-Pen's uses, like scribbling notes, drawing and painting on the go, and firing off the camera with a wireless take on a cable release.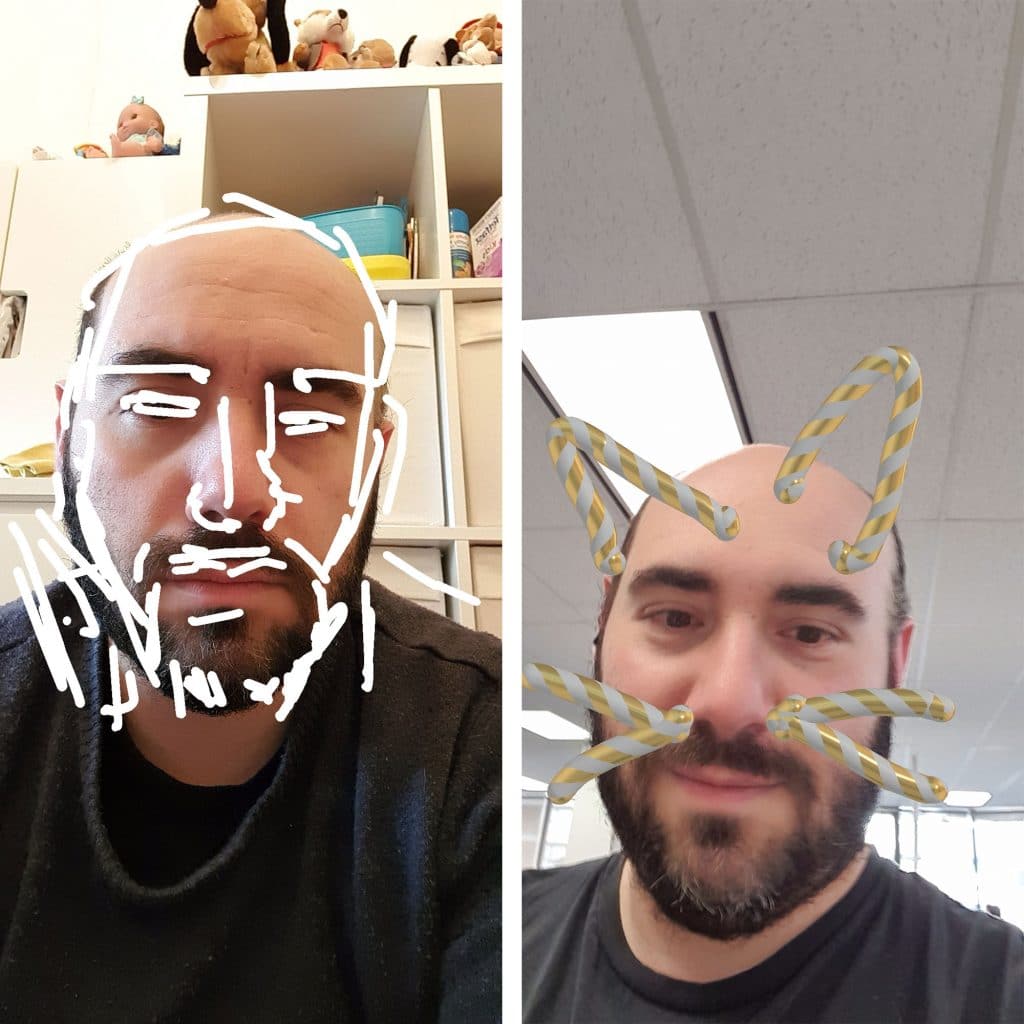 You also get something neat called an "AR Doodle", which is basically a neat combination between Google's augmented reality "ARCore" technology, Samsung's own logic, and the S-Pen, allowing you to scribble and draw in your environment and on faces, creating unique videos and images.
There are some neat things about AR Doodle worth acknowledging, such as how the mode will recall the difference between faces, and allow you to aim the camera at yourself and friends, showing different drawings at the time. It will also support drawings in 3D space, so if you move the Note10+ forward, you can draw shapes and have them stack in space, almost like you were Sonic jumping through rings.
AR Doodle isn't perfect, and the type of drawing and painting control you have isn't necessarily exact, nor will it always map how you want it. They don't save outside of a session, either, so if you want to keep your world with augmented reality drawings in it, either leave the phone switched on for someone to see and inside the app, or record a video and show it to them later. That last option is the more ideal one, as even closing AR Doodle by accident tends to erase all your hard augmented reality work.
Still, though, it's a curiously fun addition, and the sort of thing you can see people who live on social really getting into, as well as kids. Drawing scribbles on your kids — drawing cat ears, for instance — is cute fun, especially when you get a small video out of it for sharing later.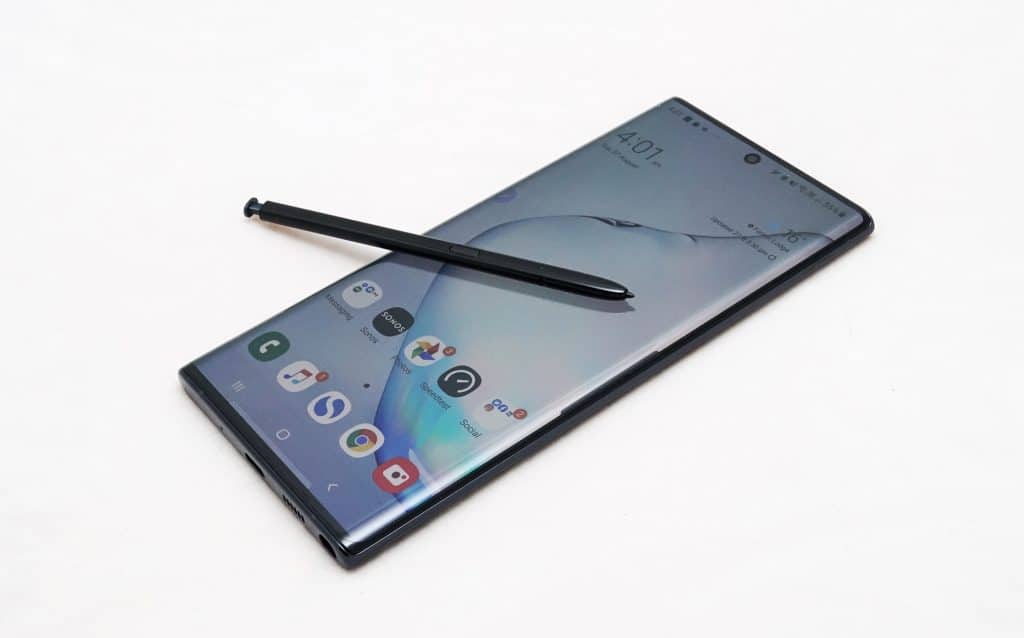 The extras: DeX
Alongside the versatility of the S-Pen, Note10+ (and Note10) owners also get a "desktop experience" built into the handset.
It's been a couple of years since DeX was first introduced on the Galaxy S8, and we liked it back then, but it did require an extra gadget, with a dock that plugged into a monitor. These days, DeX is more about adding the technology to your computer, providing a Windows or a Mac with a desktop environment on the phone.
The idea is actually fairly easy once you see it, plugging in your Galaxy Note10 or Note10+ into a computer, installing the DeX app for Mac or Windows, and letting the two talk to each other.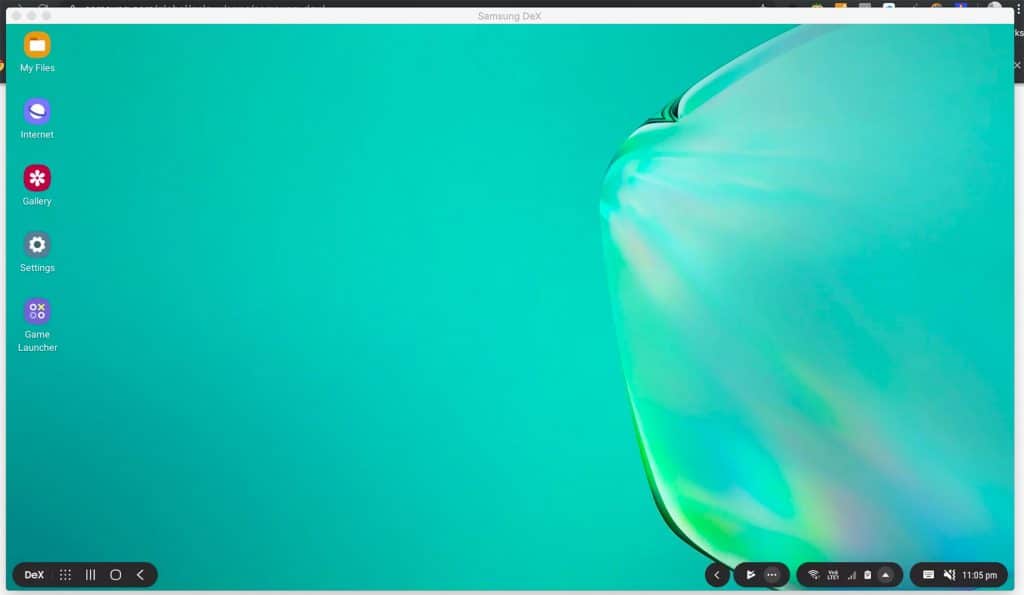 Just like that, you'll find a desktop interface for your phone materialised on your computer, able to run apps from your phone, send messages, and even move files across. It's one of the more interesting ways to connect a phone that we've seen, and while you might come across the odd connection issue, they seem to be fairly easily solved by unplugging and plugging back in, the cable equivalent of The IT Crowd's turning it off and on again.
Much like how DeX was one of the reigning features that made the Galaxy Tab S4 more than yet another Android tablet, DeX for the Galaxy Note10+ makes the phone feel like it could be used for more productivity, simply because there's so much going on there.
Need to use your phone while also using your computer? Plug it in and let Windows or Mac take care of the phone side of things.
Like the S-Pen, DeX is one of those features that could really change how you use the phone, and is a major talking point, at least for this reviewer.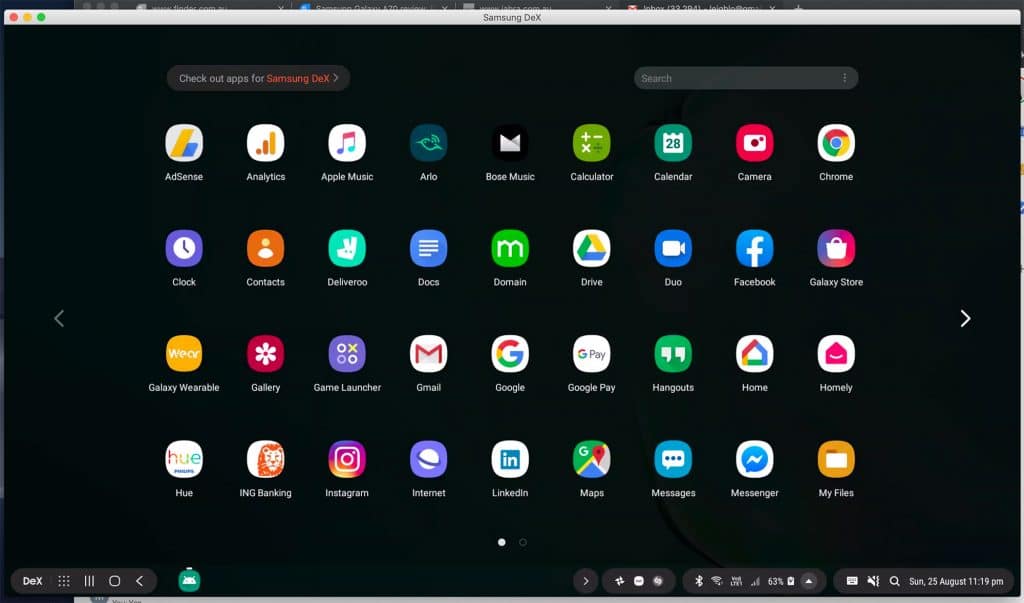 What needs work?
You probably won't be surprised if we tell you the battery life sits at the top of our lists of criticisms, with this $1699 phone only capable of delivering a day of life.
We imagine it is possible to get the battery life up, but you'd have to start handicapping the phone considerably. As it stands, the phone will run at a Full HD+ resolution out of the box compared to the high-end Quad HD+ that it can do, and that doesn't achieve much more life at all.
Samsung has options to improve battery life in the power saving modes, though, including dropping the resolution further, cutting back on performance, and limiting how often your phone gets updates for your emails and other services.
This is a bit of a frustrating situation, though: the Samsung Galaxy Note10+ comes with a 4300mAh battery and can't really hit beyond a day unless you reduce its performance.
We'd really appreciate an improved camera, too, because the Note10+ just doesn't have the same capabilities compared to other phones at night. Even on its "night" mode, the Galaxy Note10+ can come across mediocre, picking up blur and not really improving the image considerably.
Think of it this way: both the mid-range Google Pixel 3a and the flagship Huawei P30 Pro seem to offer better "night" modes than the more costly Samsung Galaxy Note10+, and that is a little maddening, to say the least.
There are other smaller issues, as well, such as the S-Pen's "Air Gestures" feature, which doesn't work nearly as well as you'd expect, and will end up being ignored until it's perfected.
A lack of a 3.5mm headset jack may bug people, as well. We're less concerned by that, and these days omitting a headset jack is typically par for the course. However if you like the headphone jack, it will be missed here.
One final point will be how the biometric security has changed, with no iris scanner and the fingerprint scanner being moved to the ultrasonic in-screen technology first introduced on the S10+.
We liked the iris scanner, but the facial scanner is still quite good, so there's little to criticise here. However the in-screen fingerprint scanner can still be a little slow, much like it was on the S10+, forcing you to leave your finger on the screen for just a little while longer. It still works quite well in the dark, though in many situations, we found the facial login to be faster than the in-screen ultrasonic reader, so make sure to get both registered on your Note10+.
Final thoughts (TLDR)
While the Galaxy Note10+ doesn't offer the best camera of the year, it's still a solid effort altogether, and a great phone.
We're sure you'll agree when we say it's not a surprise to call the Note10+ "the best Note yet", as Samsung isn't likely to go backwards. The fact that it is the best Note is just a typical annual update for Samsung's Galaxy Note range, so that's hardly a shock.
However there's more to the Note10+ than a mere and obvious statement so grandiose that it requires notable fact checking. Instead, you need to use the phone.
You need to use the S-Pen stylus of the Galaxy Note10+ and translate some words, draw some augmented reality sketches, wave a gesture, or trigger some photos. You should plug the Note10+ into your computer and bring DeX mode to life, exploring your phone as if it were another laptop that had suddenly materialised for your hands.
If you want to sink your teeth into what makes the Galaxy Note10+ a contender for the year's best phone, you'll want to use it beyond that of a regular phone, and somewhat traditionally, too.
It's clear that the Galaxy Note10 is made for more, and more creativity and more productivity are big factors. But is it more everywhere? That's a little more complicated.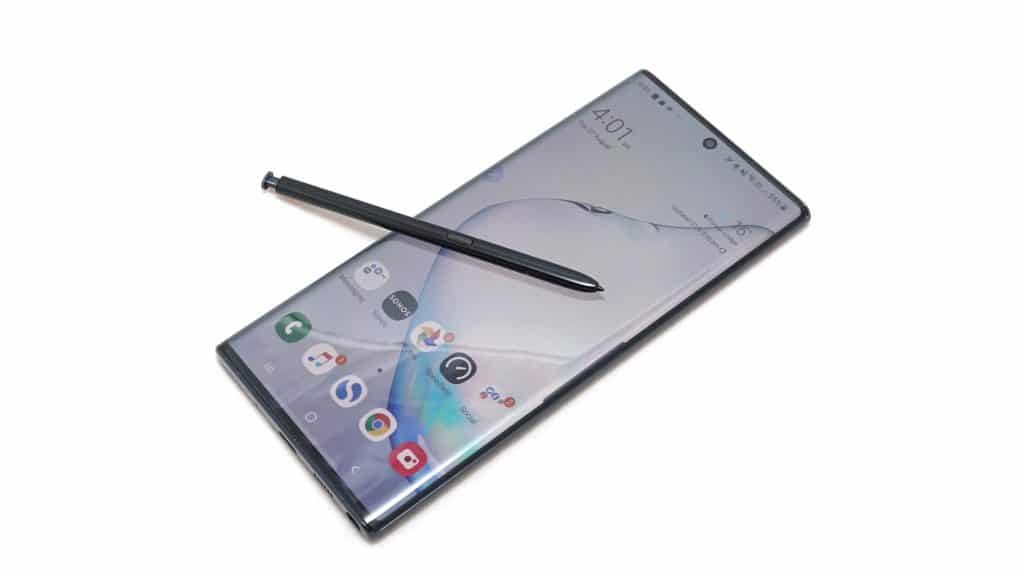 Individually, the Note 10+ doesn't have everything to beat the competition. There are phones with better battery life, and there are phones with a better camera. But put it all together and you have something else.
It's not a phone for someone looking for Samsung to break the mould, nor is it a phone that transcends what the Galaxy Note range is or has been. But it's not supposed to be.
The Galaxy Note10+ is a truly premium experience for people who want a big and beautiful phone. It even manages to feel more complete than Samsung's other flagship for the year, the Galaxy S10+.
The Note10+ won't be a necessary upgrade path for all, and if you have a Galaxy Note 9, jumping from 9 to 10 seems largely irrelevant here. But if you're looking for a premium Android that delivers on most features, particularly in regards to connectivity, the Galaxy Note10+ is definitely worth a look. Recommended.
The good
Beautifully designed
Lovely screen
Superb performance
S-Pen is still really useful
DeX is one of the coolest computer and productivity integrations a phone has ever seen
AR Doodle is a surprisingly cute feature
Screen protector and case included in the box
No Bixby button
Water resistance
The not-so-good
Battery life isn't great
Camera could be better
In-screen fingerprint reader isn't always the fastest
No headphone jack
Expensive