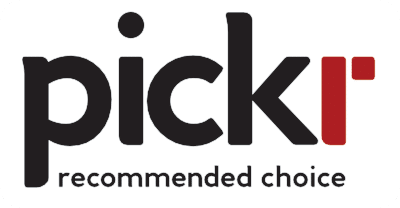 Another year, another new Samsung flagship, and this year it's all about the Galaxy S9. What can Samsung do to top last year's much heralded formula, and will it be as good, if not better?
When looking for a new smartphone, it's very difficult to consider all your options without considering the likes of Samsung's Galaxy series. Easily Apple's biggest competitor, it's a series that has shown Samsung has what it takes to play with the juggernaut that is Apple, and over the years, it has really improved in leaps and bounds.
In fact, Samsung's transformation into truly aggressive Apple iPhone competitor came with the company's curved screens, first launched in the Galaxy Note Edge, and followed by the Galaxy S6 Edge. Back then, the curve was an option, though it did provide a glimpse into where Samsung was heading.
When Samsung eventually moved to curve only in last year's S8, its curved journey was practically realised: while curves could provide more flex, the reason the curve was here was to allow the screen to bleed into reality, to blend the digital with real life, and truly make the edges of the screen go away.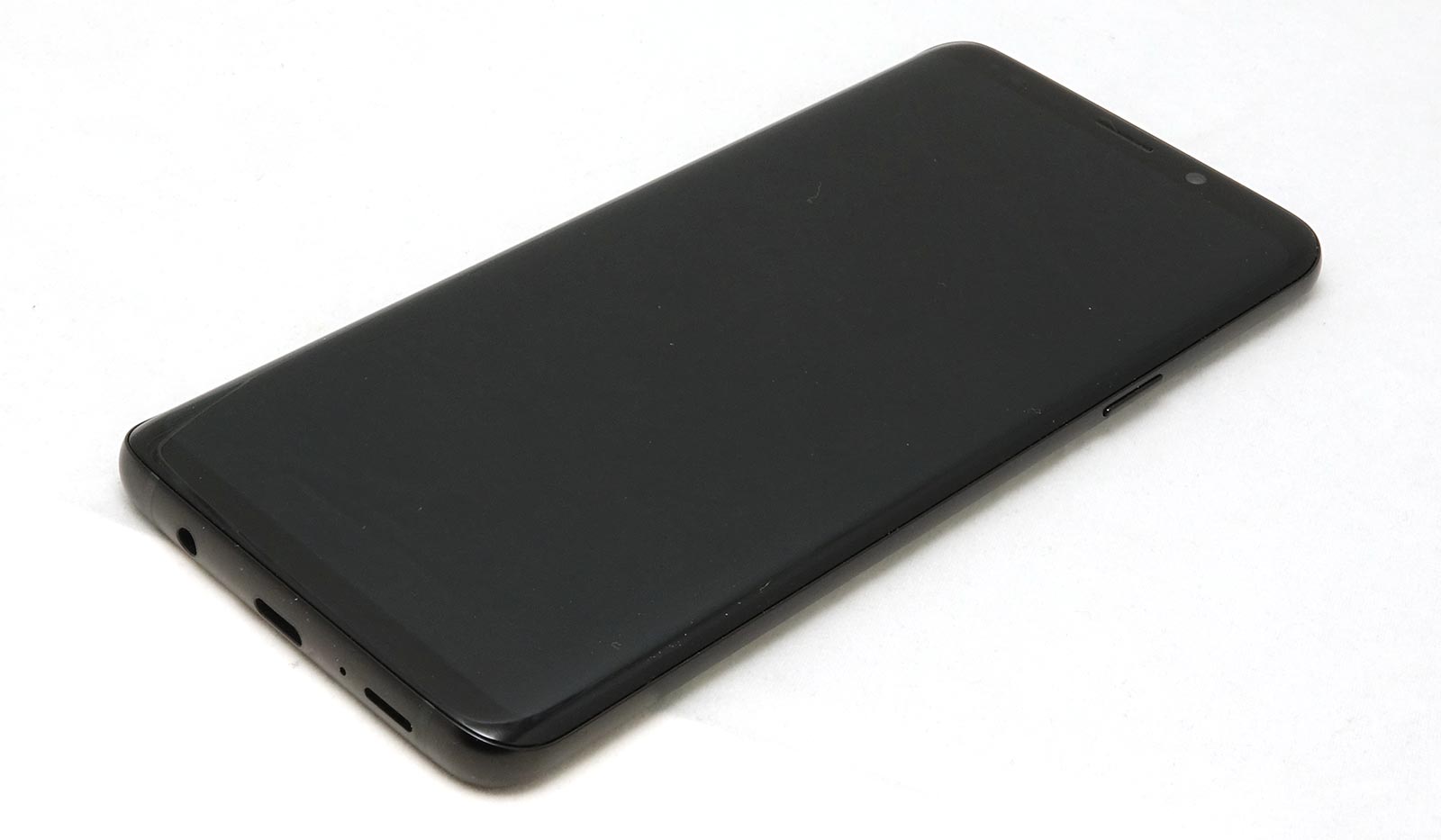 Last year's Galaxy S8 didn't just pack in that amazing concept, but a whole bunch of other things, and helped to make the Galaxy S8 one of the year's best phones.
So how do you top that? How do you rekindle emotions and make people want to upgrade? How do you fix what isn't broken?
This is the conundrum that is the Galaxy S9 and Galaxy S9+, and it's one that delivers, and not just because the template Samsung had to start with was already so bloody good.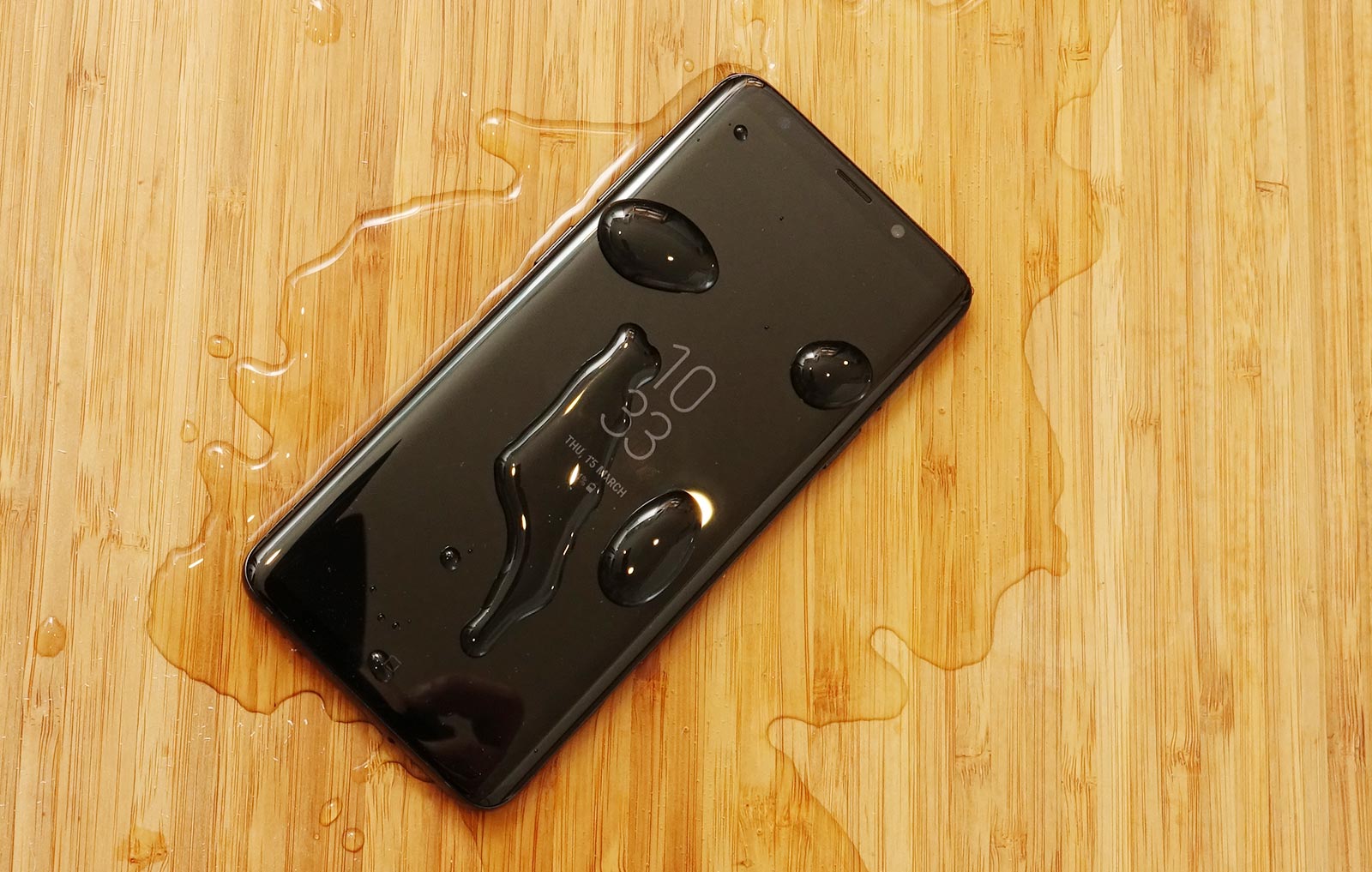 Design
First things first, it's worth looking into the design, and if you've seen last year's Galaxy S8 or S8+, well, you've seen this year's Galaxy S9 and S9+.
There are a few differences, most notably the changed location of the fingerprint sensor, which now moves from the silly location of next to the camera to the more logical place of beneath the camera, though it's not as low as what we've seen on other Android phones.

The front features a handful of tiny changes, mostly for the hardware configuration in the camera's sensors, while the bottom speaker is a little more recessed, likely for improvements to water resistance.
But outside of those changes and a smidge more thickness, the Galaxy S9+ is identical to the Galaxy S8+, with a metal slimline frame that curves around the sides to adhere to the otherwise completely glass body, with port access on the bottom, and SIM and microSD slots at the top.
Last year, we noted that the S8 felt like a design that popped out of the future, and a year on, it has aged well, still feeling like the futuristic time traveller that could, with the curved screen helping complete this.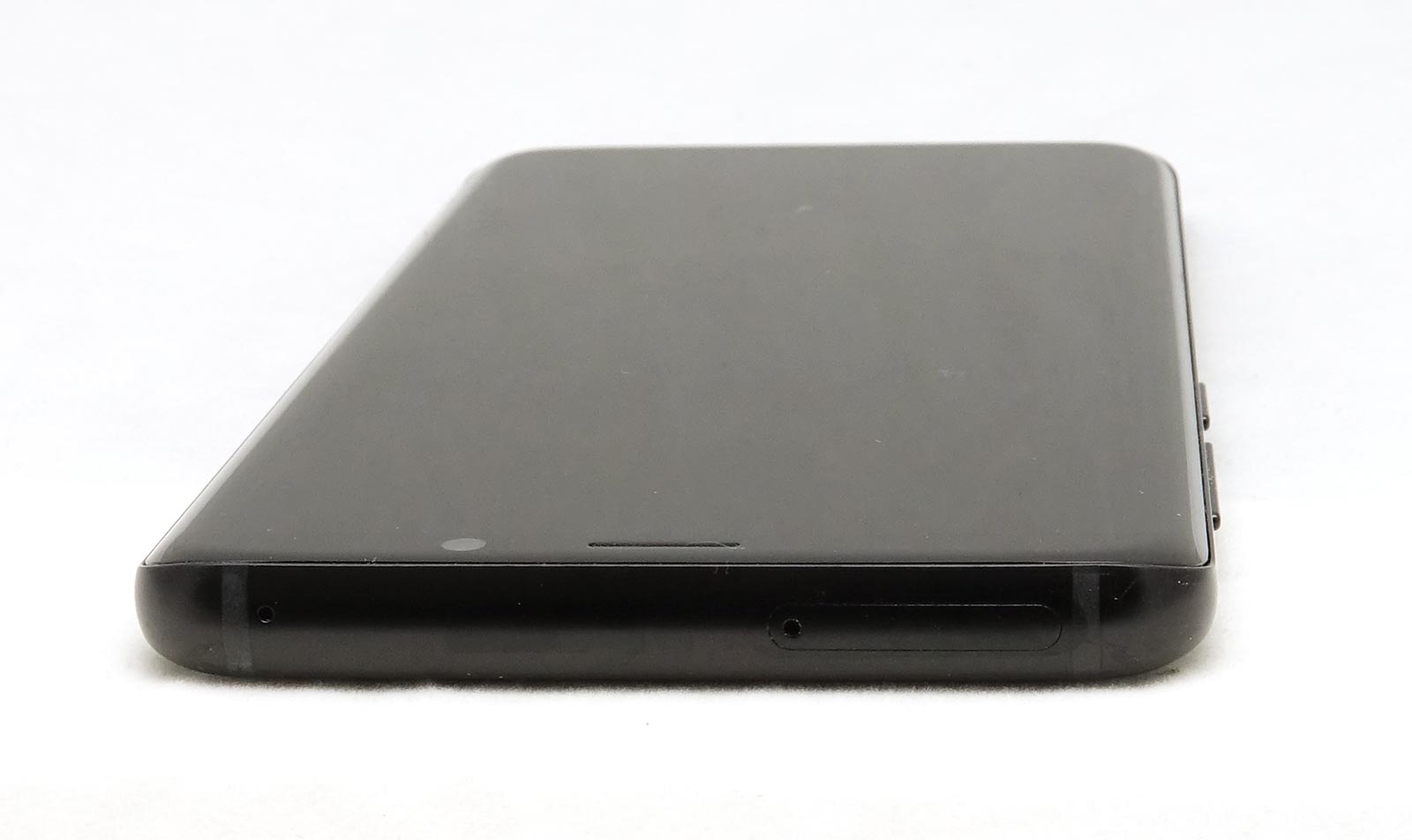 Features
That curved screen is the same 2960×1440 display from before, providing that maximum resolution to a display area of 6.2 inches, making it one positively massive screen.
There's not much in the way of bezels, though, and that's a good thing, because this is mostly display, with the edges curving off to the side to let the picture bleed into your reality.
Under that display, Samsung has provided Australian models with its latest and greatest, the Exynos 9810 chip, different from what folks in the US receive, the Qualcomm Snapdragon 845.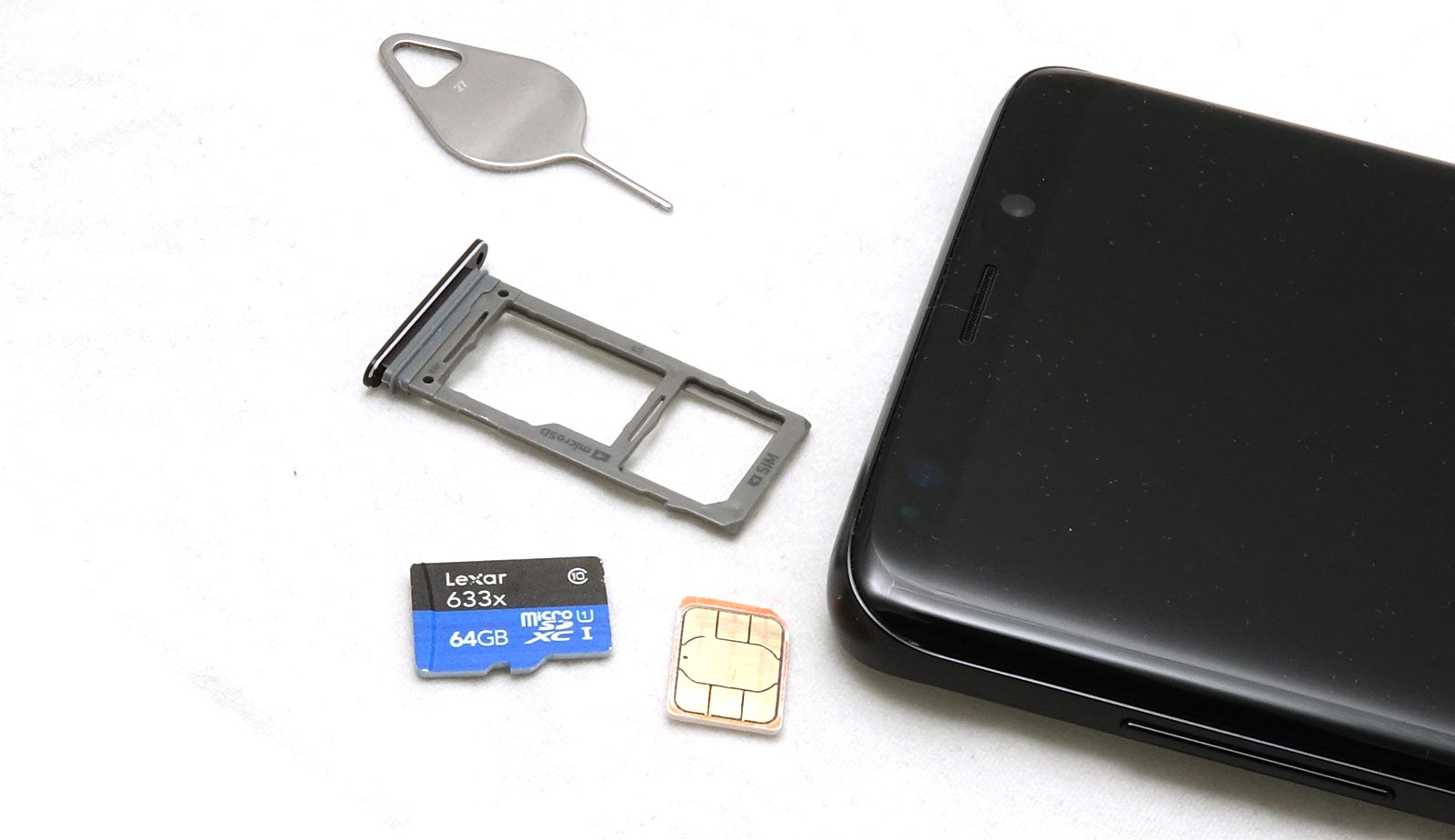 Outside of that, it's the same, with a staggering 6GB RAM, choices of either 64GB or 256GB storage (our review unit was 64GB), and support to expand that with a microSD slot. Google's Android 8.0 is here, meaning it's about as new as it needs to be for the time it was released.
Connection options are all fairly standard for a phone in 2018, save for one thing which is new: Category 18 LTE. That's a big number, and makes it possible for Samsung's Galaxy S9 and S9+ to support speeds as high as 1.2Gbps down and 150Mbps up, something only a handful of networks can offer.
Bluetooth 5.0 is also provided on this phone, as is 802.11a/b/g/n/ac WiFi, GPS, and Near-Field Communication, and both the Galaxy S9 and S9+ are rated for Telstra's Blue Tick and Optus' rural certification, meaning they're ready for use in Australia's less city-based areas.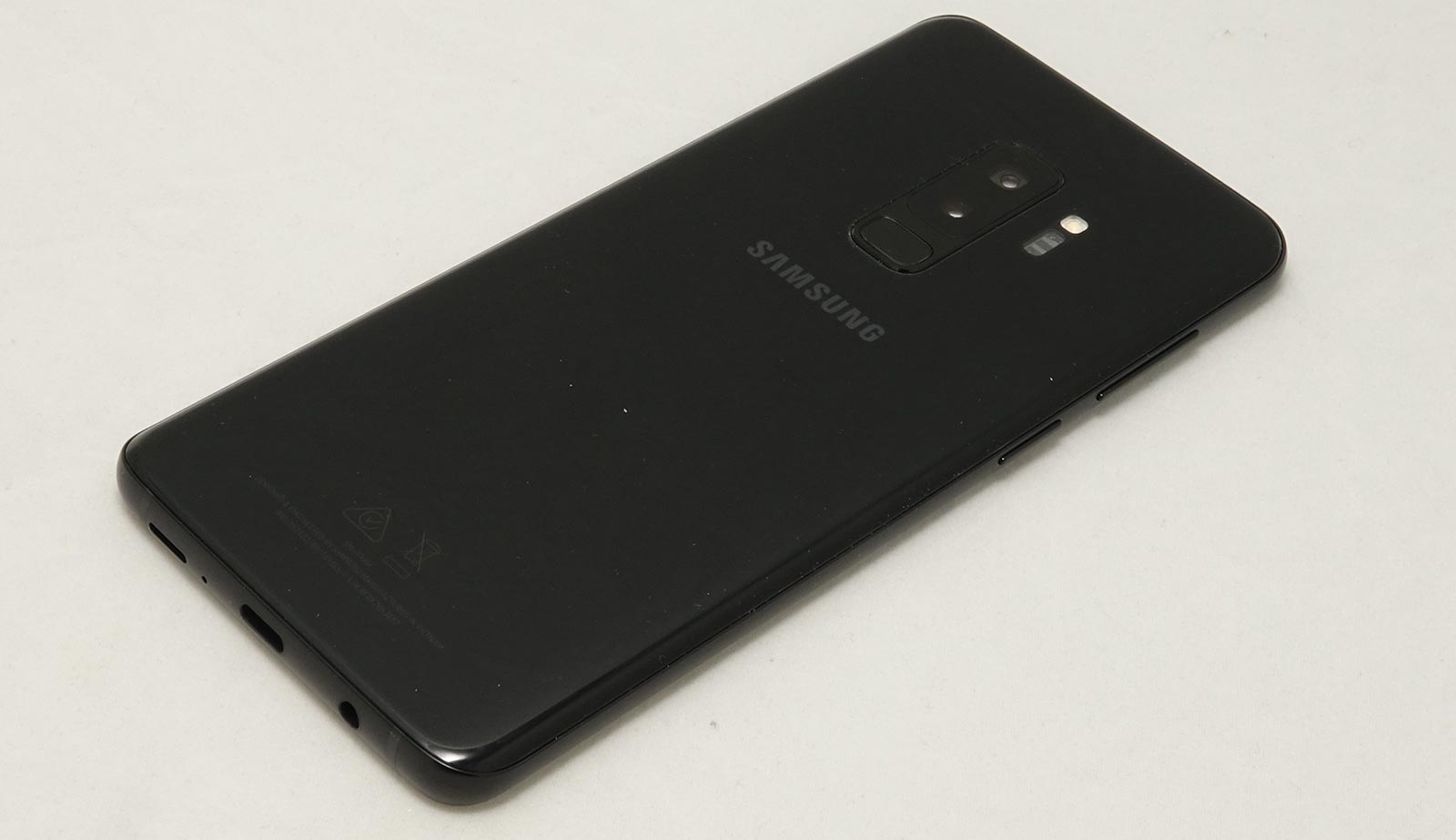 While most of these specs are standard, the camera is new, offering two cameras on the S9+, delivering both a 12 megapixel wide camera and a 12 megapixel 2x optical telephoto camera. Here's where things get interesting, though, because the wide lens supports both F1.5 and F2.4 apertures.
The camera also handles 4K video, and supports 960fps super slow motion video in a lower resolution. while the front facing camera is set to 8 megapixels with a low-light friendly F1.7.
In the world of security, you'll find support for facial recognition, iris scanning, and fingerprint scanning, the latter of which now provides the sensor under the camera compared to on the side where it was in the S8 and Note 8 phones, and all three can be combined for what Samsung calls "intelligent" scanning.
This is handy, and so is the availability of ports, with both a USB Type C port on the bottom, as well as a 3.5mm headset jack, as Samsung holds out.
The battery on the Galaxy S9+ is rated at 3500mAh, and can be charged wirelessly using Qi chargers.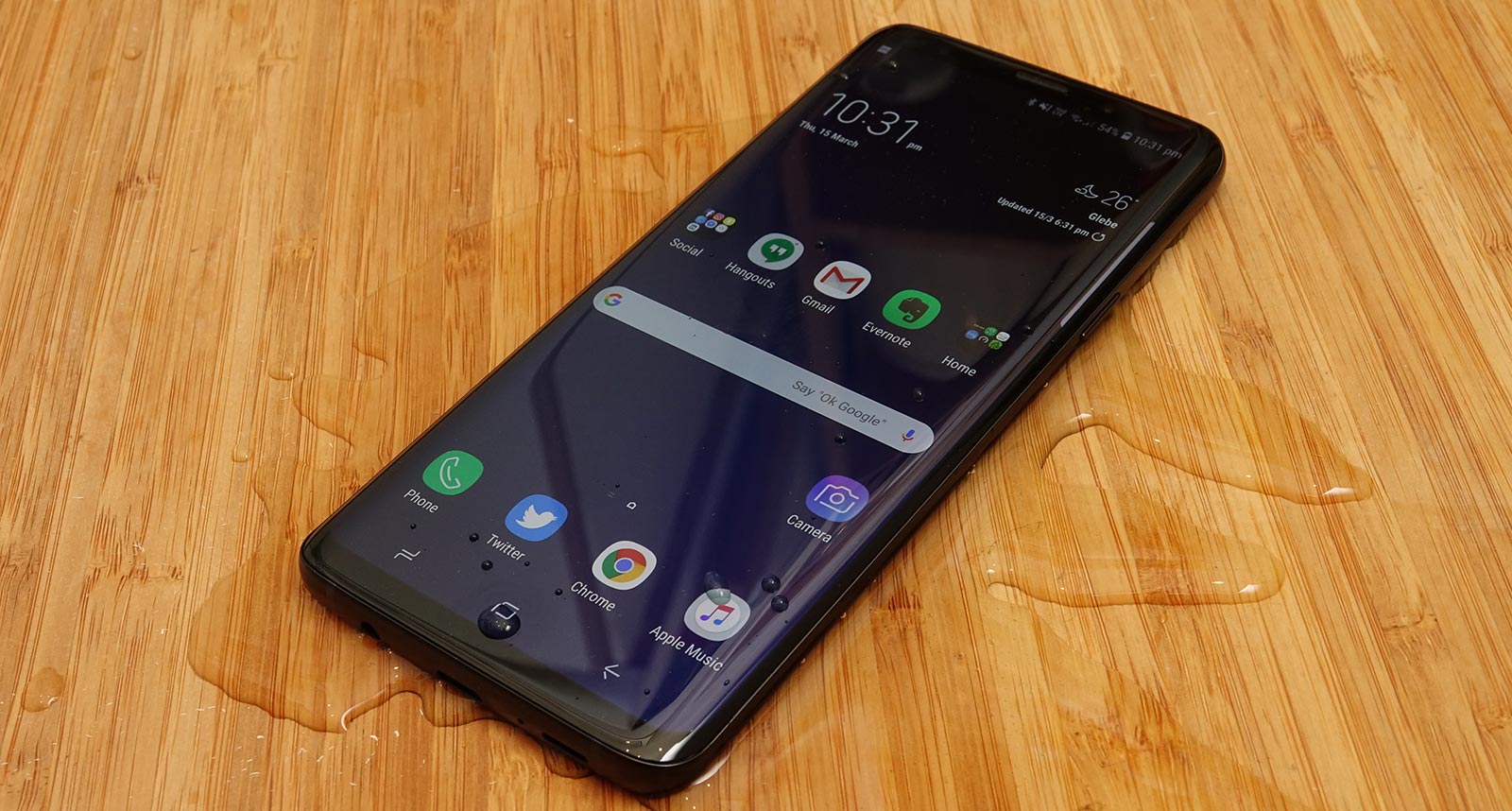 In-use
Getting stuck into the phone, Samsung has left things more or less the way we're used to them, outside of a shift to the fingerprint sensor, which is now in a better place and sits under the camera.
That's much easier than the sensor off to the side of the camera, though you can't turn your phone on from here, and still need to hold down the button on the right edge.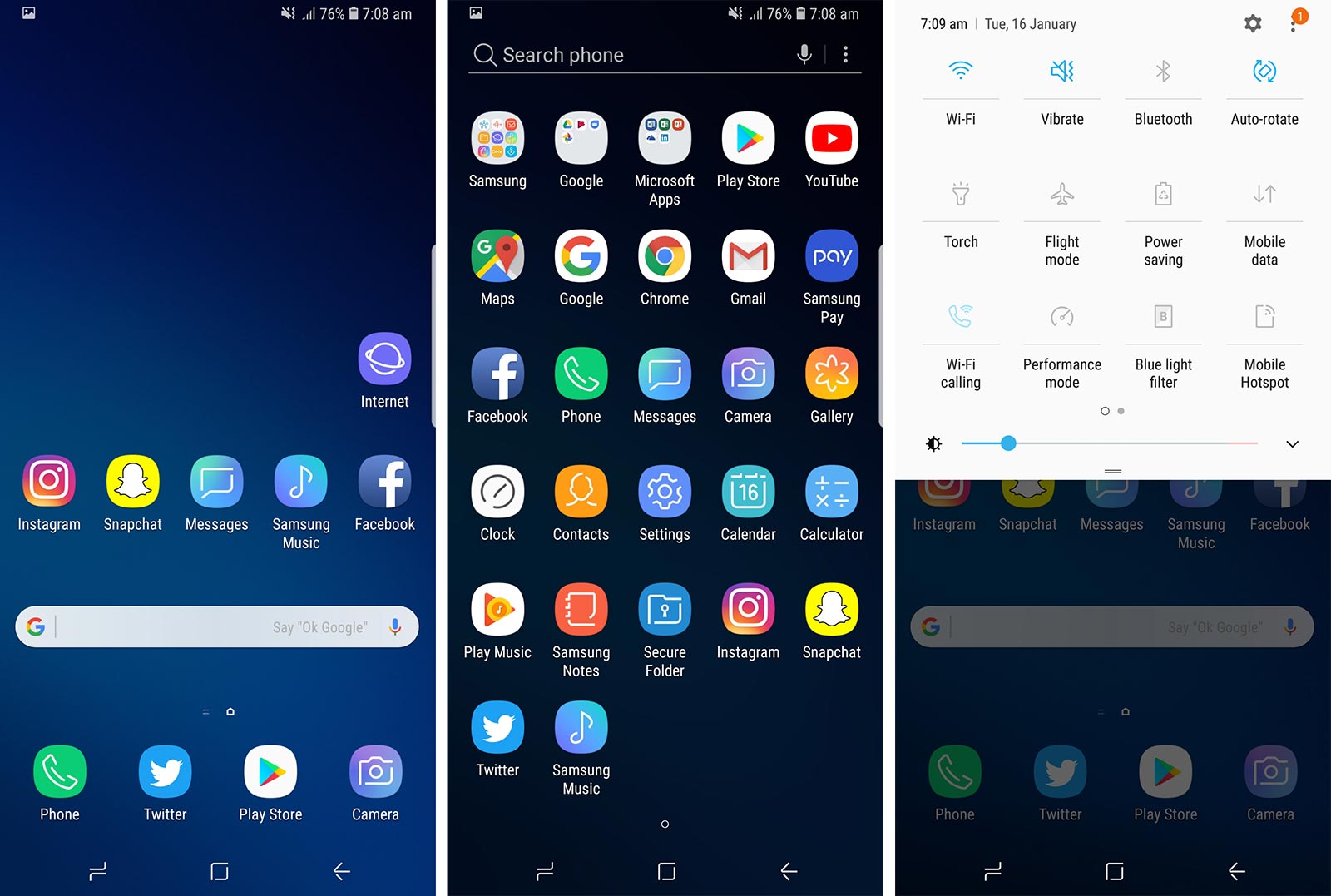 Once that's done, though, you'll be greeted with Android 8.0 "Oreo", complete with Samsung's latest TouchWiz variant, which feels very much like last year's version on "Nougat". That means the skinning is more like what Google works with, allowing you to swipe up to get all your apps, or drag shortcuts and widgets to the home screen as well.
There is an option for a more iOS-inspired mode, too, just in case you want all your app icons on the same screen much like how an iPhone does it, and devices made by Oppo, as well.
Performance
With no major changes to Android, the hardware is given room to flex its muscles, and that's good, because on the Galaxy S9+, you'll find a fair amount of processing power.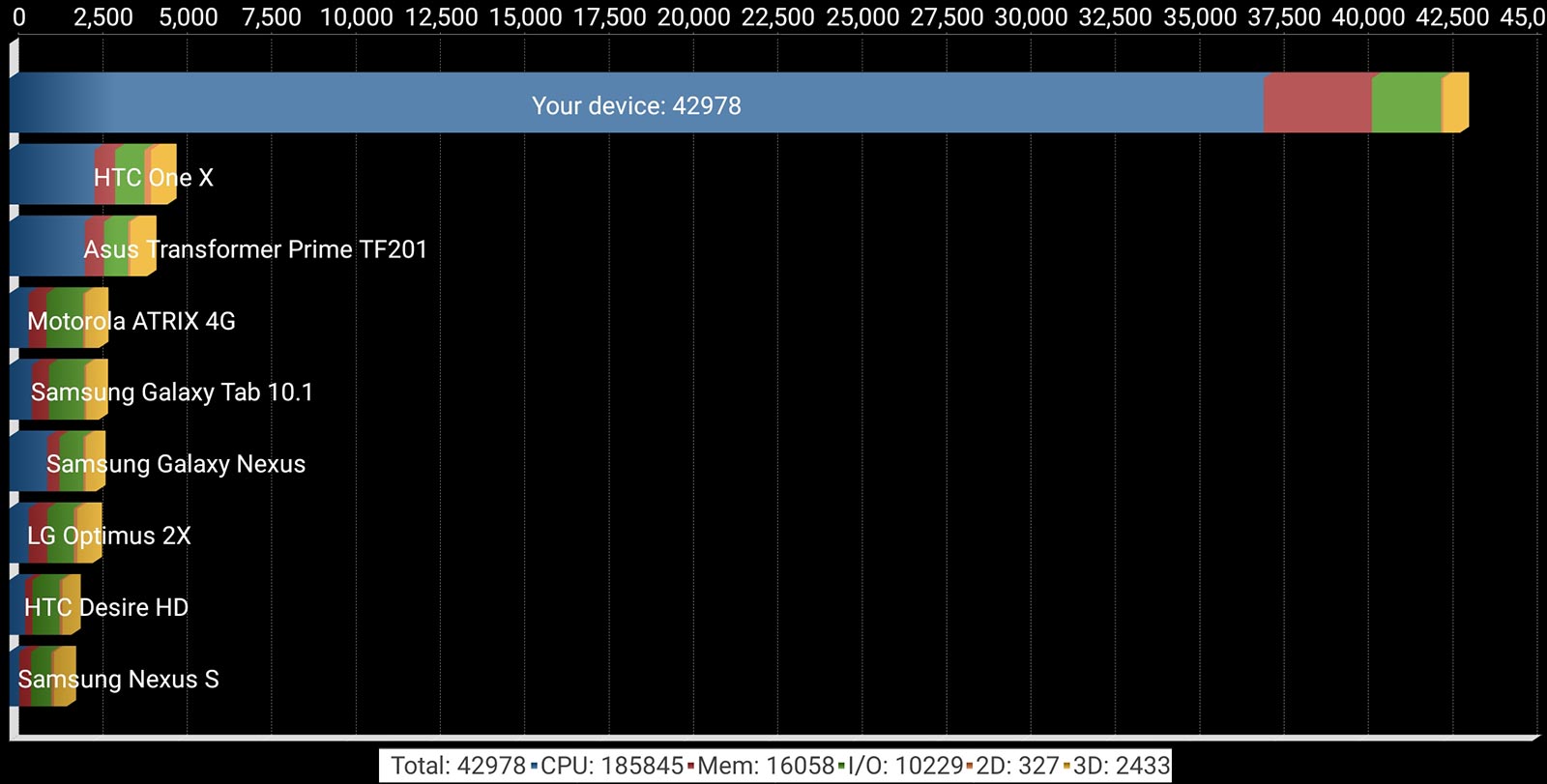 Samsung's Exynos 9810 proves itself to be no slouch in the benchmarks, and while they don't really reveal actual performance, we found little to no lag in everything we did, with the Galaxy S9+ just flying in performance.
Mobile performance didn't quite nail the Category 18 4G speeds you should be able to theoretically achieve, but that's fine, and topping out at a little over 200Mbps was perfectly acceptable.
We doubt anyone would struggle with the performance on offer here.
Camera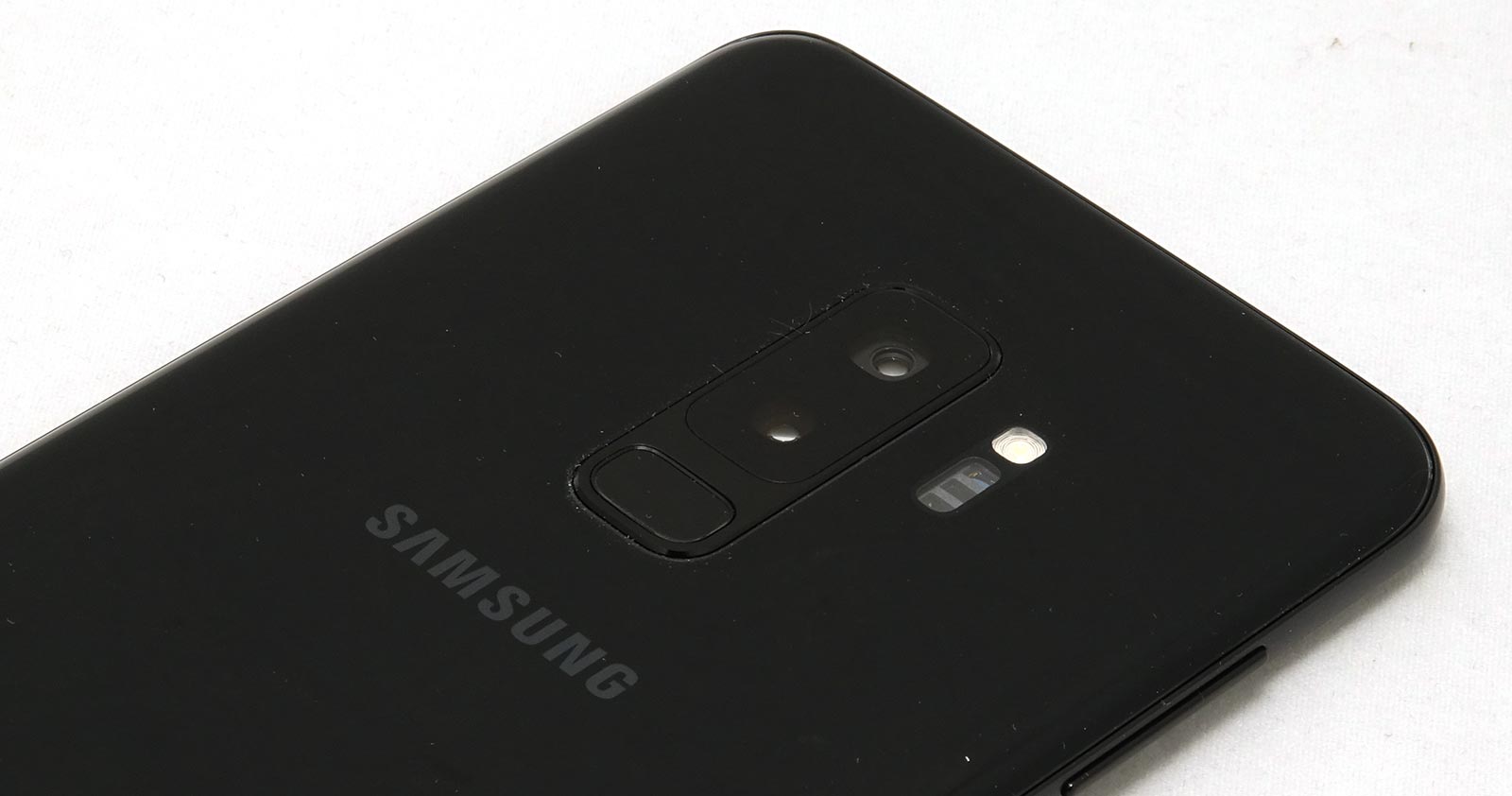 While the performance of the Galaxy S9 is unsurprisingly faster — a new processor and 6GB RAM was always going to be a big help — the camera is really where most of the attention of this phone is placed.
Simply put, it's bigger and better in every way, and it not only shares technology with the S9 standard, but also with the Galaxy Note 8, so let's break this one down to size and get into the nitty gritty.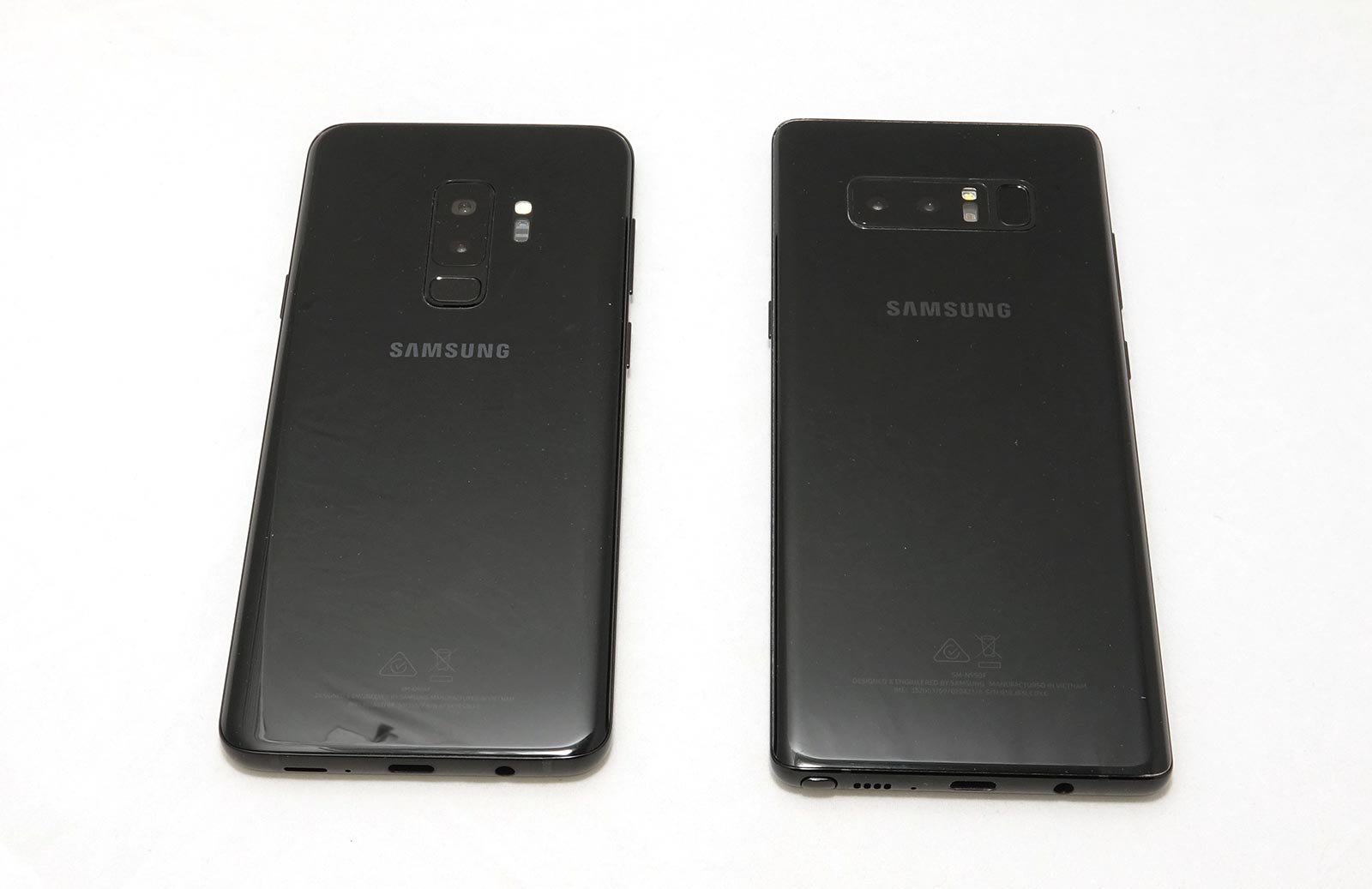 The Galaxy S9+ delivers two cameras much like Samsung did on the Note 8, meaning you get a standard wide camera angle and then one closer at 2X optical. It's not the first time we've seen this concept, and both Samsung and Apple use it on their big phones, incorporating two cameras to be the middle ground for what a zoom lens does, zooming in here by switching to a different camera rather than needing a mechanical or electric zoom lens.
That means you get wide and close, and you get both with the option of an F2.4 aperture. For Samsung, that's normal, and we've certainly seen that before, but it's not the thing that makes the S9+ shine.
Rather, that comes from the new lens technology, which for the first time in Australia allows a phone to change apertures.
On the one hand, that means more camera control, allowing you to get portrait modes with a properly creamy background and soft bokeh, something you only get from wide apertures, and Samsung's F1.5 is very, very wide.
And on the other, it means more light is also let in for low-light shooting, making images just that much more open to better light in poorly lit rooms.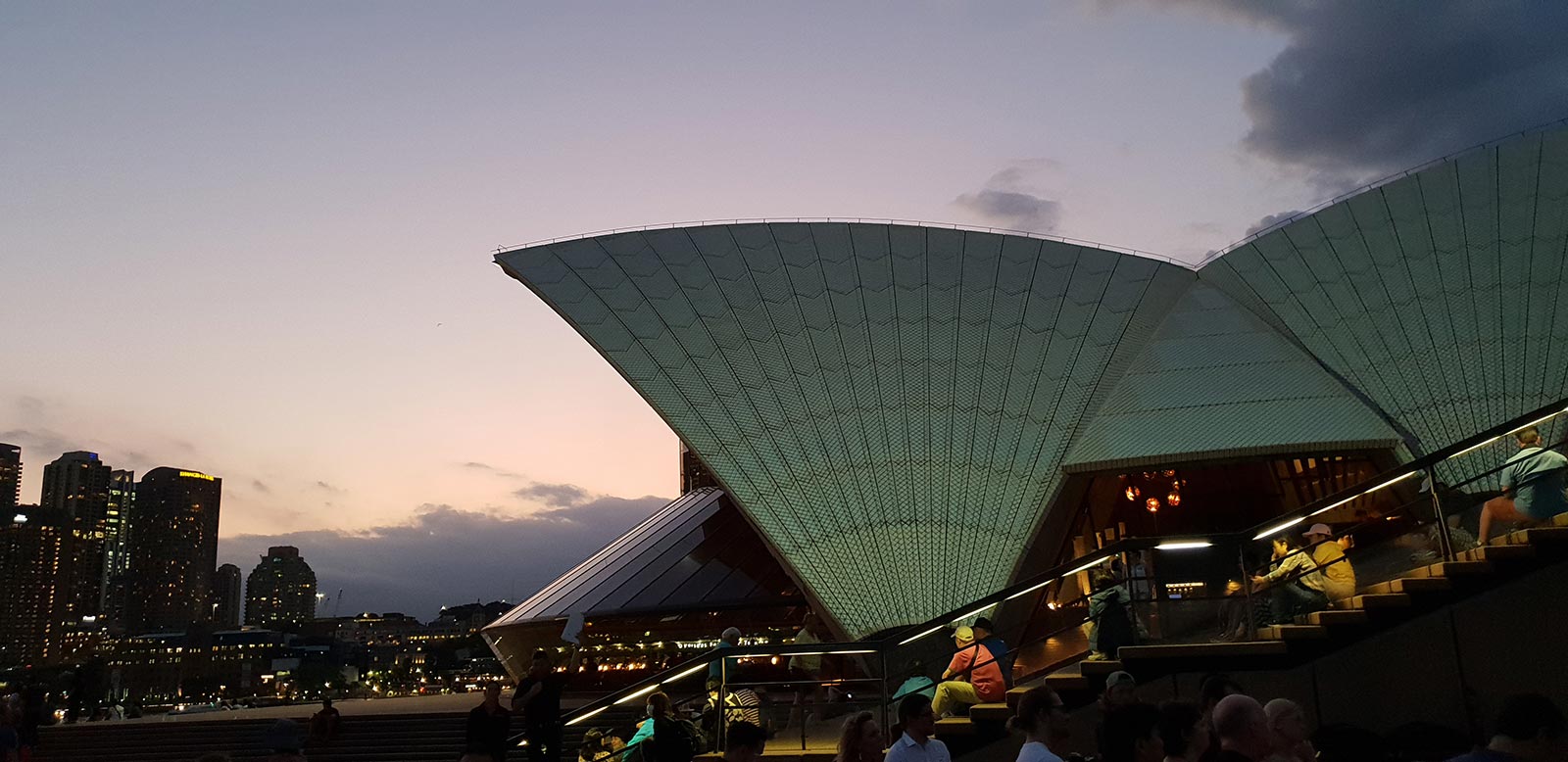 It's not just a low-light lens that can jump between F1.5 and F2.4 that makes up the technology being offered here. Samsung is also doing a bit of bracketing and image combining to make low-light stand out, capturing an image in lower light that stands out.
You will find a pro mode here if you prefer to get all hands on with the setting and hardware, and while we found the interface a bit finicky, it does let you control the aperture nicely, as well as focus if you want to get properly involved in your smartphone photography.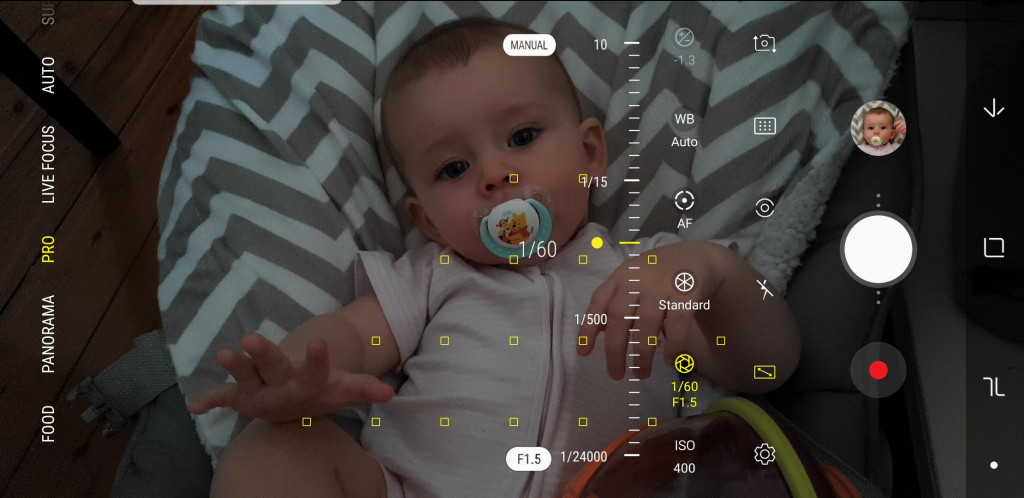 All up, though, the images from the phone are nice and offer good lighting and balance, with a fairly strong sense of clarity in most of them. There's also a RAW mode that's native, which is super handy if you prefer capturing in lossless.
Samsung's other big deal features include a 960 frame per second slow motion mode not unlike what Sony's Xperia XZ Premium provided, with a 720p HD picture offering super high speed video for super slow motion. To Samsung's credit, it has made the capture of slow motion much easier, either using an on-screen square to pick up on the video, or a manual mode that allows you to capture the motion when you see it.
And there's also the most useless feature yet: AR Emoji.
No doubt a response to Apple's augmented reality emoji in the iPhone X that uses your facial scan to map muscle movements to a digital avatar, Samsung's approach is to create a 3D emoji from your face that automatically makes stickers of you that you can use on Facebook.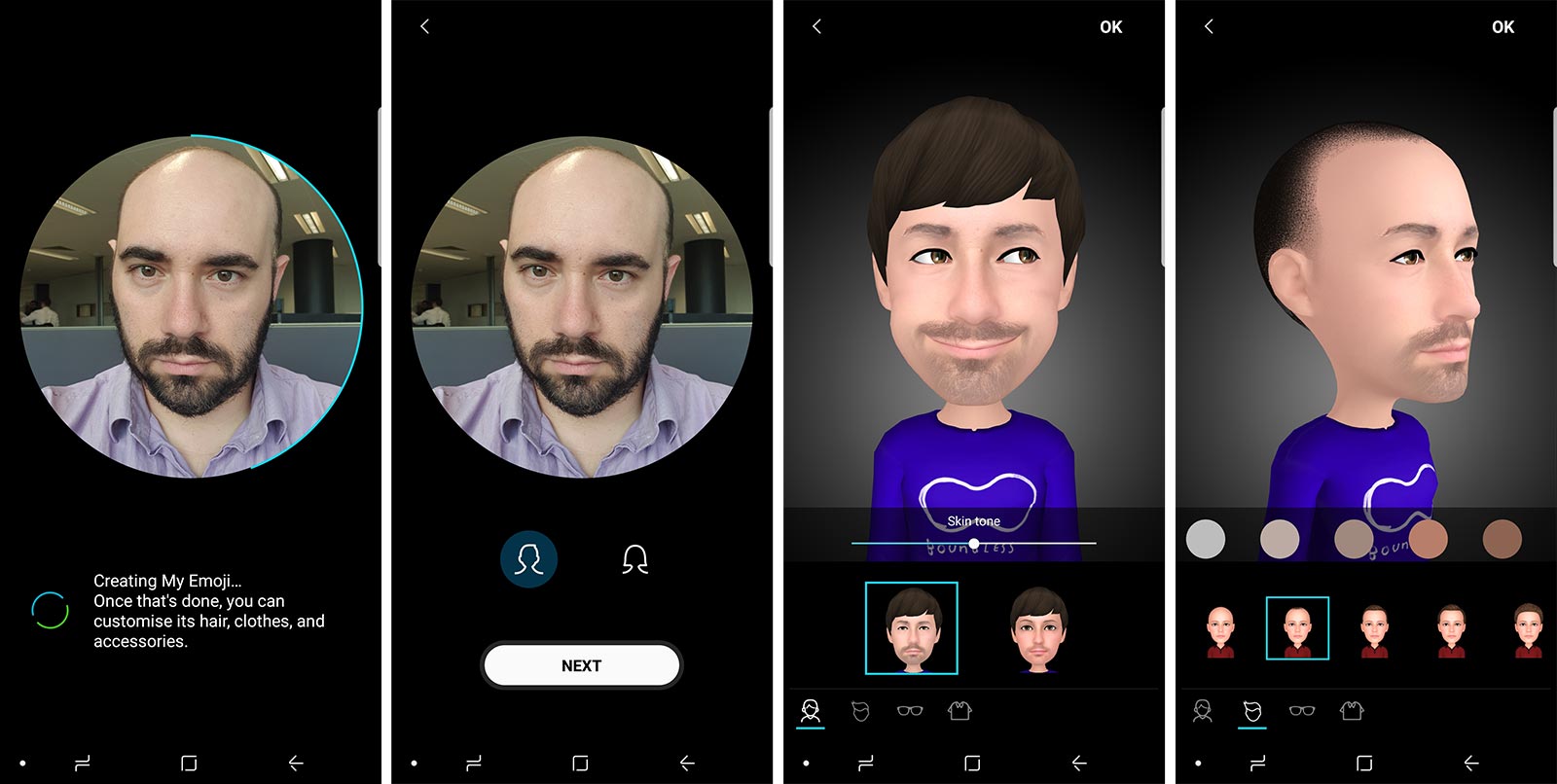 In theory, it's the kind of cool concept you'd expect out of a Nintendo Mii avatar, only on a mobile device. In practice, it doesn't always nail expectations. We found that it couldn't get us right at all, and the lack of clothing to accessorise really made this less impressive.
This writer's wife found a better version of herself, but the lack of customisation options makes this more of a "try once, move on" feature, and a gimmick not worth playing with yet. Samsung says more is on the way for it, but right now at launch, it's one of the weakest part of the cameras.
Really, we found ourselves having fun with the augmented reality additions to our faces, where the reviewer's eight month old child giggles with delight when the camera made her look ever more adorable.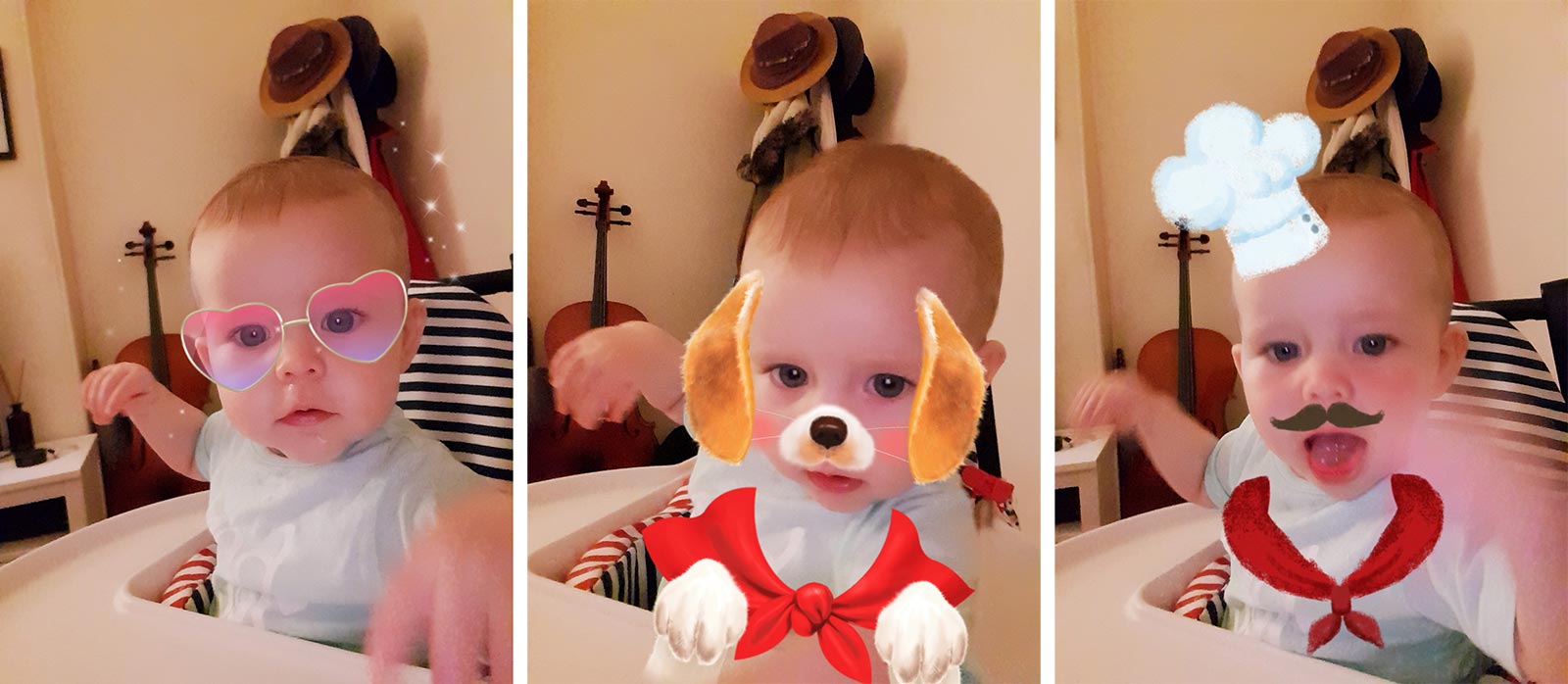 Battery
While the camera is solid and boasts some impressive tricks, the battery life feels kind of like yesterday's news.
This shouldn't come as a huge surprise, either, because the Galaxy S9 models are slightly improved variants of what we saw last year in the Galaxy S8, suggesting the battery life will sit around the same runtime: a day of life. That's a work day for you folks keeping track at home, with off the charge at 6am and back on around midnight.
But there is one problem: while a workday has been a decent battery life for the past year, we've seen better in the past few months. Devices like Huawei's Mate 10 Pro really make a difference here, with two days of life possible.

It's worth pointing out, too, that to get those 24 hours, we needed to keep the phone at its mid-resolution, 2220×1080, as the battery ran out a little more aggressively when we ran it at its native 2960×1440 resolution.
That means our one day of life is good, but not fantastic, or at least not as fantastic as the rest of the phone.

Value
And in a move that will shock no one, Samsung is asking for a seriously high price on this phone.
It's a trend Samsung has been gradually inching towards, and the S9+ keeps it up, bundling a lot of features you'll want in a price you may not, because at $1349, the Galaxy S9+ is by no means a cheap phone.
As to whether it's worth it, the features would say yes, especially in comparison with other handsets, though we doubt anyone with either a Galaxy S8 or Galaxy Note 8 would see a good reason in updating.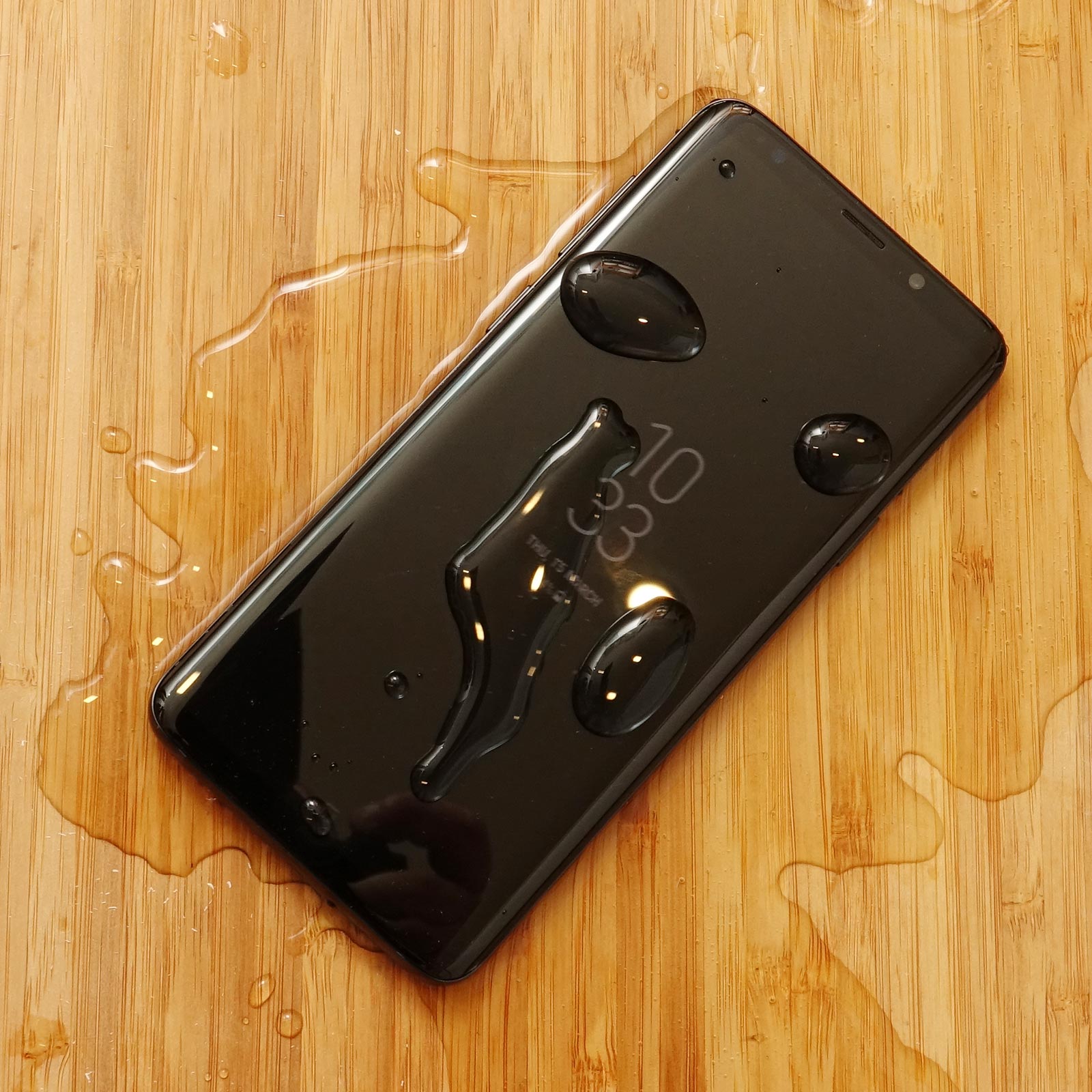 What needs work?
While we're not surprised by the price or the battery life, they seem to be the only areas that need seriously work, because they don't help the evolution of the Galaxy S9+.
Actually, what are we saying?! There is something that desperately needs work!
What needs work? Bixby.
Even in its second generation, Samsung's smart assistant needs a lot of work, and misses the mark in quite a few things.
For starters, that button is still totally unnecessary, and isn't helped by the fact that it can't really turn Bixby off entirely, just stop you from jumping to the Bixby screen, which you can turn off. We're not huge fans of superfluous buttons, and that's one right there, but if you could make it do something else by the grace of Samsung without an extra app, well, that would be nice. You can't yet, but maybe later.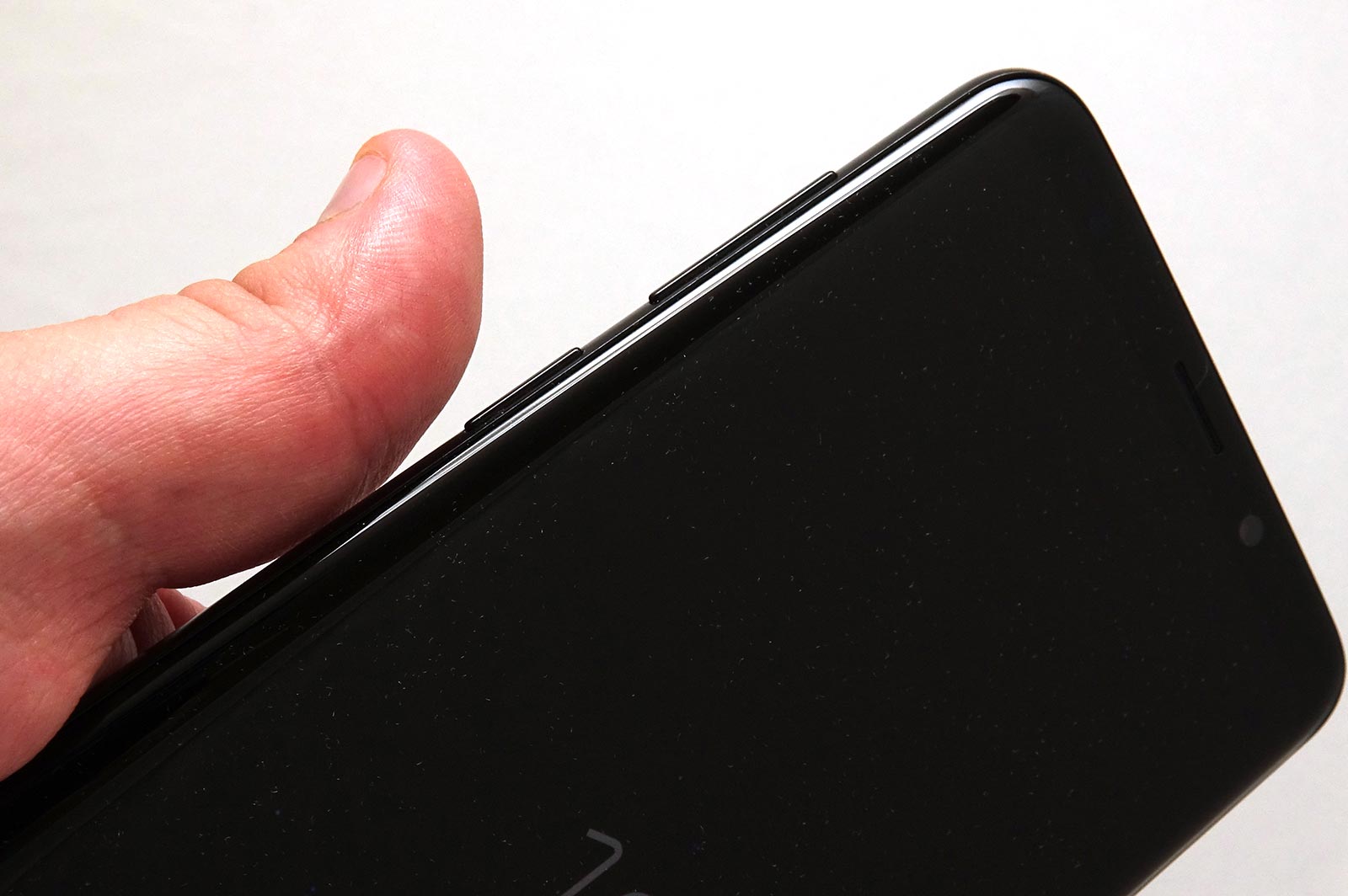 Bixby's news and information screen is a little bit more useful long term, and now plays nicely with apps in your social bubble, but Bixby itself is also a bit of a problem.
For instance, while it can translate signs in much the same way as Google Translate, it is also integrated in the camera to tell you what things are and how they relate. Sadly, it's here that things don't go to well.
Bixby's never been quite good at identifying locations, and this year, it doesn't fare much better with products or items around the house, getting watermelon and a Chihuahua in our tests, but failing at baby formula, coffee pods, and even Samsung's own Gear S3 smartwatch (sorry Bixby, but it's not an Omega timepiece).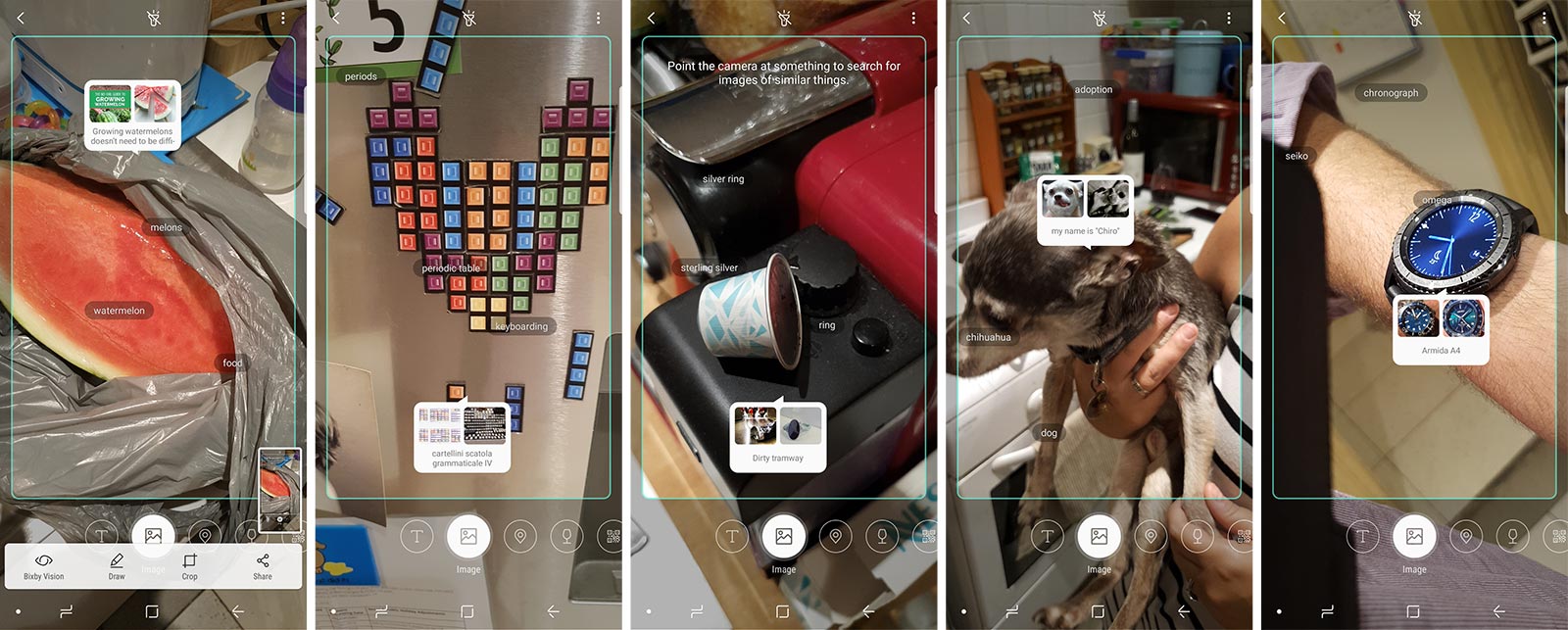 It even fails at human identification. I've been told I look like a lot of things — the wife believes I look a little like Colin Farrell with a shaved head — but being compared to Osama bin Laden is not what I expected Bixby to come up with. And yet, there it is, the world according to Bixby.
Fortunately "The World According to Bixby" isn't a program you have to subscribe to, and you can just ignore Bixby, like we plan to.
It's nothing personal, Bixby, we're just happy with Google Assistant. Actually, it's a little personal. Seriously, that image comparison was just plain cruel.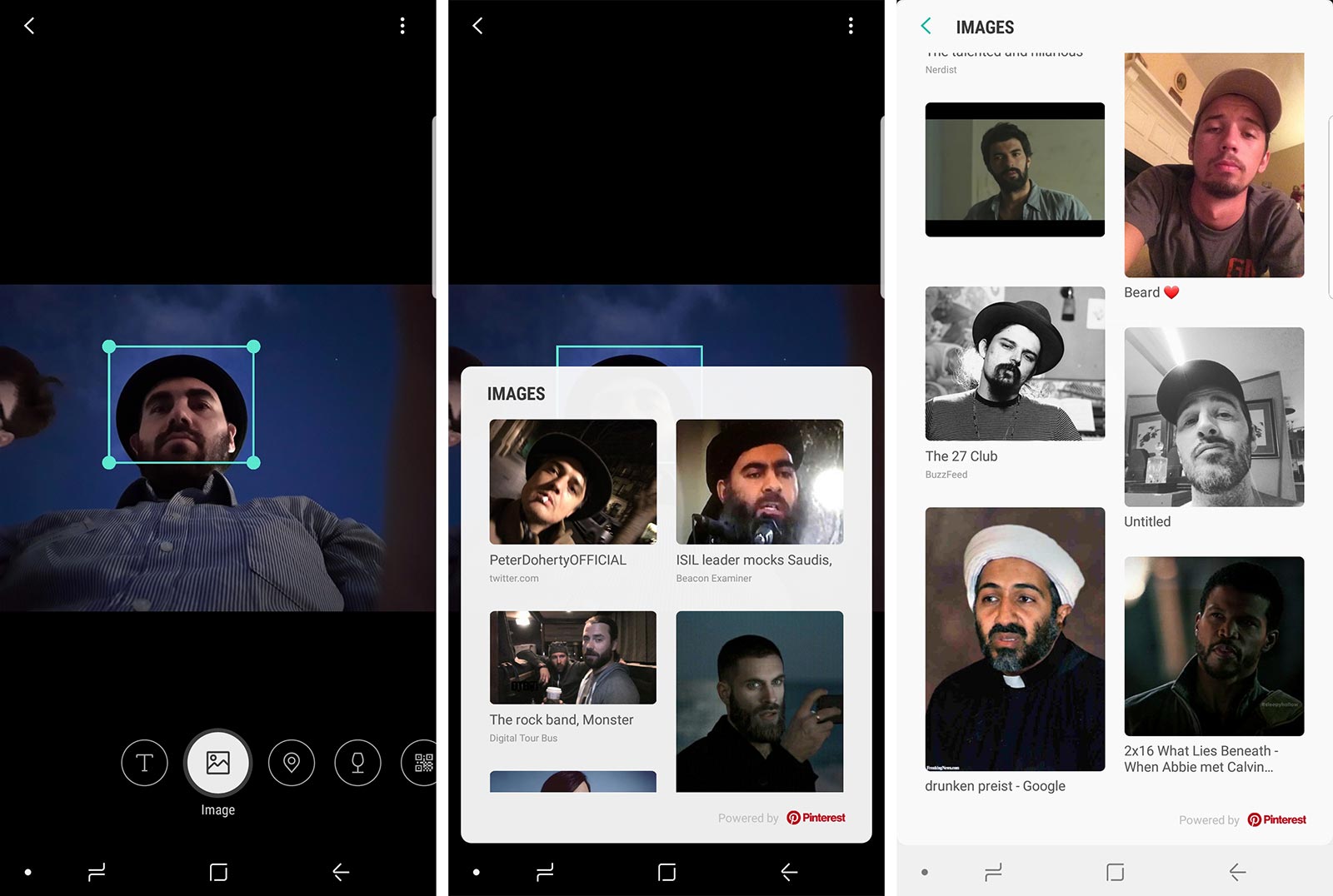 Final thoughts (TLDR)
There's no doubting that Samsung's Galaxy S9+ is a top phone, and given what it had to work with, it's no surprise. The Galaxy S8 and S8+ were excellent handsets, clones of each other set to bigger sizes, and using those as a template practically guarantees more excellence from Samsung.
With the Galaxy S9+, Samsung has upped its game with some of the things people are looking for in a phone: a better camera, more security, and some of those gimmicky features that make devices stand out.
Indeed, it's a phone that really works, even if the battery life could do with a little more. We can forgive Bixby because we'll probably never use it, but the battery should provide for more than a day, and we're not quite there.
But if you can live with your charger in reach and are happy to get a day out of your phone, you'll find Samsung's Galaxy S9 a charming all-round package that gets the job done right.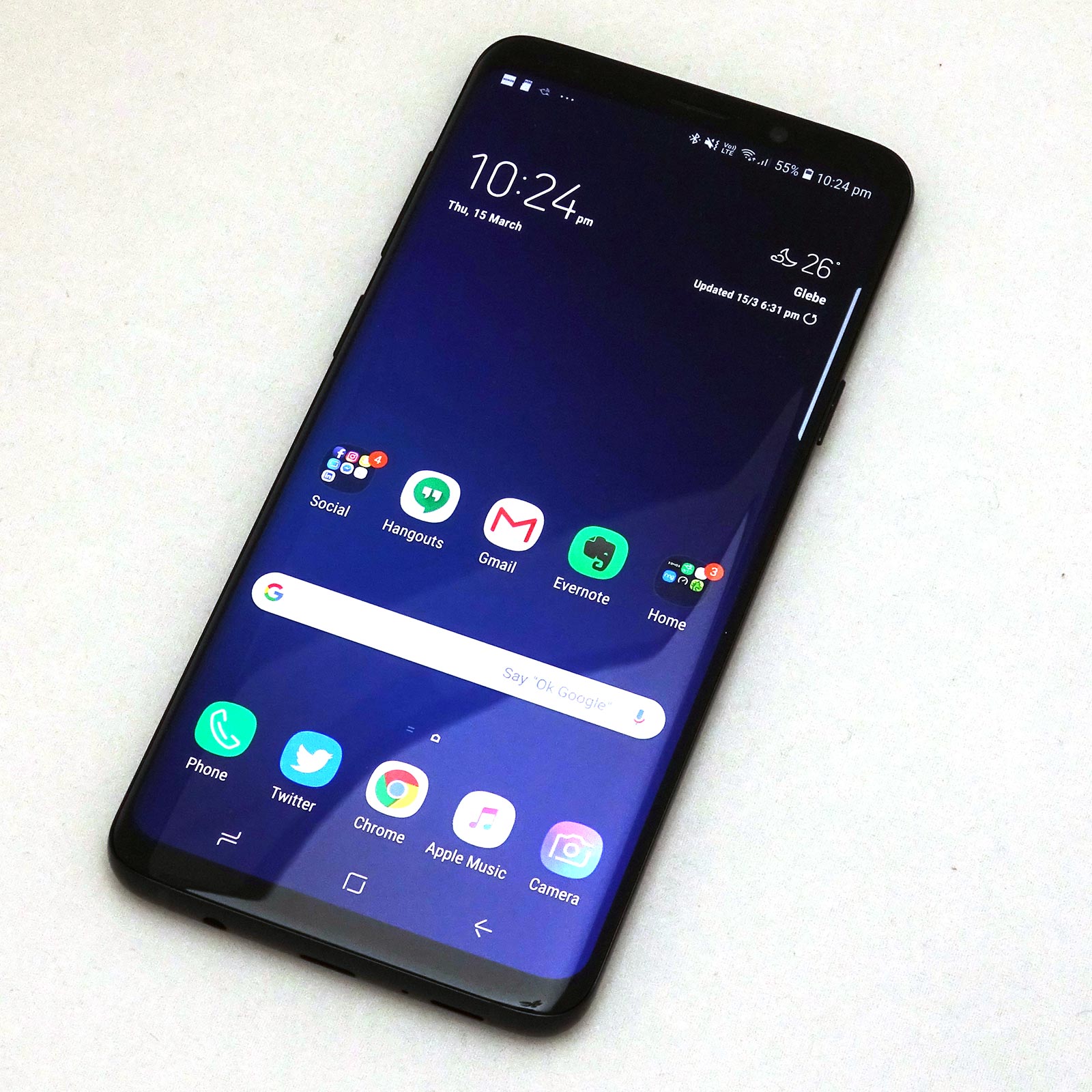 Samsung Galaxy S9+ (SM-G965F)
The good
Still a great design
Fantastic performance
Some of the fastest 4G around
Excellent screen
Really solid camera
Fingerprint sensor is in a better location
Biometric security is good
Water resistant
Supports wireless charging
Includes a decent pair of wired AKG in-earphones and a case in the box
The not-so-good
Low-light isn't great for video
AR Emoji is a very unimpressive gimmick
Battery life could be better
Bixby can get it very, very wrong
Expensive